30 Fun Things to Do in Winston-Salem, NC
Destguides may receive commissions from purchases made through affiliate links in this article.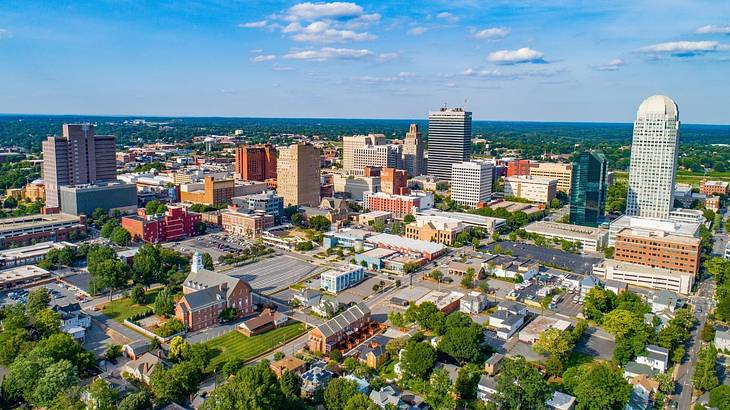 There are many great destinations in North Carolina to visit. While many opt to go to large cities like Raleigh or Charlotte, you'll also find lots of other cities that are well worth checking out, like Winston-Salem.
Fun things to do in Winston-Salem, NC, include watching a sporting event at Truist Field, getting sweet treats at the Black Mountain Chocolate Factory, and exploring the Blue Ridge Mountains. Interested in learning more about all the fun things to enjoy in and around Winston-Salem? Read on to discover 30 activity suggestions!
30 Fun Things to Do in Winston-Salem, North Carolina
Winston-Salem, NC, Things to Do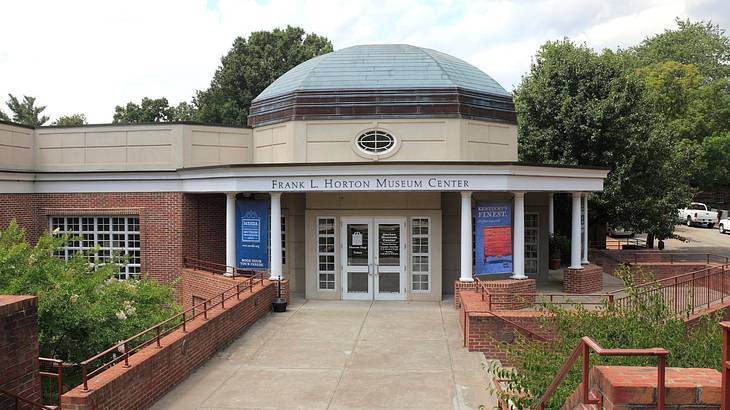 Admire artworks at the Museum of Early Southern Decorative Arts
The Museum of Early Southern Decorative Arts, more commonly known as MESDA, is housed in the Frank L. Horton Museum Center and features a vast collection of artworks. The gallery focuses on paintings from the South of the United States, with pieces dating back centuries. As you look around, you'll learn more about how the arts have changed over time in this area of the US.
Visit the Reynolda House Museum of American Art
Another fascinating attraction in Winston-Salem is the Reynolda House Museum of American Art. At the gallery, you can see an extensive collection of American art, with pieces dating from colonial times to the present.
This landmark also has beautiful gardens and trails you can wander through after viewing the artwork. In addition, you can shop and dine at the Reynolda Village Shops & Restaurants, which comprise independent businesses and boutiques housed in historic buildings.
Tour Black Mountain Chocolate Factory
If you have a sweet tooth, one of the best things to do in Winston-Salem, NC, is taking a chocolate factory tour at Black Mountain Chocolate. This North Carolina-founded chocolate brand allows visitors to walk through the factory to learn about the production process. You'll also get to taste some samples and can buy some treats to take home at the end of your tour.
Learn about Moravian communities at Historic Bethabara Park
Visiting Historic Bethabara Park is one of the best things to do in Winston-Salem, North Carolina, for those interested in 18th-century history. The site features archaeological ruins, and some more intact buildings, that were constructed by a Moravian community in the 1750s.
Visitors can explore the buildings and other village ruins and learn more about the people who lived here hundreds of years ago.
Explore the Old Salem Museums & Gardens
The Old Salem Museums & Gardens comprise history museums, including living history museums, and stunning botanical gardens. The museums tell the stories of those who have called modern-day North Carolina home, including Moravian and Indigenous peoples.
After visiting the museums, you can explore the gardens, which include vegetable gardens similar to those that would have been planted in the 18th and 19th centuries to sustain the community.
Eat at Kermit's Hot Dog House
Kermit's Hot Dog House is a much-loved fast food restaurant in the city. You can order hot dogs with various toppings at the eatery, with hamburgers, fries, and other classic American snacks also on offer. Sweets like milkshakes and sundaes can be ordered too.
Go stand-up paddleboarding with Triad Eco Adventures
Another of the fun outdoor activities to enjoy in Winston-Salem is stand-up paddleboarding (SUP). Triad Eco Adventures offers SUP tours on Salem Lake, Oak Hollow Lake, or Belews Lake.
As you paddle through the water at any of these locations, you can admire the surrounding scenery and will likely see wildlife. Stand-up paddleboard rentals are available, too, if you want to explore on your own.
Grab a beer at Foothills Brewing
Foothills Brewing is one of the best places to go in Winston-Salem, NC, for craft beer lovers. You can choose from two locations (or visit both!); a pub-style space and a tasting room.
At both spots, you can order from an extensive beer menu, with seasonal options on offer. The pub also has a food menu, with snacks like veggie quesadillas and fried pickles.
Dine at The Katharine Brasserie & Bar at Kimpton Cardinal Hotel
Kimpton Cardinal Hotel is a luxury hotel that's a great place to stay if you're visiting Winston-Salem and want to splurge a little. However, for those that live in the city or have accommodation planned, you can still enjoy the hotel by dining at its restaurant, The Katherine.
The eatery is open for breakfast, brunch, lunch, and dinner and has a bar to get a drink at before or after your meal. The menu features French dishes, such as moules marinières, duck à l'Orange, and beef tartare. You can also enjoy dessert with lunch or dinner, and an extensive wine menu is available.
Sip spirits at Broad Branch Distillery
If you enjoy trying local spirits, Broad Branch Distillery is one of the Winston-Salem attractions you must visit. The distillery was founded in the city, and you can try spirits, including whiskey and craft rum, in the tasting room. Tours of the distillery are also offered, and a pop-up cocktail bar is on-site every Saturday afternoon and evening.
Watch a game at Truist Field
Truist Field is home to the Wake Forest University Demon Deacons American football team and the Wake Forest baseball team. If visiting during the college football or local baseball season, catching a game here is a fun idea. As you enjoy a game, you'll get to mix with local fans and enjoy the unique and exciting atmosphere.
Walk around the Downtown Arts District Association
When in Downtown Winston-Salem, check out the Downtown Arts District Association. This area features art and cultural attractions like contemporary art galleries and many street art murals, sculptures, and the like.
Events are frequently hosted, too, like live music acts, art shows, and craft fairs. If you are wondering what to do in Winston-Salem, NC, that's fun and laid-back, exploring the Downtown Arts District is a must!
Catch a NASCAR race at Bowman Gray Stadium
Bowman Gray Stadium has the title of being "NASCAR's longest-running weekly race track" and is also one of stock car racing's most recognizable venues. If you enjoy the sport, visiting the stadium to see a NASCAR race is a must. The season generally begins in April and runs through the summer.
Look around the Winston Cup Museum
Another must-visit spot for NASCAR fans is the Winston Cup Museum. The museum covers the Winston Cup and NASCAR history from 1971 onwards. As you look around, you'll see vintage race cars, racing memorabilia, and informative exhibits on the sport's history.
Play games at Reboot Arcade Bar
Reboot Arcade Bar is one of the most fun spots to spend the evening! This retro bar features over 60 vintage arcade games, plus other games like skee ball. As you play, you can also order drinks, including unique cocktails and craft beer. The arcade is kid-friendly, but only until 9 PM. However, adults can stay until midnight.
Take your kids to Kaleideum
Formerly called the Children's Museum of Winston-Salem, Kaleideum is a fun attraction to take your kids. It features lots of interactive exhibits that allow children to learn about science, do crafts, and much more.
There are also play areas including an indoor climbing adventure and a pretend grocery store and Krispy Kreme donut factory. If you're looking for child-friendly Winston-Salem activities, be sure to check out Kaleideum!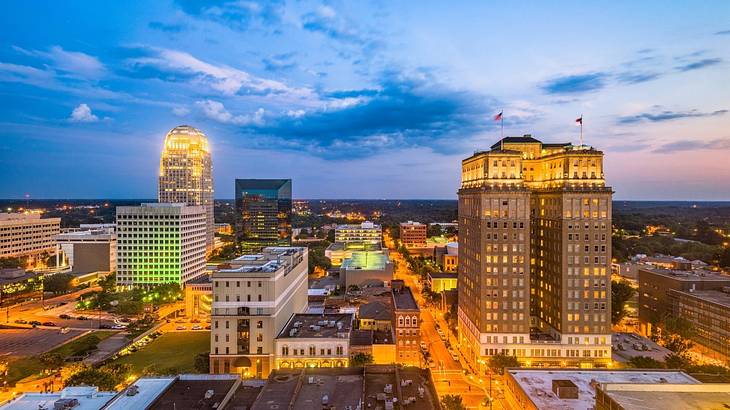 Experience a Winston-Salem ghost tour
Winston-Salem is one of North Carolina's oldest towns. Due to this, the area has a rich history and lots of stories of ghost sightings! If you want to hear some spooky stories, taking a Winston-Salem ghost tour is a great idea. The candlelight tour will take you to multiple places in the West End Historic District, where you can learn about paranormal activity and eerie events.
Snap pictures of The Mickey Coffee Pot Marker
The Mickey Coffee Pot Marker is an unusual landmark but one that is very well-known to locals and those who frequent the area. The statue is a seven-foot tall old-fashioned coffee pot created in 1858 to promote a coffee shop.
Interestingly, the pot would hold enough water to brew 11,840 cups of coffee! Stopping by the landmark to take some pictures has to be on your to-do list!
Shop for candy at Mast General Store
Mast General Store is a vintage-style country store that sells many items, from clothes to home decor items and pet products. One of the best sections of the store is the candy area! You can find an array of old-fashioned sweets, and can pick your favorites to make up your own candy bag.
Kayak on Salem Lake
Salem Lake is one of the best attractions in Winston-Salem, NC, for those that like water sports. The lake is only ten minutes from downtown and is ideal for kayaking, canoeing, and boating. Kayak rentals are available too. In addition, there's a scenic hiking trail around the lake, the Salem Lake Trail.
Relax with tropical cocktails at Bar Piña
Bar Piña is a relaxed and fun place to get some drinks downtown. The bar features rooftop seating, plus craft and frozen cocktails, including cocktail pitchers. You can also get beer, and the bar frequently has DJs and live music acts.
Fun Things to Do Near Winston-Salem, NC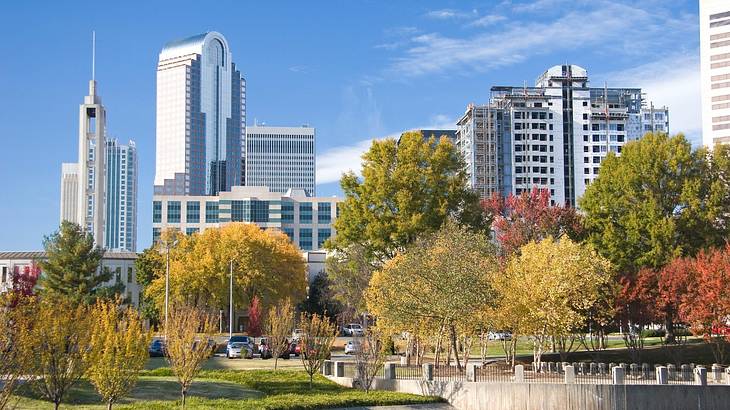 Spend the day in Charlotte
Charlotte is one of North Carolina's most well-known cities and is well worth visiting. Conveniently, it's located only an hour and 15 minutes away from Winston-Salem, making it the ideal day trip destination.
You'll find an array of fun things to do in Charlotte during your visit, ranging from walking through parks like First Ward Park to visiting museums, such as the Bechtler Museum of Modern Art. If you're looking for things to do with your partner, the city also makes a great couples getaway location as there are many romantic things to do in Charlotte!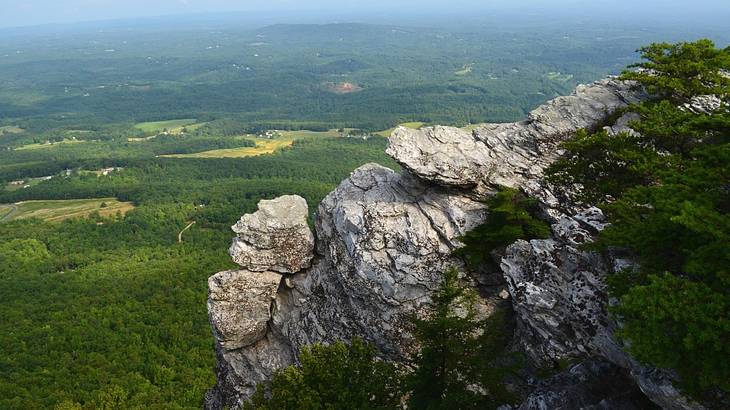 Hike at Hanging Rock State Park
Outdoor activity enthusiasts will be interested in checking out Hanging Rock State Park, located only 40 minutes from Winston-Salem. This park covers 9,011 acres and features a 1.3 mile that will lead you to the park's namesake geological feature, Hanging Rock.
From there, you can enjoy stunning views across the park. You can also find other trails that take you past mountain caves and waterfalls.
Bike or hike at Carvers Creek State Park
Carvers Creek State Park is a 4,530-acre park located near Fayetteville, about an hour and 45 minutes from Winston-Salem. The park has scenic trails that you can hike or bike along. As you explore, you'll see many plants, including longleaf pines. Picnic areas are also scattered throughout the park, allowing you to stop for refreshments.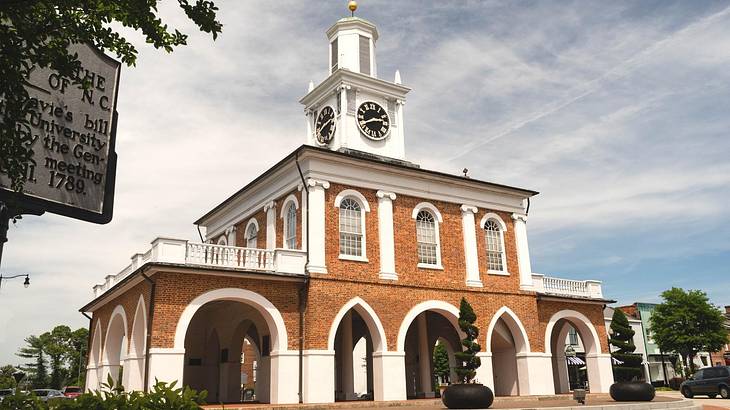 Drive to Fayetteville
Fayetteville is a charming North Carolina destination located two hours from Winston-Salem. The town sits next to the Cape Fear River, a well-known North Carolina landmark, and has lots to offer visitors. Things to do in Fayetteville include wandering around the Cape Fear Botanical Garden, visiting the historic Market House, and doing some shopping on Hay Street.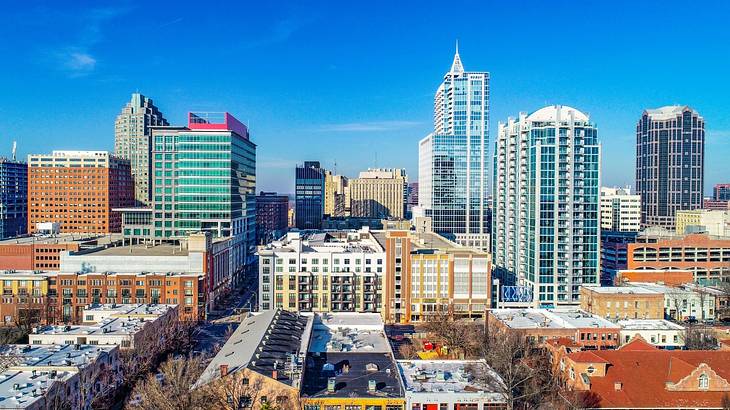 Plan a trip to Raleigh
North Carolina's capital city of Raleigh is located just under two hours from Winston-Salem and is another fun place to plan a day or overnight trip. Things to do in Raleigh include visiting local breweries, shopping at farmers' markets, and exploring art galleries like CAM Raleigh.
You can additionally check out some famous Raleigh attractions, like Historic Yates Mill County Park and the State Capitol Building. The city is also very family-friendly, and you'll find lots of kids activities in Raleigh for your children to enjoy.
Enjoy outdoor activities in the Blue Ridge Mountains
The famous Blue Ridge Mountains are two hours and 40 mins from Winston-Salem and are a great place to visit if you're planning an all-day activity. Fun outdoor activities include kayaking, white water rafting, and hiking. You can also find many attractions around the Blue Ridge Mountains, like apple orchards, wineries, and zipline courses.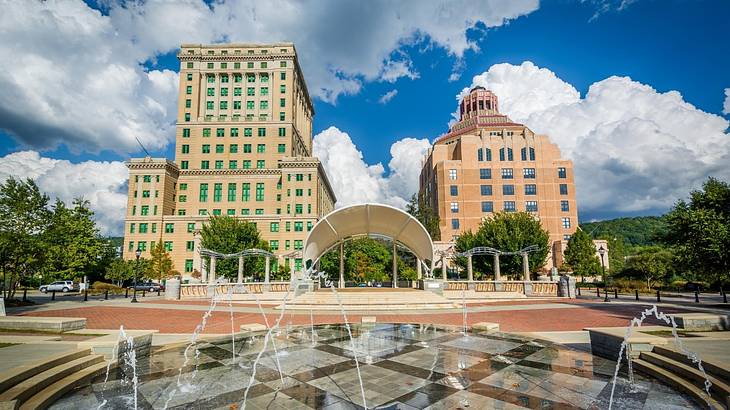 Go to Asheville
Asheville is another city you can visit for the day and is located about two hours from Winston-Salem. Activities in Asheville range from visiting farms and waterparks to checking out museums like the Western North Carolina Air Museum.
This city is also very family-friendly, with things for kids to do in Asheville ranging from going to trampoline parks to visiting the Asheville Museum of Science or seeing animals at petting zoos.
Taste local wines in Yadkin Valley Wine Country
The Yadkin Valley Wine Country is the ideal place for wine lovers to spend time. It covers 1,400,000 acres and sits next to the Yadkin River. You can visit many Yadkin Valley wineries, where you can do tastings and, of course, purchase some bottles to take home.
If you want to spend more than a day in the area, there are cozy cabins to rent overnight. You can also hike scenic trails if you want to do more than visit wineries.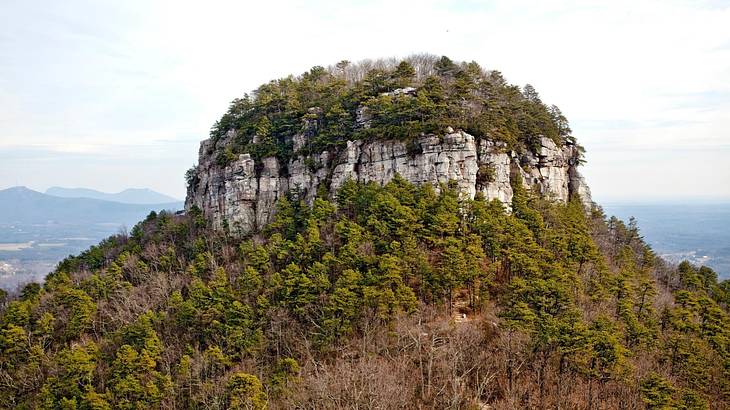 Camp at Pilot Mountain State Park
Located just 30 minutes from downtown, Pilot Mountain State Park allows you to enjoy the outdoors without traveling too far. You can hike, canoe, rock climb, and much more at the park.
It's also a great place to go camping, with both tent and RV sites available; however, RV hookup is not offered. Hanging out by the campfire and enjoying the surrounding nature and the starry night sky is a highly memorable activity!
In Conclusion
For those wondering what to do in Winston-Salem, North Carolina, this list should have given you an array of ideas. From visiting specialty museums and watching local sports teams to visiting nearby cities like Charlotte, there's no shortage of things to do in and around Winston-Salem!
Give us feedback about this article
More articles about North Carolina:
Read more articles about the United States:
More articles about things to do:
More visual stories related to this article:
---
---
Want to keep exploring?
Subscribe for discounts on tickets and hotels and our latest guides.
Thank you for subscribing
We will be in touch soon with discounts on tickets and hotels and our latest guides.
Want to keep exploring?
Subscribe for discounts on tickets and hotels and our latest guides.
Thank you for subscribing
We will be in touch soon with discounts on tickets and hotels and our latest guides.
Related Articles