25 Fun Things to Do in Cincinnati at Night
Destguides may receive commissions from purchases made through affiliate links in this article.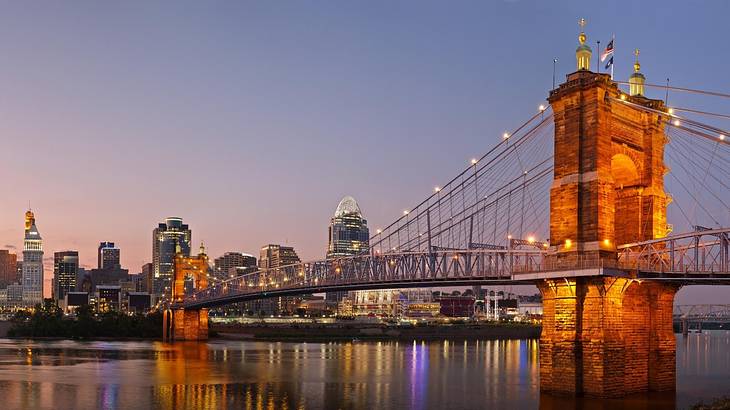 One of the best places to visit in the midwest United States is Cincinnati. Located in the state of Ohio, the city has lots of attractions and friendly locals.
Cincinnati also has a great nightlife scene. Fun things to do in Cincinnati at night include hanging out at bars, going on a sightseeing tour, and singing karaoke. If you're planning a trip to Cincinnati and need ideas for places to go at night, keep reading.
25 Things to Do at Night in Cincinnati, Ohio
Cincinnati Things to Do at Night
Shop at Findlay Market
Findlay Market is a well-known produce market located about 25 minutes outside downtown. The market is open until 6 PM most days, making it a great place to check out in the early evening.
Products on sale include fruit and veg, fresh seafood, and baked goods. You can also find artisan craft products, like jewelry, artwork, and candles. If you like to cook, heading here to grab ingredients to cook a delicious dinner later in the night is a fun idea!
Play games at 16-Bit Bar + Arcade
16-Bit Bar + Arcade is a fun spot that allows you to play classic games while enjoying some drinks. Going to this bar is also one of the best Cincinnati date ideas!
At the Cincinnati location, you can play pinball, duckpin, ping pong, and foosball. If you're particularly good at any of the games, they even host tournaments. Drinks you can sip on while playing include craft cocktails, punch, and alcoholic slushies. Wine and beer are available too.
Attend a Cincinnati Art Museum after dark event
One of the best late-night things to do in Cincinnati for art lovers is going to an after-dark event at the Cincinnati Art Museum. Founded in 1881, the gallery houses approximately 67,000 works.
While the museum generally closes at 5 PM, it does stay open until 8 PM on Thursdays. After-hours events are held quite frequently too. These events generally run until around 9 PM and focus on exhibitions by different artists.
You may also benefit from a cash bar and live music performances. Best of all, admission is free!
Wander around the Spring Grove Cemetery and Arboretum
One of the more unique places to go in Cincinnati at night is the Spring Grove Cemetery and Arboretum. The 140-hectare cemetery was built in 1841 and is an interesting place to wander around as night sets in. It's also the third-largest cemetery in the United States and is a National Historic Landmark.
On the grounds, you can follow paths around gravestones and tombs. There's also a lake and water features and many plants and flowers. Going to Spring Grove Cemetery and Arboretum in the evening is a peaceful yet slightly eerie activity to try.
Sing karaoke at Tokyo Kitty
Tokyo Kitty is a cute and fun karaoke bar. This venue offers karaoke in the main bar area and private rooms. As you sing, you can order a variety of unique cocktails.
Drinks on the menu include a coconut rum, strawberry, banana milk, and coco creme mix and strawberry-infused Hennessy with peach Schnapps, vanilla syrup, orange, and cranberry. Shots, sake, and mocktails are also available.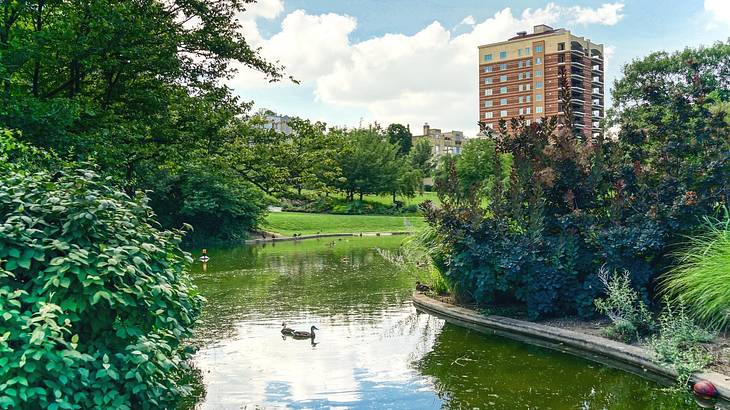 Hang out at Eden Park
A little-known fact about the city is that the Cincinnati nickname of the City of Seven Hills was created due to the numerous hills in the city. Heading to one of these areas to look over the city is very romantic, and one great location to go is Eden Park.
This urban hilltop park covers 186 acres and offers views of the Ohio River Valley. The park is well-lit, so in the evening you can walk around the park or relax on the grass. It's the perfect place to sit and watch the sunset over the Ohio River as well. If you want to spend most of the evening in the park, pack a picnic for dinner that you can enjoy while surrounded by nature.
Look up at the stars at the Cincinnati Observatory
Another of the interesting things to do in Cincinnati, Ohio, at night is going to the Cincinnati Observatory to look at the stars. You can attend a range of evening events, starting at different times of the night.
These events generally allow you to look up at the stars and galaxies through professional-grade telescopes. As you admire the view, employees will offer more information on astronomy and the things you're seeing.
Enjoy drinks at 21C Cocktail Terrace
One of many outstanding bars in Cincinnati is found at the 21C Museum Hotel. 21C Cocktail Terrace is a rooftop bar that has delicious drinks, comfy outdoor seating, and views of the city.
The menu features classic cocktails as well as more whimsical creations. You can also get wine, beer, liquor, and even alcoholic slushies! There's also a sophisticated raw bar menu to order from if you want something to eat.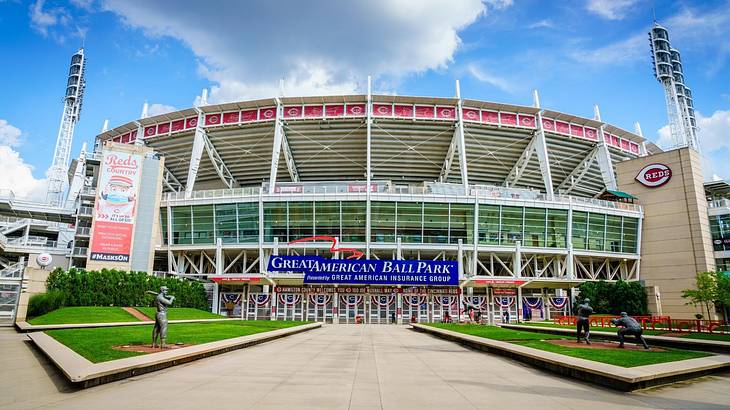 Watch a baseball game at the Great American Ball Park
Baseball is one of the most popular sports in the United States, and you have the opportunity to watch a game when in Cincinnati at Great American Ball Park. When the city's Major League Baseball team, the Cincinnati Reds, are playing in the evening, make sure you get tickets!
The stadium is conveniently located and is just a four-minute drive or ten-minute walk from downtown. Once at the stadium, you can cheer on the Reds, take in the atmosphere, and enjoy classic ballpark snacks.
If you're looking for the best time to visit Cincinnati to ensure you can catch a game, plan a trip in the spring, summer, or fall as the Reds play between March and October.
Work your way out of an escape room
A night out in Cincinnati doesn't always have to mean going to bars and clubs! Tackling an escape game with friends or family is a fun idea too.
At The Escape Game Cincinnati, you can choose from various themed rooms to get out of. Once inside, you and your team must find clues and solve puzzles to break free.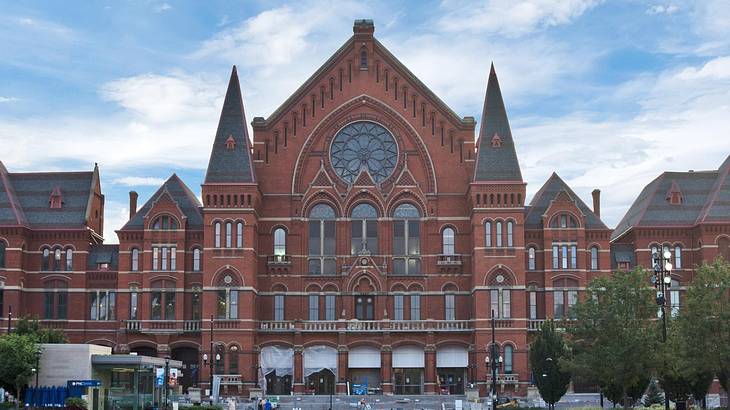 Dare to go on a ghost tour
Hearing spooky stories on a ghost tour is one of many great things to do at night in Cincinnati. The experience takes you to a selection of haunted spots throughout the city. Places to visit include Washington Park and the Cincinnati Music Hall.
Your guide will explain the eerie events connected with each sight and recount paranormal sightings and stories.
Hop from bar to bar on a craft brewery tour
A fun and convenient way to see Cincinnati's best breweries is by going on a craft brewery tour. This experience allows you to spend the evening hopping from bar to bar, tasting the best beer in the city.
The tour generally begins at 7 PM and lasts for three and a half hours. After the tour, you can return to your favorite spot to enjoy the rest of the night.
Treat yourself to ice cream at Graeter's Ice Cream
If you're in downtown Cincinnati at night, make sure you stop by Graeter's Ice Cream. This much-loved local chain serves an array of yummy ice cream flavors. Just a few of the ice creams on offer include caramel macchiato, S'mores, and birthday cake.
You can enjoy your ice cream in a waffle cone, a chocolate waffle cone, or as a sundae. Banana splits, floats, and milkshakes are also on offer.
Even if you aren't downtown, there are Graeter's Ice Cream locations across the city, so you don't have to miss out. Most outlets are open until 10 PM.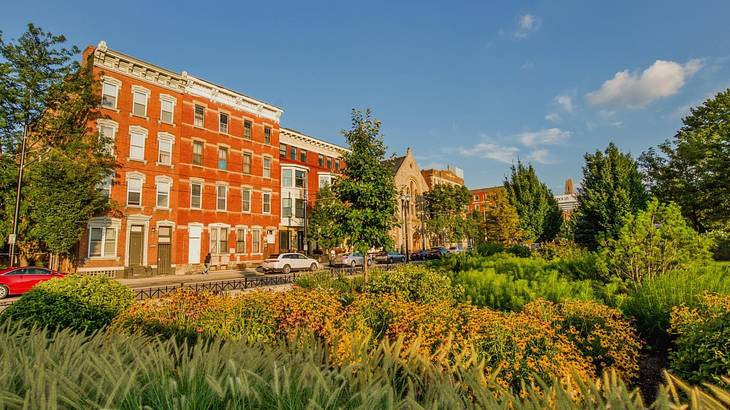 Check out the events at Washington Park
Washington Park is an urban park located in the Over-the-Rhine area of Cincinnati. As the park stays open until 11 PM, it's the perfect place to go for a late-night stroll.
The park also hosts lots of evening events, many of which are free. Events to check out include evening yoga classes and trivia nights. You can also hang out on a "pop-up porch," with a bar and outdoor seating.
Spend the evening at the Hard Rock Casino
A fun place to spend the evening in Cincinnati is at the Hard Rock Casino. At the casino, you can play slot machines or try your hand at poker or other casino games, like blackjack or roulette.
The casino also has bar and lounge areas, where you can relax with a drink and enjoy the atmosphere. There are a few dining options too, including a high-end steak and seafood restaurant and a pizzeria.
Dance the night away at a nightclub
The best way to experience Cincinnati nightlife is by hitting up some of the city's nightclubs. If you don't know where to start, Below Zero Lounge is a good place to start.
Voted one of the best clubs in the city, this spot features top DJs, a great atmosphere, and delicious drinks. Other fun spots include e19 Lounge Bar and Discotheque and Energy Nightclub.
Drink wine at a wine bar
What better way to spend the evening than with a great glass of wine? One of many wine bars in Cincinnati to visit is LouVino. Located downtown, this bar serves delicious wines with southern-inspired dishes.
Food on offer includes fried chicken tacos, roasted squash salad, and salmon with gnocchi. They also have happy hour offers and half-price bottles of wine on Wednesdays.
Other popular wine bars include 1215 Wine Bar and Coffee Lab and Zula Restaurant and Wine Bar.
Catch a show at the Aronoff Center
Located downtown, the Aronoff Center is a premier performing arts center. During an evening at the Aronoff Center, you can see a range of shows. These performances include ballets, musicals, drama productions, and comedy shows.
Relax with a beer at MadTree Brewing
MadTree Brewing is one of the best places to get craft beers in Cincinnati. If interested in trying this local brewery's beer, they have two locations to check out. Located two and a half hours outside of downtown is their taproom in Oakley.
Alternatively, you can visit MadTree Brewing's Alcove Bar and Restaurant, which is 20 minutes from downtown. This spot has an indoor restaurant and bar, as well as an outdoor patio and greenhouse seating area. Both spots have a vast selection of beers on tap, plus food and other drinks.
Sit on the patio with drinks at Rosedale
Rosedale is a chic yet rustic spot with a great outdoor patio. At Rosedale, you can order a range of delicious cocktails and there are happy hour deals throughout the week. You can also get wine, draft beer, and spirits. Hanging out on the Rosedale patio with a refreshing drink is the ideal way to relax.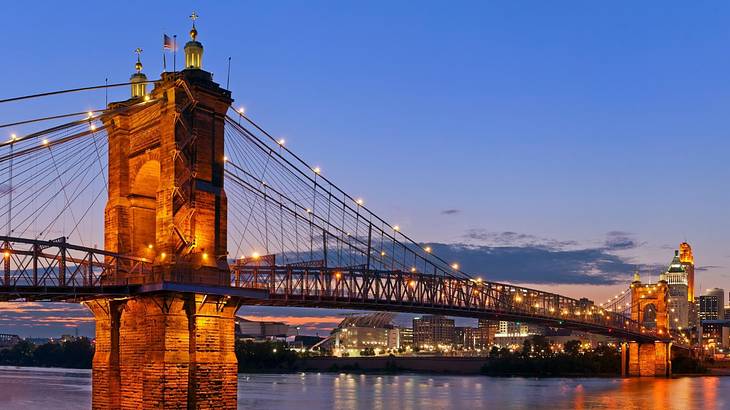 Go sightseeing
If you're visiting, you have to go sightseeing. Doing so during the day isn't a necessity though, with nighttime sightseeing tours being a fun thing to try. While there aren't many guided tours at night, you can download a self-guided tour guide.
Some of the places to visit include the Great American Ball Park, the Mercantile Library, and the Roebling Suspension Bridge.
Have a relaxed evening at a coffee shop
If you're looking for laid-back stuff to do in Cincinnati at night, relaxing with a coffee is a perfect idea. Along with serving great wine, 1215 Wine Bar and Coffee Lab offers delicious coffee-based drinks late into the evening.
You can order espresso, lattes, cappuccino, macchiato, and more. They also offer syrups to add to your drink like caramel, vanilla, or lavender. For those that don't feel like getting a coffee, teas and regular and spicy hot chocolate are available.
Things to Do Near Cincinnati at Night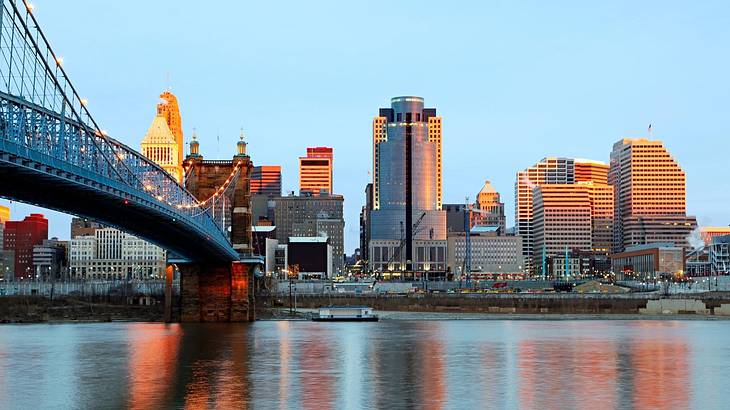 Luxuriate on a dinner cruise on the Ohio River
The Ohio River is one of the most famous natural landmarks in Ohio. If you're looking to get out on the water, booking an Ohio River dinner cruise is highly recommended. You'll get on the boat across the river in Kentucky, but it's just a 20-minute drive to the dock from downtown Cincinnati.
The two-hour-long cruise will take you along the river, allowing you to admire the view and spot Cincinnati landmarks. You'll also be served a delicious three-course meal, and there is a bar on board with an extensive drinks menu.
Sip craft cocktails at Old Kentucky Bourbon Bar
Old Kentucky Bourbon Bar is a great place to visit in the evening. This bar isn't actually in Cincinnati but in Covington, Kentucky. Conveniently, it's just across the Ohio River and is just five minutes from Downtown Cincinnati.
At the bar, you can sip on whiskey or craft cocktails. The drinks menu is quite extensive, and there's something for all tastes.
Challenge your friends to a game of Bowling
Bowling is always a fun evening activity. Near Cincinnati, Stone Lanes is a popular bowling alley that stays open until late. You can reach the venue in about ten minutes when driving. The bowling alley also hosts specials throughout the week, like bowling and pizza nights and college nights with drink specials.
In Summary
If you're visiting Ohio and are wondering what to do in Cincinnati at night, this list should have given you some great ideas. Whether you want to relax with a drink or try something a little more unique, there's an array of things to do after dark in Cincinnati.
Give us feedback about this article
More visual stories related to this article:
---
---
Want to keep exploring?
Subscribe for discounts on tickets and hotels and our latest guides.
Thank you for subscribing
We will be in touch soon with discounts on tickets and hotels and our latest guides.
Want to keep exploring?
Subscribe for discounts on tickets and hotels and our latest guides.
Thank you for subscribing
We will be in touch soon with discounts on tickets and hotels and our latest guides.
Related Articles