25 Famous Landmarks in Oklahoma for Your Bucket List
Destguides may receive commissions from purchases made through affiliate links in this article.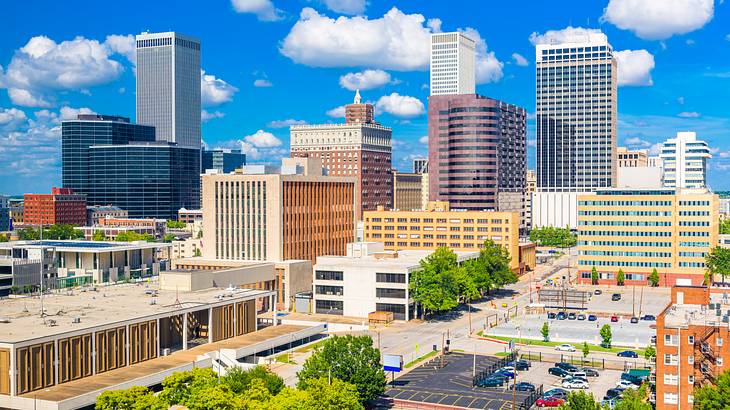 Although Oklahoma is not one of the very well-known destinations in the United States, there are plenty of reasons for visiting the Sooner State!
If you're wondering what Oklahoma is famous for, Oklahoma is famous for natural attractions like Natural Falls Park, Beavers Bend State Park, and Keystone State Park.
Travelers can also find an array of famous landmarks in Oklahoma. The Cherokee National History Museum, Price Tower, and the Oklahoma City National Memorial & Museum are cultural and historical places of interest to see. Keep reading to discover 25 places in Oklahoma that you have to visit!
25 Oklahoma Landmarks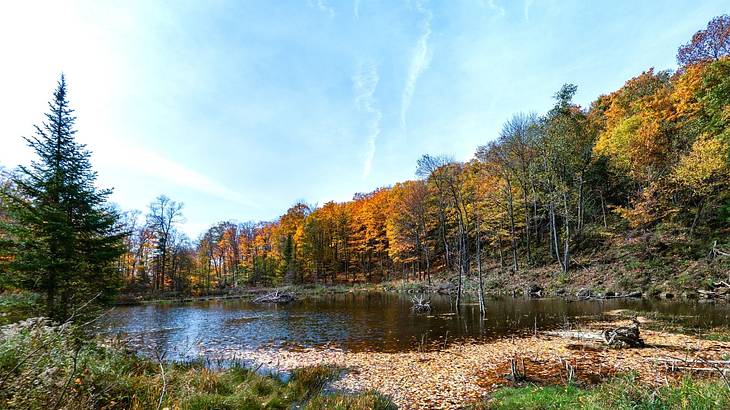 Beavers Bend State Park and Nature Center
Located in southeast Oklahoma, Beavers Bend State Park is a popular attraction due to its stunning scenery and array of adventure activities on offer. Broken Bow Lake and the Mountain Fork River are the centerpieces here.
Visitors will have a chance to experience numerous water activities, including swimming and canoeing. Once out of the water, you can hike or horseback ride while enjoying the fragrant pine and hardwood forests the park is known for.
Cherokee National Capitol Building
The current Cherokee Nation Capitol Building was built in 1867 to replace the wooden capitol building, which had burned during the Civil War. It's located in downtown Tahlequah on the spot where the Cherokee Government used to hold meetings.
The beautiful brick structure is one of the historical sites in Oklahoma that is still in use today. It currently houses the Cherokee County Courthouse and the Cherokee National History Museum. The building was also added to the National Register of Historic Places in 1966.
Cherokee National History Museum
Housed inside the Cherokee National Capitol in downtown Tahlequah, the Cherokee National History Museum is, understandably, all about the Cherokees. The artifacts displayed and the immersive exhibits tell the tales of Cherokee life before European contact.
The Trail of Tears and the effects of the Civil War on Native Americans are also covered. The museum offers a wonderful opportunity to honor the Cherokee tribe's history and culture, passed down for generations. You'll also better understand the modern-day Cherokee Nation and its culture.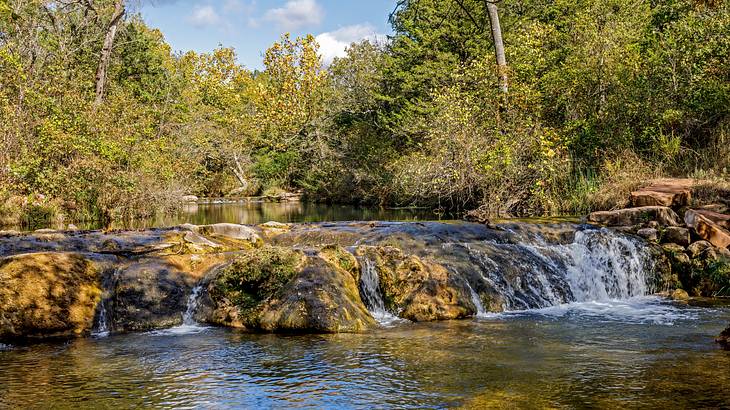 Chickasaw National Recreation Area
Chickasaw means "The Peaceful Valley of Rippling Waters," which describes what the Chickasaw National Recreation Area is about. This region is loved by Oklahomans, who have enjoyed its mineral and freshwater springs, lakes, lush vegetation, and wildlife for over a century.
Formerly known as Platt National Park, it was renamed when the Arbuckle Recreation Area was added in 1976. So, you get to enjoy a two-for-one combo of wonderful parks when visiting!
Chisholm Trail Museum
The Chisholm Trail Museum is one of the most exciting famous places in Oklahoma. It was built to celebrate the lives and history of those who followed the Chisholm Trail.
The Chisholm Trail was a route used to move cattle from Texas through Oklahoma and on to Kansas. You can learn more about the trail, its founder Jesse Chisholm, and the American Wild West at the museum.
Fort Gibson Historic Site
Fort Gibson Historic Site is a military post close to the city of Fort Gibson. The fort was used to guard the US frontier in Indian Territory from 1824 to 1888. At the time of construction, there was no US military installation farther west than Fort Gibson.
This National Historic Landmark comprises 80 acres of beautiful grounds, 29 historic buildings, and archaeological ruins. At the historic site, you can experience exhibits and living history programs that provide background on the fort's role in the region.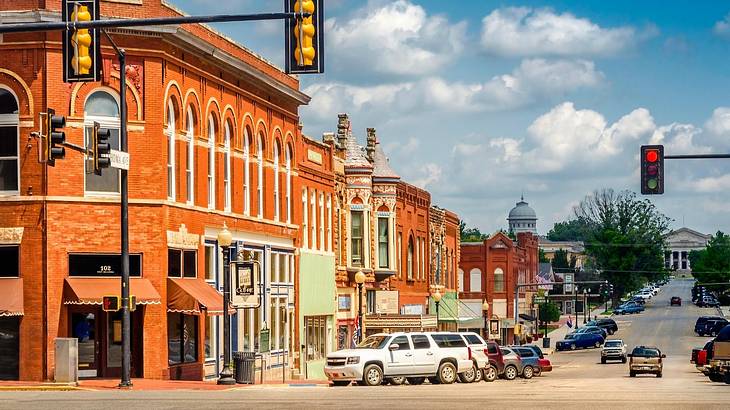 Guthrie Historic District
The Guthrie Historic District is another of Oklahoma's National Historic Landmarks. The 1,400-acre district houses over 2,000 late 19th and early 20th-century buildings that have been restored to their original beauty.
Quaint cafes, restaurants, and bars also dot the area, inviting you to sit back and relax. Museums, a live theater, a few shops, and a rodeo round out the quintessential ambiance.
Honey Springs Battlefield
The Honey Springs Battlefield is one of the most important historical places in Oklahoma. It is where a crucial Civil War battle was fought on July 17th, 1963. Union soldiers finally took control of the Indian Territory that had been in Confederate hands for a couple of years.
A visit to the site of the largest military battle to ever take place on Oklahoma soil allows you to learn a lot about American Civil War history. You can also hike one or more of the six trails around the battlefield.
Keystone State Park
Nestled in Tulsa County in northeast Oklahoma, you'll find Keystone State Park, where majestic Keystone Lake is the star. This beautiful 714-acre state park is an excellent attraction for nature activities and outdoor adventures. Boating, fishing, and other water sports can be enjoyed on the lake.
If you prefer to stay dry, you can hike beside the lake and in the surrounding forests or go birdwatching. Camping and picnic amenities are also available, and there's a floating restaurant at the marina.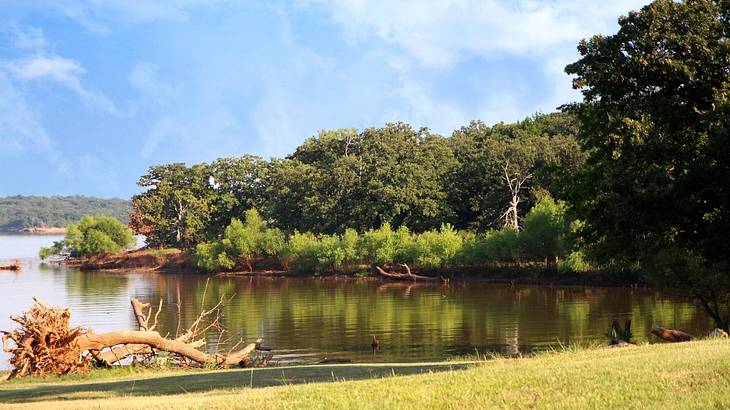 Lake Thunderbird State Park
The 1,874-acre Lake Thunderbird State Park features stunning natural landscapes and offers many exciting adventure activities. Located on the east side of Norman, Oklahoma, Lake Thunderbird is the perfect spot to spend time outdoors.
With two marinas, lakeside beaches, and playgrounds, it is an ideal location for a day of family fun too. Think swimming, sunbathing, fishing, and boating. For adventurers who prefer to stay dry, biking, hiking, and birding are all on the menu. There's also an on-site restaurant.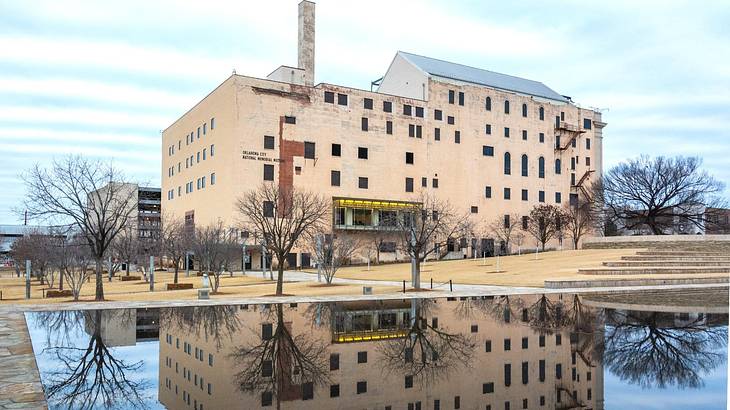 Oklahoma City National Memorial & Museum
The Oklahoma City National Memorial & Museum is one of the most solemn national monuments in Oklahoma. It was erected on the Alfred P. Murrah Federal Building site, which was destroyed in the Oklahoma City bombing.
The memorial includes a museum with exhibits that detail the tragic event. The Field of Empty Chairs is a tribute to the 168 Americans killed on April 19, 1995. Most visitors come here to honor the dead and reflect on this sad event in US history.
Oklahoma State Capitol
The Oklahoma State Capitol building is a must-see Oklahoma City landmark. The lavish Greco-Roman-style structure houses 650 rooms with marble stairs and hand-painted ceilings.
Construction of the main building was completed in 1917, but the grand dome was added in 2002, although it was part of the original design. Strangely enough, you'll also see active oil rigs on site!
Pawnee Bill Ranch and Museum
The Pawnee Bill Ranch was once home to Wild West showman Gordon W. "Pawnee Bill" Lillie. His dream home and 500-acre grounds are now administered by the Oklahoma Historical Society.
You can tour the 14-room mansion, which is fully equipped with original furnishings and Lillie family memorabilia, artwork, and photographs. Additionally, the grounds house a museum, a barn, and several buildings, which are sometimes visited by curious bison, draft horses, and longhorns!
Price Tower
Designed by the world-famous architect Frank Lloyd Wright, Price Tower is the architect's only fully-complete skyscraper. Visitors can tour the tower and, thanks to floor-to-ceiling windows, will be able to enjoy city views too.
Considered a significant 20th-century building, the tower was designated as a National Historic Landmark in 2007. It is one of the most famous places to visit in Oklahoma and is primarily used as a hotel.
Spiro Mounds Archaeological Center
Located seven miles outside Spiro, Oklahoma, Spiro Mounds Archaeological Center is the only prehistoric American Indian site in the state that is open to the public. The center intends to preserve the 150-acre site and keep the Spiro legacy alive.
The artifacts found on site indicate that the Spiro people created a sophisticated culture. An extensive trade network, a religious center, and a political system have all been unearthed. A lot of the Spiro culture and history remains a mystery though, especially the reasons why they abandoned the area.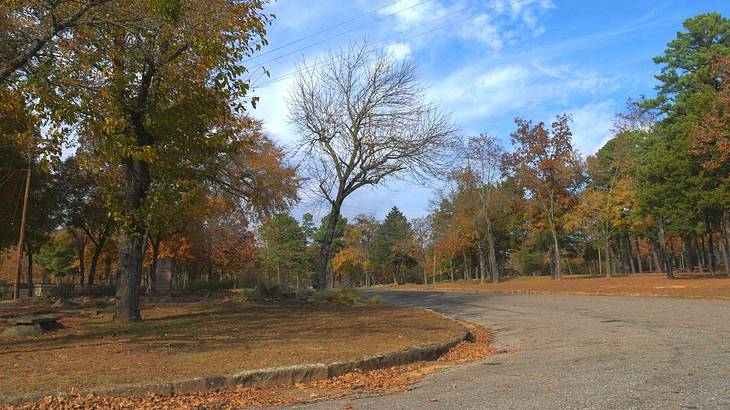 Robbers Cave State Park
Robbers State Park near Wilburton had a bad reputation because outlaws like Jesse James used the caves in the area to hide from authorities. This, of course, happened during the days of the Wild West.
Today, the caves and the state park that houses them attract many visitors who simply want to enjoy their beauty! The park is a dreamy destination for outdoor enthusiasts.
The stunning caves, lakes, and rock climbing areas are surrounded by the San Bois Mountains, creating a breathtaking landscape. You can explore the area via hiking trails, and a fun miniature golf course is also found in the park.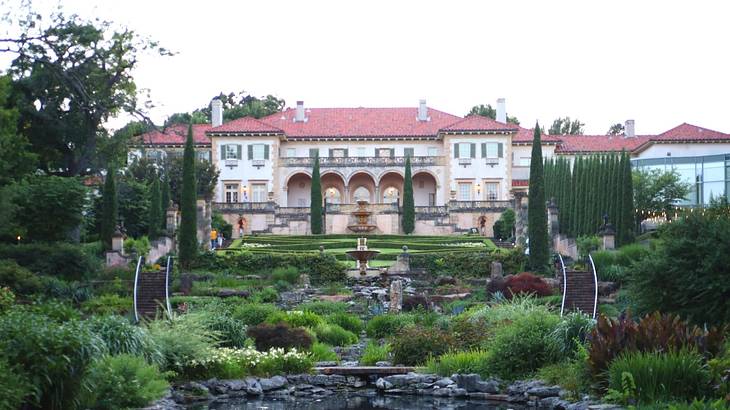 Philbrook Museum of Art
The Philbrook Museum of Art in Tulsa is one of the most iconic cultural attractions in the state. A visit to this famous landmark in Oklahoma is well worth your while, especially if you are a history and art aficionado. Visiting the museum is also one of the best date ideas in Tulsa!
The museum is housed in a wonderful Italian Renaissance-style mansion built in the 1920s, which is surrounded by gorgeous gardens. The beautiful premises showcase some of Oklahoma's most fabulous art pieces, including works from all over the world.
Sod House Museum
Sod House Museum's centerpiece is an original sod house preserved from the pioneer days around the late 1800s. In the 19th century, houses were built with sod when wood and other building materials were scarce. Despite seeming disadvantageous, they were fireproof, and the dirt kept them cool during the hot summer days.
Visitors to the Sod House Museum can explore the historic home and see real utensils and photographs from when pioneers lived there. Undoubtedly, it will give you an insight into how the pioneers lived.
Trail of Tears National Historic Trail
"Trail of Tears" refers to the difficult and painful journey that the "Five Civilized Tribes" took when they were forcibly removed from their homes during the 1830s and 1840s. The Cherokee, Creek, Choctaw, Chickasaw, and Seminole were removed from their ancestral lands and moved to Indian Territory in what is now Oklahoma.
Today, you can follow most of the Trail of Tears, although some parts are now private land. Walking this route offers a profound insight into the injustice and pain inflicted on these people who were forced out of their homelands in Alabama, Georgia, and Tennessee. Historical markers commemorate the tribes' passing through certain spots.
Washita Battlefield National Historic Site
Of all the historic sites in Oklahoma, the Washita Battlefield site is probably one of the most poignant. The battlefield is the site of a surprise dawn attack on a Cheyenne village led by Peace Chief Black Kettle. This attack occurred in November 1868 and was led by Lt. Colonel George Armstrong Custer.
The event was a tragic clash of cultures common during the Great Plains Wars. Washita Battlefield National Historic Site is where those who died are honored. Visitors can explore the grounds and learn about the people that died during the attack and the events that led to it.
Great Salt Plains State Park
Great Salt Plains State Park in Oklahoma is all that remains of an ocean that covered the state during prehistoric times. The grey, barren landscape here contrasts sharply with the rest of Oklahoma's terrain.
However, contrary to what you might be thinking, Great Salt Plains State Park features tons of fun activities! From hiking and equestrian trails to a lake perfect for swimming and even a crystal scavenging site, Great Salt Plains has something for everyone.
Ed Galloway's Totem Poles
Folk artist Ed Galloway is known for creating colorful totem poles and cement sculptures. In 1937, Ed worked on the displays found at Totem Pole Park in Chelsea, Oklahoma.
In the park, you can find eleven artworks and a building complete with bright patterned designs. The main piece of the outdoor art display is a 90-foot tall totem that you can walk in and explore from the inside.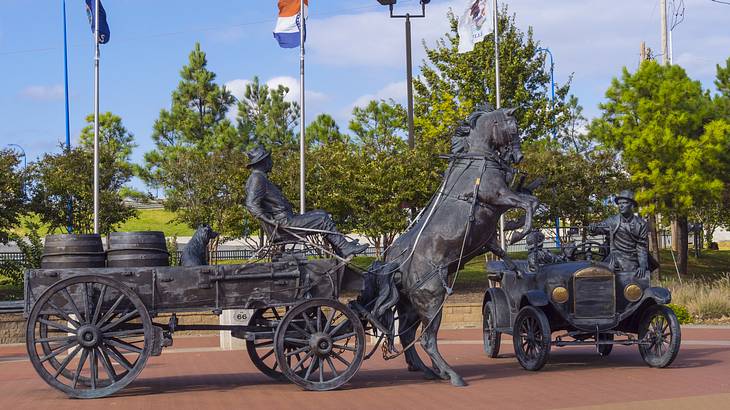 Cyrus Avery Centennial Plaza
One of the lesser-known famous landmarks of Oklahoma is the Cyrus Avery Centennial Plaza. The monument features two bronze sculptures that stand in the middle of Route 66, the iconic highway that begins in Chicago and extends to Los Angeles. The sculptures depict Cyrus Avery and his family and are meant to celebrate the importance of highways and automobiles during the 1920s and 1930s.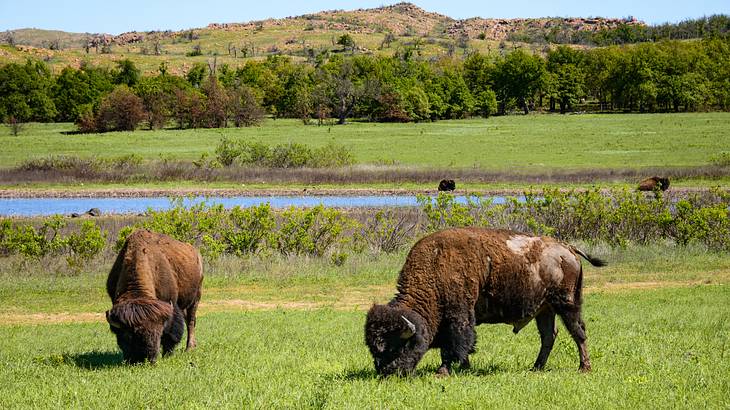 Wichita Mountains Wildlife Refuge
Situated in a mixed-grass prairie, the Wichita Mountains Wildlife Refuge is home to numerous animals. Established in 1901, the refuge covers 60,000 acres and is home to 240 bird species, 50 species of mammal, and 65 amphibian and reptile species, plus numerous types of fish.
A few creatures living in the Wichita Mountains Wildlife Refuge include American bison, Texas Longhorn cattle, elk, armadillos, and otters.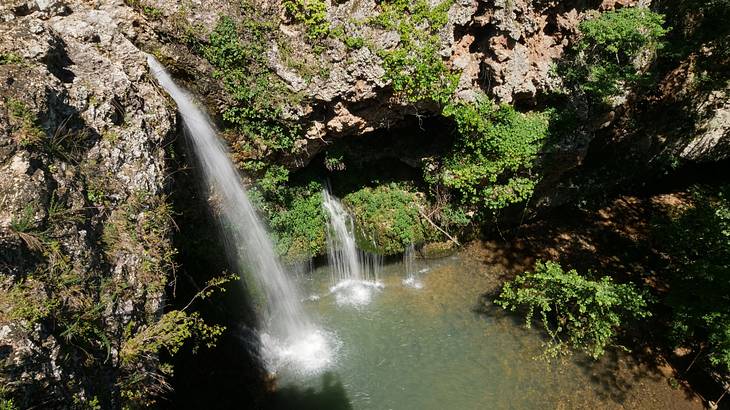 Natural Falls State Park
You'll find Natural Falls State Park almost hidden in the Ozarks close to the state border with Arkansas. The 120-acre park is one of the most cherished Oklahoma state landmarks due to its pristine natural beauty.
The main attraction is a spectacular 77-foot-high waterfall that flows down rock cliffs into a splendid natural pool. Natural Falls State Park is ideal for spending time in nature and hiking trails amidst the spectacular surroundings.
In Summary
Vacationing in Oklahoma allows you to take in gorgeous landscapes and visit a variety of cultural and historical landmarks. If you've been looking for a unique US destination to check out, Oklahoma is a great place to add to your travel bucket list!
Give us feedback about this article
More articles about Oklahoma:
Read more articles about the United States:
More articles about landmarks:
More visual stories related to this article:
---
---
Want to keep exploring?
Subscribe for discounts on tickets and hotels and our latest guides.
Thank you for subscribing
We will be in touch soon with discounts on tickets and hotels and our latest guides.
Want to keep exploring?
Subscribe for discounts on tickets and hotels and our latest guides.
Thank you for subscribing
We will be in touch soon with discounts on tickets and hotels and our latest guides.
Related Articles