35 Best Things to Do in Bend, Oregon, with Kids
Destguides may receive commissions from purchases made through affiliate links in this article.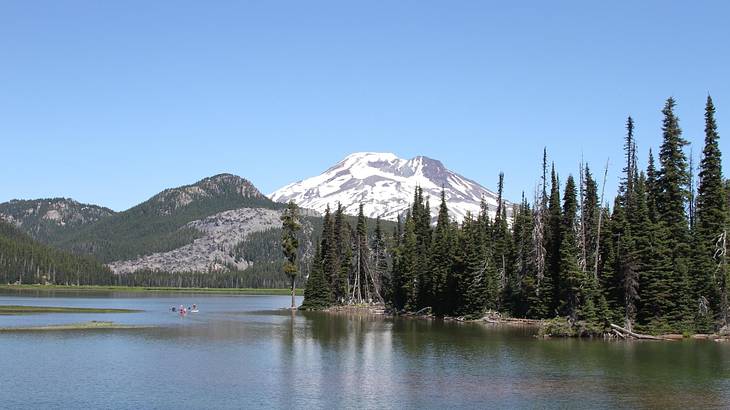 If you're wondering what to do in Bend, Oregon, with kids, then this is the list for you! There are loads of fun things to do in Bend, and it's an amazing place for adults and kids to explore together!
This list will cover the top 35 best things to do in Bend, Oregon, with kids, putting the city's natural and cultural qualities on full display.
While you may not get through all of these on your visit, it will still be hard to choose with so many good options! Read on to learn which ones might work best for your family!
35 Things to Do in Bend, Oregon, for Kids
Make something cool at The Art Station
A favorite for locals and vacationers alike, The Art Station in Bend offers classes for kids and adults interested in pottery, drawing, jewelry-making, and more.
The many artistic options and the laidback atmosphere make this family-friendly spot one of the best things to do in Bend with kids.
Go climbing at Bend Rock Gym
This central Oregon city's reputation for adventure sports is well-deserved, and the Bend Rock Gym is where climbers go to hone their skills. The complex has hundreds of climbing routes where people of all skill levels can practice bouldering, top rope, and auto-belay climbing.
Get active at Cascade Indoor Sports
Cascade Indoor Sports is an excellent place for active families to have fun. For more extended stays in Bend, both youth and adult programs are available for sports like soccer and pickleball.
For shorter visits, your family will love the "Big Play Thing" that boasts over 7,000 square feet of climbing, slides, rope bridges, and the K1 electric go-kart racing.
Visit the Old West at Deschutes Historical Museum
A visit with your family to the Deschutes Historical Museum is a great reminder that Bend and its surroundings are not very far from their wild west roots.
The exhibits take visitors on a trip through the logging culture of the area, early homestead settlements, and a preserved 1914 school classroom.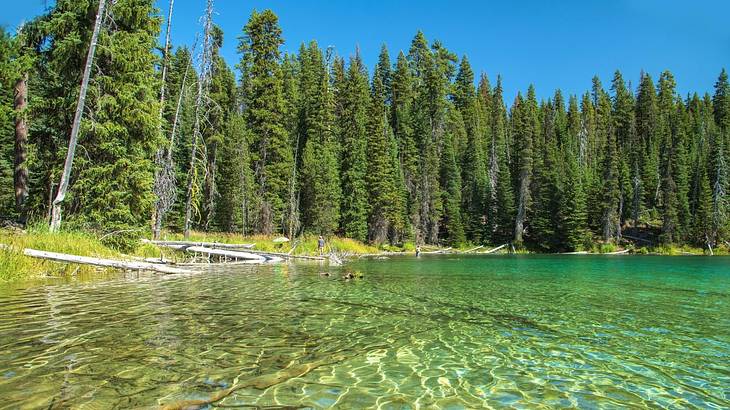 Go exploring in Deschutes National Forest
Nearby Deschutes National Forest covers over 1.6 million acres to the west and south of Bend. The whole family will enjoy exploring this wilderness, with plenty of places to hike or camp throughout its old-growth forests. A trip here is one of the best things for kids to do in Bend, Oregon, who are looking for a bit of outdoor adventure!
Check out Deschutes Public Library
Deschutes Public Library in downtown Bend has regular events that families with kids and teens will love. Even if you aren't around long enough to get your library card, you can still stop by for story time or building Minecraft accessories!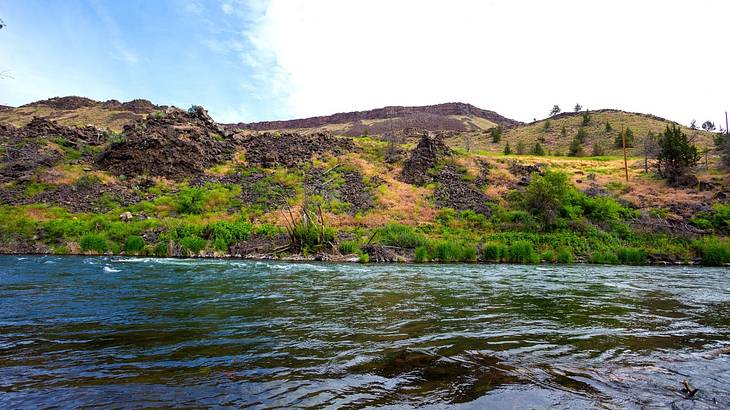 Take a day trip to Deschutes River State Recreation Area
After passing through Bend, the Deschutes River steamrolls northward until it empties into the stunning Columbia River Gorge near Washington.
Following this beautiful glacial river to its terminus in the Deschutes River State Recreation Area is a great day trip from Bend, with hiking, biking, and whitewater rafting available at this intersection of western waterways.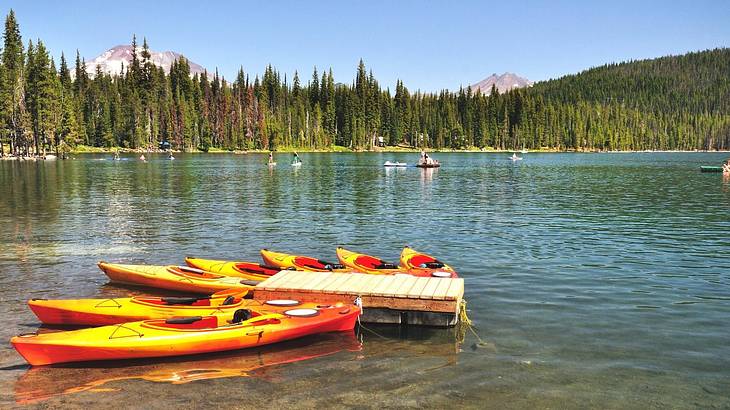 Play and camp at Elk Lake
Elk Lake is found about twenty-five miles southwest of Bend and is full of winter and summer activities for the family. It has plenty of water sports available, like kayaking, boating, and SUP boarding. Elk Lake Resort is consistently voted as the area's most kid-friendly camping area by the local Bend Nest Magazine.
Learn about the region at the High Desert Museum
The High Desert Museum on the south end of town has some of the best activities for kids in Bend, Oregon. There is an otter exhibit, daily raptor shows, and an interactive sawmill to show how a family might have lived and supported themselves in the high desert of the United States a hundred years ago.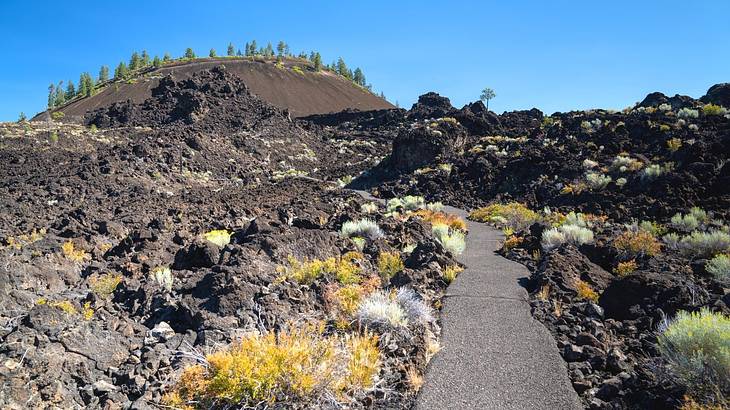 Walk through volcanic fields at Lava Lands Visitor Center
To learn how volcanic activity has shaped the region over thousands of years, take a trip to Lava Lands Visitor Center between Bend and Sunriver.
After an orientation from Park Rangers, you and the family can walk the Trail of Molten Land or explore along the 5.5-mile Sun-Lava paved pathway.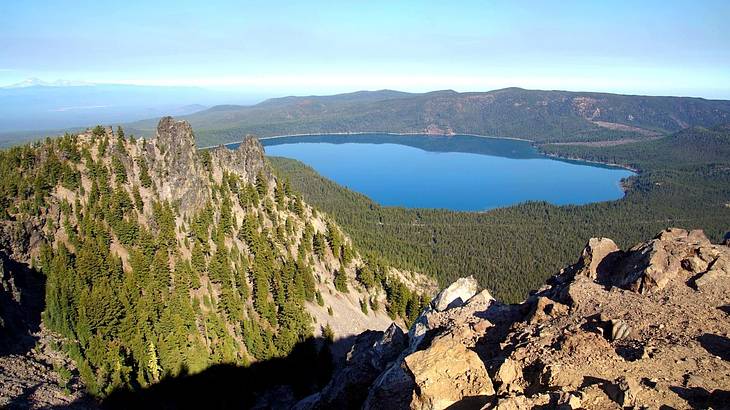 Get adventurous at Newberry National Volcanic Monument
Newberry National Volcanic Monument is located within Deschutes National Forest. It is one of the things to do in Bend, Oregon, with family if you are looking for some rugged fun.
Once here, you can enjoy watersports at Paulina Lake and East Lake or get your adrenaline pumping in a four-person ATV tour.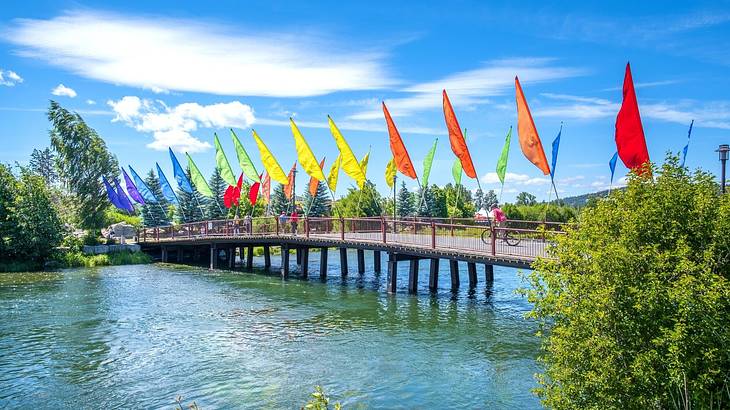 Take a walk through the Old Mill District
The Old Mill District has wholly transitioned from the logging industry to becoming the commercial center of Bend, maintaining its importance to the city's residents.
Your family can enjoy river walks, shopping (especially for outdoor gear and activewear), and sitting down for a meal in one of its many restaurants or brew pubs.
Enjoy the panorama at Pilot Butte State Scenic Viewpoint
Ancient volcanic activity in and around Bend has led to the formation of raised cinder cones called buttes. One of these, Pilot Butte, is found in the city's downtown area with scenic views of the surrounding Cascade range on full display.
Go climbing at Smith Rock State Park
Head to Smith Rock State Park in Terrebonne for some outdoor family fun. Scenic hiking trails and over a thousand bolted rock climbing routes for all skill levels are found here, along with spectacular views of Smith Rock's towering volcanic spires. It won't take long to realize why this famous Oregon landmark is considered one of the 7 Wonders of Oregon!
Get wild at Sun Mountain Fun Center
For kid-friendly things to do in Bend, Oregon, the Sun Mountain Fun Center is the jackpot. It has bowling, batting cages, arcades, a restaurant, go-karts, and an indoor 18-hole golf course. It's an excellent choice for families with different interests or who like to keep their options open.
Play in the river with Tumalo Creek Kayak & Canoe
Tumalo Creek Kayak & Canoe in the Old Mill District can help you set up a memorable experience full of family fun along the Deschutes River. They are available for gear rentals, guided tours, or providing lessons for kayaking and SUP boarding.
Go camping in Tumalo State Park
Just four miles north of Bend, Tumalo State Park offers views of the stunning Sisters mountain range, Mt. Bachelor, and Mt. Washington.
For those looking for an overnight stay, you'll find a clean campground with hot showers, flushing toilets, a hiking trail to Tumalo Falls, and pristine waters for trout fishing.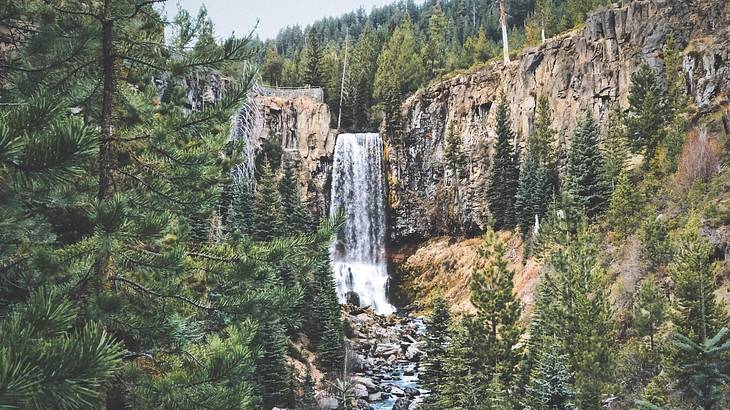 Hike to Tumalo Falls
The main feature of Tumalo State Park is its impressive falls, dropping nearly one hundred feet before pummeling the rocks below.
From the trailhead, the viewing platform for the falls is an easy quarter-mile hike. If you're willing to walk an additional 1.25 miles, the trail continues to the two-tiered Middle Tumalo Falls, splashing sixty-five feet down the cliffside.
Rent bikes at Wheel Fun Rentals
Bike culture is prominent in this high desert city, and joining the movement is one of the best things to do with kids in Bend, Oregon. Wheel Fun Rentals in the Old Mill District rents a wide variety of pedaled vehicles, from traditional multispeed bikes to eight-person surreys and tandem bicycles.
Wander the botanical gardens at Sunriver Nature Center & Observatory
The Sunriver Nature Center and Observatory is a wonderful place to visit for Bend, Oregon, kids activities. Your family will enjoy wandering through their nature trails and gardens, visiting the animals they are rehabilitating, and gazing into the night sky at the observatory and planetarium.
Bounce around at Mountain Air Trampoline Park
Mountain Air Trampoline Park has over fifty connected trampolines and is full of activities for kids in Bend, Oregon. With traditional trampolines, a toddler zone, a giant airbag, and some trampolines even hooked up to video games; everyone will have a blast in this playhouse!
Jump in the pool at Juniper Swim & Fitness Center
This swimming pool and fitness center is run by Bend Park and Recreation District and is full of activities that the whole family can enjoy.
Check the schedule to see the times for the sauna, family swims, and parent-child swims for kids six and younger while you're there!
Explore the fantastic books at Pegasus Bookshop
Pegasus Bookshop in downtown Bend is stocked with books of all kinds, but it has a soft spot for comics, anime, manga, fantasy, and sci-fi.
If it's not books you're seeking, keep looking around to find the many role-playing games, toys, and pop-culture novelties that are stuffing every bit of available shelf space.
Find a unique souvenir at Leapin' Lizards Toy Company
Leapin' Lizards Toy Company has been voted the best toy store in Central Oregon each year since 2013. Their wide range of specialty toys, books, and games are carefully selected by the owners, guaranteeing a fun family outing and a variety of unique gifts that will keep on giving.
Get your sugar fix at Cravin's Candy Emporium
This is not just a sweet shop but a trip down memory lane for parents who remember Atomic Fireballs, Cow Tales, Airheads, and a massive variety of other bygone candies.
Needless to say, your kids will also enjoy partaking in the sugary nostalgia, making this one of the top things to do in Bend, Oregon, with family.
Splash around at SHARC
SHARC - the Sunriver Homeowner's Aquatic & Recreational Center - is located south of Bend but is well worth the trip. Large pools, tube slides, a lazy river, and a water jungle gym, all filled with 84-degree water, await you and your family in this relaxing resort town.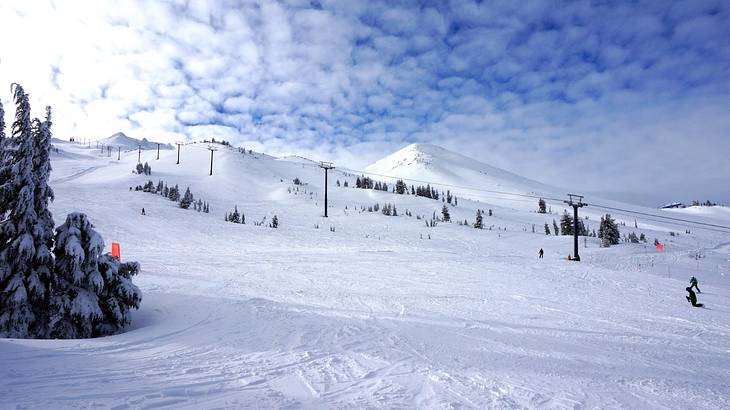 Go skiing or mountain biking on Mt. Bachelor
Mt. Bachelor Resort has quickly become one of the premier skiing destinations in the country, offering 360 degrees of slopes from the summit and lessons for new skiers and snowboarders.
In the summer, the resort transforms into a mountain-biking paradise with more than thirteen miles of lift-served bike paths available.
Immerse yourself in virtual reality at Zero Latency
If there are any gamers in your family, a trip to Zero Latency will be an unforgettable experience! Various first-person VR games await in this free-roam virtual reality experience that allows for complete immersion.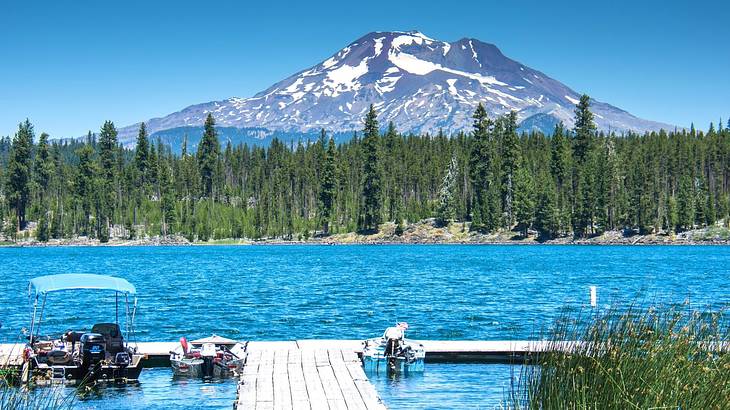 Take a drive on Cascade Lakes Scenic Byway
If you want to branch out of Bend to see the surrounding area, the Cascade Lakes Scenic Byway is a great way to explore more of Central Oregon's impressive geography. It has plenty of pull-offs for photos, walks, and picnics that will help you enjoy this sixty-six-mile stretch of road.
Have a day in the park at Munch & Music
Munch & Music at the Drake Park amphitheater pairs food trucks with live music each Thursday during the summer. These free outdoor concerts attract popular local and national acts and are one of the top family things to do in Bend, Oregon.
Take an electric bike tour of the Deschutes River
It can feel exhausting to explore a city on foot (especially with kids) and impersonal to travel only by car. Exploring Bend and the Deschutes River on an electric bike tour fixes both of these problems by letting you cruise through the city in the open air while still covering a lot of ground!
Challenge yourself in an escape room at Puzzle Effect
Escape rooms can be a fun way to bond as a family, and Puzzle Effect in Bend offers plenty of mind-tickling mysteries for you to work out as a team. You can board a cursed ship, rescue a missing girl, or escape a dystopian nightmare at this unique family activity.
Go spelunking in Lava River Cave
One of the more exciting features of the ancient and ongoing volcanic activity in Deschutes County is the formation of underground lava tubes as the lava flow subsides and hardens.
Lava River Cave in Newberry National Volcanic Monument extends for a full mile into the earth, with tours available for brave visitors.
Discover local goods at Bend Farmers Market
Every Wednesday from early May to mid-October, the Bend Farmers Market sets up shop in Brooks Alley between Minnesota and Franklin Avenues.
Local blueberries, wildflowers, spirits, baked goods, and other local items are sold here, letting your family get a literal and figurative taste of the region.
Go skating at The Pavilion
No matter the season or the weather, you and your kids can enjoy skating at the Pavilion in Bend. Run by the Park and Recreation District, it transitions seamlessly from ice skating to rollerblading when the seasons change!
Conclusion
With so many things to do in Bend, Oregon, with kids, hopefully, this list has helped to highlight ideas and narrow down what might work best for your family trip to Central Oregon. No matter what, though, you're bound to leave with an appreciation for this beautiful and inspiring corner of the country!
Give us feedback about this article
Learn more about Bend:
More articles about Oregon:
Read more articles about the United States:
More articles about things to do:
More visual stories related to this article:
---
---
Want to keep exploring?
Subscribe for discounts on tickets and hotels and our latest guides.
Thank you for subscribing
We will be in touch soon with discounts on tickets and hotels and our latest guides.
Want to keep exploring?
Subscribe for discounts on tickets and hotels and our latest guides.
Thank you for subscribing
We will be in touch soon with discounts on tickets and hotels and our latest guides.
Related Articles