35 Fun Portland Date Ideas for Every Couple
Destguides may receive commissions from purchases made through affiliate links in this article.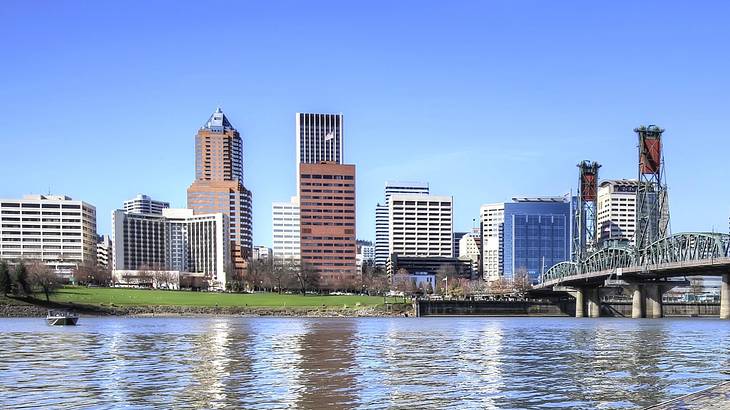 Portland is an exciting and unique city in Oregon on the West Coast of the United States. It has something for everyone, including couples. If you're visiting the city with your partner or live there and want to know of some fun Portland date ideas, this article is for you!
Things for couples to do in Portland include strolling around botanical gardens, drinking at trendy bars, and sailing on the Columbia River at sunset. Read on for more cool and memorable date ideas in the City of Roses!
35 Fun Date Ideas in Portland, Oregon
Things to Do in Portland on a Date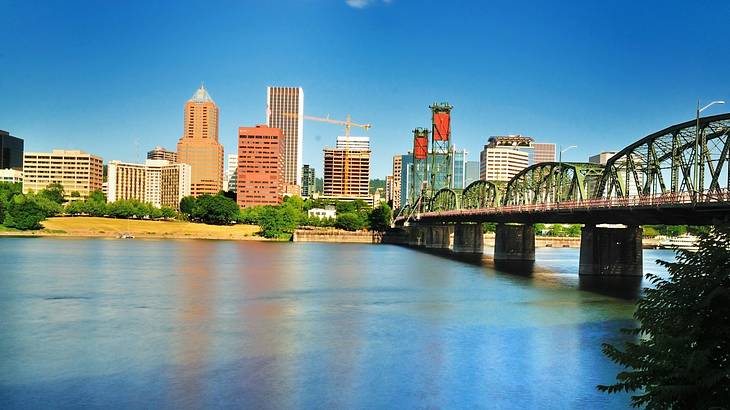 Relax on a champagne brunch cruise
A romantic way to get out on the water in Portland is by going on a champagne brunch cruise. This two-hour excursion sails along downtown Portland and includes a buffet brunch, plus champagne or cider. You'll pass landmarks like Elk Rock Island and the Portland Sign as you enjoy your luxurious meal.
Bike to Portland's best breweries
Biking to Portland's breweries is an excellent activity for couples that like local craft beers. This two-and-a-half-hour tour will take you to the best breweries, where you can do tastings and learn more about the brewing process. After the tour is complete, you'll have a list of new breweries to visit on your next date!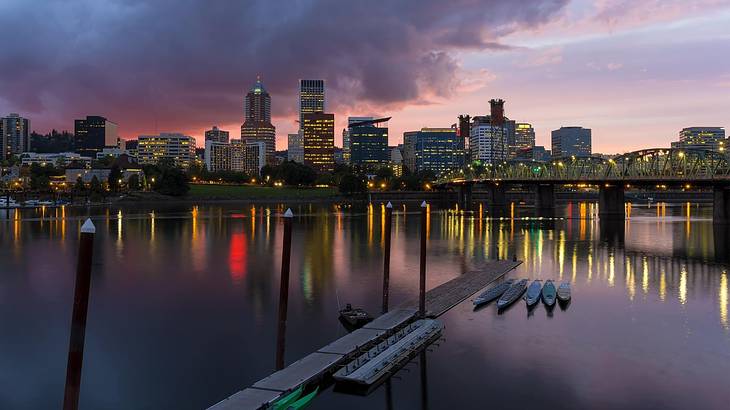 Hear ghost stories on a haunted pub crawl
A more unique idea for a date in Portland is participating in a haunted pub crawl together. Not only will you hear ghost stories, but you'll also get to hop between award-winning breweries, trying craft beer samples at each. This tour allows you and your date to find fantastic bars and learn some eerie secrets about the City of Roses!
Eat at Portland's best culinary spots on a food tour
Portland has a vibrant food scene and is especially well-known for its food carts. A great way to see some of the best food spots in the city together is by going on a Portland food cart tour.
You'll stop at five to seven food carts and will learn more about each vendor during your visit. In addition, you can see some famous Oregon landmarks as you move from cart to cart and will also get to go to a brewery.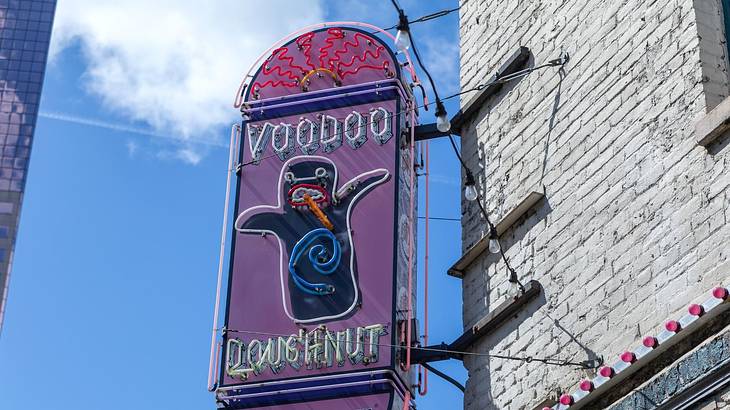 Treat yourselves to sweets at Voodoo Doughnut
Voodoo Doughnut is a well-known Portland landmark and a popular place to visit for the best donuts in the city! If your other half has a sweet tooth, taking them here is sure to please.
There are many unique donut flavors, including banana cream and Cap'n Crunch. To discover more donut shops, take your date on a quirky underground donut tour!
Spend a fun day at Oaks Park
Oaks Park, or Oaks Amusement Park, is a small theme park near Portland. It's a fun place to spend the day with your date, riding roller coasters and checking out the other attractions. Amusements include rides for all thrill levels, mini-golf, and carnival-style games.
There's also a retro roller rink where you can go skating together. Interestingly, this roller rink is the oldest in the United States!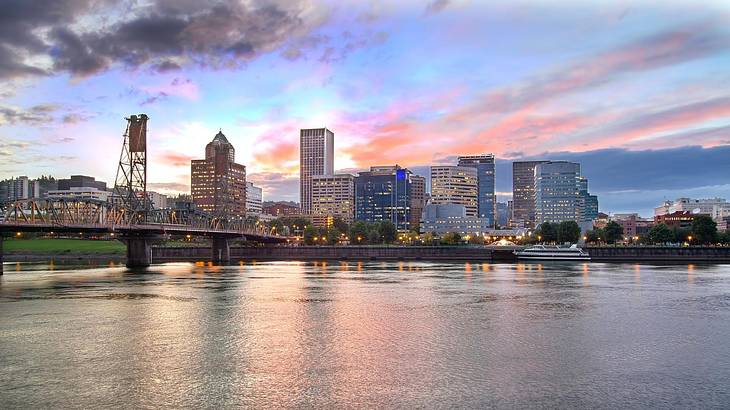 Luxuriate on a sunset dinner cruise
If you want to plan a fun date night in Portland, Oregon, that's highly memorable, book a sunset dinner cruise. This luxurious two-and-a-half-hour cruise will take you along the waters of downtown Portland.
As you sail, you can enjoy the sunset over the water with your partner; it's highly romantic! A three-course meal and cash bar are also provided, and you can listen to live music as you eat. This cruise and the beautiful sunset you see will help you understand why the Oregon nickname, the Sunset State, exists.
Work together to tackle an escape game
Trying an escape game puzzle is one of many fun date ideas in Portland, OR. This activity is also perfect for rainy days.
Just a few of the escape game operators in Portland include Escape Games PDX, Hour to Midnight, and In Search of an Exit. Themes on offer include prison break, Ancient Egypt, and Sasquatch hunting.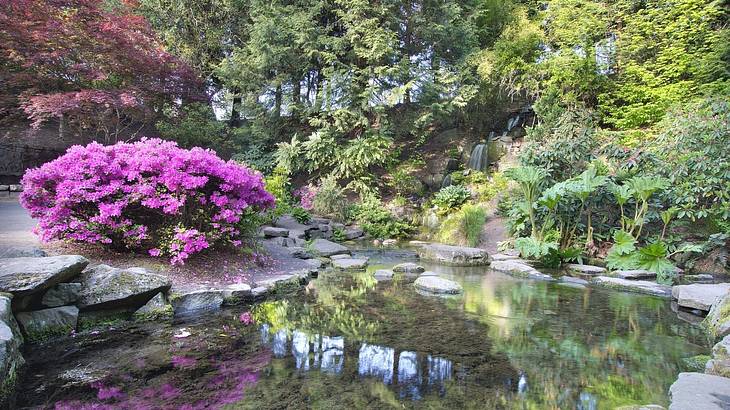 Snap photos at the Crystal Springs Rhododendron Garden
Located 20 minutes from downtown, the Crystal Springs Rhododendron Garden is another garden attraction. The 9.5-acre site has lots of greenery, pretty flowers, and three waterfalls. It's also a great place to spot wildlife, especially birds and butterflies.
Due to the beauty and tranquility of the garden, taking some couples photos here is highly recommended. However, note that if you want to do a more professional couples shoot, a photography fee may apply.
Share coffee and donuts!
Portland has a multitude of trendy and cozy coffee shops, making planning a coffee date easy. A unique twist on this classic date idea is joining a Portland coffee and donuts tour.
You and your date will visit a variety of stops where you can enjoy freshly brewed craft coffee and yummy donuts. You'll also pass some landmarks and learn more about the city.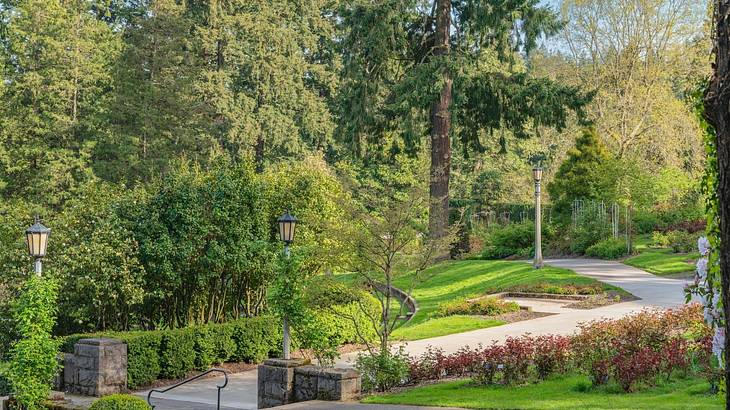 Enjoy the fresh air at Washington Park
Washington Park is a much-loved urban park in Portland, and exploring the park is one of the fun dates in Portland, OR, that has to be on your date idea list! In the park, you and your partner can follow a range of trails through forests and gardens.
It's also the ideal place to have a picnic on a sunny day. You'll find attractions within the park as well, like the World Forestry Center Discovery Museum and the Oregon Zoo.
Look around the Alberta Arts District
The Alberta Arts District is a neighborhood with lots of attractions for you and your date to check out. Things to do include visiting local art galleries, shopping at independent stores, and dining or getting drinks at unique bars and restaurants. No matter what activities you try, hanging out in the Alberta Arts District is always a good idea.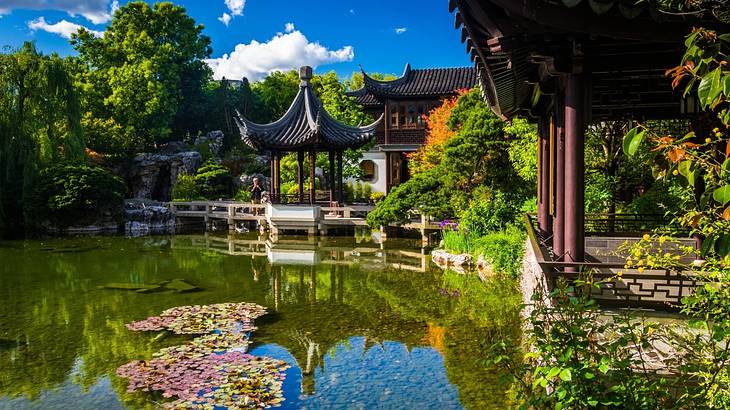 Wander around the Lan Su Chinese Garden
Another gorgeous garden to visit with your date is the Lan Su Chinese Garden. The tranquil space houses Chinese-style gardens with beautiful plants and greenery, water features, and scenic pagodas.
Notably, the attraction has been called one of the most authentic Chinese gardens outside of China. It's the ideal place to escape the bustle of the city with your date and unwind a little.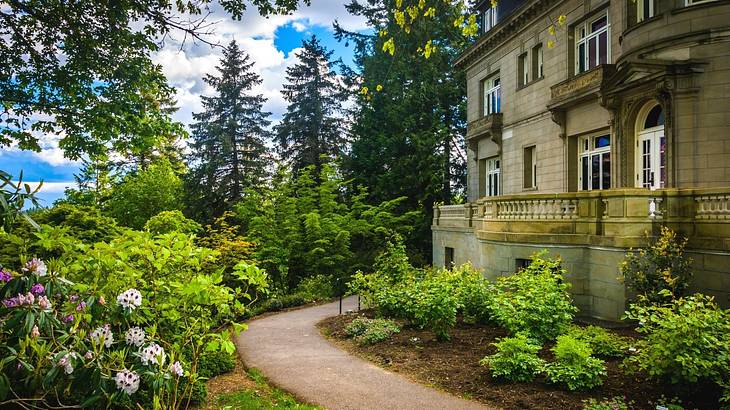 Visit Pittock Mansion
Pittock Mansion is a stunning landmark to visit with your date. Located next to Washington Park and just a ten-minute drive from downtown, the mansion was built for publisher Henry Pittock in 1914.
Today, the home is a house museum with many fascinating exhibits. After looking around the home, you and your partner can explore the flower-filled gardens and enjoy views of the downtown skyline.
Watch a performance at the Arlene Schnitzer Concert Hall
The Arlene Schnitzer Concert Hall is a great place to go for a memorable night out. The performing arts center hosts a variety of shows, including musicals, concerts, and even comedy shows. A restaurant and bar are conveniently located on-site if you want to get pre-show drinks or dinner.
Play games at Ground Kontrol Classic Arcade and Bar
If you want to plan a highly fun date night in Portland, OR, go to Ground Kontrol Classic Arcade and Bar. This quirky spot has vintage arcade games, pinball, and more.
As you and your date play games, you can order drinks and bar snacks. Some nights, there's also a DJ at the bar, and it generally stays open until midnight.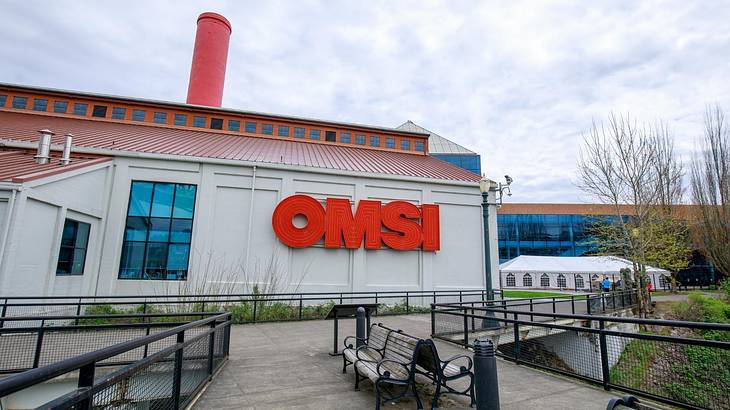 Learn new things at the Oregon Museum of Science and Industry
The Oregon Museum of Science and Industry is an excellent place to go on a daytime date, especially when the weather is bad. Founded in 1944, the attraction covers science and technology topics and has a planetarium. With lots of hands-on exhibits and exciting subject matter, exploring the museum is sure to teach you something new.
Art gallery hop in the Pearl District
Bar hopping is a fun idea that allows you to visit a range of bars and breweries. However, art gallery hopping is a more fun option for arts and culture enthusiasts!
Packed with independent art galleries, the Pearl District is the ideal place to do this activity with your date. Galleries to visit include the Froelick Gallery, the Upfor Gallery, and Adams & Ollman.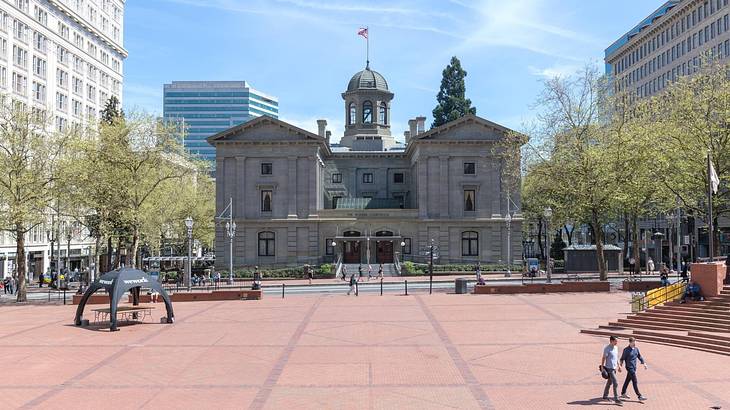 Try dishes from the food trucks in Pioneer Square
Pioneer Square, or Pioneer Courthouse Square, is locally known as "Portland's living room," and it's the ideal place to hang out with your date. Each day, you'll find a variety of food trucks around the square. Options include Mexican food, salad bowls, and grilled sandwiches.
When visiting with your partner, grab some food and enjoy it in the square. After eating, check out the sculptures and street art that adorn the area.
Find unique publications at Powell's City of Books
Powell's City of Books is a well-known Portland landmark and is also the largest independent bookstore in the world. Exploring the vast bookstore with your partner is a unique thing to do in Portland that you can't miss! While looking around, you'll come across some one-of-a-kind publications and are guaranteed to find at least one book you want to purchase.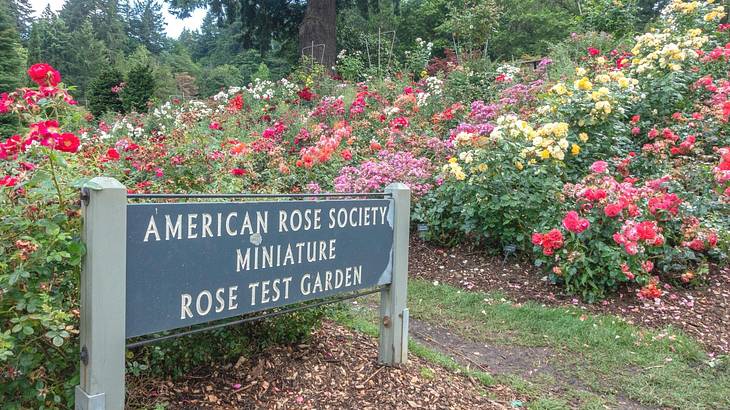 Admire the flowers at the International Rose Test Garden
One of the most romantic things to do in Portland, Oregon, is exploring the International Rose Test Garden with your date. Located in Washington Park, the garden features over 650 species of roses and more than 10,000 rose bushes.
You can admire the brightly colored flowers and take some pretty photos together as you wander around. Looking around this pretty landmark will help you understand how the Portland nickname of the City of Roses came to be!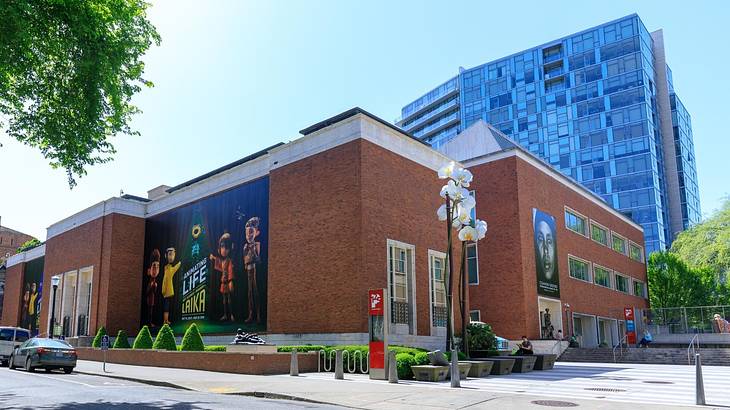 View artworks at the Portland Art Museum
A fantastic spot for a daytime date is Portland Art Museum. Founded in 1892, the almost 44,000-square-foot space holds a collection of 42,000 objects.
At the museum, you can see paintings, sculptures, drawings, and much more. Works also cover a range of cultures and periods, including Native American art, contemporary art, and centuries-old European works.
Drink at Portland's best bars
A classic Portland date night idea is getting drinks at some of the city's trendiest bars. However, choosing where to take your loved one can be a challenge with so many fantastic options.
If unsure of which bar to pick, Pink Rabbit is a fun option. This sophisticated cocktail bar serves craft cocktails, sparkling wine, and Asian-inspired bar snacks.
Other bars to visit include Teardrop Lounge, a sultry cocktail bar, and Rum Club, a laid-back spot with outdoor seating, great happy hour offers, and delicious rum cocktails.
Check out Floating World Comics
Floating World Comics is a quirky Portland attraction that's a must-visit for couples that love comic books. The store sells comics as well as merchandise like action figures and clothing. Floating World Comics is a fascinating place to look around together, and you're sure to find some unique items.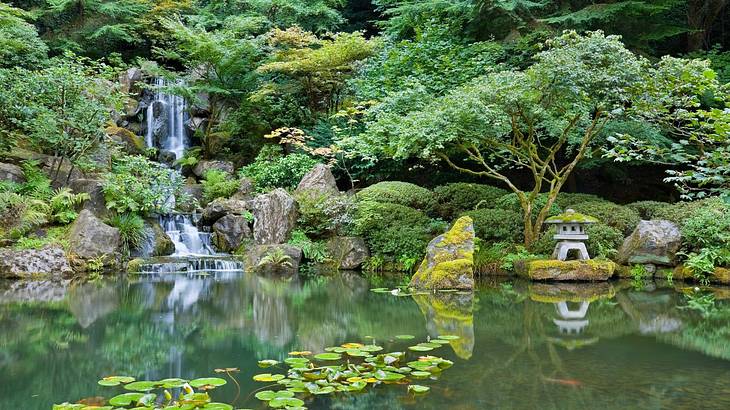 Explore the Portland Japanese Garden
The Portland Japanese Garden is a beautiful attraction featuring Japanese-style plant displays. In the 5.5-acre park, you and your date can stroll through eight tranquil gardens, including the Tea Garden and Pond Garden. Pretty plants to see include bonsai trees and pink cherry blossoms.
Taste unique ice cream flavors at Salt and Straw
Salt and Straw is another well-known dessert spot that serves classic and more unique ice creams. Flavors on the menu include spinach cake with chocolate tahini fudge and carrot cake batter with hazelnut. There are multiple outlets around Portland, making it easy to visit before or after another activity.
Indulge in sweets on an ice cream tour
If you want to discover some more of the city's top ice cream parlors, booking a Portland ice cream tour is an excellent idea. You and your date will get to check out multiple ice cream shops, including the previously mentioned Salt and Straw, where you can taste samples. Your guide will also point out lots of Portland landmarks as you go from shop to shop.
Things to Do Near Portland on a Date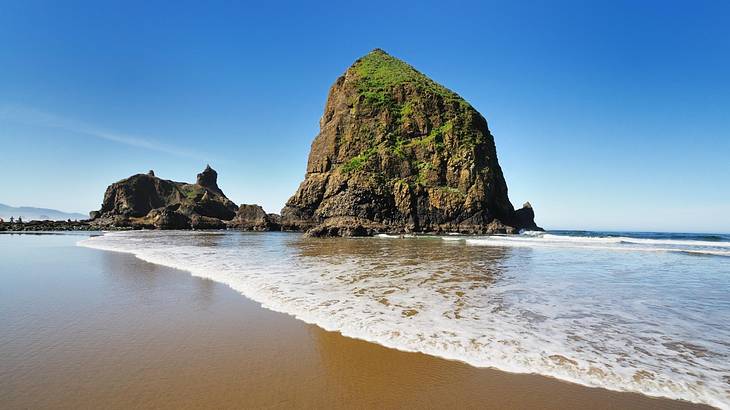 Drive along the Oregon Coast
If you're looking to get out of the city for a bit, an Oregon Coast day trip is a fun suggestion. This driving tour will take you and your date along the coast, with stops at scenic locations like Cannon Beach and Haystack Rock. It's the ideal way to see a little more of beautiful Oregon!
The best time to visit Portland if you also want to drive along the Oregon Coast is during the late spring. The weather is beautiful, allowing you to enjoy the beaches under the sun with minimal chance of rain. Additionally, the potential summer wildfires won't have begun, which can have an effect on travel plans.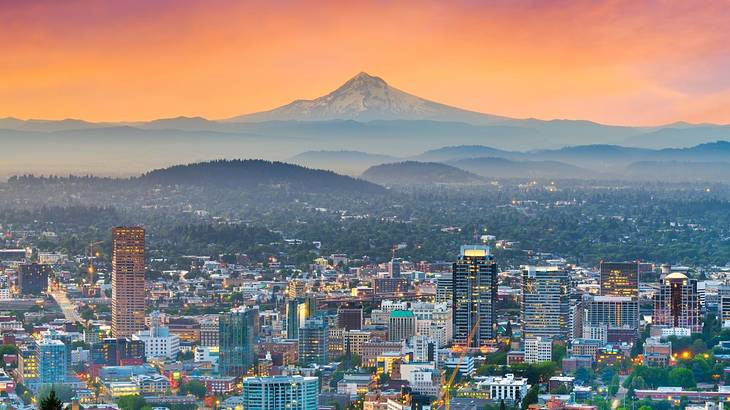 Fly over Portland on a private airplane ride
To enjoy the best views of Portland with your date, treat them to an airplane ride over the city. Your private flight will take you over famous landmarks and allow you to admire the city's natural surroundings from a different angle. Flights are offered all day, allowing you to book them at romantic times, like sunrise or sunset. You'll board just outside of Portland in Troutdale.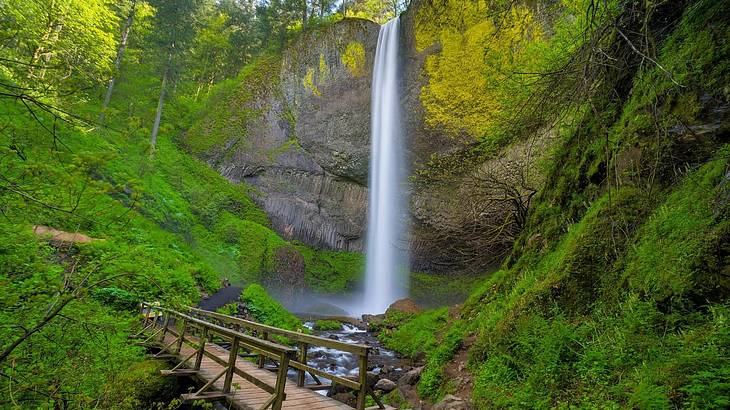 Discover Latourell Falls
Latourell Falls is another waterfall located close to Portland. The waterfall reaches 249 feet tall and is found in Guy W. Talbot State Park on the Columbia River Gorge. There's a viewing point in front of the falls and many hiking trails.
Taking a waterfall tour from Portland will allow you to see Latourell Falls, plus other waterfalls and landmarks.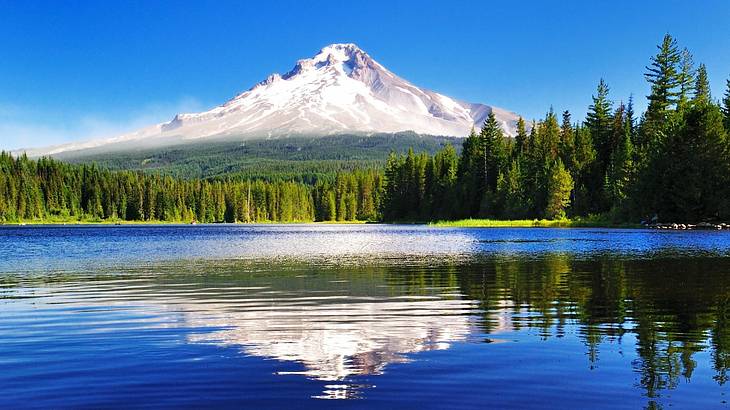 Have a fun day outdoors at Mount Hood
Mount Hood is a dormant stratovolcano located just under two hours from Portland. Despite being potentially active, it's a popular place to ski and snowboard, even in the summer.
If you aren't a fan of winter sports, you and your other half could take a Mount Hood tour. This fun day-long excursion includes hiking at Mount Hood and stopping at nearby attractions like Timberline Lodge and Multnomah Falls. A delicious lunch and wine tasting are included too.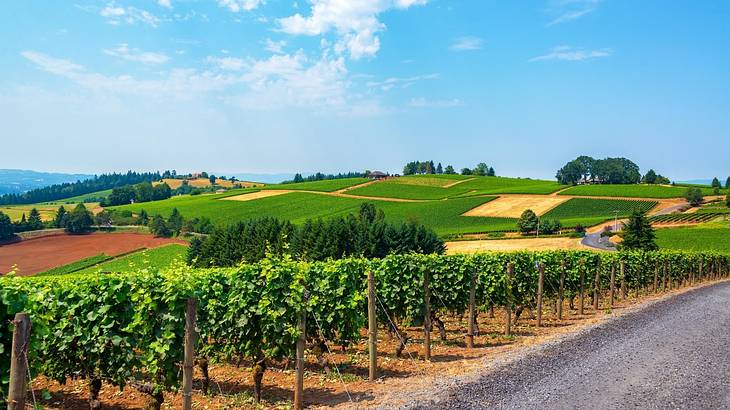 Sip on local wines in the Willamette Valley
Known as Oregon Wine Country, going wine tasting in the Willamette Valley is a perfect date idea. Situated just under an hour from Portland, a wine tasting tour will take you to five wineries, where you can try samples and purchase a few bottles to enjoy on your next night in together.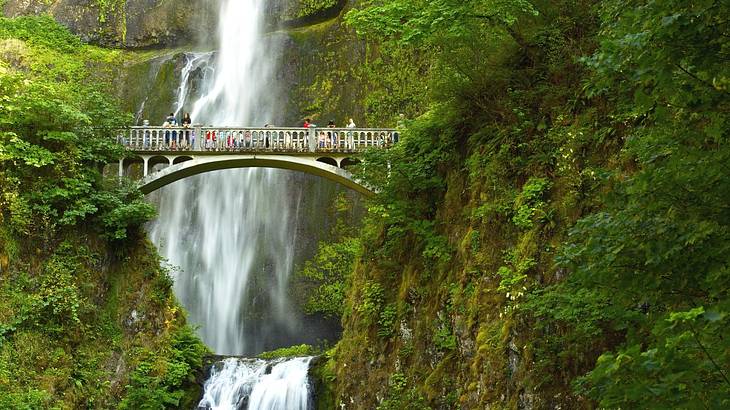 Marvel at Multnomah Falls and the Columbia River Gorge
If you and your other half love outdoor activities, you'll find no shortage of fun dates in Portland, Oregon, that allow you to explore outside.
A must-try activity is going on a Multnomah Falls and Columbia River Gorge Falls hiking trip. This half-day excursion will allow you to discover multiple waterfalls and you can wander through beautiful forests and past scenic lakes.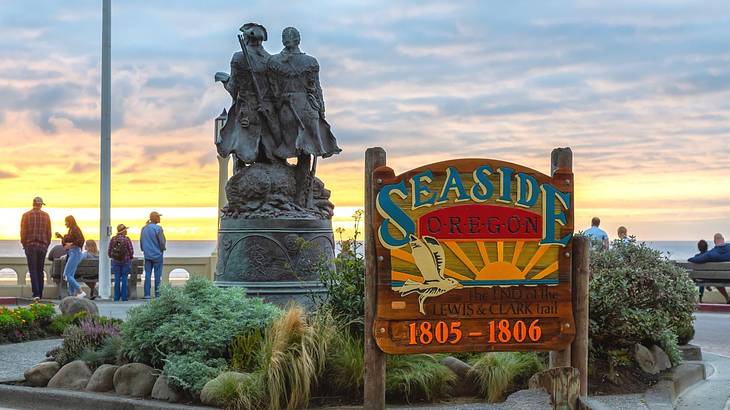 Plan a trip to Seaside, Oregon
Couples can find lots to do in Portland, but planning a day trip or weekend getaway to a nearby destination is fun too. A perfect place to visit is Seaside, Oregon, which is just an hour and a half away from Portland.
There's no shortage of fun things to do in Seaside! Activities to enjoy include exploring parks, treating yourselves to local ice cream, and going on coastal walks.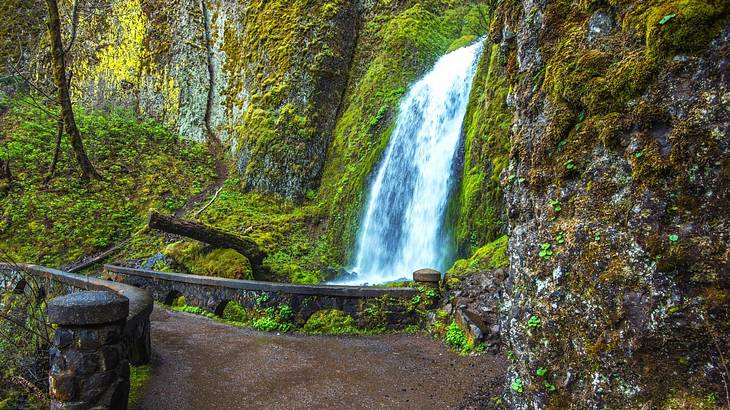 Follow the Wahkeena Falls Trail
The Wahkeena Trail, or Wahkeena Falls Trail, covers 2.8 miles and will take you through lush forest and past magical waterfalls. Falls to see include the magnificent 242-foot Wahkeena Falls and Fairy Falls. Along the way, you and your date will find lots of great photo ops too.
In Conclusion
You can discover an array of romantic things to do in Portland for couples, plus more laid-back and quirky activities. From Portland food tours to exploring parks and gardens and going on a champagne brunch cruise, this unique PNW city has a date idea for all couples!
---
---
Want to keep exploring?
Subscribe for discounts on tickets and hotels and our latest guides.
Thank you for subscribing
We will be in touch soon with discounts on tickets and hotels and our latest guides.
Want to keep exploring?
Subscribe for discounts on tickets and hotels and our latest guides.
Thank you for subscribing
We will be in touch soon with discounts on tickets and hotels and our latest guides.
Related Articles