25 Best Fun Things to Do in Portland for Kids
Destguides may receive commissions from purchases made through affiliate links in this article.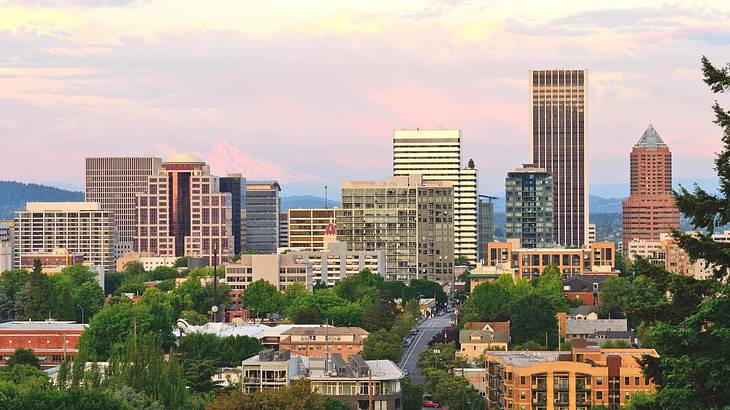 One of the trendiest cities on the West Coast of the United States is Portland. Located within the state of Oregon, Portland is renowned for its hipster culture and laid-back, outdoorsy atmosphere.
Portland is a must-visit destination for all types of people, including solo travelers, couples, and groups of friends. The City of Roses is also extremely family-friendly. Some exciting things to do in Portland for kids include going on a donut tour, visiting amusement parks, and snuggling with kitties at a cat cafe.
Whether you're traveling with young children, tweens, teens, or a mix, there's definitely no shortage of things to keep them amused in this vibrant city. So if Portland is the next stop for your family, or if you live there and are looking for new activities, read on for 25 kids activities to try!
25 Things to Do for Kids in Portland, Oregon
Fun Things to Do with Kids in Portland, OR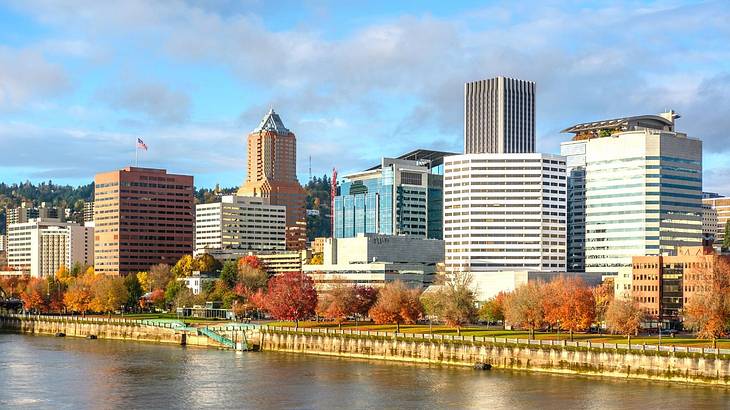 Bike around Portland
A perfect way to see all of Portland's landmarks is by cycling around the city. Going on a Portland bike tour is a convenient way to do this. The tour will take you to attractions like the Clinton Street Theater, Poet's Beach, and Tom McCall Waterfront Park.
Children are welcome to join, meaning the bike tour is also one of the top kids' activities in Portland, OR. You also get to stop halfway through the tour to get donuts from a local bakery!
Ride roller coasters at Oaks Amusement Park
What kid doesn't love an amusement park? When in Portland, a trip to Oaks Amusement Park is the perfect way to keep all the family entertained. The park was opened in 1905 and happens to be one of the oldest continuously operating theme parks in the US.
Rides to try range from large roller coasters for thrill-seekers to bumper cars, carousels, and Ferris wheels.
Skate at the Oaks Park roller skating rink
Another kid-friendly attraction at Oaks Amusement Park is the roller skating rink. At the rink, your kids can skate around while enjoying music and fun light effects.
The rink also hosts themed events, like glow-in-the-dark skating sessions and retro nights. Along with the rink, Oaks Amusement Park also has a mini-golf course and an arcade for kids to enjoy.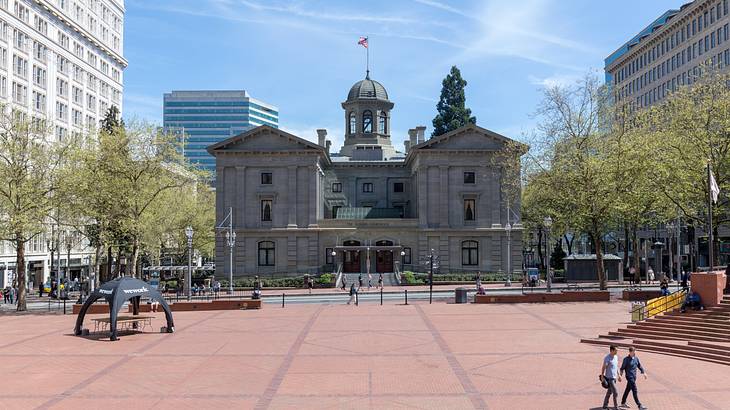 Find the animal statues at Pioneer Courthouse Square
Pioneer Courthouse Square is a 400,000-square-foot open space in downtown Portland. Sometimes called "Portland's living room," the square features murals, food carts, and water features.
Along with being a great place to let your kids run around, they'll enjoy looking for the cute animal statues found here. Adorable brass statues to discover include otters, ducks, and deer.
Eat sweet treats at Voodoo Doughnut
Voodoo Doughnut is a renowned outlet in Portland. The famous donut shop has two locations in the city, plus a few others across Oregon and Washington state. Voodoo Doughnut is especially well-known for its unusual and quirky creations.
Treats that you and your kids can enjoy include cookie and cream donuts, maple bars, and a Cap'n Crunch-coated donut. A vast selection of vegan donuts is available too!
Check out the best bakeries in the city on a donut tour
If your family is craving even more sweet treats, going on a Portland donut tour is highly recommended. During this experience, you can visit five Portland donut shops and taste samples at every location.
Along with Voodoo donuts, you'll head to NOLA Doughnuts, Coco Donuts, Blue Star Donuts, and Sesame Donuts. At each stop, your kids will be able to try an array of delicious sweets.
Learn about nature at the World Forestry Center
A visit to the World Forestry Center is another of the many fun things to do in Portland, Oregon, with kids. This educational attraction is intended to teach kids and adults about forestry management, sustainability, wildlife conservation, and the like.
The museum houses various exhibits for your kids to interact with. These include displays on forests of the world, the animals that live in various natural ecosystems, and climate change.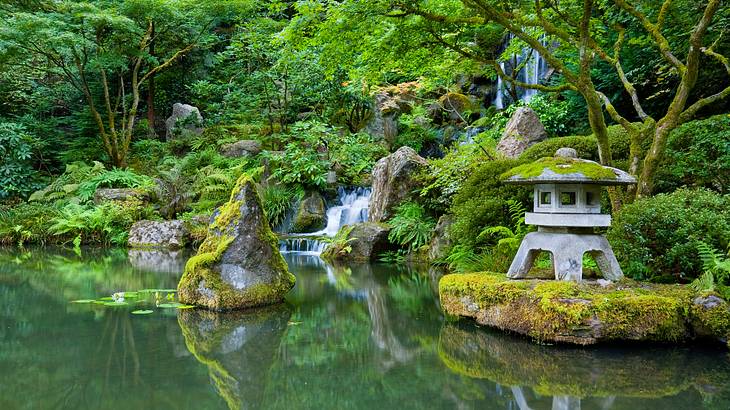 Discover pretty gardens at the Portland Japanese Garden
One of the Portland family activities that kids and adults will enjoy is going to the Portland Japanese Garden. This 5.5-acre attraction is also one of the most authentic Japanese Gardens outside Japan.
As you explore, you'll discover a range of styles of garden that feature plants like Japanese maples and cherry blossoms. Your kids can also visit a Japanese tea house and learn about different customs and cultures.
Walk amongst wildlife in Forest Park
Portland has many incredible outdoor locations close to it, with Forest Park being just one of them. The 5,200-acre attraction is home to dense forests and a host of animals.
To ensure you see all the best parts of the park, consider a Forest Park hiking tour. The tour takes you along the Wildwood Trail, and your guide will offer more information on the plants, trees, and wildlife around you.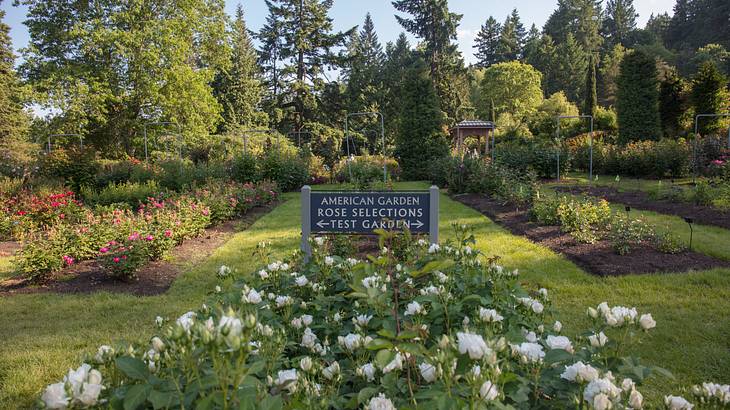 Get some fresh air while admiring Washington Park
Washington Park is a stunning urban park with manicured gardens, forests, and ponds. Some notable attractions found here include the International Rose Test Garden and the Hoyt Arboretum.
Visiting the park allows your kids to run around and explore in the fresh air while you appreciate the scenic surroundings. If your kids get a little bored, there's a fun playground to keep them occupied.
Cook pancakes at Slappy Cakes
When visiting Portland with kids, eating breakfast at Slappy Cakes is guaranteed to be a good time! The breakfast restaurant offers a selection of pancakes and other classic dishes, like scrambles and breakfast burritos.
This spot is particularly fun because your kids can make their own pancakes at the table! Simply choose a batter (buttermilk, chocolate, or vegan), plus some toppings, and let your kids go crazy making as many pancakes as they can eat.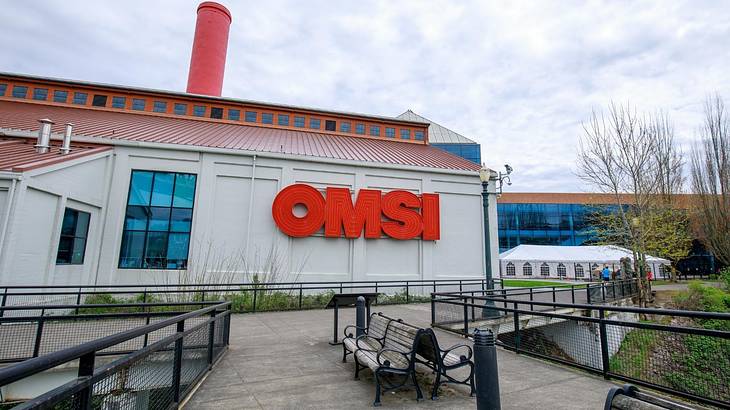 Visit the Oregon Museum of Science and Industry
Visiting the Oregon Museum of Science and Industry will teach your kids something new and also makes for the perfect rainy-day activity. The nationally renowned science center features exhibits on wildlife, sustainability, paleontology, and the human life cycle, among others.
Other things to check out at the Oregon Museum of Science and Industry include a planetarium and a large-screen theater. It is one of the unique things to do in Portland.
Cuddle with cute kitties at Purrington's Cat Lounge
For kids that love animals (and don't have any allergies), a trip to Purrington's Cat Lounge has to be on your Portland activity list. The cafe allows you to interact and play with adorable kitty cats. You can also purchase soft drinks and baked goods to enjoy.
Do be aware that all the cats here are up for adoption. If your kids bond with one of the cats, you may be going home with a fluffy new family member!
Go swimming at Mt. Scott Community Center
The perfect place to take your kids to let off some energy is at the Mt. Scott Community Center swimming pool. The indoor pool features a water slide and splash pool, plus lanes for children that are strong swimmers. If you live in Portland, the community center also offers swim lessons to help your kids feel confident in the water.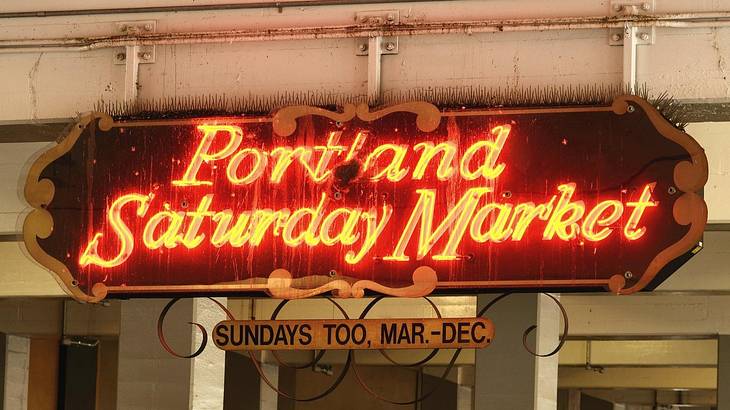 Shop for local products at the Portland Saturday Market
Going to the Portland Saturday Market is one of the things for families to do in Portland, Oregon, that allows you and your kids to discover some great local products. At the outdoor craft market, you'll find stalls selling products like handmade jewelry, paintings, and pottery.
Your kids are sure to like looking at what's for sale, and you can purchase some one-of-a-kind gifts or treats for yourself. Some vendors even sell children's toys and clothes, and there are almost always local food trucks on-site.
Play arcade games at Punch Bowl Social
The Pacific Northwest is known for its abundance of rainy days! Therefore, having some entertaining go-to activities for when the bad weather hits is a must. One of the places to add to your list is Punch Bowl Social.
Punch Bowl Social offers kids lots of fun activities for tweens and teens to enjoy, from arcade games to ping pong and pool. If your family gets hungry, they can snack on nachos, cauliflower wings, burgers, and other snacks.
Run around at PlayDate PDX
One of the most fun activities in Portland for kids that are younger is going to PlayDate PDX. The indoor attraction includes a three-story play structure complete with slides, climbing features, and ball pits.
As the kids play, the adults can relax with a coffee or keep an eye on the children through the playground's mesh walls. Family-friendly meals are also available at PlayDate PDX, like tater tots, pizza, and nuggets.
Spot animals at the Oregon Zoo
Located in Washington Park, the Oregon Zoo is home to an array of animals. Having been founded in 1888, it's also one of the oldest zoos in the country.
Creatures your kids can see range from otters and seals to elephants, rhinos, and cheetahs. The zoo even has a resident tabby cat that you may get to see. Being a conservation-based zoo, your kids can also learn more about animal conservation and protection efforts.
Grab an ice cream cone at Salt & Straw
Another of the renowned dessert spots in Portland is Salt & Straw. This eatery serves delicious ice cream in an array of unique flavors. Kid-friendly ice creams include peanut butter and jelly, gooey chocolate brownie, and cinnamon snickerdoodle.
Adults can also enjoy flavors such as pumpkin and gingersnap or strawberry balsamic. No matter what you pick, everyone is guaranteed to be delighted by Salt & Straw's yummy iced treats!
Cheer for Portland's sport teams
Watching one of Portland's teams play is something the whole family will love. In professional leagues, you can watch the Portland Trail Blazers NBA team or the Portland Timbers MLS team.
Portland also has many minor league teams, such as the Winterhawks WHL team. If you can't go to a game, you're guaranteed to find child-friendly restaurants showing games on the big screen!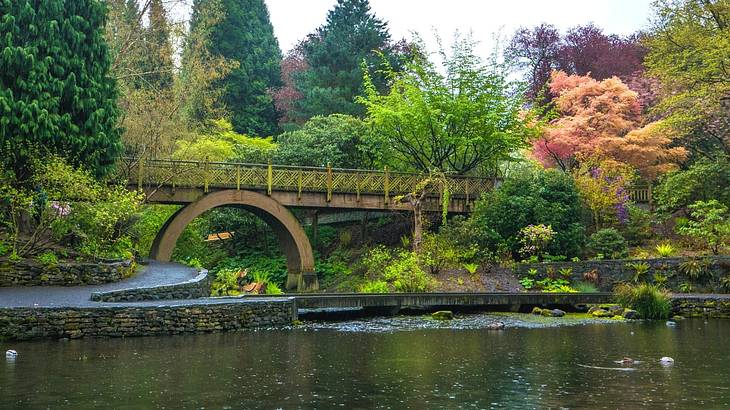 Take a trip to the Crystal Springs Rhododendron Garden
Featuring pretty flowers, lots of greenery, and tranquil ponds, Crystal Springs Rhododendron Garden is an exciting place for your kids to explore. As the name suggests, the garden is especially well-known for its brightly colored collection of rhododendrons.
The garden is additionally home to many species of birds, and your kids will be able to spot some ducks swimming in the ponds. If you're looking for a relaxing place that will allow your little ones to explore, Crystal Springs Rhododendron Garden is the place to go!
Buy some new books at Powell's Books
Powell's Books is an iconic Portland bookstore. The brand has a few locations around the city, including one downtown. Powell's prides itself on being one of the world's largest independent books stores and sells both new and used books.
Your children will have a great time exploring the vast store and seeing what stories they can find. Powell's has a selection of books for kids, so there'll be many options for your little ones.
Things to Near Portland With Kids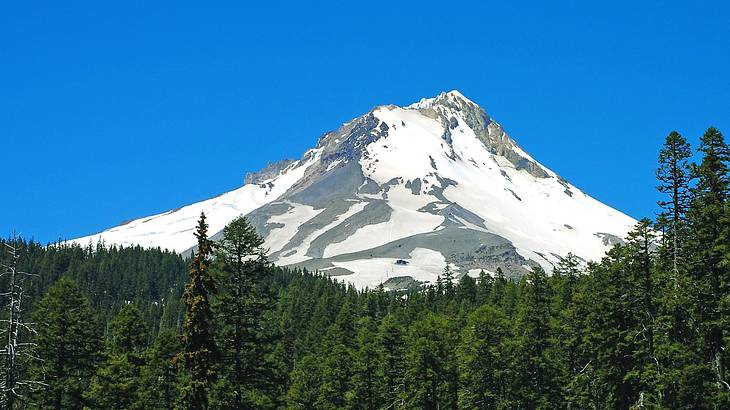 Ski or Snowboard at Mount Hood
Does your family love snowsports? Then one of the family activities in Portland, Oregon, you have to try is skiing or snowboarding at Mount Hood. This renowned mountain is located an hour and a half drive from downtown Portland.
Best of all, the mountain is open to snow sports enthusiasts almost all year, with skiing and snowboarding possible even in the summer months. At Mount Hood, you can rent equipment and book lessons if needed via Mt. Hood Meadows.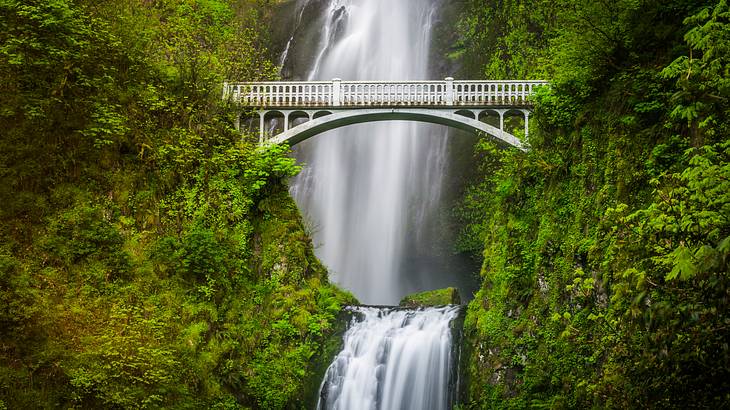 Hike at Columbia River Gorge
If you're looking for an activity that will get your kids exploring the outdoors, hiking at Columbia River Gorge is a must. The Gorge is housed in a beautiful forested area that also features canyons and waterfalls.
A great way to see this Oregon landmark is on a Columbia River Gorge hiking tour. This experience will allow your family to explore the park and visit a handful of other waterfalls in the Portland area.
Kayak on Trillium Lake
Trillium Lake is an artificial lake located near Mount Hood. One of the fun things to do in Portland with kids is heading to this scenic lake to kayak.
While on the water, you can appreciate your surroundings and will likely spot wildlife, such as Eagles. Other fun activities to try near Trillium Lake include hiking and birdwatching. The view of Mount Hood from here also is breathtaking.
In Summary
As you can see, there are many kid-friendly things to do in Portland, Oregon. This diverse and friendly destination offers something for every type of family.
If your kids like outdoor activities, they can participate in snow sports, go on hikes, and visit parks. Portland also offers children the options of exploring museums, visiting amusement parks, hanging out with cats, and so much more.
For families unsure of where to go for their next vacation, Portland has to be on your list!
Give us feedback about this article
More visual stories related to this article:
---
---
Want to keep exploring?
Subscribe for discounts on tickets and hotels and our latest guides.
Thank you for subscribing
We will be in touch soon with discounts on tickets and hotels and our latest guides.
Want to keep exploring?
Subscribe for discounts on tickets and hotels and our latest guides.
Thank you for subscribing
We will be in touch soon with discounts on tickets and hotels and our latest guides.
Related Articles