30 Fun Things to Do in Nashville, TN, for Couples
Destguides may receive commissions from purchases made through affiliate links in this article.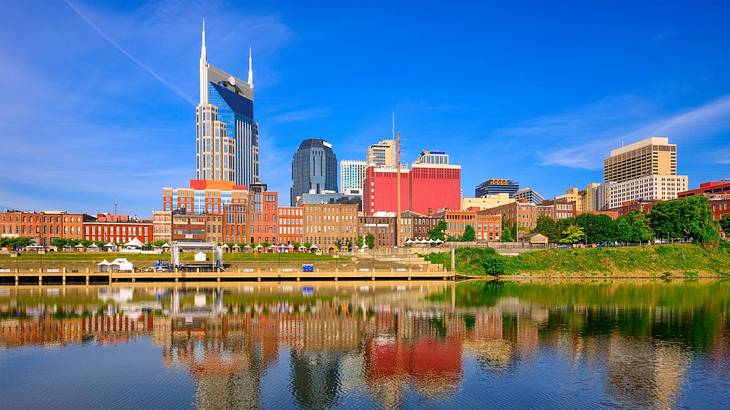 There are many great cities in the US for romantic getaways, and Nashville is one of them. The destination is known for being the home of country music and features exciting attractions and fantastic dining options.
If you're planning to visit with your partner, you'll discover many fun things to do in Nashville, TN, for couples. These activities include outdoor adventures, seeing various Tennessee landmarks, and visiting unique bars. Keep reading to find out what you must do together when in Music City!
30 Fun Things to Do in Nashville for Couples
Fun Activities in Nashville for Couples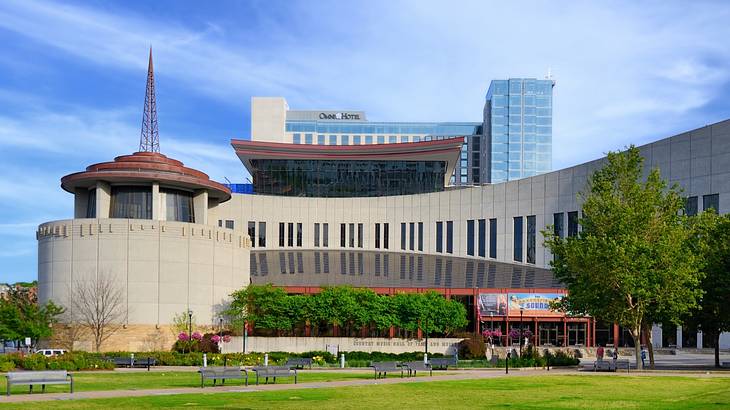 Visit the Country Music Hall of Fame
The Country Music Hall of Fame is the largest museum dedicated to country music in the United States. If you and your partner enjoy this genre of music, then visiting the Country Music Hall of Fame is a must. Even if you don't like country music that much, it's a fun and iconic attraction to check out.
The museum features exhibits on country music stars and includes more than 2.5 million artifacts relating to the genre. After checking out the Hall of Fame, you can take a tour of RCA Studio B too.
Hang out with a beer at East Nashville Beer Works
East Nashville Beer Works is a great spot for you and your date to grab some drinks. The brewery has an array of beers on tap, including honey blonde ales, golden light ales, and IPAs, plus some more unusual but still delicious brews.
If you want a snack, you can order pizza, salads, and appetizers from the kitchen. This bar also has a beer garden to hang out in on nice days. Dogs are welcome to join you as well if you or your date have a canine pal.
Hike at Radnor Lake State Park
If you're a couple that loves outdoor activities, Radnor Lake State Park is one of the must-visit attractions in Nashville, TN, for couples. The park is a 25-minute drive from downtown Nashville and is one of the prettiest state parks in Tennessee.
At the park, you can find an array of scenic trails to hike. You'll also spot wildlife, such as otters, mink, and birds of prey. As the name suggests, there's also a beautiful lake to see, and the area is full of trees, plants, and charming wildflowers.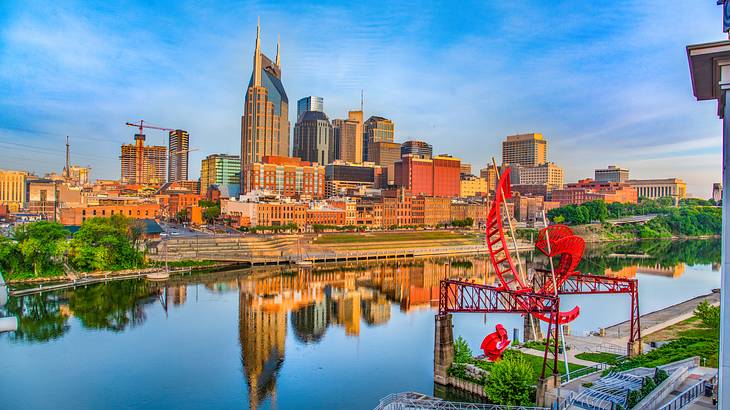 Kayak on the Cumberland River
Kayaking down the Cumberland River is another of the fun things for couples to do in Nashville, TN. You and your partner can rent kayaks and life jackets and set off down the river. If needed, you can pay extra for a kayak guide to ride with you.
Once on the water, you can kayak between the tall skyscrapers of downtown Nashville and spot landmarks like the John Seigenthaler Pedestrian Bridge. This activity is the ideal way to appreciate nature and the views of Nashville.
Grab a drink and make candles
The Candle Bar is one of the unique things to do in Nashville for couples. It has locations in central and East Nashville. At the Candle Bar, you'll learn how to make fragrant candles that you can scent and color however you like.
While drinks aren't offered, you can bring your own wine, beer, or seltzer to sip while making your candles. This is a cute and laid-back activity to enjoy together. You can then light the candles you made on your next date night or keep them as souvenirs.
Admire exotic animals at the Nashville Zoo
Visiting the Nashville Zoo isn't only one of the fun things for kids to do in Nashville, it's also an excellent place for couples to visit. At the zoo, you can see various animals, from giraffes and meerkats to flamingos and toucans.
In addition, Nashville Zoo hosts a lot of experiences, such as watching feedings. There's even a zipline in the park to try! Best of all, the zoo focuses on conservation, so some of your entry fees will go to protecting endangered species. To make admission easy, you can buy Nashville Zoo tickets before you arrive.
Learn to bake biscuits
Biscuits are a much-loved southern treat, and learning to bake them is one of the exciting things to do as a couple in Nashville, TN. In the Southern Belle biscuit baking class, you and your partner will be taught two different biscuit recipes. You'll also learn how to make tasty southern gravy to accompany them.
After preparing a batch of biscuits, you can take them home to enjoy. Cooking tools are available for purchase as well, should you want to bake biscuits together again once you get home.
Wander around the Cheekwood Botanical Gardens
The pretty Cheekwood Botanical Gardens are among the best Nashville attractions for couples. Walking together through the acres of charming gardens is highly romantic. The grounds are also the ideal place to take some cute pictures together with scenic backgrounds.
Gardens to explore include a pretty rose garden, a sculpture garden, and a tranquil Japanese garden. Having explored the beautiful outdoor areas, you can also visit the on-site Georgian estate that features an art gallery.
Picnic at Love Circle Park
Love Circle Park, also known locally as Lovers' Lane, is a hilltop area that offers breathtaking views of Nashville. If you plan to visit Love Circle, consider packing a picnic to take with you.
You can enjoy food and drinks with your loved one as you take in the views. Whether you go during the daytime or to watch the sunset, spending time at Love Circle is a romantic and relaxing thing to do.
Treat yourselves to a showboat dinner cruise
Taking a dinner cruise across the Cumberland River is one of the best things to do in Nashville for couples in the evening. Once you set sail on the General Jackson Showboat, you and your other half will be treated to a delicious southern-style dinner as you take in the views of Nashville.
After eating and admiring the views, you can enjoy live entertainment as the sun sets. You can also opt for a lunch cruise if that suits your schedule better.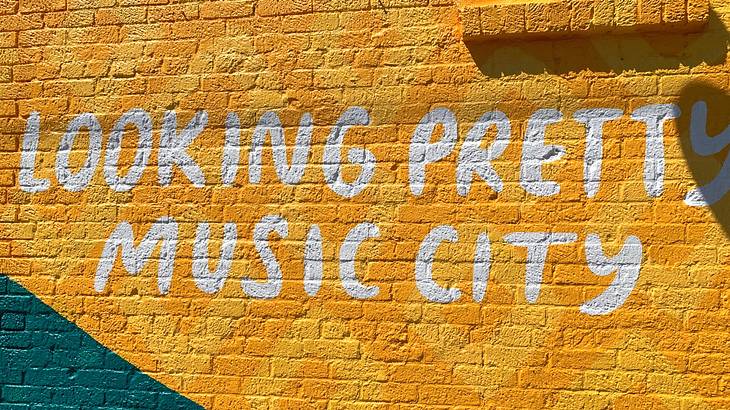 See Nashville's artistic murals
Nashville has many creative murals across the city, including the "What Lifts You" angel wings mural. A fun and convenient way to see all these murals is on a mural art tour.
You'll be provided with a unique mode of transport, a golf cart, to go from downtown to Marathon Village, East Nashville, and many other locations. On the way, you'll discover stunning murals that make the ideal backdrop for photos.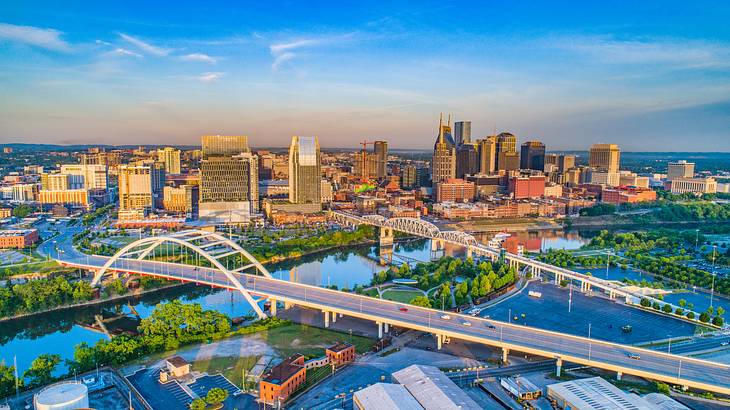 Take a luxury helicopter tour
Taking a helicopter tour is one of the most luxurious and romantic things to do in Nashville, TN. You can choose from most times of day to fly, including a sunset flight.
No matter which experience and operator you decide on, you and your partner will get to enjoy breathtaking aerial views of Nashville. This activity is a highly memorable one that neither of you will forget quickly!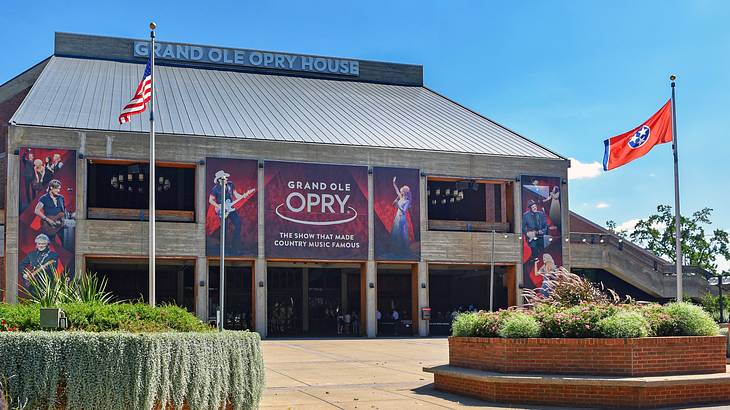 Tour the Grand Ole Opry House
The Grand Ole Opry House is a renowned Nashville music venue. It was initially constructed to host Grand Ole Opry shows that feature a range of country music. Today, you can watch some of the biggest country music stars perform.
Along with catching a live performance, touring Grand Ole Opry House is a great couples activity. You'll be given a unique backstage guided tour and learn more about the history of the building and the performances that have taken place.
Attempt to break out of an escape room
Test your teamwork by trying to get out of an escape room with your partner! The Escape Game is an escape room chain with a few locations across Nashville, including downtown.
Escape rooms to try include an art heist-themed room, a prison break game, and an outer space-themed escape. No matter which theme you decide on, you'll have a great time breaking out, even if you don't make it out in the hour!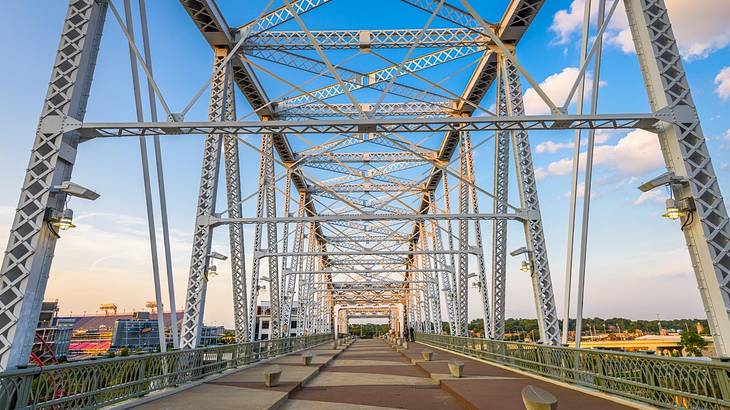 Walk across the John Seigenthaler Pedestrian Bridge
Walking together across the John Seigenthaler Pedestrian Bridge is a laid-back but must-do activity in the city. The bridge is a Nashville landmark that has sat on the city skyline since 1909. It's also one of the world's longest pedestrian bridges at 3,150 feet long.
When walking over the bridge, you'll get to take in some of the best views of the Nashville skyline and the Cumberland River. It's the perfect activity to help you and your partner unwind. You can also take some incredible photographs.
Spend the night line dancing at Wildhorse Saloon
The Wildhorse Saloon is a Nashville hotspot with live music, great food, and line-dancing nights. The bar offers free line dancing lessons, and all levels, from beginners to experts, can join in. Line dancing is definitely one of the most enjoyable Nashville activities for couples!
Having had fun trying line dancing, you can grab some drinks and listen to live country music. Alternatively, order a range of southern dishes for dinner, from ribs to spicy shrimp and grits.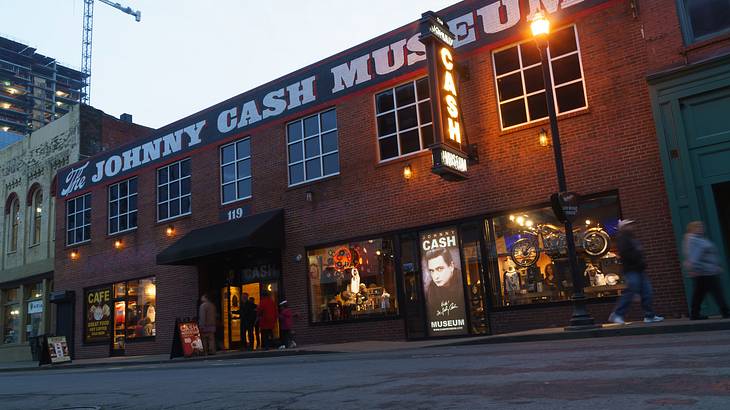 Learn about a music icon at the Johnny Cash Museum
Nashville's Johnny Cash Museum includes an array of displays on the music icon. In fact, it houses the most extensive collection of memorabilia relating to the artist in the world. Exhibits cover both the life and career of the artist who called Nashville home.
Once you've toured the museum, you and your partner can enjoy some tasty southern dishes at the on-site Cash's BBQ and Bar. This eatery frequently hosts live music acts as well.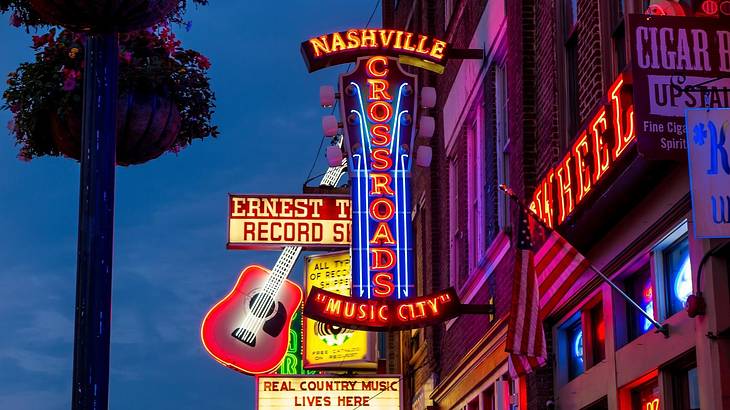 Party on the Honky Tonk Highway
Nashville's Honky Tonk Highway is a street in downtown Nashville with many "Honky Tonk" bars. Going to this street in the evening to check out some of the bars, hear live music, and grab drinks is the perfect thing to do with your partner.
A fun way to discover the best bars is by joining a Honky Tonk Highway pub crawl. The guided pub crawl will take you to a selection of memorable bars where you can drink, dance, and generally have a fantastic night out! This activity also allows you to meet some new people.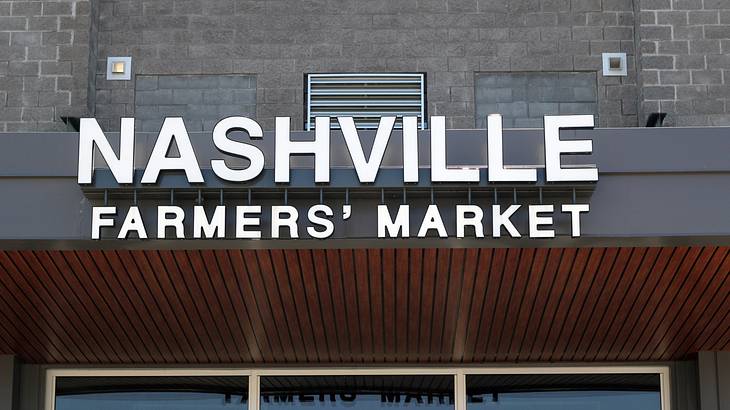 Shop at the Nashville Farmers' Market
Another of the fun couple things to do in Nashville is exploring the Nashville Farmers' Market. The daily market has a range of vendors selling local produce and craft goods.
Products to purchase include bread, other baked goods, and locally grown fruit and vegetables. You can also buy home and beauty items, like candles and bubble bath.
If you and your partner live in Nashville, you could also pick up fresh ingredients to cook a delicious date night meal! The market has some restaurants selling southern dishes and sweet treats too.
Sip on cocktails at The Patterson House
The Patterson House is a high-end bar serving craft cocktails. It's a romantic place to relax with your partner. Drinks to order include a vodka, sunflower cordial, and lemon mix, and an apple brandy, brown butter rum, and vanilla cocktail.
The bar also has a small food menu with snacks and sharing plates, plus larger dishes and delectable desserts.
Watch a Tennessee Titans Game
Sports lovers have a few options for sport-themed dates in Nashville. One of the best ideas is going to a Tennessee Titans game. The Titans NFL team plays at Nissan Stadium, just across the Cumberland River from downtown. You can also tailgate with local fans if you arrive early.
Even couples that aren't great sports fans will have fun at a game, enjoying the atmosphere and cheering the Titans on! If you want to catch a game, the best time to plan a trip to Nashville is between September and the start of January, in line with the National Football League regular season.
Indulge on a Donut tour
If your partner has a sweet tooth, one of the best Nashville things to do for couples is going on a donut tour. The fun two-hour tour will take you to five of the best donut shops in the city.
At each bakery, you can try signature donuts and buy some to take home. Current places to visit include Parlor Doughnuts and Donut Distillery. Between stops, you'll also get to see a variety of Nashville landmarks.
Eat a delicious meal at Biscuit Love
One of the best places to grab biscuits in Nashville is Biscuit Love. The eatery serves a variety of dishes with freshly baked buttermilk biscuits. Accompaniments include fried chicken, spicy chicken, and gravy.
Sweet options, like French toast-inspired biscuits, are on offer too. You can also order brunch cocktails like mimosas and bellinis, or coffees, teas, and juice are available.
No matter how long you're in the city, you and your partner must add a trip to Biscuit Love to your Nashville itinerary!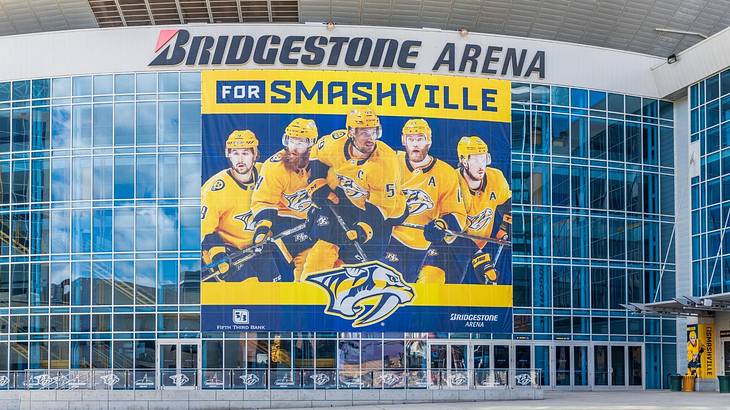 Catch a Nashville Predators' Game
Another of the things to do in Nashville, Tennessee, for couples that like sports is going to a Nashville Predators game. The National Hockey League team plays at Bridgestone Arena, which has the nickname in Nashville of "Smashville."
Games are scheduled in the evening and sometimes the afternoons on weekends, making for a great weeknight or daytime date idea. At the game, you can grab a drink and enjoy cheering on the team with their passionate fans.
Share brunch at Hampton Social
Hampton Social is the perfect place to get brunch with your date. The trendy eatery serves dishes like banana foster French toast, pecan monkey bread, and avocado toast.
You can accompany your meal with brunch drinks, including espresso martinis, pomegranate bellinis, or Bloody Marys. If the weather is nice, you can also sit out on the patio and enjoy views of Nashville.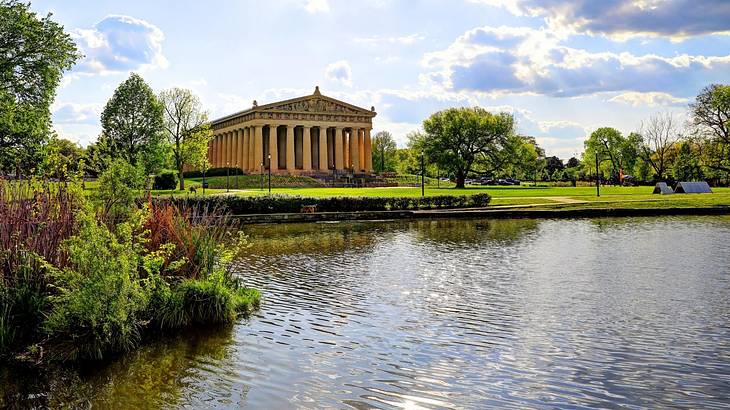 Wander around Centennial Park
Centennial Park is an urban park near downtown. A fun Nashville fact relating to the park is that it has a full-size replica of the Parthenon from Athens, Greece. The park also has walking trails and a lake.
If you and your other half are looking for a way to unwind, going for a walk in Centennial Park is a must. You can take in the views along the trails, see the Parthenon, and enjoy each other's company.
Relax at the spa
An ideal way to relax with your partner is by going to the spa. A great one to visit in Nashville is Oliv Body Bar. The spa offers services like massages and facials, plus they have a couples massage package.
With this package, you can choose from a selection of treatments, including a hot stone massage, an organic sugar massage, or a Swedish massage.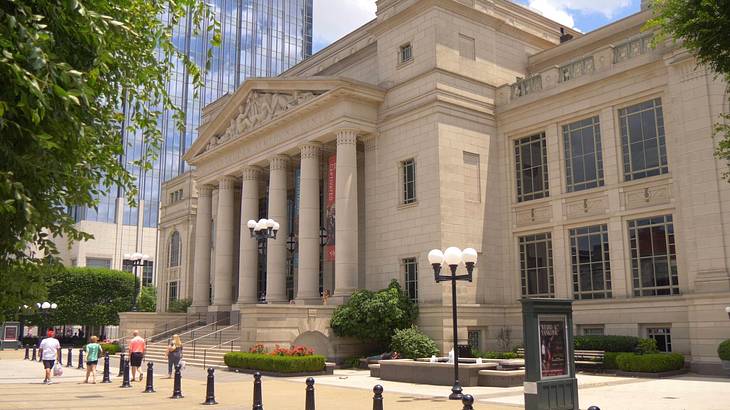 See a performance at the Schermerhorn Symphony Center
If you like cultural events and attractions, one of the things to do for couples in Nashville, TN, is seeing a performance together at the Schermerhorn Symphony Center. Opened in 2006, the venue hosts classical music performances, plus shows featuring other genres of music.
You can also see ballets here and some musical theater-style productions. No matter which type of show you see, you and your date will have a magical evening out!
Fun Things to Do Near Nashville, TN, for Couples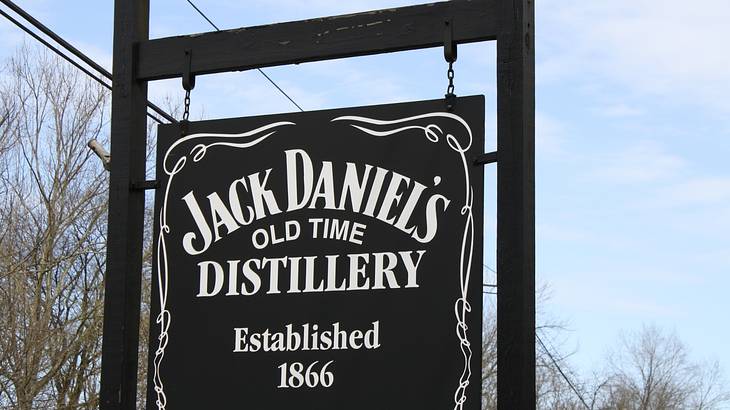 Go on a Jack Daniel's whiskey tasting tour
If you and your other half like whiskey, going on a Jack Daniel's whiskey-tasting tour is an exciting activity to try. The well-known whiskey brand was founded in Tennessee, and the tour will take you to the head factory in Lynchburg, just under two hours from Nashville.
At the factory, you will tour the facility and learn more about the whiskey-making process and the brand's history. Of course, you'll also be able to partake in a whiskey tasting. You can end your visit by purchasing some special Jack Daniels bottles, only available in Tennessee, to remind you of your trip.
Zipline through the forest
Ziplining through the forest above the Harpeth River is an exciting activity for thrill-seeking couples. During the 90-minute activity, you can fly over the river and through an old-growth forest on nine different ziplines of varying height levels.
In Summary
Nashville is an exciting city to visit for couples, and it must be added to your travel bucket list. From visiting museums and landmarks to hiking in beautiful parks and learning to make traditional southern biscuits, you won't run out of things to do together in Nashville!
Give us feedback about this article
More visual stories related to this article:
---
---
Want to keep exploring?
Subscribe for discounts on tickets and hotels and our latest guides.
Thank you for subscribing
We will be in touch soon with discounts on tickets and hotels and our latest guides.
Want to keep exploring?
Subscribe for discounts on tickets and hotels and our latest guides.
Thank you for subscribing
We will be in touch soon with discounts on tickets and hotels and our latest guides.
Related Articles