30 Best & Fun Things to Do in Nashville in the Fall
Destguides may receive commissions from purchases made through affiliate links in this article.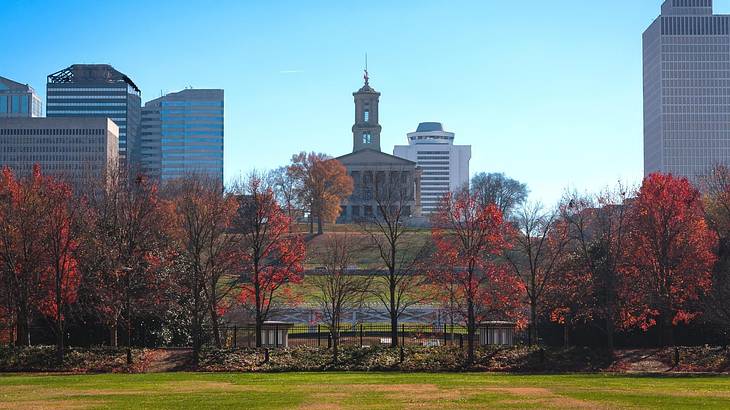 Nashville is a popular tourist destination all year long. However, it becomes incredibly scenic during the fall. In addition, an array of festivals and special events are also hosted in autumn, making it the ideal time to visit.
Fun things to do in Nashville in the fall include going to Oktoberfest, picking pumpkins at local farms, and strolling through parks surrounded by autumn trees. If you're wondering what you can do when in Nashville during the fall, keep reading for 30 great ideas!
30 Things to Do in Nashville in Fall
Nashville Fall Things to Do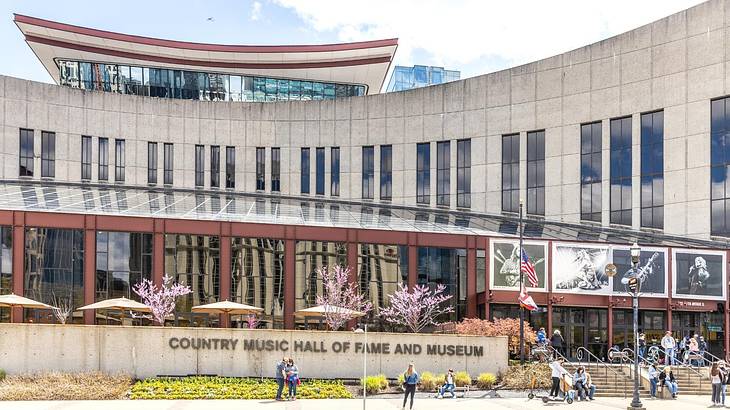 Visit the Country Music Hall of Fame
The Country Music Hall of Fame is one of the most well-known Nashville landmarks and is a great place to visit on a cold or wet fall day. The hall of fame pays homage to the best country music stars and also features exhibits on the history and popularity of the genre.
If you plan to visit, buying Country Music Hall of Fame entry tickets in advance is recommended. You should also check out Music Row, which is home to another music landmark, RCA Studio B.
Watch films at the Nashville Film Festival
Another fun event to attend in the fall is the Nashville Film Festival. This event generally runs in the first week of October. You can watch an array of films at the festival, including many independent pieces. There are also talks with actors, producers, and other figures in the film industry.
Listen to music at the Americana Music Festival
Hosted in September, the Americana Music Festival, also known as Americanafest, is a popular event with music lovers. The five-day event features live music, seminars, and panels with industry professionals.
Over 50 artists will be in attendance, and guests can see them at various venues across Music City. If you like Americana music, attending this event in the fall is a must!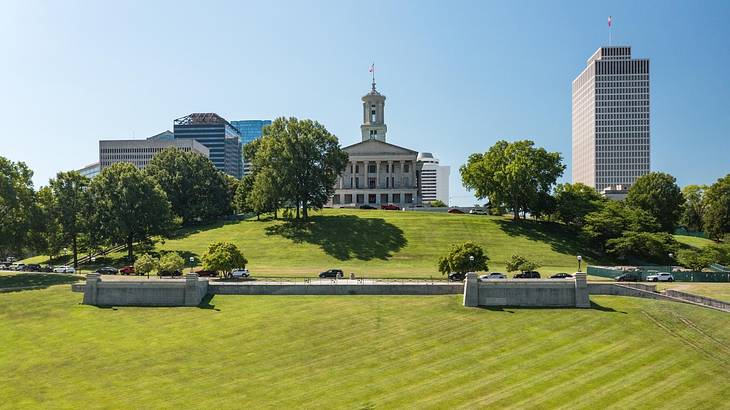 Have a picnic at Bicentennial Capitol Mall State Park
Bicentennial Capitol Mall State Park is a popular park in downtown Nashville that sits next to the State Capitol Building. The park is incredibly scenic in the fall season and is the perfect place for a walk.
You could also plan a fall picnic at Bicentennial Capitol Mall State Park if the weather is dry. Sitting on the lawns surrounded by pretty fall trees while enjoying your meal is relaxing and memorable!
Discover the city's best donuts!
If you have a sweet tooth, booking an underground donut tour in Nashville is a must! Your guide will take you to the city's best donut shops, where you can try samples and buy a box of your favorite flavors. In the fall, many shops will have classic fall flavors, like apple cider or maple donuts.
Attend the Fall Tennessee Craft Fair at Centennial Park
The Tennessee Craft Fair hosts events throughout the year, with the most popular being the Fall Tennessee Craft Fair. The fair is held in October in Nashville and features numerous vendors selling crafts like paintings and pottery.
There are also workshops, and there's a kids' area if you're visiting with children where kids can do crafts like making bracelets.
Go to the Southern Festival of Books
Another of the popular events held in the fall in Nashville is the Southern Festival of Books. This annual literary fair is held in October and is one of the oldest literary festivals in the country.
The event is free to attend and hosts 200 authors. Visitors can attend meet-and-greets and seminars and discover new authors to purchase books from. You'll also find food trucks on-site run by local vendors.
Hike in Radnor Lake State Park
A fun fact about Nashville is that there is a vast state park located just 25 minutes from downtown. Radnor Lake State Park covers 1,386 acres and features miles of woodland trails and a scenic lake.
During the fall in Nashville, TN, the park is especially pretty and is filled with trees turning red, orange, and yellow. Going for a hike through the forests and around the lake is a must! You may also spot animals on your walk, like otters, beavers, and white-tailed deer.
Enjoy Nashville Oktoberfest
Oktoberfest is a famous German festival held in September. When in Nashville, you can attend the city's version of the event, which includes live music and German food and beer.
You can also see a fire show each evening, and there are fun events like a Dachshund derby and a pup parade with dogs dressed in costumes!
Shop at the Nashville Farmers Market
The Nashville Farmers Market features an array of vendors, including those selling produce and other food goods, crafts, and plants. There are also some permanent shops and eateries.
Attending this market is one of many unique things to do in Nashville and allows you to enjoy local seasonal produce, with fall classics like apples, pumpkins, and sweet potatoes for sale. You can also get fresh cider, pumpkin pies, and more!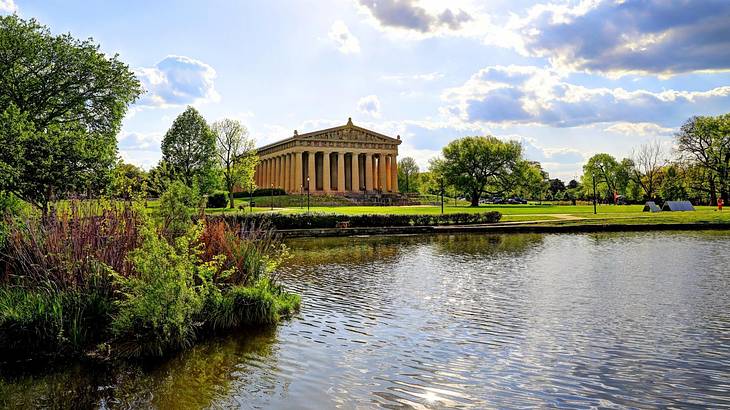 Stroll through Centennial Park
Centennial Park is another perfect place for a scenic fall walk. You can stroll around the lake that's surrounded by autumn trees in stunning reds and oranges during September, October, and November. During your walk, you can also see the famous Parthenon, wander through manicured gardens, and see wildlife like ducks.
Check out the Celebrate Nashville Cultural Festival
The Celebrate Nashville Cultural Festival is a fun event to attend in October at Centennial Park. As the name suggests, it celebrates the culture of the city and the cultures of those that live there.
At the event, you can see performances like dance shows, enjoy food and drinks from various countries and cultures, and learn more about the background of Nashville residents. There are also kids zones with activities for little ones.
Create fall scented candles at Paddywax Candle Bar
Lighting scented candles is the ideal way to make your home cozier in the fall. So if you're looking for a laid-back thing to do, one of the best places to visit in Nashville in the fall is Paddywax Candle Bar.
This creative venue allows you to make your own candles, with many fall-inspired scents on offer. As you create your candles, you can enjoy drinks as the venue has a BYOB policy. Once your candle is complete, you'll have a one-of-a-kind piece to scent your home throughout the fall. This activity also makes a cute Nashville date idea!
See classic cars at the Lane Motor Museum
The Lane Motor Museum is another great attraction to visit on a cold or rainy day. This museum houses an array of classic cars, many of which are European models. You can also see other vehicles, like boats, motorcycles, and airplanes. As you look around, you can learn about the history of the vehicles, some of which are almost 100 years old!
Sample Tennessee whiskey
Tennessee is known for its whiskey, and a fun activity to enjoy when visiting in the fall is touring the Jack Daniels Distillery. Transport to this world-renowned brewery is provided and once you arrive, you'll be able to walk around and learn more about the distilling process. You can also taste samples and purchase a few bottles of whiskey to take home.
Immerse yourself in the arts during Artober
If you're an arts and culture enthusiast, one of the things to do in the fall in Nashville that you can miss is the Artober event. Artober takes place in October and features many special arts events, like art shows, dance and musical performances, and craft activities.
Walk through the Cheekwood Botanical Gardens
Cheekwood Botanical Gardens is a beautiful place to visit on a crisp fall day. The attraction features a variety of gardens with stunning plants and flowers. There are also seasonal displays with various flowers that bloom in the fall.
In addition, you can look around Cheekwood Estate, and fall-themed events are hosted, such as a six-week harvest festival and pumpkin carving sessions. Due to the array of activities on offer, visiting Cheekwood Botanical Garden is also one of the best things to do with kids in Nashville.
Dine at Bluebird Cafe
Bluebird Cafe is a popular place to eat in Nashville. The eatery is known for its live performances featuring country music artists. You can order dishes like autumn soup with squash and carrot, fall harvest salad, and salted caramel brownies as you enjoy a show.
Sip liquors at the Nashville Whiskey Festival
The Nashville Whiskey Festival is another great way to try some whiskey from Tennessee. The event is held at the end of September and features over 50 whiskey and bourbon producers. Visitors can taste samples from vendors, purchase bottles, and attend some exciting events related to the whiskey industry.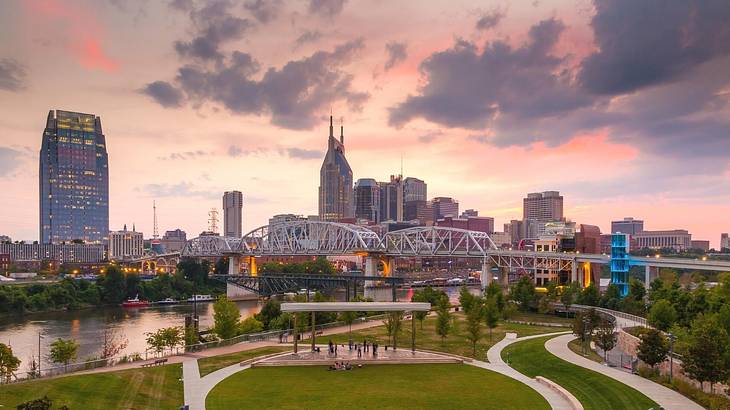 Hear spooky stories on a Nashville ghost tour
Joining a ghost tour is one of the fall things to do in Nashville, TN, that will be fun for those interested in the paranormal. It also makes a great Halloween activity. On the tour, you'll hear spooky stories about haunted places in the city and visit spots like St Mary's of the Seven Sorrow Catholic Church and Flying Saucer Nashville.
Eat delicious biscuits at Biscuit Love
Biscuits are a Southern classic and are especially comforting in the colder fall and winter months. One of the spots you must add to your Nashville itinerary if you want biscuits is Biscuit Love.
The restaurant has a range of sweet and savory biscuit options, including biscuits and gravy, biscuits with Nashville fried chicken, and biscuit French toast. With your meal, you can enjoy cocktails like mimosas or opt for juice, hot chocolate, tea, or coffee.
Watch the Tennessee Titans at Nissan Stadium
The Tennessee Titans NFL team plays at Nissan Stadium in Nashville. So if you like sports, one of the best things to do in Nashville in the fall is going to a game.
You can cheer the team on with locals and enjoy the atmosphere. The NFL regular season runs from September to January, so you can catch a game in September, October, and November.
Relax with seasonal cider at Diskin Cider
Hot apple cider is a drink synonymous with autumn, and if you want some seasonal hard cider, Diskin Cider is one of the best places to visit in Nashville in fall! At this trendy taproom, you can get drinks like cinnamon spice cider and bourbon tart cherry cider. Beer and unique cider cocktails are also on the menu.
Indulge in baked goods at Dozen Bakery
Enjoying a warm drink and a freshly baked cake, pie, or pastry is a perfect fall activity. One of the best spots to get delicious baked goods in Nashville is Dozen Bakery. In the autumn, you'll find various pumpkin treats, like muffins and pies, pecan pie, and campfire s'more croissants.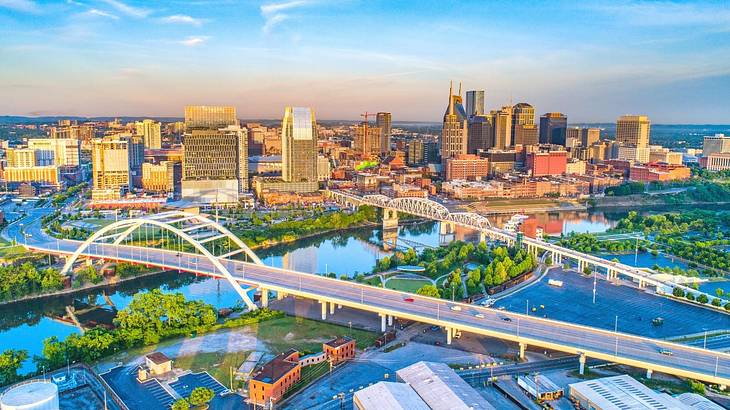 Admire Nashville from above on a helicopter tour
Seeing the fall colors of Nashville from above is a fun idea that can be made possible by taking a helicopter tour. The flight will take you over the city and landmarks like the Parthenon, Ryman Auditorium, and the Tennessee State Capitol. Your pilot can also offer more information on all the landmarks you see, and you'll be able to admire the fall foliage within the city's downtown parks.
Things to Do Near Nashville in the Fall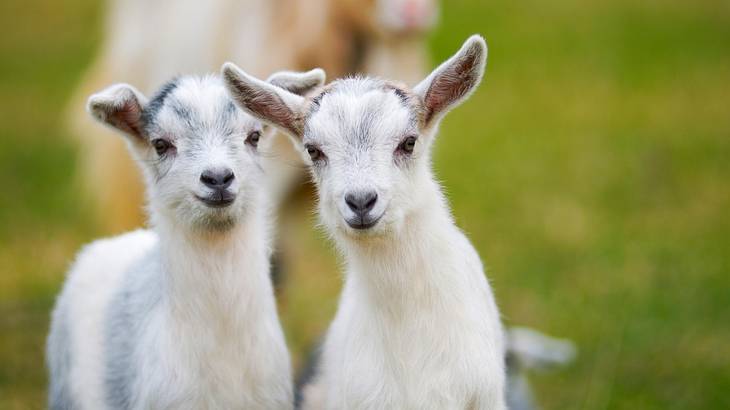 Do yoga with goats
Goat Yoga Nashville is definitely one of the best places to visit in the fall (or any time of year, really!) Located a little outside Nashville, the company offers outdoor yoga classes on a scenic farm with goats who will hang out with you while you enjoy the class. You can also attend some fall-themed goat yoga classes, like "Halloween Spooktacular" sessions.
Zipline through the fall forests
You can see pretty fall forests from a different perspective by booking a zipline adventure. You'll get the chance to zipline through the hills of Whites Creek, with eight different ziplines featured on the course.
Children over 50 lbs can also participate in the activity as long as they are accompanied by an adult, making it an excellent thing to do for those planning a day of family fun!
Spend the day at Lucky Ladd Farms
If you're in the city with family, one of the best things to do in Nashville in fall is visiting Lucky Ladd Farms. The farm is just under an hour from downtown Nashville and features various activities.
There's a petting zoo where you can feed the animals, including goats and alpacas. In addition, there's a farm shop that sells seasonal produce and baked goods. You'll also discover some nature trails to follow and can even see a sunflower field that's in bloom between late September and early October.
Wander through the Lucky Ladd Farms Corn Maze
Lucky Ladd Farms also has a large corn maze that's fun to explore for kids and adults. The labyrinth has been named "Tennessee's #1 Corn Maze" for six years in a row and features miles of trails within the maze. It generally takes 30 minutes to complete this maze, after which you can enjoy all the other fun attractions at Lucky Ladd Farms.
Pick pumpkins at the Lucky Ladd Farms Pumpkin Patch
Going to a pumpkin patch is a classic fall activity. There are many pumpkin patches to visit in and around Nashville, with the one at Lucky Ladd Farms being highly popular.
This patch is named one of the best pumpkin patches in the South and allows you and your family to pick your own pumpkins. After choosing your pumpkins, there are other fall activities to enjoy and snacks like caramel apples, apple cider donuts, and pumpkin spice lattes are on offer.
In Conclusion
You'll find no shortage of fun and unique activities to enjoy when visiting Nashville, Tennessee, in the fall. From going to pumpkin patches to sipping apple cider and attending events like Oktoberfest, fall in Nashville has something for everyone!
---
---
Want to keep exploring?
Subscribe for discounts on tickets and hotels and our latest guides.
Thank you for subscribing
We will be in touch soon with discounts on tickets and hotels and our latest guides.
Want to keep exploring?
Subscribe for discounts on tickets and hotels and our latest guides.
Thank you for subscribing
We will be in touch soon with discounts on tickets and hotels and our latest guides.
Related Articles