25 Famous Landmarks in Texas Not to Miss
Destguides may receive commissions from purchases made through affiliate links in this article.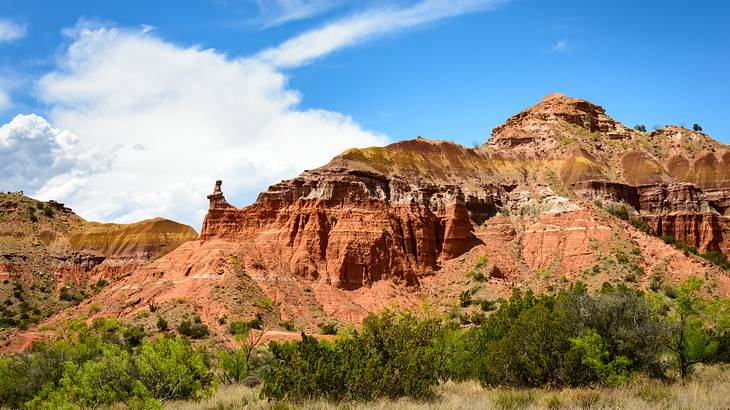 Texas, to put it plainly, is huge. It's slightly larger than all of France, and fifteen US states could fit inside of it together.
In order to navigate this space, you'll definitely want to chart a course through the famous landmarks of Texas.
What are some famous landmarks in Texas, you may ask? Well, you have come to the right place for answers!
These twenty-five locales are packed with natural beauty and swim with history, making any of them a good start for those ready to hit the road.
Continue reading to learn more!
25 Famous Texas Landmarks to Visit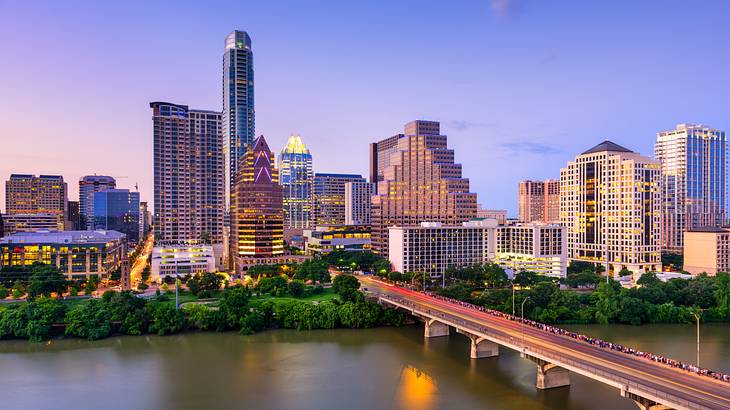 Congress Avenue Bridge
Named after the 45th Governor of Texas, the Ann W. Richards Congress Avenue Bridge spans Lady Bird Lake in Austin. More uniquely, though, this bridge is home to the world's largest urban bat colony.
An interesting fact about Texas and this bridge is that between March and October, onlookers flock to the Congress Avenue Historic District just before sunset to watch over a million bats emerge for their nightly bug feast.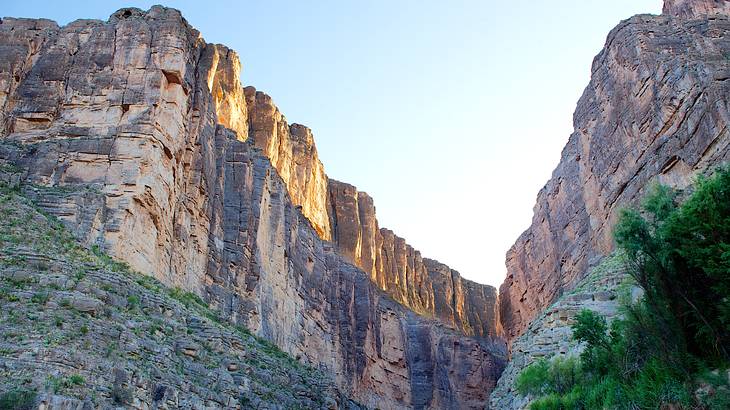 Big Bend National Park
Big Bend National Park doesn't rank as one of the largest in the United States, but the map is not the territory. The distance between the horizons in this park will make visitors feel very small and humble.
The Rio Grande draws a serpentine border between Texas and Mexico here, and people come for the scenery, desert wildlife, and diverse cacti.
Blue Hole Regional Park
On the outskirts of Austin, Blue Hole Regional Park is a Texas landmark that visitors shouldn't miss. The park's most popular activity is splashing around in the cypress-lined swimming hole on a hot summer day.
There are also grassy lawns, picnic areas, and sand volleyball courts for when you're not soaking or careening into the stream from a rope swing.
Caddo Mounds State Historic Site
This State Historic Park honors an ancient village and ceremonial center of the Hasinai Indians. They were among the larger Caddo Indian group, famous for building mounds upon which temples, tombs, and the homes of important people were built.
Visitors can learn more about the Caddo Indians on a self-guided interpretive trail designed to take about an hour and a half.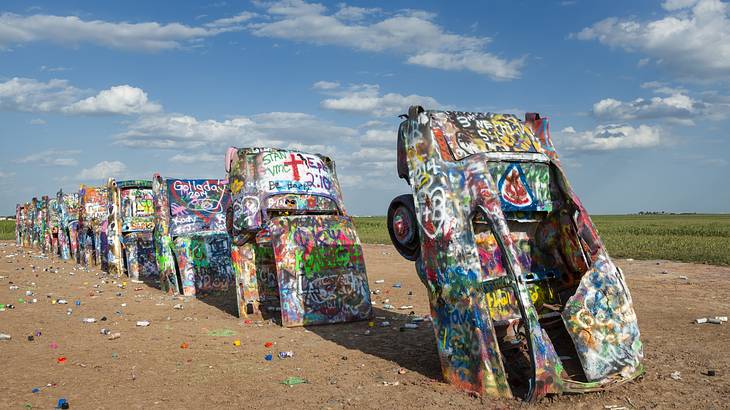 Cadillac Ranch
Many things grow from the Texas soil, but perhaps the most surprising crop is found off of historic Route 66 near Amarillo. Here, ten vintage Cadillacs have lain half-buried since 1974, with their noses planted in the dirt and their tail fins shooting up like a strange, metallic harvest.
This roadside museum is called Cadillac Ranch, and the graffitied husks of Americana are among the most famous monuments in Texas.
Caverns of Sonora
This unique cave system near Sonora is one of the most famous sites in Texas. Miles of walkways and tunnels open into huge underground theatres, taking visitors past wild mineral formations that have been growing for millions of years.
As Bill Stephenson, founder of the National Speleological Society said, "Its beauty cannot be exaggerated, not even by a Texan."
Colorado Bend State Park
Did you know that there's more than one Colorado River in the US? While they say that everything's bigger in Texas, it's actually the smaller and lesser-known one found here.
Still, Colorado Bend State Park is a hidden gem of the Lone Star state, boasting thirty-five miles of hiking and biking trails, lush swimming holes, and the seventy-foot Gorman Falls.
Davis Mountains State Park
Davis Mountains State Park in West Texas is one of the most impressive natural landmarks in Texas. The region's landscape is the result of ancient volcanic eruptions that formed the distinct mountains seen today.
In addition to hiking, biking, and horseback riding through the park's trails, visitors can enjoy watching the park's colorful avian life through "the best little bird blind in Texas."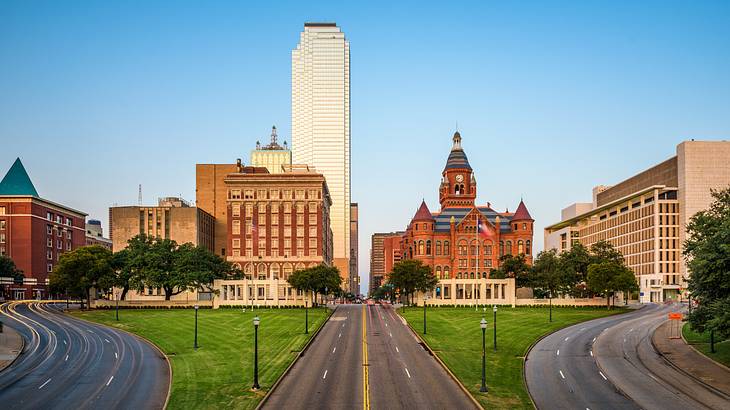 Dealey Plaza
Dealey Plaza has a long history, but since 1963, it has been known as the place where President Kennedy was assassinated by Lee Harvey Oswald (or whichever competing theory one may subscribe to).
Visitors can spend some time inside the Sixth Floor Museum at Dealey Plaza, located in the former Texas School Book Depository building, from which Oswald took aim.
Devil's Waterhole
Inside Inks Lake State Park near Austin, the Devil's Waterhole can be reached by a short hike or a paddle down the Colorado River.
The deepwater of the swimming hole is surrounded by tall rock ledges, leading many visitors to perform daring jumps. There is no lifeguard to be found here, so you should take caution and bring a friend.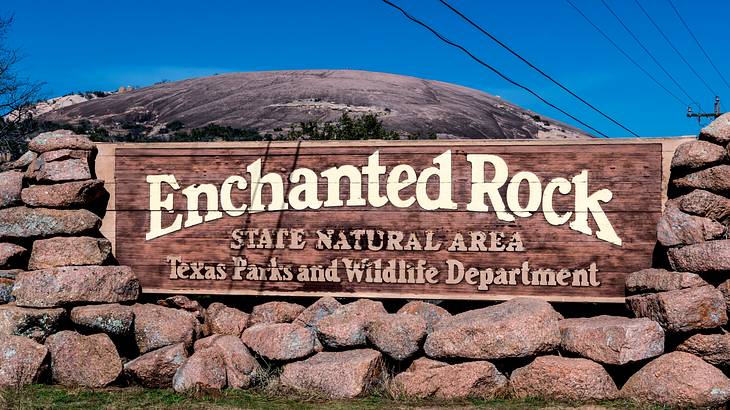 Enchanted Rock
The pink granite dome known as Enchanted Rock is found in the hill country of Texas. You can hike to the summit of the deceptively large lump or bring some rock climbing gear to take advantage of its many established technical routes.
The park is a two-hour drive from Austin, making this one of the most popular landmarks in Texas for visitors and residents of its weirdest city.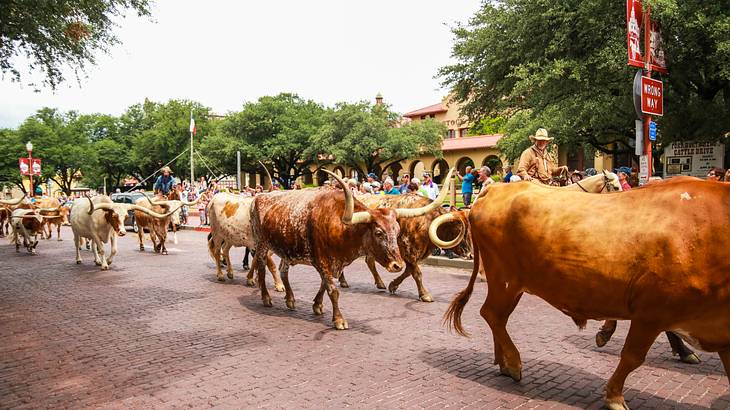 Fort Worth Stockyards
It's difficult to think about Texas without thinking about cattle ranching, and the Fort Worth Stockyards pay tribute to that history.
The Stockyards are mostly entertainment, dining, and shopping today, but that doesn't stop a twice-daily cattle drive through the streets. Visitors can also find rodeos and wild west shows in this modern cowboy town.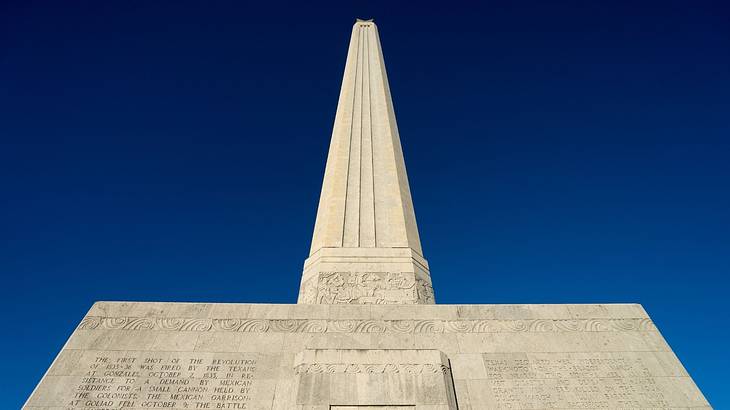 San Jacinto Battleground State Historic Site
San Jacinto Battleground State Historic Site and the impressive 567-foot San Jacinto Monument are both important landmarks in Texas.
They mark the place where General Sam Houston won a decisive victory against Mexican General Santa Anna, securing Texan independence from 1836 until 1846.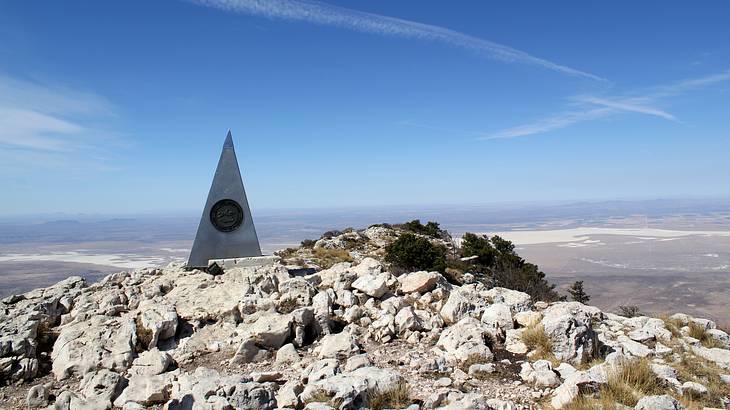 Guadalupe Mountains National Park
The mountains of this West Texas national park rise over three thousand feet above the Chihuahuan Desert and are home to the state's four highest peaks.
The most prominent feature of the park is Capitan Reef. Its vertical limestone walls are impressive to look at, and even more impressive when you learn that the whole formation is a giant, fossilized reef.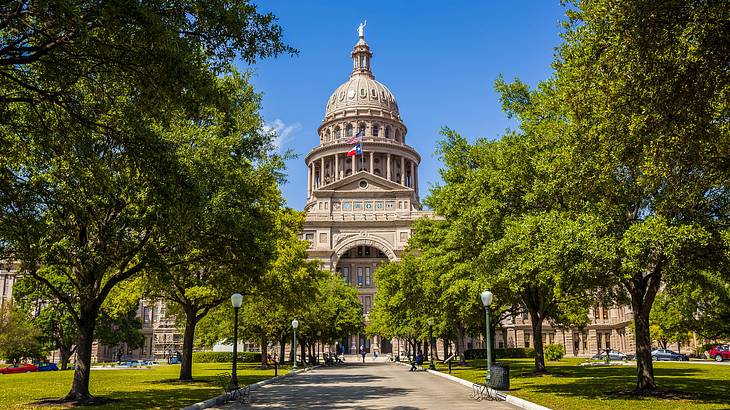 Texas Capitol Building
Austin has been the capital city of Texas since 1839, when they were an independent nation. However, the Texas Capitol Building was built many years later, in 1888, after the original burned down.
The Capitol offers daily tours and has several art exhibits inside for visitors to enjoy. If you're left wanting to learn more about historical Austin, you can do various tours, like a segway one, of its landmarks and neighborhoods.
Jacob's Well
Jacob's Well in Wimberley releases thousands of gallons of water per day through the bottom of Cypress Creek at a steady, crisp 68 degrees Fahrenheit. Its mouth is twelve feet in diameter and provides a popular swimming location between May and September.
The well is the entrance to the second-largest submerged cave system in Texas, delving more than 120 feet below the surface of the swimming area. It is one of the best things to do in Wimberley, Texas.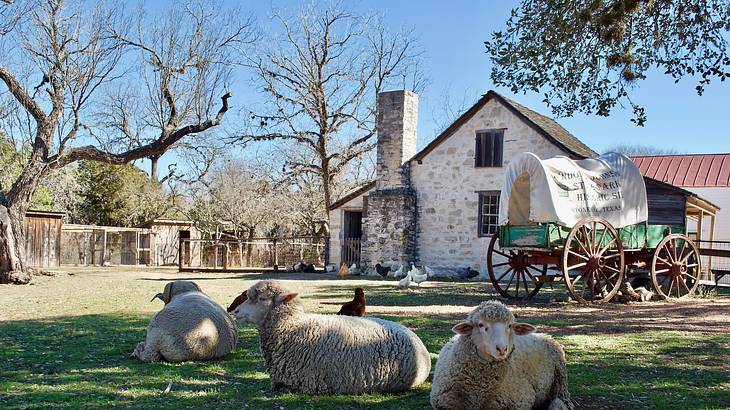 Lyndon B. Johnson National Historical Park
This National Historic Park found on the 36th President's ranch near Fredericksburg is one of the best historical sites in Texas. It is also one of the top things to do in Fredericksburg, TX.
His term in office began with the assassination of John F. Kennedy, and this park gives a more complete picture of America's former leader. After learning about his life and family history, visitors can pay their respects at his final resting place.
Mission San Juan Capistrano
In 1731, forty-five years before there was an idea of the United States, Spanish Franciscans built the Mission San Juan Capistrano on the banks of the San Antonio River.
Visitors can wander the grounds and learn how their community sustained itself through centuries of upheaval as the Coahuiltecan, Spanish, Mexican, Texan, and United States governments swirled around them.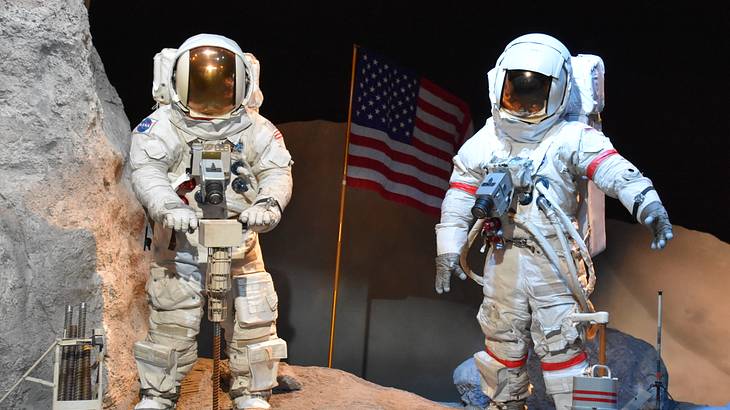 NASA Johnson Space Center
From its role as the Apollo Mission Control Center to monitoring the International Space Station and Mars rovers, the NASA Johnson Space Center has been critical for humanity's first steps away from Earth.
A visit to Space Center Houston should be on a Texas bucket list for anyone who's dreamed of journeying through the stars. Its 400-plus artifacts include returned spacecraft, suits worn by famous astronauts for their spacewalks, and full-scale replicas of modern ships.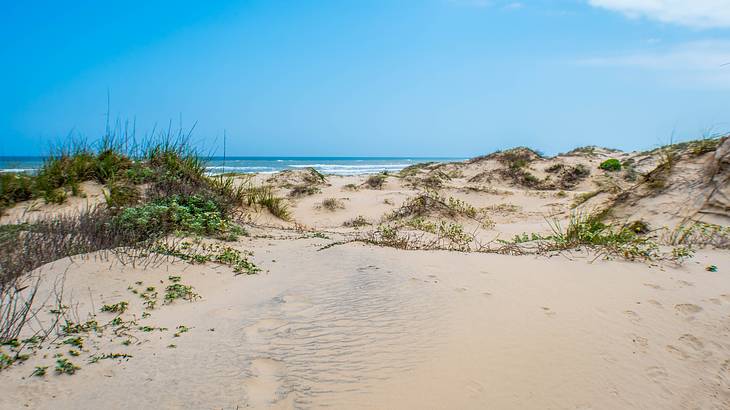 Padre Island National Seashore
Padre Island National Seashore near Corpus Christi is one of the most beautiful points of interest in Texas.
Thanks to its protection by the National Park Service, you can enjoy beach camping on the world's longest undeveloped stretch of a barrier island.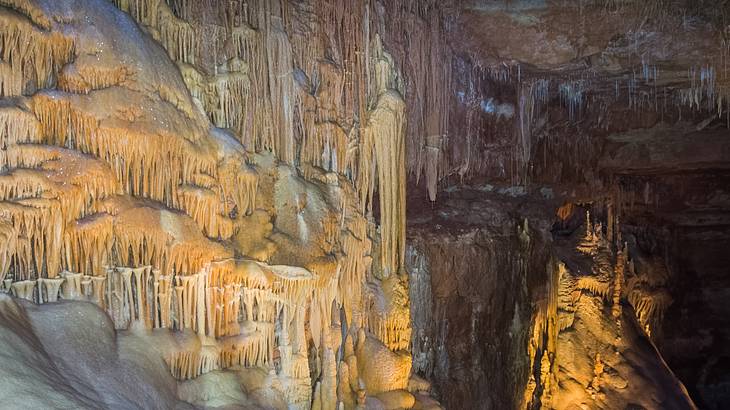 Natural Bridge Caverns
Near San Antonio, the Natural Bridge Caverns are an impressive cave system with massive chambers and winding paths.
With many tours available, visitors can decide just how adventurous they want to be in their spelunking. Regardless, it's hard not to leave impressed, knowing that each formation inside was built one drop of water at a time.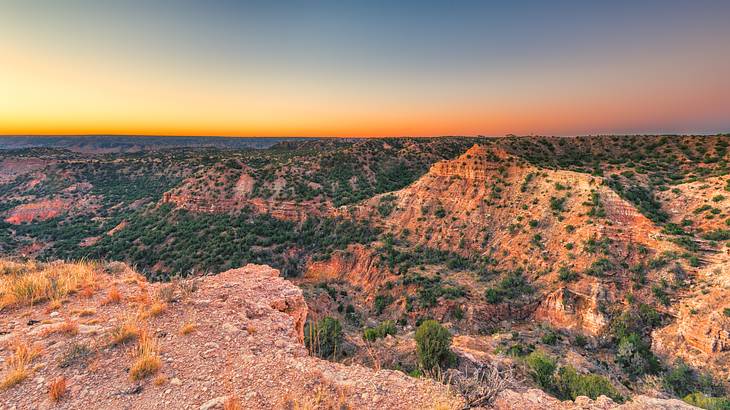 Palo Duro Canyon State Park
Palo Duro Canyon is America's second-largest canyon - after the famous West Coast National Park, the Grand Canyon - making a visit to this state park a must on your trip to Texas!
The park offers many ways to explore this awe-inspiring chasm, with hiking, biking, equestrian, and camping options that will take you into the heart of the canyon.
Port Isabel Lighthouse State Historic Site
Port Isabel Lighthouse is found near the southern US border where the mighty Rio Grande empties into the Gulf of Mexico. It's provided safety for river commerce and military operations since the American Civil War.
The lighthouse is open to visitors, who can catch a glimpse of San Padre Island from its elevated vantage point.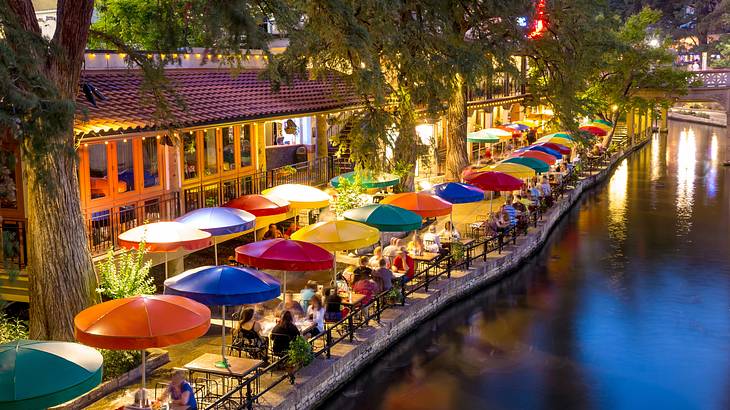 San Antonio River Walk
The River Walk is one of the free things to do in San Antonio and was created by diverting the city's eponymous river through a winding series of canals.
Along the canal, a winding path takes visitors past waterfront restaurants, bridges, and five UNESCO World Heritage Missions, including the Alamo Plaza Historic District.
For people who'd rather drift lazily on the water, river cruises regularly ferry people up and down the waterway.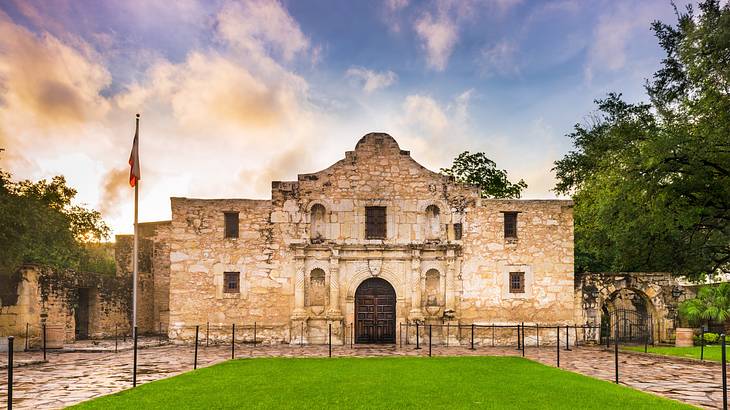 The Alamo
Last but very much remembered on this list of Texas state landmarks not to miss is the Alamo.
Grossly outnumbered by Mexican forces, defenders of the Alamo mission refused to surrender and were instead killed to the last man on March 6, 1836. Their story became a battle cry, with "Remember the Alamo" shouted by Tejanos for the remainder of the war.
Conclusion
Texas is rife with natural wonders and fascinating history, and often both at the same time. Though these landmarks are spread across the largest of America's lower forty-eight states, they are surprisingly accessible from many of its main cities.
Houston, Austin, Dallas, and San Antonio are all great launching points, as well as destinations in their own right. If the vast spaces of Texas make it hard to know where to start, this list shows that you can't possibly go wrong!
What are you waiting for? Go on, explore!
Give us feedback about this article
More visual stories related to this article:
---
---
Want to keep exploring?
Subscribe for discounts on tickets and hotels and our latest guides.
Thank you for subscribing
We will be in touch soon with discounts on tickets and hotels and our latest guides.
Want to keep exploring?
Subscribe for discounts on tickets and hotels and our latest guides.
Thank you for subscribing
We will be in touch soon with discounts on tickets and hotels and our latest guides.
Related Articles