34 Fun Things to Do in Fredericksburg, TX
Destguides may receive commissions from purchases made through affiliate links in this article.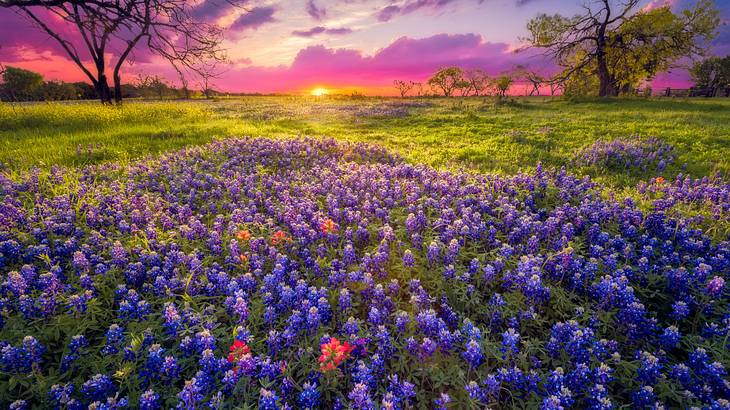 The United States has no shortage of unique places to visit. Fredericksburg, Texas, is located about one hour outside of San Antonio, in the heart of Texas Hill Country. The city was originally settled by German immigrants and is filled with rich history, delicious wine, and breathtaking scenery.
Fredericksburg is full of museums, unique shops, places to wine and dine, cultural experiences, and outdoor activities. It is rather small with a population of just over 11,000, but it has many things for both kids and adults to add to their Texas bucket list. It is a great stop on your Hill Country road trip!
This list of 34 fun things to do in Fredericksburg, TX, has something for everyone, so keep reading to find out the must-do activities on your next trip!
34 Fun Things to Do in Fredericksburg, Texas
Step back in time at the National Museum of the Pacific War
The National Museum of the Pacific War is one of the top attractions in Fredericksburg, TX. The museum honors the people who served in the Pacific by educating visitors about World War II within the Asiatic-Pacific area. It is a Smithsonian Affiliate and accredited by the American Alliance of Museums.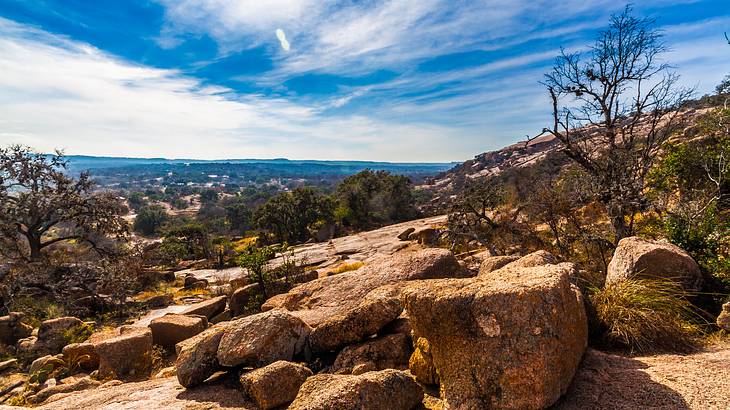 Get in touch with Mother Nature at Enchanted Rock State Natural Area
One of the best things to do in Fredericksburg, Texas, is to spend the day outside at Enchanted Rock State Natural Area. The magnificent Central Texas views alone will blow you away, but the area also offers unique places to hike, camp, picnic, rock climb, geocache, and stargaze.
Do a wine tasting at Grape Creek Vineyards
A trip to Texas wine country is not complete without visiting Grape Creek Vineyards. It is the oldest winery along Highway 290, and it produces a shocking 700,000 bottles of wine each year. You can see the wine-making process firsthand with a tour or enjoy a delectable guided wine tasting.
Walk through fields of wildflowers at Wildseed Farms
Wildseed Farms is one of the top attractions in Fredericksburg. The farm boasts over 200 acres of wildflowers just in Fredericksburg that are harvested for seeds. Visitors can walk through the fields, take pictures, and even do a wine tasting all year round. There is no charge to visit the fields.
Tour wine country on a Fredericksburg Wine Trolley Tour
You can visit different wineries and do tastings on your own, but where is the fun in that? A Fredericksburg Wine Trolley Tour offers unique tours to wineries around the area. These tours pick you up and drop you off, so you can have as much wine as your heart desires!
Watch a bat emergence at Old Tunnel State Park
The Old Tunnel State Park gets its name from the former railway tunnel located in the park. The tunnel is home to nearly 3 million Mexican free-tailed bats and 3,000 cave myotis bats. Visitors can purchase tickets to watch bats emerge from the cave every night from May to October.
Relax at the Hill Country Herb Garden
The Hill Country Herb Garden is home to 14 cottages and a luxury spa. Guests can book a stay at one of the cottages right in the center of Texas Hill Country. You can also take your pick and treat yourself to a relaxing facial or massage at the spa.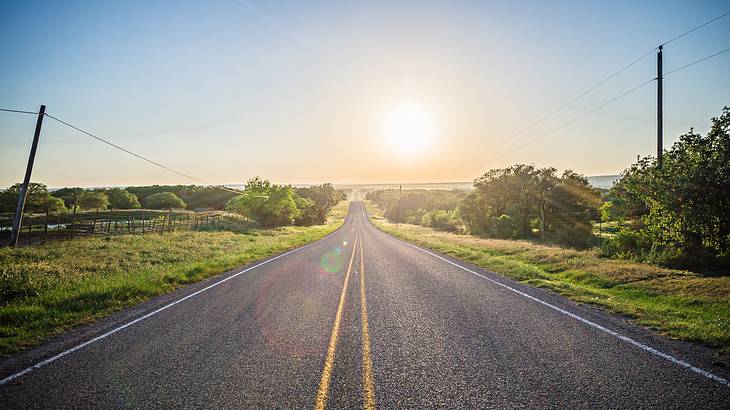 Take a scenic drive on the Willow City Loop
The Willow City Loop is a county road that winds for 13 miles through seas of vibrant flowers, peaceful creeks, and gorgeous valleys. You can experience the beauty of Willow City Loop year-round, but the best views are in the spring when the flowers are in full bloom.
Spend the day outside at Lady Bird Johnson Municipal Park
Lady Bird Johnson Municipal Park is one of the best attractions in Fredericksburg, Texas. With over 330 acres, the park offers ample space to spend time outside. You can never get bored here with a variety of sports fields, pavilions, courts, playgrounds, picnic tables, nature trails, and places to swim.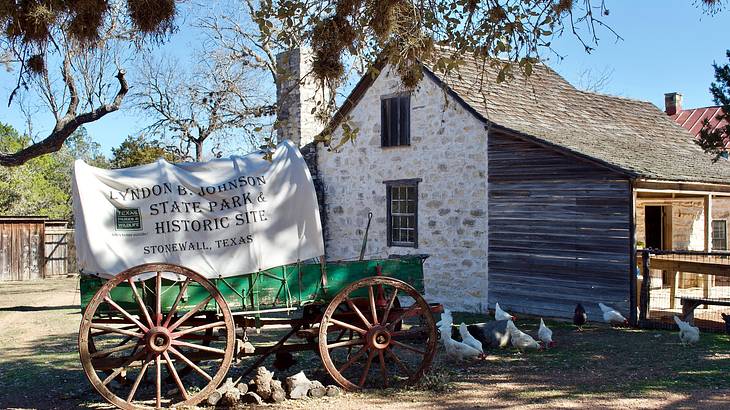 Visit the Lyndon B. Johnson State Park & Historic Site
Texas Hill Country is the birthplace of the former President, Lyndon B. Johnson. The Lyndon B. Johnson State Park & Historic Site was created in his honor.
You can learn about the former president, visit a living history farm, walk on trails, see animals and flowers, and tour historic cabins at this famous Texas landmark.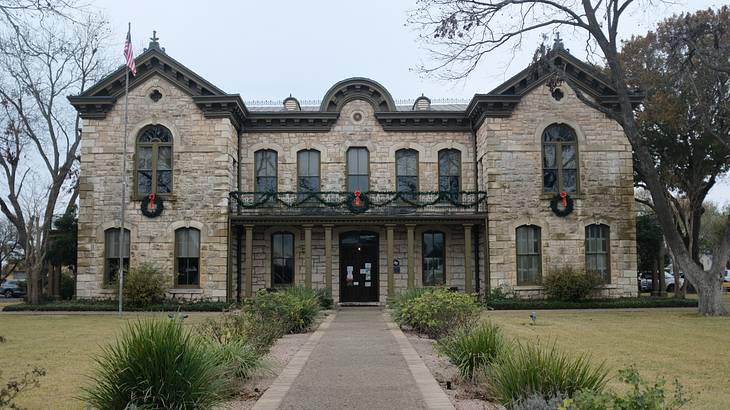 Experience the life of German Pioneers at the Pioneer Museum
Situated on 3.5 acres of land, the Pioneer Museum offers visitors a glimpse into life as a German settler in central Texas. The museum is home to historic homesteads and buildings that make it one of the most fun places in Fredericksburg, TX. Visitors can take self-guided tours that last approximately 45 minutes - 1 hour.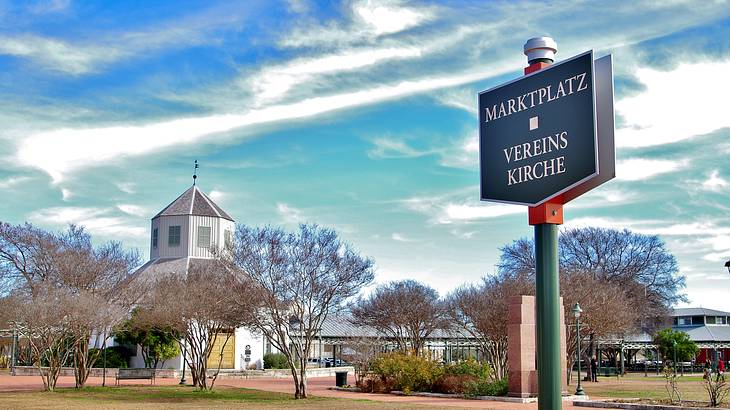 Learn about the history of the Vereins Kirche buildings
The first German settlers in Texas created the original Vereins Kirche building in the middle of Main Street. It served as a multipurpose building for 50 years until it was demolished in 1896. A replica of the building was created in 1935, which visitors can tour to learn more about settlers' history.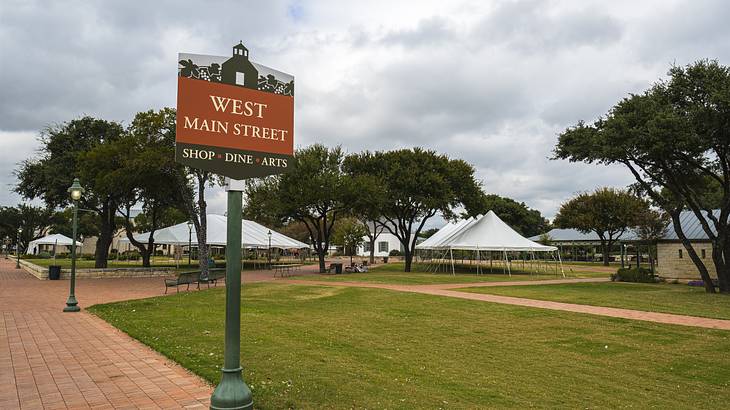 Shop until you drop on Main Street
Located in the National Historic District, Main Street offers a variety of unique shopping, drinking, and dining experiences. You are sure to find something for everyone with over 150 unique, locally-owned shops, art galleries, museums, restaurants, wine tasting rooms, boutiques, and a brewpub. It is one of the top tourist attractions in Fredericksburg, TX.
Search for treasure at the Fredericksburg Trade Days
On the third weekend of every month, Sunday Farms hosts the eclectic Fredericksburg Trade Days. The monthly three-day shopping event is home to 7 barns of treasures, antiques, collectibles, food, tools, and clothing, just to name a few. After shopping, spend some time listening to live music in the Biergarten.
Catch a show at the Fredericksburg Theater Company
The Fredericksburg Theater Company attracts over 13,000 viewers annually and was voted the Best Theater in the San Antonio region from 2016 to 2019. The theater entertains guests with amazing shows and special events that rotate throughout the season. Most performances are held from Fridays to Sundays.
Visit the Texas Rangers Heritage Center
The Texas Rangers Heritage Center sits on over 12 acres of land, and it aims to educate visitors about the history of the Texas Rangers and their role in protecting the state. You can watch Ranger reenactments and talk to actual Rangers at one of the center's special events.
Relax at The Ridge Marketplace
The Ridge Marketplace houses a cafe, bakery, and garden where you can enjoy a meal after browsing through the incredible Texas native and adapted plants. The Ridge also hosts live music every Wednesday, Friday, and Saturday. It is your one-stop-shop for eating, buying plants, and indulging in baked goods.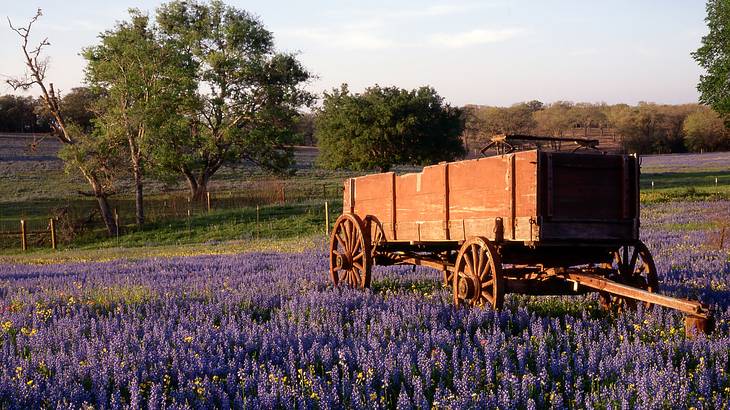 Bike your way through Hill Country
If you're not a fan of driving or walking through Hill Country, try something new. Ranch Road One Bike Rentals and Tours is a local company that rents a variety of bikes and e-bikes. The employees use their localized knowledge to help you plan the best self-guided biking tour.
Get your spook on with the Haunted Fredericksburg Ghost Walk
One of the most unique activities in Fredericksburg, TX, is the Haunted Fredericksburg Ghost Walk. Every Friday and Saturday night, tour guides lead people on a 90-minute ghost tour of the city. The tour would not be complete without 1800s attire and plenty of spooky stories.
Visit Fort Martin Scott
Fort Martin Scott is a historic site formerly used as a military fort from 1848 to 1853. It was the first U.S. Army post on the western frontier. Today, visitors can tour one of the original garrison buildings, a farm shed, and three replica garrison buildings.
Ride a horse through Hill Country with GF Ranch Trail Rides
GF Ranch Trail Rides is a family-owned and operated business that provides visitors with unforgettable horse rides. The ranch is located on one of the highest points in the county and offers spectacular views. Prepare to see all kinds of wildlife on this 1.5 - 2 hour ride.
Purchase local goods at the Fredericksburg Farmer's Market
The Fredericksburg Farmer's Market operates seven months out of the year, beginning in April. The market brings together local vendors specializing in fruits, vegetables, meat, cheese, and flowers to provide shoppers with a unique experience. Wine tastings and live music make this a market you cannot miss!
Walk through history with a self-guided walking tour
Fredericksburg has a unique past that started when it was founded by German immigrants in 1846. This self-guided walking tour takes you through the history of the city and its 700 historically significant structures. The tour was named one of the best walking tours in the south by Southern Living.
Find tranquility at the Japanese Garden of Peace
The Japanese Garden of Peace provides visitors with a sense of tranquility amidst the busy city backdrop. It is part of the National Museum of the Pacific War, but you can enter it separately. The garden celebrates the friendship between Fleet Admiral Chester W. Nimitz and Admiral Heihachiro Togo.
Indulge your tastebuds at Münch Food Park
Münch Food Park is one of the best things to do in Fredericksburg, TX for food lovers. The park is home to a bar, kid's playground, and six food trucks that serve anything from Mexican food to ice cream. Indulge your tastebuds while enjoying live music outdoors under the Texas sky.
Peruse the art scene during the Fredericksburg First Friday
If you're in town on the first Friday of the month, you can walk through many of Fredericksburg's art galleries in the evening. The galleries stay open late and often have live music, art exhibits, and wine. First Fridays immerse you in the local art scene and provide the perfect night out.
Marvel at St. Mary's Catholic Church
The Texas Hill Country is home to a handful of 'painted churches' that are uniquely designed and decorated on the inside. St. Mary's Catholic Church in Fredericksburg is one of the breathtaking churches listed on the National Registry of Historic Places. You can tour the church to admire this beautiful work of art.
Honor the city's German heritage at Oktoberfest
With strong German roots, it is no surprise that Fredericksburg hosts Oktoberfest each year. The weekend event is full of non-stop food, drinks, dancing, music, and activities in the heart of the city. If you are in town for the first weekend in October, this is an event you can't miss!
Try local foods at the Fredericksburg Food & Wine Fest
The Fredericksburg Food & Wine Fest is an annual event celebrating Texas cuisine and drinks. It is a one-day event in October, but there are special food events around town in the week leading up to the festival. The festival is an excellent opportunity to learn about and taste local delicacies.
Enjoy a beer at the Altstadt Brewery
The Altstadt Brewery also pays tribute to the city's German heritage with its unique German-style beers brewed in-house. The brewery boasts an impressive Biergarten, grand hall, taproom, restaurant, rathskeller, and tractor museum. There are plenty of places to enjoy a pint while celebrating the rich German heritage of Fredericksburg.
Click a pic at Cross Mountain Park
Located on top of a hill, Cross Mountain Park used to be a lookout for Indigenous people. When the settlers arrived, they renamed it Cross Mountain. A permanent lighted cross was placed on top of the hill that overlooks Hill Country. The cross makes for a great photo opportunity.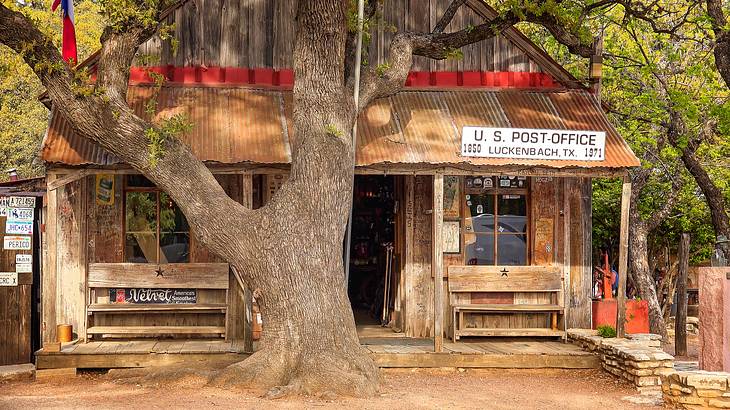 Take a road trip to Luckenbach, Texas
Luckenbach, Texas, is a town of just 13 people and a fun thing to do around Fredericksburg, TX. The town is comprised of a saloon, general store, and dance hall that still hosts events on the weekend. Country music is king here, so you will have plenty of opportunities to catch some live music.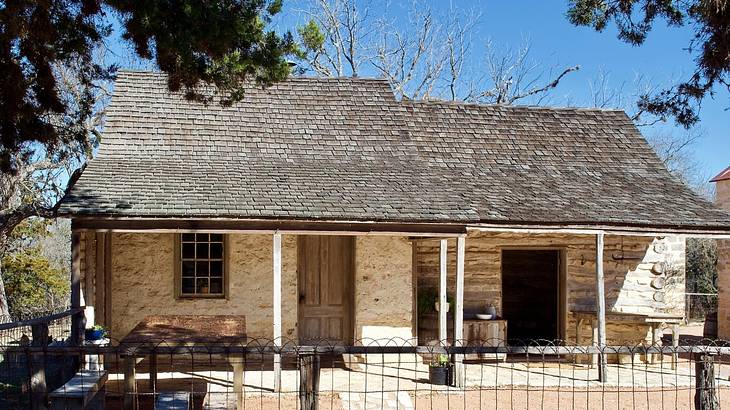 Experience life on a farm at Sauer-Beckmann Living History Farm
Even though it is part of the Lyndon B. Johnson State Park & Historic Site, the Saurer-Beckmann Living History Farm deserves a mention of its own. Admission is free, and visitors can learn about and experience life on a farm. Daily chores include cooking, cleaning, caring for animals, and canning food.
Take a cooking class at Fischer & Wieser's Cooking School
If you're looking for something less traditional to do, look no further. Fischer & Wieser's Cooking School offers hands-on or demo classes, private dinners, and special events that help you learn how to cook. Students learn how to prepare a multi-course meal, and they receive recipes they can try at home.
Conclusion
And there it is, the top 34 activities to do in Fredericksburg, Texas. As you can see, Fredericksburg is more than just a city located in the heart of Texas Hill Country. It is a place that celebrates and honors its unique history, indulges tastebuds with a variety of cuisines and drinks, and is one with Mother Nature.
Fredericksburg does not have a shortage of exciting activities and attractions. There is something for everyone to enjoy. Whether you are a nature-lover, a foodie, or anything between, it is a great place to visit any time of the year.
If you can't fit it all in one trip, don't worry! Fredericksburg is a great place to return to, especially if you like doing road trips from nearby cities. The list of things to do may keep growing, but that just gives you another excuse to return.
Give us feedback about this article
More visual stories related to this article:
Want to keep exploring?
Subscribe for discounts on tickets and hotels and our latest guides.
Thank you for subscribing
We will be in touch soon with discounts on tickets and hotels and our latest guides.
Want to keep exploring?
Subscribe for discounts on tickets and hotels and our latest guides.
Thank you for subscribing
We will be in touch soon with discounts on tickets and hotels and our latest guides.