35 Most Romantic Things to Do in San Antonio for Couples
Destguides may receive commissions from purchases made through affiliate links in this article.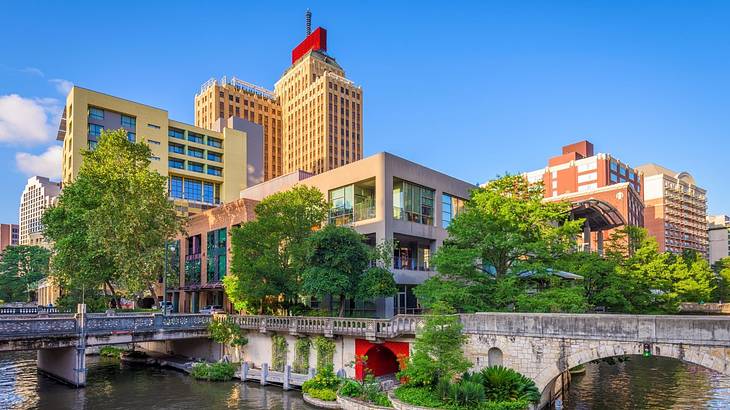 San Antonio is a unique city in Texas that offers something for everyone. The city notably has lots of great places to visit with your date.
Some of the most romantic things to do in San Antonio for couples include planning a getaway to the La Cantera Resort & Spa, getting dinner or drinks at one of many fantastic bars and restaurants, and visiting landmarks, like the Alamo. Keep reading to discover 35 fun date ideas in San Antonio!
35 San Antonio things to do
35 San Antonio Date Ideas
Fun Things for Couples to Do in San Antonio, Texas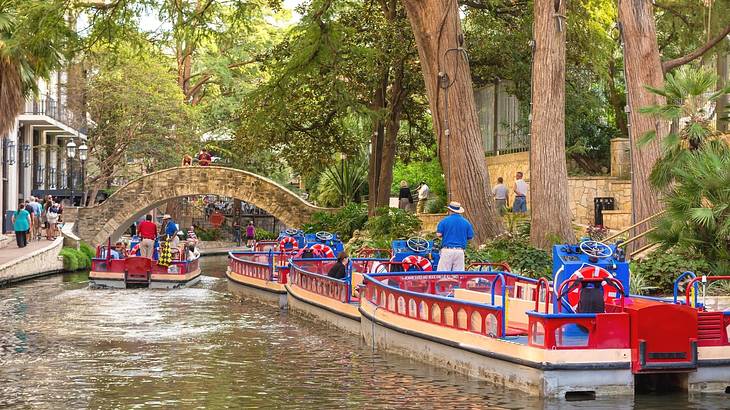 Experience a San Antonio River Walk cruise
The San Antonio River Walk is one of the most famous landmarks in Texas. A great way to experience this attraction with your date is by taking them on a San Antonio River Walk cruise.
The cruise will allow you to admire this iconic waterway and the sights that surround it. This activity also acts as a hop-on-hop-off tour, connecting you to other famous landmarks.
Stroll around the San Antonio Botanical Garden
The San Antonio Botanical Garden is a beautiful place to go for a walk with your partner. It is a must-see even if you only have 24 hours in San Antonio!
The attraction features a variety of themed gardens, including a Japanese Garden and an exotic rainforest plant conservatory. In addition, events like a nighttime lightscape exhibition featuring illuminated art installations are also held here.
While the garden is beautiful in all seasons, the best time to visit San Antonio to go to the Botanical Garden is in the spring. This season is when most of the garden's flowers will be in bloom.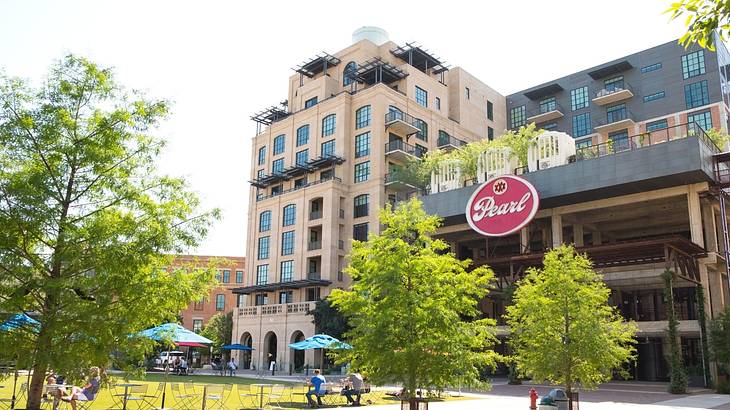 Explore Pearl Brewery
One of the fun date ideas in San Antonio, TX, is going to Pearl Brewery. Once a brewery complex, it is now a popular shopping and dining spot. As you and your date explore, you'll find a range of independent shops, plus unique bars and restaurants. In addition, there's a weekend market that hosts local vendors.
Shop at the Pearl Farmers Market
As mentioned, the Pearl Brewery hosts a weekend farmers market that is well worth checking out with your other half. The Pearl Farmers Market features a range of local vendors selling produce, crafts, and more.
While vendors can vary, Saturdays are generally dedicated to farmers and produce, and Sundays feature items by local artisans. Exploring the market is a great way to try local food and buy some one-of-a-kind craft items!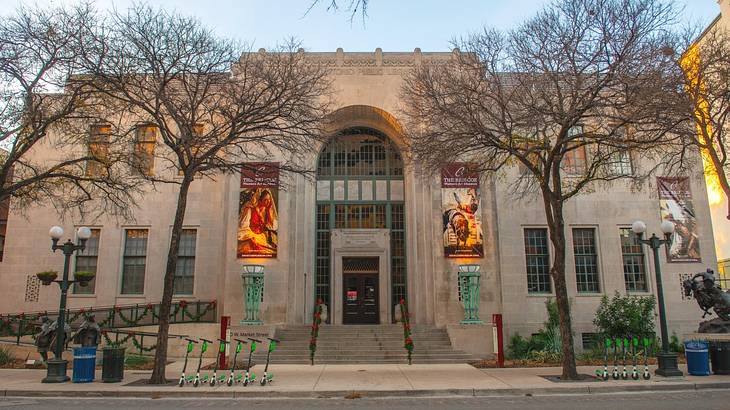 Visit the San Antonio Museum of Art
One of the most popular attractions in the city is the San Antonio Museum of Art. It's also the perfect place to take your partner for a relaxed daytime date. The museum's vast collection features 30,000 works covering a range of cultures, time periods, and artistic mediums.
Admire modern art at the McNay Art Museum
Another art gallery to take your date to is the McNay Art Museum. It was founded in 1952 and was the first modern art museum to open in Texas. Today, the museum houses 22,000 works.
While many pieces are contemporary, you can also see some Medieval and Renaissance works. If you and your partner want to know more about the artworks on display, you can take a guided tour.
Unwind at the Japanese Tea Garden
The tranquil Japanese Tea Garden is a perfect place to visit with your date. Constructed about 90 years ago in an abandoned limestone quarry, the gardens feature Japanese plants, magical waterfalls, and scenic ponds. After strolling through the gardens, you can stop at The Jingu House Cafe for some Japanese-inspired dishes.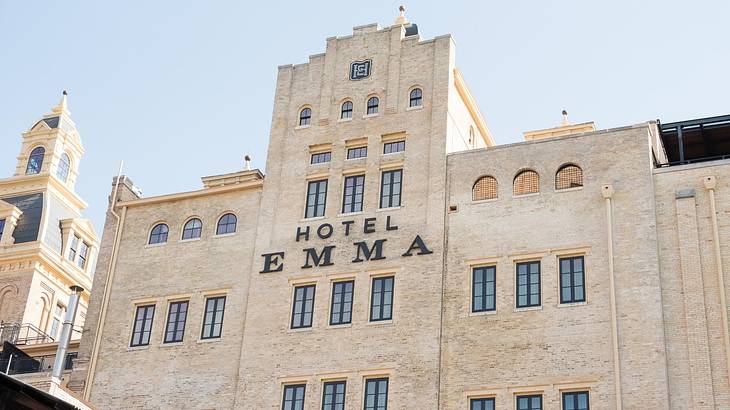 Do dinner and drinks at Hotel Emma
Hotel Emma is a luxurious 5-star hotel that's one of the best places to stay in San Antonio. If you live in the city or are staying elsewhere, you can still enjoy Hotel Emma by having dinner and drinks with your date there.
The hotel has a cozy tavern-style bar, Sternewirth, and a stylish restaurant, Supper. Whether you go to both or just one, you'll have a great night out in San Antonio at Hotel Emma!
Learn to make new dishes at a cooking class
Whether you and your partner love to cook or are newbies that want to learn, going to a cooking class is a fun way to bond and develop new skills. The Culinary Cottage offers a variety of themed classes, from French patisserie and Italian classics to Cajun cooking and artisan bread making.
Spot animals at the San Antonio Zoo
Going to the San Antonio Zoo is another of the unique and fun date ideas in San Antonio, Texas. The zoo houses over 3,000 animals from 750 species. Creatures to spot range from giraffes and lions to snakes and Komodo dragons! Buying San Antonio Zoo a ticket in advance is recommended as admission lines can get long, especially on weekends.
See the Alamo and San Antonio Missions National Historical Park
If you and your partner like historical attractions, joining on a San Antonio Missions tour is a perfect date idea. Your trip will begin at the renowned Alamo, an 18th-century Spanish mission and fortress that's now a National Historic Landmark.
You'll then move on to San Antonio Missions National Historical Park to see Mission San Jose and Mission Concepcion. Finally, the tour ends with a visit to the King William Historic District and San Fernando De Bexar Cathedral. At every stop, your guide will provide background on the history of the landmarks you see.
Hang out at San Pedro Springs Park
A tranquil place to hang out with your date is San Pedro Springs Park. The 68-acre park features trails and lots of grassy areas to sit and chat or share a picnic. There's also a municipal pool, which is a fun place to spend warm days with your partner.
Interestingly, this park is the oldest in Texas and sits on the location of the original city of San Antonio.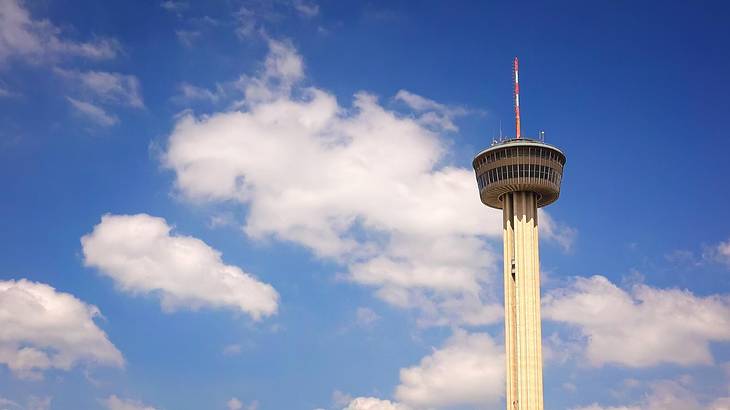 Take in the views at Tower of the Americas
Tower of the Americas is a 750-foot-tall observation tower that offers stunning panoramic views of San Antonio. Taking your date to the viewing deck to admire the vistas is memorable, and the views are especially romantic at sunset. You also have the option to dine at The Chart House or get drinks at Bar 601.
Check out a rooftop bar or two!
If you're looking for ideas on bars to take your date to, why not check out some rooftop bars? There are lots of great options in the city that offer a fun atmosphere, delicious drinks, and incredible views.
Some popular options include Paramour Bar and The Moon's Daughters. Both bars open around 11 AM on the weekends for brunch if you're planning a daytime date.
Watch a show at the Majestic Theatre
Going to the Majestic Theatre is an excellent San Antonio date night idea for couples that like arts and culture events. Opened in 1929, you can see a range of concerts at the venue as well as musicals and comedy shows. No matter what you see, you'll have a great night out at this popular attraction!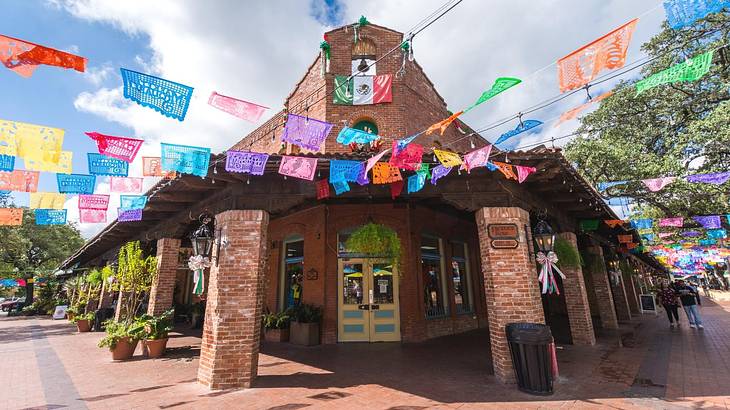 Wander around Historic Market Square
Historic Market Square is a vibrant and bustling place to look around with your date. This shopping and dining plaza is the largest Mexican market in the United States and features a range of unique vendors.
Things to do together include getting snacks at Mexican eateries and exploring stores selling crafts, clothing, jewelry, and more. Historic Market Square also hosts events like live music performances.
Travel back to the Wild West at the Buckhorn Saloon & Museum
The Buckhorn Saloon & Museum is a unique place to visit with your date. This popular attraction comprises a Wild West museum and restaurant. After learning new things at the museum, you can dine on dishes like chili, pulled pork, and various burgers in the saloon.
Catch a Slab Cinema outdoor movie
Going to a movie is a classic yet highly fun date night in San Antonio, TX. One of the more unique ways to see a film is by going to a Slab Cinema outdoor movie event.
Outdoor movies are hosted across San Antonio and include showings of classic and more recent films. Best of all, seeing an outdoor movie is one of the many free things to do in San Antonio, simply show up with blankets and snacks and enjoy!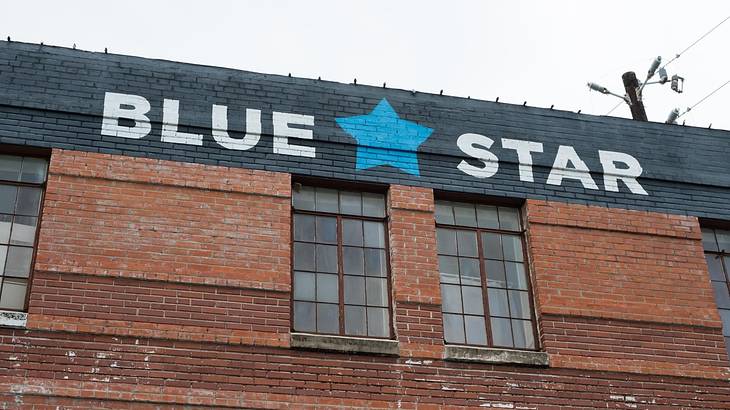 Spend time exploring the Blue Star Arts Complex
The Blue Star Arts Complex is one of the best places for a date in San Antonio, as there's so much to do there! Attractions within the complex include bars and restaurants, shops, and a free art gallery. You can also attend events with your partner, including markets, live music performances, and wine tastings.
Play a round at Monster Mini Golf
Monster Mini Golf is the ideal place for a cute date. The attraction features a glow-in-the-dark indoor course with 18 holes and a variety of obstacles, like clowns and monsters. After mini golf, you can also check out an arcade or play laser tag.
Enjoy breakfast or lunch The Guenther House
Another of the many one-of-a-kind eateries in San Antonio is The Guenther House. Housed within the home of the founder of Pioneer Flour Mills, the restaurant serves breakfast and lunch dishes like pancakes, strawberry sweet cream waffles, and club sandwiches. After eating, you can tour the rest of the home and visit a small but fascinating museum.
Listen to live music at Sanchos Cantina
If you're looking for relaxed date night ideas in San Antonio, Texas, going to Sanchos Cantina is a must! Known as San Antonio's only authentic Mexican cantina y cocina, guests can order delicious Mexican drinks and dishes.
The eatery has outdoor seating and live music, allowing you to enjoy your meal under the sun with fantastic entertainment. Sanchos is also dog friendly if you want your pup to join you on your date!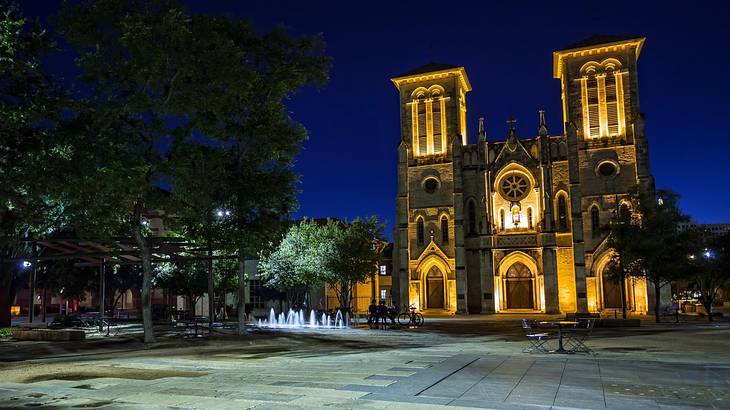 Dare to join a San Antonio ghost tour
A Texas bucket list activity to cross off with your other half is daring to go on a San Antonio ghost tour. You can choose from a range of tour operators who will take you to haunted spots around the city. Places often visited include the Alamo, Menger Bar, and San Fernando Cathedral.
Marvel at Natural Bridge Caverns
Situated just 50 minutes from downtown, Natural Bridge Caverns is a fascinating attraction to visit with your date. The caverns feature stalagmites and a 60ft natural limestone bridge. To explore the caverns, you can take a standard tour or try an adventure tour where you can explore more hidden parts of the cave system.
Ride roller coasters at Six Flags Fiesta Texas
Six Flags Fiesta is the perfect place to spend a fun day with your date. The theme park has multiple roller coasters and other amusements, like carnival games. The park also has a water park with various slides, water rides, and pools.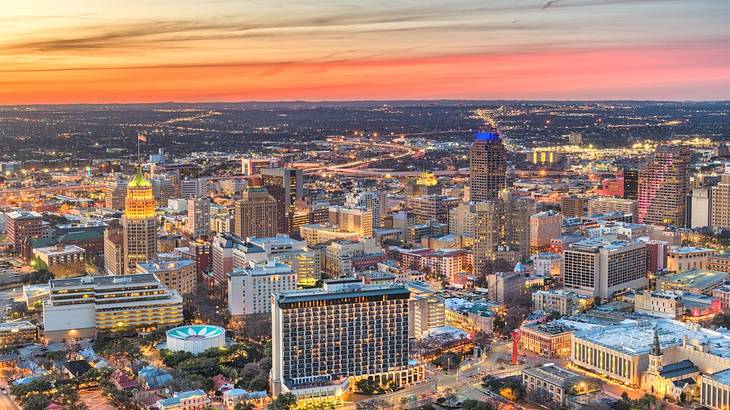 Fly over San Antonio on a helicopter tour
If you're looking for a unique date idea, one of the fun things to do in San Antonio for couples is going on a San Antonio helicopter tour. You'll fly over greater and downtown San Antonio and spot a range of famous landmarks, including the Alamo and Tower of the Americas. Your pilot will also let you know more about the landmarks you see.
Snap unique photos together at Hopscotch
Hopscotch, or Hopscotch Immersive Art Experience, is an art installation that features light displays and multi-media works. The fascinating art gallery is the ideal place to take some interesting pictures together! As this attraction is popular, get Hopscotch admission tickets before you arrive.
Tackle an escape game
Escape games are a fun activity to try with your date, and there are many escape game operators in San Antonio. Most escape rooms are open all day until late, so this date idea works no matter when you're meeting. Some themes you can choose include pirate adventure, outer space, and zombie apocalypse.
Get to know San Antonio on a walking tour
Want to visit San Antonio's landmarks together? Then joining a San Antonio walking tour is a great idea! You'll wander around the beautiful city, visiting landmarks such as Main Plaza and the Yanaguana Garden. Then, you can stroll along the River Walk, enjoying the views.
Relax at La Cantera Resort & Spa
If you want to plan a couples getaway but don't want to travel too far, book a stay at La Cantera Resort & Spa. Located just 30 minutes from downtown, the resort is one of the most romantic places in San Antonio, TX, and features stylish rooms, suites, and villas.
Guests can also access various amenities, including a spa, a golf course, and fine dining restaurants.
Tour Ranger Creek Brewstillery
Ranger Creek is a well-known brewery and distillery, or "brewstillery!" A fun way to check this spot out with your date is by going on a Ranger Creek Brewstillery tour. You'll learn more about both the brewing and distilling process and can try beer and whiskey samples.
Things to Do Near San Antonio for Couples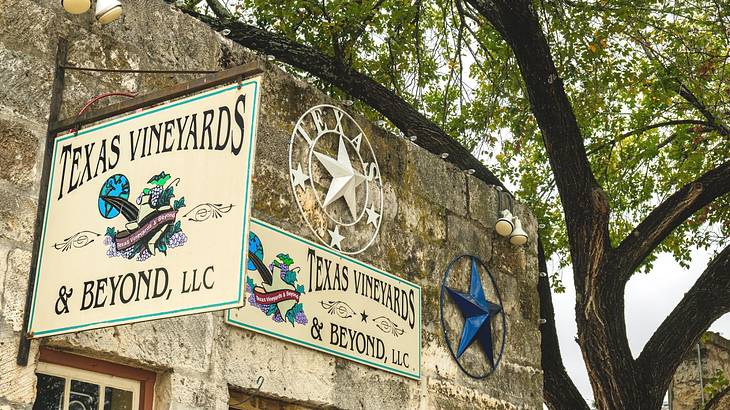 Wine taste in Fredericksburg
Situated just under two hours from San Antonio, Fredericksburg is a scenic place to visit to escape the bustle of the city. There are an array of things to do in Fredericksburg, including going on a wine tasting tour.
You and your date will visit a few wineries where you can try samples and buy some bottles. You can then spend a little time exploring central Fredericksburg.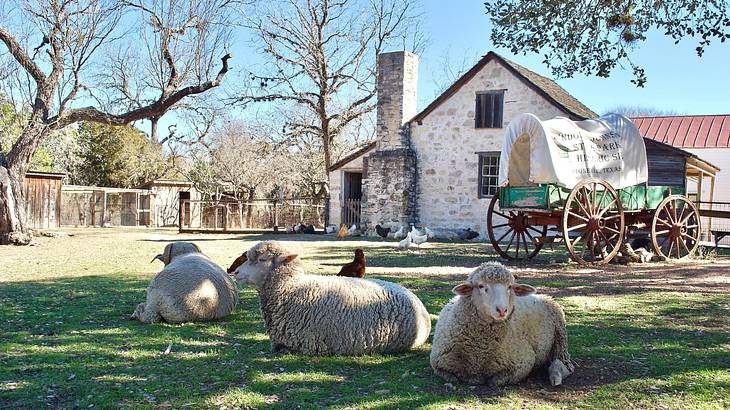 Look around Texas Hill Country
If you're planning an all-day date and want to escape the city, book a Texas Hill Country tour. This excursion includes transport and will take you to landmarks such as the Lyndon B. Johnson State Park & Historic Site, wineries, and places like Luckenbach and Fredericksburg.
Sail around Canyon Lake
Canyon Lake is one of the most romantic places near San Antonio, Texas, to enjoy the outdoors with your loved one. An excellent activity at the lake is going on a private pontoon boat. You'll get to sail around the beautiful lake as well as swim and sunbathe. It's the ideal way to unwind in nature!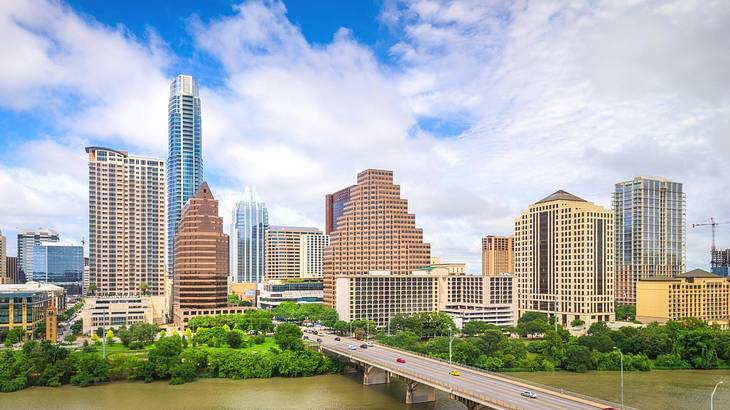 Plan a day trip to Austin
Located just under two hours from San Antonio is another fun Texan city, Austin. Going on a day trip or weekend getaway to Austin is a fun idea for couples. You and your partner will discover a multitude of fun things to do in Austin, from going on boat tours to visiting museums and famous landmarks.
There are also many indoor activities in Austin to enjoy, so you can have a memorable trip even if the weather isn't the best.
In Conclusion
There are many fun things for couples to do in San Antonio, TX! Whether you live in the city with your partner, are visiting, or are planning a first date, there's no shortage of unique and romantic things to do.
Give us feedback about this article
For more interesting articles about United States, read:
For some great articles about things to do, check out:
---
---
Want to keep exploring?
Subscribe for discounts on tickets and hotels and our latest guides.
Thank you for subscribing
We will be in touch soon with discounts on tickets and hotels and our latest guides.
Want to keep exploring?
Subscribe for discounts on tickets and hotels and our latest guides.
Thank you for subscribing
We will be in touch soon with discounts on tickets and hotels and our latest guides.
Related articles