25 Fun Things to Do in San Antonio at Night
Destguides may receive commissions from purchases made through affiliate links in this article.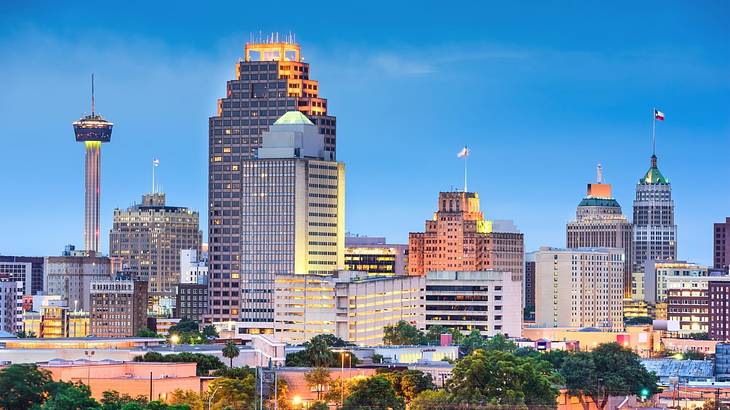 Are you looking for fun things to do in San Antonio at night? Then you've come to the right place! San Antonio is a unique Texan city with many exciting attractions. While there's a lot to see and do in the day, you don't need to stop exploring the city once it gets dark.
Things to do at night in San Antonio include going on a River Walk cruise, shopping and dining at Historic Market Square, and getting drinks at one-of-a-kind bars. Read on to discover all the cool things to do at night in Alamo City!
25 Fun Things to Do at Night in San Antonio, TX
Things to Do in San Antonio, TX, at Night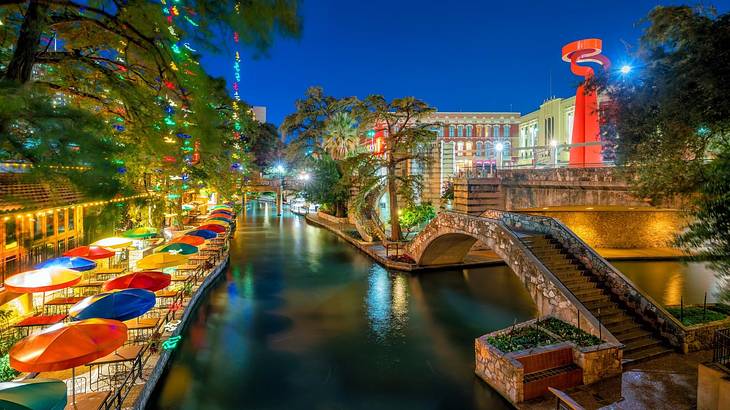 Take a San Antonio River Walk cruise
The San Antonio River Walk is one of the city's most famous landmarks, and taking a cruise on the river has to be on your Texas bucket list. While there are many options in the day, you can also book nighttime river cruises.
On a night river cruise, you can experience San Antonio after dark and will get to view the stunning illuminated skyline. Your guide will also provide information on landmarks you see as you sail through the water. Once back on land, stop for dinner at one of the charming eateries along the River Walk.
Go bowling at Bowlero Thousand Oaks
Brunswick Zone Thousand Oaks Bowl, or Bowlero Thousand Oaks, is a fun place to spend the evening. This bowling alley is so much more than just bowling! After a game or two, you can also play arcade games or billiards, and there's a sports bar.
You also have the option to order bar snacks at the sports bar or to your lane. Options include flatbread pizza, wings, and chicken sandwiches. Fun cocktails, beer, and soda are also on the menu.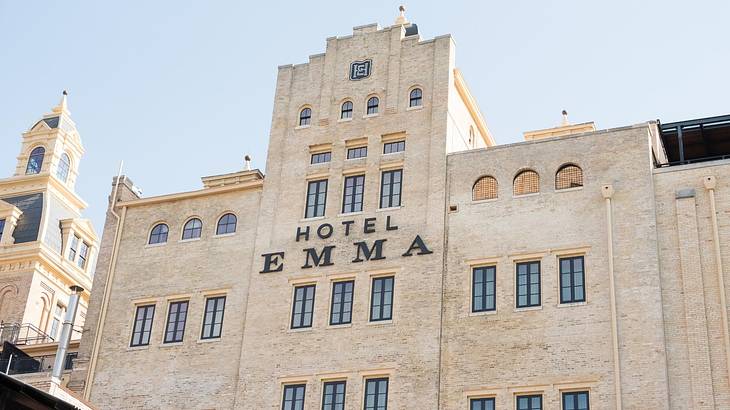 Enjoy drinks in the bar at the Hotel Emma
If you're looking for things to do in Downtown San Antonio at night, getting drinks at Hotel Emma is a great idea. Located on the edge of downtown, the five-star hotel has a charming Tavern-style bar called the Sternewirth.
The drinks menu features sophisticated craft cocktails, Single Barrel Select Bourbon, and a variety of other beverages. Enjoying the bar's prohibition-themed drinks in its cozy setting is a perfect way to spend the evening.
Hotel Emma also has a restaurant, Supper, if you want to get some dinner after your drinks.
Tackle an escape room
In San Antonio, most escape room venues stay open until late, making it a fun activity to try in the evening. You can find a variety of escape room operators to choose from, and a multiple themes are available. Just a few of the escape room themes include underground escape, zombie apocalypse, and outer space.
Play a game at Bandera Late Night Bingo
Bandera Late Night Bingo is another of the unique places to visit at night in San Antonio. This bingo hall stays open past midnight and offers a few variations of the game for low prices. You can also order classic snacks, like tacos, burgers, and chips while you play.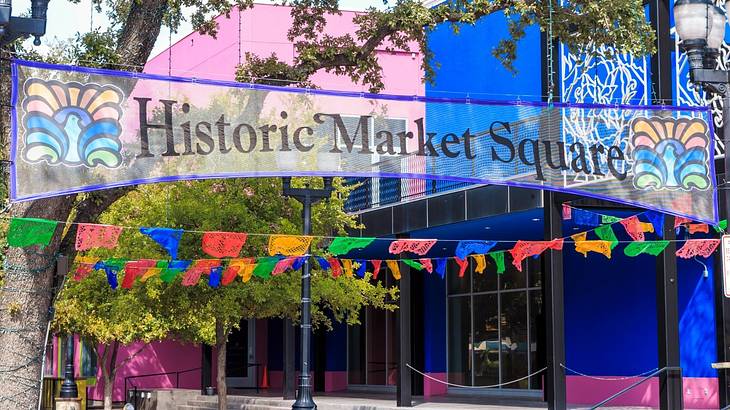 Shop at Historic Market Square
A fun early evening activity in San Antonio is exploring Historic Market Square. The outdoor plaza is filled with shops and restaurants and notably houses the largest Mexican market in the United States.
As you look around, you'll find a variety of places to get delicious food and drinks, with options including oyster bars and taquerias. After eating, you can shop at unique stores and see live entertainment, like Mariachi bands and other live music.
Relax at Hiatus Spa + Retreat
You may not think of going to the spa in the evening, but Hiatus Spa + Retreat is one of the best places to go in San Antonio at night! This full-service spa generally stays open until 9 PM and offers a range of treatments to help you relax and unwind.
Spa menu options include nine types of massage, body wraps, numerous types of facials, and mani-pedis. If you've had a long day, or week, spending an evening at Hiatus Spa + Retreat is a must.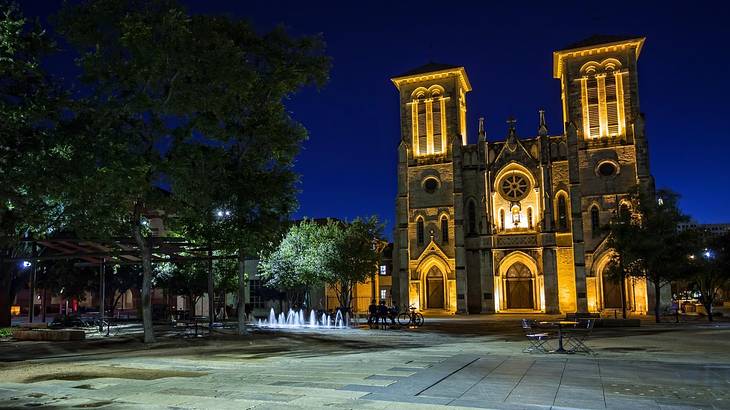 Hear spooky tales on a ghost walking tour
Those interested in the paranormal will want to join a San Antonio ghost walking tour. On this spooky excursion, you'll explore the city, visiting some haunted locations. Stops on the tour include The Alamo and the Spanish Governor's Mansion.
At each location, your guide will tell you about eerie events and ghost sightings that are sure to intrigue you.
Check out Laugh Out Loud Comedy Club
One of the fun and laid-back San Antonio things to do at night is going to Laugh Out Loud Comedy Club. The venue hosts a variety of shows, including those by well-known comedians and stand-up nights for newer acts.
As you enjoy the show, you can order from an extensive food and drink menu, which includes craft cocktails and frozen margaritas.
Laugh the night away at Blind Tiger Comedy Club
Another great comedy club in San Antonio is Blind Tiger Comedy Club. This venue stays open later than Laugh Out Loud Comedy Club, so it's an excellent spot to head to after that venue closes.
Known as "San Antonio's Only Underground Comedy Club," you can see a variety of unique acts here. If you're looking for things to do on Friday night, check out the club's Secret Midnight Show. This performance is free and features secret guests; you won't know who is performing until you arrive!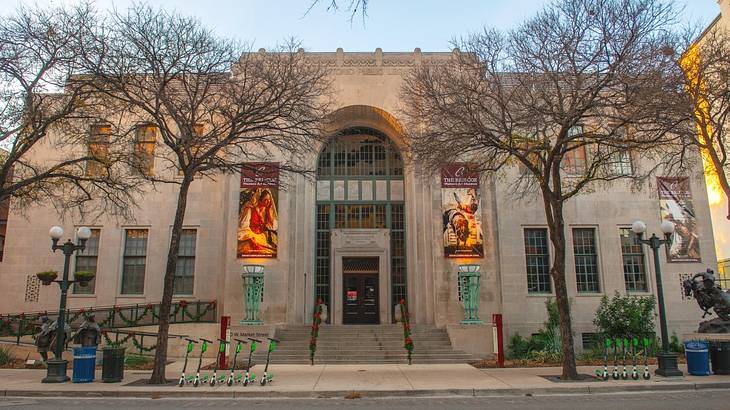 Admire artworks at the San Antonio Museum of Art
San Antonio has many cultural attractions, and one of the most popular is the San Antonio Museum of Art. The museum stays open until the early evening, making it a great attraction to visit before going for dinner or drinks.
Founded in 1981, the vast gallery features 30,000 works that span 5,000 years of history. Pieces range from Ancient Greek and Roman artworks to more contemporary works. Along with the permanent exhibits, you can see temporary exhibitions, such as an exhibit on comic book art and characters.
Dance at the Bonham Exchange
San Antonio has a range of dance clubs to check out. An enjoyable and unique dance club in the city is Bonham Exchange. This vibrant nightlife spot features three levels and a patio and hosts a range of DJs, including EDM, House, Latin, and Hip Hop acts. The club also covers the dance floor in colorful lighting!
Between dancing, you can get a range of drinks, including delicious cocktails, and the club frequently has drink specials. Bonham Exchange hosts events, too, like drag shows. If you're looking for the best late-night things to do in San Antonio, going to Bonham Exchange has to be on your to-do list!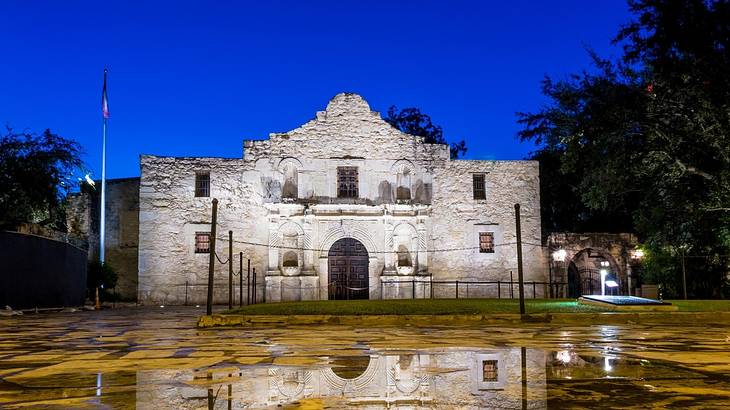 Explore Old San Antonio on an Alamo ghost tour
San Antonio is sometimes called Alamo City due to being home to the famous Texas landmark. Although visiting the Alamo is memorable to do during the day, going on an Alamo ghost tour is much more unique!
The tour takes you around Old San Antonio to a variety of haunted spots, including the Alamo itself and the oldest Cathedral in the city.
Watch a San Antonio Missions game
San Antonio is home to a minor league baseball team, the San Antonio Missions. The team is an affiliate of the San Diego Padres and can be seen at Nelson W. Wolff Municipal Stadium.
Most games start at 7.05 PM, making catching a game a fun nighttime activity. The team plays from April through September. Whether you're a big baseball fan or not, cheering on the Missions is a fun way to support local San Antonio teams.
Ride roller coasters at Six Flags Fiesta
Six Flags Fiesta is a popular theme park in San Antonio that generally stays open late on the weekend. Visitors to the park can ride a range of roller coasters for all thrill levels.
Other things to do at Six Flags Fiesta include watching live shows and checking out on-site shops. If you get hungry, you'll also find many eateries serving theme park classics like burgers, corn dogs, and funnel cake. There are also bars serving fun cocktails and beer for those looking to make their evening at Six Flags Fiesta a little more like a night out.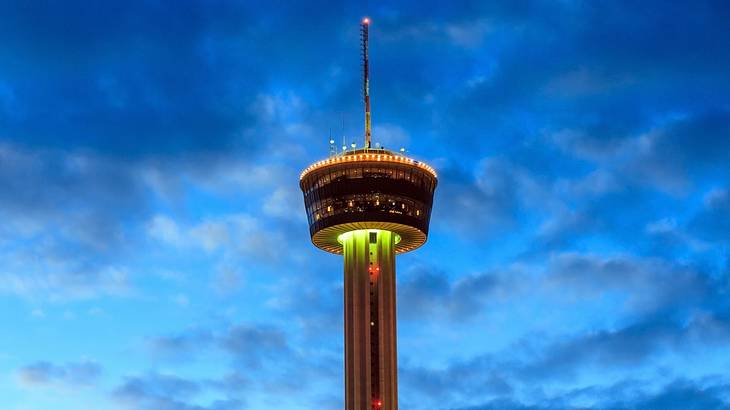 Dine in the Tower of the Americas
Going out to dinner is one of the fun night activities in San Antonio to enjoy, and the city offers many choices. One of the unique options is dining high above the city in the Tower of the Americas. This observation tower was constructed in 1966 and is 750 feet tall.
Chart House is an award-winning eatery located at the top of the tower. Dishes on the menu range from steak and seafood dishes to salads and decadent desserts. Of course, as you enjoy your meal, you can take in stunning 360-degree views of San Antonio.
Before or after eating, you can also get drinks and admire the views at the stylish Bar 601.
Try delicious dishes at Azuca Nuevo Latino Restaurant
You can find many excellent Latin eateries in San Antonio, including Azuca Nuevo Latino Restaurant. This spot prides itself on using fresh ingredients to create authentic Latin dishes with a twist. It was also the first Nuevo Latino restaurant in San Antonio!
At the restaurant, you can choose to eat in the bustling interior section or relax outside on a tranquil patio. Deciding what to order may be challenging, however! The menu is filled with amazing snacks and dishes, ranging from tostones, ceviche, and fresh-made guacamole to seafood curry and Brazilian feijoada.
Listen to live music at Thirsty Horse Dance Hall & Saloon
Also known simply as the Thirsty Horse Saloon, the Thirsty Horse Dance Hall & Saloon is one of the most fun bars in the city. It specializes in live country music acts with a variety of up-and-coming, local, and well-known musicians performing.
For those that love country music and are looking for the best San Antonio nightlife, Thirsty Horse Saloon is the place to be!
Attend a dance class at Cowboys Dancehall
Another of the places to head to experience the best nightlife in San Antonio, TX, is Cowboys Dancehall. This live music venue has country music acts and hosts some other fun events.
You can also take dance lessons at Cowboys Dancehall. Sessions for beginner, intermediate, and advanced dancers are offered and focus on country and line dancing. After the class, you can grab some drinks and enjoy the live music acts. The venue even has a mechanical bull!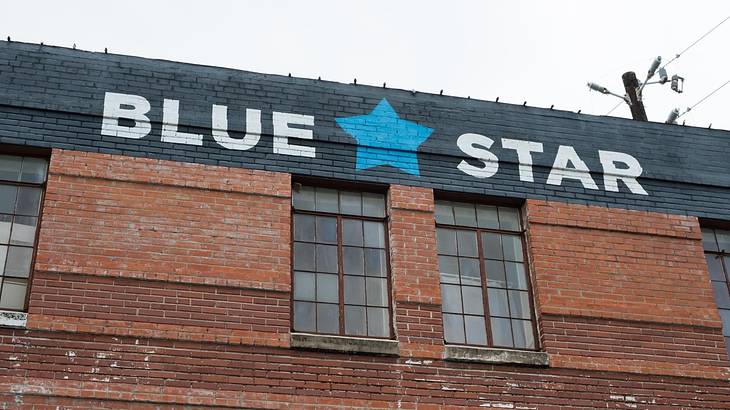 Spend the evening at the Blue Star Arts Complex
Open every day until early in the morning, the Blue Star Arts Complex is a vibrant place to explore. It houses shops, bars, restaurants, and live entertainment spaces. The complex's art gallery, which showcases works by local artists, is also one of the best free attractions in San Antonio.
If you're unsure of what you feel like doing at night, going to the Blue Star Arts Complex is an excellent idea as it offers a little of everything.
Snap unique photos at the Hopscotch Immersive Art Experience
A cool place to take some pictures in San Antonio is the Hopscotch Immersive Art Experience. This art gallery features light installations and other unique and artistic multi-media works that make the ideal photo backdrop.
The art installation stays open until late, and you can book admission tickets for the Hopscotch Immersive Art Experience in advance.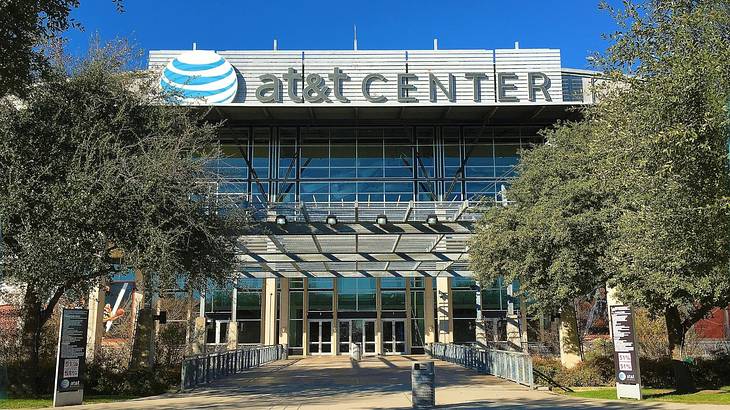 Catch a San Antonio Spurs game
San Antonio has one major league sports team, the San Antonio Spurs. Watching this NBA team play in the evening is a fun activity even if you aren't the biggest sports fan.
The team plays at the AT&T Center, located about a ten-minute drive from downtown. You can see the Spurs playing between October and April in the regular season.
Sip cocktails at Paramour Rooftop Bar
Another fantastic spot to enjoy some of the best nightlife in San Antonio, Texas, is Paramour Rooftop Bar. This vibrant spot offers stunning views across the city and serves a variety of fun cocktails (that will look great on your Instagram feed!) There are also live DJ sets and a variety of other events to enjoy here.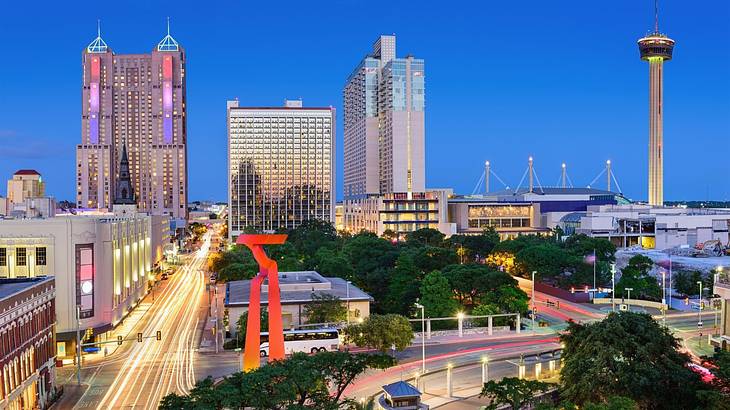 Experience a nighttime sightseeing tour
If you're visiting the city, going on a sightseeing tour is the perfect way to see everything San Antonio offers. However, instead of doing so during the day, consider going on a San Antonio night tour.
Even if you live in San Antonio, this experience offers a unique way to learn more about your city! Landmarks to visit on the after-dark tour include the Alamo and the Tower of the Americas.
Things to Do Near San Antonio at Night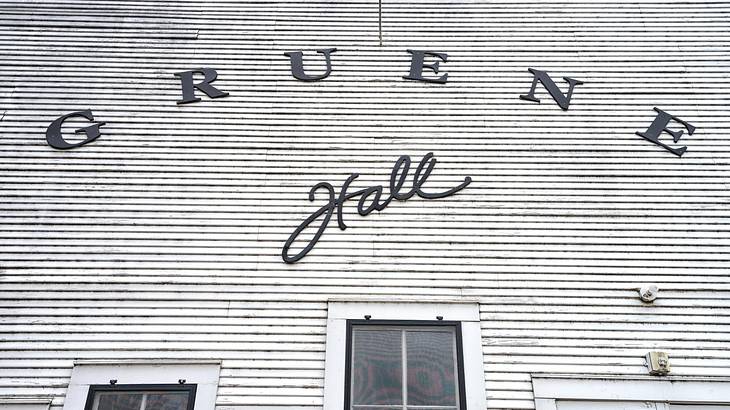 See a concert at Gruene Hall
Known as "Texas' oldest dance hall," Gruene Hall is another great place to spend an evening dancing and having drinks. Built in 1878, Gruene Hall covers 6,000 square feet and is designed for dancing and live events. It is in greater San Antonio and takes about 40 minutes to reach from downtown.
The venue hosts live music acts, focusing on Americana, country, and blues genres. In addition, events such as dance classes and even yoga sessions are held at Gruene Hall.
In Conclusion
If you've been wondering what to do in San Antonio at night, this list should have given you some unique ideas. From vibrant nightclubs and bars to ghost tours and comedy clubs, there's no shortage of nighttime attractions in San Antonio!
Want to keep exploring?
Subscribe for discounts on tickets and hotels and our latest guides.
Thank you for subscribing
We will be in touch soon with discounts on tickets and hotels and our latest guides.
Want to keep exploring?
Subscribe for discounts on tickets and hotels and our latest guides.
Thank you for subscribing
We will be in touch soon with discounts on tickets and hotels and our latest guides.