30 Fun Things to Do in Provo, Utah
Destguides may receive commissions from purchases made through affiliate links in this article.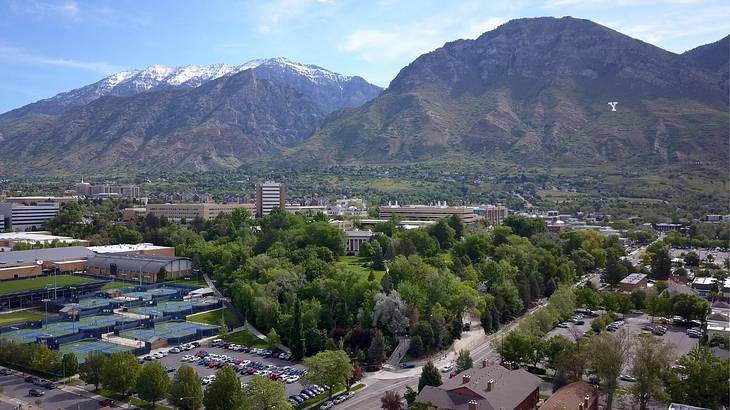 Provo is a rustic and mountainous Utah Valley town. It's a fascinating destination with many indoor and outdoor attractions.
Fun things to do in Provo, Utah, include hiking in various parks, checking out museums, and watching the local Brigham Young University collegiate football team play. Other unique activities range from making your own soap or candles to singing karaoke and tackling escape room challenges.
Being just a short drive from the state capital, Salt Lake City, taking a quick road trip there is also recommended. To discover all of the best things to do in and around Provo, read on for 30 activity suggestions!
30 Fun Things to Do in Provo, UT
Provo, Utah, Things to Do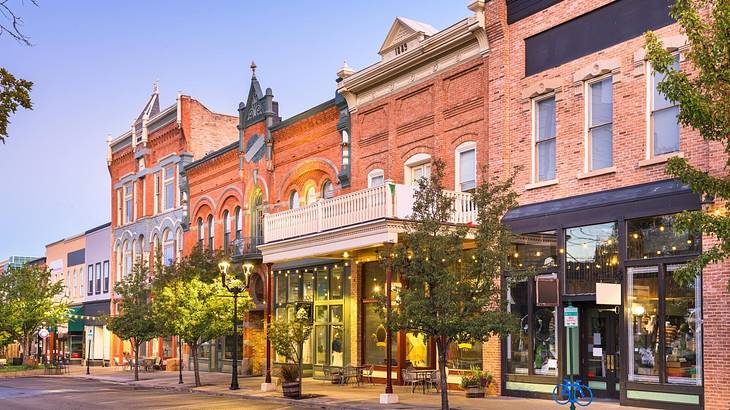 Explore Downtown Provo
One of the most fun things to do around Provo is checking out the city's downtown area. Downtown Provo features boutiques, restaurants, and many other attractions. It's a bustling area of the city that's interesting to wander around.
As you explore, you can visit the unique independent shops on Center Street and stop for great food at one of many eateries.
Admire artworks at BYU Museum of Art
BYU Museum of Art, or Brigham Young University Museum of Art, is a campus art gallery that showcases works by world-renowned artists. It's notably one of the most visited university art museums in the United States.
During a visit, you'll get to see paintings, sculptures, and drawings, among other mediums. The museum also holds many events, including artist talks and painting evenings.
Watch a show at Covey Center for the Arts
A great place to watch a theater performance in Provo is at the Covey Center for the Arts. There are a variety of genres of play to see, with options changing frequently.
The center also holds music concerts, dance shows, and art exhibits. If you like arts and cultural attractions, you have to visit Covey Center for the Arts when in Provo!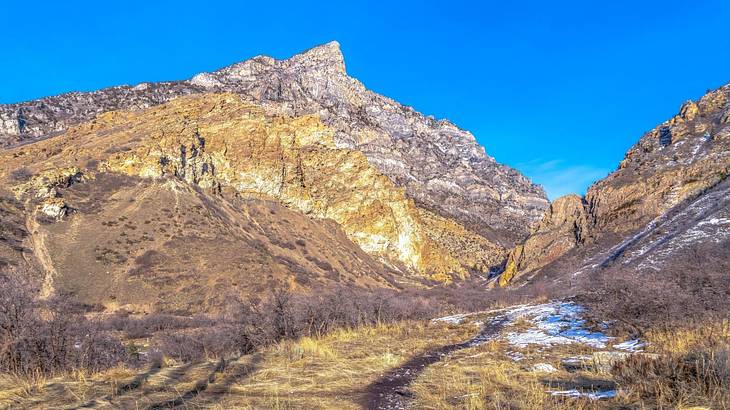 Drive through Provo Canyon
Provo Canyon is an area with beautiful natural scenery. It features lakes, tall mountains, dense forests, and waterfalls.
You can explore the area on foot or consider going on a scenic drive. The driving route will take you past the best parts of Provo Canyon, as well as Bridal Veil Falls and Deer Creek Reservoir.
Learn new things at Monte L. Bean Life Science Museum
One of the fascinating educational attractions in Provo is the Monte L. Bean Life Science Museum. Located on the Brigham Young University campus, this natural history museum houses a range of fascinating displays.
Topics such as wildlife and the natural environment are the main areas of focus. A trip to the Monte L. Bean Life Science Museum is especially recommended if traveling with kids.
Walk along the Provo River Parkway Trail
A great attraction for outdoor enthusiasts is the Provo River Parkway Trail. The trail runs for 15.2 miles and is an easy hike for most activity levels.
As you walk along the trail, you'll pass lakes, mountains, and forests. You can also bike the route, and your dog is welcome to join you as long as they're kept on a leash.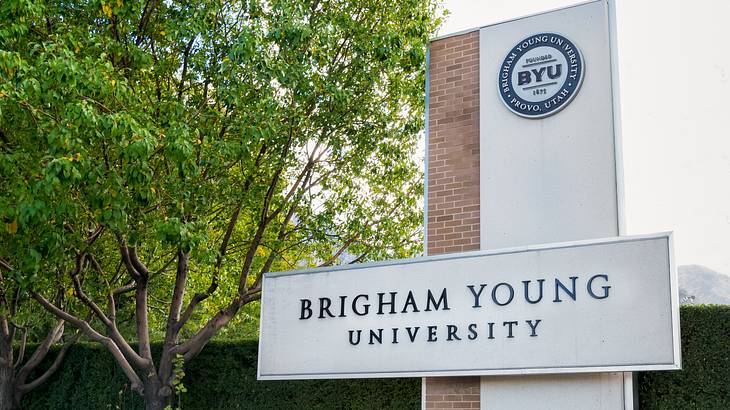 See a performance at the Franklin S. Harris Fine Arts Center
The Franklin S. Harris Fine Arts Center is located on the Brigham Young University campus. It's the primary performing arts center for those in the school's fine arts programs.
Visitors to the center can watch various performances by students and some other performers. Types of shows to see include classical music concerts, dance recitals and ballets, and jazz shows.
Take a trip to Provo Pioneer Village
During the summer, visiting Provo Pioneer Village is a must. The attraction is a living-history museum that gives you a look into life in the 1800s.
At the museum, you can learn more about life during the 19th century and explore shop replicas, like blacksmiths and woodworking shops. You can also discover what an average home during the time would have looked like. Actors are often on-site, too, offering a more in-depth look into the past.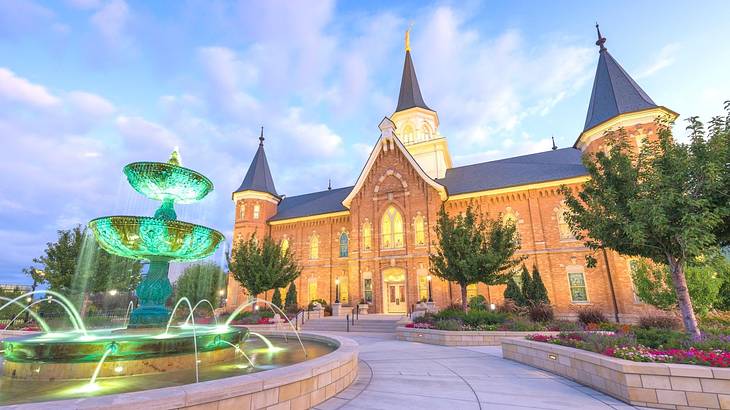 Visit Provo City Center Temple
One of the must-visit places to visit in Provo, Utah, is Provo City Center Temple. This temple is part of the Church of Jesus Christ of the Latter-day Saints. The current temple is relatively new, having been rebuilt in 2016.
While the temple is not generally open to the public, you can look around the gardens and admire the building's architecture. There are also some informational plaques on-site to check out.
Sing the night away at Heart and Seoul Karaoke
One of the best attractions in Provo, Utah, for an exciting night out is Heart and Seoul Karaoke. Located downtown, the venue has private karaoke rooms with a long list of songs to choose from, including those in languages other than English. If you're feeling brave, they also have open-mic nights!
Make soap at The Soap Factory
If you like crafts, one of the most fun activities in Provo is making soap at The Soap Factory. At the venue, you can produce soap in a range of scents and shapes. Once your soap is created, you can also paint it to make it truly unique. Your finished soaps will make great gifts or souvenirs.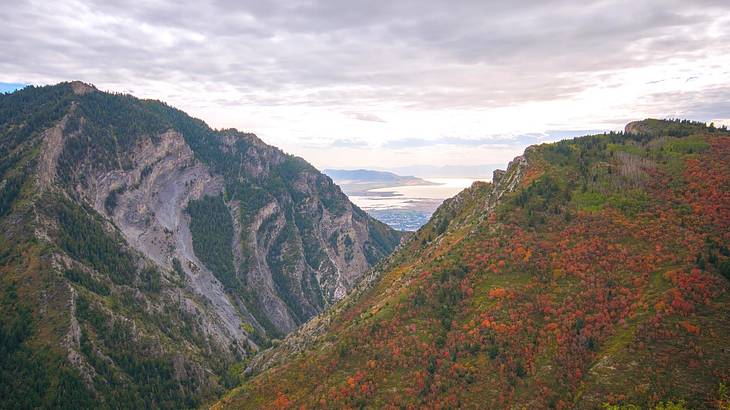 Hike around Rock Canyon
Rock Canyon is one of Utah's hidden gems and is conveniently located just 10 minutes from Downtown Provo. At the canyon, you can hike, bike, or snowshoe. As you explore, you'll get to take in the mountainous views and see a range of flora and fauna.
Picnic at South Fork Park
On a nice day, one of the best things to do in Provo with friends and family is having a picnic at South Fork Park. You can find picnic areas and grills within the park and can also relax on the grass with your meal. After eating, you can follow a few trails and look for the park's water features.
Laugh at a comedy show
Provo has two great spots for comedy shows, Dry Bar Comedy and Comedy Sportz. Dry Bar Comedy hosts shows by professional comedians that you can watch as you enjoy snacks and non-alcoholic drinks. Comedy Sportz is an improv venue that allows lots of audience participation and direction.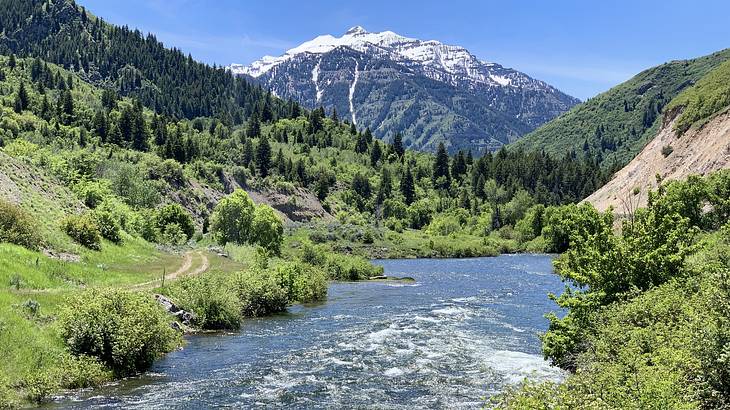 Go rafting along the Provo River
A memorable outdoor activity in the area is rafting on the Provo River. With your professional guide, you'll raft along the water, taking in the surrounding views as you go. This two-hour activity offers a unique way to see the natural landscape around Provo.
Tackle the Y Mountain Trail
Provo's Y Mountain Trail is a 6.6-mile route that's perfect for hiking, snowshoeing, and downhill skiing. The trail is quite challenging, so tackling it is only recommended for those with a high activity level.
Along the way, you can take in panoramic views of the surrounding area and will see wildlife and wildflowers.
Get out on the water at Utah Lake State Park
Utah Lake State Park sits on the east shore of Utah Lake. During warmer months, the park is a popular place to go boating. You can also swim or paddleboard in the water.
Along with water activities, you can follow trails around the lake and in the surrounding forests. The paths are perfect for both hiking and biking.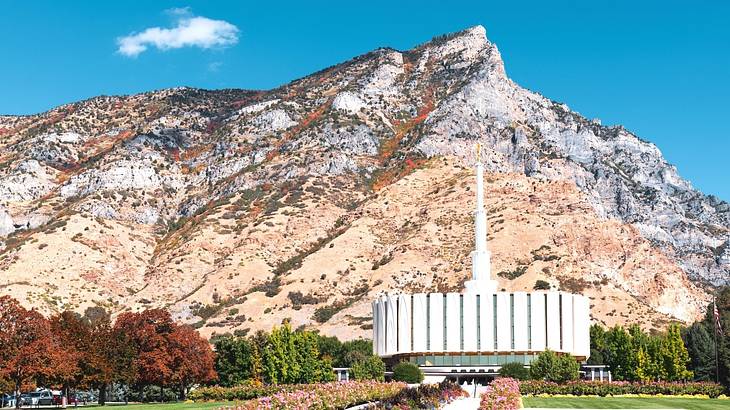 See the Provo Utah Temple
Another religious building to see is the Provo Utah Temple. The temple is a round structure with a tall tower in the middle. It's a unique sight to see and looks as nice during the day as at night.
You can view the temple from outside but cannot go inside unless you're a member of the Church of the Latter-day Saints.
Enjoy the amusements at Provo Beach
If you're in the area with kids, one of the fun places in Provo, Utah, to go is Provo Beach. This entertainment complex has lots of attractions to enjoy.
There's a bowling alley, arcade, mini-golf course, ropes course, and much more! After trying the many activities available, you can stop by the on-site ice cream parlor for a sweet treat.
Break free from an escape room
An excellent rainy-day activity in Provo is tackling an escape room at Getout Games. Themes to choose from include a heist, a zombie apocalypse, and an outer space mission. No matter which escape room theme you choose, you'll have a fun time solving puzzles to break free!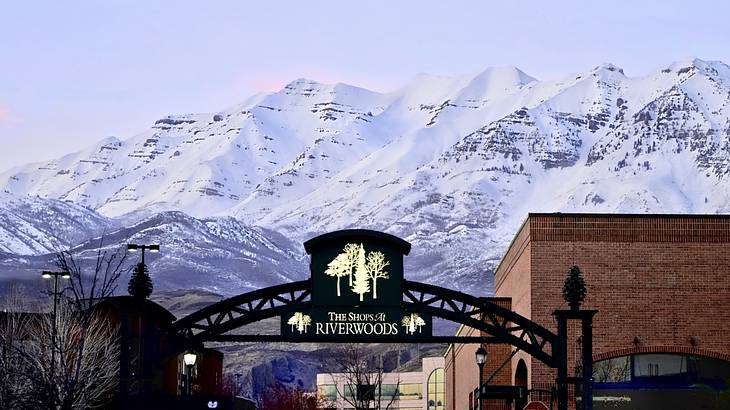 Shop and dine at The Shops at Riverwoods
The Shops at Riverwoods are a major shopping, dining, and entertainment complex. Stores to visit include clothing boutiques, decor outlets, gift shops, and even an antique bookstore.
After shopping around, you can stop for a meal at one of numerous restaurants. Dining options range from pizza and barbecue spots to cookie stores and juice bars. Lifestyle and entertainment venues to also check out at The Shops at Riverwoods include nail salons, a cake decorating studio, and a yoga school.
Create candles at The Wick Lab
If you like lighting scented candles after a long day, why not make your own? At The Wick Lab, you can create a unique candle that you pour and fragrance yourself. You can choose from around 100 fragrances and add one-of-a-kind labels to your candle jars.
Go to the BYU Museum of Peoples and Cultures
Another of the Provo, Utah, attractions at Brigham Young University is the Museum of Peoples and Cultures. This museum is dedicated to archaeology and ethnology.
Exhibits showcase an extensive collection of artifacts dating back hundreds of years, with South American, Mesoamerican, and Central American pieces being the most prevalent. Pieces to see and learn about include ancient masks, rugs, and decor items.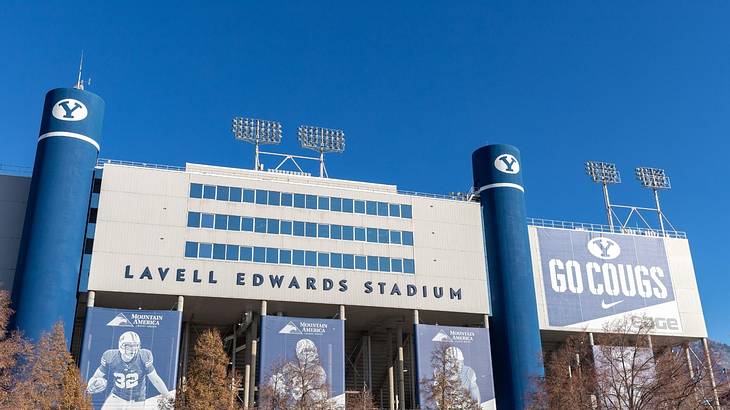 Watch a football game at LaVell Edwards Stadium
LaVell Edwards Stadium is an open-air arena on the BYU campus. The stadium is mainly used for the BYU Cougars college football team. Catching a game here is highly recommended. Even if you aren't a sports lover, you're sure to have a great time cheering for the Cougars!
Hang out in Pioneer Park
Pioneer Park is an urban park in the downtown area. At the park, you can relax in an open green space surrounded by trees. If you're with children, there's also a playground for them to explore.
During the summer, you can also find a splash pad for kids. In addition, a Saturday farmers market is held in Pioneer Park from June to October.
Immerse yourself in the life of dinosaurs at BYU Museum of Paleontology
The BYU Museum of Paleontology teaches visitors about dinosaurs and other creatures that lived alongside them. Exhibits primarily feature fossils found in Utah and the nearby states of Wyoming, Colorado, and Montana. Best of all, admission is free, although donations are welcomed.
Fun Things to Do Near Provo, Utah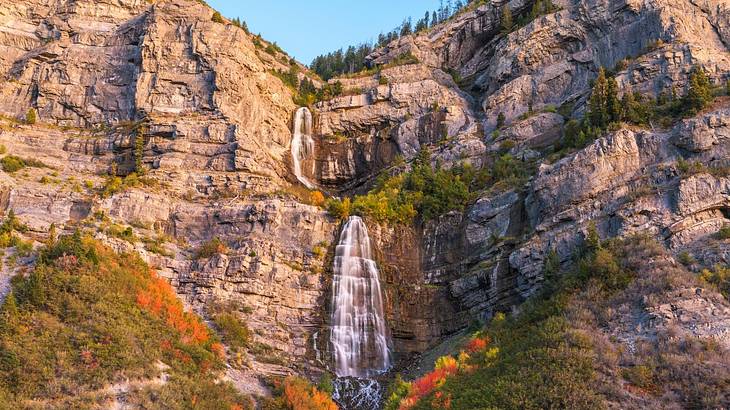 Marvel at Bridal Veil Falls
Bridal Veil Falls is one of the most beautiful landmarks in Utah. The 608-foot-high double waterfall is found approximately 20 minutes from downtown, near Provo Canyon.
The falls are easy to get to by following a hiking trail. Alternatively, if you don't want to hike, you can see them from the parking lot. Bridal Veil Falls are also illuminated at night, making for a spectacular sight.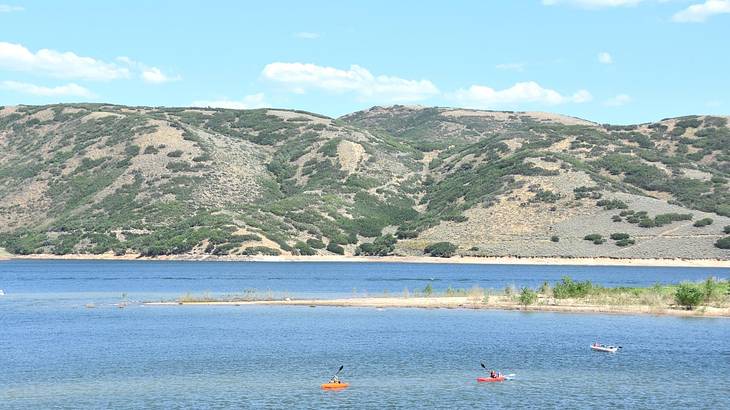 Spend the day at Jordanelle State Park
Jordanelle State Park is located 50 minutes away from Provo. The park has a reservoir and lots of hiking trails. On the water, you can boat, paddleboard, kayak, or water ski. If you don't have your own equipment, water sport rentals are available.
Throughout the summer, there's also a fun inflatable aquatic obstacle course on the reservoir to try. Jordanelle State Park is a popular camping spot too. If you want to do an overnight trip, booking a camping spot here is a great idea.
Have a snow day at the Sundance Mountain Resort
Located just 20 minutes from Provo, the Sundance Mountain Resort is one of the best snow resorts in Utah. When staying at the resort, you can enjoy cabin-style rooms, a spa, and great restaurants.
In the winter, you can spend the day doing snow sports, like snowboarding or skiing. In the summer, you can relax surrounded by alpine scenery and go for hikes in the nearby forests.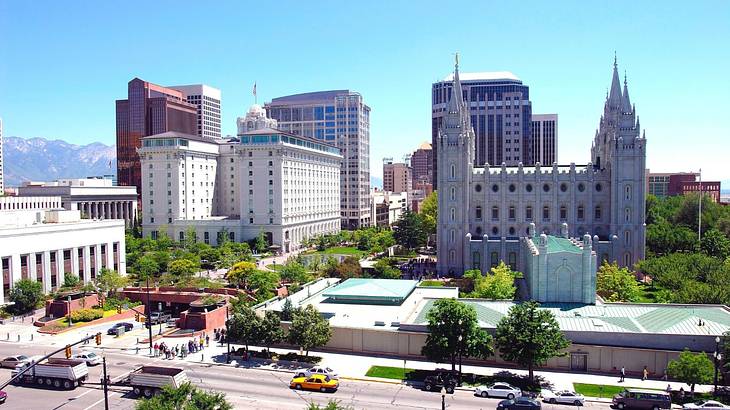 Take a road trip to Salt Lake City
Salt Lake City is the most populous and well-known city in Utah. As it's located just 45 minutes from Provo, spending a day in Utah's capital is easy.
There are many attractions to visit in the city, like the Natural History Museum of Utah and the State Capitol Building. You'll also find parks to walk around and lots of shops and restaurants.
In Conclusion
As you can see, you can find an array of things to do in this bustling city. Provo, Utah, things to do range from enjoying outdoor activities to visiting arts and cultural attractions.
What's great about this city is that there's really something for everyone. When visiting, you also get the chance to learn more about the city's history and culture, which is quite unique compared to other places in the United States.
If you're thinking about where to go on your next US city getaway, Provo is a perfect choice!
Give us feedback about this article
More visual stories related to this article:
---
---
Want to keep exploring?
Subscribe for discounts on tickets and hotels and our latest guides.
Thank you for subscribing
We will be in touch soon with discounts on tickets and hotels and our latest guides.
Want to keep exploring?
Subscribe for discounts on tickets and hotels and our latest guides.
Thank you for subscribing
We will be in touch soon with discounts on tickets and hotels and our latest guides.
Related Articles