20 Hidden Places in Utah to Visit - Utah Off The Beaten Path
Destguides may receive commissions from purchases made through affiliate links in this article.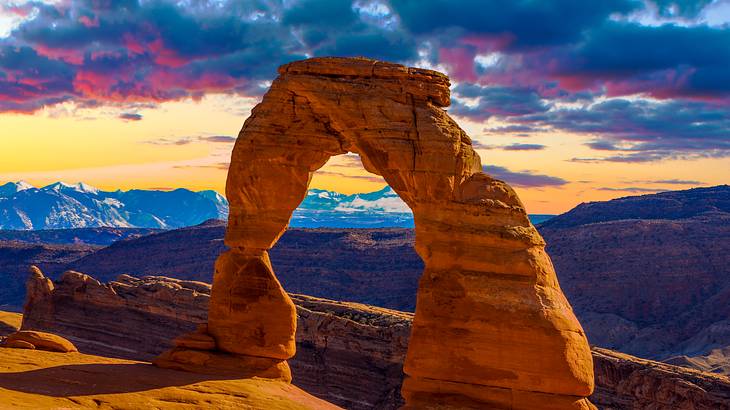 Utah is quickly gaining notoriety as one of the can't-miss places in the United States for outdoor adventure. With this reputation also come crowds, and finding hidden places in Utah has become increasingly difficult.
Still, with just a little digging, you can find plenty to do beneath the yawning skies of this vast, high-desert state. This list of 20 Utah off-the-beaten-path destinations will all be great additions to your trip, so keep reading to see what tickles your fancy.
20 Hidden Gems in Utah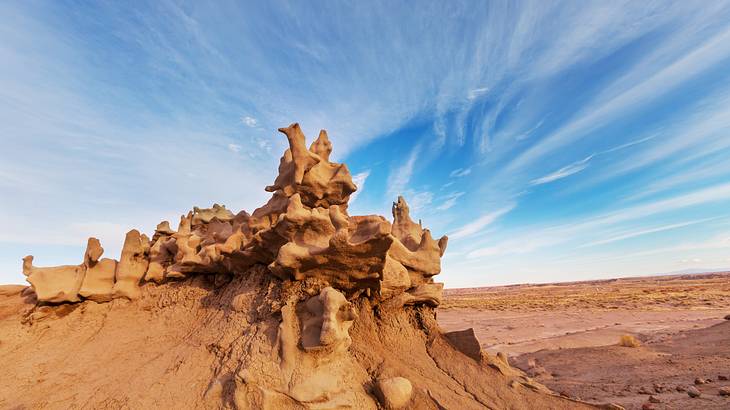 Fantasy Canyon
In Fantasy Canyon, the American West meets Middle Earth. The ravine can be walked easily in about thirty minutes, even if you opt for your cosplay gear over hiking boots to help gaze more imaginatively at the weathered sandstone formations.
Found about forty miles south of Vernal, this is one of the hidden gems of Utah that you won't want to miss.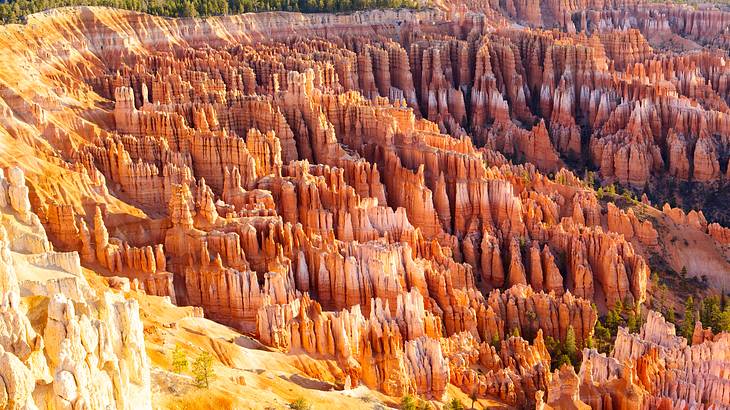 Mossy Cave Trail, Bryce Canyon National Park
Bryce Canyon is routinely ranked as one of the best national parks of the American West. It's most famous for its colorful, towering hoodoos, and most hikes descend from the canyon heights for panoramic views of these landforms from below.
The Mossy Cave Trail, however, keeps hikers much closer to the sandstone spires without sacrificing any scenery. This lesser-known trail follows a river bed to a natural grotto where visitors can walk or swim behind a waterfall.
In the summer, the ceiling of the overhang is carpeted in moss and lichen, and wintertime finds icicles hanging down like stalactites.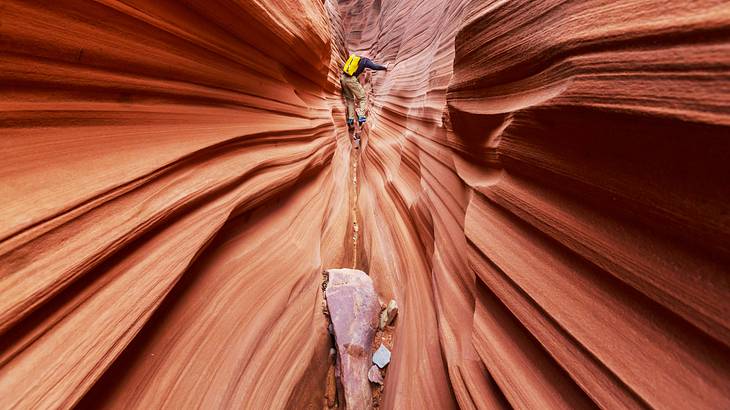 Grand Staircase - Escalante National Monument
Travelers who make their way to southern Utah will find the nearly two-million-acre Grand Staircase-Escalante National Monument. It sounds hard to miss, but its isolation means that it isn't on most itineraries and was one of the last places in the United States to be mapped.
With expansive desert terrain, forests, monoliths, cliffs, canyons, and terraces, this famous landmark in Utah is littered with opportunities for adventure.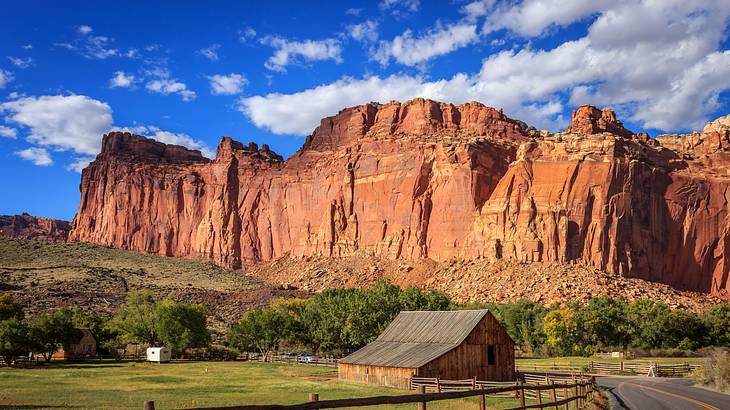 Capitol Reef National Park
Another of the Utah hidden treasures well worth exploring is Capitol Reef National Park. Located in the state's southwestern desert, the park gets its name from Capitol Dome, a white sandstone formation that resembles the US Capitol building.
The park is also home to a four-hundred-foot sandstone pillar named Chimney Rock, a 133-foot natural arch called Hickman Bridge, and the thousand-year-old Fremont Petroglyphs.
For a desert treat, head to the town of Fruita inside the park. Visitors are welcome to eat ripe fruit from open orchards and, for a fee, fill a basket to take with them.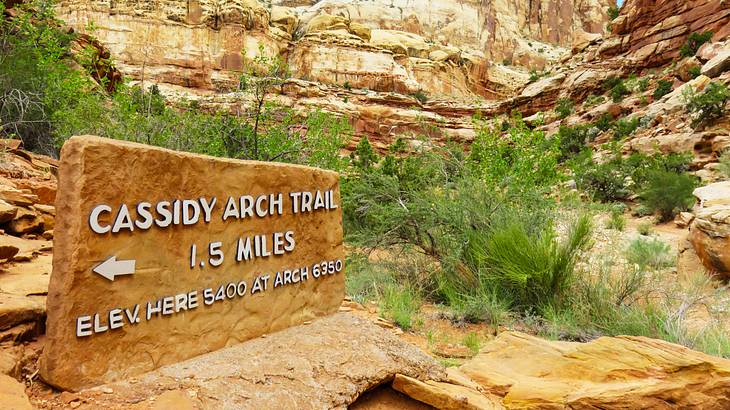 Cassidy Arch Trail, Capitol Reef National Park
Cassidy Trail takes hikers past the wind-worn hoodoos of Utah's Red Canyon. Also known as fairy chimneys or tent rocks, these sandstone spires also mark the path of one of Butch Cassidy's famous escape routes.
The trail ends at the top Cassidy Arch, offering dizzying views of the deep chasm that the natural bridge spans.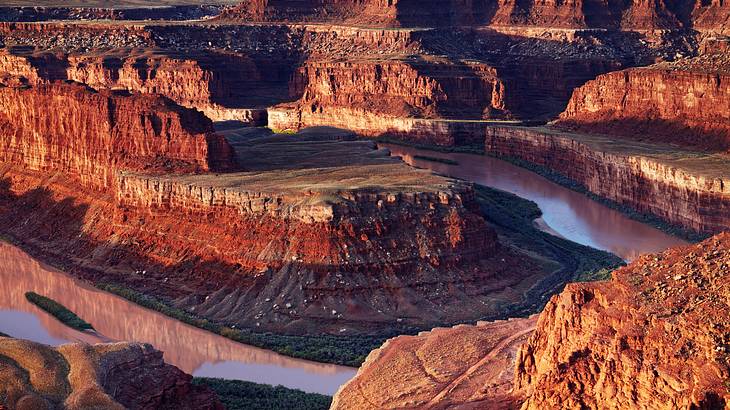 Dead Horse Point State Park
Stargazers will fall in love with Dead Horse Point State Park. Ranked as an International Dark Sky Park in 2016, visitors here will be able to observe the skies without a hint of light pollution, just as our ancestors did.
If that's not enough to draw you into one of the hidden treasures of Utah, it's also perfectly situated atop a 5,900-foot mesa overlooking Canyonlands National Park, where you can book a 4x4 and whitewater rafting excursion.
Gilgal Sculpture Garden
Hiding in the middle of Salt Lake City, Gilgal Sculpture Garden is a peaceful refuge for visitors to Utah's urban center. The oasis contains twelve sculptures and nearly one hundred stones engraved with poetry and scripture.
If you're in the city visiting some of the more famous landmarks, it's a great retreat for a picnic lunch or just taking a quiet moment for yourself.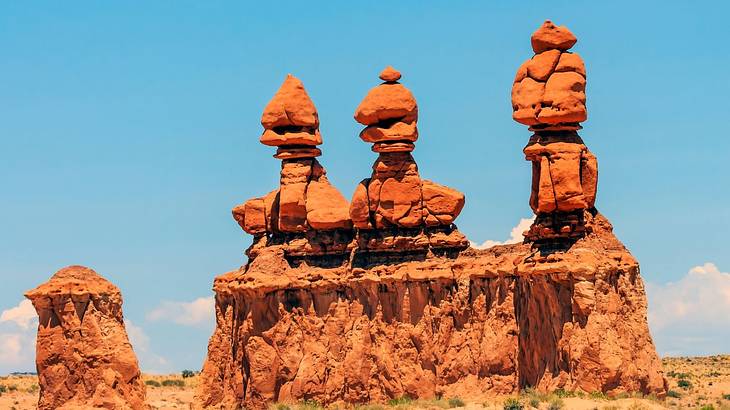 Goblin Valley State Park
The strangely whittled hoodoos in Goblin Valley State Park need to be seen to be believed. Made from soft sandstone, many of these rock features seem to take the form of huddled goblins, gremlins, and other not-quite-human creatures.
There are ample hiking trails and campgrounds for visitors to utilize, providing for a strange journey through the park that is sure to spark their imaginations.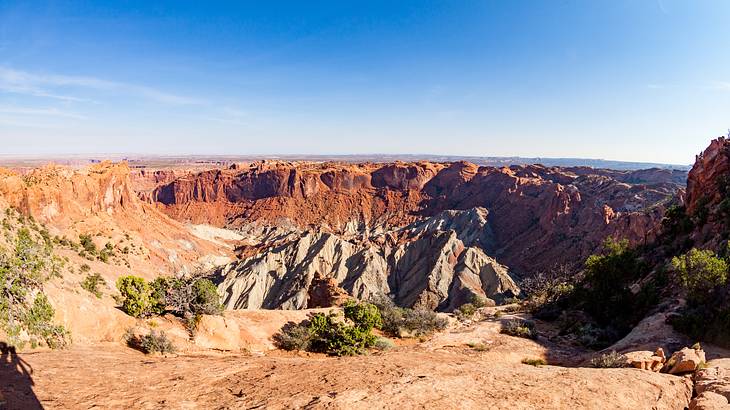 Upheaval Dome, Canyonlands National Park
The layers, colors, and shapes of each rock formation found across Utah's landscape tell a remarkably consistent story that is millions of years old.
Sticking out like a sore thumb from all of this uniformity is Upheaval Dome, formed about sixty million years ago when a gigantic meteor collided with the American high desert.
The exposed rock in this impact crater belongs far below the Earth's surface, making this one of the Utah secret places for nature lovers and geologists alike.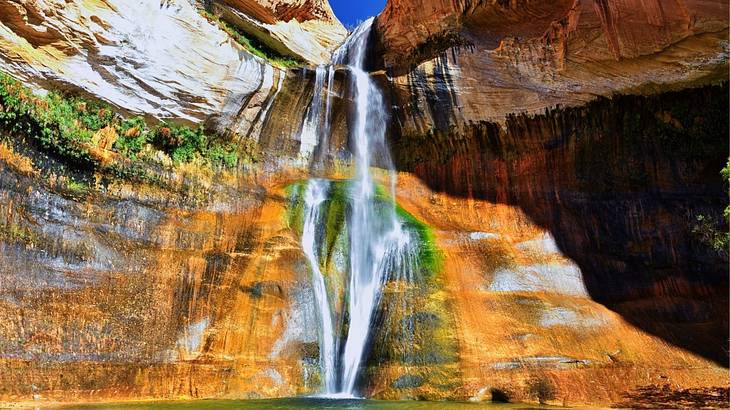 Lower Calf Creek Falls, Escalante
Slicing through Grand Staircase-Escalante National Monument, Calf Creek contains two waterfalls for hikers to visit. The upper falls is plenty impressive with its eighty-eight-foot drop, but the 130-foot lower falls is even more jaw-dropping.
Visitors who make the six-mile desert hike to Lower Calf Creek Falls get the added bonus of a refreshing dip in the deep swimming hole at the base of the cascade.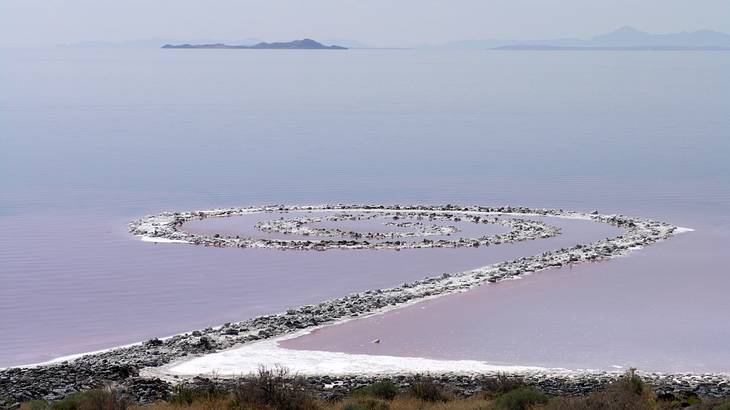 Spiral Jetty
On the northern shore of Great Salt Lake, Spiral Jetty reaches 1600 feet into the water. Visitors can walk out along the fifteen-foot wide pathway and coil counterclockwise to the terminus of this unique, earthen sculpture.
The artificial landform was created by artist Robert Smithson in 1970, and the fact that it can be exposed or submerged depending on the lake's water level adds to its mystique.
Mystic Hot Springs
This oasis "hippie hot spring" is one of the hidden treasures of Utah. It's deserving of its reputation as an offbeat, one-of-a-kind town that will make you feel as if you've traveled back in time.
The steamy water is siphoned off into tubs and pools for soaking but also provides for the needs of residents and winter visitors. It's used as natural heating for buildings, water for greenhouse vegetables, and to make ponds for very displaced tropical fish.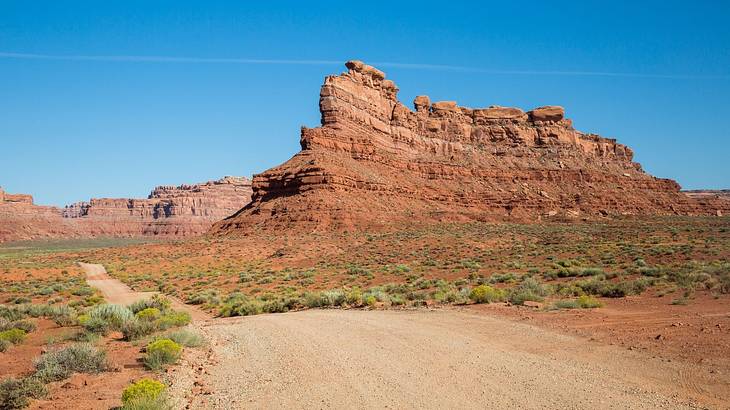 Valley of the Gods
Found close to Monument Valley, the much less crowded Valley of the Gods easily matches the splendor of its more heavily trafficked neighbor. There are no designated campgrounds or trails to be found within this rugged park, though visitors are welcome to explore its landscape.
A seventeen-mile dirt road loops around the park's attractions, giving visitors views of Castle Butte, Seven Sailors Butte, and - Utah's most scandalous rock formation - the Lady in the Bathtub.
Homestead Crater
Homestead Crater in Midway, Utah, is a geological wonder. Hidden inside a massive, beehive-like enclosure, the crater contains a massive natural hot spring that stays a perfect ninety to ninety-six degrees Fahrenheit.
With a natural oculus letting in sunlight from fifty-five feet above, visitors can swim, soak, and even scuba dive in the deep, volcanic waters.
Sun Tunnels
Artist Nacy Holt's Sun Tunnels are another desert art installation and one of the secret spots in Utah you won't want to miss. These twenty-two-ton concrete pipes may not look like much from the outside, but visitors who go inside will understand their purpose.
There are four in total, forming an "X" on the salt flats, with two that align the rising and setting of the sun at the summer solstice and two that are oriented to observe sunrise and sunset at the winter solstice.
Additionally, they each have a single constellation carved into the top: Perseus, Capricorn, Draco, and Columbia.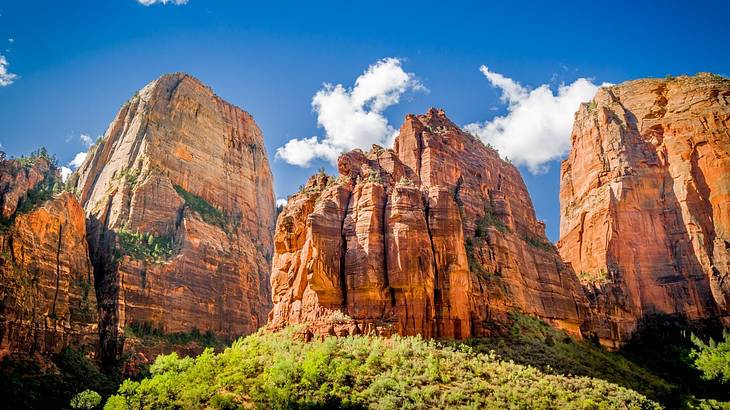 Secret Waterfall, Zion National Park
Like any large attraction, visitors to Zion National Park typically have a checklist of "can't miss" sights or hikes.
Still, this vast park near Cedar City offers more than just the bucket list items, and Secret Waterfall (aka Lower Pine Creek Falls) is a stop that visitors should strongly consider adding.
The short, 1-mile hike into Pine Creek Canyon requires some scrambling over rocks and boulders, but the prize at the end is a fifteen-foot falls and swimming hole that never runs dry.
Dumb & Dumber Filming Location, Salt Lake City
This is the silliest of the secret places in Utah to make the list, but fans of the cult classic movie Dumb and Dumber might be persuaded to make this stop.
Despite being set in Rhode Island, the apartment of the titular main characters Lloyd and Harry (Jim Carrey and Jeff Daniels) was actually filmed in Salt Lake City, Utah.
The complex is still standing, and the only things missing are the intellectually challenged protagonists and a visually impaired child holding the parakeet they "repaired."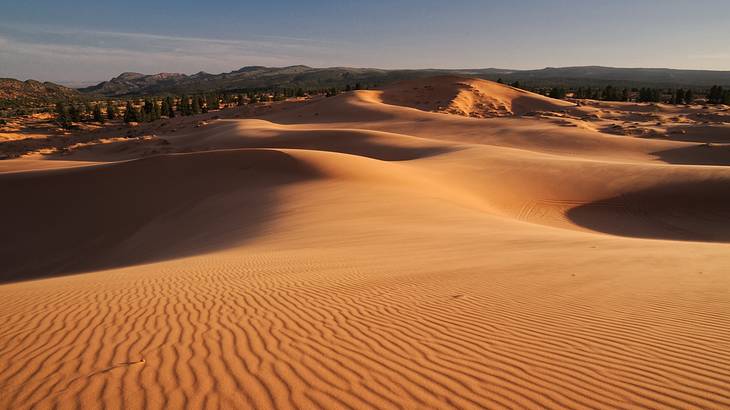 Coral Pink Sand Dunes State Park
The pink-hued dunes of this state park near Zion come from the region's Navajo Sandstone and make this one of the hidden treasures in Utah.
Visitors to this park typically enjoy getting into all-terrain vehicles to zoom around the dunes. Also popular are camping, sandboarding, and horseback riding through this constantly shifting dune sea.
Fifth Water Hot Springs
While Utah seemingly has no shortage of hot springs, none of them match the effort-reward profile of Fifth Water Hot Springs.
To reach the springs, visitors need to ascend about 700 feet from the Three Forks trailhead near the city of Spanish Fork. After a very sweaty two-and-a-half miles, the payoff is a series of restorative soaking pools below three different waterfalls, near the top of the canyon.
Singing Canyon
While much has been said about the amazing sights in Utah, too little is known about its unique sounds. Singing Canyon, a slot canyon near the town of Boulder, has some of the best natural acoustics in the world.
If it sounds a bit far-fetched, but hearing is believing. Musicians regularly make the easy day trip down Burr Trail Road to revel in a perfect pitch with beautiful views.
Conclusion
Utah is packed with adventure and unique experiences for those willing to seek them. The popular destinations in this state are deserving of their fame, and this list is not intended to entirely replace them.
Still, sprinkling in these off-the-beaten-path spots will help add some character to your trip, and mean that you can keep coming back for more.
---
---
Want to keep exploring?
Subscribe for discounts on tickets and hotels and our latest guides.
Thank you for subscribing
We will be in touch soon with discounts on tickets and hotels and our latest guides.
Want to keep exploring?
Subscribe for discounts on tickets and hotels and our latest guides.
Thank you for subscribing
We will be in touch soon with discounts on tickets and hotels and our latest guides.
Related Articles