22 Best Things to Do in Stowe, Vermont, in the Fall
Destguides may receive commissions from purchases made through affiliate links in this article.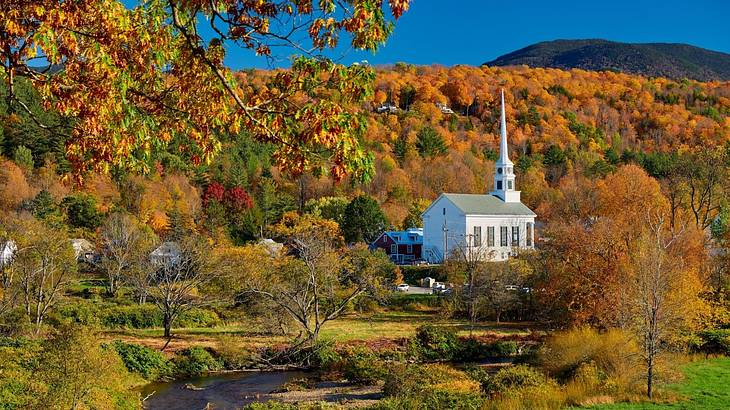 Fall on the east coast of the United States is one of the most beautiful times of the year. If you are interested in seeing the stunning fall colors this season is known for, heading to Stowe in Vermont is highly recommended. In fact, this town has been named one of the top places to see fall foliage in the US!
Some of the best things to do in Stowe, Vermont, in the fall include trying pumpkin beer and apple cider donuts, visiting corn mazes and pumpkin patches, and hiking through red, yellow, and orange woodlands. Keep reading to discover all the great fall activities to enjoy in Stowe!
22 Best Things to Do in Stowe, Vermont, in Fall
Fall Activities in Stowe, Vermont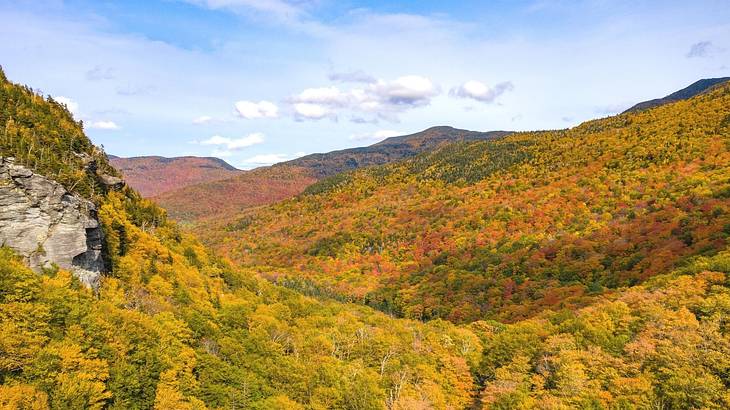 Hike in Smugglers Notch State Park
Smugglers Notch State Park is a Vermont landmark and also one of the best places to visit in Stowe, Vermont, in the fall. The vast park has an elevation of 2,119 feet and is known as a smuggling route during the War of 1812, bringing goods into the US from Canada.
Today, it's a popular hiking destination and the ideal place to go during the foliage season. As you follow trails, you'll be able to admire the changing leaves and will see lots of wildlife. You can also camp overnight at Smugglers Notch State Park.
Journey along the Stowe Scenic Auto Road
Also known as the Auto Toll Road at Stowe Mountain Resort, driving on the Stowe Scenic Auto Road is stunning in the fall. The road takes you to the summit of Mount Mansfield and offers views of Lake Champlain, the Adirondack Mountains, and vast forests.
As you drive along, there are places to stop and hike in the surrounding area or have a picnic while taking in the breathtaking vistas.
Go shopping in Stowe at The Country Store on Main
The Country Store on Main is a charming decor and gift store that sits on bustling Main Street. This store sells various goods, from tablewares and pottery to pet products and clothing, many of which are made in Vermont.
This shop also sells candles, with lots of fall scents available in the autumn months. So whether you want to buy some gifts or are looking for some decor pieces to make your home a little cozier in the fall and winter months, The Country Store on Main will have something for you!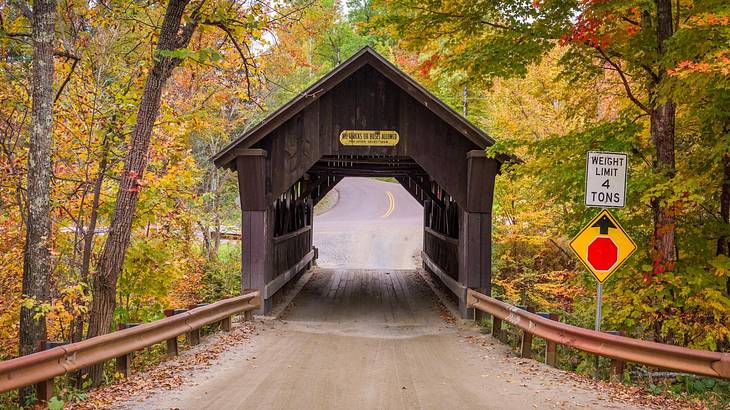 Visit Gold Brook Covered Bridge
Vermont is known for its many covered bridges, with over 100 in the state. Interestingly, Vermont has more covered bridges per square foot than any other state! '
One of the best bridges to see in Stowe is the Gold Brook Covered Bridge, also known as Emily's Bridge. The bridge is over 150 years old, having been built in 1844. You can find the bridge within the forest between CC Putnam State Forest and Mount Mansfield State Forest. Seeing the unique covered bridge surrounded by fall trees is beautiful!
Try craft beer at von Trapp Brewery & Bierhall
Another great brewery to add to your Vermont itinerary is von Trapp Brewery & Bierhall. This Austrian-style brewery and beer hall offers a variety of beers, with a beer tasting flight available if you can't decide which to try.
You can accompany your beer with some classic Austrian dishes and snacks. Items on the menu include freshly made soft pretzels, schnitzel, and Bratwurst sandwiches. Desserts include Apfelstrudel, Sachertorte, and Linzertorte.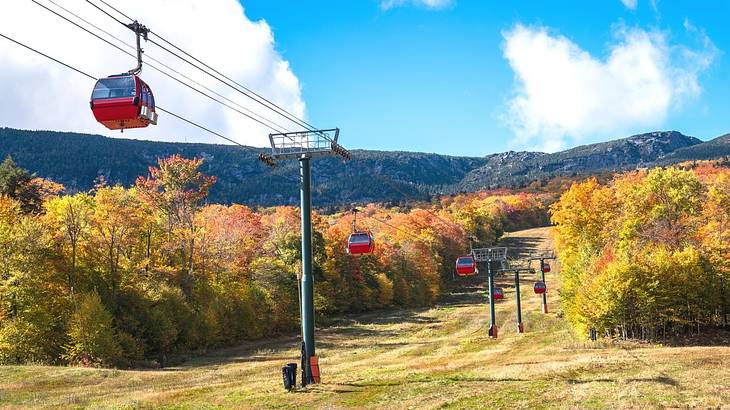 Spend a weekend at Stowe Mountain Resort
Stowe Mountain Resort is one of the most popular attractions in the area, and visiting is one of the best fall activities in Stowe, Vermont. If visiting in November, you may be able to ski or snowboard, as that's generally when the mountain opens for snow sports.
However, there's still lots to do before ski season begins! Fall activities to enjoy include going on a hike, relaxing at the spa, taking a cable car ride, and spending a cozy weekend in a cabin or lodge.
Grab a drink at Black Cap Coffee
Getting a warm drink on a fall day is sure to make you feel better! One of the best places to stop for coffee in Stowe is Black Cap Coffee. You can order various coffees, including specialty drinks like Nutella or Snickers lattes.
They also have fall-flavored syrups, like maple and pumpkin spice. You can also opt for tea, hot chocolate, or hot cider, and plant-based milks are available. Breakfast and lunch options, like sandwiches and baked goods, are also on the menu, and beer is available if you want something a little stronger.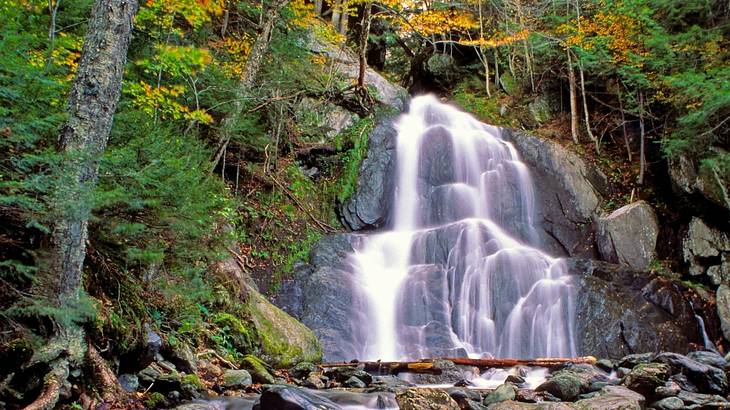 Marvel at Moss Glen Falls
Hiking to Moss Glen Falls is another fun fall activity to enjoy. You can reach the cascading falls by following the Moss Glen Falls Trailhead. This trail covers 5.2 miles and will take about two and a half hours to complete. Along with seeing the beautiful falls, you'll be able to admire the autumn trees and surrounding woodland.
Get a flight at Idletyme Brewing Company
If you're looking for some more breweries in Stowe, add Idletyme Brewing Company to your list. The brewery has flights, so you can try a selection of brews, with both a ten and six-glass flight available. Single samples or pints are available, too, as are non-alcoholic drinks.
Menu items here include American classics and pub dishes, like mac and cheese, fish and chips, and wings.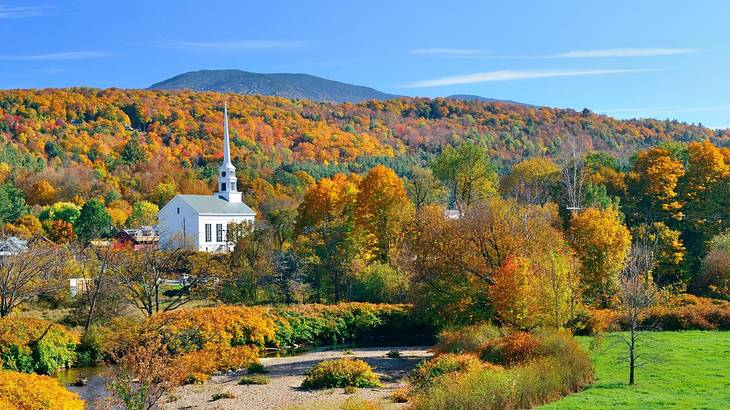 Snap pictures of Stowe Community Church
Stowe Community Church is a beautiful country church that's surrounded by trees. In the fall, these trees turn stunning colors of yellow, red, and orange. Taking some pictures of the charming church surrounded by fall foliage is a must! The church has services, too, if you are interested in attending.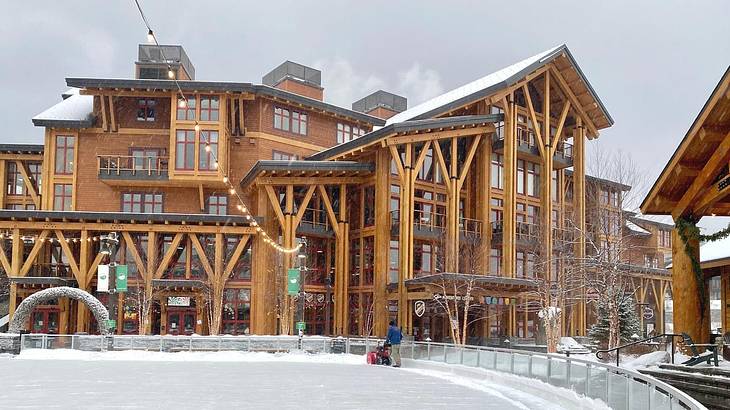 Stay at the Lodge at Spruce Peak
If you're visiting the area or are planning a romantic weekend, one of the best things to do in Stowe, VT, in fall is booking a room at the Lodge at Spruce Park. The charming lodge is located at the Stowe Mountain Resort and is the only slopeside hotel in the area.
Guests can enjoy cozy rooms with fireplaces and other ski chalet-style decor items. Standard rooms, plus suites, cabins, and penthouses, are available. You'll also have access to an array of amenities and multiple eateries, including fine dining spots. The hotel is dog-friendly too!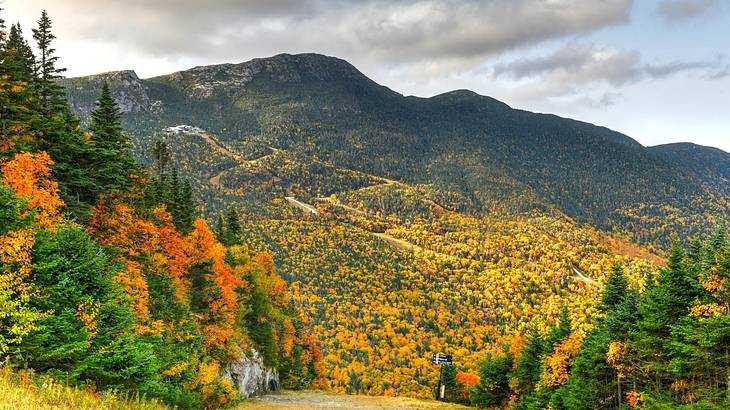 Take in the views from the peak of Mount Mansfield
Stowe's Mount Mansfield has the highest peak in the state, making it the ideal place to admire city and forest views. The mountain's summit sits at 4,395 feet above sea level. While the mountain becomes a popular snow sports spot in the winter, hiking here in the fall can't be missed.
The five-hour loop trail that will take you to the peak is challenging, so only experienced hikers should attempt it. However, you can also find many easier trails around the mountain that are just as scenic.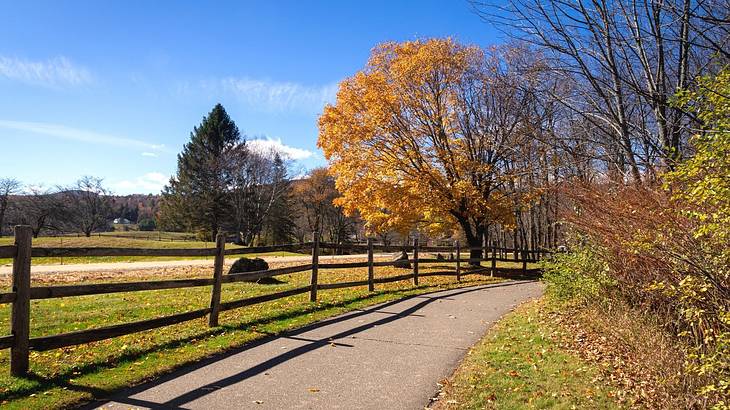 Bike the Stowe Recreation Path
The Stowe Recreation Path is a scenic trail that's perfect for biking. It covers 5.3 miles and will take you through scenic woodlands and past country landscapes. Along the way, you'll also pass some local shops and restaurants.
If you prefer to walk or jog, the path is also open to hikers and runners, allowing everyone to enjoy the fantastic scenery. Do note that horse riding is not permitted on the route, and dogs must be kept on a leash at all times.
Pick pumpkins and walk through a corn maze
Going to corn mazes and pumpkin patches is a fun and family-friendly fall activity. If you're looking for a great corn maze in Stowe, head to the Percy Farm corn maze. After exploring the maze, you can also see some farm animals, like goats.
You can additionally find a pumpkin patch at Snug Valley Farm, about 30 minutes from Stowe. It opens in the first week of October and is a great place to visit with your kids.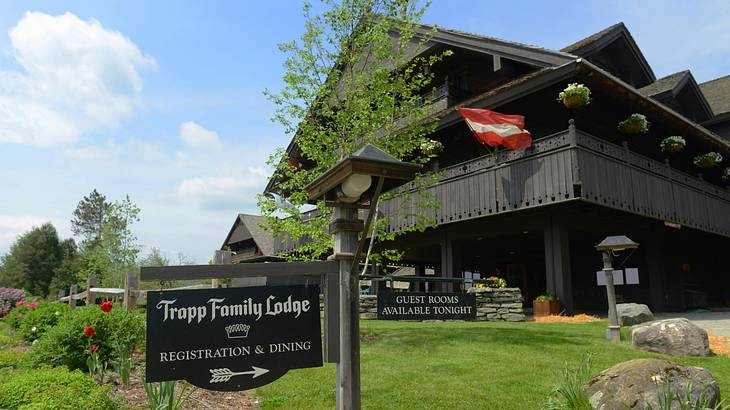 Unwind at the Trapp Family Lodge
When visiting Stowe, staying at the Trapp Family Lodge is a great idea. This Austrian-style alpine lodge sits within woodland and has cozy rooms, suites, and villa rentals. Pet-friendly lodging is also available if you're exploring Stowe with your dogs.
In addition, there are many activities to enjoy at the lodge that will help you relax and unwind, surrounded by nature. Activities include wine tasting, hiking, participating in yoga sessions, and relaxing at the spa.
The lodge is also located next to von Trapp Brewery & Bierhall, and you can book tours of the Maple Sugar House.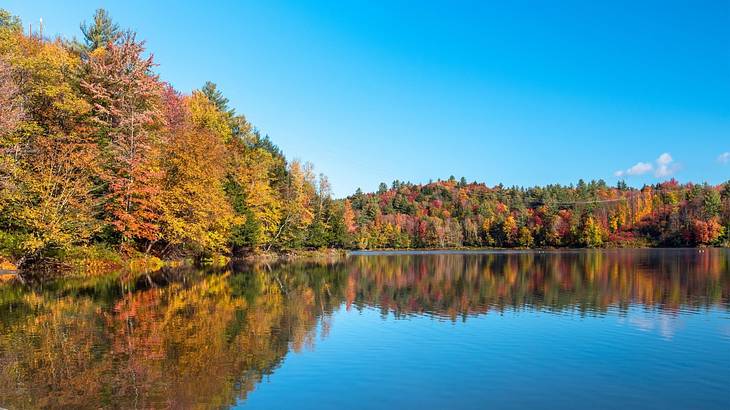 Go leaf peeping around Stowe!
Having the chance to experience the New England Leaf Season is a great opportunity, and Stowe offers many places to see the beautiful changing leaves. Peak foliage season generally runs from September through October.
Visiting this area to see the colorful fall foliage is often called leaf peeping, and there are many spots in the area to enjoy this activity. Driving along the Green Mountain Byway is highly recommended and offers stunning views of surrounding forests and valleys.
Another great option is getting out on the water at Waterbury Reservoir. You can hop on a boat or kayak and enjoy the red and orange trees around you as you sail through the water.
No matter where you end up going, leaf peeping is definitely one of the best things to do in Stowe, VT, in the fall!
Things to Do Near Stowe, Vermont, in Fall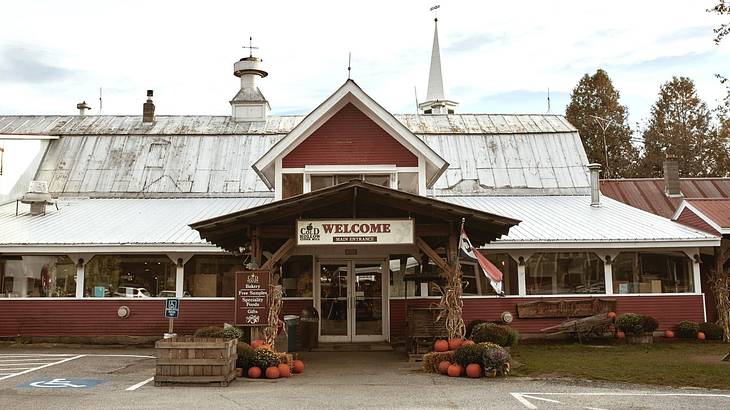 Drink cider at Cold Hollow Cider Mill
Cider is the perfect fall drink, and one of the best places to drink it in Vermont is Cold Hollow Cider Mill. This venue has a hard cider tasting room where you can try various brews.
After a tasting, you can also get lunch here, with things like salads, paninis, and wraps on the menu. Of course, don't forget to try Cold Hollow Cider Mill's famous Apple cider donuts before you leave!
Follow the Sunset Ridge Trail
There's no shortage of outdoor activities in and around Stowe, and another fun hike to try is following the Sunset Ridge Trail. This trail is considered one of the most scenic in Vermont and is stunning in the fall, with crisp autumn air and colorful trees all around.
There are a few access points to the trail, but all offer great views of the woodland and the Champlain Valley.
Zipline through the forest
If you're a thrill-seeker, one of the best activities near Stowe is ziplining through the autumn forests. Arbor Trek has ziplines that take you through the Green Mountains of Vermont and Smugglers Notch, allowing you to admire the surrounding scenery.
You can tackle tree-top obstacle courses and climbing adventures along with the zipline courses.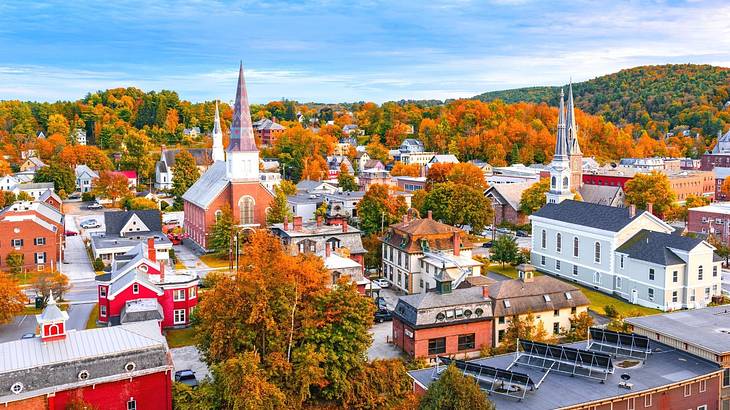 Drive to Burlington
Burlington is another scenic Vermont town located just 40 minutes drive from Stowe. The drive is especially beautiful in the fall as you can journey down quiet roads with autumn trees on either side.
Once you arrive, you'll find many fun things to do in Burlington. Activities to enjoy include visiting Ethan Allen Tower, going for fall hikes, and checking out local breweries, many of which will have pumpkin beer and cider in the fall season.
Treat yourself to chocolates at Lake Champlain Chocolates
Lake Champlain Chocolates is a renowned chocolatier founded in Burlington, Vermont. Today, they have a store in Waterbury, just outside Stowe, and stopping in to get some sweet treats is a must.
You can choose from various chocolate treats, including truffles, chocolate bars, hot chocolate, and much more. The brand also has an extensive line of fall items, like maple caramel chocolate leaves, vegan salted caramel pumpkins, and chocolate-shaped turkeys for Thanksgiving.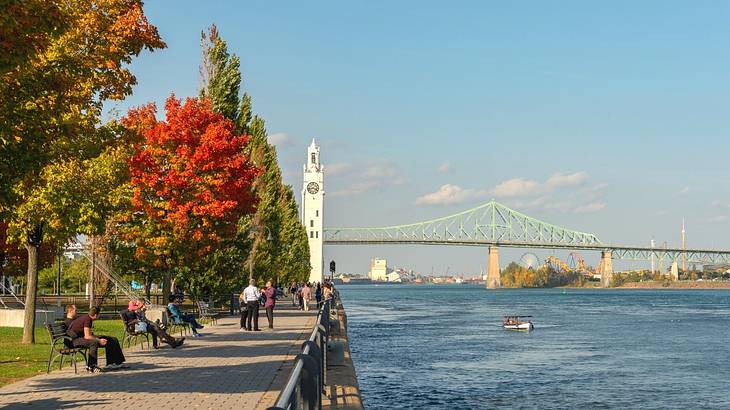 Road trip to Montreal, Canada
If you want to travel a little and plan a fall road trip from Stowe, driving to Montreal in Quebec, Canada, is a memorable thing to do. Montreal is just over two hours away from Stowe when driving and is beautiful in the fall.
There are an array of things to do in Montreal, from visiting museums to dining at outstanding restaurants. Fun fall activities in the city include walking through Park Mont-Royal and shopping at weekend markets in the Old Port, which have lots of maple products, like syrup and cookies.
You could also venture a little out of the city to go apple picking or visit a cabane à sucre spot where you can make maple candy! Montreal is also one of the best party cities in Canada, so you'll find lots to do if you stay overnight.
Remember to make sure you have all the correct identification to cross into Canada and back to the US.
In Conclusion
You can discover an array of Stowe, Vermont, fall activities to enjoy if visiting the scenic area in September, October, or November. From drinking apple cider to admiring fall foliage and relaxing in cozy lodges, you'll have a fantastic time exploring this Vermont city in autumn!
Give us feedback about this article
More visual stories related to this article:
---
---
Want to keep exploring?
Subscribe for discounts on tickets and hotels and our latest guides.
Thank you for subscribing
We will be in touch soon with discounts on tickets and hotels and our latest guides.
Want to keep exploring?
Subscribe for discounts on tickets and hotels and our latest guides.
Thank you for subscribing
We will be in touch soon with discounts on tickets and hotels and our latest guides.
Related Articles