35 Fun Things to Do in Madison, Wisconsin
Destguides may receive commissions from purchases made through affiliate links in this article.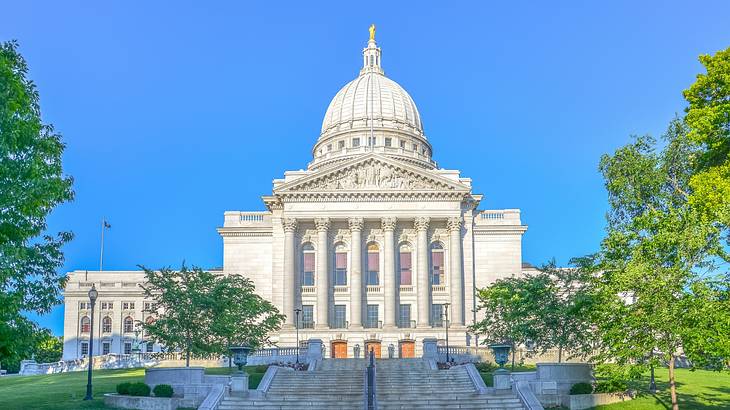 Madison is the state capital of Wisconsin in the Midwest United States. The city has many attractions for all types of visitors and is also home to many landmarks, like the Wisconsin State Capitol Building.
If planning a visit, a few fun things to do in Madison, Wisconsin, include seeing a Wisconsin Badgers game, exploring the Chazen Museum of Art, and shopping at Dane County Farmers' Market. Wondering what else there is to do in Madison, WI? Keep reading for 35 fun and unique activities.
35 Fun Things to Do in Madison, WI
Madison, WI, Things to Do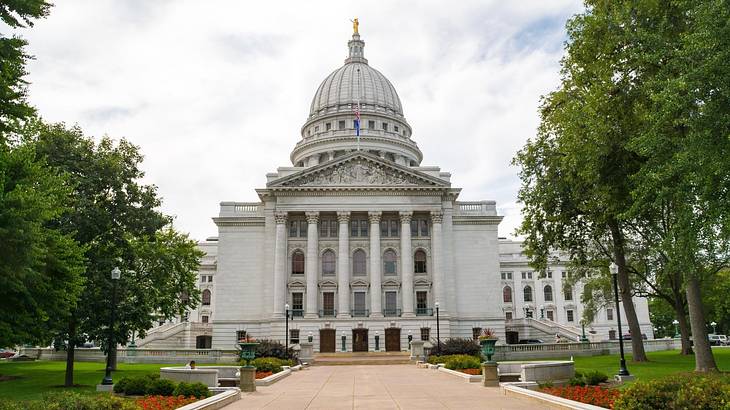 Tour the Wisconsin State Capitol Building
Madison is Wisconsin's capital city and is, therefore, home to the Wisconsin State Capitol Building. This impressive building was constructed in 1917 and was added to the National Register of Historic Places in 1970. If you're interested in learning more about the history of this Wisconsin landmark and politics in the state, guided tours of the building are offered.
Learn about the Badger State at Wisconsin Historical Museum
The Wisconsin Historical Museum is one of Madison's top tourist attractions and is the perfect place to learn more about the state's history. This interesting attraction is operated by the Wisconsin Historical Society.
It covers history from the time of the first settlers in Wisconsin, including Paleo-Indian and Oneota civilizations, to the present. As you look around, you can learn fascinating Wisconsin facts and see artifacts, including pottery and ceramics, clothing, and photographs.
Purchase produce at the Dane County Farmers' Market
If you're in Madison on a Wednesday or Saturday, don't miss the Dane County Farmers' Market. The market is held downtown and has a range of vendors selling fruit and veg, bread and other baked goods, flowers, and more.
Exploring the Dane County Farmers' Market is definitely one of the best things to do in Madison, Wisconsin, allowing you to mix with locals and taste delicious produce and other food items.
Catch a Wisconsin Badgers game at Camp Randall Stadium
The Wisconsin Badgers are the football team of Wisconsin State University and play at Camp Randall Stadium. You can watch the team play at the stadium between September and November in the regular season. If you're a sports fan, going to a game is a must!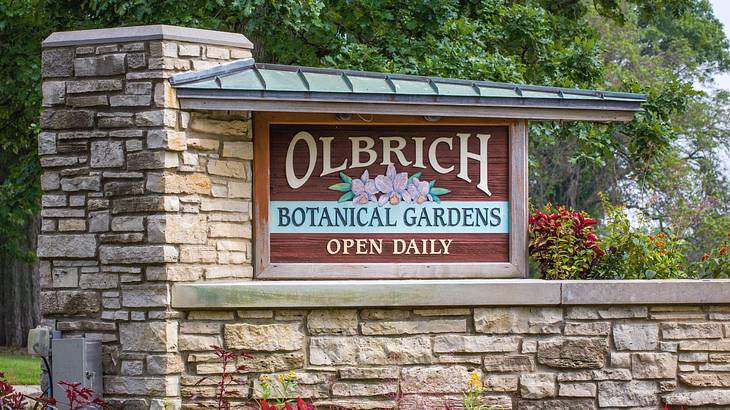 Stroll around Olbrich Botanical Gardens
At Olbrich Botanical Gardens, you can go for a relaxing stroll surrounded by pretty flowers. The 16-acre garden has a range of plants to see, including roses, various herbs, and perennials. There's also a tranquil Japanese garden, among other themed gardens, and a large conservatory with more stunning plant displays.
Enjoy the fresh air at Olbrich Park
Located next to Olbrich Botanical Gardens, Olbrich Park is a fun place to spend time in the fresh air with friends or family. At the park, you can hang out by the scenic lake or follow trails around it.
You can also kayak or canoe on the lake, and there are playing fields for many sports, including soccer and softball. Basketball and tennis courts are also available, and there's a children's playground for younger kids.
Hang out at the Memorial Union Terrace
Memorial Union Terrace is a laid-back place to hang out. The outdoor space has patio tables and chairs, food outlets, and stunning lake views. After getting a drink, ice cream, or other snacks, you can relax with friends, taking in the views of Lake Mendota. Events like free art sessions and outdoor movie nights are also held here.
Look around the Wisconsin Veterans Museum
If you're interested in war history, plan a visit to the Wisconsin Veterans Museum. This museum in Downtown Madison tells the stories of the state's veterans who fought in various wars from the Civil War to the present, including WWII and the Vietnam War.
Along with learning the stories of individuals who fought in these wars, you can see many artifacts, including military vehicles, uniforms, and medals.
Marvel at Monona Terrace Community and Convention Center
If you're interested in architecture, one of the best things to do in Madison, WI, is visiting the Monona Terrace Community and Convention Center. Renowned American Architect Frank Lloyd Wright designed the building in 1997.
Located next to Lake Monona, the building acts as a convention center for various events. Even if you aren't attending an event, you can visit the building to admire its architecture.
Wander through the Allen Centennial Garden
The Allen Centennial Garden is another beautiful garden in Madison to explore. It dates back over 120 years, having opened in 1896. Visitors can walk around the stunning gardens with lots of greenery, colorful flowers, and a quaint pond. Additionally, you can see an American Queen Anne-style home that was also constructed in 1896.
Walk with dinosaurs at the University of Wisconsin Geology Museum
The University of Wisconsin Geology Museum is one of the Madison attractions that will interest all kinds of visitors. This fascinating museum has exhibits on a range of geological topics, including minerals, meteorites, and fossils. One of the most popular collections is the dinosaur display which includes dinosaur fossils.
Dine at the Madison Concourse Hotel
The Madison Concourse Hotel, also known as the Madison Concourse Hotel and Governor's Club, is one of the city's top-rated hotels. Even if you don't stay at the hotel, you can visit for dinner and drinks. Dishes to order include flatbread pizza, burgers, and charcuterie boards. To accompany your meal, you can order from an extensive cocktail, beer, and wine menu.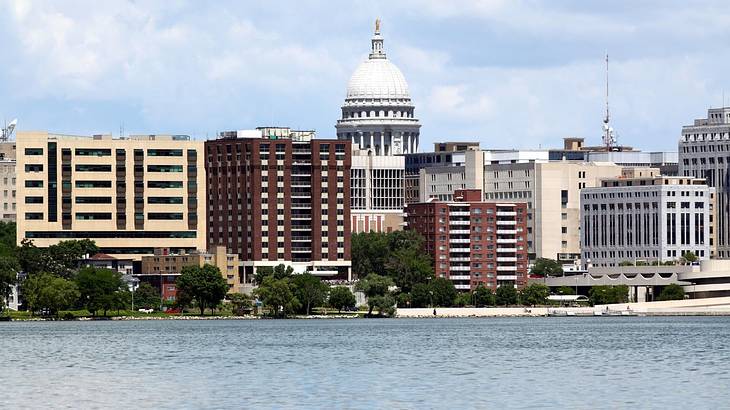 Boat on Lake Monona
Lake Monona is one of two lakes next to Madison, the other being Lake Mendota. At Lake Monona, you can hang out on one of seven beaches around the water or go boating or kayaking. There are also some trails to follow, and you'll likely spot wildlife, including many bird species and even otters.
View artworks at the Madison Museum of Contemporary Art
You'll find many attractions in Madison, WI, for art lovers, like the Madison Museum of Contemporary Art. The museum's permanent collection comprises contemporary artworks and has around 6,000 objects. You can also see temporary exhibits with contemporary works by local, national, and international artists.
Spot animals at Henry Vilas Zoo
If you're in Madison with your kids, spending some time at the Henry Vilas Zoo is a fun idea. Animals to spot at the zoo vary from lions and tigers to flamingos, peacocks, and capybaras. Best of all, the zoo is free to visit, although you can provide a donation if you'd like.
Admire art at the Chazen Museum of Art
Another of the fun Madison, Wisconsin, things to do for art enthusiasts is going to the Chazen Museum of Art. The museum has a collection of over 20,000 works, some of which you can see in rotating collections when visiting. Pieces cover many artistic genres and range from paintings and drawings to sculpture and pottery.
Indulge in sweet treats at Gail Ambrosius Chocolatier
Those with a sweet tooth will be pleased to hear that Madison has a fantastic chocolate shop, Gail Ambrosius Chocolatier. No matter what types of treats you like, this store will have something for you. Items on sale include truffles, caramels, chocolate bars, and hot chocolate. Filled chocolates come in delicious flavors like cognac, earl grey, raspberry, and lemongrass with ginger.
Paddle across Lake Wingra on a duck boat!
Lake Wingra is somewhat of a hidden secret in the city, and one of the most fun activities in Madison, WI, is sailing across the lake on a duck boat! These quirky boats resemble yellow rubber ducks and allow you to gently paddle around the lake, taking in the scenery. You can rent the boats from Madison Boat Rentals, with kayaks, paddleboards, and canoes also available.
Let your kids play at the Madison Children's Museum
The Madison Children's Museum is a great place to go if you have young kids. The fun attraction features numerous exhibits to help your children learn about science, art, history, and more. Areas to explore include an arts and crafts space, a pretend farm yard, and an urban garden with slides, plants, and real chickens!
Shop in Downtown Madison
Downtown Madison is a bustling part of the city with over 300 retail options. Whether you want to splurge a little or just go window shopping, you'll find an array of types of stores to visit. Options include clothing and accessory boutiques, gift and specialty food stores, book shops, and much more.
Eat at Graze
For those wondering what to do in Madison, Wisconsin, for dinner, going to Graze is recommended. This trendy eatery serves contemporary dishes that mainly use fresh and local ingredients. Menu options include roasted beet salad, eggplant rigatoni, and Korean fried chicken.
Due to ingredients being local and seasonal, the Graze menu frequently changes, meaning you can choose from a selection of new dishes each time you visit.
Go Bowling at Schwoegler's Entertainment Center
Schwogler's is a fun and family-friendly spot to hang out. At the entertainment venue, you can enjoy a game of bowling, with nightly price specials often available if attending in the evening. There's also a bar and grill on site where you can get snacks like nachos, cauliflower bites, or burgers.
Enjoy a meal and drinks at Everly
Everly is another excellent spot to have a delicious meal accompanied by fun cocktails. This trendy spot serves healthy dishes that use local ingredients, with many plant-based options available. The restaurant is open for brunch, lunch, and dinner.
Just a few of the dishes on offer include avocado toast, butternut squash curry, and Thai-style crispy chicken. Creative cocktails, like a green chile vodka with strawberry and lime, can also be ordered, as can beer and wine.
Rock climb at Boulders Climbing Gym
Boulders Climbing Gym is a great place to visit if you enjoy adventure sports. As this venue is an indoor climbing center, it's also the perfect place to go on a cold or rainy day. The gym has multiple bouldering walls for all levels, and lessons are offered for those that want to improve their skills.
Relax at Indulge Spa
If you're looking to unwind a little, book a relaxing spa session at Indulge Spa. Treatment options include massages, facials, and mani-pedis. You can also book lash treatments, and spa party packages are available if you and some friends are planning a special event.
Sip whiskey and cocktails at Cask & Ale
Cask & Ale is a unique bar to visit that specializes in whiskey. You can choose from over 100 types of whiskey, including American, Japanese, and Tawainese whiskies. Other types of liquor, plus wine and beer, are also available, and all spirits can be ordered in classic cocktails as well as neat.
Fun Things to Do Near Madison, WI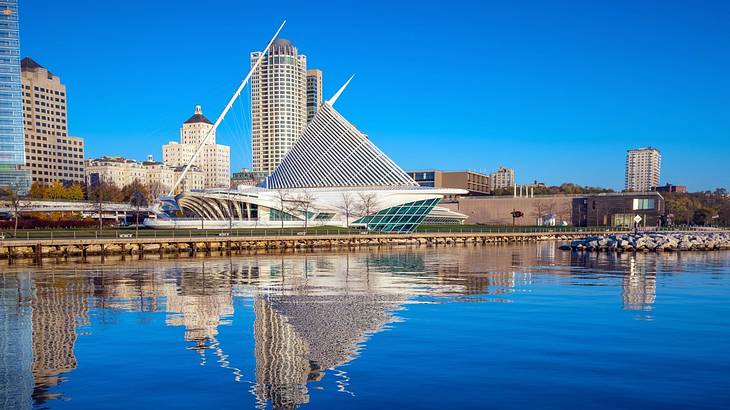 Spend the day in Milwaukee
Another well-known city in Wisconsin is Milwaukee. The city is conveniently located just an hour and 15 minutes from Madison, making it the ideal place for a fun day or overnight trip. Milwaukee things to do include visiting the Milwaukee Public Museum, going on a sightseeing tour, and watching a Milwaukee Bucks NBA game. Notably, there are many romantic things to do in Milwaukee, making it an excellent destination for a couples getaway.
Go to the Aldo Leopold Nature Center
The Aldo Leopold Nature Center is located 15 minutes from Madison and is a great family-friendly attraction. At the nature center, you can learn about the area's ecosystems, including wetlands, woodlands, and prairie land. There are also walking paths around the center that take you through some of the environments you learned about via the site's exhibits.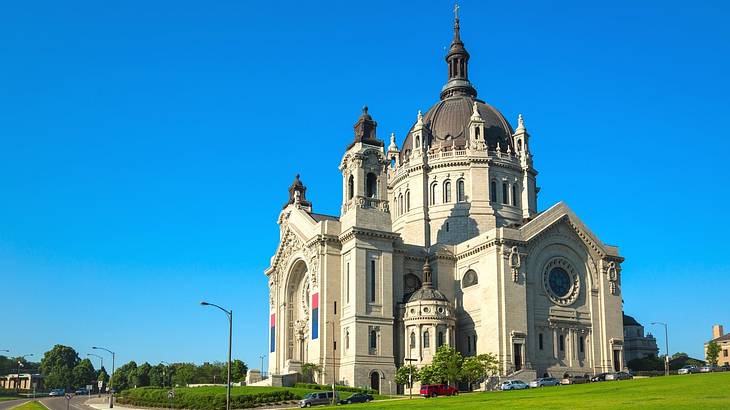 Plan a trip to Minneapolis and St. Paul
Minneapolis and St. Paul are known as the Twin Cities and are located in Minnesota. These cities are about four hours from Madison and are fun places to visit for a weekend getaway. Things to do in Minneapolis and St. Paul include seeing Minnesota landmarks like the State Capitol Building, shopping at local farmers markets, and watching local sports teams, like the Minnesota Wild in the NHL or Minnesota Vikings in the NFL.
Visit the National Mustard Museum
A trip to the quirky National Mustard Museum has to be on your Wisconsin bucket list! The museum covers everything related to mustard, from vintage advertisements to product packaging. You can also see brands from all 50 states and over 70 countries.
After seeing all the exhibits, you can purchase some items from the store, which features a wide variety of rare mustard from across the globe.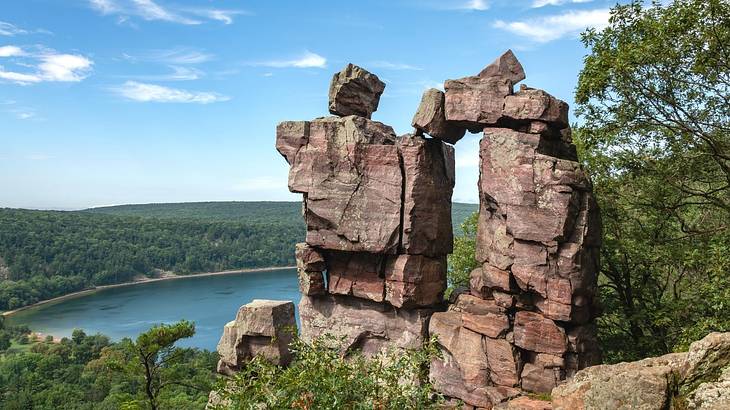 Hike around Devil's Lake State Park
Do you love to hike and explore outdoor spaces? Then visiting Devil's Lake State Park is one of the things to do near Madison, Wisconsin, that you won't want to miss! The attraction is located along the Ice Age National Scenic Trail and was established as a state park in 1911.
Visitors can hike various trails that will take them to the park's peaks, reaching up to 1,329 feet above the ground. From these viewpoints, you can admire vistas across the forests and lake below.
Explore Governor Dodge State Park
Governor Dodge State Park is another fantastic state park to visit. This space covers 5,270 acres and is situated about 50 minutes from Madison. At the park, you can hang out next to lakes, hike trails for all abilities, and discover beautiful waterfalls.
Have a fun day by the lake at Lake Kegonsa State Park
Lake Kegonsa State Park is situated Southeast of Madison and can be reached in about 20 minutes when driving. It's the ideal place to hang out on a sunny day, relaxing by the lake, or enjoying watersports. Visitors can swim and boat at the lake, and scenic hiking trails can also be found within the park, which take you through woodlands, wetlands, and prairies.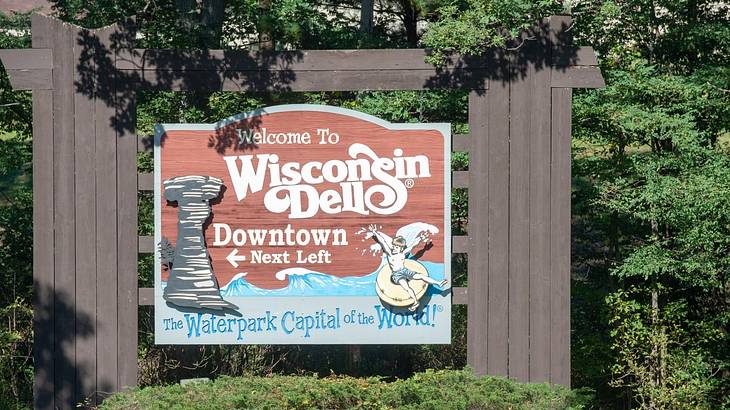 Hop between Wisconsin's best water parks
Wisconsin has multiple water parks, many of which are ranked as being the best water parks in the Midwest. Most of these attractions are located in Wisconsin Dells, just an hour from Madison. Some top-rated water parks to visit include Chula Vista Resort, Noah's Ark Waterpark, and Wilderness Resort.
Take your children to McKee Farms Park
Kids will have a great time playing at McKee Farms Park. The park is situated about ten minutes from Henry Vilas Zoo, making it a fun place to go after visiting that family-friendly attraction. McKee Farms Park has a splash pad and play area with slides and climbing features. Additionally, the park features basketball and volleyball courts, picnic areas, and trails.
In Conclusion
Visitors will find an array of fun Madison, Wisconsin, attractions to check out. Whether you enjoy visiting museums, wandering through parks, or relaxing at trendy bars, you'll find many things to do in this vibrant city!
Give us feedback about this article
More articles about Wisconsin:
Read more articles about the United States:
More articles about things to do:
More visual stories related to this article:
---
---
Want to keep exploring?
Subscribe for discounts on tickets and hotels and our latest guides.
Thank you for subscribing
We will be in touch soon with discounts on tickets and hotels and our latest guides.
Want to keep exploring?
Subscribe for discounts on tickets and hotels and our latest guides.
Thank you for subscribing
We will be in touch soon with discounts on tickets and hotels and our latest guides.
Related Articles