8 Most Exciting Things to Do in Wyoming
Destguides may receive commissions from purchases made through affiliate links in this article.
Once you set foot into Wyoming, it's easy to see why it's famous for its unique landscapes, landmarks, and history. Wyoming has more than 40 old ghost mining towns, over 10,000 geysers, and at least 109 mountain ranges and sub-ranges. The state is also home to fascinating dinosaur dig sites and museums.
Thanks to Wyoming's part in the role of westward expansion in the United States, it's also home to countless historical and cultural sights and museums explaining the role that Native Americans, cowboys, explorers, and native wildlife played in the history of the state and the whole country.
This article will show you the most exciting things to do all across the state of Wyoming. You can dig for dinosaur bones, bathe in natural medicinal hot springs, watch geysers erupt, and more!
8 Best Things to Do in Wyoming, USA
Wyoming Things to Do Video
Check out our highlights video of Wyoming things to do.
Wyoming Things to Do Map
A map of Wyoming. Use the map to explore all the things to do.
Bathe in a Natural Hot Spring
Hot Springs State Park in Thermopolis, Wyoming, is one of the best things to do in Wyoming. For millions of years, the natural hot springs attracted dinosaurs, Native Americans, and Western settlers. Today, the medicinal hot springs attract travelers from all over the world.
In the state park, you can ride bikes alongside a buffalo herd, take a dip in the hot springs bathhouse for free, and walk along the boardwalks and bridge that take you through the different hot springs in the state park. The best part of visiting these hot springs in Thermopolis is that there's so much to do in the town.
You can try your hand at fly fishing or go white water rafting or stand-up paddleboarding along the White River. There are also opportunities for swimming, shopping, and golfing as well. If you don't have much time to spend in Wyoming, Thermopolis is great for a weekend getaway.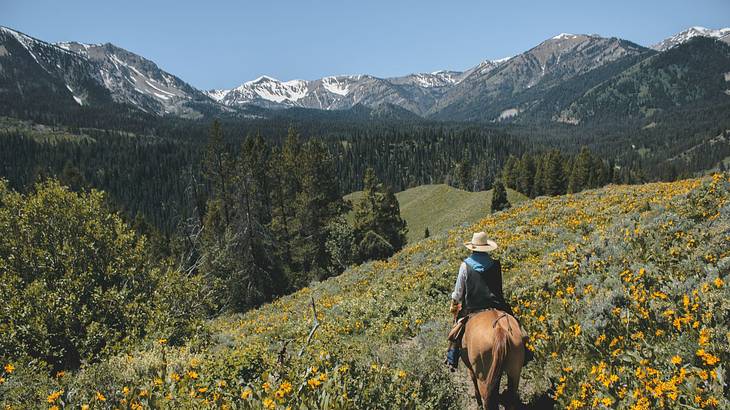 Experience Horseback Riding
Horseback riding is a popular activity that visitors do in the western part of the United States. Riding on horseback through forests and fields with large mountain ranges as the backdrop is a can't-miss experience when in Wyoming.
One of the most exciting places to go horseback riding in the state is in Jackson, Wyoming. In Jackson, you can ride through the beautiful landscape with the Teton Mountains as your view.
A good option for horseback riding in Wyoming is Willow Creek Horseback Rides. They allow you to choose from 1 hour, half-day, or all-day horseback riding experiences.
You can even choose a horseback riding experience that allows you to try your hand at fishing from Willow Creek, as long as you have a valid Wyoming Fishing license. There's nothing better than riding through Wyoming on horseback, eating your lunch out in nature, and feeling the fresh air on your face.
Watch a Rodeo in Cheyenne
Did you know that the Wyoming nickname, the Cowboy State, is used frequently when discussing this part of the US? If you learn more about cowboy history in the area, head to Cheyenne, the capital city of the state.
Cheyenne Frontier Days is the world's largest outdoor rodeo and western celebration, and it's located in the capital city. Rodeo is a sport that grew out of the cattle industry in the western United States in the late 1800s.
The sport is still popular in the country, especially in the West. As of 2003, rodeo became the official sport of the state. A trip to Wyoming wouldn't be the same without watching a rodeo for yourself.
Cheyenne Frontier Days occurs in the summer each year. You can watch a wide variety of rodeo events here, like barrel racing and bareback riding. You can also attend concerts from famous country artists, watch parades, go to farmers' markets, and see Native Indian demonstrations.
Frontier Days is such an exciting time in the state of Wyoming. The entire ordeal lasts for ten days and is well worth planning your trip to Cheyenne and all of Wyoming for the same time as the Frontier Days.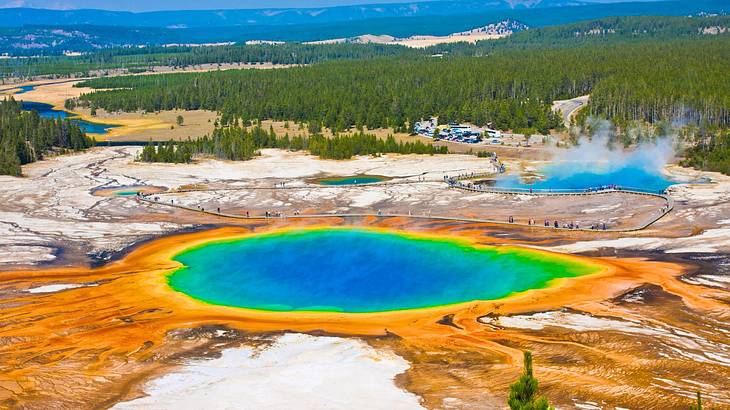 Go Geyser Hopping
No, I don't mean literally. Wyoming has so many impressive geysers, and checking them out should be on your Wyoming bucket list! They're a natural phenomenon where a natural hot spring intermittently boils, causing water to shoot up into the air.
The most exciting and accessible geysers are located in Yellowstone National Park, one of the best national parks in the Western US. Interestingly, the geysers stick to a better schedule than most attractions. You can do your research ahead of time to make sure you get to a geyser in time to watch it erupt.
The most predictable and famous geyser in Wyoming and the whole world is the Old Faithful Geyser, which erupts around 20 times a day.
If you're looking for the most beautiful geysers in the state, the Midway Geyser Basin with the Wyoming landmark Grand Prismatic Spring is another great place to go!
Learn to Fly Fish
Fly fishing is a unique form of fishing that is super cool to watch and is a bit more difficult than traditional fishing with a pole. It's something that takes time to get good at. Wyoming is home to more than 22 species of game fish, the most popular being trout.
Wyoming Anglers in Casper, Wyoming offers half-day or full-day fishing trips in different bodies of water in Wyoming. The best part about Wyoming Anglers is that they are looked at very favourably by their customers. They have spectacular ratings and reviews and pride themselves on honesty and integrity.
Casper isn't on everyone's Wyoming bucket list, but it should be! If you're taking a road trip through Wyoming, Casper is a can't miss!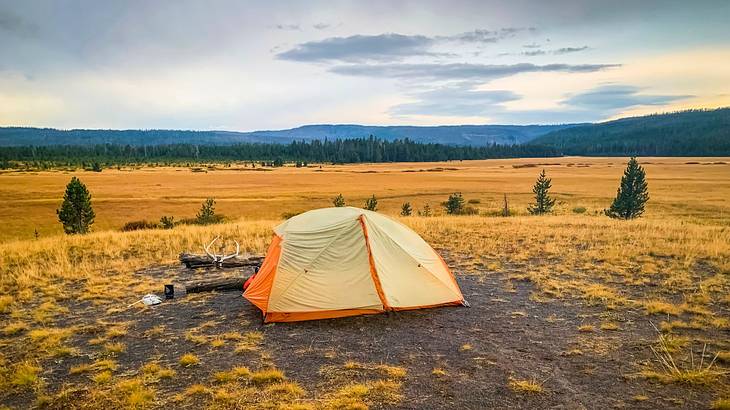 Camp in the Rocky Mountains
You've never camped in a place like the Rocky Mountains. Millions and millions of people from around the world come to Wyoming to see the Rocky Mountains each year, and it's easy to see why.
The mountain range has such gorgeous forestry and plant life. The Rockies are also home to moose, grizzly bears, elk, wolves, and other exciting mountain wildlife.
Of all the things to do in Wyoming, you can easily move camping in the Rocky Mountains to the top of your bucket list! The Rockies cover a lot of ground in the United States, but a large portion of the mountain range is in Wyoming.
One of the easiest ways to camp in the Rocky Mountains is by camping in Yellowstone National Park. The park has 12 campgrounds that are in the Rocky Mountains, with more than 2,000 campsites to choose from.
You'll need to take some precautions when camping. A good bear spray is recommended for the rare chance that you encounter an angry grizzly.
Camping in Wyoming is such a fun thing to do while you're traveling through the state, but remember to use caution and always tell someone who isn't traveling with you where you're going and for how long.
Dig for Dinosaur Fossils
This has to be one of the coolest things to do in Wyoming! You can search for and uncover real dinosaur fossils at a dinosaur excavation site with the Wyoming Dinosaur Center.
You can spend the day with archeologists and paleontologists searching for dinosaurs no matter the age of the people in your travel party. Lunch, tools, and transportation costs are covered in the program cost.
Digging for fossils is cool and all, but The Wyoming Dinosaur Center is more than just searching for dinosaurs. They're also a museum where you can see dinosaurs' bones and other fossils. There's also a laboratory where you can view the fossil preparation and preservation processes.
Most notably, the museum is home to the only Archaeopteryx outside of Europe, a 35-foot Tyrannosaurus rex chasing a Triceratops. It also houses a Supersaurus named "Jimbo," which is one of the largest dinosaurs ever mounted.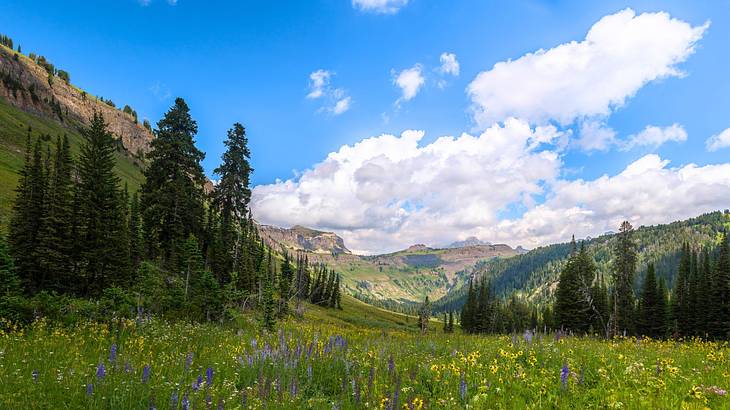 Hike the Grand Tetons
There's a long list of things in Wyoming that takes your breath away, and hiking in Grand Teton National Park is definitely on that list. When trekking in the Tetons, you can find moose, black bears, bison, and many other animals in the park.
Something else to be on the lookout for in the Tetons is glaciers. There are 11 active glaciers in the Grand Teton National Park right now!
When it comes to choosing which hiking trails to take in the park, you won't be at a loss for choices. There are nearly forty exciting trails to choose from.
If you're looking for a hiking trail to take you around a beautiful mountain lake, try the Jenny Lake Loop Trail. This trail is 7.6 miles and is rated moderate difficulty.
If you're looking for a more mountainous trail, I recommend the Death Canyon to Patrol Cabin Trail. This trail is 9.1 miles and is rated strenuous.
When doing this hike, you'll be able to see a lake overlook, trek through mountains, and walk down in the canyon by beautiful flowing streams. Black bear and moose are commonly spotted on the Death Canyon Trail.
Conclusion
Wyoming is known for a lot of different things, making it a fascinating state to visit in the United States. Whether you're watching rodeos in eastern Wyoming or hiking through the breathtaking mountains in the western part of the state, Wyoming is a place that fills you with excitement and awe.
After a trip to Wyoming, you'll be able to leave with such a sense of fulfilment and an even bigger thirst for adventure.
Give us feedback about this article
More articles about Wyoming:
Read more articles about the United States:
More articles about things to do:
More visual stories related to this article:
---
---
Want to keep exploring?
Subscribe for discounts on tickets and hotels and our latest guides.
Thank you for subscribing
We will be in touch soon with discounts on tickets and hotels and our latest guides.
Want to keep exploring?
Subscribe for discounts on tickets and hotels and our latest guides.
Thank you for subscribing
We will be in touch soon with discounts on tickets and hotels and our latest guides.
Related Articles