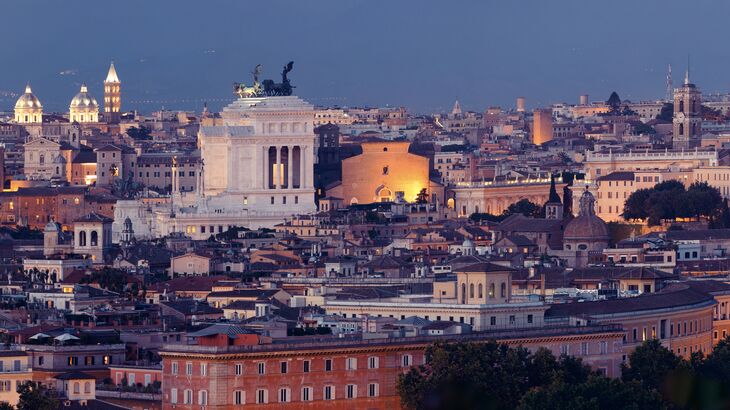 3 Days is just enough time to scratch the surface of everything Rome has to offer, and this jam-packed 3 Day Itinerary for Rome will help you make the most of your short time here.
You will not have time to get bored in Rome with this itinerary; you can easily clock 15-20 km walking between the sites each day if that's your thing and can do so (so bring your Fitbit or Apple watch to count your steps!).
It is possible to visit Rome in any season really - we were here in early February. Be prepared for chilly evenings and mornings though by bringing a warm coat for this time of year. The afternoons are rather pleasant, however, with potential highs of around 15 degrees Celsius.
I did read on other travel blogs that you should bring a raincoat for winter in Rome as it can be quite wet here in colder months. We were lucky, however, as we had three full days of sunny, bright skies! Do check the weather before your trip though and plan your attire accordingly.
We stayed at Rome's Heart Guest House - a 5-minute walk from the Vatican! - for three nights and had a great time! It is a very modern, clean and welcoming place with a superb breakfast selection.
The hosts are really friendly and full of knowledge when it comes to the best things to do in Rome. Their attention-to-detail in decorating and furnishing the place was also highly appreciated!
A few different passes exist for exploring Rome's many attractions over a few days. There is the 48 or 72-hour Roma Pass and the more expensive 72-hour OMNIA Pass, also known as the OMNIA Vatican and Rome Card. OMNIA also offers a 24-hour card.
We did not purchase any of the above passes as we usually walk to most places and are selective about which attractions we visit. We did, however, buy tickets in advance for the Colosseum and Vatican Museums. Read more about these attractions, our choices and other travel tips for Rome below.
3 day itinerary
Average of 9 stops per day
3 Day Rome Itinerary
Rome Map
Using the map of Rome, you can explore all the days and stops.
In Summary,
I hope you found this 3 Day Itinerary for Rome useful for planning your upcoming trip to this charming and historic city. Rome is a grand, majestic and awe-inspiring city that I can guarantee will blow you away!
Besides Rome, there are also many other sites and cities to visit and explore in beautiful Italy, like Sorrento, Florence, Cinque Terre, the Venetian Islands, Puglia and more. So make sure to include some of the preceding places on your Italian bucketlist!
This article was first published on May 19, 2019 19:49 UTC.
For more interesting articles about Italy, read: