Destguides may receive commissions from purchases made through affiliate links in this article.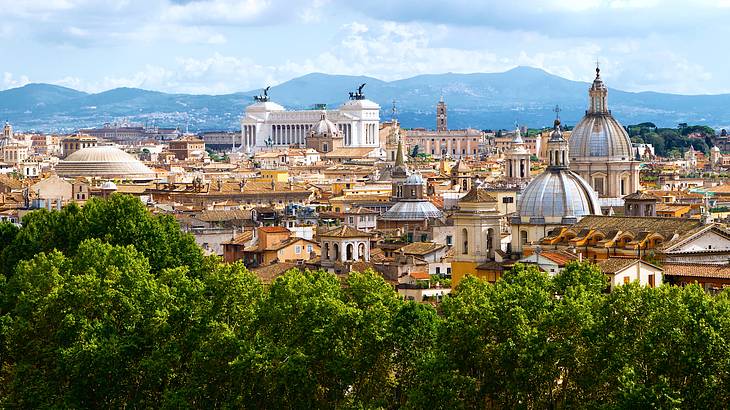 3 Days is just enough time to scratch the surface of everything Rome has to offer, and this jam-packed 3 Day Itinerary for Rome will help you make the most of your short time here.
You will not have time to get bored in Rome with this itinerary; you can easily clock 15-20 km walking between the sites each day if that's your thing and can do so (so bring your Fitbit or Apple watch to count your steps).
It is possible to visit Rome in any season really - we were here in early February. Be prepared for chilly evenings and mornings, though, by bringing a warm coat for this time of year. The afternoons are rather pleasant, however, with potential highs of around 15 degrees Celsius.
I did read on other travel blogs that you should bring a raincoat for winter in Rome as it can be quite wet here in colder months. We were lucky, however, as we had three full days of sunny, bright skies. Do check the weather before your trip, though, and plan your attire accordingly.
We stayed at Rome's Heart Guest House - a 5-minute walk from the Vatican - for three nights and had a great time. It is a very modern, clean, and welcoming place with a superb breakfast selection.
The hosts are really friendly and full of knowledge when it comes to the best things to do in Rome. Their attention to detail in decorating and furnishing the place was also highly appreciated.
We did not purchase any of the above passes as we usually walk to most places and are selective about which attractions we visit. We did, however, buy tickets in advance for the Colosseum and Vatican Museums. Read more about these attractions, our choices, and other travel tips for Rome below.
3 day itinerary
Average of 9 stops per day
3 Day Rome Itinerary
Get to Know the Famous Romans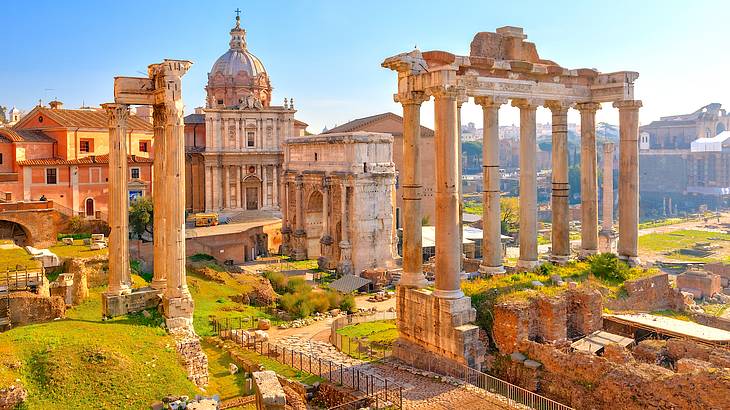 Rome, also known as 'The Eternal City', was founded in 753 BC by the Romans. And despite the passing of time, we are lucky enough to still be able to enjoy what the Romans are most famous for - their excellent architectural skills.
For the first day of this 3 days in Rome itinerary, you will visit some of the most well-known landmarks in Rome and Italy.
I would suggest you begin your day nice and early. Before you venture to the Colosseum, explore the Roman Forum and Palatine Hill first, so you can better understand the area and the history behind it.
These three sites together should keep you busy for a minimum of 3 to 4 hours, so buy a takeaway sandwich for lunch and some snacks from the nearby Carrefour to keep in your backpack for hungry moments.
After lunch, go for a walk around the Baths of Trajan, cool off at the Capitoline Museum, and finish off at the Pantheon - a remarkable temple suited for gods and goddesses.
I would also recommend downloading Rick Steves' free audio guides for Rome ahead of time, especially the Roman Forum and Pantheon ones. They were insightful, interesting and not too long!
If you want a 'free' 360-degree view of the Roman Forum, start at the Piazza Venezia and walk along the Via dei Fori Imperiali towards the Colosseum.
This walk will allow you to appreciate the Forum's ruins and statues up close and personal from both sides of the road. The walk takes about an hour and doesn't necessarily need to be done before you visit the above sites - it can be done at any time of day or night.
If you only have 24 hours in Rome, then I'd suggest you prioritize only some of the main landmarks mentioned on the first day (the first three stops and the Pantheon).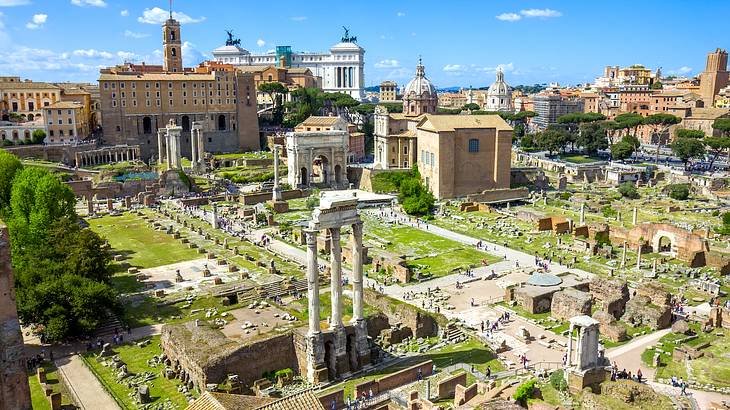 The Roman Forum
The Roman Forum is a rectangular plaza that was once the centre of everyday Roman life, holding everything from public speeches to executions and even gladiator matches. It is surrounded by ruins of government buildings, temples and royal residences.
The Forum also has structures that are much older than the Colosseum, like the Temple of Vesta, which dates back to 7 century BC. The Arch of Titus (1st century AD) and the Arch of Constantine (312 AD) can also be found within the Forum.
Make sure to give yourself at least 2 hours to explore the Roman Forum as it is vast and has many interesting points of interest. It is not a place you can 'cram' in an hour before the Colosseum. For this reason, I would suggest arriving here for when it opens at 8:30 am.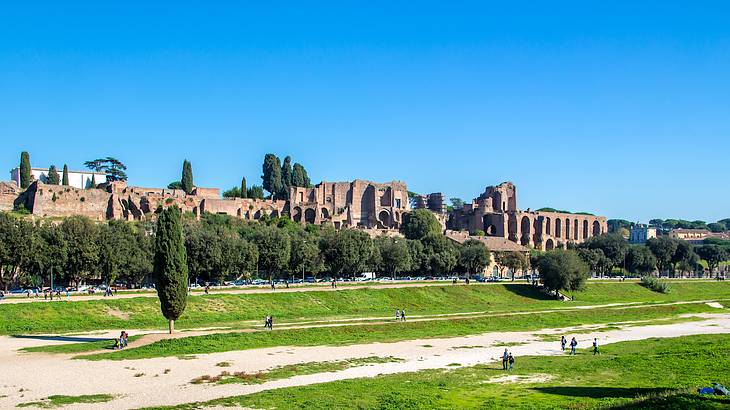 Palatine Hill
Palatine Hill is where Rome was founded. It is one of the most ancient famous landmarks in Rome. The hike up the hill isn't strenuous and is only 40m taller than the Forum.
Even though the walk up is short, I would still recommend wearing comfortable walking shoes and always having a bottle on hand, especially if you're in Rome in summer!
There are water fountains on the premises and around Rome, so you can bring your own reusable water bottle. Also, consider getting a guide for your walk so you're not walking around confused. A beautiful view of Rome awaits you at the top!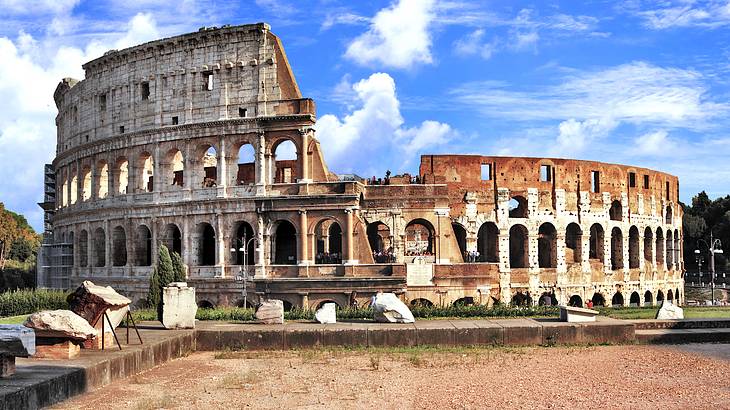 Colosseum
Nothing brings to mind the ancient Romans more than the famous Colosseum. Built around 70 AD by Emperors Vespasian and Titus.
This magnificent amphitheatre was used by the great leaders of the Empire for many public events. These public events included gladiatorial fights, spectacles, executions, and the infamous sea battles.
Even though significant sections of the Colosseum no longer exist, it is still a great place to go to learn more about Roman culture and history. Here, you can explore the museum, the arena, and secret passages underneath (with a guide only), and be spoiled with sweeping views of Rome from the top floor (with a guide only).
Make sure to book your tour of the Colosseum at least a week, if not a month, in advance and on the official Colosseum website to avoid being ripped off. Qualified archaeologists run the tours of the Colosseum provided through the official website, and entrance to the Roman Forum and Palatine Hill is also included in your ticket.
We booked the 'Underground and Third Order' tour of the secret passages and top floor, and would recommend doing the same! Be mindful that areas of the Colosseum are subject to restoration for lengthy periods, like the underneath passages.
Once you're done with the first three stops, find a spot somewhere outside the Colosseum to eat your sandwich and drink some water before continuing with your busy day!
Baths of Trajan
The Baths of Trajan are the remains of a recreational complex and ancient Roman baths from 104 AD. Unfortunately, a lot of the site is missing today, so you will have to use your imagination.
We did not enter the complex as it looked like it was closed for restoration when we were there, and we were confused as to where the entrance was, but it is free apparently! If you can find the entrance, why not pop in for a look?
Whether or not you go inside the site to check out the baths, I would recommend walking around the area and the park it is located in (Parco di Colle Oppio). It's not the biggest park, but it is charming in its own right.
It is also a good way to kill some time before your Colosseum tour, especially if you're early or don't have a decent amount of time to check out the Roman Forum before your tour begins.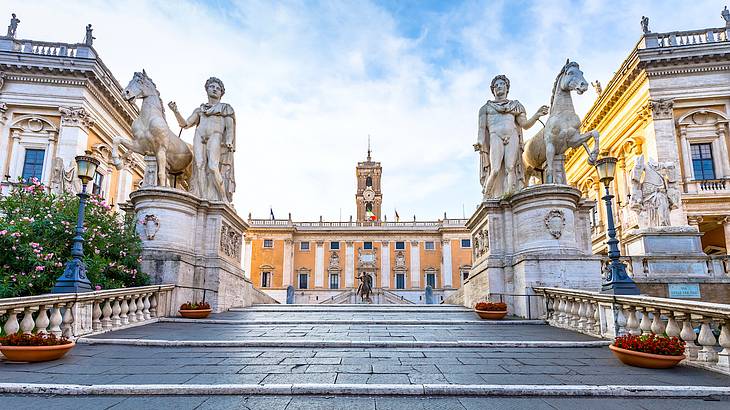 Capitoline Museum
Capitoline Museum is located on top of Capitoline Hill in Rome and is considered to be one of the first museums in the world. Even though it dates back to the 15th century, it was only opened to the public in the 1700s.
Most of the exhibits in this museum are tied to the city of Rome. Here, you can find bronze statues that are of great importance to the local Roman people, Greek sculptures, Renaissance art, artefacts and more.
We did not visit this museum when we were here, but if you find yourself heating up in the sun if you're visiting Rome in the summer, then it might be a good idea to step inside a museum for a couple of hours to cool off.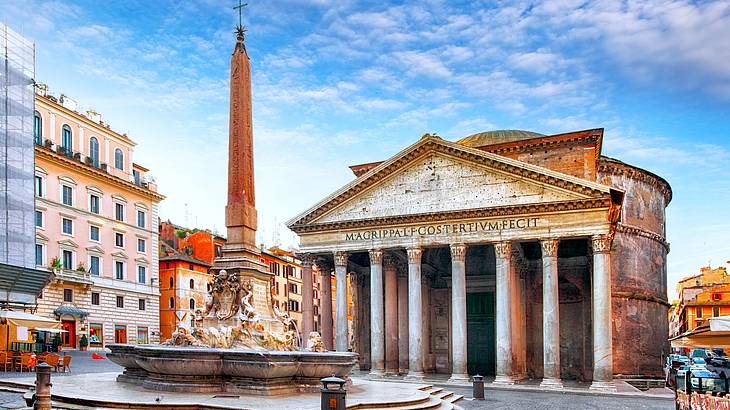 Pantheon
The last stop is the Pantheon - the temple of all gods. Located about a 30-minute walk from the Baths of Trajan, this almost 2000-year-old temple will take you back to the times of Olympus gods and goddesses.
The beautiful structure is the best-preserved Roman building and is living proof of the fantastic architectural and technical skills the Romans had.
I would highly recommend starting the suggested audio guide above before entering the building. Once inside, grab a seat and sit back and relax to appreciate the grand and amazing architecture all around you!
A History Lesson in the Vatican City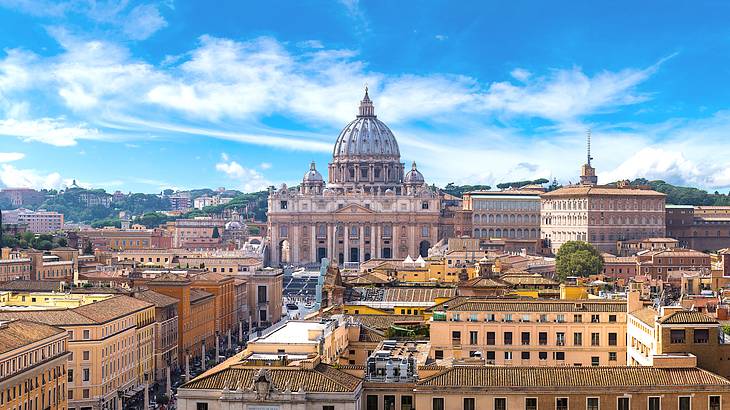 The Vatican City, a city-state in Rome known as the 'Holy See,' is home to the Pope and the Catholic Church. It is the smallest country in the world and a UNESCO World Heritage Site (it even has its very own post office!). The city is visited by millions of tourists and thousands of pilgrims each year.
It is not only a sacred site but also home to some of the world's most well-known pieces of art and monumental architecture, such as Michelangelo's Pieta and Saint Peter's Basilica. Michelangelo's Pieta can be found in the 16th-century Dome, the 'Cupola'.
Today, you will explore sites inside the Vatican City, such as St. Peter's Square and Basilica and the Vatican Museums and Gardens. Once you are done with the first three stops (before heading to the gardens), grab some food and coffee at a nearby cafe.
After the gardens, go for a leisurely walk along the picturesque Tiber River towards one of the oldest churches in Rome. Next, explore the bohemian Trastevere neighbourhood, which is where all the young Italians gather. Finally, walk off your dinner and drinks with one last stroll through one of the world's smallest islands.
Once again, I would recommend downloading Rick Steves' free audio guides for Rome ahead of time for this area, in particular for St. Peter's Basilica, the Vatican Museums and the Sistine Chapel.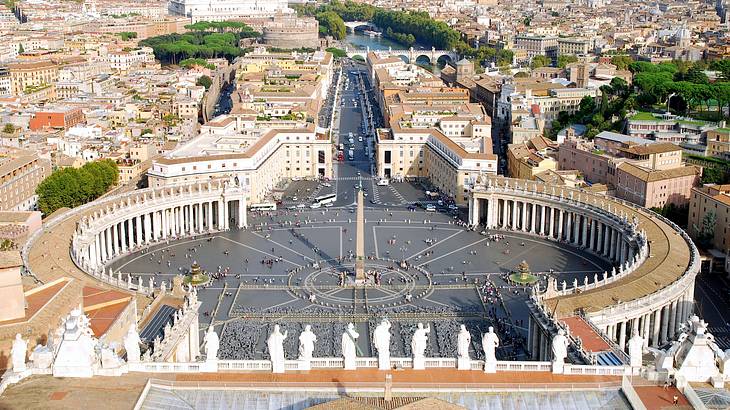 St. Peter's Square
St. Peter's Square (Piazza San Pietro) is in front of St. Peter's Basilica and is the centre of the Vatican City. Right in the middle of the square, you can admire an ancient Egyptian obelisk that has been standing there since the 16th century.
From the square, look up to see the famous balcony that the Pope uses to deliver his blessings. It is located right in the middle of St. Peter's Basilica.
Don't forget to start playing the audio guide here for the Basilica. It's an excellent way to pass some time in the line while you're waiting to enter the church.
I would highly recommend coming here first thing in the morning for a calmer space (fewer tourists), and to get through the line and security check quicker.
Also, don't bring an aluminium water canister like we did; otherwise, you'll have to leave it behind at the security checkpoint and keep your fingers crossed that it'll be there upon your return!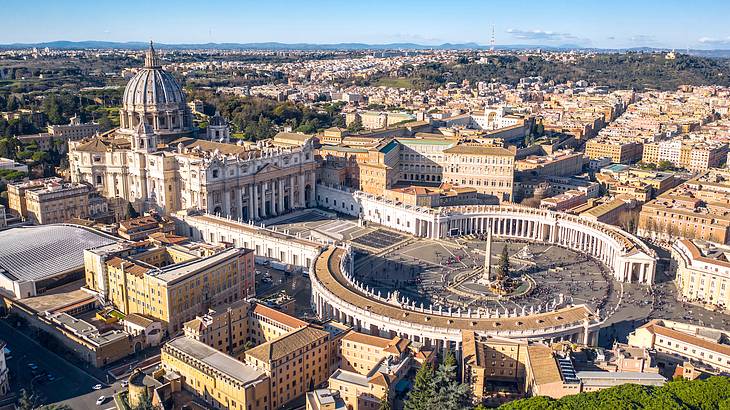 St. Peter's Basilica
Located in the heart of the Vatican City, right by the Piazza San Pietro, is a 16th-century shrine built on top of St. Peter's grave from 64 AD. Inside the shrine, which is St. Peter's Basilica, you can admire many pieces of renaissance art, like Michelangelo's Dome.
You can also climb the 491 steps to the top of the dome for fantastic panorama views of Rome (entrance for this is to the right of the Basilica if you're facing it), or head down to the basement to see the many graves of noted saints. The graves are in the mausoleum and grottoes, which includes the tomb of St. Peter himself.
While the church itself is free the enter, to experience the view at the top, you will have to pay. We paid a couple of Euros extra in addition to the admission ticket to take an elevator to the top.
The elevator doesn't take you all the way to the top, though. It was an interesting experience nonetheless as the last few staircases you have to climb are very narrow.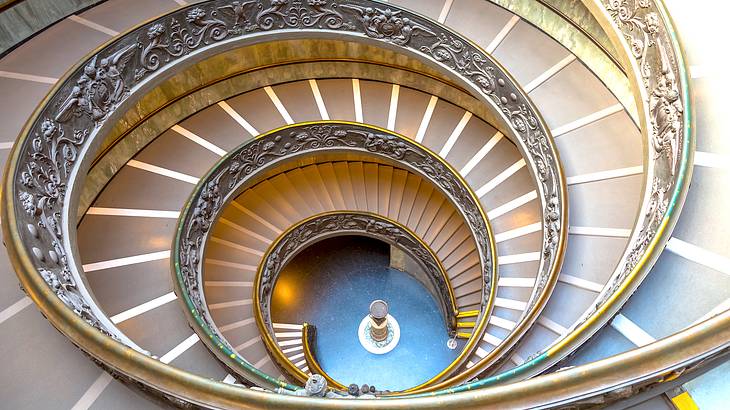 The Vatican Museums
The Vatican Museums are a group of art museums under one name. All of them have mostly Christian themes and are within the boundaries of the Vatican City.
There are about 20,000 pieces of art on display across all the museums. Everyone should be able to find something that interests them here.
From Egyptian art to the Gallery of Maps (Dante's painted maps) and the infamous Sistine Chapel with its Revelation fresco, there is a lot to see here.
For those who prefer to be in the open air, head to the Octagonal Courtyard to see its renowned Roman sculptures.
I would highly recommend booking tickets online in advance once again, which also allows you to skip the line.
As you walk up to the entrance of the Vatican Museums, make sure you keep to the right and ignore the random people with 'tourist information' tags that loiter around the compound as they are not official museum staff. They are just trying to sell you over-priced tours.
And again, download the audio guides mentioned above for both the museum and the Sistine Chapel, which should take you no more than 1.5-2 hours in total for both.
Of course, your time spent here and with the audio guides will depend on how fast you walk through the attractions and how many diversions you take. The way to the Sistine Chapel is well signed and can be found near the end of the museums.
Pergamino Cafe
Pergamino Cafe is conveniently located no more than a 5-minute walk from the Vatican Museums. It's a great place to go to get away from the crowds, rest your legs and grab a bite to eat.
This cafe is known for its speciality coffee (sorry if you're looking for Italian coffee!) and has an open outside seating area that is suitable for people watching.
If you do decide to order a speciality coffee, do note it isn't the cheapest at 8 Euros a cup. Their regular flat white was still decent, although the bean was a bit bitter. Their vanilla muffin was also rather plain but nice!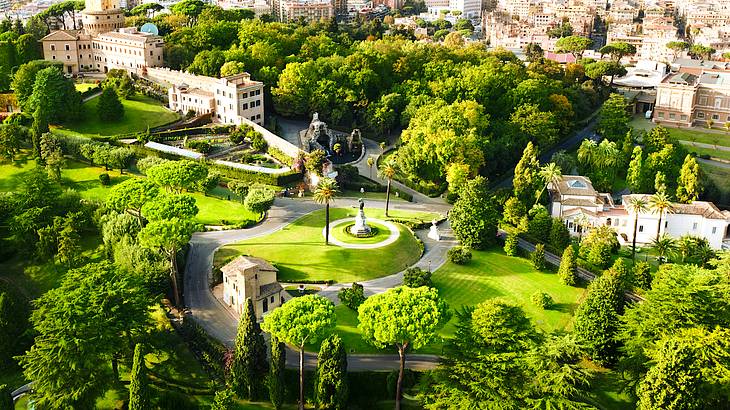 The Vatican Gardens
After a busy day exploring and admiring the architecture and art of the Vatican City, it might be nice to relax by spending some time in nature. The Vatican Gardens is a great place to do just that as it has a calming atmosphere with beautiful monuments and impressive fountains.
The gardens are located on the western side of the city and require a separate admission ticket. You will also need to join a guided tour as you cannot walk around the gardens on your own.
Walk Along the Tiber River
Once you are done with your guided tour of the Vatican Gardens, start to head towards the Tiber River for a stroll along the river's edge. It is a beautiful walk on most days, even with a little bit of rain!
Admire the architecture and stunning bridges along the way. Snap some insta-worthy photos. Walk until you reach the Ponte Sisto Bridge, which should take you about 35 minutes from the Vatican City.
Basilica di Santa Maria in Trastevere
Built in the 3rd century, the Basilica di Santa Maria in Trastevere - or the Basilica of Our Lady in Trastevere in English - is one of the oldest churches in Rome.
It is located in the lively neighbourhood of Trastevere - the last stop for the day and an area worth checking out and having dinner in.
The church itself is also worth a quick walk by and stop in before you continue exploring this side of the river.
Trastevere District
Trastevere neighbourhood is a hip, bohemian area of Rome that tends to attract the younger crowds. It is filled with artisan shops, trendy restaurants, pubs and craft beer places.
It is a great area to come to if you want to steer away from the crowds and hang out amongst the local Italians. You can also find some affordable budget hotels and places to eat here if you're looking to save some coin.
Find a restaurant to kick back at and relax after another busy day of exploring the Vatican and Rome's scenic streets.
Tiber Island
Tiber Island, or Isola Tiberina in Italian, is a charming little island located in the middle of the Tiber River in Rome city. It is boat-shaped and actually one of the smallest inhabited islands in the world!
Tiber Island is just east of the Basilica di Santa Maria and is connected by three bridges - Ponte Fabricio, Ponte Garibaldi and Ponte Cestio. It is made of cobbled streets and dotted with a couple of churches (San Giovanni Calibita & the Basilica of St. Bartholomew).
It is definitely worth your time and a stroll through after dinner and drinks in Trastevere.
Walking Tour of More Historical Sights in Rome
For your third day in Rome, explore more of the city's famous European landmarks, such as the Trevi Fountain and the Spanish Steps, by just wandering around.
It's possible that on your journey from one attraction to another, you might get lost admiring a fountain in a corner or a piece of architecture you bump into along the way. Or, you'll forget where you were going in the first place. But all that is ok!
No matter what path you take today, whether planned or spontaneous, here are some more sites to keep in mind that are also worthy of your time. If you fancy leaving the city for the day, there are many day trips you can do from Rome as well.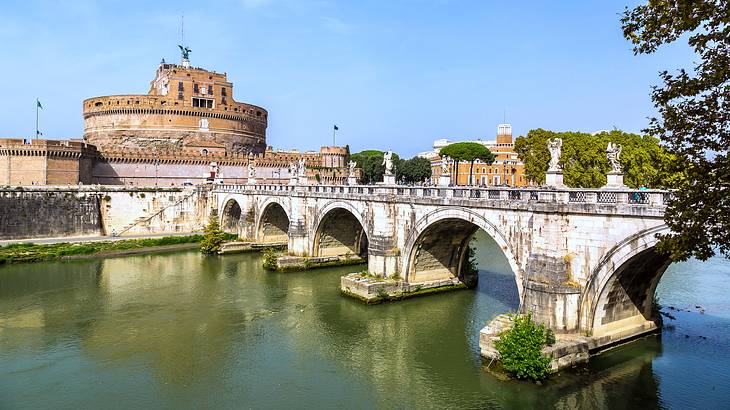 Castel Sant'Angelo
Begin your third day a little later than usual at Castel Sant'Angelo, which was built sometime between 123 – 139 AD. While it might now be a museum, it was originally commissioned by Hadrian - a Roman Emperor - as a memorial building for him and his family.
We started our walking tour here as it was quite close to our accommodation. Of course, you can modify today's schedule and the below suggested stops as you'd like.
While we didn't go inside this building, we did appreciate it from the outside by snapping some photos. If you would like to explore the inside, make sure to factor in a couple of hours into your day for it.
Once you are finished here, cross the beautiful Ponte Sant'Angelo (which was also completed under Hadrian's reign) to snap some more photos of the peaceful river and the surrounding buildings, and walk towards the next stop - the Piazza Navona.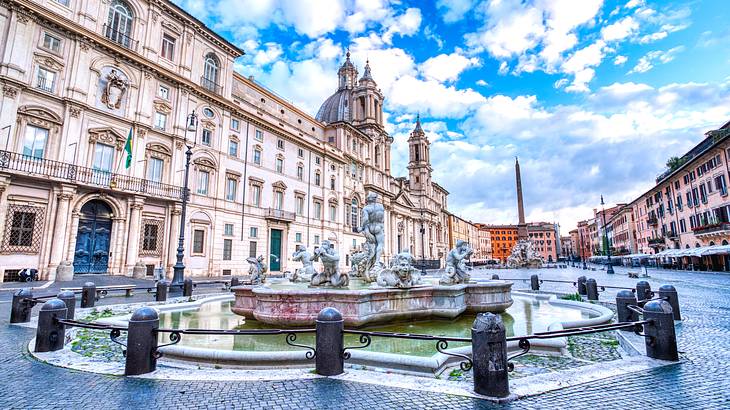 Stroll Through Piazza Navona
Nothing evokes Italian culture more than the Piazza Navona. While walking through the square, soak in the atmosphere for a couple of minutes.
Let the artists offer you their art, let the baroque fountains - the Fiumi Fountain - calm you down with their falling water, and let all the amazing smells from the local restaurants make your mouth water.
Largo di Torre Argentina
The Largo di Torre Argentina is a bit of an odd attraction. Once a tower and home to Johann Burchard - a French-born priest living here during the Italian Renaissance - is now home to a cat sanctuary.
As the cat shelter is free to visit and run by volunteers, I would recommend considering buying something from the shop here, even if it's just for a few dollars as it helps the sanctuary continue to operate.
Lunch at Pizza Florida
I don't have much to say about this place other than it has amazing pizza at very reasonable prices - great varieties for vegetarians, too! Expect a line and limited seating areas upon arrival.
If there's room on the bench just outside the shop, make sure to grab a seat there and people watch as you munch on your tasty pizza.
Pizza Florida is right across from the previous stop (Largo di Torre Argentina), so keep an eye out for its big purple 'Pizza Florida' sign if you're lost.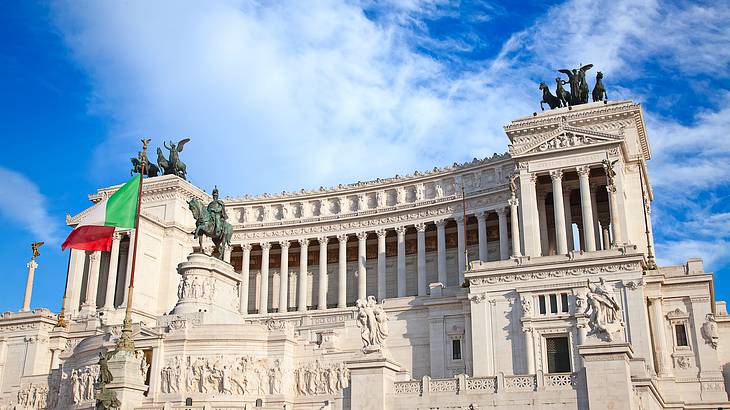 Altar of the Fatherland
The Altar of the Fatherland Monument, also known as the Monumento a Vittorio Emanuele II in Italian, or the Victor Emmanuel II Monument in English, was built to honour Victor Emmanuel II as he was responsible for unifying Italy.
It is a beautiful marble building located near Piazza Venezia and Capitoline Hill (where the Capitoline Museum is located). It also holds the tomb of an 'unknown soldier'.
We did not go inside the monument, but I would think you'd get some great views of Rome from the top with the Colosseum, the Forum and other important buildings in the background.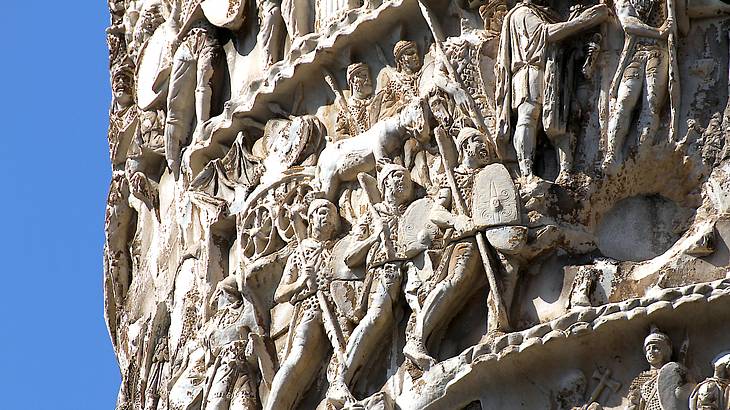 Trajan's Column
Trajan's Column is a free-standing structure built to honour Emperor Trajan. It is known for its spiral bas relief and is located near Piazza Venezia.
Once inside, you can climb 185 steps to the top to access a viewing platform. We didn't enter the column or go the top, but it shouldn't take you long to pop in if you'd like to see it.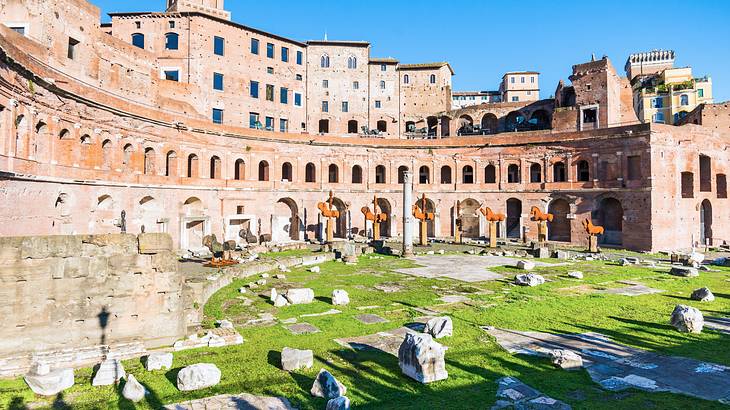 Trajan's Market
Trajan's Market is not just another site of Roman Ruins, although technically it is, as it has changed with the city as time has gone on.
From being a home for nobility to military barracks and the administrative core of the Forum, don't underestimate the importance this attraction has played throughout history.
We did not go inside the market, but if you would like to, factor a couple of hours into your schedule.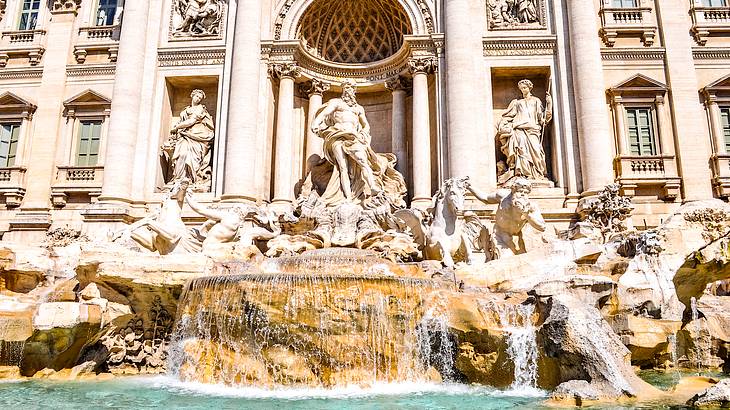 Trevi Fountain
You have probably already noticed that there are a lot of fountains in Rome, and by now, you might even be a little sick of them. But stay with me as the Trevi Fountain is not just any fountain.
This monument, located a 10-minute walk from Piazza Navona, was built in the 18th century and stands almost 30 metres high and 50 metres wide.
The large variety of iconography on this fountain can keep art lovers and even non-art-lovers busy for quite a while - so keep a lookout for some interesting pieces!
I would recommend checking out the Trevi Fountain during the day and at night as it looks quite different at both times. At night, especially, it is lit up with beautiful lights! This would also make for a fun night activity to do in Rome.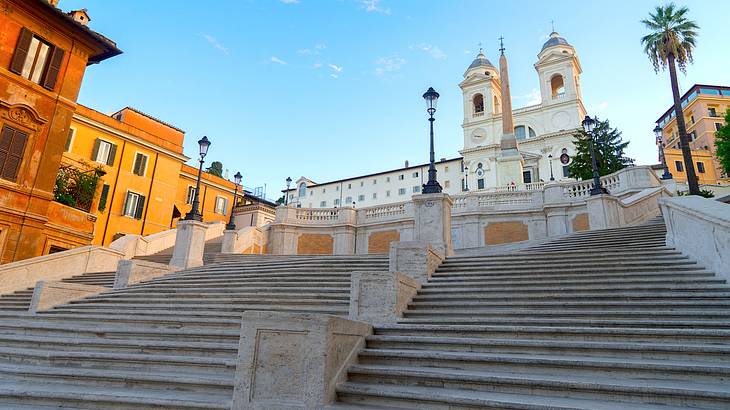 Spanish Steps - Scalina Spagna
The Scalina Spagna, or the Spanish Steps, is a set of 138 Roman Baroque-style steps that was built in 1723. It is connected by the Piazza di Spagna at the bottom and the Piazza Trinita dei Monti at the top of the stairs. The Trinità dei Monti Church also sits at the top.
For those who can't climb up levels, there is an elevator near the metro that can take you to the top. Do NOT sit on the steps as it is a UNESCO site and you can be fined for doing so.
I would recommend visiting this area during the day as I found the steps to be rather underwhelming at night.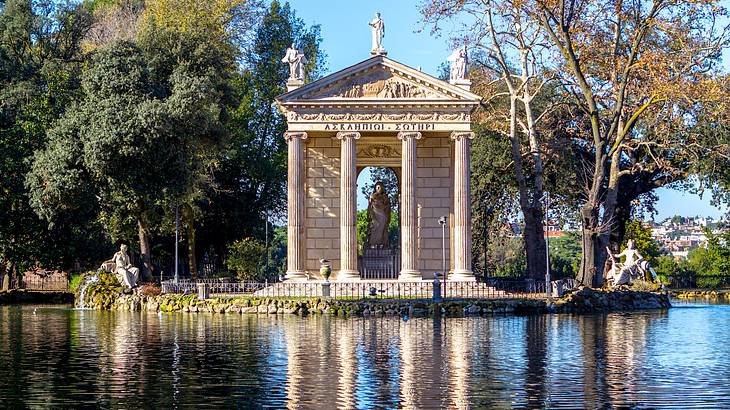 Villa Borghese Gardens
It is nice to finish your last long day of exploring in Rome by surrounding yourself with more nature. So head over to Villa Borghese Gardens, the third-largest garden in Rome that has been around since the 17th century.
Its 80 hectares of nature contains not only miles of walking paths, but also multiple temples and museums. For example, the Borghese Gallery and Museum is located here, which is also one of the most famous art galleries in Rome.
Other points of interest in this park include the Piazza del Popolo near Flaminio Metro and train station, the Pincian Hill, which offers majestic views of Rome's skyline, and the Temple of Asclepius, which is located in the middle of a pond in the park and provides excellent photo opportunities.
In Summary,
I hope you found this 3 Day Itinerary for Rome useful for planning your upcoming trip to this charming and historic city. Rome is a grand, majestic and awe-inspiring city that I can guarantee will blow you away!
Besides Rome, there are also many other sites and cities to visit and explore in beautiful Italy, like Sorrento, Florence, Cinque Terre, the Venetian Islands, Puglia and more. So make sure to include some of the preceding places on your Italian bucketlist!
Give us feedback about this article
Learn more about Rome:
More articles about Latium:
Read more articles about Italy:
---
---
Want to keep exploring?
Subscribe for discounts on tickets and hotels and our latest guides.
Thank you for subscribing
We will be in touch soon with discounts on tickets and hotels and our latest guides.
Want to keep exploring?
Subscribe for discounts on tickets and hotels and our latest guides.
Thank you for subscribing
We will be in touch soon with discounts on tickets and hotels and our latest guides.
Related articles