2 Days in Milan Itinerary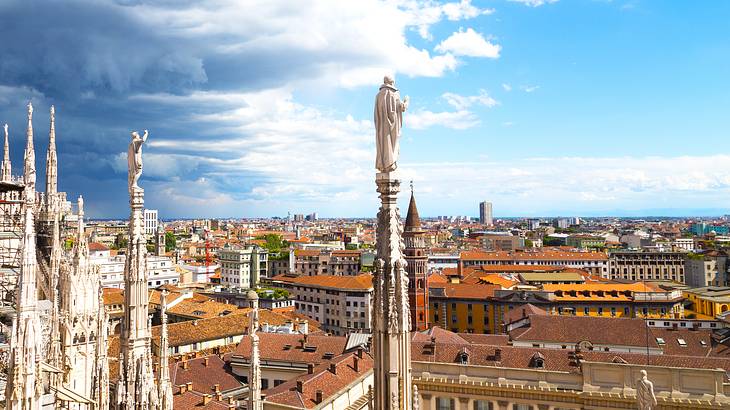 Over two days, we will guide you through all of Milan's best sights; including the Duomo, the Santa Marie Delle Grazie (home of The Last Supper), and the canals of the Naviglio district.
With more than a dozen stops per day, this itinerary covers everything the fashion capital has to offer.
2 day guide
Average of 15 stops per day
Milano 2 Day Article
Milano Map
A map of Milano. Use the map to explore all the days and stops.
Welcome to Milan!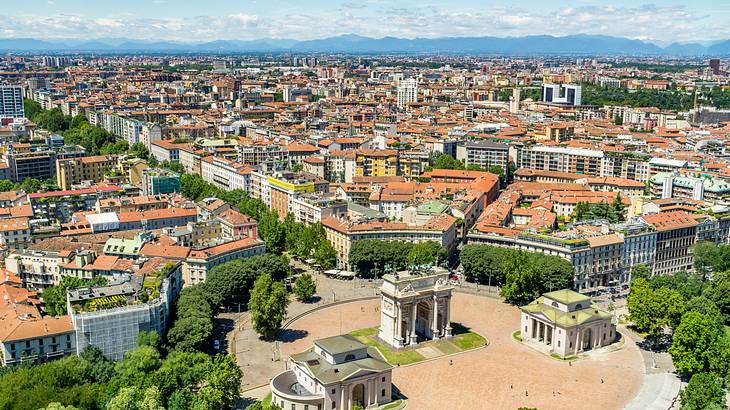 Your First Day in Milan, Italy. Get ready for a lot of walking because it's time to take in the sights with our first-day itinerary! You can exclude some of the stops below and take it easier if you're traveling Milan with your family.
We will be covering a lot of ground on this day. We will be enjoying a walking tour, Duomo di Milano, Sforza Castle, and will be breaking up the day at some popular eating spots in Milan.
Start your journey right with a free walking tour!
Begin your day with a free walking tour to fill you with history, local knowledge, and inspiration for the days to come. We recommend The Secret Milan Tour, which edges around the tourist spots to deliver a more authentic taste of Milan. This tour runs for around 2 hours and needs to be booked in advance.
Other walking tour options include The City Storytelling Experience, Frog Free Walking Tour, and Walkabout Tours. These tours all run for approximately 3 hours, so plan accordingly.
If you opt to take one of these free walking tours, rearrange this itinerary, start out early, and fill up on breakfast before you embark on a guided walking tour around the city.
And remember to tip your guide! Many of the guides live off tips, so thank them for their time and knowledge of the town!
Breakfast Break at Corso Como 10
After all that walking, you are sure to have worked up an appetite. Luckily Milan Historical Center is packed with lovely eateries to fill up your belly.
Milan is the capital of fashion, and if you are feeling exceptionally stylish, we recommend Corso Como 10. This high society favourite is an eatery/coffee bar/book shop/art space. Its cosmopolitan atmosphere makes for a great introduction to the sophistication and creativity that is the penchant of Milan.
If you are a more budget traveller or are looking for more straightforward, down-to-earth fare, we recommend Crocetta Panini d'Autore 1982. This eatery is a favourite in Milan and a great way to restock and re-energize before heading out for the rest of the day.
Grab an espresso (but don't ask for one!)
I lived in Venice for three months working in a tourist cafe as a barista. Only being a barista consists of something different in Italy than in Australia. Italians take their coffee seriously. It's believed to be bad for the health (and general poor form) to order a cappuccino or any 'frothy' milk coffee in the afternoon. Instead, for months on end, all I heard was 'Un Cafe Bella!' Un cafe translates to what we would call an espresso.
Cafe con leche is a little milk, latte macchiato is a lot of milk with a bit of coffee, and a macchiato is a lot of coffee with a bit of milk. However you like it, treat yourself to a coffee on one of the cafe bars situated around the Historical centre.
Try Bar Luce (which was designed by Wes Anderson), the Pasticceria Marchesi (founded in 1824), or Orsonero Coffee (which is claimed to be the oldest third-wave coffee shop in Milan) to get a real taste of Northern Italy.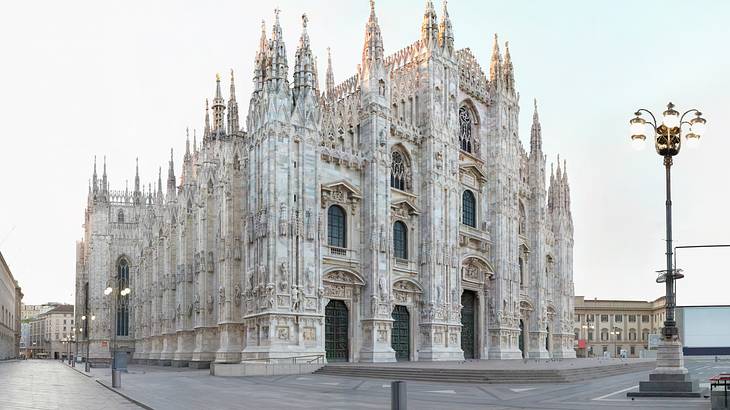 Duomo di Milano (The Famous Milan Cathedral)
The Duomo di Milano is an unmissable centrepiece to Milan's sprawling and beautiful architecture. It is also a fabulous starting point for our mini walking tour around the central tourist district.
The Milan Cathedral has over 2,400 statues, 135 gargoyles, and 700 figures. It's also the fifth-largest Christian Church in the world.
Being so large, it offers some fabulous views. Climb the stairs (skip the expensive elevator) and be amazed by the stunning panoramic views.
The Cathedral dates back over 600 years, and yet, still remains a spectacular example of gothic architecture.
And remember to look out for the red bulb. Adorning one of the many spires is a red bulb. Allegedly this is the spot where an actual nail from Jesus' crucifixion has been placed.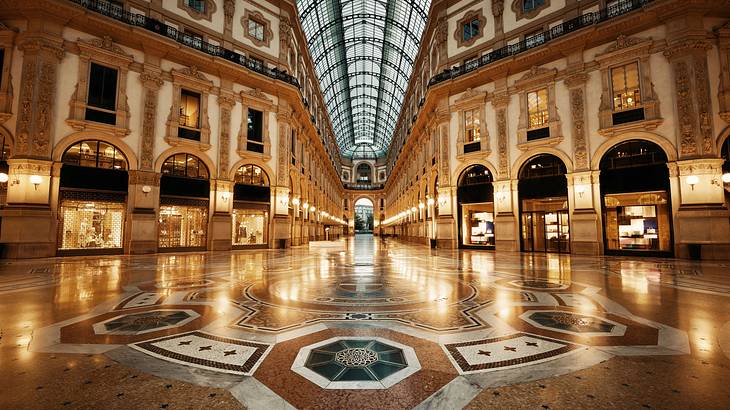 Milan's Most Famous Shopping Arcade: Galleria Vittorio Emanuele II
Located only a one-minute walk from the Duomo lies Italy's oldest active shopping mall. This area now homes a collection of high-end shops which make for beautiful window shopping. But even if shopping doesn't appeal to you, the arcade is a fabulous addition to this day itinerary for its architecture alone.
The marble floors are protected by soaring glass and iron domes. Even the McDonald in this arcade is elegant!
The arcade also has a folk talk behind it. Under the central dome is a mosaiced coat of arms. This mosaic includes various animals that represent different cities within Italy. Rumour has it that if a one steps on the bull's balls and turns counterclockwise three times, they will be blessed with good luck.
This folk tale is so prevalent that the mosaic is starting to become worn down.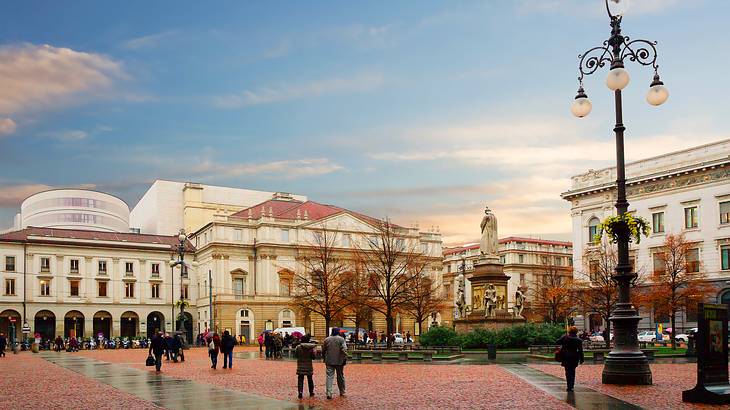 Piazza de La Scala: Milan's Meeting Point
Located a 5-minute walk from Galleria Vittorio, is the beautiful Piazza de La Scala. This giant pedestrian square is one of the most central and visited places in Milan.
If walking ever becomes overwhelming, Piazza de La Scala is the perfect place to grab a gelato and people watch. The whole of Milan seems to pass through this stunning Italian landmark.
In the middle of the Piazza is a tall monument dedicated to Leonardo da Vinci. This sculpture was finished in 1972 by renowned artist Pietro Magni and remains a focal point today in a city of art and creation.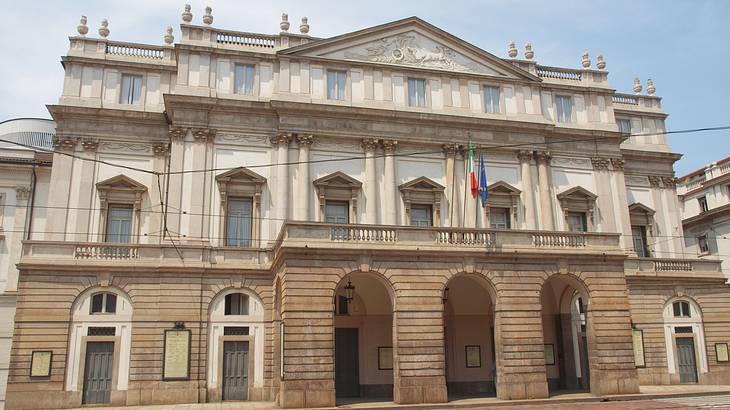 Teatro Alla Scala
Located on one side of the Piazza, the Teatro Alla Scala is a remarkable dedication to art. It is home to some of the grandest opera and ballet companies in the world and hosts performances of the world's best throughout the year.
While getting a ticket is expensive, last-minute ticket sales happen on the day of the production and can be inquired about from the box office in the foyer.
Alternatively, the Teatro itself is worth a tour. You can register online to take a tour of the theatre, and we recommend it. Perhaps you will get lucky and witness a dress rehearsal in action. This tour is a great way to orientate yourself in Italian art history and gives you the chance to sit where many of us never will: a private box in front of one of the grandest stages in the world.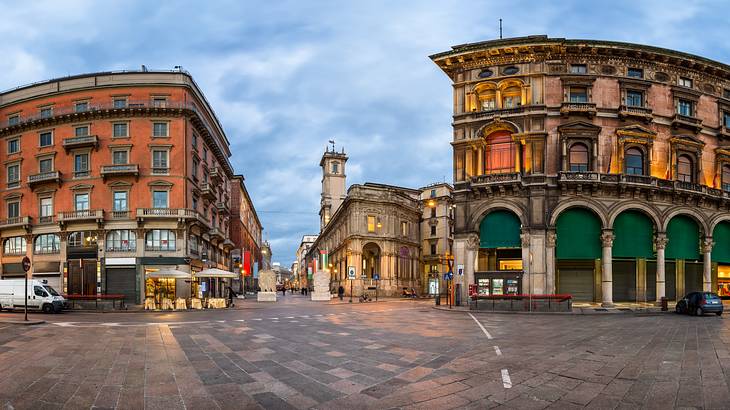 The Merchant's Square
The Piazza Mercanti is a 5-minute walk from the Teatro and Piazza Alla Scala. The 'Merchant's Square' is touted as one of the most charming squares in Milan. It's is lined with stunning medieval buildings.
On one side a giant red brick building called the Palazzo Della Ragione stands. This impressive medieval feat was inaugurated in 1233 and housed the Courts of Justice.
This square was used for the city markets for centuries. It still bears the name 'Merchant's Square' as a testament to this history.
The Piazza is often packed with tourists, but if you can snag a patio seat at one of the many cafes lining the streets, then it's a great area to sit and mull over a coffee. Enjoy the scenery and breath in history!
Lunchtime at Ristorante Al Mercante!
By this point, you are probably starving! I know when I lived in Italy, all I wanted to do was eat.
Take a wander down the main street of 'Via Dante'. At the end of the strip, you will see your next destination, the Castello Sforzesco (Sforza Castle). Choose one of the many eateries on this strip to refuel, and be sure to sneak in a good glass of red. It's the Italian thing to do!
If you are looking for an oasis in amongst the touristy fare try Ristorante Al Mercante. This eatery serves excellent, authentic Italian food that will leave you more than satisfied.
It is also worth mentioning that this area is the tourist area of Milan. If you travel a few streets back and wander a little, prices tend to drop, and food becomes more authentic.
Sforza Castle
The Castello Sforzesco is a ten-minute walk down Via Dante. It's impossible to miss. You can see the looming castle from across the historical centre, making it a great gathering point if you get lost!
Be warned the Castello is massive, with numerous museums encased within its keep towers and buttresses. You may need to set aside 2 hours for this area alone.
The Castello was initially designed as a Visconti Fortress before being passed to the Sforza rulers of Milan. It features frescoes by Michelangelo and Leonardo da Vinci.
Afternoon tea to go from Pasticceria Ranieri!
Grab a pastry and a second coffee from the delightful Pasticceria Ranieri to take into your next stop. Indulging in cake and your second (or third!) coffee is a Milan tradition. This stylish capital is about revelling in the little things. If you get stuck for choice, try a classic cannoli.
The area surrounding the Castello and Sempione Park is called the Brera District and is the centre of historical architecture. It is the tourist favourite and keeps all the attractions beautifully centred for perfect walking tours!
It is also famous for its bakeries, and often compared the Montmartre- the artistic and eating centre of Paris! So indulge in a sweet, and grab a take away to enjoy in Sempione Park (our next stop)!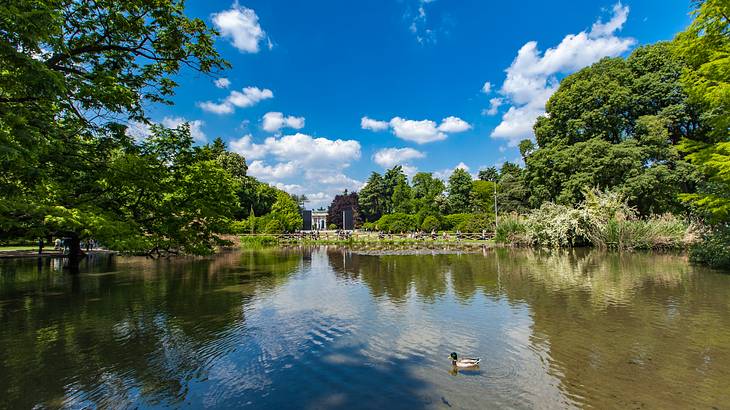 Sempione Park
Next on our itinerary is the Parco Sempione. Walkthrough the Castello to find the green oasis that is the Sempione Park. This giant nature reserve is a perfect break from your walking tour.
Take a moment to relax in the shade under a tree, or wander the paths watching Italian families picnic and play. Within the park, there is also numerous attraction; such as the Arch of Peace, Arena Civica, a free Aquarium, and a giant tower that stays open into the night for beautiful city light views.
If you have the energy, you can also brave the Palazzo dell'Arte which houses the International Exhibition of Decorative Arts. Personally, I used this park to doze in recovery for the evening ahead!
It's Aperitivo Time at Bulgari Hotel!
By this point, you are comfortably in Aperitivo territory. Aperitivos are pre-meal Italian drinks that are designed to whet the appetite. They are also an Italian tradition. After all, when in Rome (or Milan)? Traditional Aperitivo bars will serve their drink with a salty snack. This isn't in lieu of dinner but more like a prologue.
My Italian Aperitivo favourites are, of course, Aperol or Campari. But why not experiment? We recommend the Bulgari Hotel, which offers a luxurious slice of Milan life in a bar. This is a 20 minute walk across the park and heading back towards the Duomo, bringing us just around the corner from our next destination!
Other recommendations are the L'Alter Bar for a more casual experience and the famous N'Ombra de Vin, which is a historic wine bar.
The Fashion District
From the Bulgari hotel, the Fashion District or 'Quadrilatero Della Moda' is a 7-minute walk. This area is dubbed the birthing place of Italian fashion and houses the luxury brands of Prada, Gucci, and Armani. If you have seen a runway show of it, the brand probably has a store presence in the fashion district.
The fashion district is an almost mandatory inclusion to this list. However, most of us could never afford these high-end goods. The area is excellent for window shopping, admiring Italian socialite clothing, and momentarily enjoying the life of the rich and famous.
Yum! It's Dinnertime at Il Salumaio di Montenapoleone
It'' time for food! Italians (and Europeans in general) tend to dine later than Americans or Australians; this can be a strange change for visitors. In general, dinner time is around 8.00 pm and then in summer. In the South of Italy, even 8.00 pm is too early! If you find yourself too soon for dinner, treat yourself to another Apertivo to whet your appetite.
For dinner, we recommend Il Salumaio di Montenapoleone near the Montenapoleone station and in the Quadrilatero Della Moda (Fashion District).
For over 50 years this stunning restaurant has served up simple, Italian food to much acclaim. And the setting is phenomenal!
This restaurant takes you back in time, with marble arches, Roman statues, and an ambient courtyard. Housed in the historic Bagatti Valsecchi Building, this is a great Italian fine-dining experience.
Day Two in Milan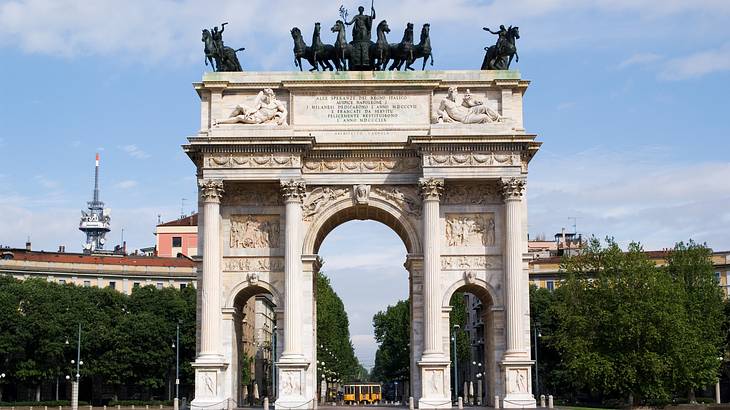 Welcome to Day Two in Milan! After exploring the Brera district, it is time to see the famous Last Supper, indulge in some art, and visit the canals of the Navigli district.
This will be another action-packed day, with lots of walking, lots of exploring, and lots of eating!
Breakfast at Panificio Maria Marinoni
Begin your day at Panificio Maria Marinoni, a thriving cafe located near Sempione Park. With all goods baked daily through the day and a wide choice for the budget traveller, Maria Marinoni has been a success for over 50 years.
This cafe is also very easy on the wallet and offers quick service so you can start your day right!
Because of late dining, plenty of Milan residents don't have breakfast until 8.30 am, or 9.00 am. If you are starting out earlier (which we recommend) make sure to look at opening hours to avoid disappointment. The Panificio Maria Marinoni, detailed above, opens at 6.00 am for reference.
But first.... Coffee at Pasticceria San Carlo!
Walk ten minutes away from Sempione Park, and you will find yourself at the world-famous Santa Maria Delle Grazie.
Before braving the crowds and tour guides - load up on caffeine from one of the many cafes along the street. Our favourite is Pasticceria San Carlo (which is an excellent backup breakfast spot if you can find a seat).
Sitting on the patio enjoying your morning coffee, you will be treated to the facade of the Holy Mary of Grace Church. It is listed a UNESCO World Heritage site, and, while not as ornamented as other Milani churches, it has a big attraction inside.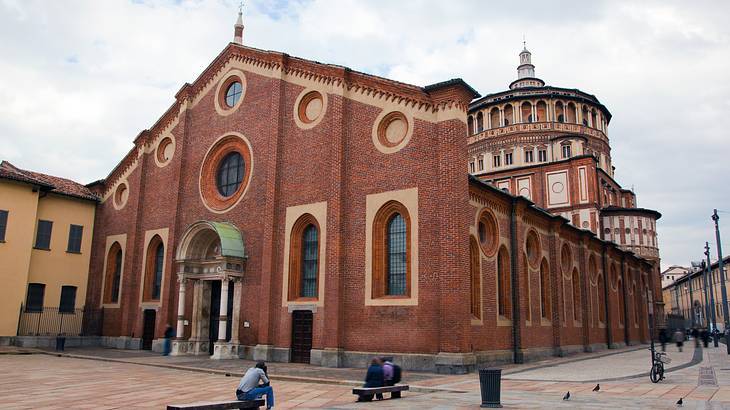 The Santa Maria Delle Grazie and The Last Supper
The Santa Maria Delle Grazie is the home of Leonardo da Vinci's mural The Last Supper. Arguably, this painting is the most famous in the world. Being so prominent, you need to book tickets in advance to get a peek.
Tickets to see the Last Supper can be purchased online. However, tickets are very limited. Another option is hopping on a guided tour.
The Last Supper by Leonardo da Vinci was painted over four years in the 1490s. It is a masterpiece of art, challenging classical fresco motif and techniques. If you like art history, it may be worth taking a tour just to learn about its import and impact on the art world.
The rest of the Santa Maria Church is a little underwhelming compared to the Duomo, so we don't recommend passing too much time here.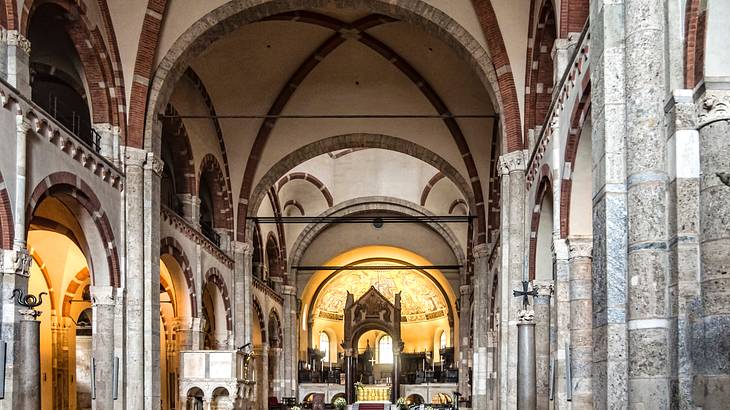 Basilica Sant'Ambrogio
Another 10-minute walk from the Santa Maria Church is the Basilica Sant'Ambrogio. Saint Ambrose is Milan's patron saint, and the cathedral serves as a testament to this Saint's importance to the city.
The Basilica was consecrated in 387 and restored in Lombard Romanesque style nearly a millennium later. It has a layer of Milani history embedded in its rock and is free to visit and explore!
Please note the Basilica closes at 12 for lunch. You shouldn't need to book ahead to enter the Basilica, but during the summer and peak seasons, people have reported queues.
In general, this Basilica is a quiet, less popular tourist stop. It is worth paying the 2 Euros to enter the museum and admiring the mosaics displayed inside the rectory.
Pinocateca Ambrosiana
A five-minute walk from the Basilica is the Pinacoteca Ambrosiana. Founded in 1618 by Cardinal Federico Borromeo, this gallery includes masterpieces by Titian, Bramantino, Rafaello, and Botticelli.
The most famous inclusion in the main collection is Codex Atlanticus, a twelve-volume, bound set of drawings and writings by Leonardo da Vinci. This codex is the most complete collection of the Italian masters' work and has been expertly restored.
The Pinacoteca Ambrosiana does require a ticket, which can usually be bought on the day. Alternatively, you can buy ahead of time here. For ease and affordability combine your Pinacoteca ticket with the Last Supper ticker and hit two birds with one purchase.
Lunch Time at Cavoli a Merenda
Travel 10 minutes back toward the Santa Maria Church for a fabulous lunch. We recommend heading to Cavoli a Merenda for quintessential Italian terrace dining. The view of the bustling city and Gothic, Romanesque architecture is stunning, and the food is tasty Italian fare that will have you sitting stuffed and happy.
Milan has an incredible array of cuisines and restaurants, but while you are there, we recommend trying the Milani specialities. The Risotto Alla Milanese is a fabulous starting point, recognisable by its yellow hue and saffron-infused light pasta. If you are after another inescapable classic, try the Costoletta Alla Milanese. This is a veal cutlet that can be dressed up or down depending on the chef's choice.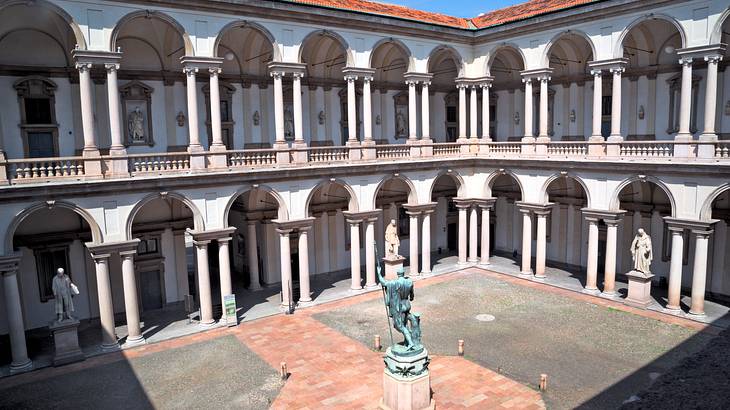 Pinacoteca di Brera
From the cafe strip surrounding Santa Maria, it is a 20-minute walk across Sempione Park to get to our next stop. The Pinacoteca di Brera, or the Brera Gallery, was originally a convent. Later in the 18th Century, it became of Neoclassical School of Art producing at pieces that defined the Napoleonic Era.
To visit the Brera Gallery, you will need to purchase a ticket for 15 Euros. However, on the last Sunday of every month this museum, like most across Milan, opens for free. Besides, 18-25-year-olds from anywhere in the EU only have to pay 2 Euro to enter the gallery. At any price, this gorgeous art gallery is worth it.
The galleries are organized in chronological order to take you on a journey through European art history, and audio guides are available in English for hire.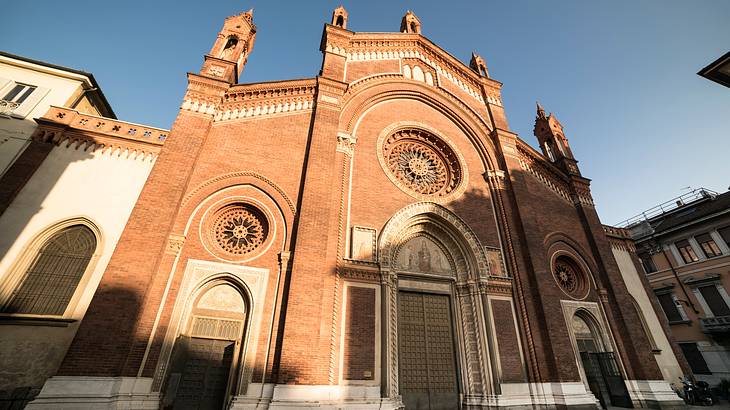 Chiesa del Carmine
Just five minutes on from the Brera Galley is the magnificent Santa Maria del Carmine Church. By now, religious iconography must be becoming commonplace for you! This is the last Church we promise! The exterior is understated, but don't let it fool you.
Initially built-in 1447 in Baroque Style, this Church is notable for its spectacular reliefs. Looking up to the roof, visitors are treated to stunning sculptures, paintings, and religious storytelling that makes even a jaded tourist gasp.
I had to fight the urge to lie on the floor in this choice. That's not allowed, so you'll just have to settle with a sore neck. When you are done staring at the roof with your mouth agape, take a breather outside in the courtyard.
The shady benches are a great place to take a break. Also, be warned that this is an active church. Check service times before entering to avoid an awkward blunder.
Treat Yourself to Some Gelato at La Strega Nocciola
Is it really a visit to Italy if you don't eat your weight in gelato? You won't struggle for choice when it comes to gelato. Gelato stores pepper the Milani centre, serving up sweet delights in an array of flavours.
For a more classic gelato experience, try La Strega Nocciola near the Duomo.
Every city in Italy claims to be the birthing place of gelato. Sicily has the first recorded use of 'sorbetto', which was a mix of snow, fruits, and sugar in the 16th century. However, it wasn't until Sicilian Francesco Procopio Dei Coltelli moved to Paris in 1686 that gelato was patented. Gelato soared into Parisian popularity, and Italy began to capitalize on that fame. The rest is history.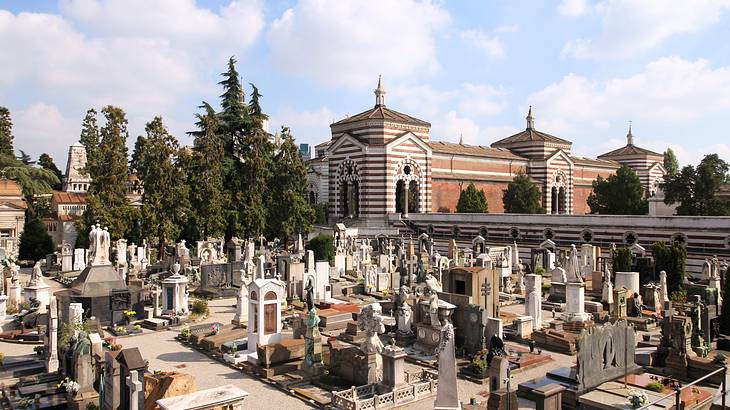 Monumental Cemetery
A cemetery might sound like a morbid addition to this list. However, these tombs in Milan offer a snapshot of 19th and 20th Century architecture and artistic styles. Plus, cemeteries contain great historical lessons, especially in such an ancient and creative city as Milan.
The Monumental Cemetery is free to visit and can be found a fifteen-minute walk from the Chiesa del Carmine. There is a sacred silence over the area as visitors travel the aisle between Romanesque tombs, Classical Sculptures, and Monuments constructed in the Gothic style.
We recommend going in the late afternoon for the golden hour. Any later, however, and it starts to become creepy in the dark. The Gothic angels and marble statues are stunning but eerie.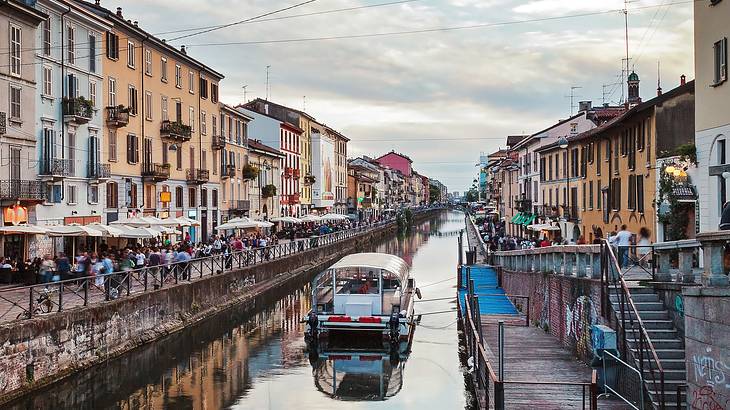 The Naviglio District
The Naviglio district is located a short train ride away from Brera. Take the Line 2 Tram from the Duomo Milan Metro station and hop off a short 20 minutes later. Welcome to Naviglio!
The Naviglio district is especially popular with a younger, local crowd and is the perfect place to pass your last night in Milan. This district is packed with cafes and eateries. However, it is most famous for its beautiful canals.
The neighbourhood and it's Venetian-style canals date back to 1179 when waterways were constructed to connect Milan to nearby lakes. Some historians claim they were even designed by Leonardo da Vinci himself!
Naviglio is also renowned for its art and vibrancy. Along the main canal signs pointing to local artist's galleries are everywhere! Duck into a courtyard peppered with local paintings, and take home a Milan masterpiece as a souvenir.
Take a Canal Ride
What better way to relax and see the neighbourhood than from the water? You can either take a gondola or boat up the central canal or get away from the city and explore the Naviglio della Martesana. This is Naviglio's 'Small Canal' and is surrounded by greenery and weeping willows. While you can't row down this canal, it makes for a picturesque walk.
A boat down the central canal will set you back around 12 Euros for one hour. A gondola ride will come in at 120 Euros for a private 30-minute tour. Both are excellent ways to see the neighbourhood.
Naviglio is undeniably romantic with its abundance of patio dining and speckled lights, so the gondola splurge is a worthwhile expense for honeymooners or couples.
Aperitivo Time at Rita
You know the drill. Pick one of the many beautiful patios along Naviglio's central canal and breath in the Italian evening. As lights flicker on and the canal is bathed in a golden, orange light, there is an undeniable ambience along the water. You will be spoiled for choice in this neighbourhood.
Two fan favourites for Aperitivo hour is Bar Rita and the Mag Cafe. Bar Rita is famed for its creative take on cocktails classic. Plus, the finger foods are to die for! Last time I visited they were serving grilled aubergine and octopus. My mouth is watering just writing about it.
If you feel like eclectic decor, herbed cocktails, and a thriving patio, the Mag Cafe might be more your speed!
Dinner at Taglio
With your tummy rumbling and your appetite whetted by your pre-dinner drink, it's time for dinner! There will be a multitude of restaurants to choose from along the canals, but some of our favourites are Le Striatelle di Nonna Mafalda and Taglio. Both of these Italian style restaurants have a lovely ambience, no-fuss menus, and are locally popular.
If you are stuck for choice, Pappardelle all Boscaiola (Pappardelle Pasta in Wild Mushroom Sauce) is always a great choice. This pasta dish is famed in Milan for its creamy, satisfying wild mushroom and thick noodle ribbons. Think it sounds too basic? Try it and be blown away!
After Dinner Drinks at La Viniera
If you still have energy, Navigli has a thriving nightlife. It is especially popular with students and artists.
The cosmopolitan vibes making sipping a wine a treat, and the lights over the canal only add to the European atmosphere. Whether you are after a low-key wine bar or a fancy night out, Navigli will have something to offer.
My personal favourite is La Viniera which delivers an authentic Italian experience. Draw a glass of wine straight from a barrel, enjoy prosciutto-wrapped melon, and grab a seat in this cosy hole-in-the-wall. Or simply wander the canal, enjoying the lights, and hopping your way down one of Milan's most iconic hideaways.
In Summary
You've now seen the best and brightest that Milan has to offer. From ancient graveyards to epic monuments and breathtaking pieces of art; your two-day adventure will have walked you through Italian and European history. Not to mention, you will have walked through some great window shopping!
We hope you had a wonderful time in the fashion capital of Italy. After your jam-packed two days, take a deep breath. Head to Milan Malpensa Airport and say ciao to this beautiful city.
This article was edited by Loredana Elena.
For more interesting articles about Italy, read:
---
---
Want to keep exploring?
Subscribe for discounts on tickets and hotels and our latest guides.
Thank you for subscribing
We will be in touch soon with discounts on tickets and hotels and our latest guides.
Want to keep exploring?
Subscribe for discounts on tickets and hotels and our latest guides.
Thank you for subscribing
We will be in touch soon with discounts on tickets and hotels and our latest guides.
Related articles