A Fun Thailand Bucket List - 30 Must Do Activities
Destguides may receive commissions from purchases made through affiliate links in this article.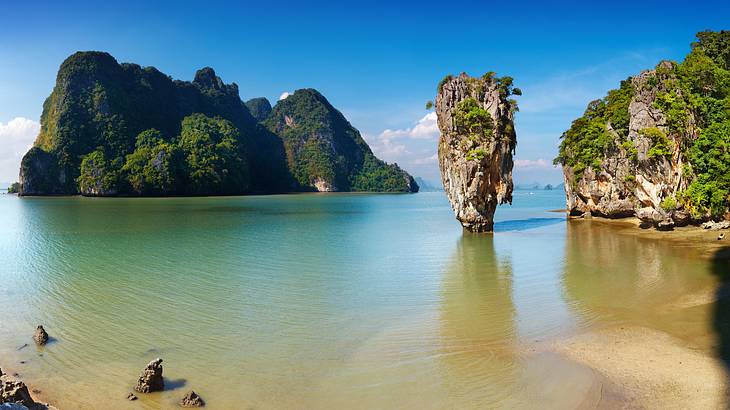 There are many diverse, beautiful, and exciting countries in Asia for you to visit. Thailand is definitely one country to check out and is consistently ranked as one of the most-visited countries in Southeast Asia.
It is a country full of diversity and a lot of stunning places to explore, ranging from beaches and markets to forests and national parks. If you're planning to visit Thailand, you will find a host of once-in-a-lifetime Thailand bucket list activities that cannot be missed.
You should plan to spend at least ten days in Thailand to see as much of the country as possible. Best of all, it is easy to travel around and is also one of the cheapest countries to visit in Asia. This means that a trip length of ten days or more is very affordable!
Whether you want to see historical sites and Thai landmarks or relax on a beach, there is something for everyone to appreciate in Thailand. The travel tips and suggestions below include some of the most popular activities in Thailand. Consider this your ultimate Thailand bucket list!
30 Best Things to Do in Thailand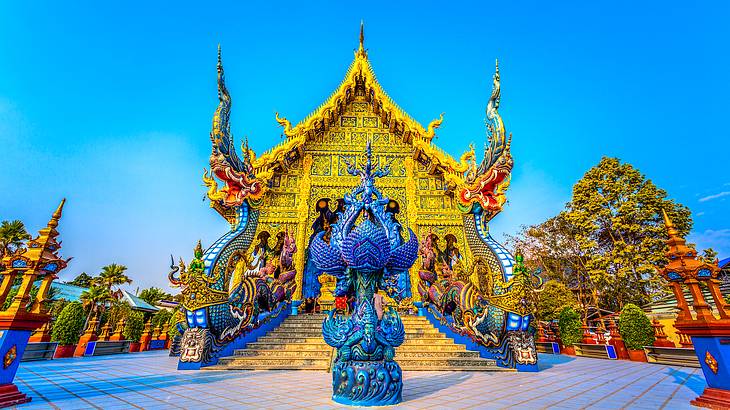 Visit the Blue Temple
The Blue Temple is a well-known temple located in Chiang Rai. The temple is officially known as Wat Rong Suea Ten which means "the House of the Dancing Tiger." The temple was reconstructed recently in 2016, making it a newly popular destination for travellers to visit.
The architect in charge of the redesign is Putha Kabkaew, an apprentice of Chalermchai Kositpipat, the architect behind the White Temple. Due to this, you will notice some similarities between the White Temple and the Blue Temple.
The temple got its name from the interior and exterior being predominately blue. Other temple features include beautiful murals, intricate carvings, and multiple statues of Buddha and deities.
The Blue Temple is not as crowded with tourists as other famous temples are. However, this trend is likely to change as more tourists become aware of the temple and its beauty.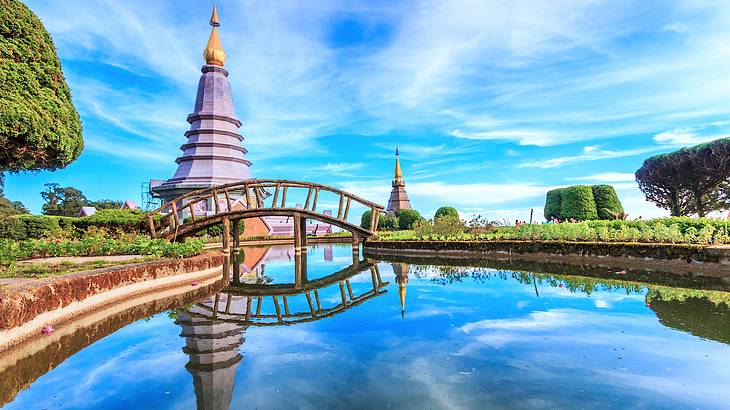 Explore Doi Inthanon National Park
Doi Inthanon National Park is a park located on the highest mountain in Thailand, Mount Inthanon. The park covers a total area of 482 square kilometres. It was initially called Doi Luang National Park, but its name was changed to commemorate King Inthawichayanon.
This well-known national park is home to over 350 species of birds, plants, and trees. You will also spot a few waterfalls around the park. You can easily spend the whole day in this tranquil oasis!
There are many things for you to do and see in the park once you get there. One of the most popular activities here is driving or climbing to the highest point of the mountain.
At the top, you will enjoy amazing views and benefit from incredible picture opportunities. If you enjoy hiking, the park offers several walking trails as well.
Another attraction in the park is the Twin Chedis, which are dedicated to King Bhumibol Adulyadej and Queen Sirikit. The Chedis enhances the beauty of the park, making your visit more memorable.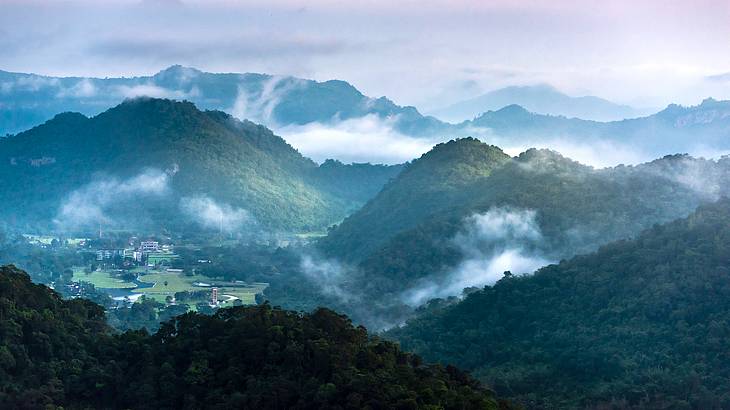 Hike in Khao Yai National Park
Khao Yai National Park is one of the best destinations near Bangkok. This park provides a serene green environment for visitors to relax in and take a break from the bustle of central Bangkok.
Khao Yai National Park opened in 1962 making it the oldest national park in Thailand and is additionally a UNESCO World Heritage Site. It is also the third-largest national park in the country covering an area of 2,168 square kilometres.
The park is home to a variety of wildlife and features vast areas of jungle. Khao Yai National Park is a perfect destination for those wanting to hike. It is recommended to do so with a guide due to the potentially dangerous wildlife that roams free in the park.
Additionally, if you want to explore the whole park, it is best to take a car or join a tour group with transport.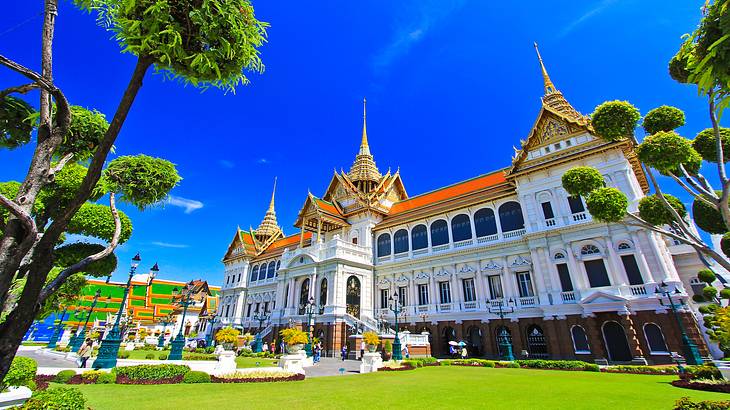 Discover the Grand Palace
The Grand Palace is the most famous tourist attraction in Thailand's capital city, Bangkok. You cannot plan a three day Bangkok itinerary without including a visit to the beautiful ancient palace on your list.
The Palace was constructed in 1782 and covers an area of over 200,000 square metres. It was previously the Thai king's official residence and housed the government and the Royal Court's administrative seat.
The Grand Palace's unique architecture, a mixture of Thai and European design elements, is one of the main things to admire while visiting. A trip to this ancient palace will additionally offer you an insight into the history of Thailand and its monarchy.
The palace complex features multiple other attractions, including the Temple of The Emerald Buddha, which is home to an emerald buddha from the 14th century. This large and elegant palace should definitely be included on your Thailand bucket list!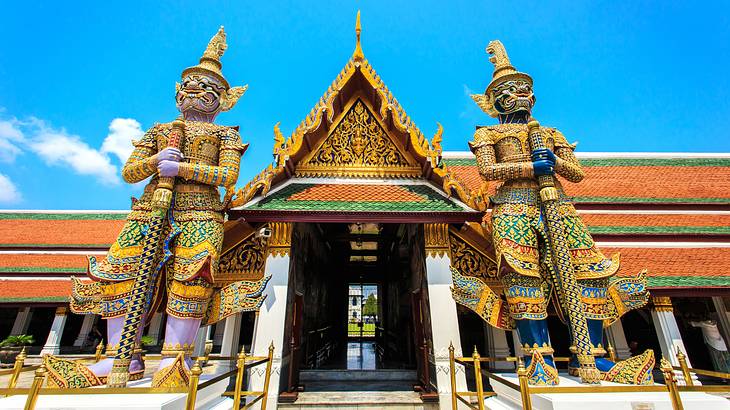 Appreciate Wat Phra Kaew
Bangkok is known as one of the best places to stay in Thailand due to its many cultural sites. One of these numerous sites is the Temple of the Emerald Buddha.
Locally known as Wat Phra Kaew or Wat Phra Si Rattana Satsadaram, it's a Buddhist temple. As the name suggests, Wat Phra Kaew is home to the Emerald Buddha, making the temple one of the country's most spiritual destinations.
The ancient temple was established in 1784 and is found on the same grounds as the famous Grand Palace. The ancient temple's architectural style is unique, reflecting the history and designs of over two centuries ago. Besides being a Buddhist temple, Wat Phra Kaew also houses several artefacts for visitors to view.
Due to the temple being actively in use, you can only visit when it is not used for religious activities. Therefore, it is essential to make inquiries before travelling to the temple to ensure it is open to tourists.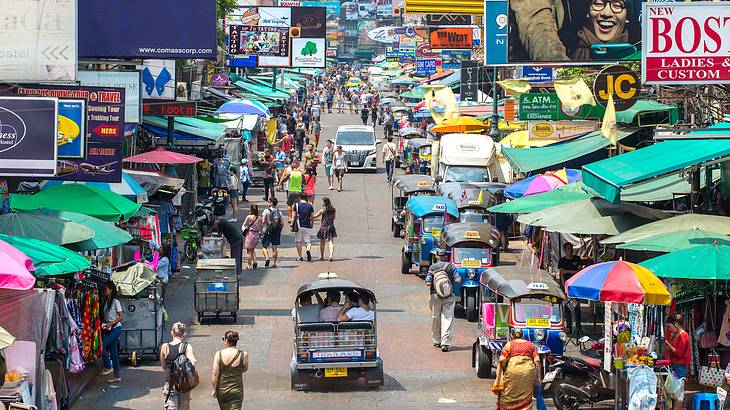 Explore Khaosan Road
Khaosan Road is a small road located in Bangkok. Despite its size, it is one of the busiest places in the city and the country! It is also one of the most famous places in Thailand for tourists and backpackers.
In the past, this location was used as a rice market, but it became home to a more diverse range of stalls over time. Along with market stalls, the street also features lots of bars and restaurants. Most of these are incredibly affordable and stay open until late.
Besides exploring the stalls, bars, and restaurants on Khaosan Road, you can visit Bangkok's National Gallery, which is located near the street. The National Gallery is one of the few museums in the country, so it is well worth visiting.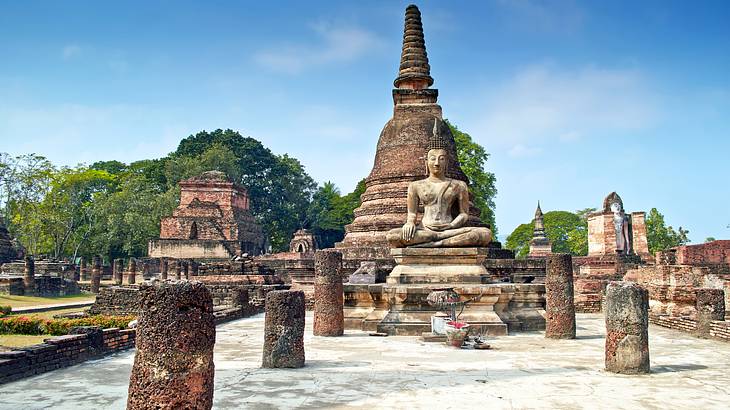 Visit Wat Mahathat
The Temple of the Great Relic, locally known as Wat Mahathat, is an ancient temple and famous Thai landmark located in Ayutthaya. Built in 1374, Wat Mahathat used to be the residence of the Supreme Patriarch.
It was also used to host many royal celebrations. Today, the temple is one of Thailand's most significant places where you can learn about Buddhism and meditation.
The ancient temple is known for housing a sandstone Buddha head sculpture tangled in a bodhi tree's roots. The Buddha head is linked with several stories, and while visiting, you will be able to learn some of these stories.
The Wat Mahathat is a temple of architectural and spiritual significance and should definitely be added to your Thailand bucket list.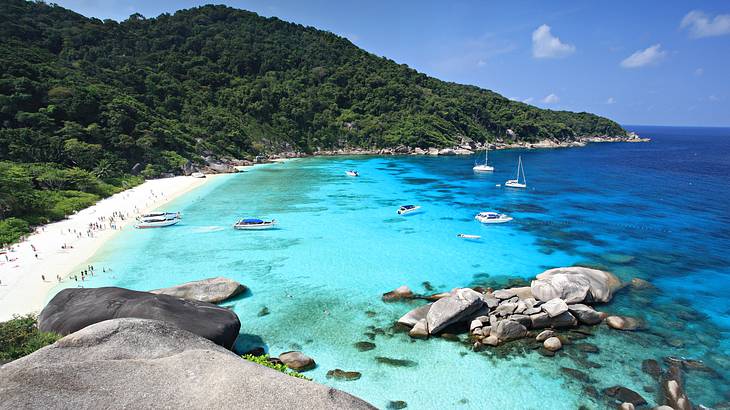 Scuba Dive in Ko Tao
You cannot travel to Thailand without including one of its beautiful islands on your three week Thailand itinerary. Ko Tao (also known as Koh Tao) is a great one to check out and is one of the country's most visited islands.
The island has many water-related activities available for visitors with the most popular being scuba diving. Ko Tao has more than 25 diving sites for you to explore. These diving sites can be reached by boat only, so it is important to keep that in mind.
If you are new to scuba diving, you have nothing to worry about because the island has multiple diving schools. The waters here are always calm, making your new journey into scuba diving easy and fun.
Ko Tao is also one of the few places in the world where you can get your Scuba diving certificate for a low fee. This is a result of the high level of competition between diving schools on the island.
The island also has a lot of perfect white sand beaches and stunning turquoise water. So even if you just want to relax on the beach, Ko Tao is the ideal location to do so.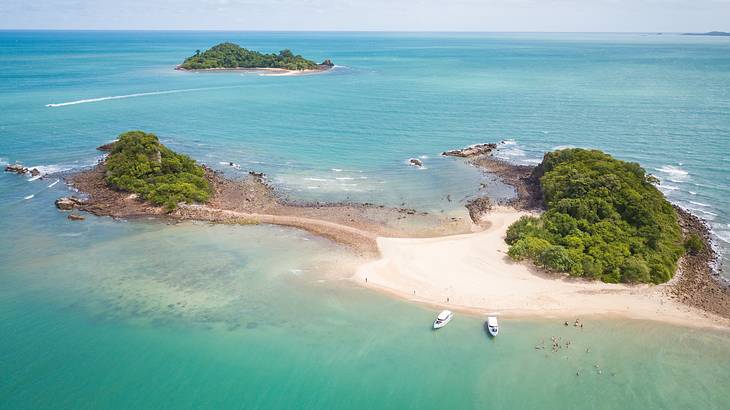 Relax in Ko Samet
Ko Samet (also known as Koh Samet) is another island in Thailand that deserves your attention while travelling in the country. Ko Samet is a large island close to Bangkok, making it easier to access from the capital.
Ko Samet is one of Thailand's best places to visit to relax and try some fun activities. The island is a perfect weekend destination, offering tons of beaches, restaurants, and bars.
Just like on many islands, there are a vast array of water-related activities at your disposal, including diving and snorkelling. If you are not a fan of water activities, you can hang out on the beach and at island bars and restaurants.
Explore Phang Nga Bay
Phang Nga Bay, also known as the Phang Nga National Park, is a stunning place to travel, especially by boat.
Most travellers overlook the Phang Nga Bay and instead head to its nearby neighbours of Phuket and Krabi. However, this destination is still worth visiting.
The island features beautiful secluded beaches and lagoons as well as caves and other scenic areas to explore. Phang Nga Bay is notably home to some famous islands like James Bond Island.
The best way to see the bay is by booking a boat tour. Using a boat for Phang Nga Bay is the most convenient and cheap way to do so.
The best time to visit is when weather conditions are most favourable between October and April.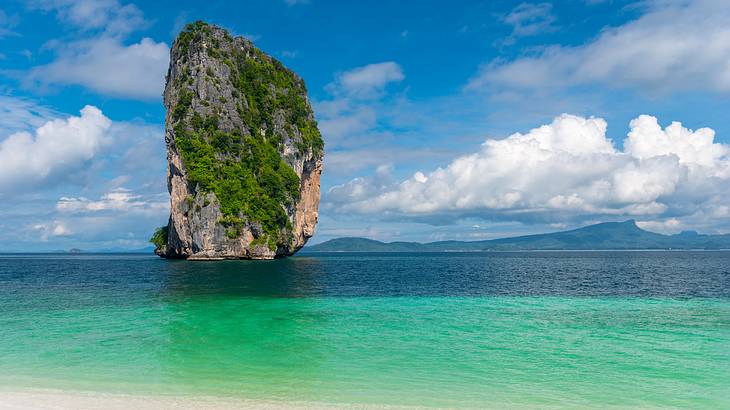 Discover Koh Poda
Koh Poda is one of the most popular islands in Krabi. It is about eight kilometres away from Ao Nang, and it is part of the Poda Group Islands with Koh Poda being the largest of them all.
To reach the island, you will have to take a 25-minute boat ride from Ao Nang's shores. Even though it is the biggest amongst the four islands, it is small enough to walk around and explore solely on foot.
When you arrive on the Island of Koh Poda, you will be met with beautiful white sand beaches and stunning turquoise ocean. This island is the perfect place for you to relax and take a break from the troubles of the world!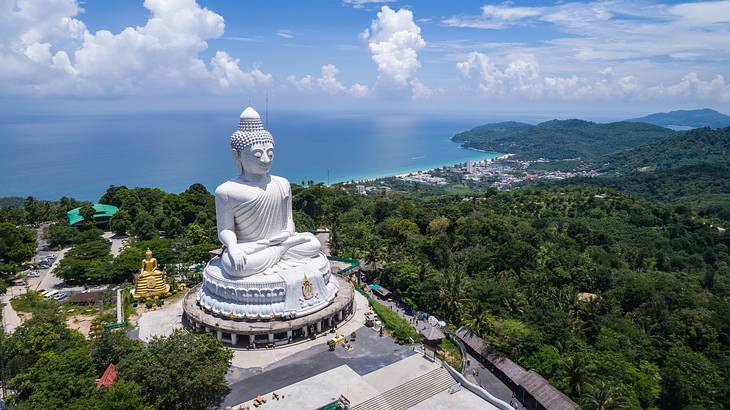 Be Amazed by the Big Buddha Phuket
The Big Buddha Phuket, whose official name is Ming Mongkol Buddha, is located on the top of Nakkerd Hills. Big Buddha is a majestic statue, and it is the most cherished monument in Phuket.
Today, the 148-feet statue has gradually become one of the most popular attractions for visitors when they travel to Thailand. Construction of Big Buddha began in 2004. The statue is dedicated to the King of Thailand, Majesty Bhumibol Adulyadej.
Next to Big Buddha, you will find a smaller Buddha statue which is dedicated to Queen Sirikit. The monument attracts millions of tourists annually.
In addition to being able to view the Asian monuments, you will be able to take in the view from the Nakkerd Hills, which is simply amazing. You must definitely consider adding the Big Buddha Phuket to your Thailand Bucket List!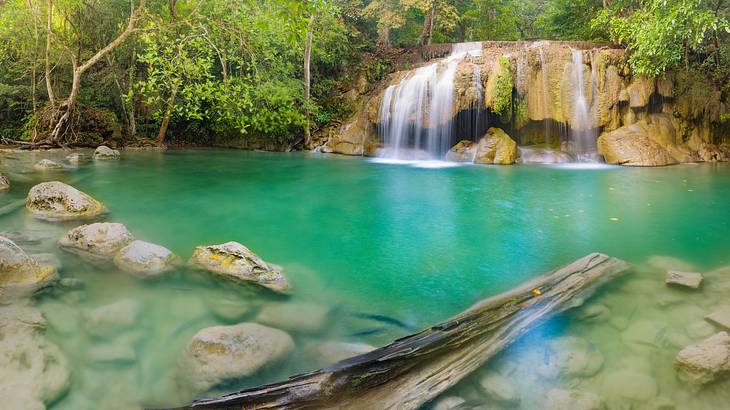 Trek Through Erawan National Park
Erawan National Park was founded in 1975 and is the 12th national park established in the country. It is located in Western Thailand in the Kanchanaburi Province.
The park covers an area of about 550-square kilometres. Erawan National Park is notably home to one of the most visited waterfalls in the country. The seven-tiered waterfall really is a sight to see!
The park also has multiple hiking trails, caves, and lakes for you to explore. The water here is so clear that you will be able to see the many fish that live in the lakes.
Exploring the Erawan National Park is one of the most amazing things to do in Thailand, but you must plan according to the weather. The best time to visit is when the weather is cool from November to January.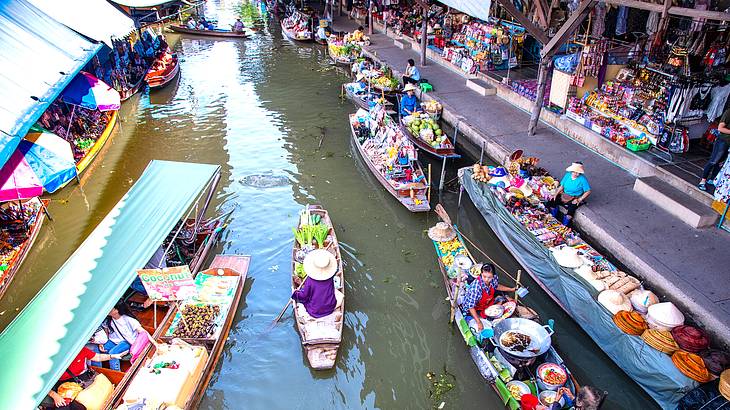 Visit the Floating Markets
The Floating Markets in Bangkok are one of the most well-known attractions in the city and country. As a traveller in Thailand, you should plan to visit at least one of these markets. The atmosphere of these markets is unique, and they will surely impress you!
There are many floating markets in the city, meaning that access to at least one market will be easy no matter where you are staying. Some of the popular floating markets are Amphawa Floating Market, Khlong Lat Mayom Floating Market, and Damnoen Saduak Floating Market.
Along with taking in the interesting atmosphere, you will be able to shop for souvenirs and try Thai dishes from street food stalls.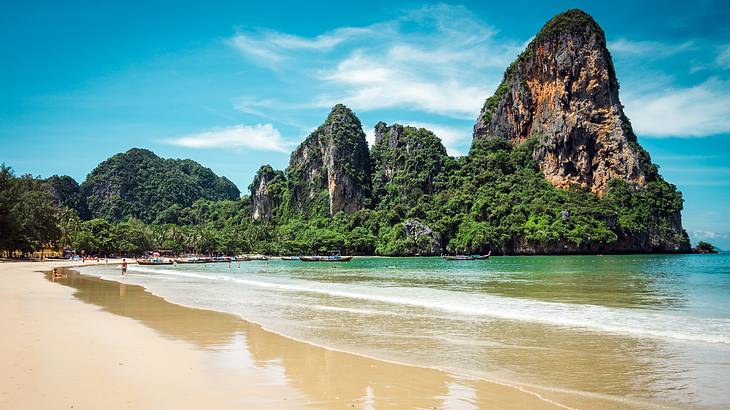 Hang Out at Railay Beach
Railay Beach is a beautiful Thai paradise and one of Thailand's most wonderful places for tourists to see. It is located between Ao Nang and Krabi. You can only travel to Railay Beach by longtail boat as it is cut off from the mainland due to surrounding limestone cliffs.
During your time here, you can relax on the sandy beaches, swim or kayak, and take in the breathtaking views surrounding the beach. Railay Beach is also the perfect romantic spot for couples.
Railay Beach is also one of the best places to stay in Krabi, and you can spend a night or two here if you want to enjoy more activities. Even though it may be crowded with visitors at times, it is a must-visit beach when in Thailand.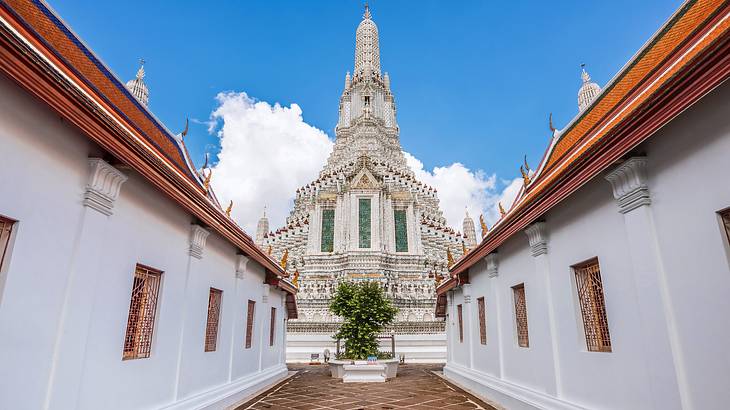 Wander Around Wat Arun
Wat Arun Ratchawararam means "Temple of Dawn" in Thai and was named after the Indian god of dawn Aruna. You may find, however, that the locals refer to the temple as Wat Chaeng.
The Wat Arun Temple is one of the most beautiful temples in Thailand, making it a must-visit. The temple is located on the west bank of the Chao Phraya River and was constructed in the 17th century. It has been renovated and renamed several times to make the experience even better for visitors.
The temple's architecture is simply exceptional, and I advise you to take your time to explore the entire temple. You will get to view intricate carvings and statues in bright colours. Even though it is called the temple of dawn, Wat Arun is also a fantastic place to watch the sunset.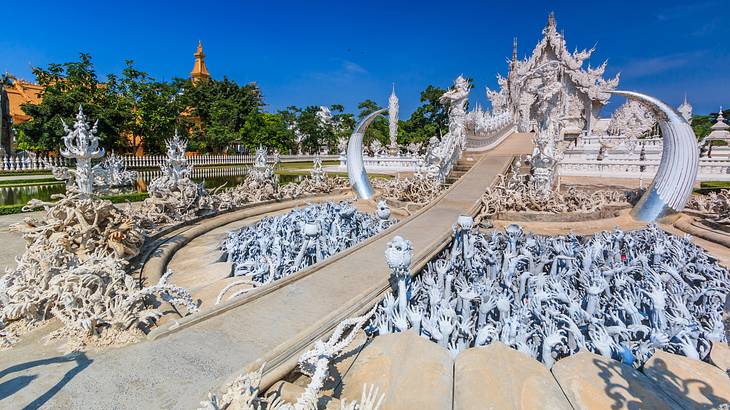 Visit the White Temple
The White Temple, popularly known as Wat Rong Khun, is a must-visit temple in Thailand. Wat Rong Khun is a Buddhist temple built between 1997 and 2008 as a project of Chalermchai Kositpipat.
Along with being an active Buddhist temple, Was Rong Khun also features an impressive art museum. The temple is located in Chiang Rai and attracts many visitors to the town.
One thing about the temple that stands out is its unique architecture and complete white appearance. Looking at the White Temple from the outside is breathtaking.
Some of the attractions to look out for when visiting the temple include the Gate of Heaven, the Bridge of the Cycle of Rebirth, and the Golden Building. The stunning Wat Rong Khun temple should definitely be included in your Thailand bucket list!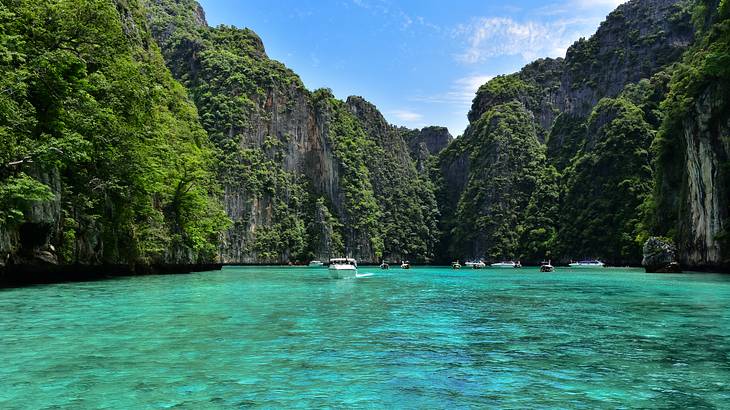 Spend Time on Koh Phi Phi Island
Koh Phi Phi is a famous island that grew in popularity when it was featured in one of Leonardo DiCaprio's hit movies "The Beach". The island has something to offer everyone, and it promises to be a relaxing, entertaining, and fun place to visit in Thailand.
The scenery of the Koh Phi Phi Islands is incredible, with amazing views from every angle. There are also lots of water activities to try including diving and snorkelling. Alternatively, relax on the tranquil beaches, try some beach yoga, or sail around the Phi Phi Islands.
The price of services here, such as bars and restaurants, is a bit expensive compared to other islands. But it is worth it to be able to enjoy this magical oasis. As for accommodation, you can get an air-conditioned bungalow for less than 50 USD, with dorm rooms on offer at about half that.
Exploring Koh Phi Phi is highly recommended as one of the best things to do in Thailand. The experience is sure to make your trip to the country more memorable!
Enjoy the MAIIAM Contemporary Art Museum
The MAIIAM Contemporary Art Museum, as the name suggests, is a contemporary art museum which is located in Chiang Mai. It was opened in 2016 and is the largest museum in the northern part of the city.
The museum showcases contemporary artworks by both renowned and upcoming artists from around the country.
Contemporary art is still growing a base of artists in Thailand since it only reached the country during the 1980s. Thus, the MAIIAM Contemporary Art Museum in part uses its exhibits to educate more people about contemporary art.
The MAIIAM Contemporary Art Museum is one of Thailand's best places to visit if you want to learn more about Thai contemporary art.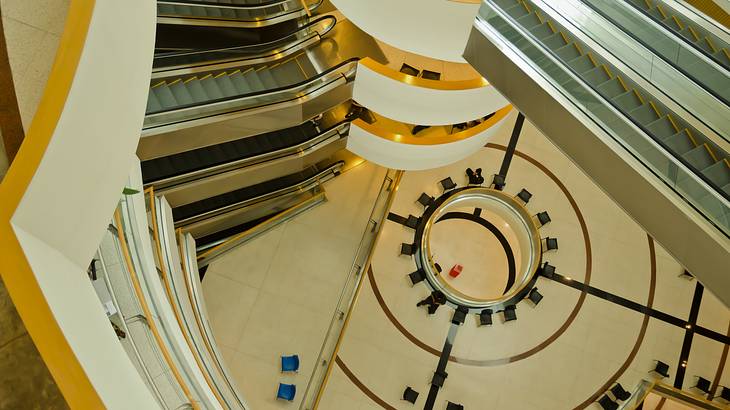 Get Inspired at the Bangkok Art and Culture Centre
Bangkok Art and Culture Centre opened in 2008 and is one of the few contemporary art centres in the country. It is the home of contemporary art, where creativity and beauty are showcased for lovers of art.
The arts and cultural centre offers a wide range of contemporary art, music, theatre, design, and film exhibits. They cover both pieces from Bangkok and the country at large.
The centre additionally hosts a range of events annually. Be sure to check out their website during your visit to see what events are on.
The Bangkok Art and Culture Centre also has performance spaces, cafes, public galleries, commercial art galleries, craft shops, and an art library for you to explore.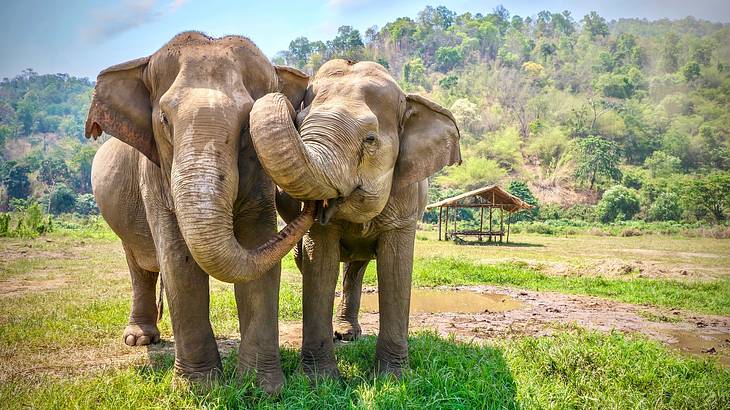 Help Animals at the Elephant Nature Park
Elephant Nature Park is a fantastic destination for you to visit when you travel to Thailand. The park, located in Chiang Mai, serves as a sanctuary and rescue centre for elephants and other Thai animals who face extinction.
Elephant Nature Park was established in the 1990s because of the worrying reduction in Thailand's elephant populations. Today, less than 5,000 elephants are living in Thailand. This makes the sanctuary very important in the fight to maintain and manage the country's elephants properly.
The park has strict guidelines against elephant rides, but you can go on walks with the elephants and feed them with food supplied by park staff. Along with visiting for the day, you can volunteer at the park.
As a volunteer, you get the chance to stay there for up to two weeks. During this time, you will have close interactions with the elephants' as you assist the staff in their activities.
All proceeds from your ticket purchase go towards the running of the park and related conservation efforts making so you can have a fun day and help Thailand's elephants!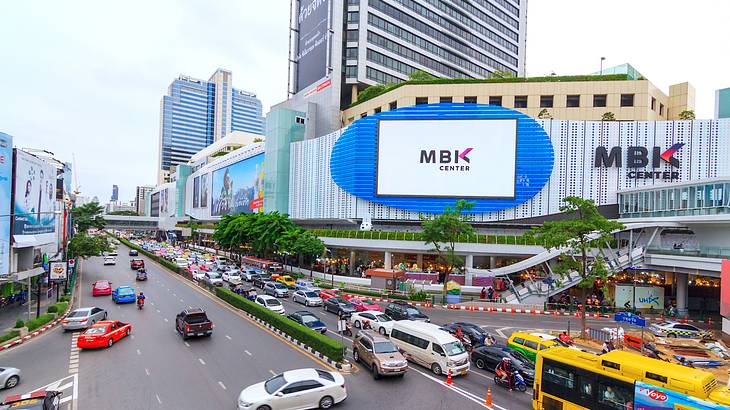 Shop at the MBK Center
The MBK Center (Mah Boon Krong Center) is a sizeable eight-story mall in Bangkok that attracts thousands of shoppers every day. It is a must-visit place in Thailand, especially for people who love shopping!
The mall is filled with over 2,000 shops giving you a large variety of options. This includes fashion stores, those selling tech and gadgets, souvenir shops, and many restaurants.
The mall is also home to a vast selection of affordable stores with very cost-friendly products for sale. It is the perfect place to pick up some gifts for friends and family back home, along with shopping for yourself.
The MBK Center is a place buzzing with a lot of activity, especially during the weekends. It is well worth checking out to take in the atmosphere and pick up some things to remember your trip by.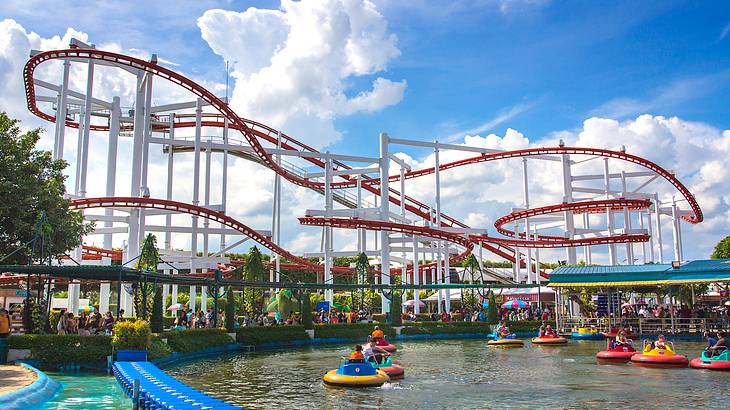 Have Fun at Bangkok's Dream World Amusement Park
There are two major amusement parks found in Thailand's capital, which are Siam Amazing Park and Dream World Bangkok. Among the two, Dream World Bangkok is the largest and most popular.
Dream World is the place to visit if you are looking for a fun place to take your family and friends when in Bangkok. Attractions include multiple rollercoasters and water rides as well as bumper cars, a haunted house, an animal park, and much more.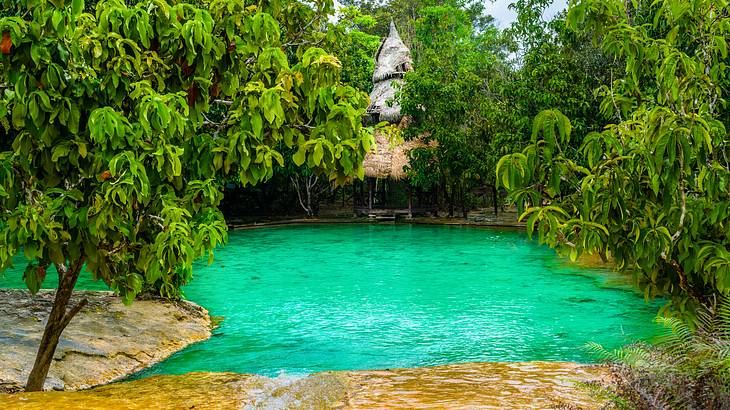 Swim in the Emerald Pool
Emerald Pool, also referred to as Sa Morakot by the locals, is a must-visit location while visiting the Southern part of Thailand. This beautiful crystal blue lagoon is located in the forests of Khao Pra-Bang Khram Wildlife Sanctuary.
The pool is about 100-square metres wide and two meters deep. A unique feature of the Emerald Pool is that its colour changes based on the temperature. The pool is safe for you to swim in, and taking a dip is the perfect way for you to refresh and relax.
You can access the pool by following a marked trail in the park. It is recommended to come here early in the morning or later in the day as it gets quite busy around midday. The Emerald Pool is a real beauty of nature that cannot be missed when you are in Thailand!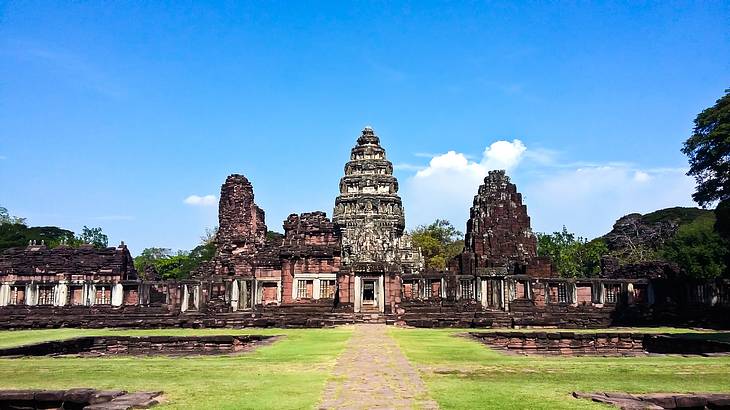 Visit Phimai Historical Park
Phimai Historical Park is an ancient temple dating back to the 10th century. It is a Buddhist temple, but its design also features many Hindu deities to signify their significance.
Despite being a popular tourist spot, Phimai Historical Park is a place in Thailand with fewer crowds than other tourist attractions. This allows you to have a relaxing as well as educative and fun visit here.
One of the main attractions at the temple is the Naga Bridge. It is believed that the bridge acts as a connection between the human world and the spiritual world.
Another attraction is the main gopura or gate, which represents Mount Meru, the gods' home. There are also several smaller temples alongside the Phimai Historical Park to explore.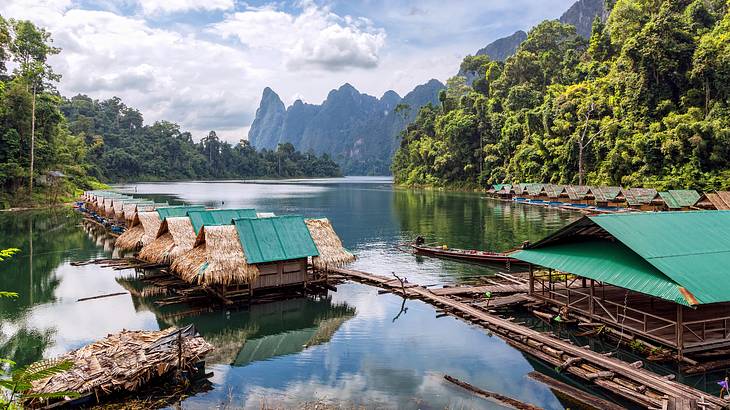 Explore Khao Sok National Park
Khao Sok National Park is one of the must-visit places in Thailand. The park is very extensive, covering up to 739-kilometres.
The park is home to various species of wildlife including elephants and tapirs. You will also discover jungle hiking trails, surrounded by striking views of nature. Additionally, be sure to visit the Cheow Lan Lake, where you can swim and kayak.
This national park is a fantastic destination for you to travel to! I especially recommend adding Khao Sok National Park to your itinerary if you are looking for a place in Thailand featuring untouched natural areas.
The park also features multiple hotels and eco-resorts, allowing you to stay in accommodation surrounded by beautiful flora and fauna.
The natural beauty of the park is truly a completely different experience. Its beauty is hard to explain, and it is something you need to experience it yourself!
Enjoy a Thai Massage
Thai massages are popular globally, but most people travelling to Thailand have little information on where to get a Thai Massage. Because of this, many complete their trip without experiencing the perfect Thai Massage.
Thai Massage is an ancient therapy that is more than 2,000 years old. It is still used today due to its effectiveness at relaxing clients and reducing muscle tension.
When you are travelling around the country, there is a probability of getting tired and feeling achy. You are especially likely to get sore feet. Getting a Thai Massage can help you feel much better!
You are sure to come across small local massage parlours. Or, you can visit a spa or resort offering Thai massage as one of their services. Bamboo Spa and Panpuri Organic Spa at the Hyatt in Bangkok are just some of the great places offering Thai massages in the country.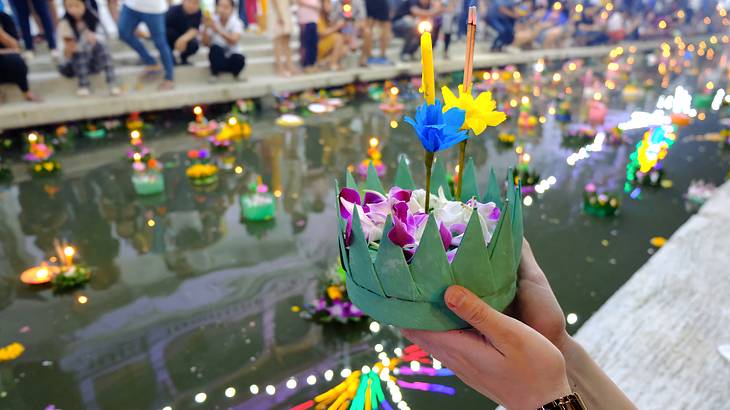 Attend a Thai Festival
Thailand hosts several unique festivals each year. As a visitor in the country, attending a unique Thai festival is a great way to interact with the locals. There are lots of options available depending on when you are travelling to the country.
All the festivals are organised according to the Lunar Calendar, so the dates change annually. Some popular Thai festivals to attend include the Songkran (The Water Festival) and the [Loy Krathong (Festival of Lights) and Yi Peng (Lantern Festival).
Although many people travel to Thailand to visit its beautiful islands, consider attending a festival to experience Thai culture. These festivals give you the chance to dance, drink, and entertain yourself with different but fun activities.
Sample Thai Cuisines
Thailand is known worldwide for its famous mouthwatering cuisine. While in Thailand, you must try as many dishes as possible.
A large majority of these will use fresh local ingredients and traditional recipes. While you may have had Thai food in your home country, Thai food from Thailand will be notably different and likely more delicious!
Most Thai cuisine features a combination of spices and herbs that produce complex flavours enjoyed by everyone. Fish dishes are very popular in Thailand, but meat and vegetarian options are highly available too.
Trying Thai cuisine is definitely one of the must-do things to do in Thailand! Some of the dishes you can try include Tom Yum Goong (Spicy Shrimp Soup), Phat Thai (Thai Stir Fry Noodles), and Tom Kha Gai (Chicken in Coconut Soup).
Some well-known restaurants include Anchan Vegetarian Restaurant in Chiang Mai and Blue Elephant in Bangkok. But wherever you go in Thailand, you are sure to find incredible Thai cuisine to try.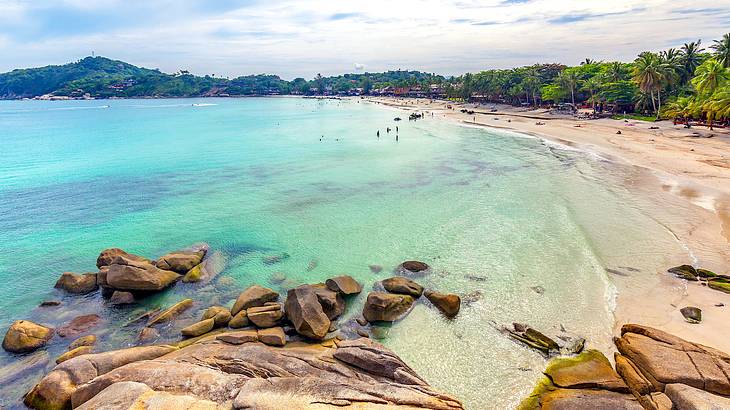 Experience a Full Moon Party at Ko Pha Ngan
The Full Moon Party is a world-renowned all-night beach party held on Ko Pha Ngan Island. The party takes place each month on the night of the full moon. Do check dates though as it is occasionally moved to the day before or after the full moon due to local holidays.
Travellers come from all over the world to enjoy this crazy party. The beach is lined with bar stalls selling a range of fun drinks and blasting dance music.
Partygoers are also encouraged to paint themselves with glow in the dark paint. Fire dancers and displays are on display too, adding to the wild and festive atmosphere.
Entrance is 100 baht. Due to the party's popularity, it is recommended to purchase tickets and reserve accommodation as soon as possible. Many also arrive early for pre-party festivities, and it is also recommended to have accommodation the day after the party as you will likely need to sleep in late!
In Conclusion
Thailand is an incredible country that features on a vast number of travellers' lists of must-visit locations. It is home to stunning islands and parks as well as bustling and atmospheric cities.
While in the country, there is also a range of bucket list activities to try, just some of which are covered here. There is no shortage of fun and memorable activities and attractions in Thailand, from visiting tranquil islands to shopping at floating markets and partying into the night.
Hopefully, this guide of 30 Thailand bucket list activities will help you plan your Thailand trip and keep you busy while there. Even if you can only cross off a few, you are sure to have an amazing and memorable trip!
Give us feedback about this article
Read more articles about Thailand:
More articles about things to do:
---
---
Want to keep exploring?
Subscribe for discounts on tickets and hotels and our latest guides.
Thank you for subscribing
We will be in touch soon with discounts on tickets and hotels and our latest guides.
Want to keep exploring?
Subscribe for discounts on tickets and hotels and our latest guides.
Thank you for subscribing
We will be in touch soon with discounts on tickets and hotels and our latest guides.
Related Articles