Where to Stay in Galway? 6 Best Places to Stay in Galway, Ireland
Destguides may receive commissions from purchases made through affiliate links in this article.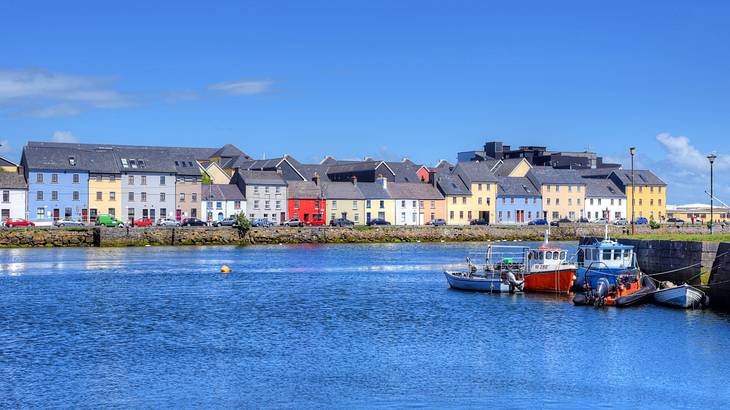 Can you honestly say you've been to Ireland if you haven't been to Galway? The truth is, no, you can't. Galway is a port city bursting at the seams with character that everyone should have on their must-visit list. Why?
Galway was elected the European Capital of Culture in 2020 and awarded the title of European Region of Gastronomy in 2018. Galway is also Ireland's festival capital. The St Patrick's Day Festival, the Galway International Arts Festival, and the Galway Oyster Festival are just three of the hundred or more events crammed into this city's annual agenda.
As well as the best places to stay in Galway City, this article wil introduce you to alternative places to stay in Galway County. Before you go, you should be aware that however long you're going to Galway for, it won't be long enough. Make sure to bookmark this article. It'll be just as useful for helping you plan your second visit as it will be your first.
Where to Stay in Galway?
County Galway Places to Stay Video
Check out our highlights video of County Galway places to stay.
County Galway Places to Stay Map
A map of County Galway. Use the map to explore all the places to stay.
Best Areas to Stay in Galway City, Ireland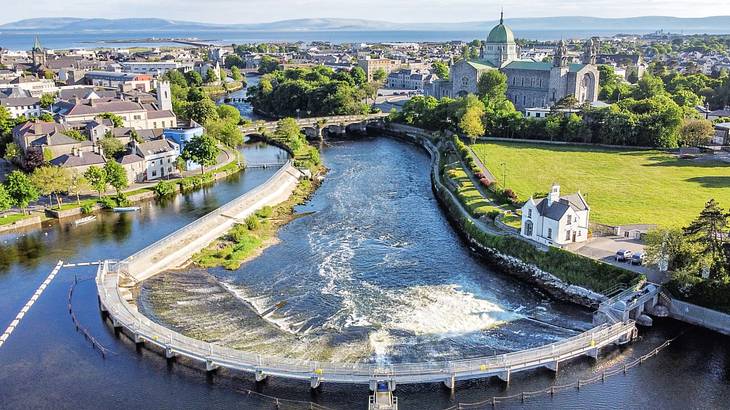 Galway City Centre
Galway City Centre is the heart of the city, packed full of top attractions and excellent Irish pubs! While exploring Galway City Centre, you'll find the Latin Quarter, where you can wander along narrow cobbled streets and discover unique shops.
The Galway City Museum is another can't-miss spot that allows you to delve deeper into the city's history. For a relaxing break, take a stroll along the River Corrib, which runs through the city center. In the evening, you'll want to head to Eyre Square, Galway's nightlife hub. This area is full of bars, pubs, and eateries that serve classic Irish dishes.
Galway City Centre is ideal for anyone who loves historical places but also enjoys a good night out. Finding somewhere to stay that suits your budget won't be hard either, as there's everything from deluxe five-star hotels to economical hostels.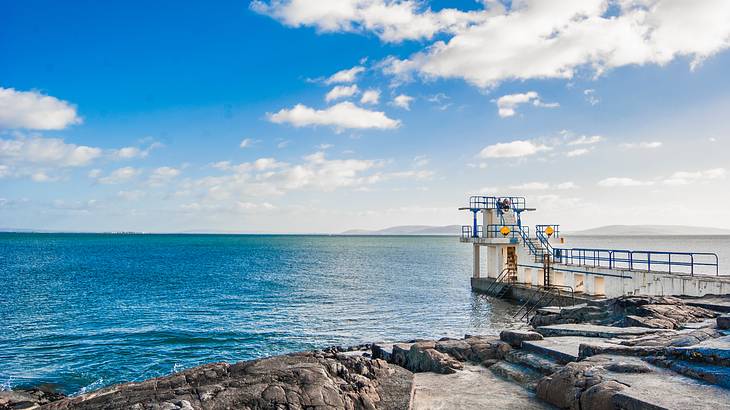 Salthill
Salthill is a seaside resort three kilometers from Galway City Centre. As it's so close to the city center, think within walking distance, it's buzzing with locals and visitors pretty much all year.
What makes Salthill so popular? Ladies Beach, Grattan Beach, and the lengthy Salthill Promenade with panoramic views of Galway Bay. Add to those Salthill's fairground, Curry's Fun Park, and the Omniplex multi-screen cinema, and it's not surprising visitors flock to this resort.
After exploring the attractions, you can visit a beachfront bar to sip a cocktail while watching the sunset. Follow drinks with dinner at one of many excellent restaurants, and you'll be making holiday memories that will last a lifetime!
Salthill is the best neighborhood to stay in Galway when you want to be close to the city but have some resort-style fun too. It's especially loved by families due to its many kid-friendly attractions. Accommodations here vary from small and friendly B&Bs to boutique townhouses and larger hotels with family-sized rooms.
Best Places to Stay in County Galway, Ireland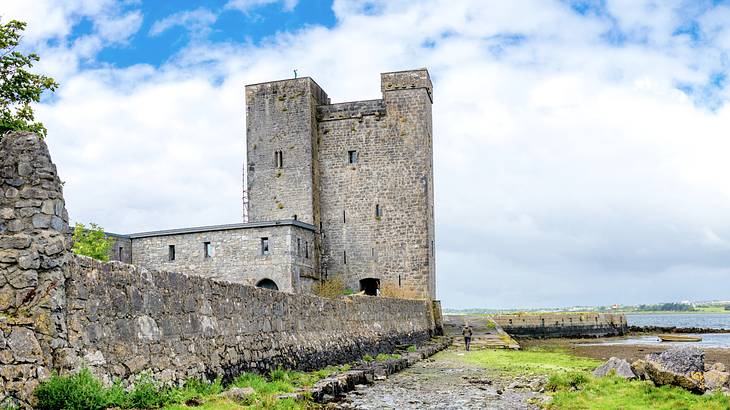 Oranmore
Oranmore is a quiet, rural town 10 kilometers east of Galway. Stay here, and you can forget about the hustle and bustle, as life in Oranmore has a more relaxed pace.
Part of Oranmore's charm is its 15th-century tower house, Oranmore Castle. This Irish landmark is a magnet for historians and photographers. Do note that it can only be seen from the outside, and entering the castle is not possible.
Oranmore isn't just about history and picturesque bay scenery, though. Cregganna Marsh (Natural Heritage Area), on the outskirts of Oranmore, is a wildlife haven ideal for anyone who wants to go bird spotting. For those who like to tee off on their holidays, this town's 18-hole golf courses will prove to be a memorable challenge.
Do note that the accommodations in Oranmore are not the budget kind. If you're backpacking, you'll want to investigate a different option. That said, the lodges and coach houses in Oranmore do have a certain amount of irresistible Irish charm, making it worth the slightly higher price tag.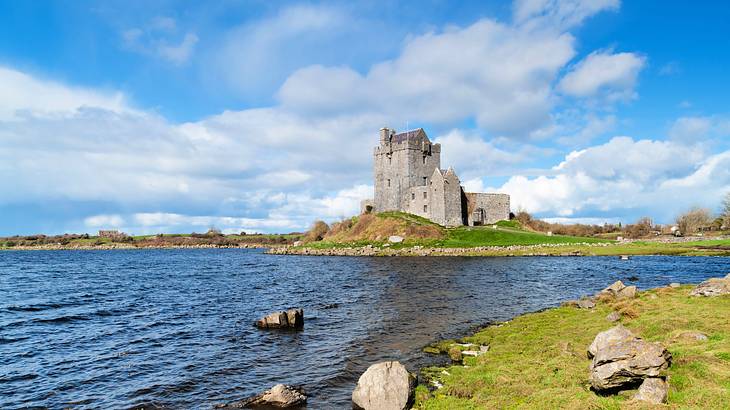 Kinvara
Kinvara is the best place to stay in Galway County when you want to immerse yourself in the epitome of Irish quaintness. This coastal village, 30 kilometers south of Galway, sits at the head of Kinvara Bay, where it lines the shore with rows of colorful cottages. Boats still anchor in the harbor here, too, even though it's no longer a working port.
Kinvara's most outstanding feature, and one that's hard to miss, is Dunguaire Castle. The 16th-century castle is remarkably intact and hosts medieval-style feasts during the summer. Hiking the trails around the bay is a popular pastime, and many walkers use Kinvara as a base when planning to trek through Burren National Park.
Think small and friendly, and you'll conjure the right impression of Kinvara and its accommodations, with B&Bs and guesthouses run by locals the primary options. For nightlife, don't expect more than a pint in the local pub; however, the relaxed atmosphere and chance to mix with locals will make you forget all about the more lively nightlife found elsewhere!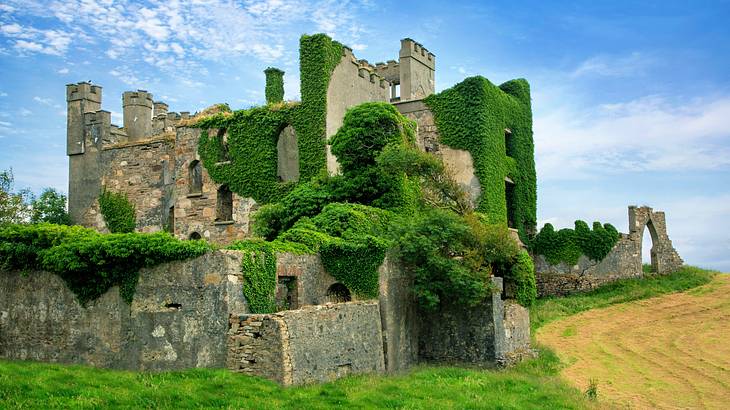 Clifden
Clifden is around 80 kilometers west of Galway and is the largest town in the region of western Ireland known as Connemara. Surrounded by low-lying mountains and intersected by the Owenglin River, Clifden is about as picturesque as Irish towns get.
Clifden earned its place in history in 1919 when it became the landing place for Alcock and Brown's famous flight across the Atlantic. Rather than take to the air, these days, most visitors to Clifden prefer to drive the 30-minute scenic route, the Sky Road, to see the countryside and coastal views.
This is the best area in Galway to stay to explore the hiking trails in the 2,000 hectares of the Connemara National Park. As well as hiking, you can participate in adventure sports like mountaineering, scuba diving, surfing, and sailing.
In and around Clifden, there are reasonably priced farmhouse-style B&Bs and lodges, as well as economical three to four-star hotels. You can even sleep in an Irish castle if your budget will stretch that far.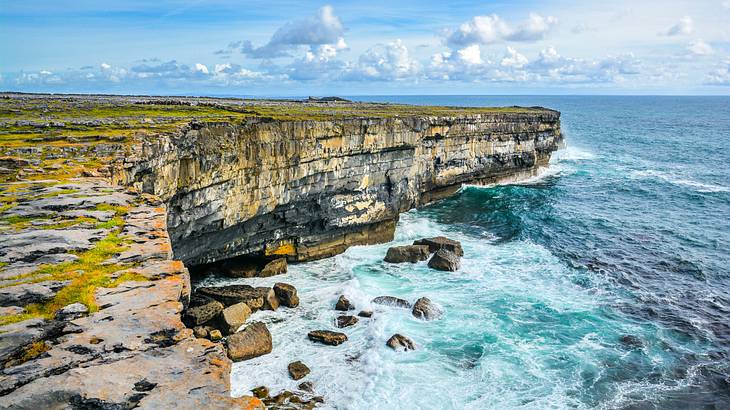 Aran Islands
The Aran Islands are a three-island archipelago off the Galway coast. If you truly want to escape civilization, the Aran Islands are the best location to stay in Galway County.
Things that attract visitors to the Aran Islands include the area's remoteness and rugged natural beauty, its abundance of wildlife, and the ancient stone fortresses that decorate the landscape. To get around, you must cycle, hike, or take a guided tour. No vehicles from the mainland are permitted on the islands.
Of the three islands, Inishmore is the largest and most visited. All the islands are accessible by ferry from Galway, and each has a limited range of accommodations if you want to stay for a few days.
Where to Stay in Galway, Ireland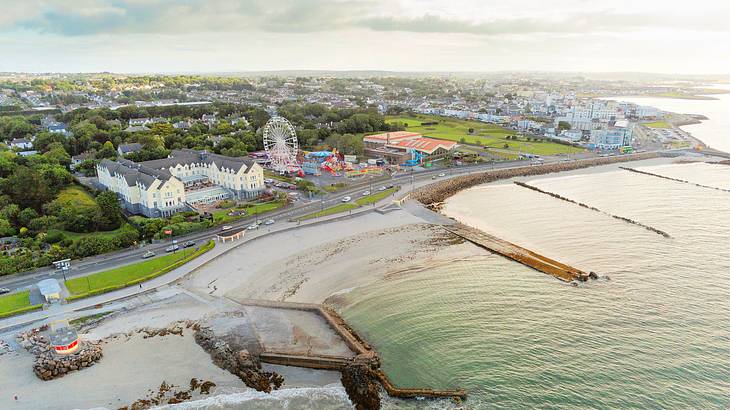 Where to stay in Galway with family?
When you're going to be traveling to Galway with kids, Salthill should be top of your list of places to stay. This beach location has everything to keep kids entertained.
In Salthill, kids can let off steam on the beach or in the pool complex of Salthill's leisure center. They'll be thrilled with the rides in Curry's Fun Park and, even if it's rainy, can spend hours watching movies at the Omniplex cinema.
It's only a 15-minute walk into Galway City Centre from Salthill. That's not far to go if you need a change of scenery or want to take the kids to see sights like the Spanish Arch.
You'll find Clifden is great for families, too, especially if your kids are older and love adventure sports or want to give them a go. The cafes and restaurants in Clifden are family-oriented and reasonably priced, so treating them with meals out won't cost you a fortune.
Where to stay in Galway for first-timers?
The best area to stay in Galway for anyone going for the first time is in the city itself. Galway City Centre is where it's all happening even when there's not a festival.
A big plus for staying in the city is that you won't waste half your day on public transport or searching for a parking space. You'll maximize your time for sightseeing main attractions like Galway Cathedral and the Long Walk.
You'll also be in the right place for shopping and exploring the Latin Quarter, which is a must-do. You can additionally make the most of the bargains to be found at the local markets.
Lastly, Galway wasn't named a European Region of Gastronomy in 2018 for nothing. The city's food scene is second to none, and staying centrally allows first-time visitors easy access to some of the area's top restaurants.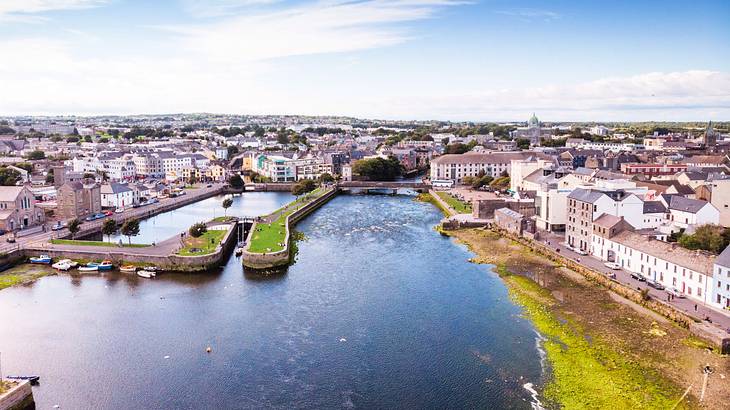 Where to stay in Galway on a budget?
You might be surprised to discover that Galway City Centre has plenty of budget-friendly accommodations. On the streets leading off from Eyre Square, one of the city's main hubs, you'll find plenty of low-priced hostels and guesthouses.
The square is lined with trendy cafes and lively pubs with live music. As an added bonus, Eyre Square is close to Galway's train and coach stations, plus the shuttle bus pick-up point for the Aran Islands ferry is a three-minute walk away.
When you want to escape the hubbub of the square, head for The Line, a railway-side hiking trail that runs parallel to one of the city's lakes.
Where to stay in Galway for nightlife?
If you're hoping to have a wild night out when you're in Galway, you need to be in either the city center or in Salthill. The seaside resort of Salthill is Galway's exciting nightlife hotspot, with something for all tastes. You can find everything, from sophisticated cocktail bars to proper Irish pubs, where you can enjoy local brews, live music, and a vibrant atmosphere.
When it comes to Galway City Centre, the streets around Eyre Square are the best for nightlife. You'll discover an array of pubs and bars to stop at for a drink, or you could even do a pub crawl. If you aren't ready to call it a night after that, there are some nightclubs where you can dance until two in the morning.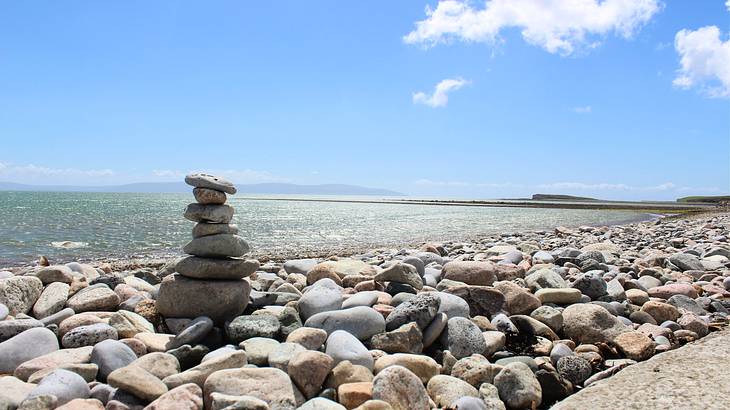 Where to stay in Galway near the beach?
If you're wondering where is the best place to stay in Galway to be near the beach, Salthill is the most obvious answer. However, it's not the only option.
Salthill is Galway's seaside resort and is everything you would expect of one. Beaches, a seafront promenade, water sports facilities, and an amusement park are all located here. Salthill attracts many visitors, so if you're looking for somewhere quiet, this might not be quite right for you.
Another place to consider is Traught Beach on the outskirts of Kinvara. This coastal village south of Galway is less developed than Salthill but is still an excellent area to stay, especially if you want a relaxing getaway.
Traught Beach is an expanse of sand and shingle lining Galway Bay that is ideal for sunbathing and popular with wind and kite surfers. Here you'll be able to enjoy some peace and tranquility as well as hike some scenic trails if you feel inclined.
In Conclusion
Now that you know all about the best places to stay in Galway, nothing can hold you back from packing your bags and exploring this charming Irish destination. Whichever area of Galway you decide is right for you, your stay there will be perfect and memorable.
If you miss out on seeing any of the top sights, don't worry, you can always go back again. In all honesty, one visit to Galway just isn't enough, so be prepared to repeat the experience because you'll want to go back time and time again!
Give us feedback about this article
Read more articles about Ireland:
More articles about places to stay:
---
---
Want to keep exploring?
Subscribe for discounts on tickets and hotels and our latest guides.
Thank you for subscribing
We will be in touch soon with discounts on tickets and hotels and our latest guides.
Want to keep exploring?
Subscribe for discounts on tickets and hotels and our latest guides.
Thank you for subscribing
We will be in touch soon with discounts on tickets and hotels and our latest guides.
Related Articles