Where to Stay in Palermo, Sicily - 7 Best Areas & Hotels
Destguides may receive commissions from purchases made through affiliate links in this article.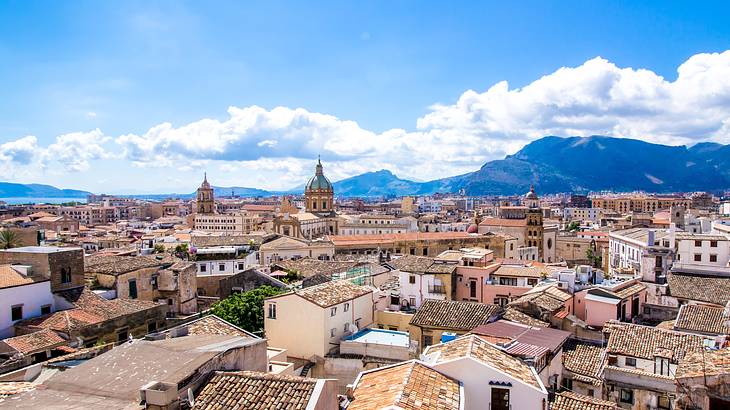 Palermo is one of the most visited cities in Sicily, and for good reason. From history to culture, there's something for everyone in this corner of Italy. However, before you can pack your bags, you have to figure out where you'll stay.
Palermo's older neighborhoods are the best option if you plan on sightseeing. However, if you intend to soak up the sun while on vacation, you'll likely want to opt for one of the neighboring coastal towns instead.
Whether you're planning a family vacation, a couples getaway, or a solo trip, keep reading to find out everything you need to decide where to stay in Palermo!
7 Best Places to Stay in Palermo, Sicily
Best Areas to Stay in Palermo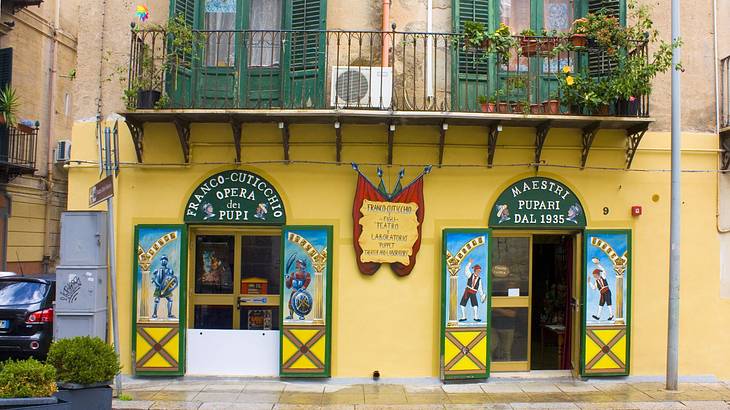 Borgo Vecchio
If you want to dive into Palermo's history and culture, Borgo Vecchio is an excellent option for your vacation. As an area in the historic part of the city, it's nearby some of the biggest sites like the Teatro Politeama Garibaldi and Piazza Vigliena.
However, even if you're visiting Palermo for a business trip and don't plan on doing much sightseeing, Borgo Vecchio is still worth considering. Palermo is quite walkable, so you can take advantage of the relatively cheap lodging options here and still explore other neighborhoods easily.
There are multiple hotels in Borgo Vecchio. They range from simple accommodations that offer the bare minimum amenities at a very low price to more luxury options. There are vacation apartments to book as well.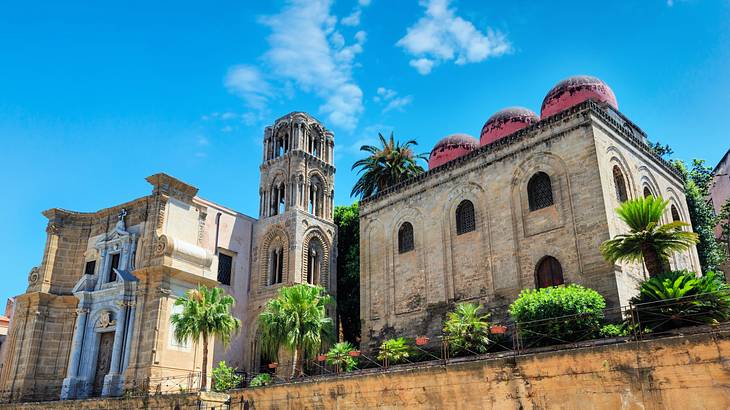 La Kalsa
No matter what sort of traveler you are, La Kalsa might be the best area of Palermo to stay during your trip. That's mainly because it's one of the city's most eclectic spots.
Culturally, it's one of the most historic areas. Palazzo Abatellis, for example, houses Renaissance-era paintings. Additionally, Santa Maria dell'Ammiraglio church is known for its Byzantine mosaics, which have earned it the title of UNESCO World Heritage Site. The Fontana Pretoria can also be found in this area, located in Piazza Pretoria, in the center of Palermo.
Even if you aren't a history buff, art lover, or sightseer, you can still appreciate La Kalsa. In the evening, the area turns into a lively district full of music as Palermo's young crowd frequents the neighborhood cafes and restaurants.
Hotels in La Kalsa tend to be relatively affordable, but they're not the cheapest in the city. Accommodations here also tend to be small since most buildings are older with limited rooms.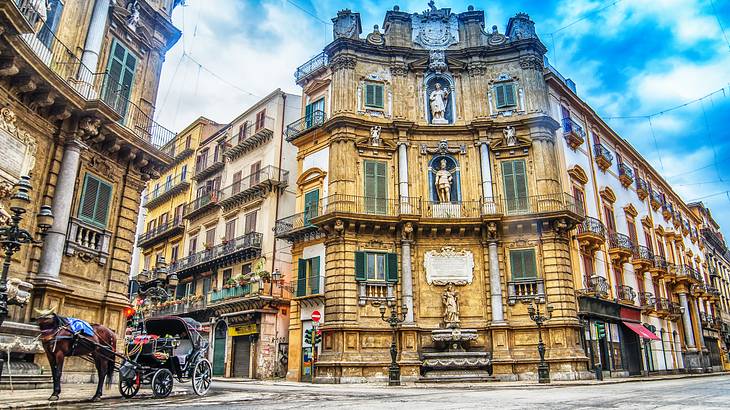 Monte di Pietà
If your trip to Palermo is part of a Sicily itinerary that involves traveling around the region, you'll likely want to see as much as possible in a short time. Monte di Pietà is an excellent option for short getaways to the city.
This neighborhood is one of Palermo's oldest, with the most culture and history. For that reason, locals call it "Il Capo," which means the captain. Being one of the most historic areas in Palermo, it has some of the area's most important sites.
The Cattedrale di Palermo, for example, is one of the most visited churches in Sicily for its Arab-Norman architecture. Via Vittorio Emanuele, on the other hand, is a favorite place to pick up souvenirs.
You can find lodging options to fit various budgets but don't expect large hotels with dozens of rooms. If you're traveling with a group, you may want to opt for an apartment or town home rental. Otherwise, you'll have to make peace with the fact that your group might have to split up if you visit during the busy summer season.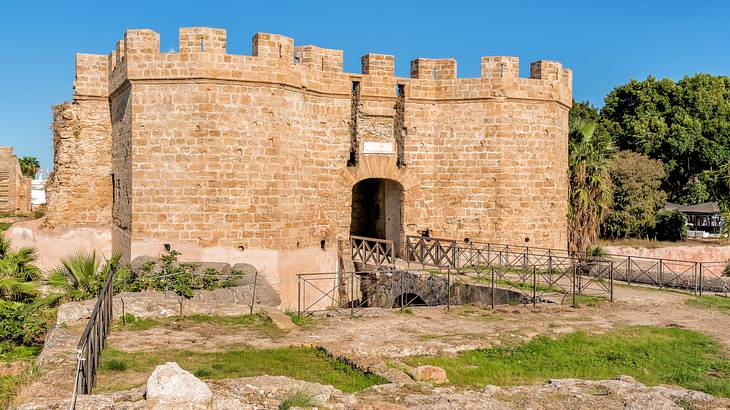 Castellammare
Castellammare has the honor of being one of the first established neighborhoods in the city. So, if you want to surround yourself with local culture, it's the best location to stay in Palermo.
Though it's a relatively small neighborhood, it's densely populated, with around 5,000 residents, making it a very authentic area. However, that also means Castellammare is prone to crowds and noise. That's especially true during the summer when the tourist season is busiest.
If you don't mind the bustle of people, there are plenty of reasons to stay in this neighborhood. For one, hotel prices tend to be pretty cheap here. Many of the lodging options are on the older side, so they may not have amenities like air conditioning or on-site restaurants, but that brings their costs down.
There are also numerous sites to see in this part of the city. The neighborhood gets its name from Castello a Mare, which historically guarded the port. You can also wander around to find the numerous fountains adorning the streets or visit the region's archeological museum.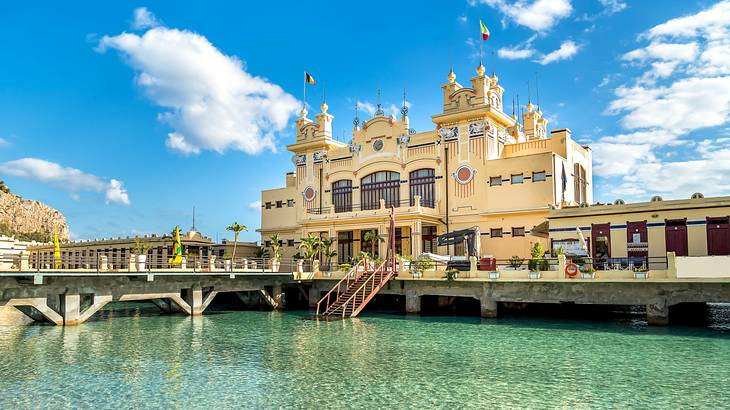 Mondello
Located just outside of Palermo's main city, Mondello is a slightly smaller area known for its blue water and sandy beaches. So, if you want to work on your tan while visiting this part of Sicily, Mondello is the top place to go.
This area is a great place for multiple types of visitors because it can be further divided into districts. The area by the beach is the liveliest, especially during the summer when people are surfing and tanning all day. While walking along the waterfront, check out the pier and its Art Nouveau pavilion for some pictures.
Foodies love Mondello Paese, the district a bit further inland, which was once home to the town's fishermen but now has the best restaurants. Instead, if you're more of an outdoorsy person, make sure you check out the Riserva Naturale di Capo Gallo to do some hiking.
Mondello offers a wide variety of lodging options. You can find apartment rentals, small inns, and larger resorts. So, there's something for virtually any type of traveler and budget. However, some of these establishments close in the winter when tourism drops.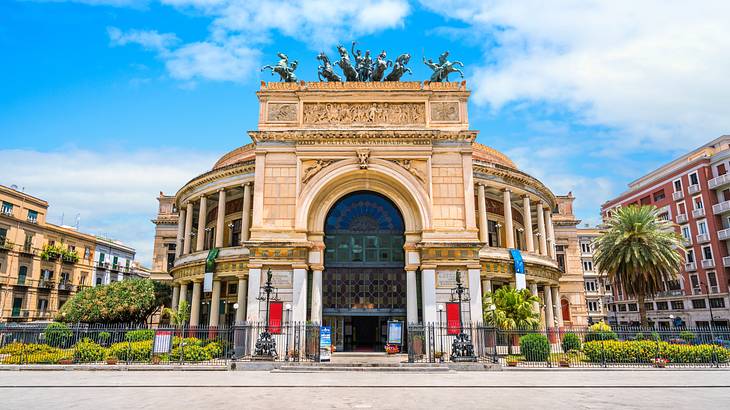 Politeama - Libertà (Downtown Palermo)
If you're planning a luxury vacation, Politeama - Libertà is the best area in Palermo to stay. This district is known for its high-end shops, unique boutiques, and fine dining options.
That luxury ambiance also carries over to the hotel options in the neighborhood. While you can still find relatively affordable rooms here, they're generally more expensive than the rest of the city. Traditional hotels are also more common compared to vacation rentals. So, booking multiple rooms can get expensive when traveling with a group.
One big reason people might prefer Politeama - Libertà to other neighborhoods, even if it's more expensive, is the sightseeing. If you'd consider yourself an art-lover, the Parco Piersanti Mattarella is home to numerous statues and fountains interspersed in its greenery. Instead, if you prefer the performing arts, Teatro Politeama Garibaldi hosts the Sicilian Symphony Orchestra concerts.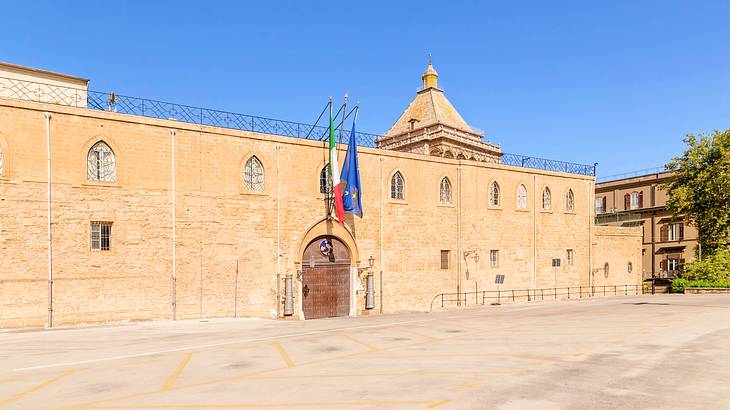 Albergheria (Old Town)
Since Albergheria was one of the first four neighborhoods formed in Palermo, it can be found at the heart of the city's Centro Storico. Its location in the area's historic district makes it an excellent spot for a diverse array of travelers. History lovers can visit the Palazzo dei Normanni, also referred to as Palazzo Reale, the historic seat of power when Sicily was its own kingdom.
However, since Albergheria continues to be a busy neighborhood, it's also a great way to get in touch with Palermo's contemporary culture. Just stop over to Via Ballarò to grab some food at the street market and walk around browsing shops and exploring the winding narrow streets.
You can find hotels in Albergheria to suit multiple budgets. However, many smaller and cheaper hotels offer limited amenities. So, if you need reliable Wi-Fi, air conditioning, or on-site dining, you'll likely have to opt for one of the slightly more expensive lodging options.
Where to Stay in Palermo, Sicily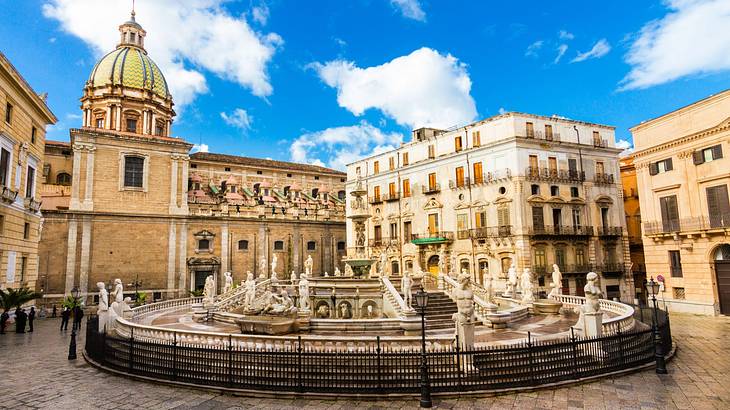 Where to stay in Palermo with family?
When planning a family trip to Palermo, there are two top options to choose from. If you want to stay in the city, La Kalsa is the place to pick. Whereas if you don't mind commuting a bit to get into the downtown area, Mondello is the best.
La Kalsa is one of the city's most diverse neighborhoods, so there's something to interest anyone in your family, whether you're traveling with kids, teens, or adults. You can visit the Santa Maria dell'Ammigraglio World Heritage Site, try new food, and admire the life-size statues in Fontana Pretoria, all without leaving the district.
Mondello, on the other hand, offers a more relaxed atmosphere. It's still lively, and there are plenty of restaurants and shops to visit. Because it's primarily a beach location, you can also find time to lay out on the sand and relax.
Where to stay in Palermo for first-timers?
When deciding the best area to stay in Palermo for your first trip, try to stick to Centro Storico, which is the Historical Centre of Palermo. These areas are where you'll find some of the most famous landmarks in Italy.
In particular, you'll want to stick to the Quattro Canti, which refers to the four original neighborhoods that first made up the city. These neighborhoods are Albergheria, Monte di Pietà, La Kalsa, and Castellammare.
All four of these neighborhoods converge on a single square, Piazza Vigliena, making them highly walkable. They're also near the water, which is convenient if you're arriving on the island by boat.
However, don't assume these areas are quiet just because they're ancient. There are still active communities that live here, and the added tourists during the spring and summer seasons can make the area a bit crowded.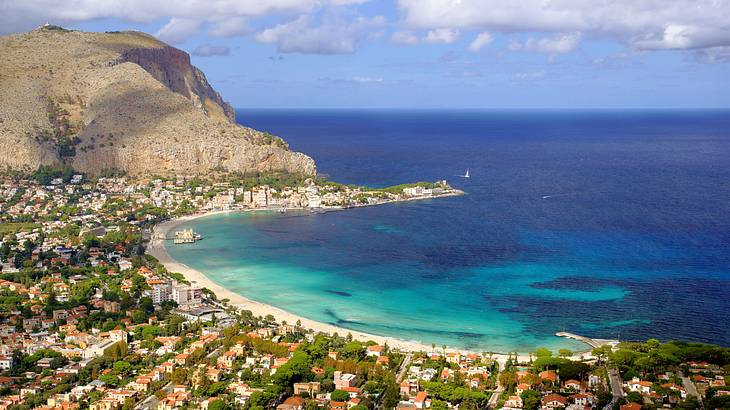 Where to stay in Palermo near the beach?
If you want to make sure you spend some time at the beach while visiting Palermo, staying in Mondello is recommended. While technically outside of the main city, this coastal town is still within the Palermo Metropolitan Area.
Mondello is known for its long stretches of sandy shoreline, so there's enough space for you to have whatever type of day at the beach you want. You can try more adventurous activities like surfing, or you can relax on a towel in the sun.
Keep in mind that Mondello is about 20 minutes away from Downtown Palermo. So, if you want to do any sightseeing, you'll need to rent a car or take public transport, like the approximately 15-minute train ride or the hour-long bus journey, which are the more affordable options.
Where to stay in Palermo on a budget?
For budget travelers, Castellammare is the best place to stay in Palermo. This neighborhood offers a nice balance between what you get by staying here and how much it costs. Being in the historic part of Palermo means you're within walking distance of most sites, including the Castello a Mare from which the district gets its name.
However, this isn't just a tourist area; it's also a residential neighborhood. You can find numerous affordable cafes and restaurants, as well as grocery stores, so you can stretch your vacation funds even further.
Hotels here are pretty inexpensive in general. They aren't the most modern and may lack some of the comforts you might be used to, but they're a great option if you don't plan on spending too much time in your room.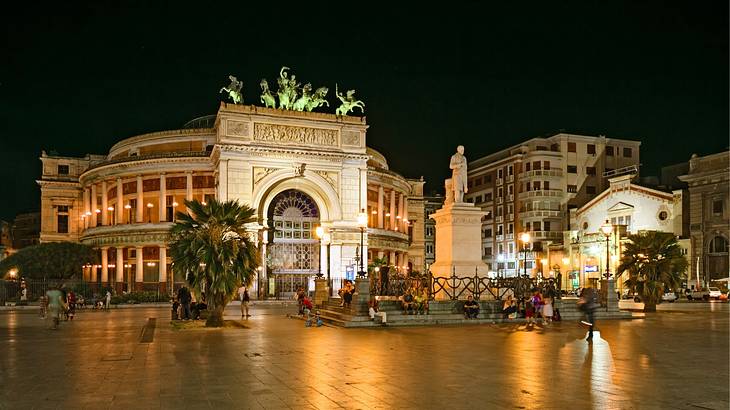 Where to stay in Palermo for nightlife?
It's hard to pick the best neighborhood to stay in Palermo when it comes to nightlife. Depending on the sort of night owl you are and when you're visiting, there are different options that might suit you.
Politeama - Libertà is the top choice if you want to spend your evening taking in a show or trying high-end bars and restaurants. On the other hand, La Kalsa has a more laid-back atmosphere with late-night cafes and people walking around, especially during the warmer months.
Mondello is another excellent option if you don't mind staying a little outside of the main Palermo area. Since it's a resort town, going to dance clubs, parties, or bars here will allow you to meet people from around the world.
However, it's worth noting that Palermo's primary tourism season spans between April and September. In the fall, a lot of businesses change their hours and may close earlier, open infrequently, or close altogether until the spring.
Where to stay in Palermo with a car?
If you plan on having a car while you're visiting Palermo, you'll want to stay outside of the main city. That way, you'll have a better chance of finding parking overnight without mistakingly driving through a limited traffic zone, often abbreviated as ZTL.
In cases like this, Mondello is a good option. It's about 20 minutes away from Downtown Palermo, so you won't spend too much time commuting. This also allows you to explore some other towns that fall within the Palermo Metropolitan Area.
Alternatively, you could opt to stay in the newer districts rather than the historic ones. The neighborhoods around the Foro Italico sports complex tend to have a little more space and are more accessible for non-locals to navigate.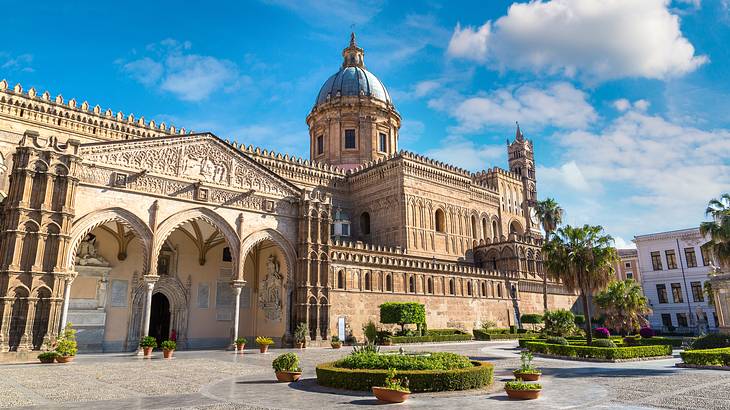 Where to stay in Palermo without a car?
The entire Centro Storico district is the best place to stay in Palermo if you don't want to deal with driving while you're here. Staying in the Historical Centre of Palermo gives you access to most of the major sites. Teatro Massimo, Palazzo dei Normanni, and the Cattedrale di Palermo are just three of the numerous monuments you reach on foot while staying here.
Palermo also has a tram and bus system which connects the neighborhoods in the new and old parts of town. So you can still venture to other districts. If you don't feel comfortable navigating public transportation, you can always call a cab or rideshare, meaning there's no real need to have a car to get around.
In Summary
Palermo is a diverse place with a lot to offer, and that includes its neighborhoods. Whether you're looking for an eclectic area like La Kalsa or you prefer the glamour of Politeama - Libertà, there's a neighborhood fit for your trip.
Hopefully, this list has helped you figure out what sort of traveler you are, so you can be one step closer to taking the Palermo trip of your dreams. Now you just have to pick a date and pack your bags!
Give us feedback about this article
More articles about Sicily:
Read more articles about Italy:
More articles about places to stay:
---
---
Want to keep exploring?
Subscribe for discounts on tickets and hotels and our latest guides.
Thank you for subscribing
We will be in touch soon with discounts on tickets and hotels and our latest guides.
Want to keep exploring?
Subscribe for discounts on tickets and hotels and our latest guides.
Thank you for subscribing
We will be in touch soon with discounts on tickets and hotels and our latest guides.
Related Articles