The Best 3 Days in Florence Itinerary for First-Timers
Destguides may receive commissions from purchases made through affiliate links in this article.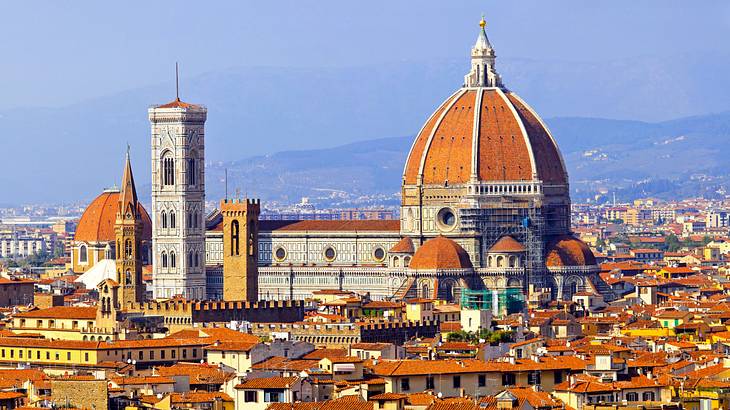 Welcome to the charming city of Florence, the capital city of Tuscany, home to some beautiful pieces of Renaissance art and famous Italian landmarks. The town is surrounded by gorgeous Tuscan hillsides and many Chianti wineries.
This 3 days in Florence itinerary includes some great wine places and ideas, suggestions for museums filled with Renaissance art, and more! Inside the city, there is no shortage of things to do. From sampling Tuscan foods, visiting major museums and buildings, walking along the stunning Arno River, and so much more!
Spending only 3 days in Florence, Italy, will not do this city justice, but first-timers to the area can get a glimpse of what it has to offer with this Florence guide.
Florence is a relatively small city and is much less touristy than Rome, Milan, and Venice. It is perfect for wine, food, and art lovers, but I believe everyone can find something charming about this place. So get ready to take a break from the hustle and bustle and spend a more relaxing weekend in Florence.
3 Day Florence Itinerary
Florence 3-Day Itinerary Video
Check out our highlights video of the stops covered in this Florence itinerary.
Florence 3-Day Itinerary Map
A map of Florence. Use the map to explore all the days and stops.
Wander Around the Piazza del Duomo
Spend your very first day in Florence in the city center at the Piazza del Duomo. The Cathedral, otherwise known as the Duomo, is arguably the most famous building in Florence.
Today will consist of a lot of walking, but all of the pasta and wine waiting for you at the end of it will make it worth it.
There are so many amazing views to be seen in Florence, and today you will get a lot of them in. So wear your walking shoes and get ready for a day of sightseeing in the city center.
The Cathedral
The first stop on day one in Florence is to go inside the Duomo, a famous Italian landmark. The Duomo is stunning on the inside and is completely free to enter.
However, if you are visiting Florence in the summer months, the lines to go inside can get crazy. There is no way to avoid this line, so I suggest going first thing in the morning when it opens at 10:00 AM. Stop at a cafe of your choosing on your way to the Duomo to get a croissant and an espresso to fuel your day.
Climb the Bell Tower
You can actually climb the Duomo that you just visited, which is one of the most popular things to do in Florence, Italy. However, I suggest that you climb the bell tower adjacent to it instead.
The climb up the bell tower is no joke, so if you're not in good shape, I would reconsider it, but once you get to the top, you are blessed with amazing views of the city and the Duomo. The Piazza del Duomo is by far one of the prettiest sights in Florence, and by climbing the bell tower instead of the Duomo, you can see it from above!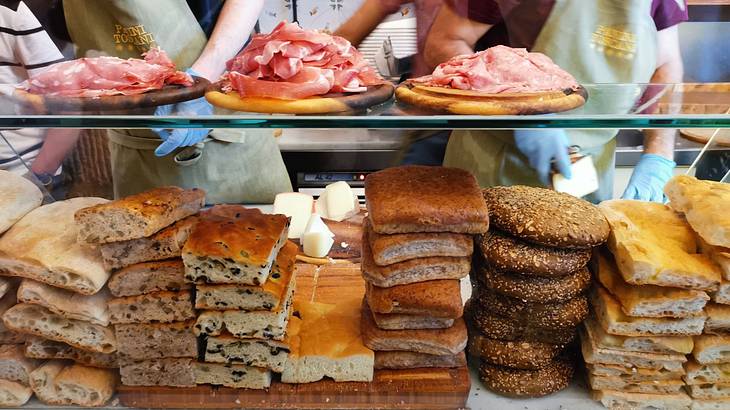 Grab a Panini at Toscani
When you're back to the ground after your hike up the bell tower, grab a panino at Panini Toscani - one of the most famous panini shops in Florence! They let you customize your sandwich and sample all of the meats and cheeses before you choose. It is best paired with a glass of their house white wine!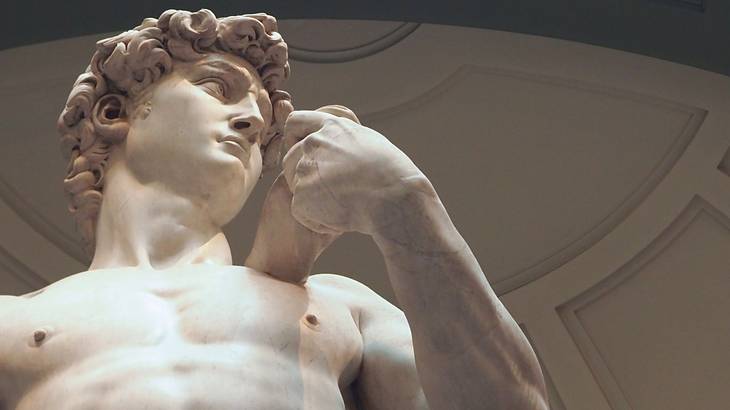 The Accademia Gallery
On your way to the Accademia, stop for some gelato (you've earned it after all of those steps). Festival del Gelato is an excellent option with a ton of different flavors.
The Accademia holds Michelangelo's renowned David sculpture, which has made the Gallery one of the most famous museums in Florence. It is definitely a sight that you don't want to miss out on during your first trip to Florence! Book your tickets for the Accademia Gallery here.
Dinner at Trattoria ZaZa
Treat yourself after a successful day in Florence with dinner at Trattoria ZaZa. ZaZa's is a popular restaurant in the center of Florence with a very expansive truffle menu (Florence is known for truffles, if you don't know what they are, try them for yourself).
Order the house white wine for the table, an appetizer platter of Coccoli bread with meats and cheeses, and then one of the acclaimed truffle pastas for your meal.
You will not be disappointed with either the quality of the food or the prices here - this is the perfect place for your first dinner in Florence!
The Uffizi Gallery, Markets and a Rooftop Bar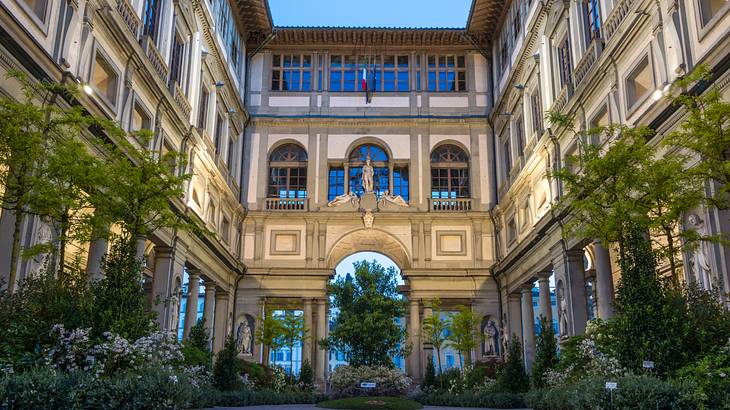 Starting off the day with Florence's most-loved museum, day two is another packed day of sightseeing and experiencing the Florentine culture.
After the museum, you'll be wandering around Mercato Centrale for lunch, haggling your way to a new piece at the leather market, and watching the sunset at one of my favorite rooftop bars.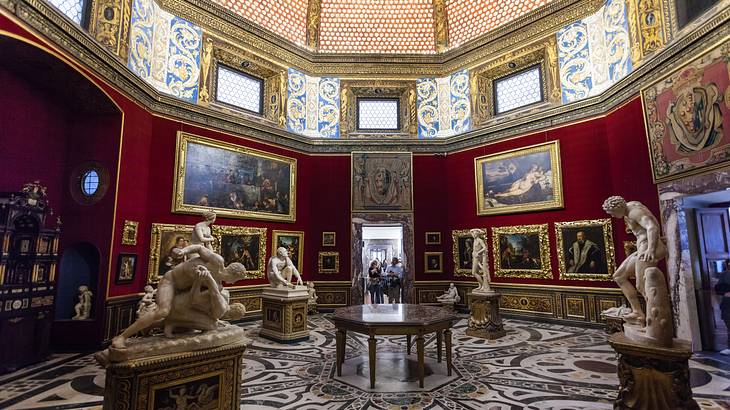 Uffizi Gallery
I had to put the Uffizi Gallery on this Florence 3 day itinerary as it is the most famous museum in Florence. It showcases art from many different periods, including Renaissance art, which is prominent all over the city. The Uffizi Galery is also consistently ranked as one of the top things to do when in Florence for the first time.
However, if you only have three days in Florence and you feel like you spent enough time indoors yesterday, I understand! Art isn't for everyone, so feel free to skip over this one if you're not feeling it.
If you do decide to skip out on the museum, spend the morning outside wandering around the Piazza Santa Croce. Santa Croce is my absolute favorite neighborhood in Florence, and you will have a great morning here as well! You can buy tickets to the Uffizi Gallery here.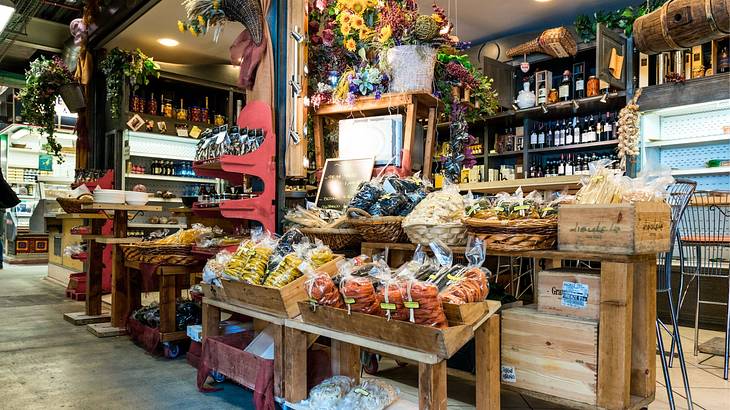 Lunch at Mercato Centrale
I know this might just sound like another lunch spot, but I promise you can easily spend two hours here wandering around and sampling all of the food.
Mercato Centrale is a huge indoor market in the city center. On the first floor, there are a ton of vendors selling everything from fresh seafood to souvenirs. I recommend picking up a bottle of truffle oil!
Go up to the second floor to experience a food-court type of experience. There are stalls for basically anything you could care to eat, including tasty Italian food, sushi, grilled food, salads, and more! Walk around (a few times) to see what looks appetizing for you.
This market is an excellent place for large groups because everyone can choose a different place to get food, and then you can all bring it back to the table to eat together.
I recommend trying an Arancini ball, which is fried dough with rice, cheese, and other toppings on the inside - they're fantastic!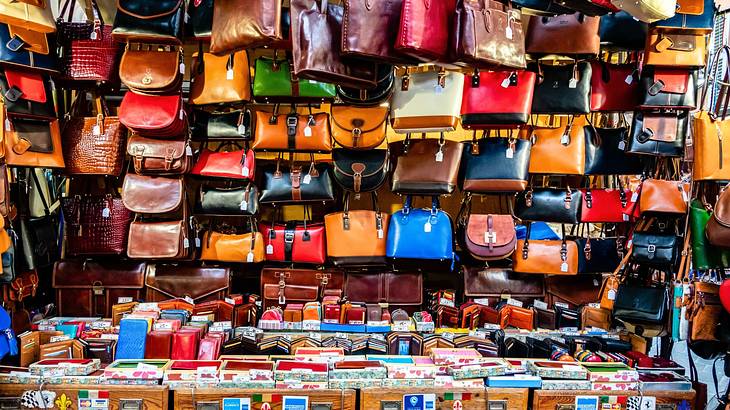 Shop at the San Lorenzo Market
The San Lorenzo Market is also known as the Leather Market due to the abundance of (fake) leather items sold here. Once your stomach is full from eating at Mercato Centrale, walk right outside the market to land in the middle of San Lorenzo.
Here, you can haggle prices to pretty low and pick up a few new things in Florence. Some of my favorite items to shop for here are journals, wallets, and belts. If you're looking for some genuine leather and have the money to buy it, there are many actual stores around this area that make quality leather pieces.
Watch the Sunset at View on Art
View on Art is my favorite rooftop bar in Florence because of its incredible view of the city and the Duomo. Sunset is the perfect time to come here and presents a great photo opportunity.
The menu is a little pricey for their cocktails, but you are paying for the experience. So enjoy an Aperol spritz and a sunset to end your day in Florence.
Ponte Vecchio, Boboli Gardens and Piazza Michelangelo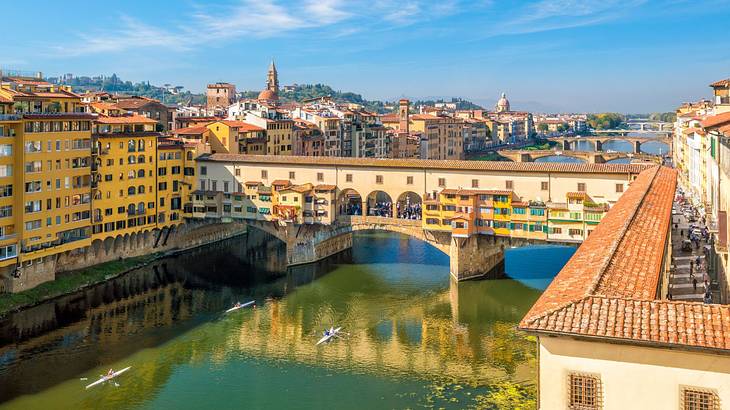 This 3-day Florence itinerary saves the best views for the last day. You will start your day off by walking around and shopping in and around the Ponte Vecchio. Once you cross the river into Oltrarno (the other side), you will see the beautiful Boboli Gardens.
Lastly, you will once again see a gorgeous sunset over the city of Florence at Piazza Michelangelo. Again, wear your walking shoes because it will be a long day ahead of you!
Ponte Vecchio
The Ponte Vecchio is the famous bridge crossing the Arno River that you most likely saw in pictures of Florence. Once here, you can spend the morning going in and out of jewelry and higher-end souvenir shops while taking photos along the Arno.
Have Lunch at Osteria de Peccatori
For lunch, stop at the nearby Osteria de Peccatori for an Aperol spritz, Foccacia bread, and delicious Italian food served by the nicest workers. They have an outdoor seating area in a cute piazza that usually has someone playing live music. This was definitely my favorite restaurant in Florence!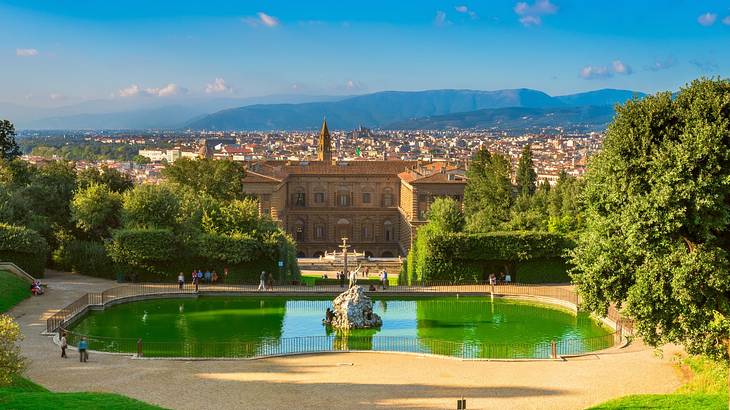 Boboli Gardens
Once you cross the Ponte Vecchio into the Oltrarno (the other side of the river), visit the Boboli Gardens. This is an outdoor museum dating back to the 15th century. The gardens are inside the Pitti Palace, which is another set of museums in the city of Florence.
You would need to spend at least an entire day here to see all that the Pitti Palace has to offer, so I suggest just sticking to the gardens for your short trip to Florence. There is so much to see, and it is easy to get lost inside. You can easily spend a few hours walking around outside when the weather is nice.
After the Boboli Gardens, stop at Gusta Pizza for a takeaway pizza. Get a bottle of wine wherever you can find one (don't forget the wine opener!) and move on to your next stop.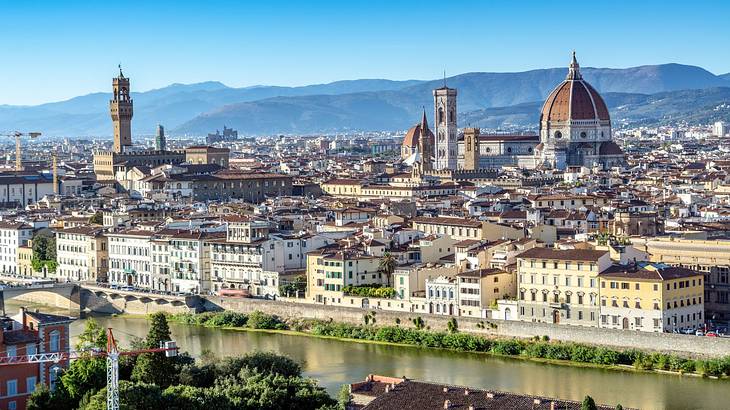 Piazzale Michelangelo
Hike up the steps to Piazzale Michelangelo for the perfect ending to your 3 days in Florence. I promise you that these views will make you want to stick around!
When you get to the top, there is a huge Piazza with street vendors, live music playing, and a big staircase that everyone gathers on to watch the sunset. Everyone brings food and wine to enjoy for an hour or so alongside the best view of Florence. And with all that said, this last stop brings our short three days in Florence to an end!
In Summary
72 hours in Florence is definitely not enough time to see everything that this beautiful city has to offer! There is so much culture wrapped inside this small city, and I truly believe that there is something here for everyone!
This Florence in 3 days itinerary is packed with museums, shopping, food, and wine. I hope it was helpful in planning your trip to Florence, and have a fun 3 days!
Give us feedback about this article
More visual stories related to this article:
---
---
Want to keep exploring?
Subscribe for discounts on tickets and hotels and our latest guides.
Thank you for subscribing
We will be in touch soon with discounts on tickets and hotels and our latest guides.
Want to keep exploring?
Subscribe for discounts on tickets and hotels and our latest guides.
Thank you for subscribing
We will be in touch soon with discounts on tickets and hotels and our latest guides.
Related Articles