The Perfect 4 Days in Venice Itinerary
Destguides may receive commissions from purchases made through affiliate links in this article.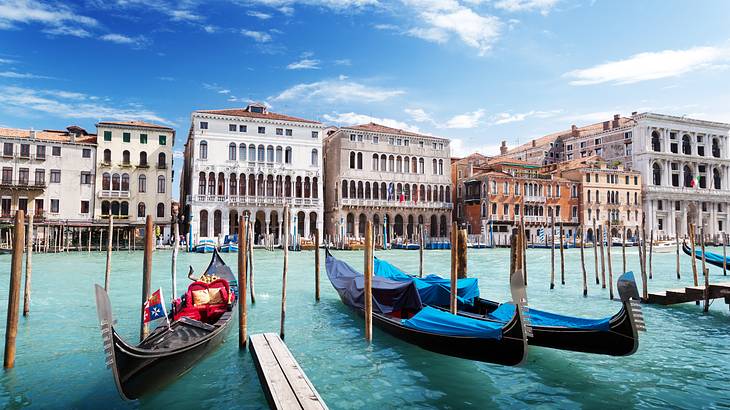 Venice, the capital city of northern Italy, is built entirely over a lagoon in the Adriatic Sea, on top of over 100 tiny islands. Venice has no roads, only canals, primarily the Grand Canal, lined with numerous Gothic and Renaissance palaces - thus, it is easily walkable!
Venice is romantic, gorgeous, and historic. The gondolas, canals, colourful towns, architecture and famous Italian landmarks make it a dream destination for many.
The list of places to visit in Venice is so long that it can be overwhelming for tourists to prepare an itinerary on their own.
However, with this carefully designed 4 days in Venice itinerary, you will get to see Venice in all of its forms. From the most tourist-heavy parts of the city to the areas that are not frequented by tourists but are must-visit places. Continue reading for Venice travel tips and more!
4 day itinerary
Average of 9 stops per day
4 Day Itinerary for Venice
Venice Map
A map of Venice. Use the map to explore all the days and stops.
Venice's Greatest Hits: Piazza San Marco, Doge's Palace & A Gondola Ride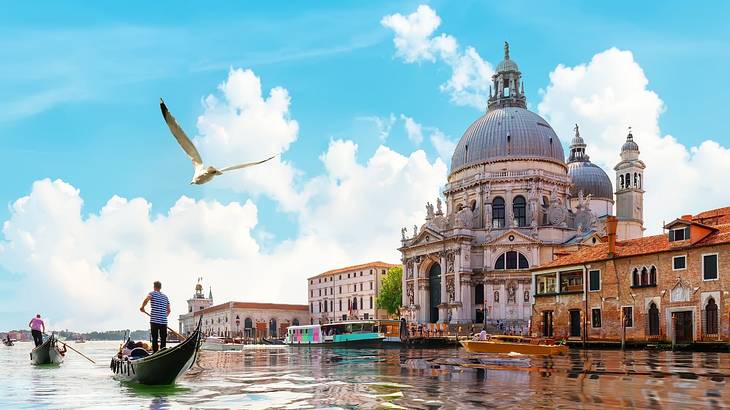 Start the first day of your Venice 4 days itinerary by exploring famous European attractions around the iconic Piazza San Marco.
This square is considered the epicentre of Venice and has been the venue for parties, events, and gatherings for centuries.
Piazza San Marco also houses several important sites, including Saint Mark's Basilica, the bell tower, Doge's Palace, and much more.
Start your day at this renowned square and spend the rest of it strolling to different places of interest in the area.
Breakfast at Grancaffè Quadri
Start your first day in Venice with a sumptuous breakfast at the Grancaffè Quadri. It has a fantastic view of Saint Marks' Square that will transfix you.
Enjoy your morning coffee with a delicious pastry while taking in the beautiful views of the Basilica mosaics, bell tower, and sweeping arcades.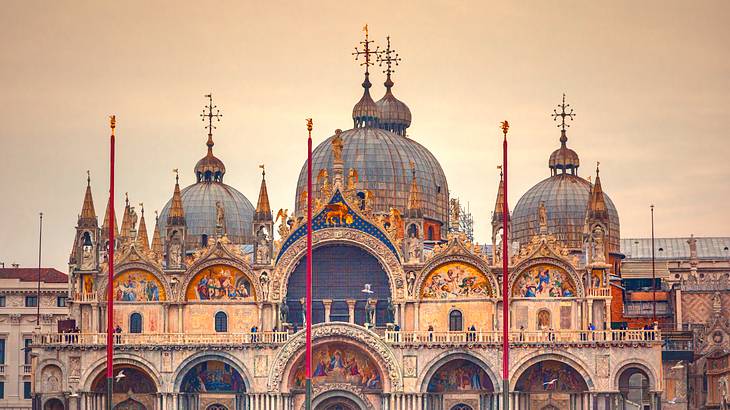 Basilica di San Marco
Saint Mark's Basilica is one of the many historical places to visit in Europe and Venice as it holds the position of the 'pride of the square.'
It is renowned for its intricate designs, beautiful mosaics, grand apostles, equestrian statues all around it and gold leaf design.
Saint Mark's Basilica was built as a religious structure for housing the remains of St. Mark. His attribute of the winged lion was later adopted as the official symbol of the Venetian Republic.
Located next to the Palazzo Ducale, Saint Mark's Basilica also served as a chapel for the Doge. It later turned into a cathedral church in 1807.
If you want a relaxed trip, see the most popular experiences that stop at Saint Mark's Basilica.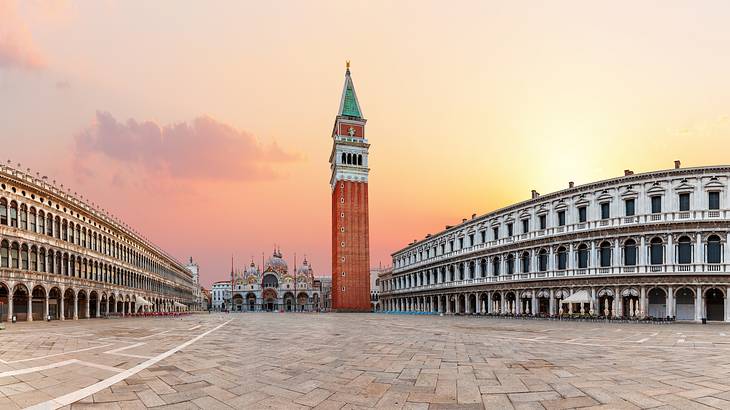 Campanile di San Marco
San Marco Campanile is the city's famous bell tower that stands as the tallest structure in St Mark's Square at 323 feet. Once a lighthouse for incoming ships, it is now one of the most iconic structures in Venice.
You can climb the tower's steps to take in the beauty of Venice city, the square, and the surrounding lagoon. It still has one of the original bells from the 12th century, and all five bells are rung every day, even today.
Joining a tour is a fun way to visit. These are the top experiences that include St Mark's Campanile.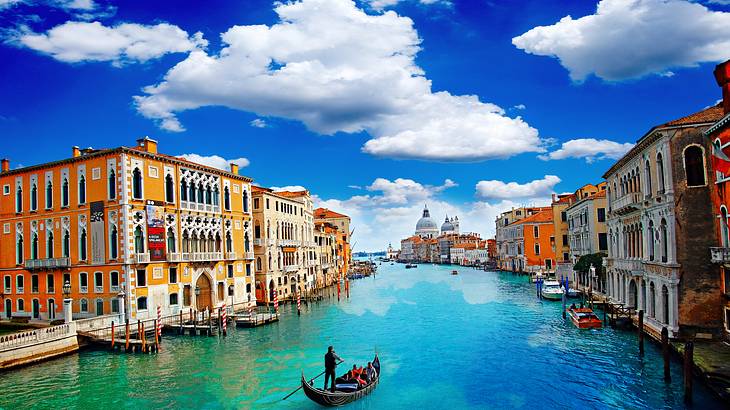 Take a Gondola Ride
Most people visiting Venice have a gondola ride at the top of their Italy bucket list. It is a once-in-a-lifetime experience that involves riding the city's iconic boats through Venice's canals. Though the experience can be an expensive one, it is worth doing on your Venice trip!
You can easily find gondola stations set up at different parts of the canals throughout Venice. If you want to ride a gondola on the Grand Canal, you can hire one near Riva Degli Schiavoni or Piazza San Marco.
On the other hand, if you prefer a more peaceful and romantic experience, go for a quieter neighbourhood, such as Dorsoduro or Cannaregio.
Book your Venice gondola ride now!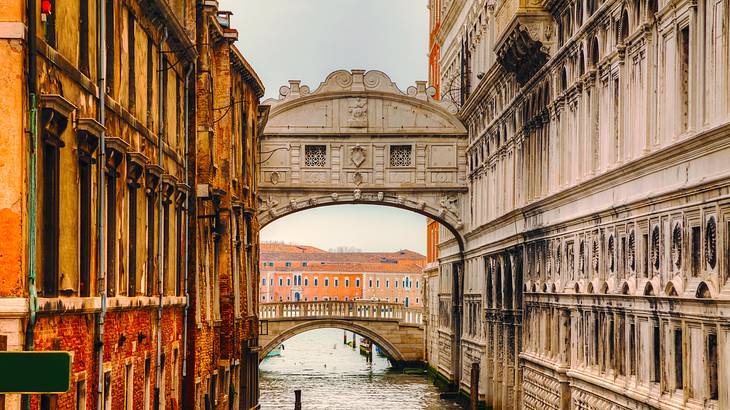 Ponte dei Sospiri
Undoubtedly the most photographed place in Venice, the Bridge of Sighs spans the Rio di Palazzo. It was built to connect the old prison in Doge's Palace to the new prison built across the river.
The bridge got its name as it was said that this was the last place where prisoners would get the last whiff of fresh air before stepping into the jail for several years.
Ponte dei Sospiri is an excellent photo stop as the bridge is beautiful in itself, and the canal located beneath has gondolas passing through, making for a gorgeous backdrop!
An organized tour is an excellent way to see the Bridge of Sighs. Private Gondola Ride at the Bridge of Sighs is well-rated and enjoyed by tourists. Also, Tour the Doge's Palace & St. Mark's Basilica is well-rated and enjoyed by tourists.
Lunch & Gelato in Piazza San Marco
After seeing the picturesque bridge, it's time for some lunch and dessert! Venice is filled with quaint cafes and restaurants serving tasty food and coffee.
You will come across numerous tiny sandwich vendors in and around the Square where you can have a delicious toasted panini with a yummy cappuccino. The same applies for finding a gelato place!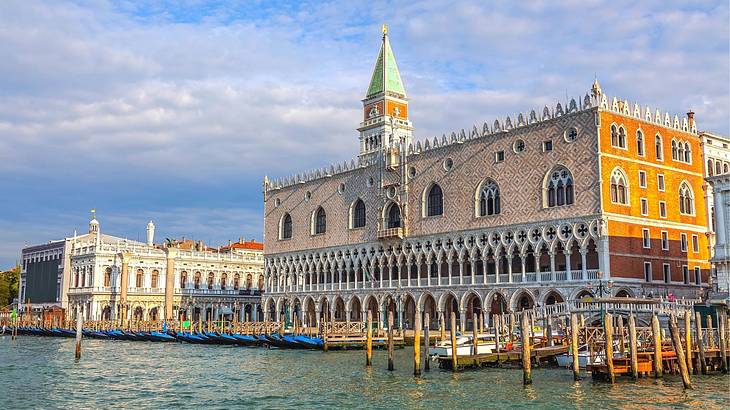 Palazzo Ducale
For the next stop, walk over to the Palazzo Ducale (Doge's Palace) - a beautiful white stone palace considered the most important building in Venice.
Doge's Palace served as the headquarters and home of the Doge – the head of state and religion in the city. You can learn about the history and importance of the building by taking a guided tour of the Palace.
You will walk through galleries, courtyards, and staterooms while learning about each of them and admiring the important artefacts and impressive art collections present here.
The ticket for the Palace includes entry to Museo Archeologico Nazionale, Biblioteca Nazionale, and Museo Correr as well. It takes a couple of hours to tour around.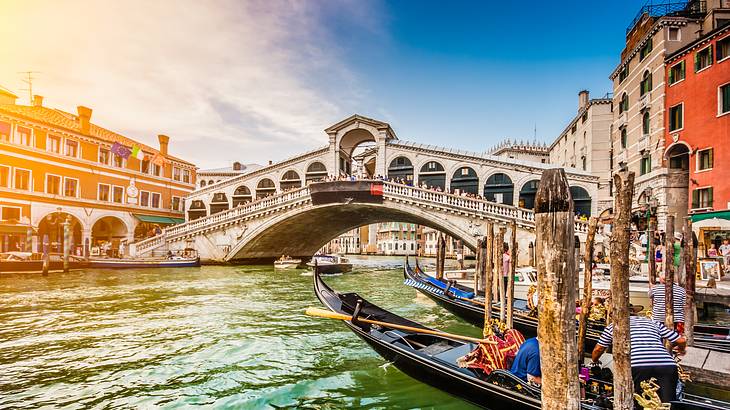 Ponte di Rialto
After you are finished eating, walk over to the world-renowned bridge of Venice, the Rialto Bridge - the most iconic and oldest of the bridges that cross the Grand Canal.
It is the perfect photo stop to click amazing photos resembling the Canaletto painting from centuries ago.
You can also browse the shops located on the bridge itself for souvenirs and jewellery, though they may be more expensive than other places in the city.
Just taking a moment and sitting at the steps by the canal watching the Vaporettos go by in the San Polo district is a serene experience that you will remember for life!
An easy way to visit the Rialto Bridge and other sights is with a tour. Experience Venice Like A Local Five Cicchetti & Five Wines is frequently in high demand, and booking is necessary. Additionally, The Real Hidden Venice is a hit among most visitors.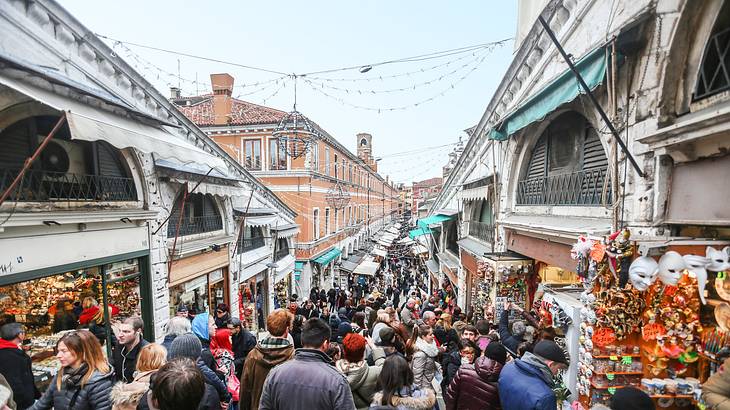 Mercati di Rialto
After you take some memorable photos at the Rialto Bridge, head over to the Rialto Market - one of the oldest markets in the city and the best place to pick up souvenirs for your friends and family at cheaper rates than in the stores.
You can find scarves, clothes, magnets, and numerous other items with Venice written on them here. You will also be able to find Murano trinkets and products. There are a few drink and food stalls as well if you want to grab a coffee or Bellini.
An organized tour is an excellent way to see the Mercato di Rialto. Venice Lunchtime Food & Wine Tour is often fully booked, so it's advisable to reserve ahead of time. Also, Eat Like A Local in Venice Food Tasting Tour is extremely popular.
Dinner Along Canale Grande at Ristorante Terrazza Sommariva
After the long day of sightseeing and exploring so many things to do in Venice, it is now time to relax and unwind for the day.
Enjoy some delicious and traditional Italian and Venetian food with drinks and the perfect ambience at Ristorante Terrazza Sommariva along the Grand Canal.
Located right off the Rialto Bridge, the restaurant has impressive views of the Fontego dei Tedeschi. Don't forget to have a sip of an Aperol Spritz and take in the magic of Venice!
Artistic & Historical Venice: Canareggio and Dorsoduro
On your second day in Venice, you can delve into the artistic, religious, and culinary delights of Dorsoduro Sestieri and Canareggio.
Start from the historic Canareggio area and explore street markets, beautiful churches, and learn about the history of Judaism in the area.
After lunch, head over to Galleria dell'Accademia and admire the impressive collection at one of the most beloved churches in the city, followed by an evening to remember at Campo Santa Margherita.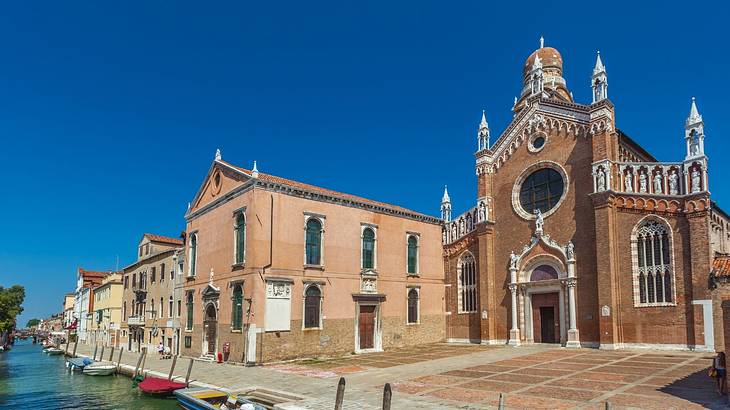 Madonna dell'Orto Church
This Gothic 14th-century church is dedicated to the Virgin Mary and is still in use today. Located in the northern part of Canareggio Square, it is a site worth exploring on your 4 day Venice trip.
Founded by Umiliati order, it is particularly interesting for art lovers as it houses works by Venice's renowned artist Tintoretto as well as a moving statue of Mother and Child.
Joining a tour is a fun way to visit. These are the best tours that visit the Church of Madonna dell'Orto.
Museo Ebraico di Venezia
At the Jewish Museum of Venice, you can learn about Venice's long and turbulent relationship with the Jewish community. The museum helps protect the history of the region and showcases goldsmith work and textile manufacturing done here.
Set up in Jewish Ghetto Novo, it was built to educate people and celebrate the local art and Jewish traditions. The Jewish Museum is open for tours, and you can view the five synagogues and explore the ghetto.
There are a few companies that offer experiences at the Jewish Museum of Venice. The experience Venice Jewish Ghetto Tour With Spritz & Cicchetti is usually sold out, so book in advance. Additionally, Venice Jewish Ghetto Food Tour is well-rated by many tourists.
Cicchetti Lunch at Hostaria Vecio Biavarol
On your second day, enjoy a traditional Venetian lunch at Hostaria Vecio Biavarol dal Puppa.
Located in the Santa Croce area and run by local artisans, it offers Cicchetti, the Venetian version of tapas. For the small dishes, you can find bruschetta with different toppings, such as meats, little pies, and more.
Accompany the locally sourced and produced Cicchetti with freshly baked bread, homemade pesto, and a glass of wine made in nearby vineyards.
All dishes are made with high-quality ingredients and offered at a low price, making it the ideal stop to take some rest and fuel up.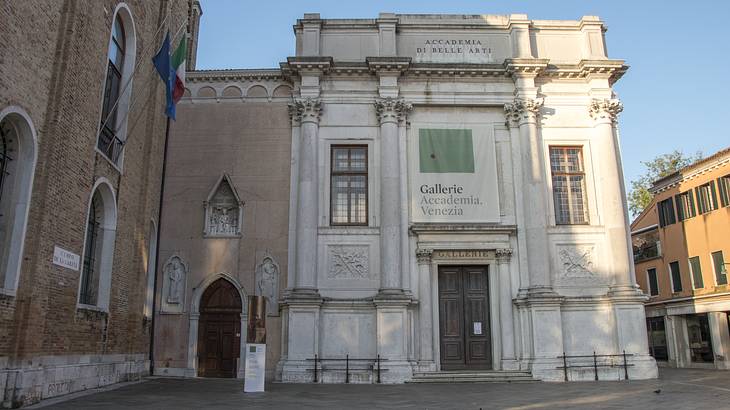 Galleria dell'Accademia
The next stop after lunch is Venice's most prominent art gallery, which is filled with a wide-ranging collection of Venetian artwork. The art primarily represents Venetian life, religion, and historical figures of the region.
The permanent collection on display here includes an array of artworks by some of the most renowned artists of Venice, including Carpaccio, Veronese, Canaletto, and Tiziano. Canaletto's detailed, architecturally seamless work will make you fall in love with Venice for sure!
A tour is convenient for seeing the Gallerie dell'Accademia and other attractions. Secret Venice is frequently sold out, so secure your spot in advance. Furthermore, Private Venice Photo Walk receives favorable ratings from tourists.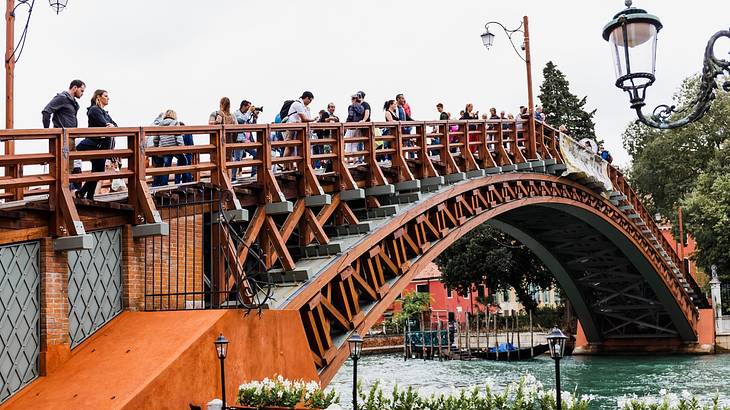 Ponte dell'Accademia
Accademia Bridge is one of the four bridges in Venice crossing over the Grand Canal. It links the San Marco district and the Accademia Gallery located in Dorsoduro.
In a city imposed with stone architecture all around, this bridge built up of plain wood becomes a visual that stands out.
It is the perfect place to visit on your 4 day Venice trip to enjoy the hustle-bustle in the canal waters below and appreciate the captivating views of the sun setting over the horizon.
If you'd like a stress-free visit, see the most popular experiences that stop at the Ponte dell'Accademia.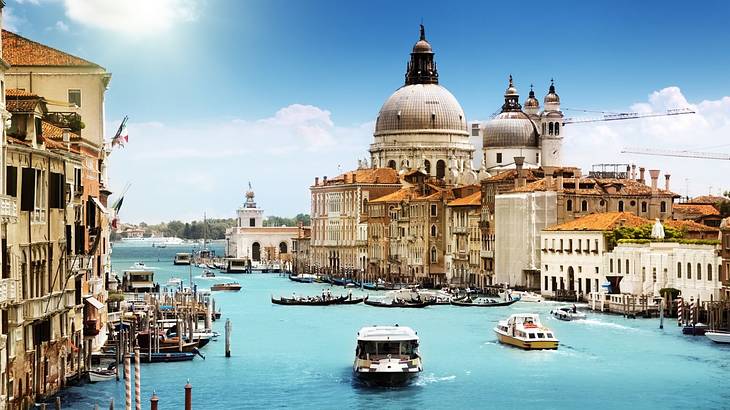 Basilica di Santa Maria della Salute
Most of the Venetians keep the story associated with Basilica di Santa Maria della Salute close to their hearts as it was built entirely by the survivors of the plague.
Designed by Baldassare Longhena, it was completed in the 17th century after more than 80 thousand Venetians perished due to the widespread plague in the region. It is believed that a miracle took place at this church, which prevented further spread of the epidemic.
The basilica was then made to give thanks right at the entrance of the Grand Canal. It is one of the most photographed churches in the entire country due to its gorgeous façade made with white stone, the imposing white dome, and elegant statues.
Consider joining a tour to explore the Basilica di Santa Maria della Salute. The tour Venetian Sunset Cruise by Boat is highly rated; most travelers score it five stars on average. Or Private Gondola Ride And Photo Session in Venice is rated well by most tourists.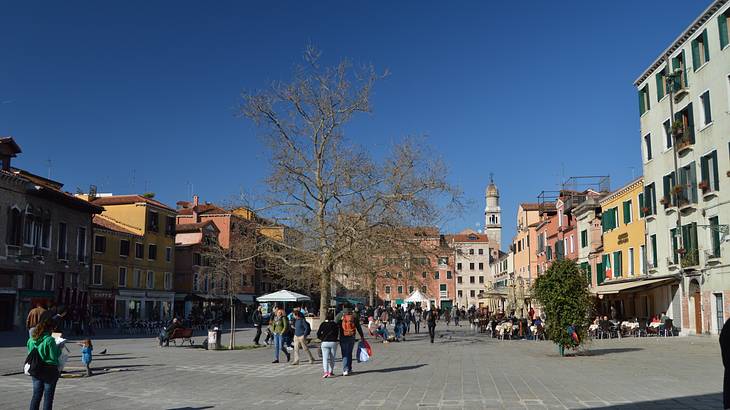 Night Out at Campo Santa Margherita
One of the best ways to spend an evening in Venice is by paying a visit to the bustling square of Campo Santa Margherita. It has been a popular hotspot amongst both locals and tourists since its inception in the 14th century.
In the daytime, Campo Santa Margherita is a popular street food, vegetable, and fruit market offering delicious Venetian treats. However, at night it transforms into the trendiest party area in the city.
Being primarily a student area, you can find numerous small trattoria and hostaria in Dorsoduro, offering tasty local foods at affordable prices.
Several companies provide tour options. These are the top-rated experiences that visit Cà Grifalconi.
Dinner at Margaret Duchamp
After roaming the streets and exploring Campo Santa Margherita, it is time to have some dinner. Located in the same area, Margaret Duchamp has a chilled café vibe, and you can get drinks and food at affordable prices here.
Margaret Duchamp is a great place to just sit down in the outdoor seating area and watch people go by with a corretto or prosecco in hand.
If you are in the mood for some Cicchetti, you can go to Al Bochon Divino in the same area as well.
Several companies offer excursions that visit Margaret DuChamp. Exploring Venice's Hidden Trails is frequently well-received and earns a five-star rating.
Island Hopping in Murano and Burano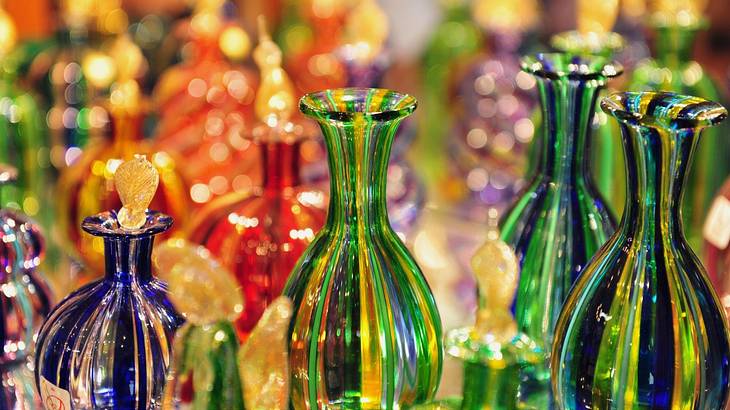 On the third day of your Venice itinerary 4 days, you should definitely go island hopping to the islands of Murano and Burano!
These are two of the most interesting islands just outside of Venice and are well-known for their trattoria culture and their special crafts, such as beautifully-crafted glass products and trinkets and gorgeous designs and varieties of lace.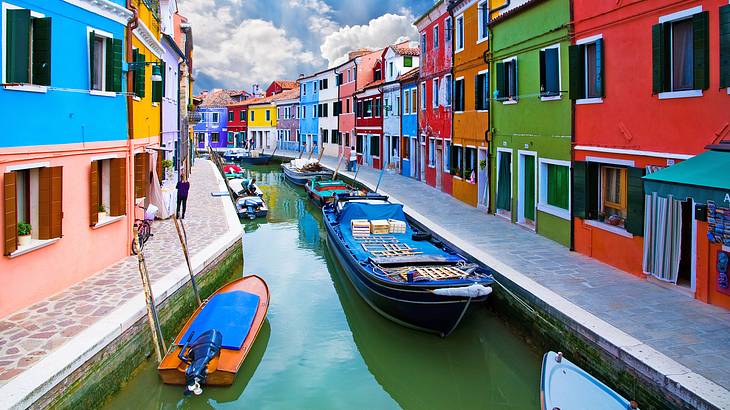 Head to Burano
In the morning, take a Vaporetto to the stunning island of Burano. Burano is undoubtedly one of the most beautiful islands and best day trips from Venice!
Burano is the further away island, and some people prefer it over Murano. Thus, the suggestion is to start there first, see how you go, and then you can decide if you want to spend the rest of your day at Burano or make your way to Murano once you've had enough!
For breakfast, grab a pastry or baked good and coffee on the go at any cafe on your way to the Vaporetto to Burano! To get to Burano from Venice, take Route 12 from Fondamente Nove. The ferry ride is only 40-45 minutes long!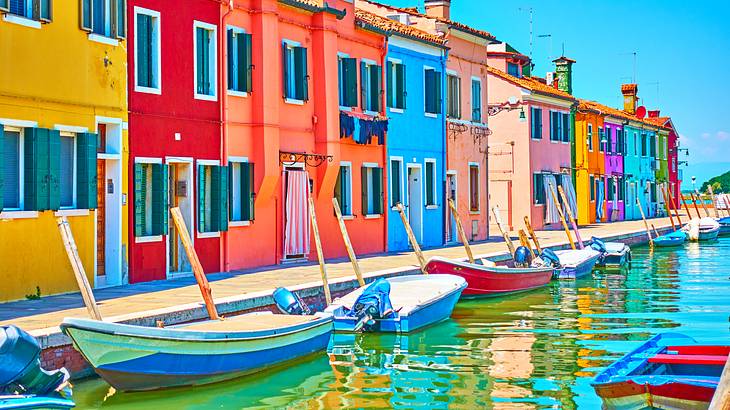 Burano Waterfront
Once you arrive in Burano, start exploring the island! The waterfront here is especially beautiful as it's lined with multi-coloured houses that look almost picture-perfect.
Burano is a photographer's paradise, and it is consistently voted among the top 10 colourful towns in the world! You can enjoy the waterfront to its utmost potential by taking a stroll around it while taking loads of photos of the houses as well as the amazing views of the lagoon.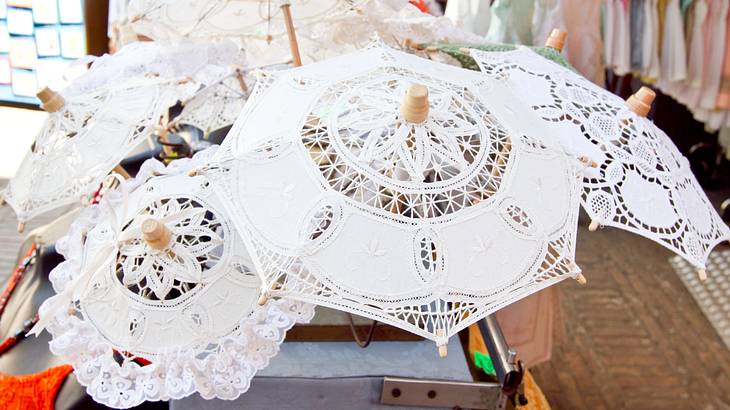 Museo del Merletto
Burano is known throughout the world for the lace craftsmanship carried out here. It is so well known that they have built a lace museum to display their craftsmanship and artistic prowess in the field.
The Lace Museum displays the works of traditional artisans from Burano who have been involved in the craft of lace for years. You can view the exhibitions on beautiful and delicate lace works from the 17th and 18th centuries.
You can even see the transformation of this unique craft over the centuries by viewing the modern lace styles from the 19th and 20th centuries. This craft has been passed down through different generations, with family members educating their offspring about their secrets.
After exploring the different exhibits, you can buy some lace for yourself in the various family-run stores all across the island.
Several companies offer excursions that visit the Lace Museum. Venice Lagoon Islands Tour With Audio Guides is well-rated by most tourists.
Lunch at Trattoria Al Gatto Nero
For lunch, stop at a small family-operated trattoria located on the Burano waterfront. Several local trattorias line the waterfront and offer amazing options for sampling the local cuisine, including some of the unique dishes of Burano in particular.
Seafood is extremely popular in the area and is the local staple food on the island. Fresh fish is caught directly from the lagoon, cooked, and served in these quaint little eateries.
Risotto de go is a must-try dish in Trattoria Al Gatto Nero. If you want to sample something sweet, go for the Bussolai Buranei, which are homemade buttery Burano cookies.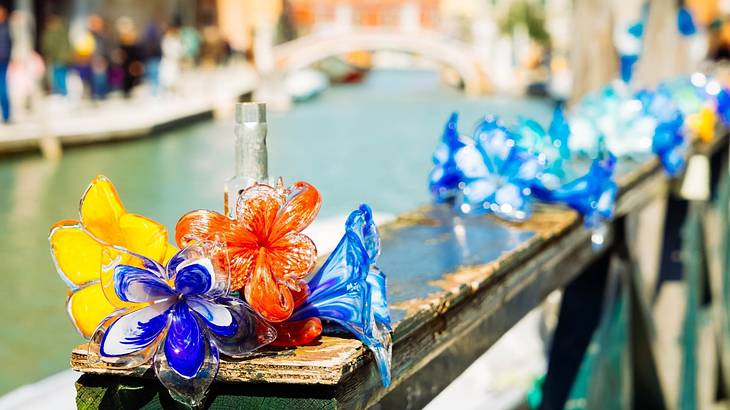 Museo del Vetro
After lunch, if you feel you have seen enough of Burano, then take another Vaporetto to the island of Murano to experience one of the most unique things to do in Venice.
Murano is renowned for its fine crafted glass products. Visit the Museum of Glass to see how these intricate pieces of art are made. By taking a tour of the museum, you will witness local artisans at work and observe the sophisticated art of glass blowing.
After viewing the entire museum, check out their gift shop to pick up something that you can take home and keep with you to remember this unique experience. The museum is free for kids under the age of 5.
Booking with a tour is a stress-free option for a fun day. These well-rated tours explore the Glass Museum (Murano).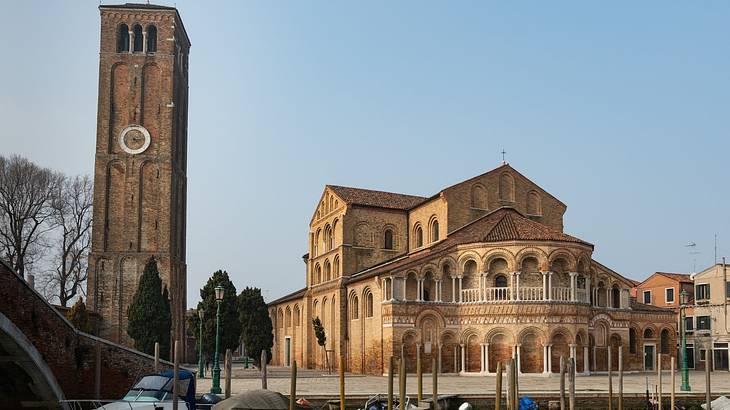 Basilica di Santa Maria e San Donato
Undoubtedly the most beautiful church in Murano, it is the most important Duomo on the island built with Romanesque architecture.
This Roman Catholic Church is dedicated to Saint Donata and Saint Maria. It is built with the same style as Ravenna, with its red bricks and white marble alternating on the façade.
Spend some time strolling around it and admiring the Byzantine paintings on display inside the Basilica.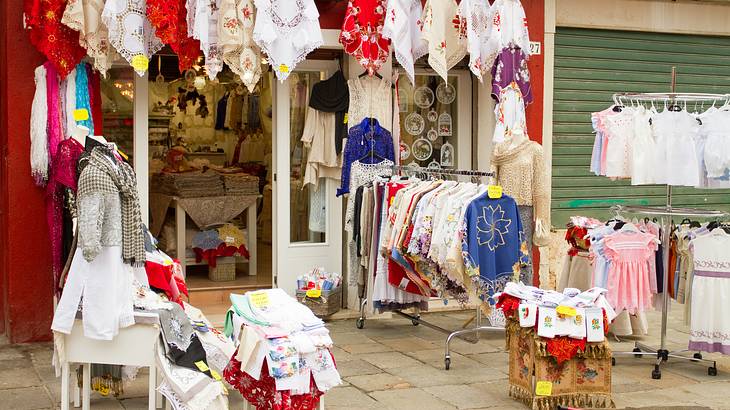 Shopping in Murano
Murano is an excellent place if you want to do some shopping, whether for yourself or as souvenirs for your friends and family. Tons of family-run shops dot the Murano waterfront, selling everything from ornaments and jewellery to trinkets and large sculptures.
However, the best souvenir you can get from Murano is undoubtedly the Murano glass. These shops have been selling locally produced goods here for generations. Take a stroll through the waterfront to explore these artisan shops.
Consider joining a tour to explore Murano. The tour Explore Murano & Burano is enjoyed by most tourists. Or Murano Tour by Private Watertaxi is well-regarded and widely appreciated by tourists.
Dinner at Trattoria bar Serenella dal Coco
After a full day of exploring the islands of Murano and Burano, it is time for a trattoria dinner, followed by some passeggiata.
You can stop at one of the charming waterfront trattorias for some delicious dinner and relaxation. Trattoria Bar Serenella dal Coco is one of the best in the area, offering reasonably priced set menus. It prides itself on using the freshest and finest local ingredients for its food preparation.
After dinner, go for a passeggiata around the waterfront and witness the sun setting over the lagoon, which will be the perfect end to another beautiful day on your 4 day Venice itinerary.
Explore the Underrated Castello Area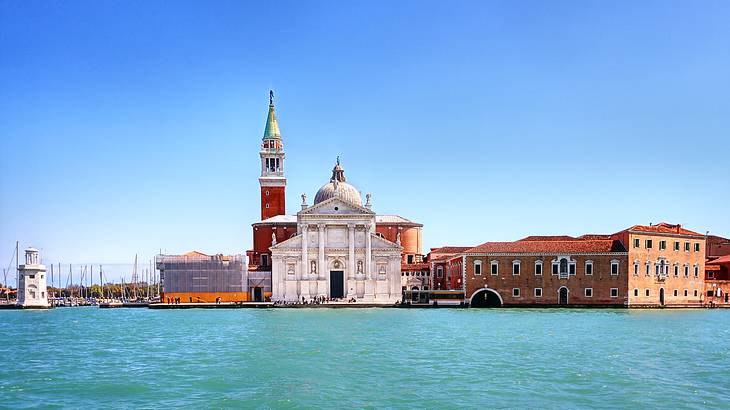 Castello is a sprawling neighbourhood located on the eastern end of Venice's main island, bordering San Marco.
After exploring Venice's touristy spots, now is the time to take the off-the-beaten-path by heading to areas away from the crowds.
So, head over to Castello to get the opportunity to see and experience the day-to-day life of the locals in Venice.
Breakfast at Pasticceria Da Bonifacio
Start your last day in Venice by sipping on some delightful cappuccino and enjoying light yet delectable Italian pastries.
Pasticceria Da Bonifacio is one of the best cafes in Venice, serving delicious coffee and breakfast pastries at amazingly low prices. The café has a friendly vibe, and the pastries available here are light and fresh.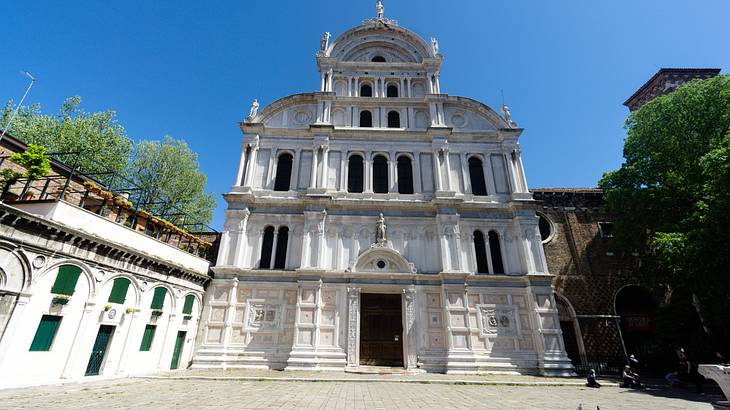 Chiesa di San Zaccaria
After breakfast, head over to the Chiesa di San Zaccaria, a famous Gothic-Renaissance church that houses impressive artwork from the period.
The church is dedicated to St. Zechariah, John the Baptist's father. It is known for its Gothic-style interiors featuring tall windows and walls covered in paintings created by artists from the 17th and 18th centuries.
The Alter-piece at the church is one of the greatest works of art of the famous painter Giovanni Bellini. Visiting this basilica is one of the greatest things to do in Venice for lovers of art and architecture.
You can also view the crypt, frescos, and antiquities housed in the church by paying a small fee.
Several companies provide tour options. Browse the top experiences that visit the Chiesa di San Zaccaria.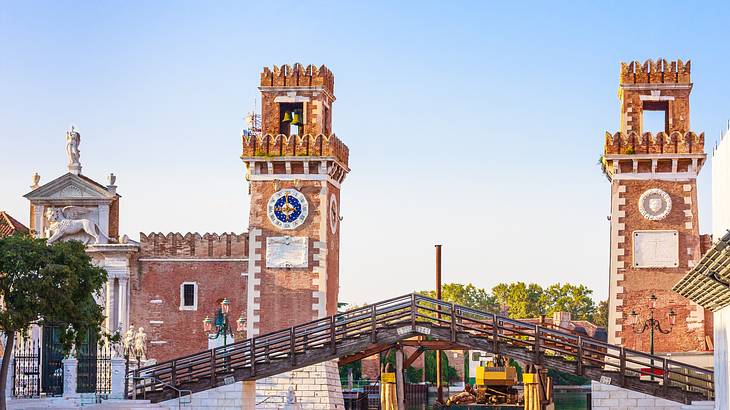 Arsenale di Venezia
Arsenale di Venezia, also known as the Venetian Arsenal, is a state armoury and shipyard built in the 12th century. It is renowned for being the world's largest naval factory.
Arsenale di Venezia is where Venice developed various methods for the mass production of warships. It also houses a naval museum that you can explore to learn more about the naval and maritime history of the city.
Basilica di San Pietro di Castello
After you finish exploring Arsenale di Venezia, keep strolling east till you reach Basilica di San Pietro di Castello. This is a gorgeous Roman Catholic church located in the Castello area of Venice.
Basilica di San Pietro di Castello is also one of the oldest churches in the city and served as the city's cathedral for a long time from 1451 till 1807, when it was changed to Basilica di San Marco.
The church's most prized possession is St. Peter's Throne. It is believed that it was used in Antioch by the Apostle and once housed the Holy Grail.
You have to pay a small fee to enter the Basilica, and it is mandatory to keep your knees and shoulders covered.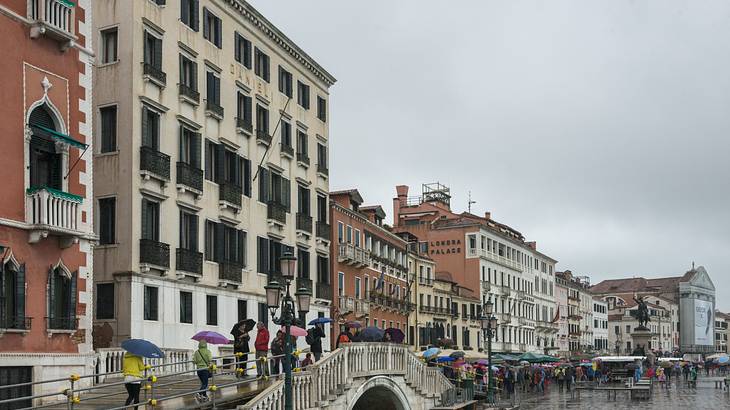 Castello Waterfront
One of the most serene and relaxing parts of the city where you can spend some time unwinding amongst nature is the Castello Waterfront.
There will be times when you cannot find any tourists around, so it is an excellent place if you are looking to get some reprieve from the huge crowds surrounding St Mark's Square.
Castello is also known for having some of the most beautiful gardens and parks in the city. So spend some time amongst greenery and foliage to relax and unwind on your four days in Venice.
Lunch at Nevodi
One of the best restaurants in Venice, 'Nevodi,' is located in the neighbourhood of Castello. If you are looking for fresh, authentic, and delicious Italian food, this restaurant is your best bet!
It also specializes in seafood made with the freshest catch, so make sure to give it a try. Some of the most popular dishes that the restaurant is known for include pasta with a choice of mussels, prawns and pistachio pesto, or tuna, crostino with baccalà, tris di baccalà, baccalà alla Vicentina, and much more.
The restaurant is usually always completely booked, so make sure to reserve a table ahead of time. This is also one of the few restaurants in Venice that stays open for lunch even after 2 PM.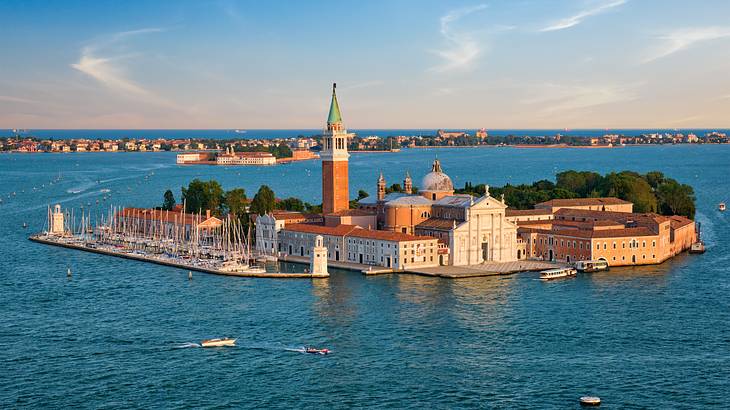 Chiesa Di San Giorgio Maggiore
After lunch, head over to the San Zaccaria Vaporetto stop located near Doge's Palace, and take Line 2 to visit Chiesa Di San Giorgio Maggiore.
The San Giorgio Maggiore Church is located on a quiet islet crossway from the canal. Built in the 16th century, it is a Benedictine church designed by Andrea Palladio. It is known for its classical Renaissance style featuring brilliant white marble that sparkles over the blue lagoon waters.
The church is situated right across from the Piazzetta and serves as a focal point when viewed from all parts of the Riva degli Schiavoni. It offers gorgeous views over Venice from its bell tower.
San Pantalon
For the next stop, visit the Catholic church of San Pantalon. Its unassuming façade is sure to fool you but wait till you step inside!
The church is known for its gorgeous roof featuring an impressive and uniquely painted ceiling made using 40 different canvases covering over 400 square metres.
The painting features the Glory and Martyrdom of Saint Pantaleone dating back to the 17th century. Gian Antonio Fumiani painted it in 1680 before he fell from the scaffolding and didn't survive.
Some other notable works feature in the Basilica, such as the St. Pantalon healing a boy – the final work by Veronese and more!
You can enter the Basilica for free, but you can make the painted ceiling light up by putting a coin in a machine present inside the Basilica.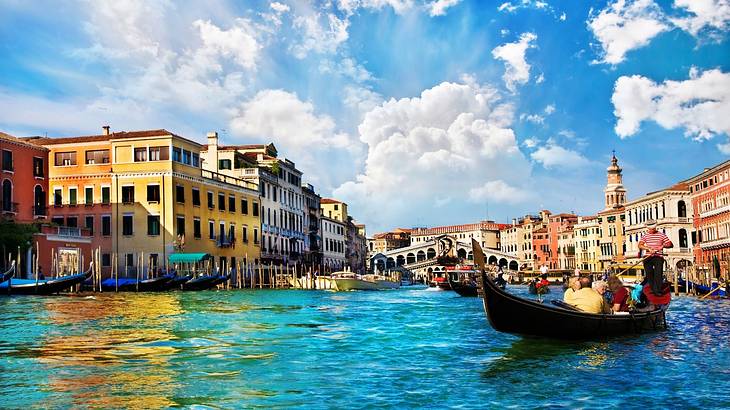 Sunset at the Grand Canal
On the final day of your itinerary of Venice, don't miss the vista that will be the highlight of your trip, and you will surely remember for life!
Head over to the Accademia Bridge to take photos of the gorgeous sunset over the Grand Canal. This moment will prove to be one of the most romantic ones in all of Venice. However, keep in mind that this area can be extremely crowded during sunset.
So if you are looking for a place that is a bit more private, you can head to Fondamenta delle Zattere - a long promenade that offers a view of the Venetian lagoon on one side and San Marco Basin on the other.
Many companies have experiences that visit the Ponte dell'Accademia. The experience Two-Hour Grand Canal & Secret Canals Cruise in Venice is enjoyed by most tourists. Also, Venetian Gondola Tour With Serenade is well-rated by most tourists.
Dinner of Your Choice!
As it's your last stop in Venice, have dinner wherever you want!
This stop has been left blank on purpose - so go wherever your heart desires! Have a wander around the area, and see where your nose takes you!
Conclusion
The best way of experiencing Venice's cultural uniqueness and artistic riches is to plan the trip ahead of time, keeping all minute details in mind, from sightseeing to activities and food.
This Venice 4 day itinerary will work as a guide to help you explore the different parts of Venice - the touristy areas as well as the more undiscovered locations. You will be able to explore the entire 'City of Canals' and not feel like you missed out on anything in the end!
Start the trip with the more popular locations and then dive into the Venetian culture and local life. Make it a trip to remember for life!
This article was edited by Loredana Elena.
Give us feedback about this article
For more interesting articles about Italy, read:
For visual stories related to this article, take a look at:
---
---
Want to keep exploring?
Subscribe for discounts on tickets and hotels and our latest guides.
Thank you for subscribing
We will be in touch soon with discounts on tickets and hotels and our latest guides.
Want to keep exploring?
Subscribe for discounts on tickets and hotels and our latest guides.
Thank you for subscribing
We will be in touch soon with discounts on tickets and hotels and our latest guides.
Related articles