12 Things to Do on the Central Coast of California
Destguides may receive commissions from purchases made through affiliate links in this article.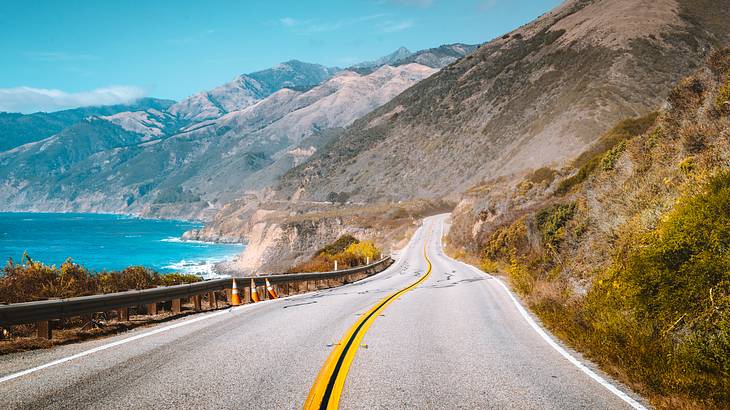 California in the United States is a renowned tourist destination, but the Central Coast is less well-known. Despite this, it's becoming more and more popular as there are many fun things to do on the Central Coast of California.
The Central Coast of California is found to the north of Los Angeles and the south of San Francisco. The area comprises six regions: San Luis Obispo, Santa Cruz, Monterey, San Benito, Santa Barbara, and Ventura. All areas of this region are easy to access as the California Central Coast highway runs through the area.
If you're planning a California Central Coast road trip or another type of visit to the region, be sure to check out these fun Central Coast activities.
12 Fun Things to Do on California's Central Coast
Central Coast Things to Do Video
Check out our highlights video of Central Coast things to do.
Map of Central Coast California
A map of Central Coast. Use the map to explore all the things to do.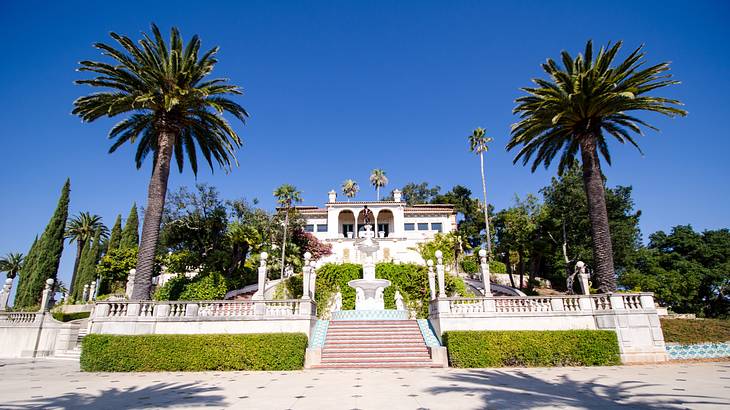 Explore Hearst Castle
Located in San Simeon in San Luis Obispo County, Hearst Castle is a palace-style estate constructed between the early and mid-1900s. Interestingly, the castle is one of the most-visited Central Coast attractions.
The castle was originally owned by William Randolph Hearst of the Hearst media empire. Today, visitors can take in the stunning glory of the Mediterranean Revival-style castle. From its tall towers and intricate exterior details to rooms decorated with luxurious rugs, regal accents, and high-end furniture.
Go wine tasting in Paso Robles or Santa Ynez Valley
When visiting, you'll find a fantastic selection of California Central Coast wineries to check out. Two popular places for wine tasting are Paso Robles wine country and Santa Ynez Valley in Santa Barbara County.
In Santa Ynez Valley, McKinney Family Vineyards and Lincourt Vineyards are excellent places to visit. In Paso Robles, Hoyt Family Vineyards and LXV Wine Tasting come recommended.
However, there are many other wineries to choose from in both areas, all with great recommendations. The majority will offer tours and tastings, with many having restaurants also. Of course, after your California Central Coast wine tasting, be sure to pick up a few bottles to take home!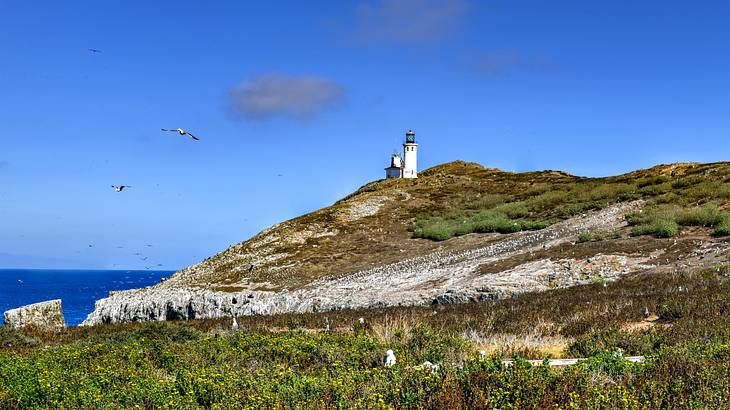 Connect with nature at Channel Islands National Park
Channel Island National Park is an island chain just off the coast of Ventura and the Santa Barbara region. The chain comprises five islands in total: Anacapa, Santa Cruz, Santa Rosa, San Miguel, and Santa Barbara Islands.
There are many hiking trails in this scenic national park, and you will see a 1930s lighthouse, and wildlife, like seals and seabirds, among other attractions.
A trip to Channel Islands National Park is one of the must-do Central Coast activities and will make you feel miles away from the nearby busy towns and cities.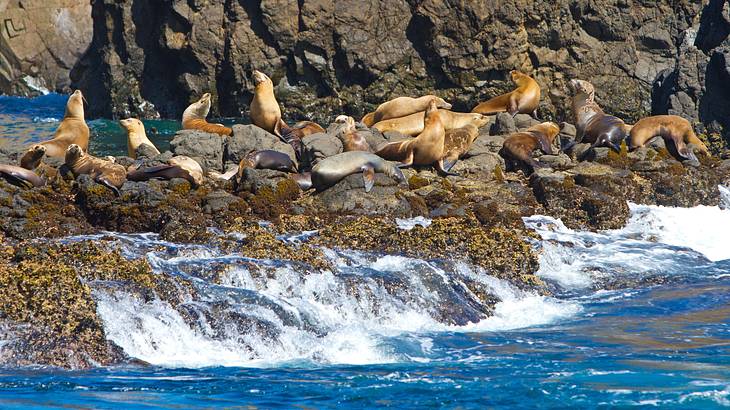 Spot sea creatures at the Channel Islands National Marine Sanctuary
The ocean surrounding Channel Islands National Park is known as the Channel Islands National Marine Sanctuary. The area protects 1,470 square miles of water and its wildlife inhabitants.
Due to being protected, it's the ideal habitat for wildlife, and you can spot a vast range of sea creatures here. These creatures include blue, humpback, and Sei whales. Despite being a protected area, you can kayak, snorkel, and dive to spot marine life up close.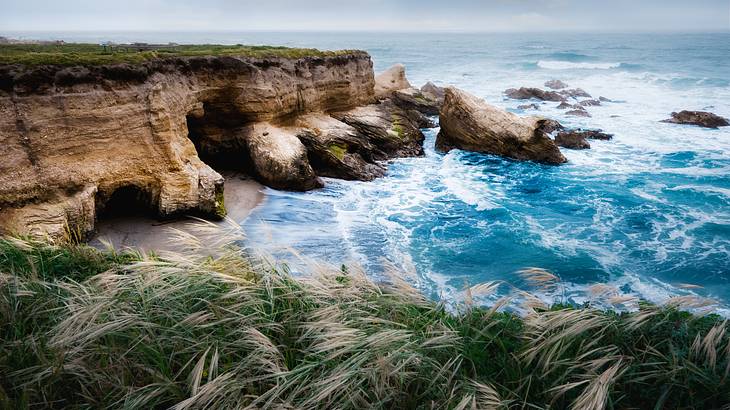 Hike at Montana de Oro State Park
Montana de Oro State Park is another attraction found in the San Luis Obispo region. The park is located about six miles from Morro Bay and covers 8,000 acres.
This park is characterized by tall cliffs, sandy beaches, and coastal plains. It's the ideal place to hike or bike surrounded by breathtaking natural scenery. Along with a range of trails to try, you'll discover various animal species, such as deer, and can even camp overnight.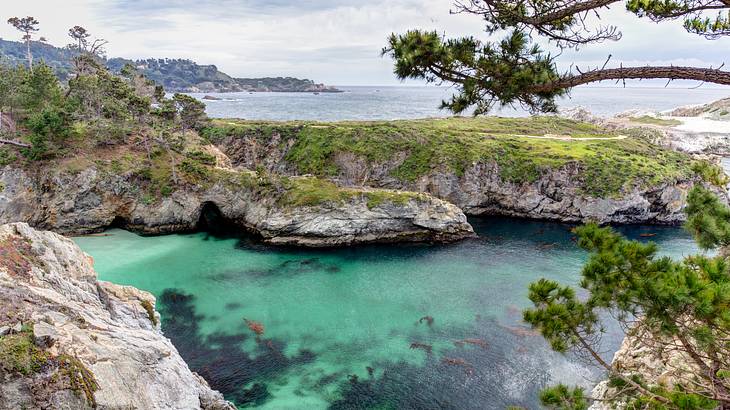 Wander along coastal paths at Point Lobos State Natural Reserve
Point Lobos State Natural Reserve is another of the amazing places to visit in Central Coast California. This area is an oasis for nature and wildlife lovers and hiking enthusiasts.
When visiting, there is a selection of hiking trails to explore, all with incredible ocean and forest views. Wildlife is also plentiful here. You may spot whales or seals while walking the coastal paths, and it's the perfect place to birdwatch.
Learn about military vehicles at the Estrella Warbirds Museum
This museum in Paso Robles is dedicated to military vehicles, aircraft, and other memorabilia. The Estrella Warbirds Museum & Woodland Auto Display covers 13-acres and features exhibits offering background on each military vehicle's use.
There are also exhibits related to pilots and other members of the armed forces, covering conflicts from World War I onwards. A visit to this museum is a must for history-lovers or those interested in military planes, tanks, and other vehicles.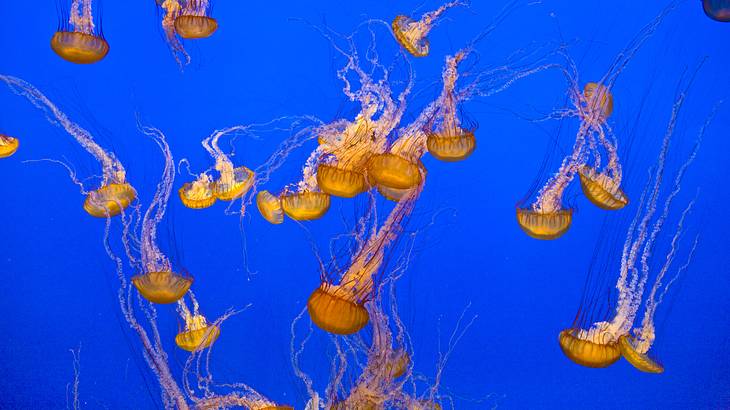 Discover marine life at the Monterey Bay Aquarium
Found right by the ocean, the Monterey Bay Aquarium is home to a vast array of sea life. When visiting, you'll get to see sharks, jellyfish, and an array of fish species. Other animals, such as sea otters and penguins, can also be seen.
Along with discovering the animals living at the aquarium, there are multiple viewing decks that look out to the nearby ocean. From these decks, you may spot whales, otters, and other marine animals.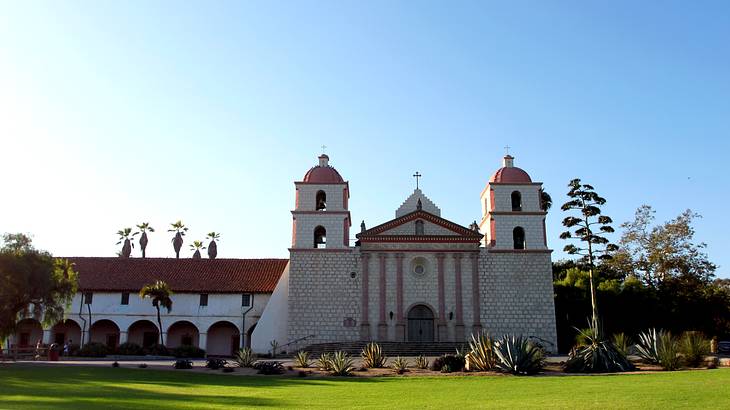 Visit Old Mission Santa Barbara
Old Mission Santa Barbara is one of the most popular places to visit in Central Coast California. The Spanish mission was constructed in the late 1700s and has been an important landmark and place to visit in Santa Barbara ever since.
When you can, explore the grounds and the interior of the mission. Guided tours are also available if you want to learn more about the mission's history.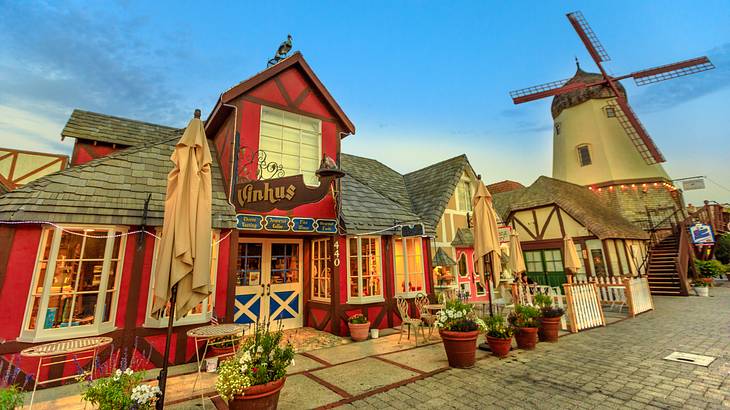 Experience European culture at the Solvang Danish Village
Enjoy a feeling of Europe while in California by visiting the Solvang Danish Village. The village features Danish bakeries, architecture, and other attractions common to Denmark, such as windmills.
Wandering around the quaint village, you'll find lots of independent shops selling unique items. There are also European-style cafes and bakeries selling delicious Danish pastries and other baked goods. There's a cute miniature horse farm and a few small museums to check out as well.
Be amazed by the Monarch Butterfly Grove
Located in the California beach town of Pismo Beach, the Monarch Butterfly Grove is an incredible natural occurrence.
Every year, thousands of vivid butterflies fly to this area of the California Central Coast. Once they've arrived, they cluster together in stunning, mainly black and orange, towers.
If you're interested in seeing this phenomenon, head to Pismo Beach between late October and February. It's unlikely that you'll see a sight like this anywhere else!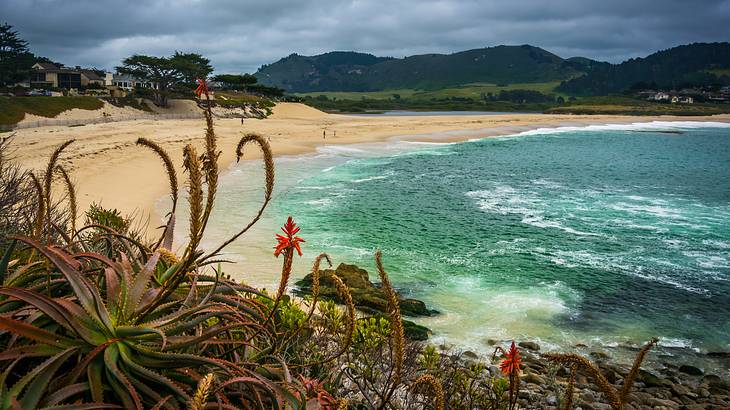 Relax on Carmel Beach
One of the main Central Coast tourist attractions is the area's beaches. Carmel Beach is one of the most popular beaches in the area.
The beach features a scenic boardwalk and vast sandy shores. It's the ideal place to sunbathe, swim, or surf. The beach is also dog-friendly if traveling with your pup.
If you don't get to Carmel Beach or find it too busy, any of the other California Central Coast beaches are sure to wow you!
In Conclusion
As you can see, there are a vast array of Central Coast tourist attractions. No matter where you visit in this area of California, you're guaranteed to find interesting places to visit and incredible beaches and parks to explore.
Give us feedback about this article
More visual stories related to this article:
---
---
Want to keep exploring?
Subscribe for discounts on tickets and hotels and our latest guides.
Thank you for subscribing
We will be in touch soon with discounts on tickets and hotels and our latest guides.
Want to keep exploring?
Subscribe for discounts on tickets and hotels and our latest guides.
Thank you for subscribing
We will be in touch soon with discounts on tickets and hotels and our latest guides.
Related Articles