20 Fun Things to Do in Napa With Kids
Destguides may receive commissions from purchases made through affiliate links in this article.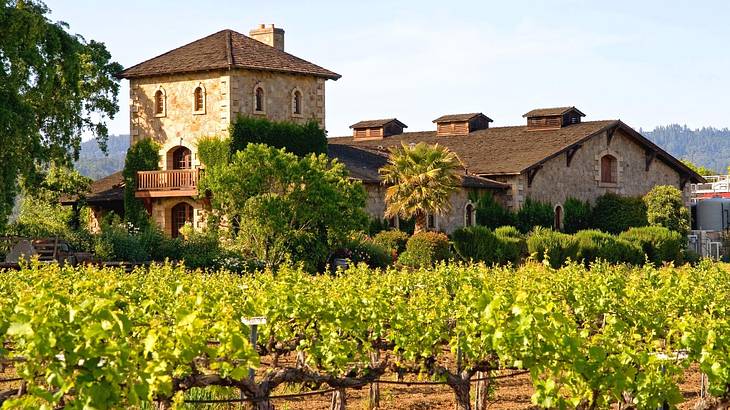 While in California, making a trip to Napa is highly recommended. The area is known for producing some of the best wine in the US and also features stunning scenery and many interesting attractions.
If traveling with family, you don't have to miss out on going to this destination. You'll find numerous fun things to do in Napa with kids. Along with visiting some kid-friendly wineries, you can hike and bike, go to museums, and even take a hot air balloon ride over the Napa Valley. Keep reading to discover all 20 exciting things to do with family in Napa.
20 Things to Do With Kids in Napa
Napa Things to Do With Kids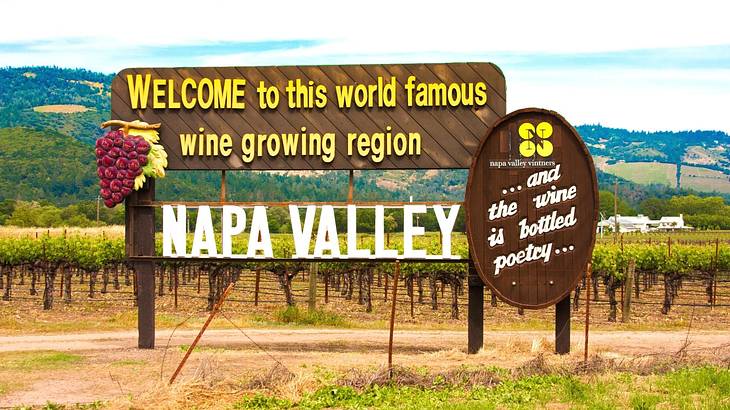 Go on a kid-friendly wine tasting trip
The California nickname, the Grape State, is widely attributed to Napa, which is home to numerous vineyards. Visiting a few of these vineyards on a Napa Valley wine tour is one of the best things to do when in the area. Fortunately, there are many kid-friendly wineries to visit, allowing you to get the wine country experience when traveling with your family.
Hoopes Vineyard is one of the best wineries to visit. You can try delicious wines made from sustainably grown grapes while the kids hang out with rescue animals at the on-site animal sanctuary. Another must-visit winery is Castello di Amorosa. It has an elegant Italian feel, and kids can taste fresh grape juice while you sample the wines.
Dine at Boon Fly Café
One of the best family-friendly restaurants in Napa is the Boon Fly Cafe. This quirky and laid-back diner has an extensive menu with lots of delicious options to choose from.
Dishes to try include flatbreads, chicken and waffles, and beer-battered fish tacos. You can find lots of sweet treats at Boon Fly Cafe too, such as donuts, banana bread, and griddle cakes with maple syrup.
The diner is known as a great breakfast spot, so heading there at the start of the day is recommended. However, lunch and dinner are also served, and they generally stay open until 9 PM.
Immerse yourself in farm life at Connolly Ranch Education Center
Connolly Ranch Education Center is one of the best places to go with kids in Napa. This old-fashioned ranch offers many interactive activities that will teach children about agricultural practices and rural life in the past.
Topics to learn about include small-scale farming and food production, nature, and local wildlife. Annual events are held too, including a harvest festival, bird watching, and dinners at the ranch. You will also spot cute farm animals at the ranch, including goats, donkeys, and chickens.
Kayak on the Napa River
The Napa River stretches for 55 miles through the Napa Valley. You and your family can try many activities on and around the scenic river.
Kayaking or paddle boarding is a popular thing to do. You can admire the surrounding views as you gently paddle down the river. If interested in doing this, Napa Valley Paddle offers kayak and paddle board rentals.
Wildlife watching is another fun activity. Animals you may see include otters, beavers, and turtles. Taking a list of all the creatures in the area and marking off which ones your kids see is a great way to get them interacting with nature.
Discover local products at Oxbow Public Market
Oxbow Public Market is an excellent place to try some local dishes and purchase some gourmet food items. The bustling marketplace has a selection of eateries, ranging from pizzerias and burger joints to kid-friendly cupcake bakeries.
After trying some tasty dishes, you can look around the shops on-site. Stores include bookshops and outlets selling chocolates, spices, and olive oils. The market is open seven days a week, meaning you can visit anytime.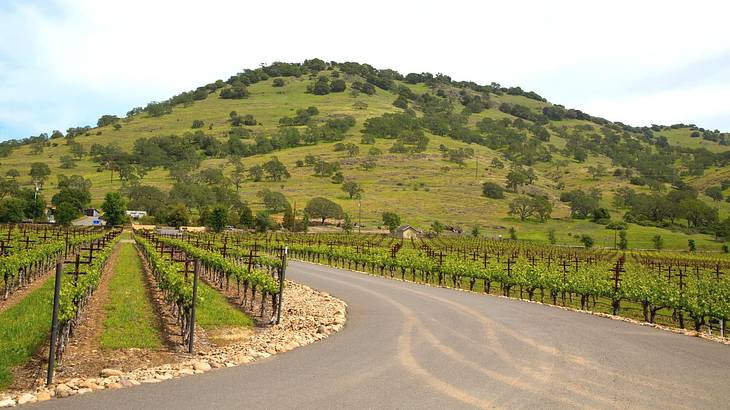 Hike or bike the Napa Valley Vine Trail
Another of the great outdoor kids' activities in Napa is hiking or biking the Napa Valley Vine Trail. The trail is 47 miles long and connects the entire Napa Valley.
Access to the trail is free, and you can enter and exit at a range of points across the valley. As you work your way along the scenic route, you can admire vineyards, parks, and forests.
You can also find a good selection of eateries along the trail if your kids need to stop for a snack. These outlets include a pizzeria and a cupcake shop. The Napa Valley Vine Trail is dog-friendly too.
Luxuriate at the Vista Collina Resort
Traveling with kids in Napa doesn't mean you have to miss out on luxury accommodation. Vista Collina Resort is a high-end accommodation option that's also kid-friendly.
Booking a one-bedroom suite is a great idea for families. The suites have a kitchen and dining area that works great for traveling with kids. You can then book an adjoining king or queen room if additional beds are needed.
Resort amenities include a spa and on-site restaurants, plus pets are welcome. If you're after a stylish place to stay, booking at the Vista Collina Resort is highly recommended!
Shop at the Napa Farmers Market
One of the relaxed yet fun things to do in Napa for kids is looking around the Napa Farmers Market. You can find an array of local produce here, from fruit and vegetables to flowers and freshly brewed cider.
You'll also discover some specialty stalls, such as those selling macarons, high-quality olive oil, and freshly cooked dishes from across the world. Your kids are guaranteed to have a great time exploring the market and trying some delicious snacks.
Grab sweet treats at Annette's Chocolates & Ice Cream
If you want to treat your kids to some candy and ice cream, one of the best family things to do in Napa, CA, is going to Annette's. There are two locations to visit in Napa, one downtown and one at Oxbow Public Market.
Sweets on offer include filled chocolates, caramels, and flavored popcorn. Seasonal treats are also available throughout the year, such as chocolate bunnies at Easter. For kids that like to bake, pick up an at-home kit, like a brownie, chocolate chip cookie, or s'mores-making kit. Ice cream is for sale in-store too.
Things to Do Near Napa With Kids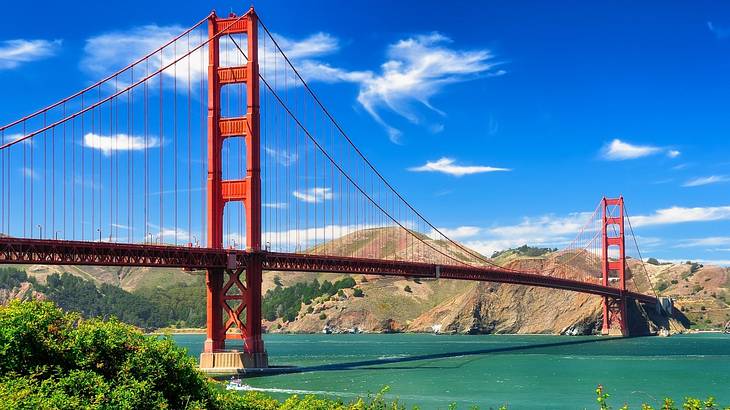 Take a trip to San Francisco
San Francisco is located just two hours from Napa County. If you've seen everything Napa has to offer and you have some time left on your trip, why not drive to San Francisco for the day?
When in the city, you can visit all of the famous San Francisco landmarks, such as the Golden Gate Bridge. You'll also discover a selection of kid-friendly attractions, like the Children's Creativity Museum, the Aquarium of the Bay, and the Walt Disney Family Museum.
Explore Bothe-Napa Valley State Park
Another of the fun activities for kids near Napa is going to Bothe-Napa Valley State Park. The 1,991-acre park, located in the Napa wine country, features a dense forest of coastal redwood trees.
At the park, you and your family can enjoy a range of outdoor activities. Things to do include hiking or biking on a variety of scenic trails. You can also find many spots to have a picnic, surrounded by nature.
If you'd like to extend your stay in Bothe-Napa Valley State Park, you can camp overnight. Being surrounded by forests under the starry night sky is a memorable experience!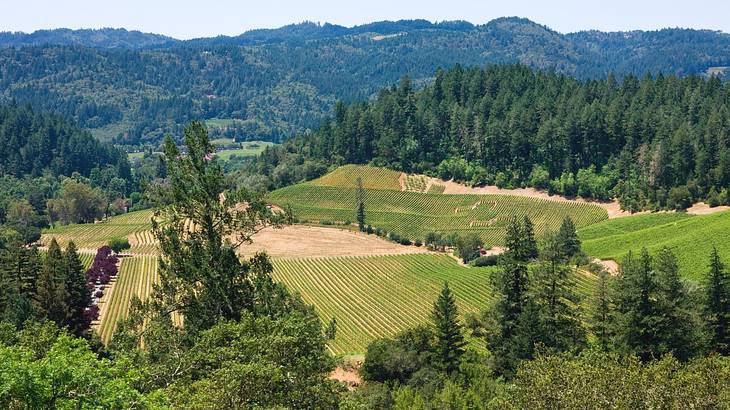 Bike around Napa Valley
If your children are good bike riders, going on a self-guided Napa Valley bike tour is recommended. You can book bike rentals in Sonoma, and all customers also get a helmet and a bike lock.
You and your family can bike to a range of attractions, using bikes as a method of transport between stops. Alternatively, bike along the many forest and country trails in the area, admiring the views.
Learn more about the area at the Napa Valley Museum
Visiting the Napa Valley Museum is one of the best indoor things to do near Napa, CA. This heritage museum houses exhibits on local art, culture, and history.
You can view a range of artifacts that are significant to the area. You can also learn about Napa's past and its history as a rural farming area. In addition, you can admire artworks by local artists that cover various mediums.
Napa Valley Museum also hosts events frequently, and you can pick up some souvenirs at the on-site gift shop. Do note that currently, the museum is only open Thursday through Sunday.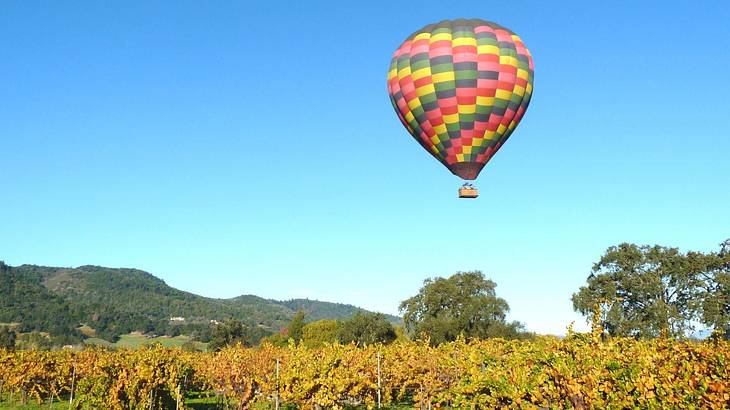 Experience a hot air balloon ride over Napa Valley
One of the most memorable family activities around Napa is going on a hot air balloon ride. Once in the balloon basket, you'll fly high above Napa Valley, taking in the views below. You'll see the Napa River and surrounding vineyards and forests, among other sights.
Your pilot will also point out landmarks and offer some background on the things you see below. A glass of sparkling wine is included for the adults as well. Children must be at least eight years old to participate in this experience.
Spot exotic animals at Safari West
Located in Sonoma, Safari West allows your kids to interact with an array of exotic animals. The 400-acre wildlife preserve is home to giraffes, cheetahs, lemurs, and many more. You can also spot a range of birds here, such as flamingos, parrots, and ostriches.
Your family will be driven around the park. Animals that aren't dangerous are generally not kept in enclosures, so you may have giraffes, zebras, and the like wandering up to your vehicle. You even have the option to spend the night at the park, with luxury safari tents available for booking.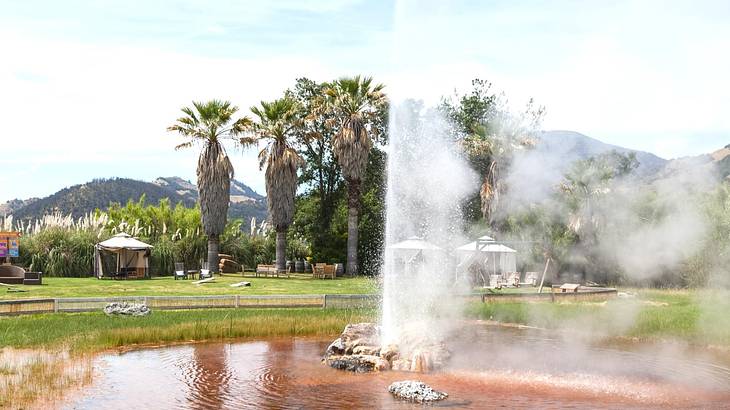 See the Old Faithful Geyser of California
The Old Faithful Geyser of California is located in Calistoga and is the product of ancient volcanic activity. The small yet scenic geyser is a well-known landmark that's surrounded by a mountainous landscape.
After seeing the geyser, you can explore the grounds around it. One of the kid-friendly attractions next to the geyser is a farmyard petting zoo. Animals for your children to see include goats, sheep, and llamas.
You can also look around some gardens with native plants, visit a geology museum, and purchase some local wine, produce, and crafts at the gift shop. If your kids liked the petting zoo, there are some farm-themed souvenirs, like plush barnyard animals, that they can buy.
Stay at the Calistoga Motor Lodge
If you're looking for family-friendly accommodation in the Napa area, consider staying at the Calistoga Motor Lodge and Spa. This boutique lodge has a classic American motel feel with a touch of luxury.
You can choose from a range of retro-inspired rooms, including Camper Rooms that mimic stylish camper vans and Vista Rooms, offering great views and a more traditional hotel feel.
The hotel also has three swimming pools and a spa that allows you to relax while your kids enjoy other activities. Do note that there are adult swim sessions each day, so your kids won't be allowed in the pools at those times. There's also an on-site restaurant, and pets are welcome.
Go back in time at Bale Grist Mill State Historic Park
Bale Grist State Mill State Historic Park is located between Calistoga and St. Helena. St. Helena contains some great wineries in the area.
A significant feature in the park is a water-powered grist mill that was built in 1846. Notably, it's one of the only water-powered mills remaining in the United States west of the Mississippi River.
When visiting with your kids, you can find out what rural life was like in the 1800s. Along with viewing the mill, you can participate in various educational activities and watch a milling demonstration. You can even pick up some freshly milled wheat flour, cornmeal, or polenta to take home.
Hang out at Lake Berryessa
One of the most fun kid-friendly activities near Napa that allow your family to enjoy the outdoors is going to Lake Berryessa. The man-made lake is one of the largest in Northern California, covering 20,000 surface areas. At the lake, you can boat on the water or just hang out on the shore.
There's also a forest surrounding the lake, which is the perfect place to do some light hiking. Wildlife is abundant in the area as well. Creatures you could see include eagles, wild turkeys, hawks, and deer. Packing a picnic and spending a day around the lake is a must when in Napa!
Visit The Petrified Forest
Petrified Forest National Park is a well-known US attraction in Arizona. But few people know that there's also a petrified forest in the Napa area. The Petrified Forest is located in Calistoga and is the only petrified forest in California.
During a visit, you can see petrified wood and redwood trees. Your family can follow a range of trails around the park as well, plus dogs are welcome to join you as long as they're on a leash. Exploring The Petrified Forest is an ideal way to unwind and let your kids get some fresh air.
In Summary
If you've been wondering what to do in Napa with kids, this list should have given you some great ideas! Napa is a perfect family-friendly destination that you must check out if in California.
Give us feedback about this article
More articles about California:
Read more articles about the United States:
More articles about things to do:
More visual stories related to this article:
---
---
Want to keep exploring?
Subscribe for discounts on tickets and hotels and our latest guides.
Thank you for subscribing
We will be in touch soon with discounts on tickets and hotels and our latest guides.
Want to keep exploring?
Subscribe for discounts on tickets and hotels and our latest guides.
Thank you for subscribing
We will be in touch soon with discounts on tickets and hotels and our latest guides.
Related Articles