20 Fun & Unique Things to Do in Santa Barbara, California
Destguides may receive commissions from purchases made through affiliate links in this article.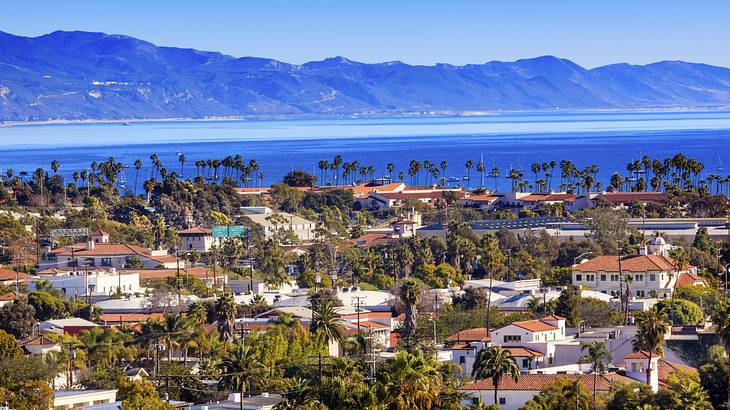 Santa Barbara is a picture-perfect paradise nestled between the rolling Santa Ynez Mountains and the vast Pacific Ocean. And yes, its charming beauty will take your breath away!
Located a mere 100 miles from Los Angeles, this lively city is Southern California's ideal weekend getaway destination. If you are looking for unique things to do in Santa Barbara, California, then look no further than the list below.
Visitors can wander along sandy beaches in this famous California beach town, hike in forests, sip fabulous wine, and feast at delicious restaurants that have made the city a favorite in the gourmet food scene. Keep reading to discover all the fun things to do in and around Santa Barbara!
20 Fun Things to Do in Santa Barbara, CA
Fun and Unique Things to Do in Santa Barbara, USA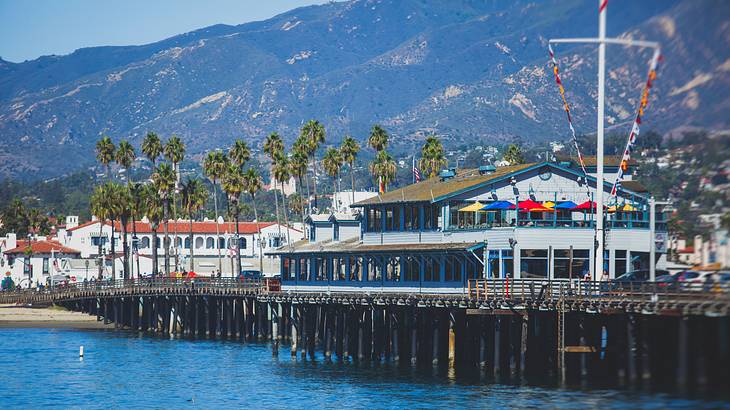 Stroll the boardwalk at Stearns Wharf
Voted the #1 attraction in Santa Barbara, Stearns Wharf is California's oldest working wood wharf. It was built in 1872. Named after its builder and local industrialist John P. Stearns, the wharf transformed Santa Barbara's fortunes, enabling freight lines to operate in the Santa Barbara Harbor.
Today, the boardwalk is a tourist favorite with various seafood restaurants, classic tourist "junk" shops, and the Santa Barbara Natural History Museum Sea Center - a small aquarium giving a detailed overview of Santa Barbara's local ecosystem. As an added bonus, the first 90 minutes of parking at Stearns Wharf is free!
Have fun on the Cabrillo Bike Path along Cabrillo Blvd
Cabrillo Blvd is a gorgeous pedestrian pathway stretching 4.5 miles along the Pacific coastline. The path connects Leadbetter Beach in Santa Barbara to Butterfly Beach in Montecito.
A favorite activity of tourists and spring breakers in Santa Barbara is renting bicycles from one of the many rental companies operating nearby and spending the afternoon riding down the shore.
With spectacular views across the ocean, this is one of the best things to do in Santa Barbara. Over 200 artists line up along the bike path on Sunday mornings, displaying their creations as part of the Santa Barbara Arts & Crafts Walk.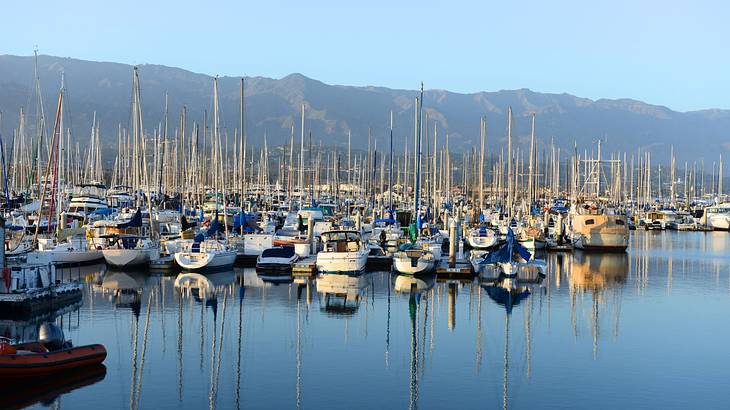 Enjoy the water at Santa Barbara Harbor
If you are looking for different things to do in Santa Barbara, start at the Santa Barbara Harbor. Spend a day on the water with a kayak boat or jet-ski rentals.
Alongside this, visitors may opt to try out scuba diving or sign up for sailing lessons at the local marina. Do not miss a sunset cruise and the opportunity to view dolphins, sea lions, and possibly whales.
The Harbor is home to the Santa Barbara Maritime Museum, hosting a changing of engaging exhibitions, as well as a variety of shops and restaurants to spend away the hours while taking in the stunning views.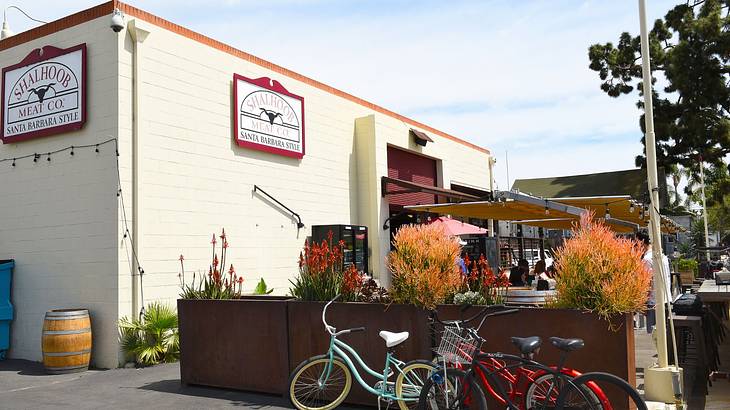 Go wild at the Funk Zone
A visit to the Funk Zone is one of the weird things to do in Santa Barbara. The former warehouse district was reimagined as a space to let loose and have fun. The Funk Zone is home to galleries, boutique wine-tasting rooms, cafes, and shops with something to appeal to every visitor.
Santa Barbara is a region famed for the quality of its wines, and the Funk Zone plays host to a unique city drinking and dining initiative: The Urban Wine Trail.
With upwards of 20 tasting rooms, regional producers showcase their distinct wines, each paired with delicious dining menus. Two days is often recommended to complete the trail at a leisurely pace.
Wine and dine along the State Street Promenade
As part of a recent urban initiative, State Street in Downtown Santa Barbara has been transformed into a 10-block pedestrian walkway. The city is famous for its unique Spanish colonial architecture, and now with the absence of cars, it is possible to enjoy the scenic downtown at a more leisurely pace.
Dozens of restaurants and bars spill out onto the street, lending a distinctly European flair to the city and crafting a charming community atmosphere. Many fun things to do in Santa Barbara are held on the Promenade, including various community events.
Every Tuesday, a farmer's market pops up, featuring 50 regional vendors, while on Thursdays, the State Street Promenade hosts an artisan's market.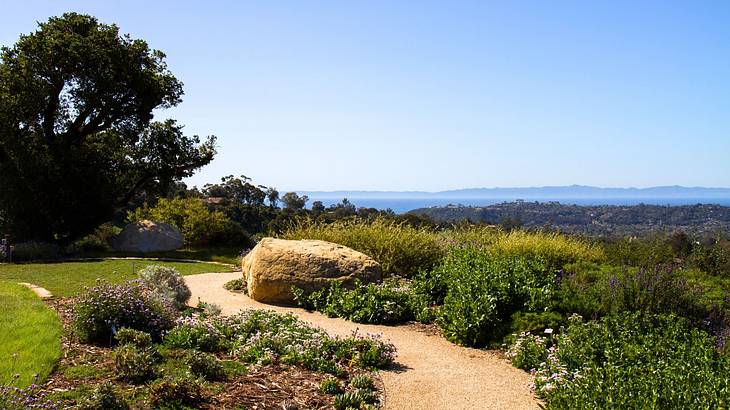 Escape to the Santa Barbara Botanic Garden
A unique thing to do in Santa Barbara is visiting the 78-acre Botanic Garden in Mission Canyon. The Garden was founded in 1926 with a mission to preserve floral species endemic to the state of California.
At the very heart of the Botanic Garden is the "Meadow," planted with perennials showcasing the beauty of California's many grassland varieties. Changing with the seasons, the Meadow is a vast mosaic of grasses and flowers.
Other sections include an uncultivated canyon leading visitors along Mission Creek and the cathedral-like Redwood grove.
Smell the orchids at the Santa Barbara Orchid Estate
Opening in 1957, the Santa Barbara Orchid Estate is a paradise, located 10 minutes from Santa Barbara Airport. This retail nursery, spread over five acres, is just 500 feet from the Pacific Ocean and is one of the world's foremost collectors and propagators of orchid species.
A family-owned business, the staff pride themselves on their encyclopedic knowledge. They are always happy to assist casual visitors and professional orchid enthusiasts alike to develop a deeper appreciation of this beautiful flower.
A Santa Barbara hidden gem is to visit in March when the Estate hosts its annual Orchid festival, and all the orchid varieties are in spectacular bloom.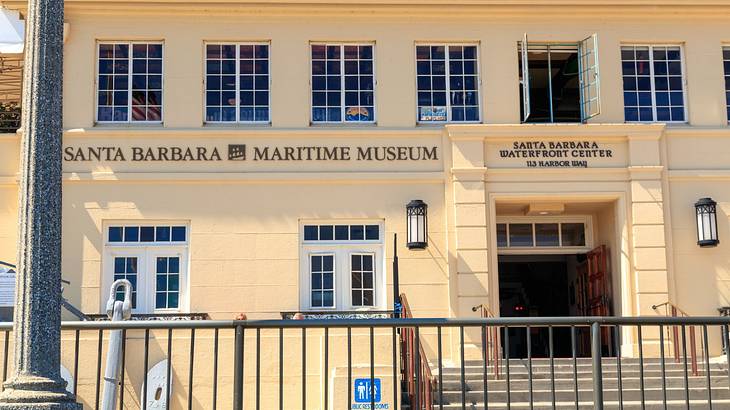 Wander the sea at the Santa Barbara Maritime Museum
Among the cool things to do in Santa Barbara, CA, is to explore the city's connection to the sea at the Maritime Museum. With interactive exhibitions, artist interventions, and film reels, visitors learn about various themes, including sustainable fishing, the history of sailing, and even Santa Barbara's favorite pastime: surfing.
The Museum's Munger Theatre, located within a replica of a 19th-century lumber schooner, offers an incredible film journey of deep-sea archaeological exploration. The attraction offers regular arts programming, including community art shows and their famous Sea Glass Sundays - a summertime event promoting sea glass crafting and jewelry making.
Fill your belly at the Santa Barbara Public Market
Inspired by Madrid's Mercado de San Miguel, the Santa Barbara Public Market is a foodie's delight and one of the best things to do in Santa Barbara.
Located in the heart of downtown Santa Barbara, this repurposed old grocery store now houses seven gourmet food purveyors, including a craft beer taproom ("The Garden"), a sushi bar ("Wabi-Sabi"), Thai and Taiwanese-inspired noodle bowls ( "Empty Bowl Gourmet Noodle Bar"), and inventive Mexican cuisine ("Corazon Cucina"), among others.
With so many dining options under one roof, the Public Market is a community favorite, having created more than 200 jobs and a model for small businesses in the area.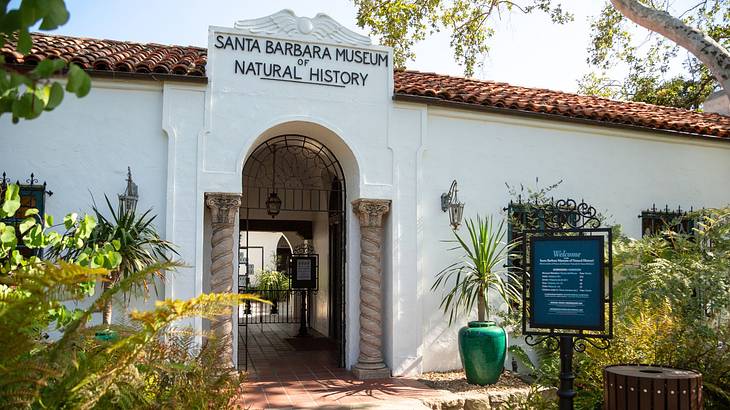 Find your inner nerd at the Santa Barbara Museum of Natural History
This unique natural history museum is one of the best things to see in Santa Barbara. Situated in the forest along Mission Canyon's Mission Creek, the Museum is an interactive indoor-outdoor exploration of the natural world.
With exhibits ranging from astronomy to paleontology and Native American culture to marine life, the Museum is a favorite for children and adults alike.
The Santa Barbara Natural History Museum is renowned for its on-site planetarium and butterfly garden. Kids will love the Curiosity Lab with its "Nature Exchange" program, a place where you can bring items from nature and trade them for other natural objects.
A resident naturalist is on-site to answer any questions your little ones may have about the natural world. You can also head to the waterfront to visit the Santa Barbara Museum of Natural History Sea Center.
Be a beach bum at Arroyo Burro Beach County Park
Also known as Hendry's Beach, Arroyo Burro Beach doubles as both Santa Barbara's premier surf spot and a local's favorite dog beach. Over 800,000 people visit the beach annually to surf, swim, meet for breakfast, or enjoy a cocktail.
The sandy shore offers a perfect vantage point to watch for whales as they regularly make an appearance along the coast. Dog owners love this beach as it affords a wide-open space for their four-legged friends to meet and play with other dogs.
The Watershed Resource Center here is a site for community education about the importance of water. Stop in for a visit to learn more about watershed restoration and the human imprint on ecology.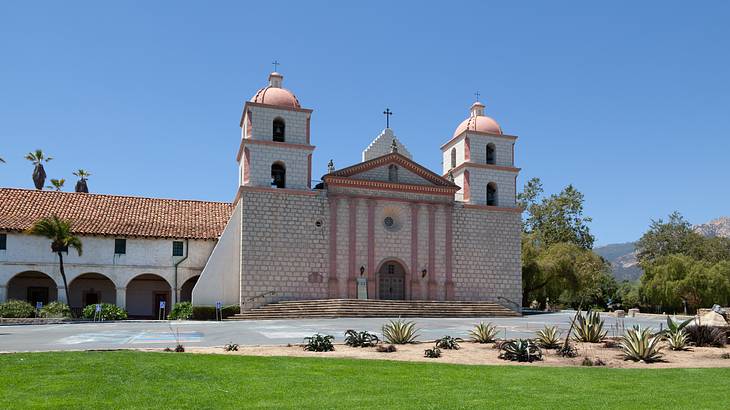 Feel the spirit at the Old Mission Santa Barbara
Founded on the Feast of Saint Barbara in 1786 by Spanish Franciscans, the Santa Barbara Mission is an enduring reminder of the city's storied history. It is a favorite Santa Barbara attraction and one of the fun things to do on the Central Coast of California.
Three churches have been built on the site over the centuries. Destroyed by an earthquake in 1812, the current church is known as the "Queen of the Missions" for its exceptional beauty.
With its double bell towers, lush gardens, on-site museum, and a unique altar designed by the native Chumash people, this 5-acre property is an impressive stop on a visitor's itinerary.
Make sure to visit the La Huerta Historical Garden, an incredible centuries-old orchard belonging to the Mission, as well as the A.C. Postel Mission Rose Garden - a wonderland opposite the Mission with over 1,500 mature rose plantings.
Get your culture fix at the Santa Barbara Museum of Art
This gorgeous little museum is a gem. It is home to a collection of European, American, and Asian art alongside a dynamic roster of temporary exhibitions. Founded in 1941, the Museum, initially a post office, has been a center for Santa Barbara creatives for generations.
The Santa Barbara Museum boasts an impressive collection of early twentieth-century Modernists, including Picasso, Matisse, and Joan Miró. It specializes on regional contemporary artists responsible for transforming California into a global center of art.
The Museum regularly hosts popular community events, including informal art workshops known as Studio Sundays and family art-making activities such as 1st Thursdays.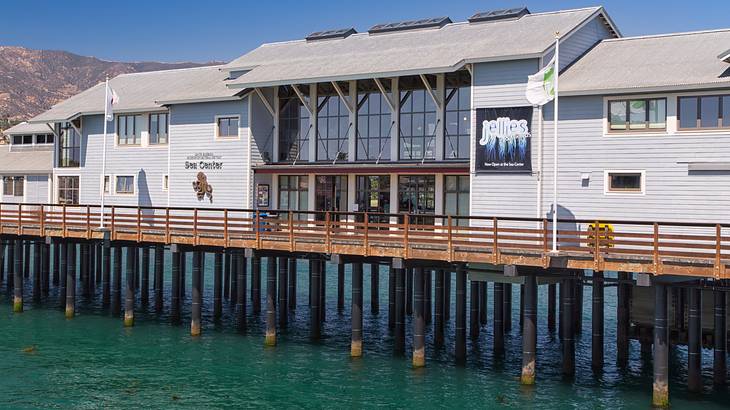 Explore the Santa Barbara Museum of Natural History Sea Center
One of the unusual things to do in Santa Barbara, USA, is to visit the city's fascinating Museum of Natural History's Sea Center. Located on the historic Stearns Wharf, the Sea Center is an interactive aquarium offering up-close encounters with the marine animals of the Santa Barbara Channel.
Guests can interact with marine animals such as stingrays, sharks, sea urchins, and sea stars in the 1,500-gallon tide-pool tank. The interactive wet deck allows kids to become scientists with free use of oceanographic tools, examining marine life under a microscope.
Catch a show at the Lobero Theatre
The Lobero Theatre is the oldest continuously performing theatre in California. Founded in 1873 and rebuilt in 1924, the Lobero has witnessed, over its history, performances by some of the greatest names in entertainment, including Dizzy Gillespie, Igor Stravinsky, and Ingrid Bergman.
Today, the theatre hosts more than 250 performances and events annually, its acoustics making it particularly suited for chamber music. The State Street Ballet, the Santa Barbara Chamber Orchestra, the Music Academy of the West, and the Opera SB all call the Lobero home.
Programming at the Lobero is varied. From drag shows and jazz and rock concerts to contemporary dance performances - there is something for everyone to love here!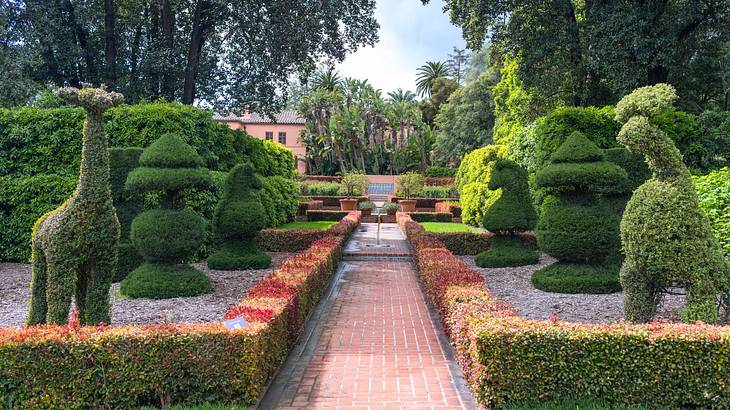 Be amazed by Lotusland
Once belonging to opera singer and socialite Madame Gana Walska, this intimate botanical garden is her life's work. Today, Lotusland, located in the neighboring town of Montecito (a quick 10-minute drive from the Santa Barbara Harbor), contains over 20 extravagant landscapes, each with its own theme and unique vision.
Situated on over 37 acres, Lotusland accepts only ten visitors at a time. Tours are led by docents presenting an informative portrait of Gana Walska and her life's work. Lotusland contains an insectary garden of pollinating bees and butterflies that work to establish a harmonious ecosystem for the entire property.
Alongside this are a stunning collection of cacti (numbering over 300 species), an incredible Japanese landscape garden built around a reflecting pond, and a popular garden featuring imaginative plantings of species endemic to Australia.
Fun Things to Do Near Santa Barbara, California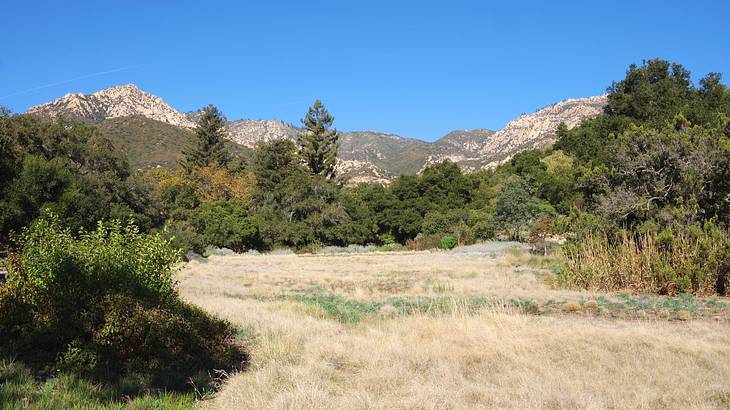 Get lost in the Santa Ynez Mountains
Forming the scenic backdrop to the city of Santa Barbara (and only a 20-minute drive from downtown), the Santa Ynez Mountains rise sharply from the Pacific Ocean.
Located within the Los Padres National Forest, the mountains are crisscrossed with incredible hiking trails commanding impressive ocean views. Just 2 miles from the ocean rises the 2,485-foot Gaviota Peak.
During the hike to the top, head up Trespass Trail, a narrow single-track offering breathtaking views across the ocean. The mountains also hide the exquisite Chumash Painted Cave State Historic Park. The Chumash people painted this small sandstone cave nearly 1000 years ago, and it is a gorgeous example of California's Native American artistic heritage.
Get drunk on the Santa Maria Wine Trolley
The Santa Maria Valley, located within Santa Barbara County, is one of the premier wine-growing regions in the United States. If you are looking to get a little tipsy, hop aboard the vintage-style Santa Maria Wine Trolley to explore some of the region's famous tasting rooms and premier vineyards.
The trolley, operating during the summer months, runs every weekend. Hop on and hop off at the vineyards of twelve esteemed local producers, sampling a variety of Santa Barbara's regional specialties: Chardonnay, Pinot Noir, and Syrah.
The Santa Maria Valley has a climate comparable to the Mediterranean, with experts calling it "the world's most dynamic wine-growing region."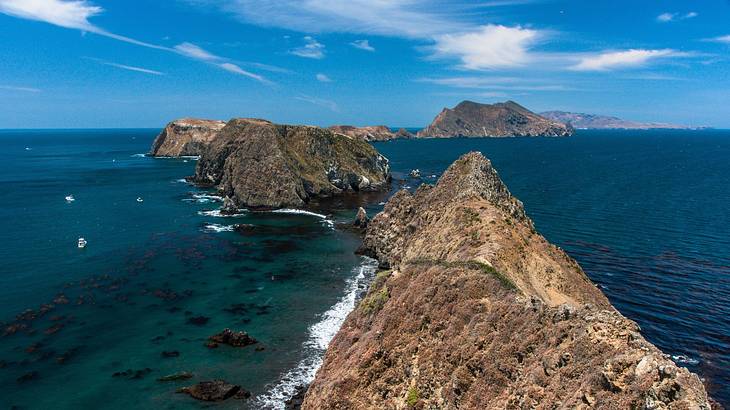 Chart untouched terrain at Channel Islands National Park
Visible from Santa Barbara's harbor is Channel Islands National Park, a UNESCO-recognized biosphere reserve and one of the most impressive attractions in Santa Barbara, CA. The Channel Islands encompass five mountainous islands and their unique marine environments.
Hiking, surfing, backcountry camping, wildlife viewing (blue whales and sea lions call these islands home), scuba diving, and snorkeling are among the many activities visitors can partake in on a trip to the islands.
A visitor center located in Santa Barbara Harbor can provide you with an extensive overview of how to reach the islands and information regarding overnight stays and activities. If you find yourself in Santa Barbara in the winter months, do not miss the gray whale migration season and the spectacular wildflower displays to be seen from the islands.
Swim in the Red Rock Pools
Hidden within the Santa Ynez Mountains are a series of natural swimming holes in the Santa Ynez River. This well-kept secret of Santa Barbara locals is the best place to escape the city's bustle, relaxing in the river's cooling waters.
Follow Red Rocks trail in the direction of Gibraltar Dam. This 3.5-mile stretch of trail will lead you past a group of swimming holes, with popular bigger pools leading to more secluded spots upriver.
When the river's water is high enough, the pools are a magnet for thrill-seekers, jumping from the rocks into the rushing water below. The Red Rocks Trailhead is located an easy 40-minute drive from Santa Barbara through the stunning woodlands of the Los Padres National Forest.
Conclusion
Paradise has a name, and it is Santa Barbara. For a city of such a relatively small size, there is so much to see and explore here. Whether it be the natural world or urban pursuits, there is something for everyone to enjoy in this laid-back beach town.
This list provides the perfect itinerary of quintessential Santa Barbara attractions for time well spent in the city, ensuring an enjoyable stay in paradise.
Give us feedback about this article
More visual stories related to this article:
---
---
Want to keep exploring?
Subscribe for discounts on tickets and hotels and our latest guides.
Thank you for subscribing
We will be in touch soon with discounts on tickets and hotels and our latest guides.
Want to keep exploring?
Subscribe for discounts on tickets and hotels and our latest guides.
Thank you for subscribing
We will be in touch soon with discounts on tickets and hotels and our latest guides.
Related Articles