7 Kentucky Nicknames and the Stories Behind Them
Destguides may receive commissions from purchases made through affiliate links in this article.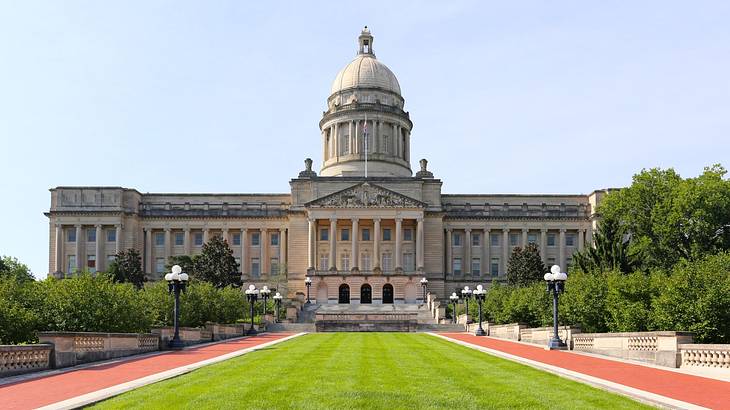 Kentucky is a southeastern state sandwiched between multiple other states, including Ohio, Indiana, and Tennessee. In addition, it has collected an arsenal of monikers since it became the first state west of the Appalachian Mountains in 1792.
Unbridled Spirit is Kentucky's official state motto, which nods to its history with both horse racing and Bourbon production. The nicknames Derby State and Bourbon Country also pay homage to these important parts of Kentucky culture.
Additionally, Dark and Bloody Ground charts a tumultuous period in the state's history, while Bluegrass State is a reflection of the unique Bluegrass Region. Ready to discover all of the top Kentucky nicknames? Keep reading for seven monikers and the reasons behind them.
7 Nicknames for Kentucky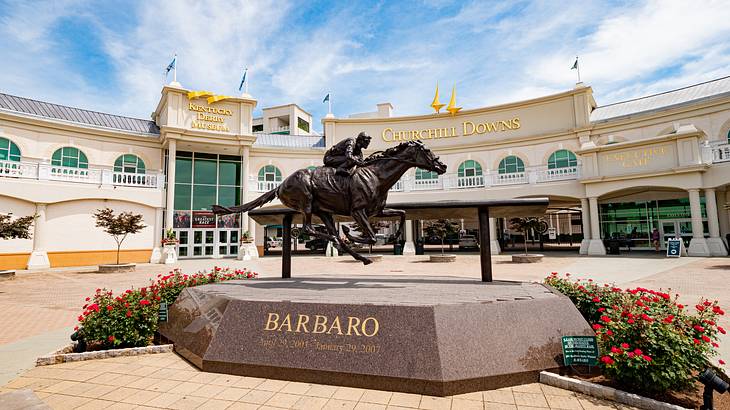 Derby State
One of Kentucky's state symbols is the Thoroughbred horse. Additionally, one of the most popular reasons to visit Kentucky is for the annual horse racing derby, the Kentucky Derby. This world-renowned event is why the region is often dubbed the Derby State.
The derby occurs every year on the first Saturday in May at Churchill Downs in Louisville. It's the longest continuously-held sporting event in the USA, having been held yearly since 1875. It's also the most attended horse race in the world, with a huge two-week festival taking place before race day.
You can also visit the Kentucky Derby Museum in Louisville, which is one of the top landmarks in KY. Horse lovers should also pay a visit to Lexington, Kentucky, known as the "Horse Capital of the World."
Corn Cracker State
There is plenty of debate over the origin of Kentucky's Corn Cracker State nickname. On one hand, some people believe that this name stems from the poorer people who used to live in the mountainous regions of the state. Corn was a vital crop for these people, and they would crack corn to make cornbread.
Another origin story from this nickname comes from the corn crake, a bird that used to be commonplace in Kentucky. This crane made a "cracking" noise, potentially leading to the state moniker.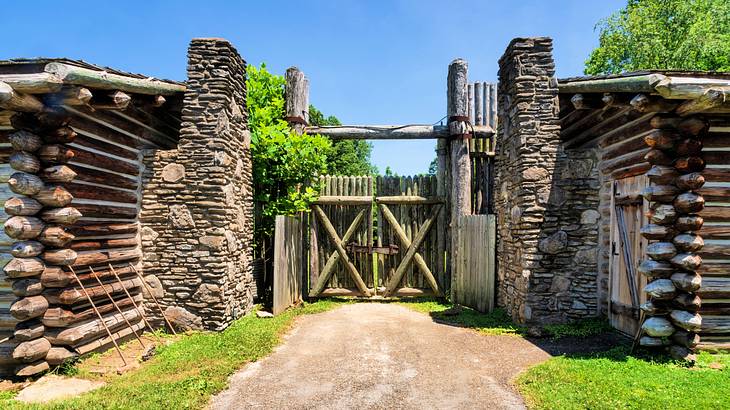 Rock-Ribbed State
You'll likely hear the phrase Rock Ribbed State in relation to Kentucky. But you may be wondering how this Kentucky state name came to be. Well, it has to do with Kentucky's sheer number of limestone and sandstone formations and overall rugged terrain.
In addition, early settlers in Kentucky built numerous rock fences around their farms, cemeteries, and mills. This practice increased throughout the 1800s. Towards the end of the century, the vast majority of the roads, homes, and farms were lined with rock fences. Today, there are many limestone and sandstone formations that are used to produce cement, lime, and other building materials.
Bluegrass State
Kentucky's official nickname is Bluegrass State, and this is the slogan you will see on many of the region's license plates. The state gets this moniker from the abundance of Kentucky Bluegrass across the region.
Bluegrass is a grass species native to Europe and Asia that was introduced to Kentucky by European settlers in the 1700s. The grass is actually a green color, though it features bluish-purple buds and flowers in the spring.
Another reason for this nickname is the Bluegrass music that Kentucky is famous for. This is a distinctive style of American roots music that originated between the 1930s and 1940s.
Dark and Bloody Ground
The next nickname for Kentucky is Dark and Bloody Ground. The nickname is a reference to some of the bloody battles that were fought in Kentucky throughout the 18th century when it was still part of Virginia.
In particular, the Battle of Blue Licks (1782) was extraordinarily deadly. It resulted in victory for the Native Americans, forcing Commander Daniel Boone and other settlers to retreat from the area.
Hemp State
Kentucky is often referred to as the Hemp State. This nickname harks back to the 1800s when hemp (alongside tobacco) was one of the top crops to be grown. At one point, Kentucky was responsible for a whopping three-quarters of hemp fiber production in the United States.
This boom continued into the 1900s until the 1970 War on Drugs, when the production of industrial hemp was effectively banned. As of 2014, the state of Kentucky is legally allowed to produce hemp again for research purposes, and it remains one of the top states in terms of hemp production.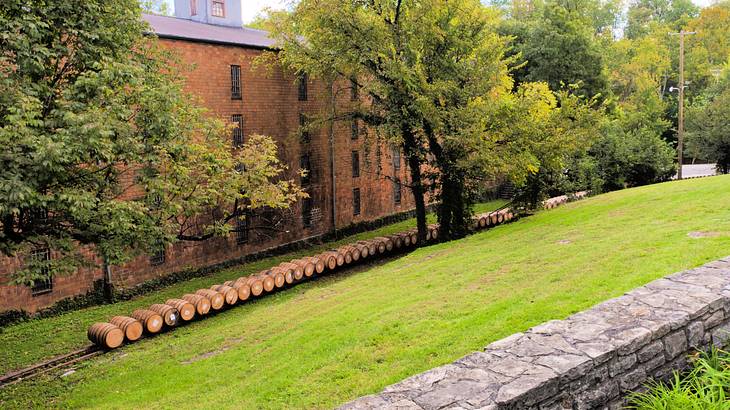 Bourbon Country (World's Bourbon Capital)
Are you planning to visit Kentucky without trying some Bourbon? That would be a huge mistake! Kentucky is famed for being the Bourbon Country (also referred to as the World's Bourbon Capital). This Kentucky state nickname was created mainly because the area is responsible for around 95% of the world's bourbon production.
One of the coolest facts about Kentucky is that the state's love affair with whiskey dates back to the early 1800s. Bourbon is a specific type of whiskey made from corn, rye, and barley.
To be classed as Bourbon, the alcohol must be made in the United States. Additionally, it needs to be aged for at least two years. Bourbon County in Kentucky gave this drink its name, and it's still home to a number of distilleries, including Jim Beam, Maker's Mark, and Wild Turkey.
In Summary
Kentucky is a state filled with plenty of Unbridled Spirit, and these Kentucky alternate names chart a long and fascinating history. The state's official nickname, the Bluegrass State, comes from the area's abundance of Kentucky Bluegrass, a type that is native to the region.
But, aside from looking pretty, Bluegrass also makes excellent forage for horses, which is convenient as Kentucky is a significant horse breeding and racing center. And its nickname, the Derby State, also illustrates this.
Whether you call Kentucky the Bourbon Country or the Rock-Ribbed State, make sure to use some of these nicknames during your visit; you'll sound like a local in no time.
Give us feedback about this article
More articles about Kentucky:
Read more articles about the United States:
More articles about nicknames:
---
---
Want to keep exploring?
Subscribe for discounts on tickets and hotels and our latest guides.
Thank you for subscribing
We will be in touch soon with discounts on tickets and hotels and our latest guides.
Want to keep exploring?
Subscribe for discounts on tickets and hotels and our latest guides.
Thank you for subscribing
We will be in touch soon with discounts on tickets and hotels and our latest guides.
Related Articles