5 New York State Nicknames That You Should Know
Destguides may receive commissions from purchases made through affiliate links in this article.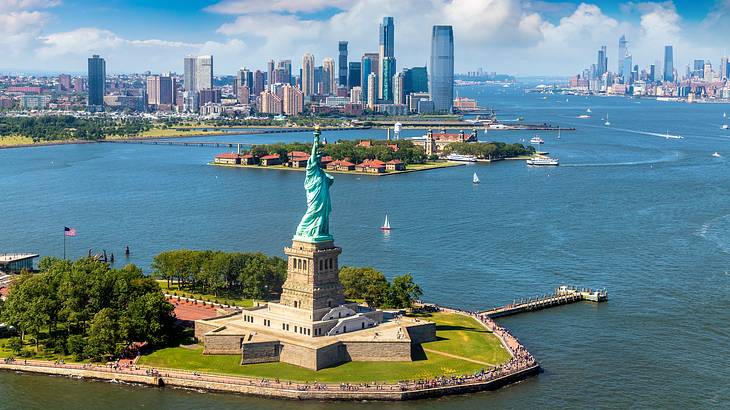 In the northeastern corner of the USA, New York State is one of the most influential in the country. Despite its humble size, it's actually one of the most populated and diverse states in the United States. So it should come as no surprise that there are plenty of New York nicknames to learn.
The most famous moniker associated with New York is Empire State. While this nickname is often used to describe New York City, this name illustrates quite how grand NY state is. With its rich history, breathtaking landscapes, and iconic NYC, New York has rightly earned its place as a cultural melting pot.
Get ready to discover the names and slogans that encapsulate New York so well. From the lesser-known Excelsior State to the Gateway to the West, these are the nicknames to use next time you visit New York.
5 Nicknames for New York State
New York Nicknames Video
Check out our highlights video of New York nicknames.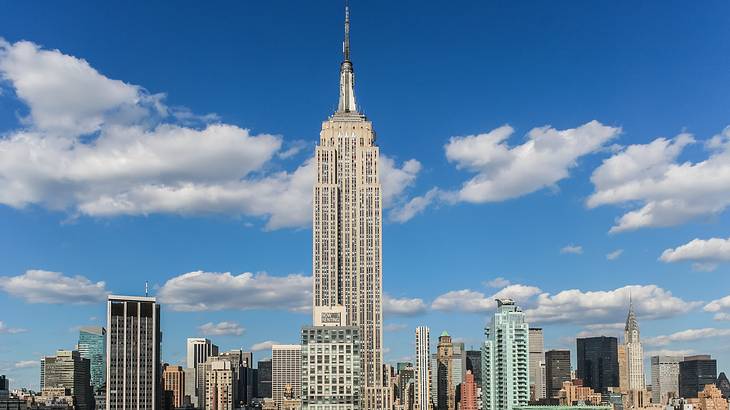 Empire State
The most common NY state nickname is the Empire State. Most people believe that this moniker comes from one of the most recognizable landmarks in New York, the Empire State Building. However, you might be surprised to know that this is not the case. The building was named after the state's nickname.
But where did this nickname come from? It's widely debated, but the most common belief is that this name stemmed from a 1785 letter by George Washington in which he stated that New York was "the seat of the Empire." This slogan was in reference to New York's strength and stability throughout the American Revolutionary War.
In recent years, this nickname has been immortalized forever in the 2009 song Empire State Of Mind by Jay-Z and Alicia Keys. This song charts the city of New York and its five boroughs, from Brooklyn to Staten Island.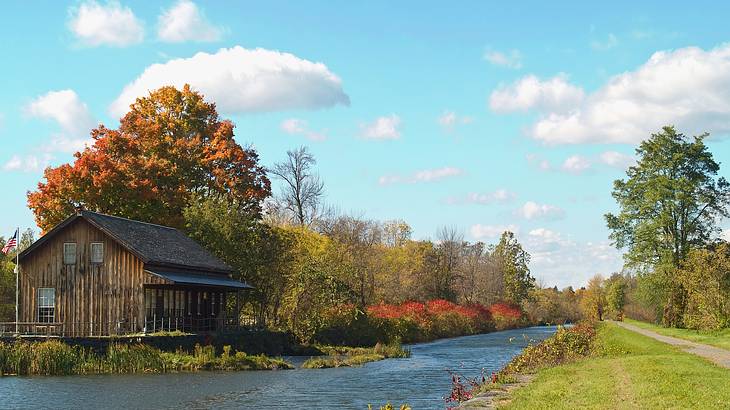 Gateway to the West
The next nickname is Gateway to the West. This term was first adopted in the 1800s when many Americans and recently-arrived immigrants wanted to move west from New York City. However, the Appalachian Mountains that pass through the Eastern US made the logistics of moving around a little bit tricky.
DeWitt Clinton was the New York State Governor at the time. And he was extremely vocal about wanting to dig a canal across the state so that people could travel from the Atlantic Ocean to Lake Erie. He dubbed this a "Gateway to the West."
Although he received plenty of criticism from residents and political opposition, he didn't let this stop him. Between July 4, 1817, and October 26, 1825, the Erie Canal was dug out, spanning 363 miles. It runs between the Hudson River and ​​Lake Erie and cost a whopping seven million dollars to create.
Excelsior State
New York State is known as the Excelsior State thanks to its official motto, Excelsior. This is a Latin word that directly translates to "higher."
This state motto was first used in the 18th century and is still seen in various emblems and on the official state seal, which is used to mark official documents. This seal shows two Goddesses, one of liberty and another of justice, with the word Excelsior below.
This is one of the New York State slogans that encapsulates the way in which the state is always striving for excellence and a better future with its economy, culture, and education. It just so happens that New York is home to majestic mountains, beautiful lakes, and awe-inspiring landscapes that also illustrate the idea of reaching higher and ascending to new peaks.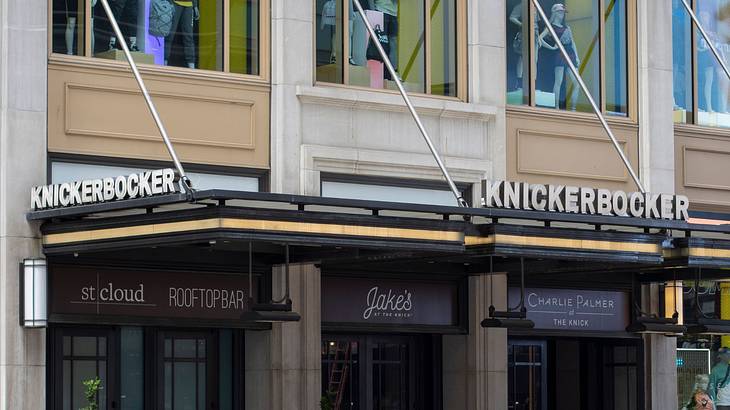 Knickerbocker State
Knickerbocker State is one of the New York State slogans that has a fascinating origin. The phrase Knickerbockers relates to the Dutch settlers who came in search of the New World in the 1600s, in what is now New York. They would wear a specific style of pants that rolled below the knee, which were known as Knickerbockers.
It wasn't until 1809, though, that this word really began to be associated with New York. This was when Washington Irving wrote A History of New York from the Beginning of the World to the End of the Dutch Dynasty under the pseudonym Diedrich Knickerbocker.
But there's a more famous use of this nickname in today's culture. In 1946, New York City was looking to name its basketball team, and it is believed that a handful of names were put into a hat. Knickerbocker was the chosen one. And so, the New York Knickerbockers, more commonly known as the New York Knicks, were born. You can also stay at Knickerbocker Hotel when in NYC.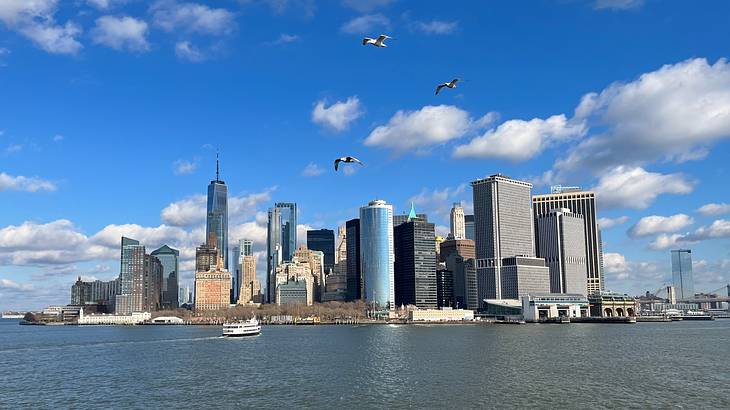 Vampire State
While the majority of nicknames for NY are positive, one of the negative New York slogans is Vampire State. Though this isn't a nickname exclusively used when referring to New York, it's the most well-known use of the slogan. This phrase is used to describe a number of destinations around the globe where taxes are very high.
This nickname reflects how locals feel like their money and resources are being drained from them (very much like how a vampire sucks the blood out of its victims). This is often used in reference to New York to complain about the high cost of living, soaring tax rates, and rising inflation.
In fact, New York City's Manhattan is the most expensive place to live in the entire USA, making this a NYC nickname as well.
In Summary
With its sprawling cities, beautiful landscapes, and welcoming residents, New York is a US state with plenty of personality. From Excelsior State to the Gateway to the West, these New York names show just how influential this state has been in making the USA what it is today.
Empire State perfectly describes the strength and resilience of New York throughout a turbulent time in history, while Knickerbocker State showcases New Yorkers' diverse backgrounds (and modern love for basketball).
Additionally, Empire State and Excelsior are two phrases you'll find on the vast majority of New York license plates. Be sure to keep an eye out next time you visit for some of these nicknames!
Give us feedback about this article
More articles about New York:
Read more articles about the United States:
More articles about nicknames:
---
---
Want to keep exploring?
Subscribe for discounts on tickets and hotels and our latest guides.
Thank you for subscribing
We will be in touch soon with discounts on tickets and hotels and our latest guides.
Want to keep exploring?
Subscribe for discounts on tickets and hotels and our latest guides.
Thank you for subscribing
We will be in touch soon with discounts on tickets and hotels and our latest guides.
Related Articles