20 Date Ideas in Arlington, VA
Destguides may receive commissions from purchases made through affiliate links in this article.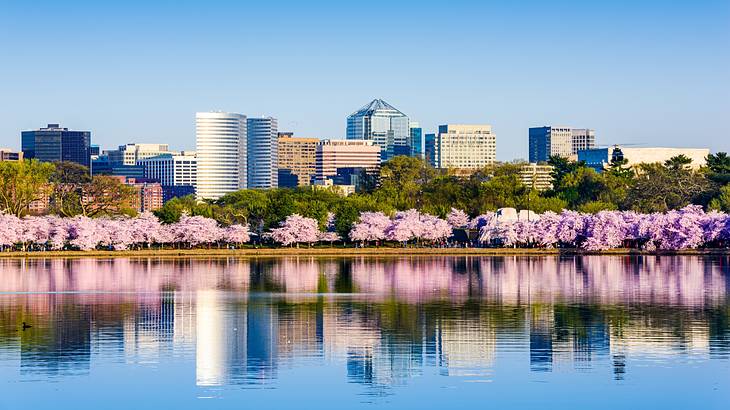 Arlington is an exciting city located next to Washington, D.C. It's best known for being home to Arlington National Cemetery but has many other places to visit and things to see. The city is also a fun place for couples to explore!
This list of date ideas in Arlington, VA, covers some of the best and most romantic things to do together in and around the city. Just a few date activities to enjoy include walking along the Mount Vernon Trail, getting drinks at The Liberty Tavern, and treating your date to a Potomac River dinner cruise.
You could also plan some trips around Arlington, like going to Alexandria for the day or having a date night in Washington D.C., dining at a top restaurant, or watching a Capitals or Wizards game. Keep reading to discover all of the best date activities in and around Arlington, Virginia!
Arlington, VA, Date Ideas
Best Arlington Date Spots
Walk along the Mount Vernon Trail
The Mount Vernon Trail begins at Theodore Roosevelt Island just across the Potomac River from Arlington. It can be accessed from areas in Arlington, like near Arlington National Cemetery.
This route covers 18 miles and ends at George Washington's Mount Vernon Estate. It's a beautiful trail to walk with your partner, taking in views of the Potomac River, countryside, and forests. You can also see across to DC at the start of the trail around Arlington.
It takes five hours to complete the trail one way when walking. However, you can walk as much or as little of the Mount Vernon Trail as you like, with many entry and exit paths available.
If you're willing to walk a decent way but don't want to do the whole trail, you can walk to Alexandria along the Mount Vernon Trail in about two and a half hours. You can then take public transport back to Arlington.
Spot airplanes at Gravelly Point
Gravelly Point is an interesting place to go with your date during the day. The peninsula park offers views of the Potomac River and has areas to sit and chat while taking in the views.
Interestingly, you can also see planes taking off and coming in to land from the park. In many cases, the airplanes fly right overhead, making for a unique view that you're unlikely to see anywhere else.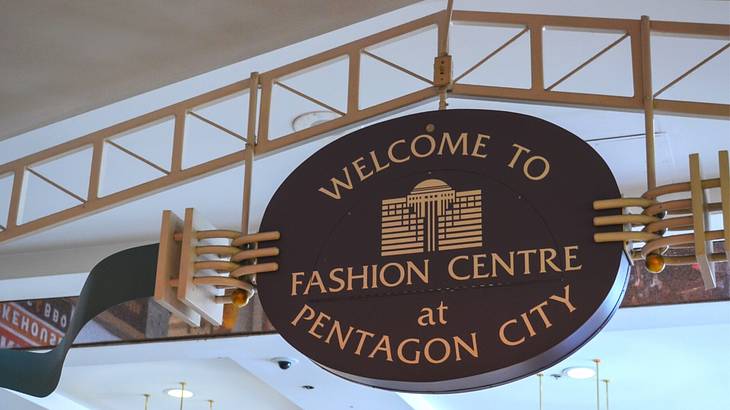 Shop at the Fashion Centre at Pentagon City
A laid-back or rainy day date activity is shopping and enjoying the other attractions at Fashion Centre at Pentagon City. This vast mall has many shops, including clothing stores, home decor shops, and beauty outlets.
After shopping, you can dine together at a sit-down restaurant or pick up snacks, like soft pretzels or cupcakes.
Paint artworks at Muse Paintbar
Couples that like crafts will want to plan a date at Muse Paintbar. At the art studio, you can follow along with an instructor to paint a beautiful piece of art.
Things to paint include landscapes, animals, and famous Washington DC attractions. As you paint, you can enjoy drinks, including alcoholic drinks, which can be purchased from an on-site bar.
The studio is open from the late morning or early afternoon until the late evening, so going to Muse Paintbar can be a fun thing to do during the day or on a date night in Arlington, VA.
Hike through Potomac Overlook Regional Park
Potomac Overlook Regional Park is one of the top places to go hiking together. Best of all, entrance is free. At the park, you'll find many trails that take you through woodlands and areas with flora native to Northern Virginia.
During a hike, you and your date may spot animals, including many bird species, deer, and raccoons. Along with hiking, you can visit the James I. Mayer Center for Environmental Education or have a picnic surrounded by nature.
Things to Do on Date Night in Arlington, VA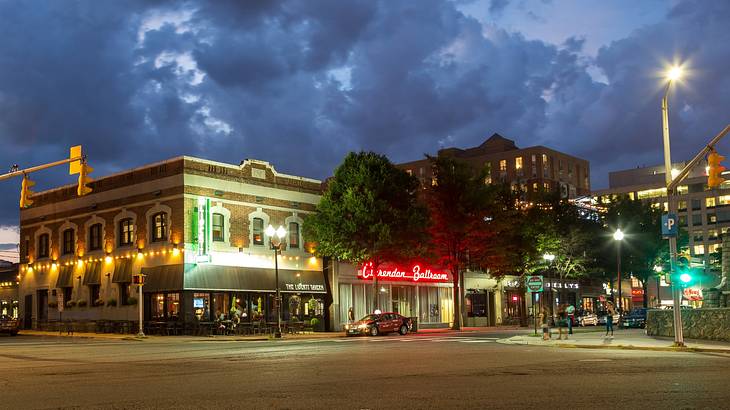 Dine or get drinks at The Liberty Tavern
Whether you're going out together for dinner or getting drinks, The Liberty Tavern is a fun spot to check out. For dinner, you can enjoy dishes like garlic and herb roasted shrimp, roasted beet salad, and wood-oven pizza.
Desserts are also available, and you can share a bottle of wine or opt for cocktails or craft beer. Those wanting to return during the day can also have lunch or brunch at The Liberty Tavern.
See a show at Signature Theatre
Another of the memorable Arlington date night ideas is watching a performance at the Signature Theatre. This performance venue shows independent plays as well as reproductions of more well-known musicals and plays.
Before the show, you and your partner can have a meal at the on-site restaurant. You can also get drinks, including delicious cocktails like a pomegranate liqueur, vodka, and club soda mix.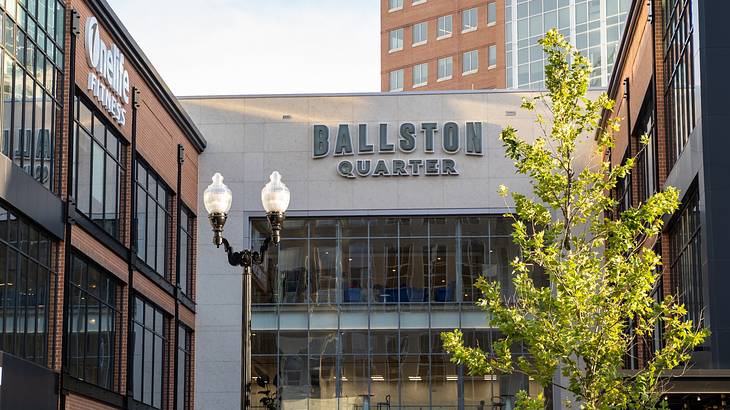 Explore the Ballston Quarter
The Ballston Quarter is a great place for an early evening date. This entertainment complex features shops and many bars and restaurants. Places to grab a meal and drinks include taquerias, sushi spots, and burger restaurants.
There are also cocktail bars and an ice cream shop for dessert. When the Ballston Quarter closes around 8 PM, you can find a few more bars and restaurants nearby, like an Asian street food restaurant and a pizzeria.
Play board games at The Board Room
The Board Room is a quirky and fun place for an evening date. This game bar has an array of games to choose from, including well-known favorites, like over ten types of Monopoly, including the original, and more unique and niche board games.
On Tuesdays, there's also a Trivia competition, and you can even bring your own board games if there is something you and your partner like playing.
As you enjoy the games, you can order drinks like craft beer, wine, or cocktails. Food, including lots of sharing dishes, is also available.
Romantic Things to Do in Arlington, VA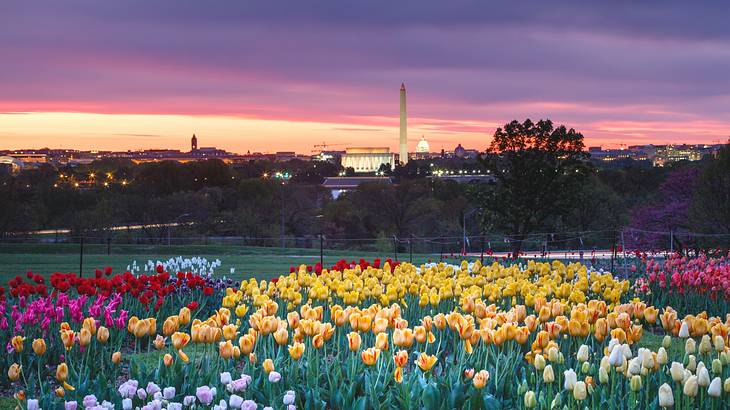 Watch the sunset or sunrise at Netherlands Carillon
The Netherlands Carillon is a 127-foot tall tower housing a 53-bell carillon. This Arlington landmark next to Arlington National Cemetery is surrounded by a grassy area and is a romantic place to go at sunrise or sunset.
You'll be able to watch the sun go up or down over the Potomac River and see some Washington DC landmarks across the river, like the Lincoln Memorial and the Washington Monument. During the spring, pretty tulips also surround the bell tower.
Stay at The Ritz Carlton
If you and your partner are visiting Arlington, staying at The Ritz Carlton, Pentagon City is one of the most romantic options. The five-star hotel has luxurious rooms and suites, many with stunning views of Pentagon City.
You can also enjoy amenities like a trendy bar and restaurant, gym, and sauna. Afternoon tea is even offered on the weekends. Best of all, the hotel is located near all of Arlington's top attractions, and it's only a 15-minute drive to DC.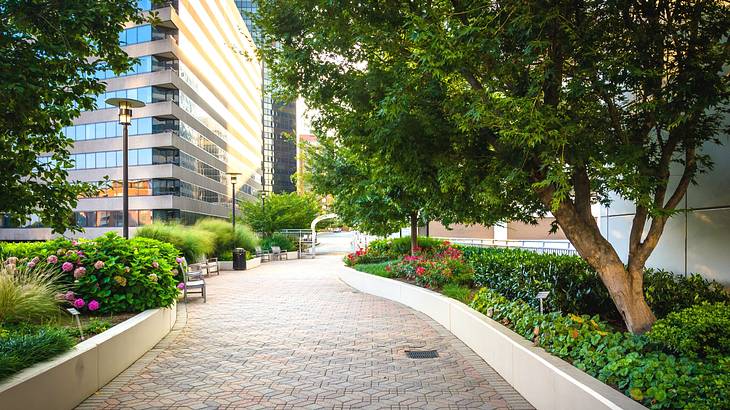 Take a walk through Freedom Park
On a sunny day, going for a walk with your other half through Freedom Park is a must. This elevated park, similar to The High Line in New York City, covers about two blocks and is the ideal urban oasis.
As you walk, you can admire the pretty gardens and unique sculptures, all surrounded by tall city buildings. There are also lots of places to sit and chat, taking in the views. Before heading to the park, you could stop at a nearby cafe to grab take-out drinks to enjoy during your romantic walk.
Sip wine over dinner at Grand Cru Wine Bar and Bistro
Having wine and dinner together is a popular date idea, and Grand Cru Wine Bar and Bistro is one of the most romantic date spots in Arlington to wine and dine. This high-end eatery serves dishes like mushroom orzo with truffle oil and crab cakes with lemon-caper aioli.
Decadent desserts, such as Belgian chocolate mousse and white chocolate bread pudding, are on the menu to finish. Of course, there's also an extensive wine list to choose from.
Things to Do Near Arlington, VA, for Couples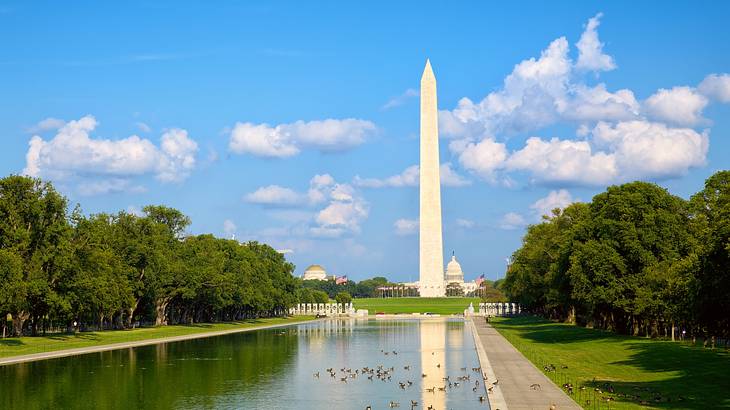 Spend the day in Washington, D.C.
Washington, D.C., is only 20 minutes from central Arlington, making it easy to visit for a daytime date or even a date night. Couples things to do in Washington, D.C. include visiting the National Portrait Gallery, ice skating at the National Gallery of Art Sculpture Garden, and getting dinner at one of many romantic restaurants.
You could also go on a Washington, D.C. tour, like a sightseeing or history tour. If you want to visit lots of attractions, you could also plan an overnight trip; there are many stylish hotels in the city that are perfect for a romantic weekend getaway.
Paint pottery at Clay Cafe Studios
Located about 15 minutes outside central Arlington in Falls Church, Clay Cafe Studios is a cute spot for a daytime date. At the pottery studio, you can choose from various pottery pieces to paint, including mugs, plates, and vases. You can then paint unique designs to create a one-of-a-kind item and memory of your date.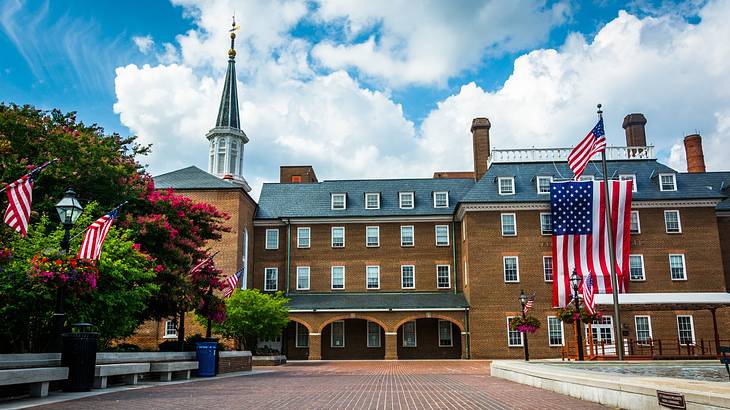 Look around Alexandria
Alexandria is another excellent place for a couples day trip that's only about 20 minutes away. This quaint city features a charming Old Town and many other attractions.
Just a few of the fun things to do in Alexandria include wandering around Jones Point Park, getting drinks at local bars and breweries, and exploring the stalls at the Old Town Farmers' Market.
Treat your date to a Potomac River dinner cruise
While there are many excellent date night restaurants in Arlington, going on a Potomac River dinner cruise is a much more unique and memorable way to dine with your other half. The cruise departs from the harbor in Washington, D.C., but you can reach the area in just 15 minutes from Arlington.
Aboard the boat, you'll be able to take in amazing views of DC, Arlington, and Theodore Roosevelt Island as the sun goes down and night sets in. You'll also be treated to a three-course meal and live music.
If dinner time doesn't work with your schedule, you can also opt for a lunch cruise on the Potomac River.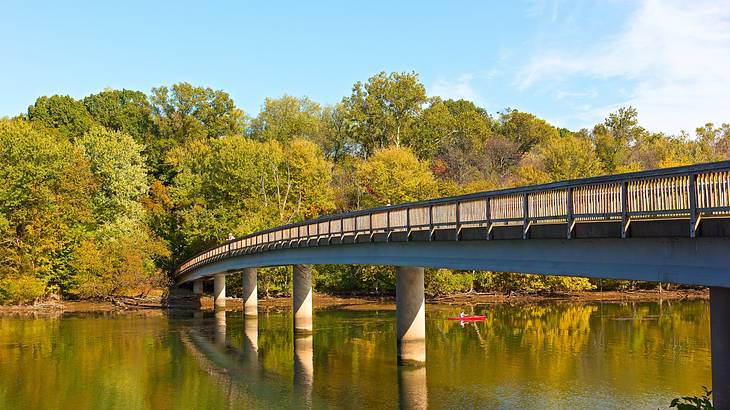 Visit Theodore Roosevelt Island
Theodore Roosevelt Island is located in the Potomac River between Washington, D.C., and Arlington. You can reach the island in about ten minutes when driving from Downtown Arlington.
If you and your partner are on a budget, going to Theodore Roosevelt Island is also one of the best cheap date ideas near Arlington! Once you and your date arrive, you can follow trails around the 88.5-acre island which is dedicated to the 26th US president.
While exploring, you can visit the Theodore Roosevelt memorial and see lots of plant life and animals, including various species of birds.
Cheer for Washington's sports teams
Do you and your date love sports? Then going to Washington, D.C., from Arlington to watch a local sports team play is a great idea. Major league sports teams in the city include the Washington Capitals NHL team and the Washington Wizards NBA team, who both play at Capital One Arena.
You could also go to a Washington Nationals MLB game at Nationals Park. Alternatively, drive about 30 minutes from Arlington to Maryland to see the Washington Commanders NFL team play at FedEx Field.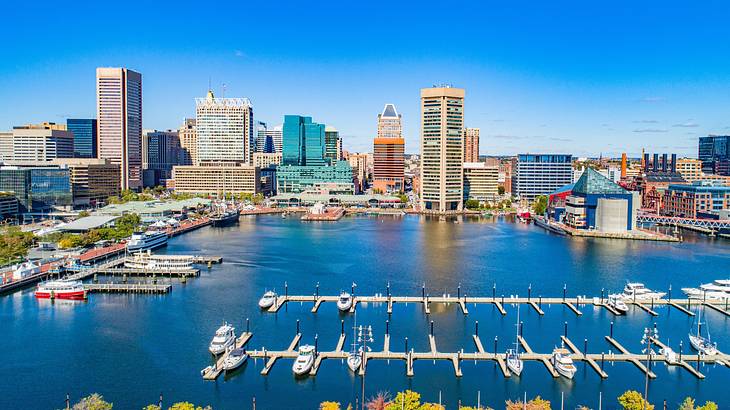 Drive to Baltimore
If you're looking for another destination for a day trip date, consider going to Baltimore, Maryland. You can reach the city in about an hour when driving.
Once you arrive, you'll find lots of things to do in Baltimore, like taking a lunch or dinner cruise around the Inner Harbor or exploring museums, such as the Baltimore Museum of Art or American Visionary Art Museum.
In Conclusion
Whether you're planning a first date or are looking for something to do with your partner, there are many things to do on a date in and around Arlington. This list should have given you lots of ideas to help you plan a fun and romantic daytime or date night activity!
Want to keep exploring?
Subscribe for discounts on tickets and hotels and our latest guides.
Thank you for subscribing
We will be in touch soon with discounts on tickets and hotels and our latest guides.
Want to keep exploring?
Subscribe for discounts on tickets and hotels and our latest guides.
Thank you for subscribing
We will be in touch soon with discounts on tickets and hotels and our latest guides.