28 Fun Things to Do in Fredericksburg, Virginia
Destguides may receive commissions from purchases made through affiliate links in this article.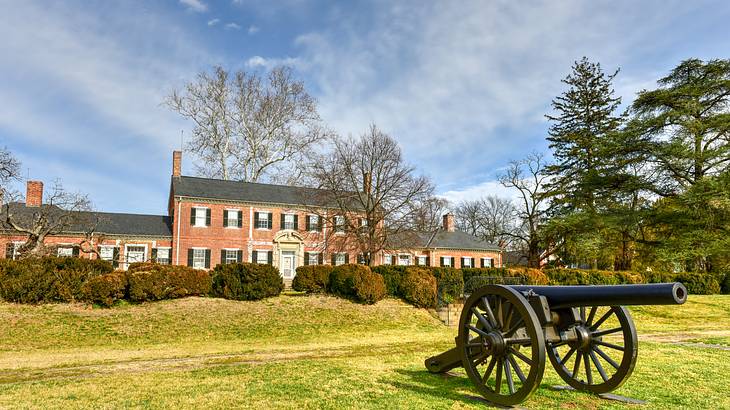 Once you step foot in the charming city of Fredericksburg, Virginia, you'll feel like you've been transported back in time to the 1800s. As the childhood home of George Washington, most of the city is dedicated to United States history and preservation.
Fredericksburg played a critical part throughout the colonial ages and the United States Civil War, so it is the perfect city for history buffs. Located near the Rappahannock River, Fredericksburg isn't limited to museums and battlefields.
There are so many fun things to do in Fredericksburg, Virginia, for all types of travelers, from art galleries, outdoor activities, distilleries, and famous landmarks. Continue reading to learn more!
28 Fredericksburg things to do
28 Fun Things to Do in Fredericksburg, VA
Taste the bourbon at A. Smith Bowman Distillery
A. Smith Bowman Distillery in Fredericksburg is Virginia's oldest distillery and is located just outside of downtown. This award-winning spirit maker offers free guided tours of their facility with a tasting at the end for those 21+.
In addition, visitors will learn about the history of the company, the distilling process, and the building itself.
Before you leave, don't forget to stop at the gift shop! They also sell and make gin, vodka, and rum that you can purchase on-site as a gift or for yourself. This attraction in Fredericksburg, VA, is sure to excite everyone in your group!
Burn off steam at Central Park Fun Land
Is your family ready for a day of excitement and activities? If so, Central Park Fun Land is an oasis of fun things to do for kids and parents in Fredericksburg!
This attraction will fill your day with adventure and thrill, whether you find yourself on the Thunder Speedway go-kart course or trying the zip-lining course. Of all the activities in Fredericksburg, Virginia, this one will definitely excite everyone in the family!
View precious documents at ​​the Central Rappahannock Heritage Center
The Heritage Center is a non-profit archive that made an effort to preserve the grassroots history of the Central Rappahannock Region, including Fredericksburg, Virginia.
Whether you are researching your family's history or are interested in local court cases, this Heritage Center is available to visit by appointment only.
For a unique snapshot into the historical lives of locals, don't forget to look at the photographs at the Heritage Center. This might be one of Fredericksburg tourist attractions that is by appointment-only, but it is definitely worth visiting!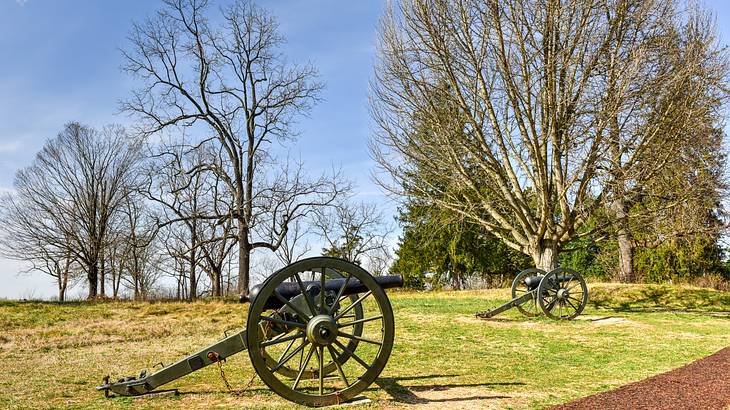 Survey the battlefields at Fredericksburg & Spotsylvania National Military Park
The Battle of Fredericksburg signaled a significant loss for the Union Army. The bloody battles were sustained throughout the region on multiple battlefields - the Wilderness, the Chancellorsville, and the Spotsylvania. More than 100,000 Americans were either captured, wounded, or killed.
Now one of the largest military parks in the world, Fredericksburg & Spotsylvania National Military Park encompasses over 8,000 acres and three historic buildings. This key Fredericksburg attraction offers free guided tours of the battlefields.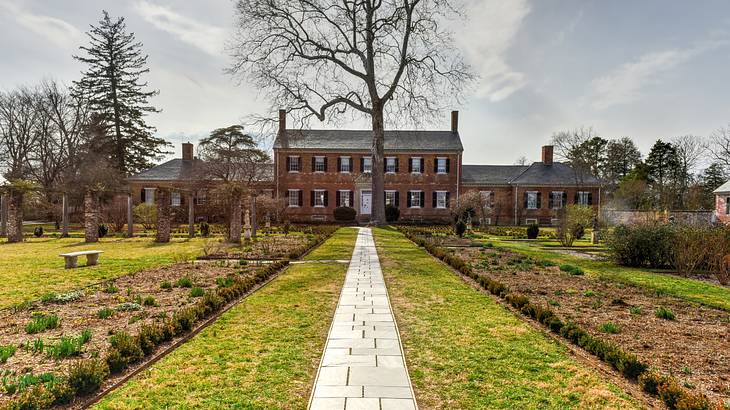 Admire the restoration at Chatham Manor
Imagine this Georgian Manor, once used as the headquarters and hospital for the Union Army during the Battle of Fredericksburg, left in ruins and now beautifully restored.
Chatham Manor was gifted to the National Park Service and is now used as an exhibit space and operates as a part of Fredericksburg & Spotsylvania National Military Park. It is one of the best things to do in Fredericksburg, VA.
Chatham Manor is also used as a filming location for the popular BBC show "Call the Midwife." If you're a fan, book this well-reviewed, show-specific guided tour!
Learn about the community at Fredericksburg Area Museum
Built in 1816, the Fredericksburg Area Museum is housed in the historic Town Hall/Market house. It has been a crucial part of community life for almost three decades throughout the Fredericksburg area.
Take a journey through time at this Museum and learn about the region's history, culture, and heritage.
The exhibits at the Fredericksburg Area Museum tell the stories of the communities, from the original Native Americans to current events. If you're wondering what to do in Fredericksburg, look no further than this museum to learn more about the locals.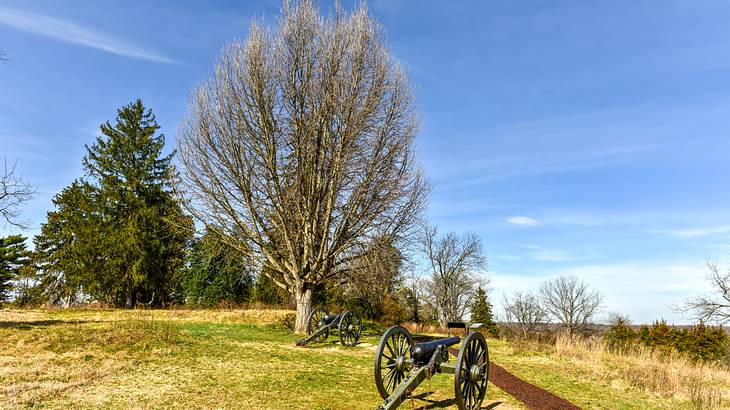 Look over the Fredericksburg Battlefield
The Battle of Fredericksburg is considered the deadliest battle of the Civil War. The battle raged nearly 200,000 combatants, and ended with a Confederate victory. The Union Army suffered more than 12,000 casualties and withdrew across the Rappahannock River.
There is a Fredericksburg Battlefield Visitor Center on-site and a museum and bookstore. In addition, self-guided walking and driving tours of Fredericksburg Battlefield are available at this tourist attraction.
This battlefield is one of the Fredericksburg places to visit; you must visit to understand the town's history!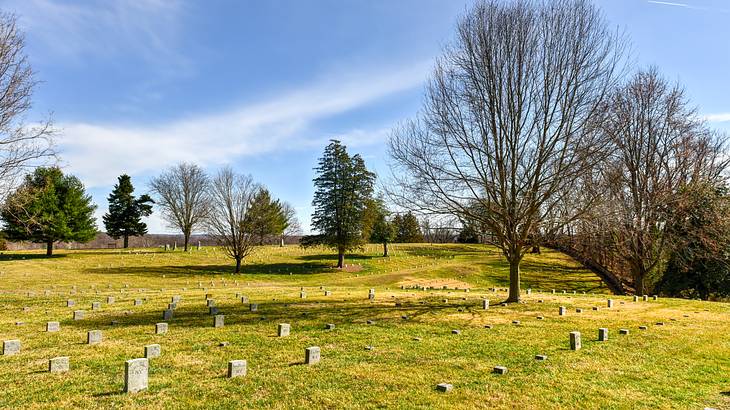 Remember the fallen at Fredericksburg National Cemetery
This final resting place for over 15,000 Union soldiers was established in 1865 for the individuals who died in major battles throughout the local area. The cemetery sits atop Mayre's Hill, with views of the city. This is one of the key Fredericksburg places to visit, so make sure not to miss it on your visit!
Take a quiet walk through the straight rows of graves and reflect on the lost lives during the fierce battles. There are several monuments dedicated to Union officers and soldiers within the cemetery.
Stare at the paintings at Gari Melchers Home and Studio
Gari Melchers was one of the leading portrait and American Impressionist artists of his time. This Georgian-era estate served as a country retreat for the artist and his wife.
This National Historic Landmark is now a living museum that features the Melchers' original furniture and personal art. Enjoy exploring the 27-acre formal gardens and walking trails, or view the over 1,600 paintings by Melchers.
Walk the grounds at George Washington's Ferry Farm
At only six years old, George Washington and his family moved to the Stafford County, Virginia farm. This farm later became known as Ferry Farm because people crossed the Rappahannock River via ferry from the farm to Fredericksburg.
Visitors can now participate in a guided tour of a replica of the Washington house and learn more about the historical events on the property.
Stroll through historic Kenmore Plantation & Gardens
The historic Kenmore Plantation was built in the 1779s for George Washington's sister, Betty, by her husband, Fielding Lewis. The mansion is now a living memorial of their lives and their sacrifices to support the Revolutionary War.
Guided tours are offered at this Fredericksburg area attraction, or you may tour the grounds on your own.
Visit the James Monroe Museum and Memorial Library
Founding Father and fifth President of the United States, James Monroe, once held a law office in Fredericksburg, VA. His ancestors, James and Elizabeth Monroe, honored this memory. They built a Museum and Memorial Library in a space they believed his office once lived.
This is one of the all-ages things to do in Fredericksburg that can add an educational stop to your vacation.
Learn about 18th-century cures at Hugh Mercer Apothecary Shop
An escapee of the Battle of Culloden in Scotland, Hugh Mercer, was a friend of George Washington and set up shop in downtown Fredericksburg.
He was a proponent of 18th-century cures, such as bloodletting and other unusual treatments of the time, and one of his patients even included Washington's mother, Mary.
The Apothecary shop is one of the Washington Heritage Museums. It is a short walk from the other sites, including the Mary Washington House, Rising Sun Tavern, and St. James House.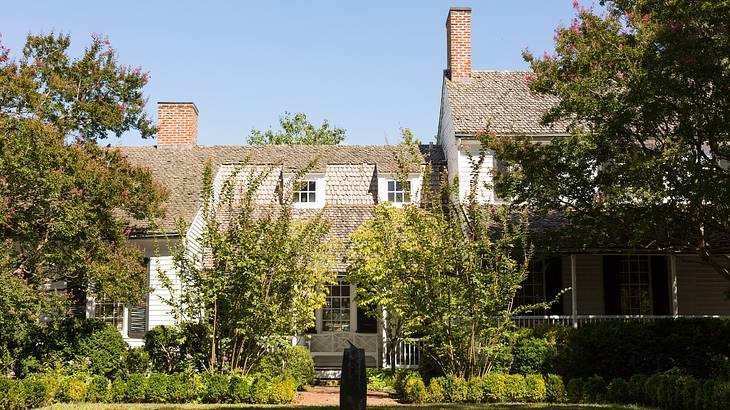 Look in the mirror at Mary Washington House
George Washington purchased this house for his mother, Mary, in 1772 for 275 pounds. Located in a convenient location close to Kenmore Plantation and her other children, Mary spent her last years in this white frame home.
Today the house operates as a museum that displays 18th-century furniture and Mary's personal possessions, including her mirror. Mary's mirror is one of the great things to see in Fredericksburg, VA.
Take the best tour at The Rising Sun Tavern Museum
This activity in Fredericksburg, VA, is another Washington Heritage Museum building. Originally built by Charles Washington, George Washington's brother, it was converted into a tavern in 1792 when the Wallace Family purchased it.
Designated a National Historic Landmark in 1964, this museum provides a guided tour of the space with tour guides dressed in colonial attire. This stop is one of the top things to do in Fredericksburg, VA.
Appreciate art at the University of Mary Washington Galleries
Founded in 1908, the University of Mary Washington is a public university in Fredericksburg, VA. Free to students and the public, the permanent collection hosts more than 5,000 works located at the Ridderhof Martin Gallery and the duPont Gallery.
The Mary Washington Galleries are a unique stop for the art-lover who wants a mix of modern art and notable exhibitions while visiting Fredericksburg.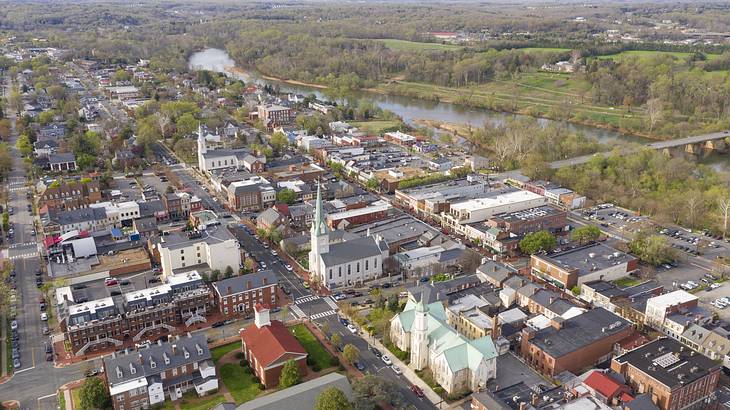 Take yourself back in time at Old Town
Are you the type that enjoys a lively downtown area full of art galleries, a rich history, and a mix of restaurants and shops? If so, you'll love the Old Town of Fredericksburg! This 40-block National Historic District features 350 original 18th and 19th-century buildings.
This quaint block has something to offer everyone and is a great tourist attraction in Fredericksburg, VA.
Admire vintage airplanes at Shannon Air Museum
Any aviation fans in the family? This all-ages Museum is the perfect thing to do in Fredericksburg for an airplane-obsessed adult or child or anyone looking to add a little extra fun to their vacation.
The Shannon Airport was opened in October 1950 by Sidney L. Shannon Jr. He later founded the Shannon Air Museum in 1976 after collecting 13 vintage aircrafts and artifacts.
Drink a beer at 6 Bears & a Goat Brewing Co.
After a long day of historical tours, relax and try a brew at 6 Bears & a Goat Brewing Co., creatively named after its founders and the mascots of their military services.
The Brewing Company has a restaurant that serves brunch, lunch, and dinner. Free Brewery tours are also available if you're interested in learning more about their production environment.
Head to the lake at Motts Run Reservoir Recreation Area
Suppose you're looking for a break from your busy itinerary and want a breath of fresh air in a green oasis?
In that case, Motts Run Reservoir Recreation Area is the place for you! Outdoor activities are abundant here, including a 4.6 moderate difficulty hike, fishing, canoeing, and picnicking.
Motts Run Reservoir is a 160-acre lake, and the Recreation Area features 860 acres of natural area.
Get lost at the Belvedere Plantation Maize Maze
This working farm is more than 260 years old and boasts more than 600 acres of land. It was built along the Rappahannock River as a wheat plantation. In November 1775, local Minutemen called upon Belvedere for 20 days of muster and drill.
Today, the Plantation mainly grows grain crops and pumpkins. It hosts an annual Fall Harvest Festival and the Great Adventure Maize Maze.
Take a sip at Goolrick's Pharmacy
What does the oldest soda fountain in Virginia and a Pharmacy have in common? You'll find yourself inside Goolrick's Pharmacy in Fredericksburg, both the oldest soda fountain and a 121-year-old drug store.
There is nothing modern looking about this shop and lunch spot. Stop here for a look back in time and an excellent bite to eat.
Play around at Old Mill Park
Family-friendly is what Old Mill Park is all about. This park offers covered tables, a kid's playground, and other playground equipment. In addition, you'll probably see a soccer game or two in the multiple soccer fields available.
Many people take advantage of the canoe launch on the Rappahannock River or use the space for fishing. You might even see a celebration or a picnic on the benches and tables available for public use.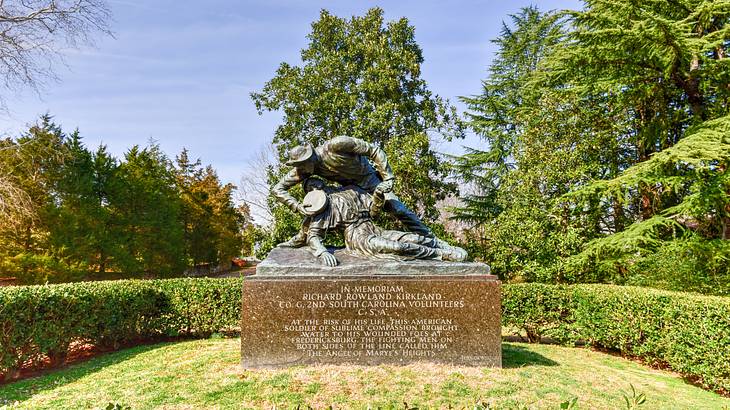 Memorialize the heroes at Kirkland Monument
In the middle of the night at the Battle of Fredericksburg, young Confederate soldier Richard Kirkland brought water to his wounded foes. Later known as "The Angel of Marye's Heights," the Kirkland Monument is dedicated to his bravery and the memory of war.
The monument is located at Sunken Road and hopes to inspire viewers that the connections between people are more powerful than the things that divide us.
If you're wondering what else to see in Fredericksburg, VA, this is a great stop to add to your itinerary.
Get soaked with Virginia Outdoor Center
After you've learned about the historical importance of the Rappahannock River, have a little fun on it! The Virginia Outdoor Center offers seasonal activities on the river, such as tubing, paddle boarding, and canoeing/kayaking.
They also offer instruction courses on white water essentials, stand-up paddleboarding, and a rock climbing course.
Wander through the LibertyTown Arts Workshop
This former Fredericksburg Hardware store is now a 13,000-square-foot gallery on two floors, hosting over 40 local craftspeople and artists. There's a little bit of everything to look at here.
Whether you're interested in sculptures, pottery, oil paintings, or fiber art, this is your place to shop. Art classes are also available. This facility is free to visit and walk through.
Watch a show and grab a meal at Riverside Center for the Performing Arts
When have you ever had the chance to have a three-course meal and a theater production at the same time? Here you get to have both!
The Riverside center has performed more than 100 mainstage productions and hosts a children's theater. This is a unique experience to add to your travel plans in Fredericksburg, VA.
Ride around in the Trolley Tours of Fredericksburg, VA
Are you looking for a quick tour of all the things to do in Fredericksburg before you begin your trip?
The Trolley Tours of Fredericksburg, VA, are the perfect way to get acquainted with the town and historical sites while being transported in a historic-looking trolley.
If traveling with a large group, the trolleys are also available for rent as charters or private tours.
In Summary
When thinking of places to travel in the United States, Fredericksburg is definitely a unique and exciting place to add to the list. This town is the perfect location for history buffs and families!
Everyone in your group will find something to do between the outdoor activities, historical battlefields, parks, and museums. Have a great time!
Give us feedback about this article
More articles about Virginia:
Read more articles about the United States:
More articles about things to do:
More visual stories related to this article:
---
---
Want to keep exploring?
Subscribe for discounts on tickets and hotels and our latest guides.
Thank you for subscribing
We will be in touch soon with discounts on tickets and hotels and our latest guides.
Want to keep exploring?
Subscribe for discounts on tickets and hotels and our latest guides.
Thank you for subscribing
We will be in touch soon with discounts on tickets and hotels and our latest guides.
Related articles