15 Landmarks in Virginia Beach, Virginia, to Visit
Destguides may receive commissions from purchases made through affiliate links in this article.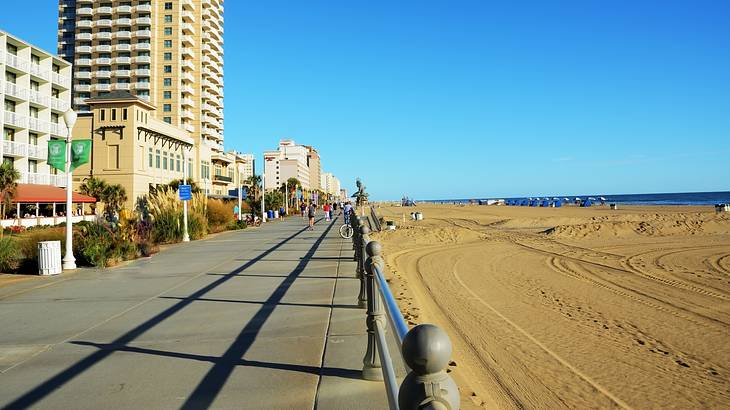 Virginia Beach was established in 1963 when Princess Anne County merged with the seaside resort town of Virginia Beach. It has since become one of the top vacation destinations in the United States.
With so many landmarks in Virginia Beach, Virginia, you will be spoilt for choice when deciding what to see. From the first lighthouse commissioned by the nation's founding father, George Washington, to Virginia's first planned state park, there's something for everyone. Keep reading to learn more about all the top sites to see in this historic American city!
15 Virginia Beach Landmarks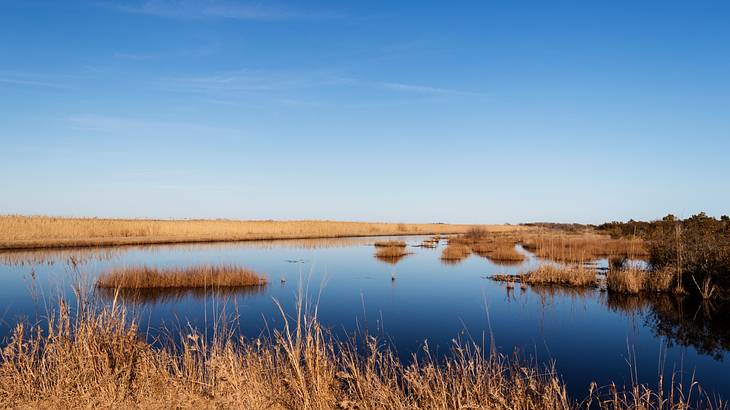 Back Bay National Wildlife Refuge
Established in 1938, the Back Bay National Wildlife Refuge is located in the southeastern corner of Virginia Beach. The 9,200-acre freshwater refuge conserves hundreds of species of wildlife, from birds and reptiles to fish.
Open daily, you can enjoy hiking, biking, wildlife photography, kayaking, and much more. If you love the outdoors, this is one of the Virginia Beach points of interest you won't want to miss.
24th Street Park
This park, between 24th and 25th Street in Virginia Beach, is popular with locals and tourists for outdoor events like concerts and plays. The cooling breezes off the adjacent oceanfront will refresh you as you absorb the lively atmosphere. You could also time your visit to coincide with the many wine and beer festivals held here.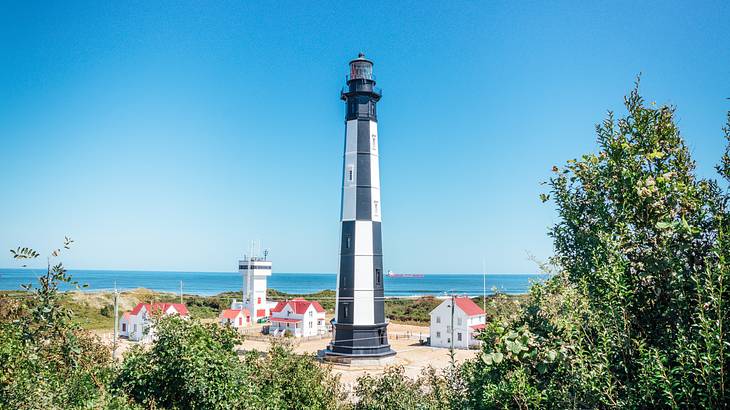 Cape Henry Lighthouse
The Cape Henry Lighthouse actually comprises two lighthouses in Virginia Beach. Notably, two of America's founding fathers, George Washington and Alexander Hamilton, were involved in the authorization and 1792 completion of the first lighthouse.
After the first was damaged by a lightning strike, a second lighthouse was commissioned and completed in 1881. Both lookouts were designated a National Historic Landmark in 1970. Of historical significance is that both are very near the "First Landing" site where the first American settlers stepped foot on their way to Jamestown.
The best time to visit Virginia Beach to go to Cape Henry Lighthouse is between May and September as the clear weather allows you to best enjoy the views from the top of the structure. However, you can visit whenever suits your schedule, as climbing to the top of the newer lighthouse is allowed year-round.
Atlantic Wildfowl Heritage Museum
Along the famed Virginia Beach Boardwalk, you'll likely come across De Witt Cottage, built for the city's first mayor in 1985. It's now home to a museum paying tribute to the Atlantic Wildfowl and is one of the most loved Virginia Beach historical sites.
An array of wildfowl carvings and art are featured downstairs. Upstairs, you can read about the early history of Virginia Beach and the family who lived in the home.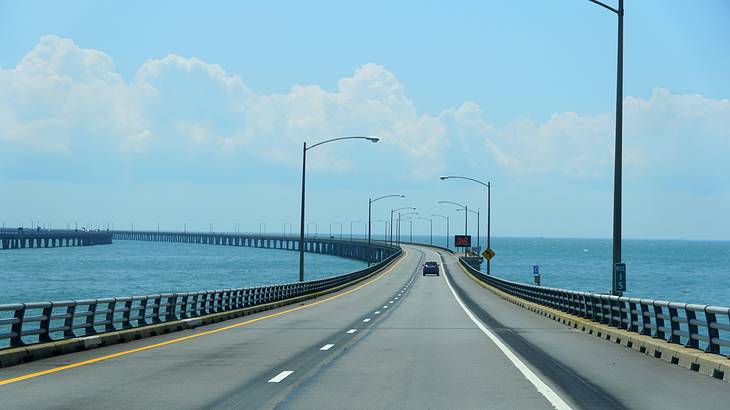 Chesapeake Bay Bridge-Tunnel
Widely regarded as an engineering marvel, the CBBT runs for 17.6 miles. Opening in 1964, it replaced the slower and inconvenient ferries connecting the Virginia mainland with its Eastern Shore.
This landmark is among only 14 bridge-tunnels worldwide. There's also a scenic overlook, where you can take in views of the Chesapeake Bay.
False Cape State Park
False Cape State Park was previously the home of Native Americans and the Wash Woods community. Today, the park is a popular outdoor attraction, offering guided kayak trips, primitive camping, and interpretive programs. You can also hike or bike trails that follow six miles of the Atlantic Coast.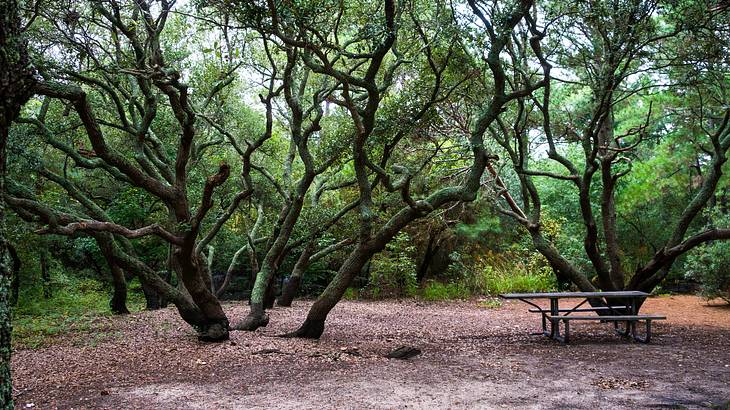 First Landing State Park
First Landing State Park is Virginia's first planned state park, constructed in the 1930s by the Civilian Conservation Corps. It became a National Natural Landmark in 1965 and a National Historic Landmark in 2005.
This 2,888-acre outdoor oasis is located on Cape Henry in North Virginia Beach. The park allows you to swim and hike, among other activities. First Landing State Park is a well-known Virginia landmark that has to be on your itinerary.
The Thoroughgood House
The Thoroughgood family was central to the settlement and economy of Virginia Beach. Listed on the US National Register of Historic Places in 1966, this quaint home, built in 1719, is one of Virginia's oldest surviving colonial homes.
Visitors can tour the museum here and discover more about the area's history. This gem on Parish Road is a historical site you shouldn't miss.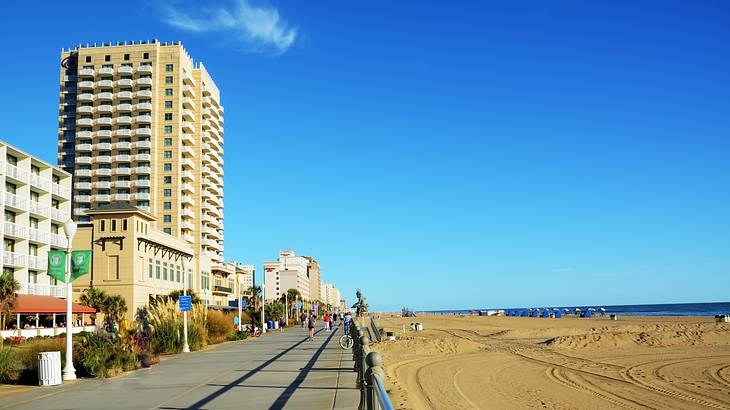 Virginia Beach Boardwalk
The Virginia Beach Boardwalk, or Atlantic Avenue, is 28 feet wide and stretches three miles from 2nd to 40th Street. There is a designated bike path, and the boardwalk is ideal for leisurely walks, rollerblading, and biking.
You can't beat this area in summer when live music acts dotted along the length will entertain you nightly. There's no shortage of restaurants to eat at or historical monuments to examine either.
Wandering along the boardwalk is also one of the most romantic things to do in Virginia Beach, especially at sunset.
Navy SEAL Monument
Dedicated on July 2017, the Virginia Beach Navy SEAL Monument will be hard to miss on your walk along the famous Virginia Beach Boardwalk. It depicts a life-size underwater demolition team swimmer harking back to WWII. It's a compelling sight loaded with significance as it pays tribute to the Navy SEALs and their antecedents.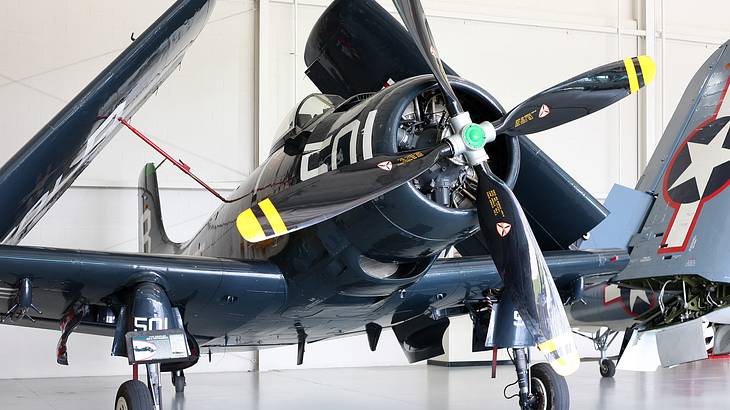 Military Aviation Museum
If all things winged from both World Wars interest you, visiting the Military Aviation Museum in Virginia Beach is a must. Housed within the museum is an enormous collection of flying condition warplanes ranging from the 1910s to 1950s which will enthrall any fan.
You can browse the reference library and view artifacts to learn about the historical events of WWI and WWII and aviation's role in them.
Mount Trashmore Park
Converted in 1974 from an abandoned landfill park, Mount Trashmore Park is a treasure trove of activities and fun for the whole family. There's not much you can't do here, from skateboarding to fishing. This is one Virginia Beach place of interest you won't want to miss.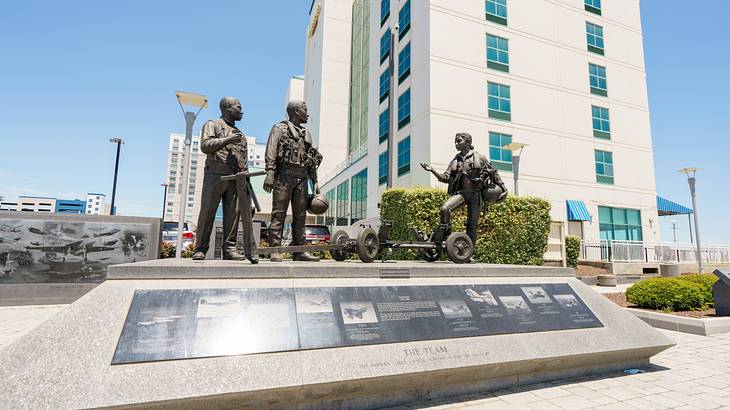 Naval Aviation Monument Park
Situated on 25th Street and Atlantic Avenue, the Naval Aviation Monument is a touching tribute to Virginia Beach's extensive naval aviation heritage. The monument was designed by sculptor Michael Maiden, himself a veteran. The bronze works of art cover three eras of naval aviation and are unbelievably lifelike and detailed.
Norwegian Lady Statue
In 1891, a wooden figurehead from a storm-wrecked Norwegian ship dubbed the Norwegian Lady washed up on Virginia Beach. Today, Moss, Norway, and Virginia Beach have identical nine-foot bronze statues of the statuesque figurehead.
The Virginia Beach statue was gifted to the city by Norway in 1962, and the two statues memorialize the crew who lost their lives in the 19th-century shipwreck. As you tread the Boardwalk, take a slight detour to learn more about the statue, which is one of the most interesting Virginia Beach monuments.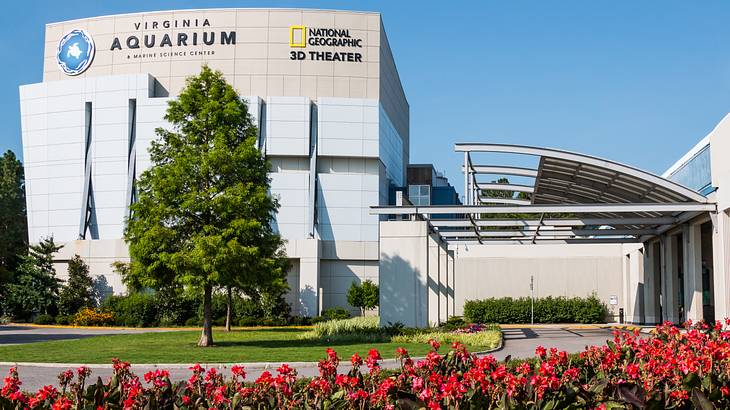 Virginia Aquarium and Marine Science Center
This aquarium, located on General Booth Boulevard, is a must-see for visitors of all ages. Various marine species, including sharks and rays, cohabit in a 300,000-gallon tank. This is a family-friendly and eye-widening outing for sure.
In Summary
This article should have whet your appetite to learn more about Virginia Beach, Virginia. It is the landing spot of the first American settlers and has gone on to become a sought-after vacation mecca. Don't wait; pack your bags and head out to see these landmarks for yourself on a fun-packed Virginia Beach vacation!
Want to keep exploring?
Subscribe for discounts on tickets and hotels and our latest guides.
Thank you for subscribing
We will be in touch soon with discounts on tickets and hotels and our latest guides.
Want to keep exploring?
Subscribe for discounts on tickets and hotels and our latest guides.
Thank you for subscribing
We will be in touch soon with discounts on tickets and hotels and our latest guides.