The Best 3 Day Yellowstone Itinerary
Destguides may receive commissions from purchases made through affiliate links in this article.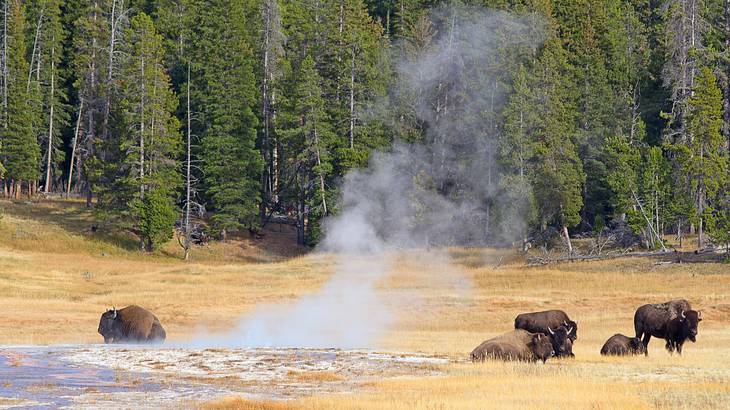 Yellowstone National Park lies above a supervolcano, and because of this, it has the greatest concentration of geothermal features in the world. Between these unique traits, visitors can drive or hike through some of the country's most pristine and beautiful wilderness.
Yellowstone also has the largest concentration of large mammals in the lower 48 states, and it allows for some of the best wildlife viewings in the country. There is nowhere like it on the planet! For the ultimate experience, learn about Yellowstone National Park before you arrive.
By following this 3 day Yellowstone itinerary, you will see breathtaking geothermal features and stunning scenery. You'll also have the greatest chance of seeing the most wildlife.
I have visited this famous landmark in Wyoming many times, and as a science teacher, want to be sure you experience many of the unique natural characteristics of the park. This itinerary cuts down on driving time and also gets you to the best sites for animal viewing when they are most likely to be active.
Thus, keep reading for the best three-day Yellowstone itinerary in order to make the most of your trip to the world's first, and arguably the best, national park on the West Coast of the US. Three days is the ideal trip length here, which means you will get to see all of the major sites in Yellowstone.
3 Days in Yellowstone Itinerary
Yellowstone National Park 3-Day Itinerary Video
Check out our highlights video of the stops covered in this Yellowstone National Park itinerary.
Yellowstone National Park Map
A map of Yellowstone National Park. Use the map to explore all the days and stops.
The Geyser Basins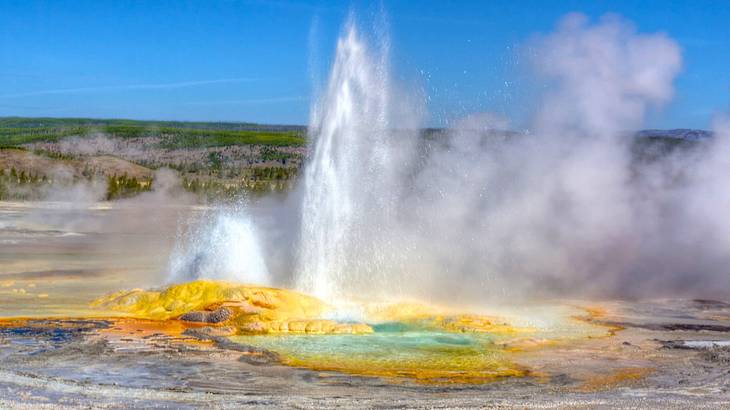 On day one, you will explore some of the major geyser basins of Yellowstone. There are only three stops, and they are all pretty close together. Plan to do a lot of walking through astounding scenery today. This is a fantastic way to begin your Yellowstone 3-day itinerary!
The Lower Geyser Basin
The Lower Geyser Basin is the largest of the basins, and most of the sites are widely spread out. This is a short stop to visit the Fountain Paint Pots.
Walk the trail (about 30 minutes) to see some of the best mudpots in the park. You will also see fumaroles, geysers, and hot springs, but the star of the show here is the gurgling mudpots.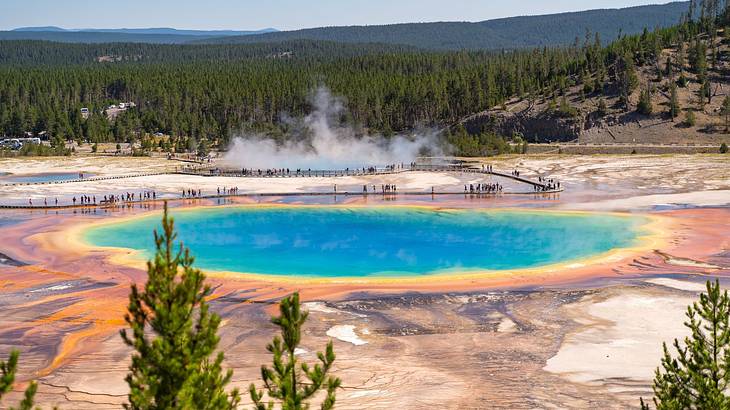 Midway Geyser Basin
Midway Geyser Basin is one of the most beautiful places in Yellowstone National Park, and you can plan to spend a few hours here if you do the recommended hikes.
This is where you will enjoy the Grand Prismatic Spring, the largest and perhaps the most colorful hot spring in the United States. Walk along the boardwalk to see it and other thermal features up close in the basin.
Then, take the easy 1.2-mile Grand Prismatic Overlook Trail to enjoy spectacular views of the Grand Prismatic Spring. If you have time, Fairy Falls Hike is a relatively easy 4.5-mile hike to the beautiful Fairy Falls.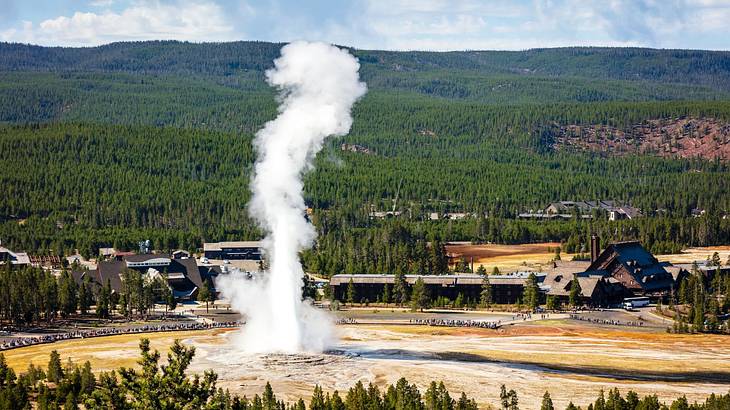 Upper Geyser Basin
Plan to enjoy the rest of the day at Upper Geyser Basin. Here, you will get to join visitors from around the world gazing in wonder at Old Faithful Geyser, one of the most famous landmarks in Wyoming.
Old Faithful erupts on a fairly regular schedule, multiple times a day, so you will be able to watch it during your visit. There are even signs posted with estimated eruption times to help you plan your activities in the Upper Geyser Basin.
Enjoy walking around the area before and/or after watching Old Faithful. There are many other interesting geothermal features to explore in the basin, including the Morning Glory Pool and the Black Sand Basin.
Also, enjoy visiting the historic Old Faithful Inn, sometimes called Old Faithful Lodge (which is actually a different building). It is a gorgeous, massive log building, recognized as the largest log hotel in the world.
Plan to eat in the dining room or grab a snack at the snack bar as you gaze out the huge windows looking at Old Faithful Geyser. You'll also find a bookstore and visitor center here.
Otherworldly Volcanic Features and Amazing Wildlife
Day two of your Yellowstone trip itinerary brings you through astounding volcanic features and into the park's northern section. You will end the day in one of the prime wildlife viewing areas of the park.
Norris Geyser Basin
Norris Geyser Basin is the oldest, hottest, and most acidic basin in the park. This makes the geothermal features here different from those you visited yesterday. Norris Geyser Basin is a stark and otherworldly collection of hot water features, and both loops of the trail are worth exploring.
The open-air museum you pass through to enter the basin has some very informative displays about how geothermal features work, which are worth stopping to learn from.
Obsidian Cliff and Sheepeater Cliff
Obsidian is often called volcanic glass and is an important stone for making arrowheads and other tools. Unlike most obsidian, which is often deposited in small quantities, this is an entire cliff side of the stone.
Long before Yellowstone became the world's first National Park, it was an integral location to many native peoples. Obsidian was first quarried here over 11,00 years ago. The stone from this cliff was traded broadly from Canada to Ohio.
Nearby is Sheepeater Cliff, which is also worth stopping for. These cliffs highlight another dramatic volcanic formation - columnar basalt. This quick stop will pique your interest in geology even more.
Mammoth Hot Springs
This is a favorite stop in the park for many visitors. Unlike most of the other geothermal features, this area is over limestone instead of volcanic rocks. As the hot water moves underground, the limestone is dissolved.
The minerals are then deposited as the water drips down cascading pools. This creates everchanging travertine terraces that are colored by different microbes to stunning effect. Enjoy dinner at the restaurant before heading out.
Tower Fall
Tower Fall is one of the most beautiful waterfalls in the park and is worth the short detour to see it. The viewpoint is about 100 yards from the parking area, and there is a short .75-mile hike you can add on if you want to enjoy the views even more.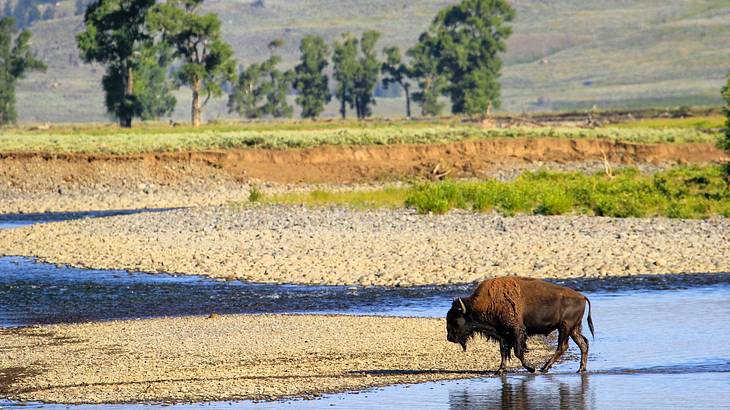 Lamar Valley
Plan to arrive at Lamar Valley near sunset. This is one of the prime areas in the park to see wildlife, and dusk and dawn are your best times for viewing. This is fascinating animal viewing and very different from seeing large mammals in a zoo!
Be sure to stay at least 100 yards from bears and wolves (if you are fortunate enough to see them) and at least 25 yards from all other wildlife. Bring your telephoto lens and binoculars to get the most out of your visit.
The best time to plan a trip to Yellowstone National Park to increase your chances of seeing wildlife, especially bears, is in the spring. During this time, animals are out of hibernation, enjoying the nice weather and welcoming their young.
Yellowstone Lake, the Grand Canyon of the Yellowstone, and More Wildlife
The final day of your Yellowstone 3 Day itinerary brings you to the beautiful east side of the park. You will see Yellowstone Lake, the Grand Canyon of the Yellowstone, and animals in Hayden Valley.
Yellowstone Lake
The first stop today on your Yellowstone National Park 3-day itinerary is Yellowstone Lake, the largest high-elevation lake in the country. There are many interesting activities to enjoy at the lake, including visiting West Thumb Geyser Basin, renting a boat, going on a boat tour, and hiking along the shore.
The Grand Canyon of the Yellowstone
If the Grand Canyon of the Yellowstone were outside of the park, it would likely be a national park on its own because of its mesmerizing beauty and dramatic waterfalls. It is one of the best additions to your Yellowstone trip itinerary.
There are multiple viewpoints to stop at, the best being Artist's Point. Also, consider hiking along the Canyon. The South Rim Trail is an excellent option, especially the relatively easy section between Artist Point and Uncle Tom's Trail.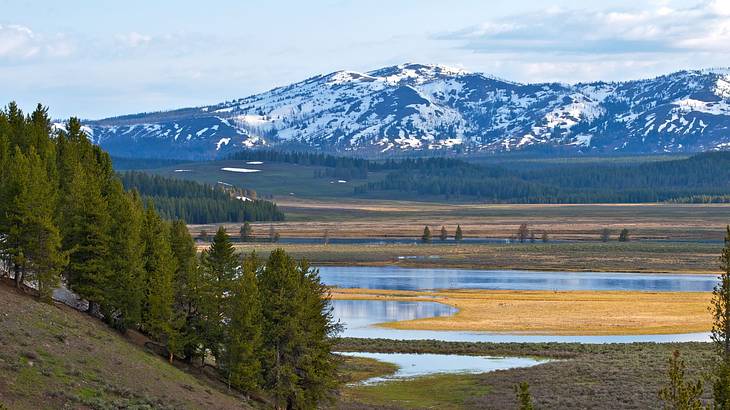 Hayden Valley
Like Lamar Valley, Hayden Valley is an excellent location for watching wildlife. Similar to last night, you will want to arrive close to dusk to enhance the likelihood of seeing animals. Picturesque Hayden Valley is the perfect place to end your three day trip to Yellowstone.
Top Tips for Yellowstone National Park
Here are some final tips for your Yellowstone 3-day itinerary. Firstly, this is a spring and summer itinerary; Yellowstone has dramatic winters, and most roads are closed, so be sure to research if you want to visit in winter.
Additionally, all of the sites highlighted in this post are off the Grand Loop Road, the main artery that makes a figure-eight through the park. Plan to adjust this Yellowstone three-day itinerary depending on weather or road conditions.
Also, always check the official website before visiting the park. Because it is one of the nation's busiest parks, expect crowds, roadworks, and traffic that stops for animals. Driving often takes longer than expected, so relax and enjoy the views.
In terms of lodging, there are many accommodation options available. Do note that lodges in the park fill up many months in advance. Campgrounds are plentiful but also fill up early.
The nearby towns offer hotels, motels, and home rentals at all price points. West Yellowstone makes an ideal home base. The town is full of amenities, and you are nearest to a major crossroads on Grand Loop Road. Ultimately, Yellowstone is a perfect destination for almost everyone. The park makes an ideal family vacation, and there is so much you can do before your trip to Yellowstone with kids and teens to enhance your trip. It is also an excellent location for couples and solo travelers.
Hopefully, this Yellowstone National Park itinerary has given you the inspiration to go and explore the park for yourself. You will be greatly rewarded in wonder and beauty if you visit. Get started planning your trip to Yellowstone today! Soon you will be seeing geysers, mud pots, waterfalls, bison, elk, and more--making memories that will last a lifetime.
Give us feedback about this article
More visual stories related to this article:
Want to keep exploring?
Subscribe for discounts on tickets and hotels and our latest guides.
Thank you for subscribing
We will be in touch soon with discounts on tickets and hotels and our latest guides.
Want to keep exploring?
Subscribe for discounts on tickets and hotels and our latest guides.
Thank you for subscribing
We will be in touch soon with discounts on tickets and hotels and our latest guides.