The 36 Very Best Weekend Getaways From Brisbane
Destguides may receive commissions from purchases made through affiliate links in this article.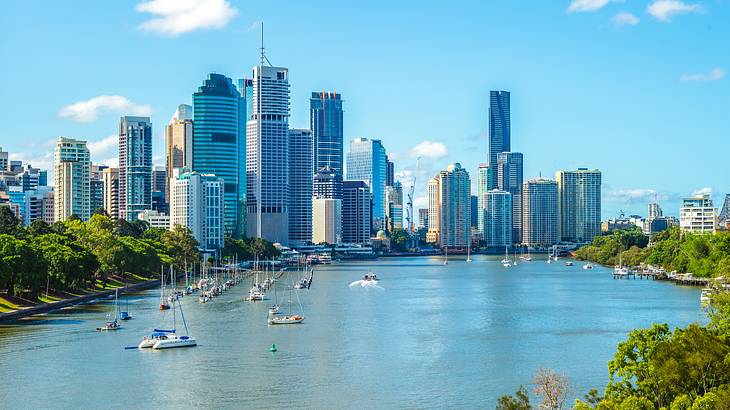 Brisbane, the capital of Queensland, is a city situated near some of the best weekend getaway locations in all of Australia. Its position in Southern Queensland, not far from the border of New South Wales, makes Brisbane a fantastic starting point for trips to the beach, rainforest, Queensland's waterfalls, outback, and one of Australia's greatest natural landmarks, the Great Barrier Reef.
The weekend getaways from Brisbane are endless, so if you have already spent a couple of days exploring the city and visiting its best lookouts, or are a local resident searching for something new to see and do, this guide will give you all the best weekend activities and places to visit outside of the city.
With so many places to visit near Brisbane, it can be hard to decide where to go. Luckily, there is something for all types of travellers, including those looking for a romantic getaway from Brisbane or an adventure-styled holiday.
The list I have created covers everyone, so no matter if you love nature and wildlife, water sports, sightseeing and relaxation, or something else entirely different, you'll find something that is suitable.
Most of the destinations on the list below are accessible by driving; however, some do require ferry access. Train travel is also a popular way to visit regional destinations like Toowoomba, or when venturing down into New South Wales to visit other towns in the state.
Whether you're a Brisbane local or are just visiting for a short time, consider one of these 36 trips from Brisbane for your next adventure.
36 Brisbane weekend getaways
36 Best Weekend Trips From Brisbane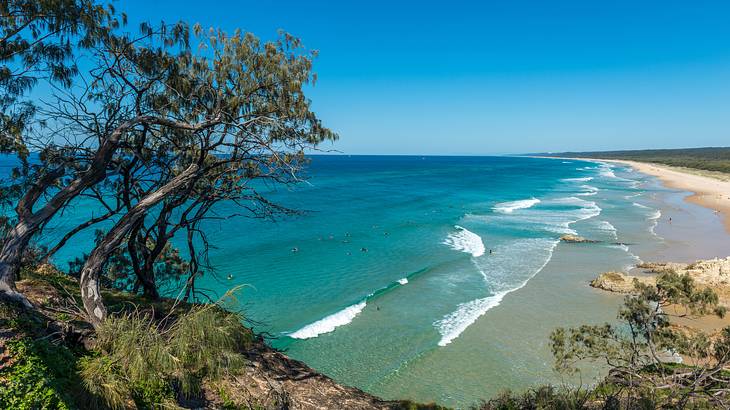 North Stradbroke Island
Nestled along the Southern Great Barrier Reef lies North Stradbroke Island, one of the most scenic spots along the East Coast. It takes approximately two and a half hours via driving and ferry to get here from Brisbane, but it is well worth the journey.
Australia's best surfing and freshwater lakes are found on the island, with hiking and walking trails also being popular things to do year-round. The best way to explore the island is by taking your car over and visiting each of the three townships - Dunwich, Amity, and Point Lookout.
For those travellers looking to visit Brisbane in winter, whale-watching is offered on North Stradbroke Island as well, which gets you up close to the world's magnificent Humpback Whale. I highly recommend adding this to your list!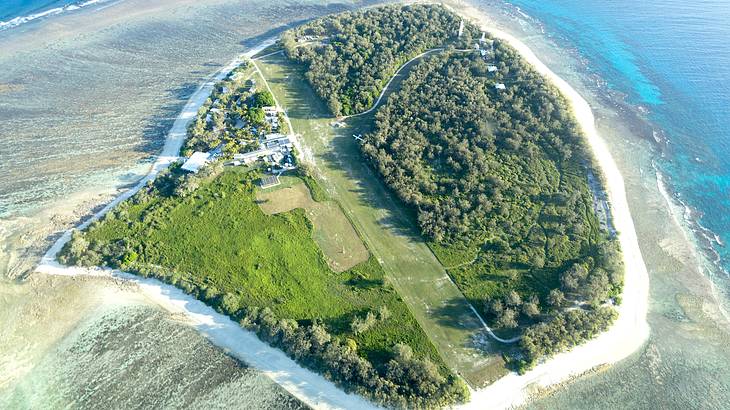 Lady Elliot Island
One of the top romantic getaways from Brisbane is a trip to Lady Elliot Island. Located an hour and a half from Brisbane, Lady Elliot Island is a small but luxury island on the Southern Great Barrier Reef.
Lady Elliot Island is in a 'green zone' of the Great Barrier Reef, where marine and coral life is abundant. Here, you can swim, snorkel, and scuba dive with manta rays and turtles, and get up close to the reef.
A weekend getaway to Lady Elliot Island can be made even more romantic by staying overnight and exploring the Great Barrier Reef at night! Stargazing, turtle nesting and hatching and reef exploring are just a few things on the agenda.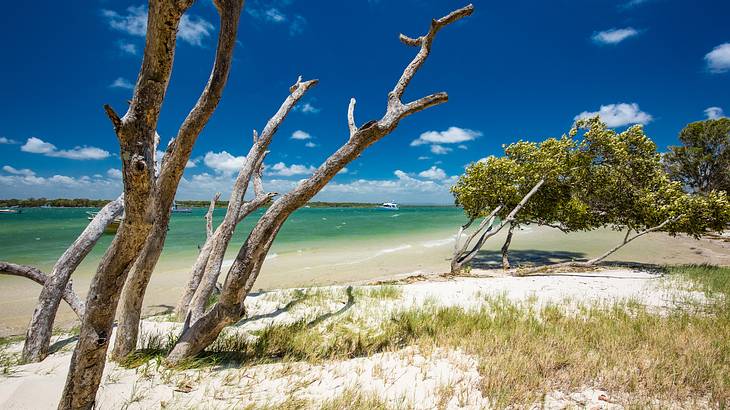 Bribie Island
Bribie Island is another one of the Great Barrier Reef's island treasures, located an hour and a half from Brisbane. Here, getting back to the basics with a camping trip or a BBQ boat cruise is a great way to explore the island.
Where possible, aim to visit the island on a Sunday as the markets are in full swing. This is a fantastic way to stock up on food perfect for a picnic on the beach.
If you choose to visit Bribie Island as your weekend holiday destination, I also recommend taking one of the sunset gondolas around the island as it's a unique way to explore the area.
Bribie Island is known for its four-wheel driving, surfing, jet-skiing, and kayaking. No matter if it's a romantic escape or a family camping adventure, be sure to consider renting one or taking your own with you.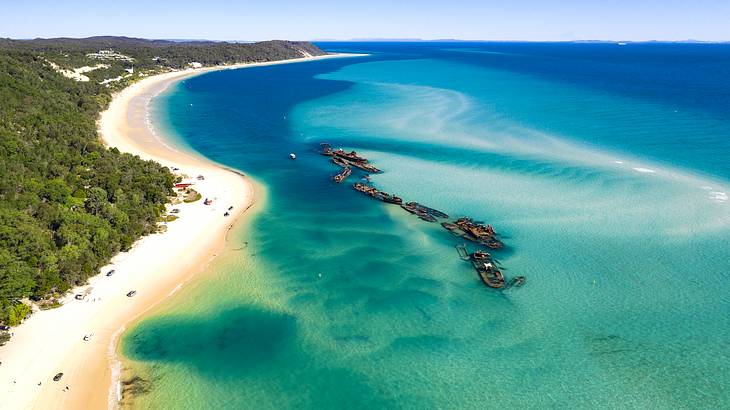 Moreton Island
If a city escape is what you're after, then a visit to Moreton Island is exactly what you need.
Although similar to other islands on the Great Barrier Reef with snorkelling and scuba diving as the popular things to do, Moreton Island is more widely known for something else - the Tangalooma shipwrecks. These shipwrecks are viewable by the shore or can be snorkelled around.
Cape Moreton Lighthouse is also well worth a visit. You can often spot pods of dolphins and Humpback Whales from here, and see far and wide over the bay.
Finally, be sure to check out the champagne pools. These are a natural spectacle with water, foam and bubbles creating a sandy bubble bath for all to enjoy.
Fraser Island
Fraser Island is the largest sand island on the planet and is located a six and a half-hour drive away from Brisbane. Although not as close as other spots, it is definitely worth visiting. Fraser Island is also world-heritage listed.
Here, you can snorkel through shipwrecks, hike in subtropical rainforests, and explore the endless beaches. If you enjoy swimming, I recommend visiting some of the 200+ freshwater lakes on Fraser Island. Lake McKenzie is the most popular, but there are many others worth visiting too.
Towering sand dunes make 4WD safaris an excellent family adventure on the Island. Just be sure to keep an eye out for dingoes- they are everywhere.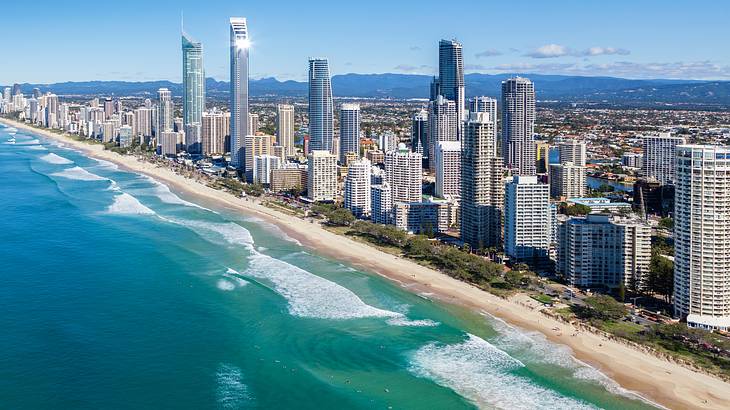 Surfers Paradise Gold Coast
Surfers Paradise, located on the Gold Coast, is an hour and a half drive south of Brisbane and is one of the top tourist destinations in all of Queensland. It is an area world-known for its nightlife and beautiful beaches.
A trip to the Gold Coast is not complete without exploring the Surfers Paradise and Burleigh Heads beaches. Both offer everything from perfect surf conditions to food stalls, restaurants, and markets throughout every season.
Skypoint Observation Deck is a popular place to visit on the Gold Coast. Here, you can watch surfers along the waves or turn to the extravagant inland canal and waterway system that runs throughout the township.
Movie World Theme Park
For those looking for one of the more adventurous getaways from Brisbane, the Gold Coast is home to some of the best theme parks in the world.
Just 45-minutes south of Brisbane, and you'll arrive at Warner Bros. Movie World, a theme park dedicated to immersing you in the world of Hollywood. Here, the magic and excitement of movies come alive with thrill-seeking rides and adventures.
You'll have the opportunity to meet with movie characters from Loony Tunes, Scooby-Doo, and DC comics. You can watch the Main Street Star Parade as well. Dining is also an adventure, with restaurants and movie-themed food options available.
It's a weekend trip perfect for the whole family, or anyone looking for an adrenaline-filled getaway. Even more exciting- Movie World is the only movie theme park in the southern hemisphere, so it is definitely worth a visit!
Sea World
There's no denying that if you're in search for a weekend trip from Brisbane in summer, you'll want somewhere that offers resort-style comfort and the ability to cool down. If this is the case, I recommend visiting Sea World- a luxury resort and theme park an hour from Brisbane.
Here, you can explore the underwater world. While thrill-seeking rides are popular within the park, it's the animal and sea attractions that you'll most likely love.
You can learn about seals and dolphins and the environments they call home while watching interactive presentations. You can also feed penguins and stingrays, among many other animals.
Dream World
A visit to Dream World, Australia's largest theme park, is one of the most exciting weekend trips near Brisbane you'll want to do. It is located 45 minutes away on the Gold Coast. If you love an adrenaline rush, this theme park has some of the biggest rides in the Southern Hemisphere. It is a place where the whole family will have fun.
Meeting with your favourite DreamWorks characters is possible, with characters from shows like The Wiggles, Shrek, Madagascar, and many more.
There is also Australian wildlife areas which allow visitors to learn about traditional Indigenous Australian culture.
Another highlight of Dreamworld I recommend checking out is Tiger Island. Here, you can watch the playful cubs roll around and fight- all while dining on your favourite DreamWorks inspired snacks.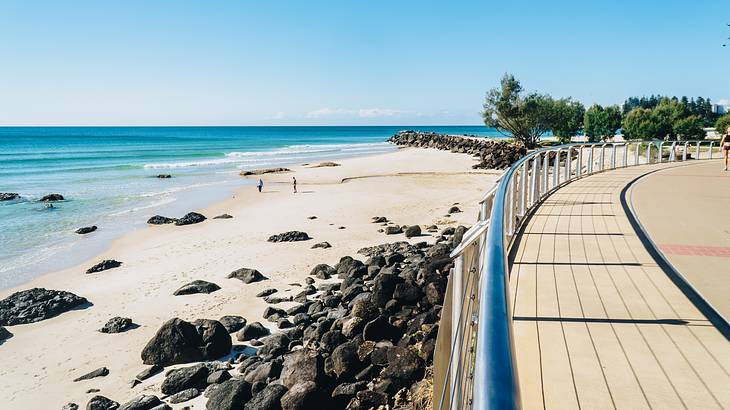 Tweed Heads
Tweed Heads is a 90-minute drive from Brisbane and is located half an hour south of the Gold Coast, Queensland. A popular spot for weekend getaways near Brisbane, the town is situated between New South Wales and Queensland, with the border running through the centre.
Tweed Heads is home to some of Australia's most popular long-stretch beaches and surfing spots. Greenmount Beach, Coolangatta Beach, Rainbow Beach and Snapper Rocks are some of the ones worth visiting.
If visiting Tweed Heads, I recommend checking out Mount Warning, one of the largest ancient shield volcanoes in the Southern Hemisphere. Here you'll find scenic views as well as a popular hiking trail just a short drive from town.
Byron Bay
A trip to Byron Bay is not to be missed when visiting Brisbane. Located 2 hours south of the city in New South Wales, Byron Bay is a well-known coastal town with a vibrant community and an intriguing ambience.
Surfers and water sports lovers can enjoy beaches year-round. Colourful shops, eccentric locals, and delicious varieties of food are found on every corner.
As the most easterly point in Australia, the Byron Bay Lighthouse sits as an icon and is one of the most photographed spots in Australia.
Byron Bay is also home to many of Australia's famous festivals. There are multiple 1-5 day festivals held at different parts of the year, which are all worth checking out depending on when you visit. Splendour in the Grass and the Falls Festival are two of the most popular worth aligning your visit with.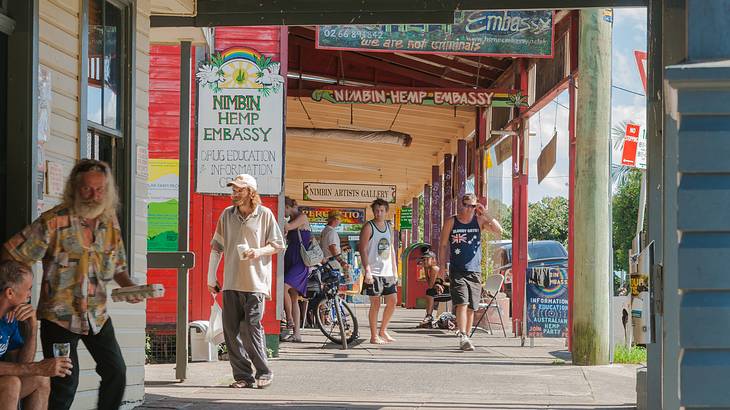 Nimbin
When it comes to the very best weekend getaways near Brisbane, nothing is more freeing and fun than an escape to Nimbin. Much like Byron Bay, Nimbin, in New South Wales, is a colourful town built on the foundations of alternate 'hippie' living.
The farmers market, which is usually held on Wednesday afternoons, are an excellent way to immerse yourself in the culture of the town. The Nimbin craft market is also worth a visit, and these are held toward the end of every month.
Although there aren't a tonne of activities to do in the town, being transported back to the 70s and immersing yourself in the laid back nature of the city is why Nimbin is worth a visit. Walking the streets, engaging with the locals, and slowing down is what Nimbin is all about.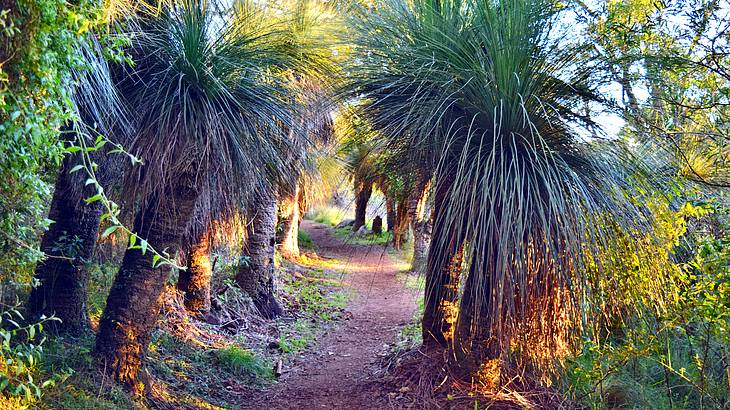 Bunya Mountains
If you are looking for a short break from city life, the Bunya Mountains is one of the top romantic getaways from Brisbane you'll find. Located just 2 hours away from the city, the Bunya Mountains will relax, destress, and reconnect you to your lover, nature, and yourself.
There's no reception - only nature and waterfalls. This means you can switch off and enjoy yourself. Here, you'll find bird watching in abundance. Fireside evenings offer a romantic way to wind down with a glass of wine and cheese platter.
While away from civilisation, I also recommend taking the time to stargaze. Just remember to keep an eye out for fireflies around at dusk as they're known to appear throughout the area.
Fishers Lookout is the perfect spot to enjoy the views over the mountains. Sunset and sunrise are incredibly beautiful up here.
Mount Tamborine
Mount Tamborine, located in the Gold Coast Hinterland, is one of the most popular weekend getaways from Brisbane city. Here, you will find a destination suitable for year-round travellers, and it is only a 1-hour drive from the city.
When visiting Tamborine Mountain, you will find farmlands, nut plantations, rolling green valleys, waterfalls, and an abundance of hiking trails.
For the activity-driven travellers, a visit to the glow worm cave, the treetop challenge adrenaline park, or the popular Cedar Creek Falls are excellent ways to spend the day. Each spot is an adventure appropriate for all types of travellers.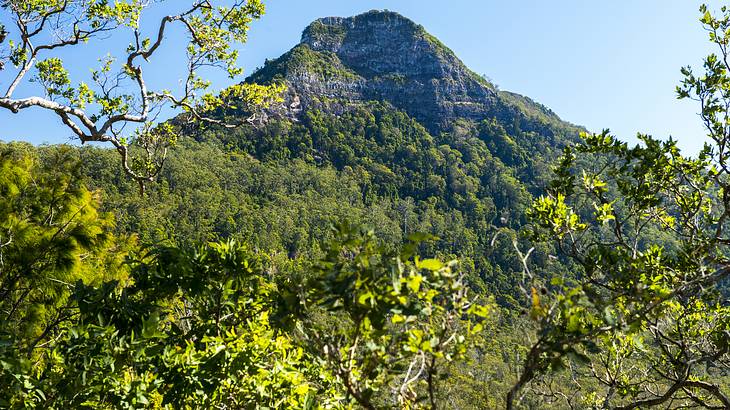 Scenic Rim
Hot air ballooning, scenic waterfalls, vineyards and glamping, these are just a few of the things you can do on a trip to the Scenic Rim.
Along the Scenic Rim of Queensland, located around an hour and a half from Brisbane, there are four national parks (Mount Barney, Springbrook, Lamington, and Main Range). While they differ in attractions, each one is unique and worth visiting when in Brisbane.
Each of these national parks is home to their own stash of unique wineries, farmlands, agriculture, and adventure activities. The added benefit of visiting each is getting to step back in time to some of the world's oldest rainforests, waterfalls, and valleys.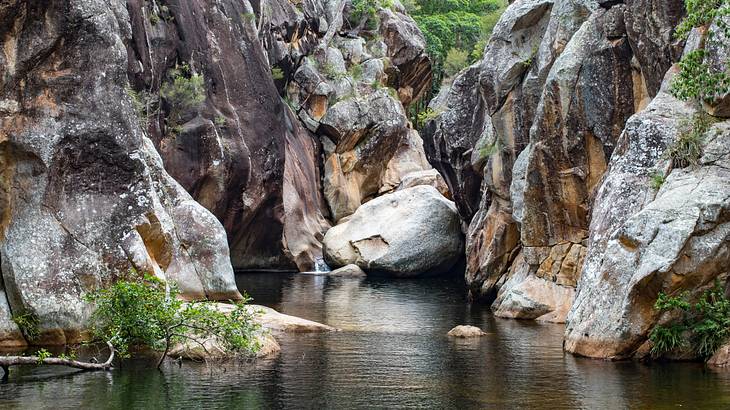 Mount Barney National Park
Mount Barney National Park is two hours from Brisbane, and home to some of Queensland's finest walking and biking trails. Visiting Mount Barney National Park, located along the Scenic Rim, is less popular than the other national parks, but just as beautiful.
One of six impressive mountain peaks in the area, Mt Barney and its sisters are surrounded by valleys, caves, rock pools and woodland forest.
The many creeks and waterholes fringed by rainforest are what draws visitors to the park each year. I recommend taking your swimmers and checking out Andrew Drynan Park, Running Creek, Bigriggen Park, Lower Portals and Lower Pinch for the best swimming, camping, and picnic areas.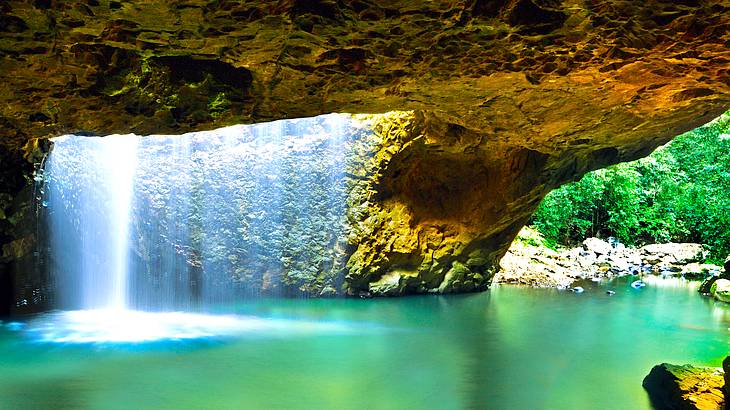 Springbrook National Park
Just over an hour from Brisbane, nestled beside its sister Lamington National Park, sits Springbrook National Park. Here, ancient vegetation dating over 100 million years old prospers. Waterfalls, like those on the Twin Falls circuit, go unrivalled. I recommend taking a couple of hours to do the circuit walk so you can enjoy the rock pools at the end.
Purling Brook Falls is another waterfall I recommend visiting. You can cross a suspension bridge and are offered views of the entire valley at the top.
The Natual Bridge trail is another popular attraction not to be missed in Springbrook. After the trail ends, you arrive at the natural bridge set high over the turquoise waters from the falls. If you are lucky, you may even witness the glow worms that live within the cave.
A stop in at the Best of All Lookout, Hardy's Lookout, or Canyon Lookout is also recommended as these are some of the most incredible views Australia has to offer.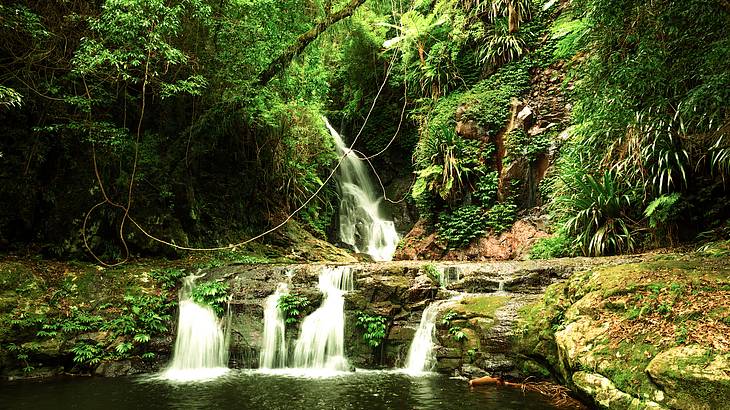 Lamington National Park
When a weekend trip from Brisbane calls you, consider a visit to Lamington National Park. Just drive 90 minutes from Brisbane, and you'll have arrived in a world of lush rainforests and activities galore.
Spending the weekend in Lamington National Park can be filled with relaxation. Nature runs wild, so you can stroll through the rainforest while looking out for animals, birds, and some of Australia's oldest flora. Think forested mountains, waterfalls, and walking tracks that link everything together.
Rainforest retreats don't run dry up here, either. If you're looking for one of those delicious romantic getaways from Brisbane, the O'Reilly's Rainforest Retreat has spa, picnic, and pamper packages which go hand in hand with your relaxation.
If adventuring is more your style, hiking, mountain biking, rock climbing, and camping are all huge within the area.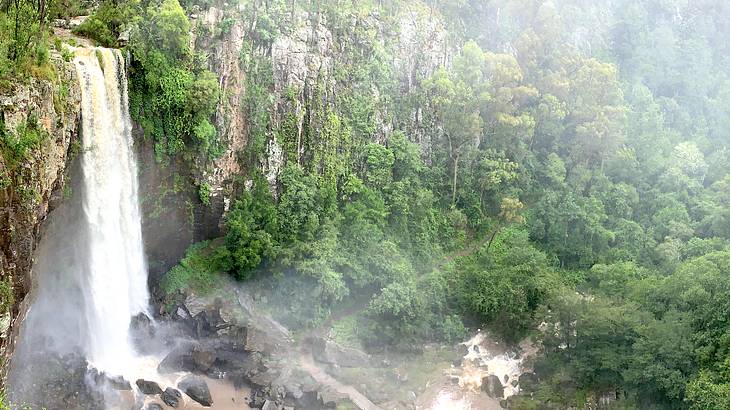 Main Range National Park
Main Range National Park, the lesser-known park along the Scenic Rim, is a terrific spot for those looking to escape Brisbane for a weekend. Here, waterfalls and walking trails amongst the rainforest is what makes the park a great adventure.
Along with rugged mountain ranges, there are stunning lookouts, like Governors Chair Lookout, and popular rainforest walking trails, such as Cascades circuit and Dalrymple circuit.
Gap Creek Falls, Queen Mary Falls are also just some of the spectacular waterfalls I recommend visiting when travelling in the region.
Noosa, Sunshine Coast
Noosa is one of Australia's top beach locations. It is located along the Sunshine Coast, approximately 2 hours from Brisbane. Noosa is one of the spots that all travellers will fall in love with because of its beautiful, bush-fringed beaches, restaurants, and things to do.
The Noosa National Park is a place fit for anyone looking for a leisurely walk with views of the sea. Here, you might even be lucky enough to spot a sleeping koala high in the eucalyptus trees.
However, it is Noosa Main Beach that you will most likely adore. The surf break and white sands are what draws swimmers, water sports lovers, and picnic goers to the area.
Along Hastings Street, which runs parallel to the beach boardwalk, you'll also find boutique shopping, gourmet restaurants, bars, and weekly markets all worth getting to know.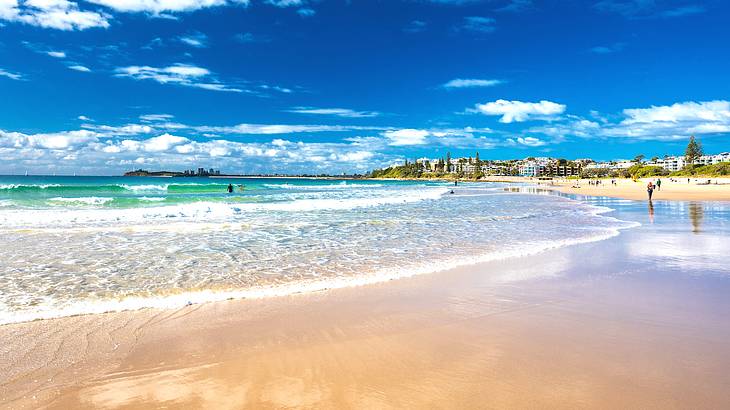 Mooloolaba, Sunshine Coast
Mooloolaba is a location along the East Coast of Australia where beach holiday dreams come alive. It is situated a little over an hour's drive north of Brisbane on the Sunshine Coast.
With long stretches of beach, Mooloolaba is a great spot to practice your water sports, go for a swim, or simply have a BBQ by the sea.
Visiting the beaches at sunrise or sunset provides excellent views. These times are also good for a stroll along the shore or trying a cuisine at one of the many gourmet restaurants and cafes in the area.
An attraction I recommend visiting while in the area is the Sea Life Sunshine Coast Underwater World. Here, you can get up close to sharks, stingrays and other sea life animals.
Maleny, Sunshine Coast
Maleny is a small town located in the heart of the Sunshine Coast Hinterland. It is a little over an hour from Brisbane.
Although small, Maleny has a vibrant community of artists, food networks, and musicians that make up the town. One of the things worth doing on a visit to Maleny is to walk through its main street.
Here, the locals have put together an array of bookstores, cafes, galleries, and other boutique stores suited for visitors. To capture more of this, I recommend checking out the local market held every Sunday as well.
Maleny also sits at the doorway to many of the region's surrounding countryside spots. With the Glass House Mountains, Kondalilla Falls, Gardners Falls, and Lake Baroon all nearby, it is worth sourcing out a fresh basket of local produce and heading into the wilderness for a picnic.
Another unique aspect of the town is the thriving dairy industry. Take a trip to Maleny Dairies and watch where some of Australia's best cheese, ice cream, and milk come from. Don't forget to taste test their delicious range!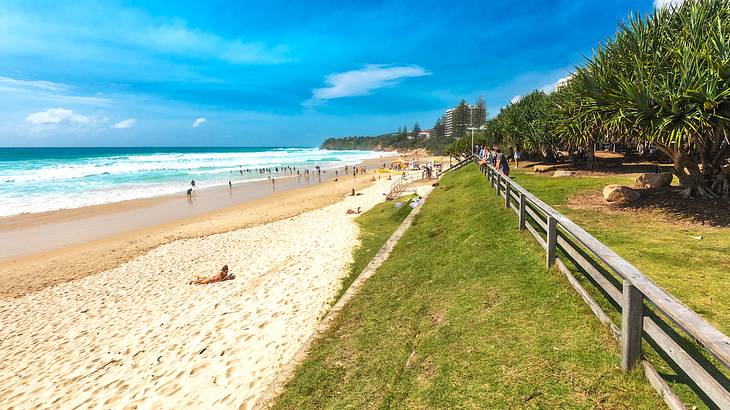 Coolum Beach
Coolum Beach is an Australian beach destination renowned for its surfing. Located along the Sunshine Coast, Coolum is approximately an hour and a half from Brisbane.
Unlike many of the other local beaches along the Sunshine Coast, Coolum Beach is a little more laid back. Here, rather than the hustle and bustle of tourists, you'll find long stretches of white sand. There are many areas to relax, play beach sports, have a picnic or BBQ, and enjoy a day at the beach.
Surfing is big along Coolum Beach. If you're a beginner to the sport, the Coolum Surf School is a great way to learn. For kids, the Coolum Aqua Park is a fun way to spend the day.
I also recommend climbing Mount Coolum, a large volcanic dome that can be found in the town. The walk takes about an hour and a half return and offers panoramic views of the area, making it worthwhile once you reach the top!
Ravensbourne
If you're looking for somewhere near Brisbane to relax for the weekend, Ravensbourne is one of the best spots. Just drive 90 minutes from Brisbane, and you'll arrive at the rolling hills of Ravensbourne.
Relaxing and unwinding with fresh mountain air and views over the national park are what Ravensbourne is known for. It is perfect if you are looking to have a romantic getaway from Brisbane. Bushwalking, water sports, fishing, or picnics by Lake Cressbrook or Lake Perseverance are some of the top things to do.
With rainforests, eucalyptus forests and bush all around, bird watching is another popular past time in the area you should add to your to-do list.
Summertime camping around Lake Cressbrook is an additional activity prevalent in the area. Here you will be able to reconnect with yourself, friends and family in the peace and tranquillity of the mountains.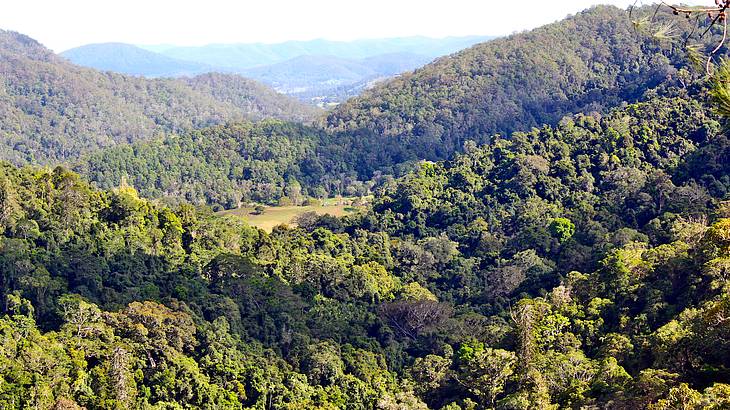 Montville
Montville, located along the Sunshine Coast Hinterland, is a charming holiday destination about an hour and a half north of Brisbane. A visit to Montville will immerse you in a quaint town. There are art galleries, boutique cafes, and shopping filled with local products.
Kondalilla National Park is also a short drive from Montville. The National Park is an excellent spot for hiking and walking trails, also allowing access to the popular Sunshine Coast Hinterland Great Walk.
You can have a picnic or cool down by Kondalilla Falls, Gardners Falls, or one of the many other rock pools or freshwater creeks around.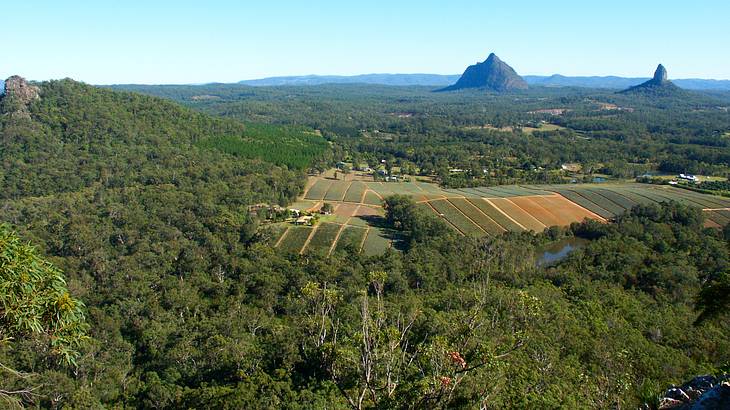 Glass House Mountains
The Glass House Mountains, made up of 11 different mountain peaks, is located in the Sunshine Coast Hinterland. You'll find the mountains approximately a 1-hour drive north of Queensland's capital city, Brisbane, or half an hour from the Sunshine Coast's main town, Noosa.
The Glass House Mountains is a unique location if you're looking for a romantic getaway from Brisbane. Gourmet food and wine, along with romantic retreats, can be found all around the region.
Only two of the eleven mountains are open to hiking: Mount Tibrogargan and Mount Ngungun. Both have short and long hikes that wind around the forest and offer spectacular views over the Hinterland.
I recommend checking out both, or simply spend some time at a resort soaking up the fresh mountain air.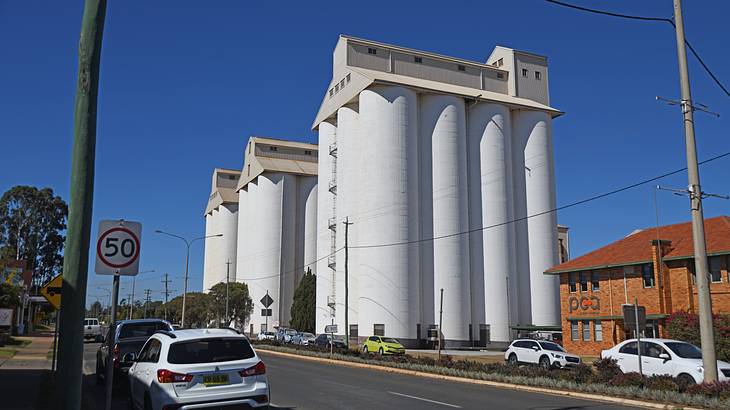 Kingaroy
Kingaroy is one of the great country weekend getaways from Brisbane you will want to consider when in the area. If you love fresh produce and picturesque countryside, just drive 3 hours inland and you'll arrive in the heart of it.
A trip to Kingaroy isn't complete without a visit to the Kingaroy Peanut Van - it is the peanut producing capital of Australia, after all! Here, you can try unique peanut flavours, pastes, and peanut-inspired recipes.
Gourmet food, lush pastures, and fresh produce are big drawcards for the area as well. I recommend visiting Pottique Lavender Farm, Australia's largest lavender shop. Crane Wines Boutique Winery and Kingsley Grove Estate are also two locations to visit if you're a lover of good, fresh food and wine.
If you plan on visiting Kingaroy in May, make sure you check out the quirky Goomeri Pumpkin Festival. You'll find competitions, parades, food, entertainment, markets, and art displays- all pumpkin-inspired!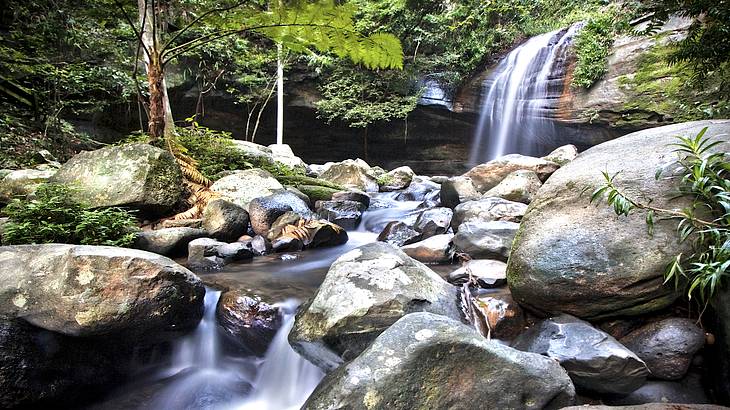 Buderim
Located a little over an hour from Brisbane, in the mountains behind the Sunshine Coast, Buderim is a luxuriant destination worth visiting.
Buderim is known to be a town vibrant with nature, and it is well worth adding to your list of weekend trips to do from Brisbane. The city offers a retreat-style vacation full of gardens, trees, and flowers throughout.
An escape to Buderim should be relaxing. I recommend a picnic in Lions Park or a stroll around Wirreanda Park. The Pioneer Cottage is also a great spot to step back in time and learn about the Pioneering Days.
Some of the other popular areas worth exploring in Buderim are the Buderim Forest Waterfall Walk, Buderim Falls, and the Foote Sanctuary. Each one is uniquely interesting and a spectacular way to relax and unwind while in nature.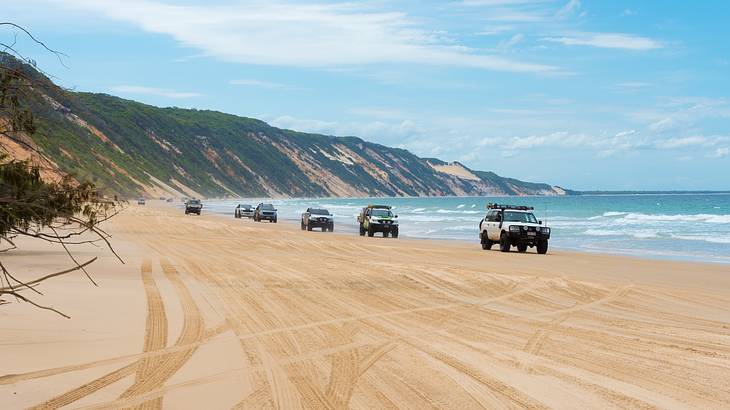 Rainbow Beach
Rainbow Beach, approximately 3 hours north of Brisbane, is a sun, sand, and surf paradise. This is one of the unique weekend trips near Brisbane I highly recommend doing.
Rainbow Beach is a four-wheel driver's paradise. If you are heading to this area, a great way to explore it is by doing the 'Great Beach Drive.' This is a stretch of over 200 km worth of sand highway that starts in Noosa and ends at Rainbow Beach.
Don't worry if you don't own a four-wheel-drive; you can still access the area via the main highway. Four-wheel drive tours at Rainbow Beach can also be booked to gain a glimpse into the road trip as well.
When in Rainbow Beach, one of the top things to do is to visit the Carlo Sand Blow, a sand mass with views over the coastline. From here, walk to Double Island Point Lighthouse and Inskip Peninsula for sunset views.
Horse riding along the shoreline is also popular. This is a fun way to watch the sunset over the water.
The Australian Zoo
Most people know of the crocodile hunter, Steve Irwan- an Aussie legend who loved to swim and play with crocs. If you want to walk in the footsteps of the man who made 'crikey' a saying, then a visit to The Australia Zoo is one of the Brisbane weekend trips you won't forget.
The Australia Zoo is located an hour north of Brisbane on the Sunshine Coast. It is one of the most interactive zoos on the planet.
There are over 1,200 animals at the Australian Zoo. Sections include the African Savannah, a Southeast Asia exhibit and Bindi's Island, as well as an Australian animal section, of course.
One of the unique things about the zoo is being able to book encounters with the animals, and I highly recommend doing so. It's an experience like no other.
Whether you're travelling with children or not, make sure not to miss the Wildlife Warriors Show. Here, you'll get to witness first-hand all the slithering, swooping, crawling and snapping of Australian animals.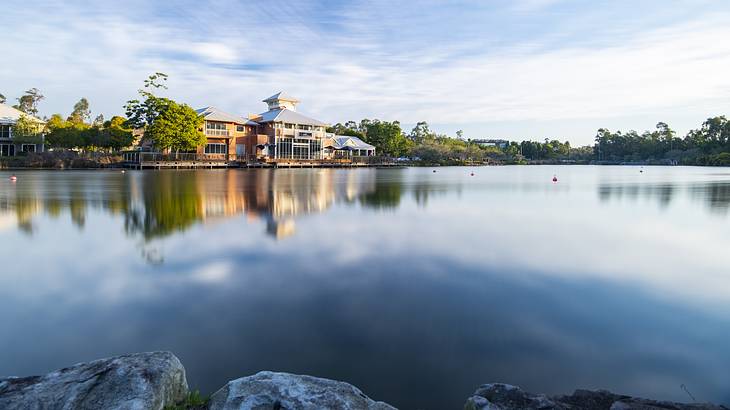 Ipswich
Ipswich is an excellent location for all travellers visiting Brisbane. Just under a one-hour drive inland, it's one of the Brisbane weekend getaways you'll never forget!
Ipswich brought life to the extensive rail network in Queensland. Throughout the town, you can find operational steam trains and museums that will teach you everything about the history of trains.
Exploring the vintage shops and heritage-listed buildings that fill the region is a popular past time in the town. Many of these are now home to breweries and ice cream shops, like the 4 Hearts Brewery and Ungermann Brothers. I recommend checking out both!
Picnic spots are also in abundance in Ipswich, with many gardens and bush trails as well. My pick would be The Kholo Gardens for its lush gardens, lily pond, walking tracks, and open areas.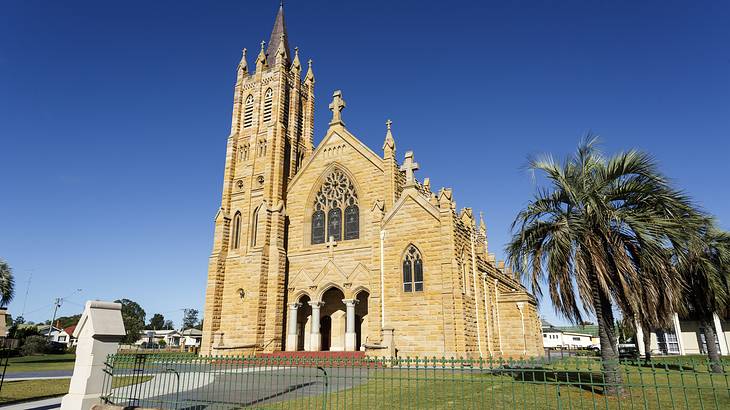 Warwick
One of the more unique weekend trips from Brisbane is a visit to the small country town of Warwick. Warwick is approximately a 2-hour drive from Brisbane.
With over 150 years of settlement, the town has a rich heritage building list that includes several old houses, railway stations, schools, and churches.
The Warwick Historical Museum is one of the best places to dive into the history of the area. Or, you can ride on the Southern Downs Steam Railway- one of the oldest in Queensland.
Laying testament to its claim as a 'rose city,' Warwick is filled with rose plots that bloom yearly. You can see this throughout the CBD.
From Warwick, access to some of the other Southern Downs towns and villages is easily possible. It also offers visitors easy access to Queen Mary Falls, which is located within the Main Range National Park.
If visiting Warwick in winter, try not to miss the Jumpers and Jazz festival. It is a fun celebration of all things winter, including knitted woollies, and jazz music.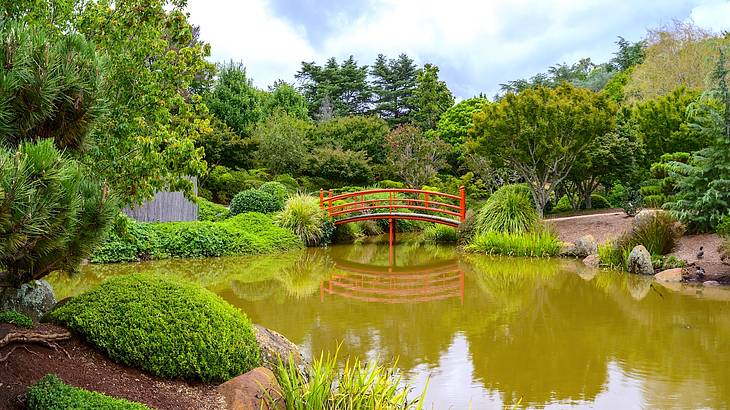 Toowoomba
Toowoomba is a 2-hour drive from Brisbane. Much like Ipswich, Toowoomba is alive with historic buildings, museums and parklands perfect for picnics.
Queens Park and Gardens, Laurel Bank Park, and Picnic Point are three of the more popular parks. Take a stroll through one of them or lounge around on a blanket with a picnic.
If possible, consider timing your visit to Toowoomba during the Carnival of Flowers. The festival runs at the end of September for over ten days, and it is one of the highlights of the town. The entire town comes alive with markets, shows, and flowers everywhere you go.
Rewarding yourself with a panoramic view of Table Top Mountain is also an excellent way of ending your visit to Toowoomba. The hike is challenging, but the summit is worth it.
Hervey Bay
If a relaxing vacation is what you're looking for, a trip to Hervey Bay is in order. The drive will take you approximately three and a half hours from Brisbane.
Hervey Bay is home to some of the best Humpback Whale watching in the world. With a long season - between July to October - you can often see pregnant whales and mothers and their calves swimming throughout the bay.
Tours will take you close enough to the animals to watch them breach and spray you with water. It is a once in a lifetime experience.
However, it is not just whales that bring people to Hervey Bay. The beaches are calm and relaxing here, without the noise of waves and the danger of tides.
Fishing, walking the esplanade, visiting Urangan Pier, and wandering through one of the many Hervey Bay Markets are also top things to do when visiting the area.
Stanthorpe
Stanthorpe, a small country town in the Southern Downs, is located about two and a half hours away from Brisbane. Like many of the other locations in Southern Queensland, wineries, breweries, and fresh farm produce thrive throughout Stanthorpe. Think fresh truffles and delicious cheese.
In addition, over 50 vineyards are scattered throughout the area. You can pick and choose the wineries you are most interested in or take a self-guided bicycle tour.
Girraween National Park and Bald Rock National Park are located at the edge of town. Here, you have the opportunity to take a short or long trail through the beautiful hillside landscapes covered with granite outcrops.
Combine all of this with romantic lodges, picnic lunches, and glamping under the stars, Stanthorpe becomes the perfect destination for anyone looking for a romantic getaway from Brisbane.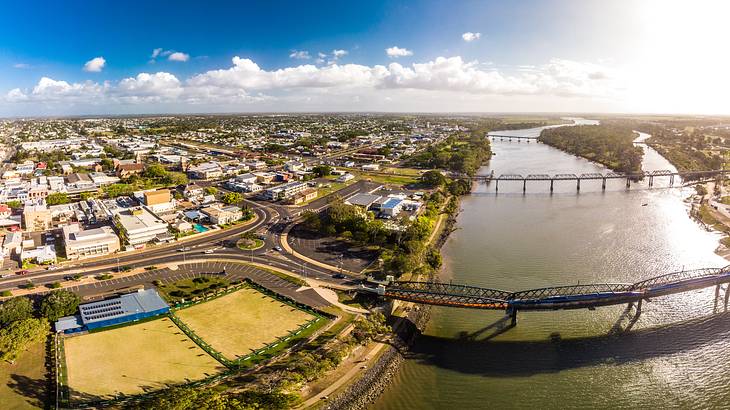 Bundaberg
Bundaberg is a small coastal city located approximately 4 hours away from Brisbane. One of the most popular things to do in Bundaberg is to watch sea turtles nest and hatch.
Mon Repos Regional Park is home to one of the largest nesting concentrations in the world. You can join nightly tours between November and February to see them. Snorkelling and dive trips are also popular things to do off the coast, as well as swimming and fishing.
A trip to Bundaberg isn't complete without acknowledging Bundaberg Rum, and Bundaberg Sugar- two brands used widely around the country every day. I recommend taking a tour of the Bundaberg Rum Distillery to learn more about this brand.
In Summary
I hope my list of the 36 very best weekend getaways from Brisbane gave you some great ideas to help you plan your next weekend vacation.
I definitely recommend attempting to explore as many of these locations as possible, but even just doing one or two will give you an amazing experience you won't forget.
As many of these destinations are located close to one another, it's easy to stop in at several of them on a long road trip. Perhaps even consider a multi-stop holiday where you overnight at several places.
Regardless of whether you are visiting Brisbane for a brief time, a while, or if you are a local, whatever weekend destination you choose will be an adventure you're sure to remember.
Give us feedback about this article
Learn more about Brisbane:
Read more articles about Australia:
More articles about weekend getaways:
More visual stories related to this article:
---
---
Want to keep exploring?
Subscribe for discounts on tickets and hotels and our latest guides.
Thank you for subscribing
We will be in touch soon with discounts on tickets and hotels and our latest guides.
Want to keep exploring?
Subscribe for discounts on tickets and hotels and our latest guides.
Thank you for subscribing
We will be in touch soon with discounts on tickets and hotels and our latest guides.
Related articles