32 Best Weekend Getaways From Sydney
Destguides may receive commissions from purchases made through affiliate links in this article.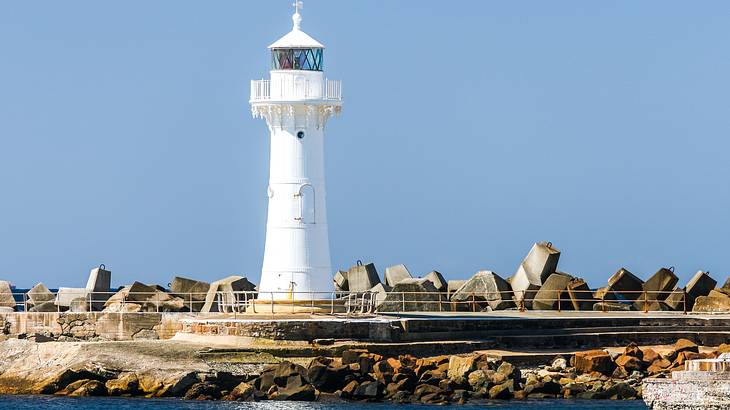 Sydney in New South Wales is one of the largest and most well-known (and most-visited) cities in Australia. From visiting the Sydney Opera House to climbing the Sydney Harbour Bridge or relaxing on Bondi Beach, Sydney itself has a whole range of attractions. But if you're looking for a break from the city, you'll also find a host of fantastic weekend getaways from Sydney within hours of the city.
Whether you want to explore more beaches, tackle rainforest and bushland trails, or go to vineyards, there's guaranteed to be a getaway location for you. To help with your planning, I've rounded up the 32 best weekend getaways from Sydney.
Some are as close as a 40-minute drive, while others are a little further away. No matter where you go, you're sure to have a fantastic time and create lifelong memories.
32 Best Weekend Trips From Sydney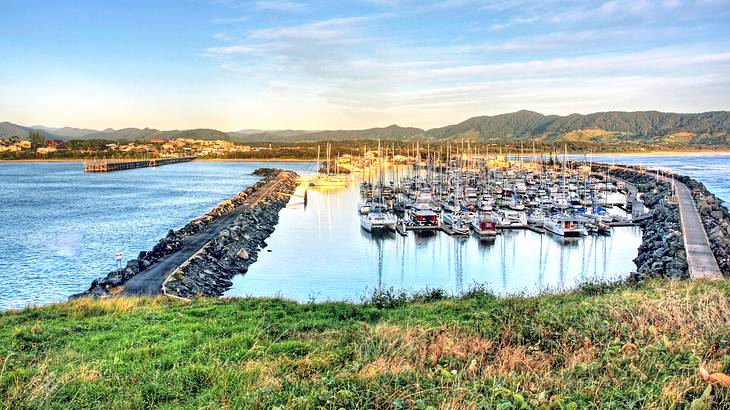 Coffs Harbour
Located on New South Wales north coast, Coffs Harbour is a beach town that's ideal for a weekend getaway. It's approximately five-and-a-half-hours from Sydney, or you can fly into the local airport. If interested in extending your trip, you can drive the scenic Waterfall Way drive to Armidale in about four hours.
Here, you'll find many coastal activities to participate in. There is a selection of beaches to visit, including the popular Jetty Beach. The Coffs Harbour Marina is a cool place to hang out too, offering coral reef scuba diving, and you may even see humpback whales. The Dolphin Marine Conservation Park is also worth checking out, allowing you to swim with dolphins and feed seals!
Skydiving at Coffs Harbour is offered too, and there is a harborside market each Sunday. Don't forget to check out the famous Big Banana monument and plan a trip to the Big Banana amusement park if looking for a fun day out or traveling with kids.
When you want some food and drinks, there are lots of options in Coffs Harbour. Lime Mexican is a fun option. They serve tapas and Mexican street food-style dishes. Along with your meal, enjoy a choice of a range of Mexican-inspired drinks, including margaritas and a vast choice of tequila.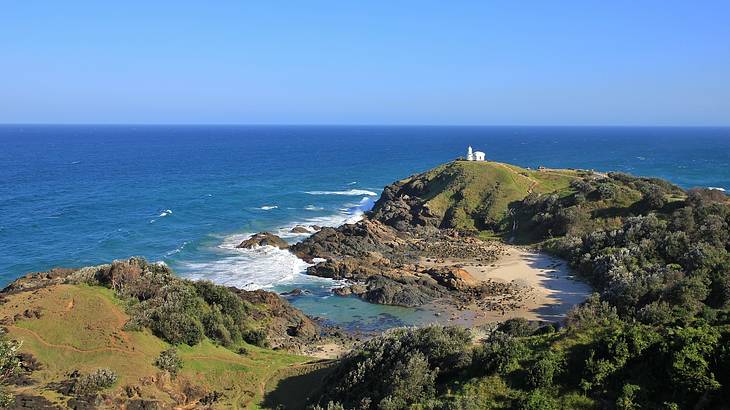 Port Macquarie
Port Macquarie is a small town on the Hastings River found within four hours of Sydney when driving. The area is full of lovely beaches and lots of wildlife, making it great for a short break from Sydney.
An enjoyable activity is to go on a coastal walk to Tacking Point Lighthouse. On the trail, you're likely to spot both whales and dolphins. Continue with the wildlife theme by visiting Billabong Zoo. You'll be able to see a variety of Australian animals and go to the Koala breeding center. There is also a Koala hospital and rehabilitation center nearby, which is open to visitors.
There are additionally a lot of national parks and rainforests. Burrawan State Forest and Kattang Nature Reserve are both excellent for hiking and viewing flora and fauna.
At the beach, you can participate in water activities and can surf too. There is also a surf school for those looking to learn. A fun and unique activity at Lighthouse Beach is camel rides. You can ride along the beach while keeping a lookout for dolphins and whales.
Back in town, a visit to St. Thomas' Anglican Church is a popular attraction. The church was built in the 19th century by convicts held in the area.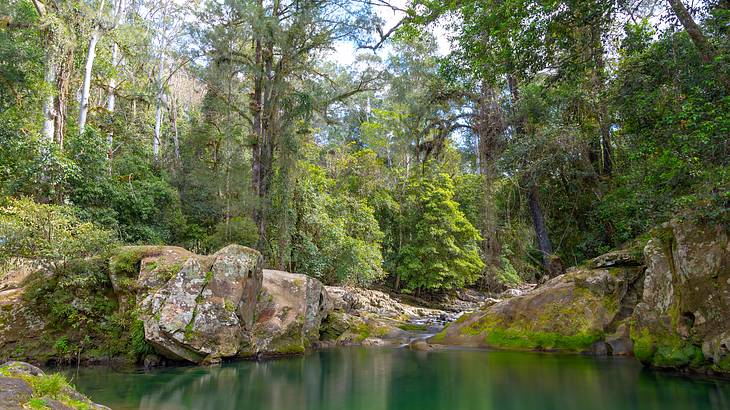 Barrington Tops
Barrington Tops is an adventure or nature lover's dream getaway location. The area is covered in forests, and two-thirds of the site is wilderness. It's home to a vast array of species and has multiple national parks and state forests. When driving, Barrington Tops is just over four hours from Sydney.
Being a heavy wilderness location there are lots of bushwalking trails covering a range of difficulty levels. National parks include Barrington Tops National Park, Woko National Park, and the Copeland Tops State Conservation Area. When tackling these outback trails, you're likely to come across a range of wildlife including eastern quoll, brush turkey, and Parma wallaby.
To get up close to more wildlife, there are three nature reserves in the area, including the Bretti Nature Reserve. Other activities here include cycling, horse riding, and fishing.
It's common for snowfall to occur if visiting in winter (June through August) due to Barrington Tops being the highest point on the Barrington Coast.
Camping is additionally very popular here, with some more challenging trails requiring overnight camping. There are also several quaint B&Bs and secluded cabins. Being so remote, it's also a fantastic location for nighttime star gazing.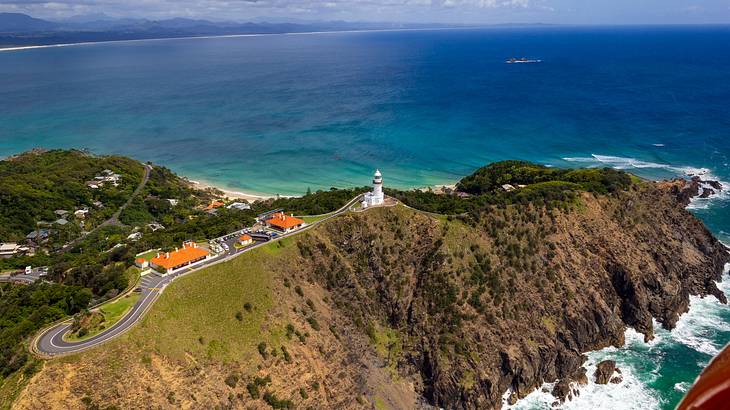 Byron Bay
Byron Bay is a further trip from Sydney but is worth the journey as it's one of the best Sydney getaways you can experience. Located in southeastern New South Wales on the Gold Coast, it's about an eight-hour drive from Sydney's central business district. However, this famous beach destination is well worth the journey and is one of the best long weekend trips from Sydney, Australia.
Byron Bay has multiple beaches which are great for surfing and scuba diving. Ocean kayaking is recommended too. You can rent a kayak or go on a guided tour and are likely to come across wild dolphins playing in the ocean.
This is also a popular spot for whale watching if visiting between June and November. Many boat tours will take you out to get up close with the humpback whales. Several of them also have glass floors, allowing you to see the whales swim under the surface. Alternatively, take a helicopter tour to see the whales from the sky.
Additionally, Byron Bay has many markets to explore throughout the week and weekend, and you can even go hot-air ballooning here. There are a vast selection of bars and restaurants, too, for relaxing with delicious food and drinks at the end of a busy day.
Light Years Asian Bar and Diner is a cool spot to try. They serve yummy craft cocktails and Asian-inspired snack plates, including bao buns, shrimp toast, and duck pancakes. The Mez Club is also recommended, serving Mediterranean dishes and modern and classic cocktails.
If you want to extend your trip even longer, consider visiting Brisbane for a couple of days, which is located in the state of Queensland, to check out some of its amazing views. Brisbane is only about a two-hours from Byron Bay, after all!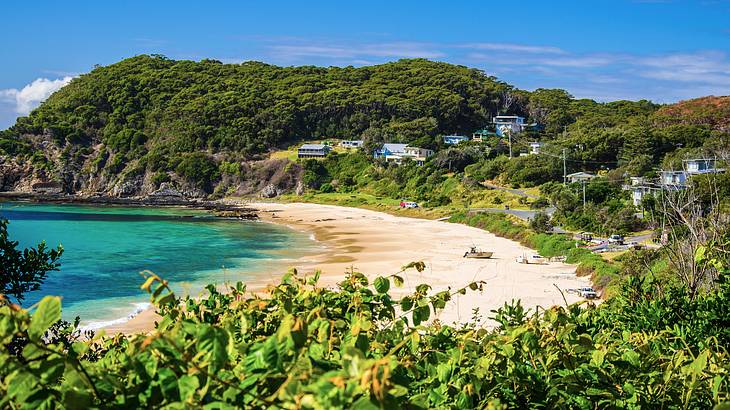 Seal Rocks
Seal Rocks is a seaside village on the Barrington Coast. It's a recommended Sydney weekend getaway spot for those after a quiet beach escape and is located approximately three hours from the city.
The area is known for its remote beaches and clear blue waters. At the many beaches, there are coastal walks, and you can surf, dive, and snorkel. A popular walk goes through coastal forest, leading you to the Sugarloaf Point Lighthouse.
Myall Lakes National Park is also close by if you want to tackle more hiking trails and Wallingat National Park is just a 30-minute drive from the town.
Hawks Nest
Hawks Nest is another cute seaside destination in New South Wales. It's a lovely weekend away near Sydney, located two and a half hours from the city.
Hawks Nest is found between Hawks Nest Beach and Myall River. Hawks Nest Beach is a beautiful sandy beach that stretches to Myall Lakes National Park. No matter where you choose to spend your time, you'll be able to kayak, fish, and boat through the many waterways or just hang out on the beach.
Other activities include stopping for a picnic at Pipers' Creek and hiking the Yacaaba Headland walking trail. This scenic hike offers beautiful views of Port Stephens. The Mungo walking track is another option for hiking or biking and with several aboriginal sites to see along the way.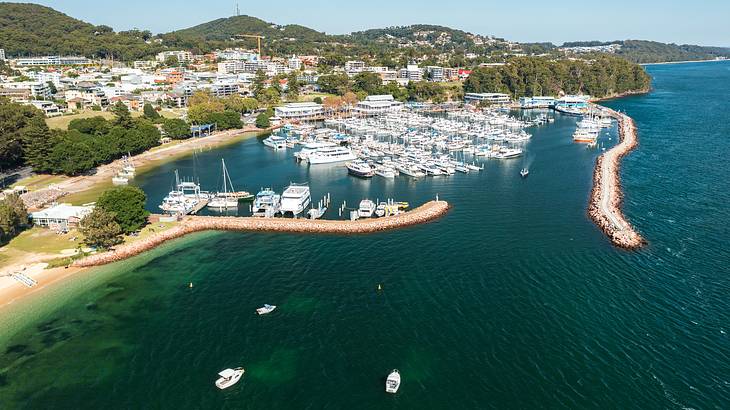 Port Stephens
Another of the great short breaks from Sydney is going to Port Stephens, a coastal town located two and a half hours away. Along with sandy beaches and ocean views, Port Stephens is known for its sand dunes, a unique feature of this beach destination.
The Stockton Bight Sand Dunes are found in the Worimi Conservation Lands. A visit to the dunes will allow you to take part in lots of activities. You can go sand duning or quad biking and even ride horses and camels across the desert-like landscape.
Port Stephens also has 26 beaches to explore, making it a perfect beach vacation escape. Along with relaxing on the beach, you can swim, surf, fish, dive, and snorkel in the area. There are also plenty dolphin and whale watching cruises.
Additionally, there are hiking and biking trails. A nice hike is the Tomaree Head Summit Walk on which you'll get panoramic views of the bay and beaches. There are also many more hiking and mountain biking trails at Mount Tomaree National Park.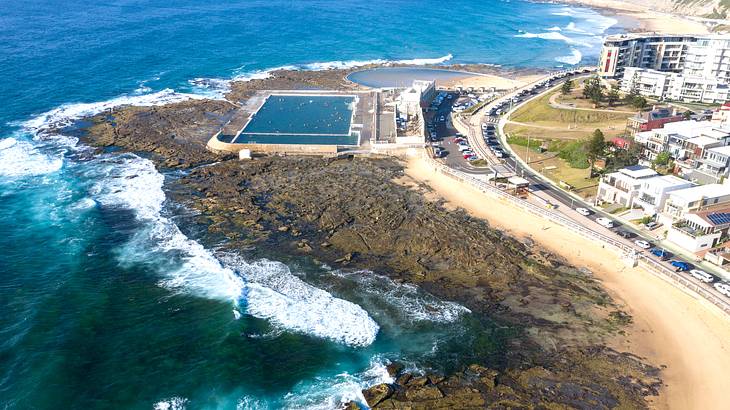 Newcastle
Newcastle is a harbor city located about a two and a half hours from Sydney. It's a nice beach getaway from Sydney for those looking for pristine beaches and coastal walking trails.
Newcastle is the oldest export port in Australia. Attractions here include taking a cruise or a boat out on the water, hiking many trails, including Shipwreck Walk, and visiting Nobbys Head Lighthouse.
There are also the beach infinity pools (like those at Bondi beach) at Newcastle Ocean Baths to enjoy. It's additionally just an hour's drive to the wineries of the Hunter Valley and whale watching at Port Stephens.
Newcastle also has a range of independent shops and art galleries. Popular galleries include Newcastle Art Gallery and The Lock Up, a gallery housed in the city's first jail.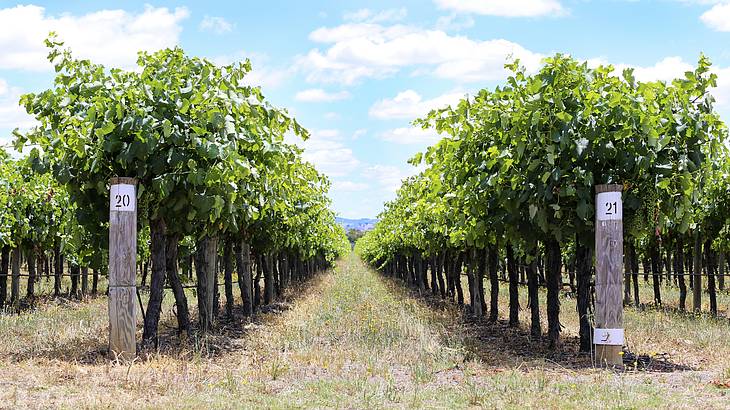 Mudgee
Mudgee is a country town with lots of activities located in the northwest of Sydney. The city is three-and-a-half hours from Sydney and is the perfect location for a relaxing quick getaway from Sydney. Mudgee is known for its quaint colonial buildings and surrounding countryside landscape.
This destination is recommended for wine lovers, with many wineries as well as breweries open for tours and tastings. Well-rated wineries to visit include First Ridge and Logan Wines. There are also wine tours available, where you'll be driven to multiple wineries if you don't want to drive yourself.
You can also go hot air ballooning, visit weekend markets, and explore a bunch of independent boutique shops.
Finish your day with a delicious meal. Mudgee has a host of restaurants to try. Cade Kitchen and Bar is a favorite among locals and tourists. They serve dishes like garlic prawns, white bait, and homemade tortellini accompanied by local wine or modern cocktails.
Orange
Orange is known for its produce and wine production, making it an optimal weekend getaway for food and wine lovers. Located in the Central Tablelands, it's about a three-and-a-half-hour drive from Sydney. Orange is also accessible via train or even by plane.
A popular activity in Orange is wine tours. There is a range of vineyards to visit, but using a wine tour company is recommended. Orange Wine Tours is a good choice and will take you to multiple wineries on their full-day tour.
If you want to hike as well, the Orange Heritage Trail walk is recommended. Along the trail, you'll come across over 40 places of historical interest. You can additionally visit Lake Canobolas, a tranquil lake with picnic areas. The perfect spot to take some locally grown produce and wine for a peaceful picnic.
Orange also has a large selection of restaurants serving all types of cuisine. There are many spots to choose from, with Lolli Redini being a local favorite. You'll be able to enjoy Italian and French cuisine made using locally sourced ingredients, all accompanied by local wine.
Hawkesbury River
Located just north of Sydney, Hawkesbury River is a close weekend trip being only an hour and 20 minutes from the city. The charming place on the river has cute cottages and lots of hiking trails and water activities. It's a perfect riverside vacation and one of the best weekend getaways near Sydney!
The area is known for producing all kinds of food and drink, from fruits and vegetables to wine and smoked meat and fish. You can enjoy all these local treats at a range of restaurants. Or, go on a food producer trail such as the Farm Gate Trails. This tour will take you through farms and farmers' markets, orchards, wineries, and more.
The Oyster Shed is also a popular local attraction. You can taste fresh oysters and learn how they are farmed, collected, and shucked. Another exciting activity is a trip to the UNESCO World Heritage Site Old Great North Road which was built by convicts in the 1800s.
Being a riverside town, there are of course lots of things to do out on the water too. You can go river kayaking, water-skiing, and fishing. You can even rent a houseboat and enjoy the river from your accommodation. Waterfront B&Bs are also plentiful here.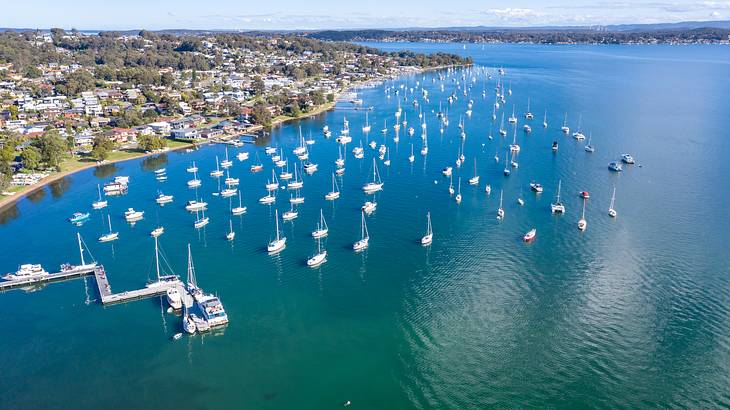 Lake Macquarie
Located just over an hour and a half from Sydney, Lake Macquarie is a superb location for those who enjoy adventure and water activities. Adjacent to Newcastle, this town has the largest saltwater lake in the southern hemisphere.
The lake is a fantastic place to boat, kayak, canoe, or paddleboard. There are also trails to hike through the local rainforest leading to beautiful waterfalls. Another scenic place to visit is Caves Beach, where you can explore a network of sea caves.
Other adventurous activities include abseiling down Gap Creek Falls at Watagans National Park or taking a helicopter tour of the area with the Skyline Aviation Group.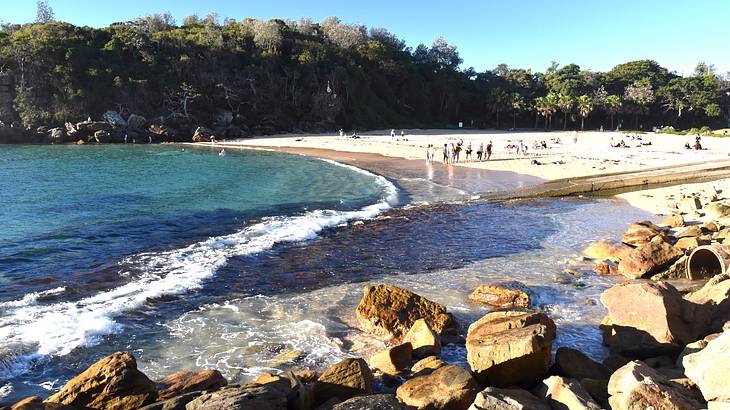 Northern Beaches
The Northern Beaches make up a 40km stretch of coastline just outside of Sydney. As the name suggests, there are several beaches to explore in each suburb of the area, making it a great short getaway from Sydney. Or, plan a weekend road trip, driving between all the main beaches.
The coastline starts at Manly Beach, about 50 minutes drive outside of Sydney (also accessible by Ferry from the CBD), and goes all the way to Palm Beach.
No matter where you spend your time, you'll find amazing beaches along this scenic coastline. The area also has a super laid-back vibe, with surfing and hanging out at beach bars being popular pastimes. The Northern Beaches are also one of the top places for romantic getaways from Sydney if you and your partner want a seaside retreat.
If you're looking to surf, the National Surfing Reserves of Manly is a good location. For a more sheltered beach, try Shelly Beach. Here, you can dive or snorkel in the clear waters surrounded by colorful fish. Other popular beaches include Freshwater Beach and Narrabeen Beach.
To take a break from the beach, head to Ku-ring-gai Chase National Park, located near Palm Beach. This protected area covers rainforest, coastline, and bushland. It's also known for its many aboriginal sites. The most famous of which is the ancient red ochre rock paintings. To see these and other areas of interest in the park, bike or hike the Red Hands Cave walking trail.
Pearl Beach
Pearl Beach is a cute beachside village that's ideal for a weekend away from Sydney. Found on the central coast, it's conveniently located just an hour and 20 minutes from Sydney.
Being a seaside town, you can enjoy all the classic beach activities here, such as swimming, paddle-boarding, surfing, and relaxing on the sand. The Crommelin Native Arboretum is also nearby, as is the Mount Ettalong Lookout offering amazing views of the ocean, Umina Beach, and the Brisbane Water National Park.
When you need to refuel, the Pearl Beach Cafe is the place to go for coffee and breakfast or lunch. You're sure to meet some friendly locals here too!
For dinner, Pearls on the Beach is recommended. This award-winning restaurant is right on the beach. You'll be able to try dishes like Yellowfin tuna Crudo, saltwater barramundi, and cauliflower steaks. Accompany with a bottle of wine chosen from an extensive wine list.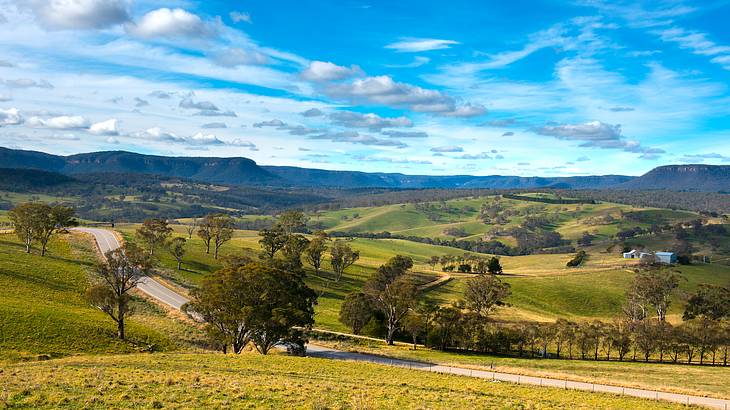 Oberon
Oberon is a historic mining town located just under three hours, when driving, from Sydney. The city is within the Central Tablelands and is close to the popular areas of the Blue Mountains and Kanangra-Boyd National Park. Oberon is an excellent spot for a weekend break from Sydney or as a two-day stop on a longer journey.
There are numerous activities to do here. A visit to the charming Mayfield Garden will allow you to take in the beautiful flowers and lakes, spot wildlife, and find your way through a hedge maze. You can even have a game of chess on the giant garden chessboard.
Jenolan Caves are additionally located nearby, being around a 30-minutes from the city center. Here, you can explore the network of limestone caves and underground rivers. You can also visit Abercrombie Caves and "the archway," which is the largest limestone bridge in the southern hemisphere.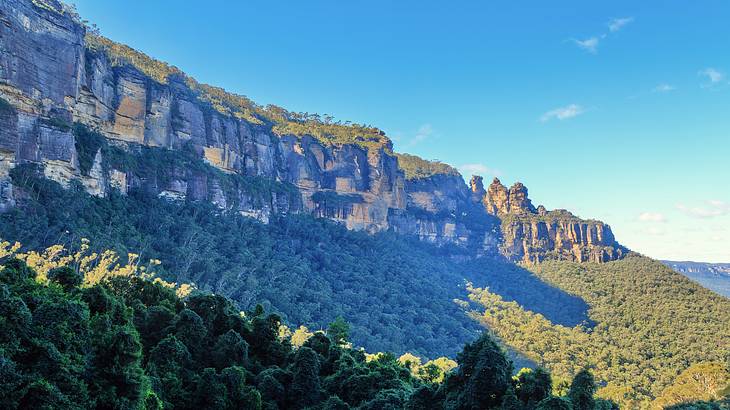 Blue Mountains
If you want to plan one of the best weekend adventures from Sydney, add a trip to the Blue Mountains to your to-do list. The Blue Mountains offer amazing scenery, including rugged mountain ranges and canyons, and vast eucalyptus forests. The area is about an hour's drive from Sydney or is easily accessible via train.
Katoomba is the main town in the area and is a recommended spot to start your time in the Blue Mountains. If traveling by train, Katoomba is the station you'll travel to. It's recommended from here to take a guided tour. You can join a hop on hop off bus tour or take a private tour.
A popular place to visit is Scenic World. Here, you can walk through the rainforest and will get surreal views of the Three Sisters mountain range. You can also ride the steepest railway in the world here! The Echo Point lookout is another recommended attraction to visit, and there are various bushwalking trails.
Having explored the natural wonders of the Blue Mountains, next head to the small village of Leura. There are many quaint cafes and independent shops here as well as a charming teapot museum and tea rooms.
Additionally, the Jenolan Caves are nearby, and the One & Only Health Spa in Wolgan Valley is recommended for those who need a relaxing day after hiking rainforest trails.
Bundeena
This coastal village on the outskirts of Sydney is ideal for nature lovers and those looking for a quick weekend escape from Sydney. Being only 50 km away from Sydney's CBD, it takes just under an hour to drive to Bundeena.
Once in the area, you'll get to enjoy a range of beaches that surround the Royal National Park and the Port Hacking Waterway. You can relax on sandy beaches and follow coastal hiking trails.
There are also lookouts in Royal National Park which are perfect for whale watching if visiting between April and August or October to December.
If you want to be on the water, Bundeena Kayaks offers guided tours of the area as well as kayak and paddle-board hire for those looking to explore alone.
Southern Highlands
The Southern Highlands is made up of villages, including Bowral and Mittagong. It's located an hour and a half from Sydney and is a relaxing retreat for those who love countryside views and villages.
This area is also one of New South Wales' wine regions, with many vineyards and wineries. Specialties include Pinot Noir and sparkling wines, all of which you can taste on a wine tour. There's a vast selection of wine tour companies, and you can even attend twilight tastings where you can enjoy the local wine as you watch the sunset.
The Southern Highlands is also ideal for country walks. There is a range of interest-based trails, too, including nature trails, art trails, and even coffee or pie trails! These allow you to see the best that the area has to offer in your chosen interest.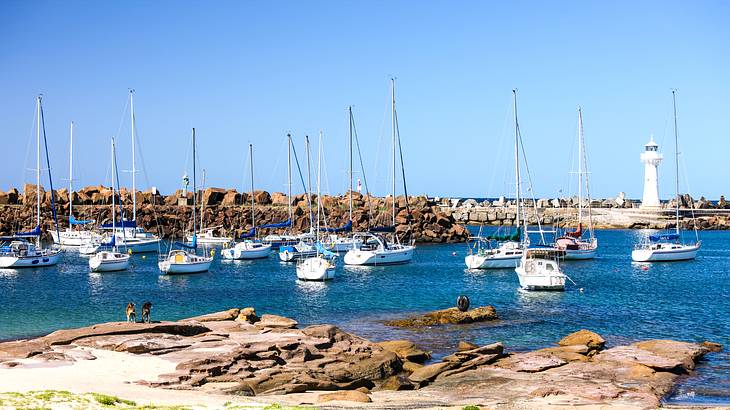 Wollongong
Located 80 km, or an hour and 20-minute drive from Sydney, Wollongong in the Illawarra region is a coastal area known for beautiful beaches and tranquil lagoons. If you're looking for the most fun weekend breaks from Sydney, going to Wollongong is a must!
It's a perfect destination for watersport lovers with activities offered, including sailing, surfing, and windsurfing. You can also go fishing or prawning if you want to catch your own dinner. To explore the lake in a more relaxed way, try a lake cruise, offered both during the day and at night.
If you're more into hiking, you can find a range of trails to tackle. Both Mount Keira and the Illawarra mountain range are close by. You can even hang glide from Bald Hill or visit Nan Tien Buddhist Temple in the south of the city.
Along with water sports and nature activities, the area has a bustling central business district. You'll find independent shops, malls, and galleries to explore.
You'll additionally find a selection of bars and restaurants. A fun choice is Moominn Bar, which is a cozy bar offering tapas and cocktails in a warm and friendly environment. On weekends, their Tipsy Tapas promotion is a must-try. You'll get to choose five to seven creative tapas-style dishes accompanied by all-you-can-drink beer, sangria, bubbles, or a cocktail of the week.
Other popular spots include Howlin Wolf Bar, known for its whiskey, cocktails, and Rookie Eatery, which features modern Australian cuisine.
Robertson
Robertson is a rural country village located in the Southern Highlands and is an excellent spot for a weekend away from Sydney. This quaint retreat is just an hour and 45-minute drive from Sydney. In under two hours, you'll find yourself in a peaceful oasis surrounded by rolling hills. Robertson also offers easy access to Shoalhaven.
In Robertson itself, you can explore many independent stores and dine at cute local restaurants. A fun activity is to visit The Robertson Hotel for Devonshire afternoon tea. Or, stop by The Robertson Public House for drinks amongst the locals.
Robertson additionally has several walking trails. You can follow the Robertson Heritage Walk to learn more about the area or visit the Nature Reserve.
Berry
Berry is a small historic village in the Shoalhaven wine region of New South Wales. The destination features older-style buildings and tree-lined streets. Berry is an approximately two-hour drive away from Sydney or travel by bus or train in two hours and 40 minutes. It's a quaint and peaceful escape from busy, urban Sydney.
Once in the village, you'll be able to explore boutique stores, visit art galleries, and eat at cute local cafes. There's also a market, the Berry County Fair, held on the first Sunday of each month. The market has over 200 stalls selling everything from produce to books and crafts. There are also weekly markets held on weekends and Thursdays.
Another popular activity is a walking tour of the town's food producers. You'll be able to learn how local produce, from chocolate to tea, is produced in Berry. Alternatively, head to Mountain Ridge Wines for wine tastings and to enjoy lunch in the vineyard surrounded by mountain views.
Kangaroo Valley and Seven Mile Beach are both within driving distance of the village if looking to extend your trip.
Bundanoon
Located in the Southern Highlands, Bundanoon is about a 90-minute to two-hour drive from Sydney. It's a highly suggested spot for a quaint weekend escape from Sydney.
This small town of under 3,000 residents features charming guest houses, multiple antique stores, and a market on the first and third Sunday of the month.
Morton National Park is also nearby for bushwalking. Another fun activity is taking an evening drive to Glow Worm Glen. At night, this area is lit up by the thousands of glow worms that live there, making for a pretty and unique site.
Bundanoon also has six golf courses and the Solar Springs Health Spa for those looking for a super relaxed weekend away.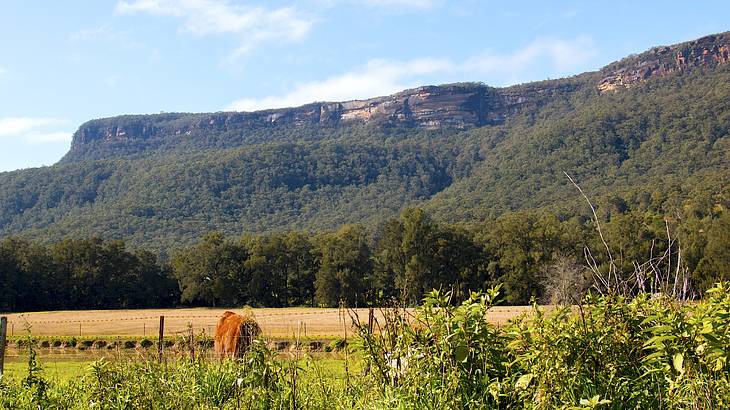 Kangaroo Valley
Kangaroo Valley is a small town of under 1,000 residents located about a two-hour drive from Sydney. It's the perfect short break from Sydney for those who love nature and relaxed activities like golf and wine tasting.
The town runs through a rainforest full of wildlife as well as through charming countryside. To explore the scenic environment, head to Morton National Park. There are many trails to follow, and you can reach Fitzroy Falls too.
To learn more about Kangaroo Valley, stop by the Pioneer Village Museum. This cultural attraction has exhibits on the town and on early 19th-century settlers of the area. There's also a farmer's market on the second Sunday of each month.
Other activities include visiting the local golf resort to play the 72-par course, spending the day at Yarrawa Estate for wine tasting, or taking a cooking class at Hampton Deli.
Mollymook
VisitingMollymook is another of the great relaxed weekend trips near Sydney to plan. The small and quiet location on the New South Wales south coast has a population of only 1,000 people. You can reach this peaceful town in about three hours from Sydney and is accessible by bus or train too.
The town is beachside, located by Mollymook Beach which extends for two km. Here you can surf, fish, snorkel on the reef, or just swim and relax on the beach. Spotting dolphins is also almost guaranteed!
Other activities in Mollymook include golfing and spending a relaxing day at the Bannisters Day Spa. For dinner, a meal at Rick Stein at Bannisters is highly recommended, even if you don't visit the spa. This renowned restaurant serves dishes featuring local fish and seafood, including Red Snapper, Yellowfin Tuna, lobster, and fresh-caught prawns.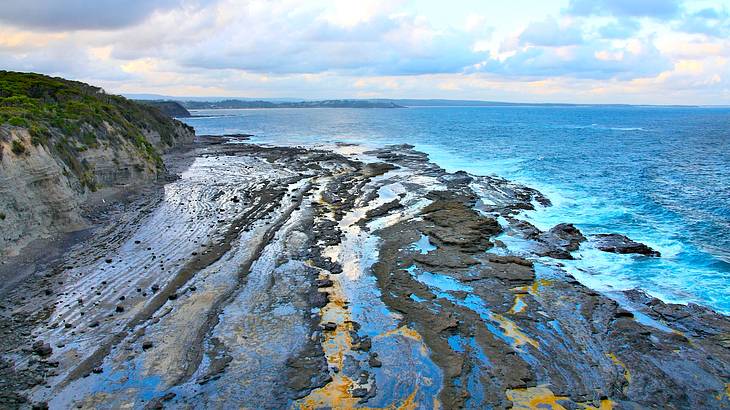 Ulladulla
Ulladulla is a coastal town close to Mollymook. Whether you combine a visit with a trip to Mollymook or not, you'll be able to enjoy lakes, beaches, and national parks. Ulladulla is about a three-hour drive from Sydney.
This is a fishing port, so restaurants serving fresh, locally caught fish are aplenty. Watersports are also popular here, and there are many reef diving sites. A trip to the South Pacific Heathland Reserve will even allow you to see migrating whales.
Ulladulla is also near to Morton National Park with lots of walking trails to be found here and in the surrounding area. Other hiking spots include the Pot Holes Walking Track and Meroo National Park.
More relaxed activities include visiting the Wildflower Reserve. The winery also has a restaurant serving dishes made with locally sourced ingredients such as barramundi fish or pan-fried pork belly.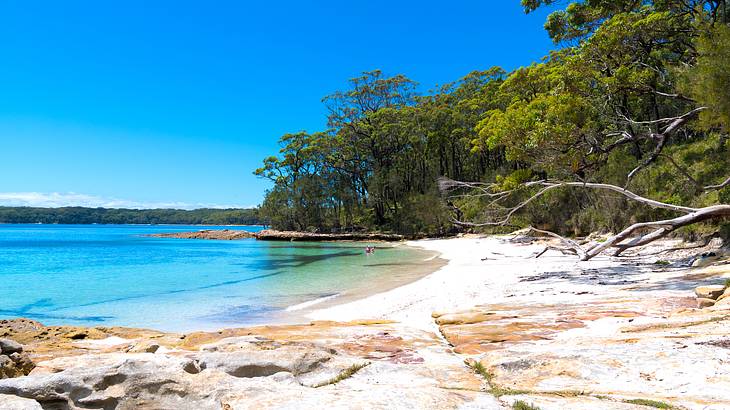 Jervis Bay
Jervis Bay is a coastal village located next to a 102 km bay. The area boasts white sand beaches (some say they're the whitest in the world) and clear turquoise water. To reach this beach paradise, it's just a two-hour and 40-minute drive from Sydney.
The area is the perfect spot for lovers of water sports. There are lagoons, coves, and the ocean itself where you can swim, kayak, paddle-board, boat, or surf.
Along with enjoying beach activities, there's a range of wildlife to see here. Dolphins inhabit the area all year, and you're almost guaranteed to spot some. Other animals in the area include kangaroos, wallabies, and wombats. Additionally, you should be able to see whales migrating through the area if visiting between June and November.
Away from the beach, Jervis Bay has markets, galleries, and boutique shops to explore. There's also a large selection of restaurants to choose from.
5 Little Pigs is a local favorite for breakfast. Along with more traditional dishes, they serve unique dishes such as pistachio granola with panna cotta and zucchini fritters with halloumi and ocean trout. For dinner, Stonegrill Restaurant is a popular choice.
Bawley Point
Another great short break from Sydney is a trip to Bawley Point. This coastal hamlet in the Shoalhaven region has a population of just under 700, making it a quiet and peaceful town to visit. You can reach Bawley Point in about three hours and 20 minutes when driving from Sydney.
Being a coastal destination, there are numerous beaches as well as national parks and bushwalking trails. At the beach, you can relax on the sandy coast or go out on the water surfing, fishing, or boating.
Some of the most popular beaches and parks include Termeil Beach in Meroo National Park and Pebbly Beach where you can see grey kangaroos. The Murramarang Aboriginal Area in Murramarang National Park is also worth a visit to see indigenous artifacts.
Bermagui
Bermagui, located on the South Coast of New South Wales in the Bega Valley Shire, is a quaint seaside weekend getaway. The town is a little further out of Sydney, being a five-hour drive, but it's worth it for the coastal peacefulness. Bermagui is also accessible by bus or train if you don't want to drive.
Being a coastal town, there are lots of water activities to participate in. This includes swimming, sailing, surfing, and paddle boarding. Along with water activities, you can hike on coastal trails and visit attractions like Camel Rock, Horse Head Rock, and the Montreal Goldfield.
Bermagui is also known for deep-sea fishing, especially for catching Yellowfin Tuna and Marlin. So, you'll be able to enjoy delicious, locally caught fish during your trip. Some recommended restaurants include The Bistro at the Bermagui Beach Hotel and The Terrace Restaurant at Bermagui Country Club.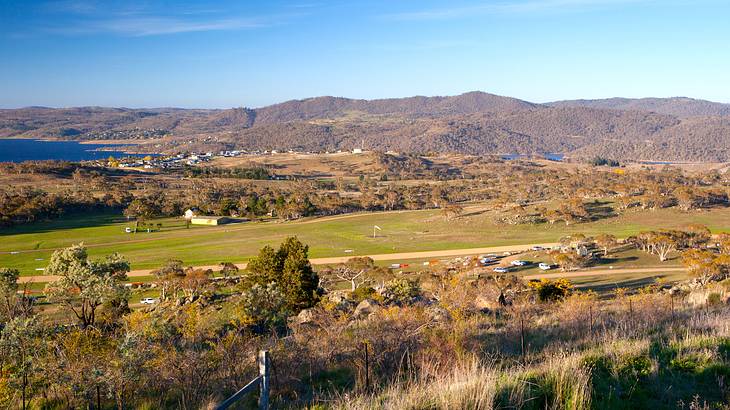 Jindabyne
Jindabyne, located in southeast New South Wales, is about a five-hour drive from Sydney. The town is situated around Lake Jindabyne, close to the Snowy Mountains.
It's a great getaway location for those who like being active. Here you can horse ride, go mountain biking or bushwalking, and try watersports activities like fishing or kayaking.
In the winter, you can also partake in snow sports such as skiing and snowboarding. If you want to extend your winter sports trip, the slopes of Thredbo and Perisher are just a 30-minute drive away.
A more chilled-out activity in Jindabyne is a visit to the Wildbrumby Distillery. This is quite a unique distillery, as here you can try boutique schnapps. Flavors include a range of fruit options and sweeter variations such as butterscotch. There's also a cafe if you want a snack and a working raspberry farm.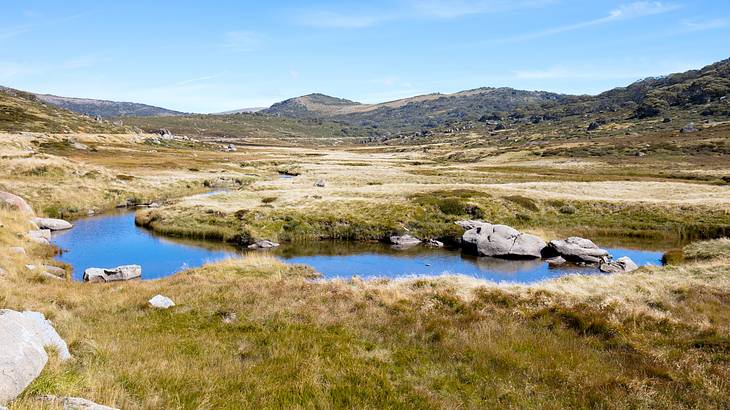 Perisher Valley
For those looking to undertake some winter sports, Mount Perisher in Perisher Valley in the Snowy Mountains is a top choice. It's the largest snow sports resort in Australia and is worth the five and a half-hour drive for a fun weekend adventure away from Sydney.
There are runs for all levels of skiers and snowboarders with backcountry trails also available for advanced skiers and boarders. There are also several fun night activities at Perisher.
If you haven't had enough of the slopes in the day, head back in the evening for the Neon Night Skiing and Snowboarding event. Dress up in neon gear and ride the slopes at night under the stars. There's also a firework display to enjoy every Tuesday night.
If snow sports aren't your thing, or you want a break, a visit to the Snowy Mountain Spa is a must. Relax in the pools and hot tubs and treat yourself to a massage, facial, or other treatment.
There are also many bars and restaurants to hang out in, get some drinks, and enjoy the apres-ski atmosphere.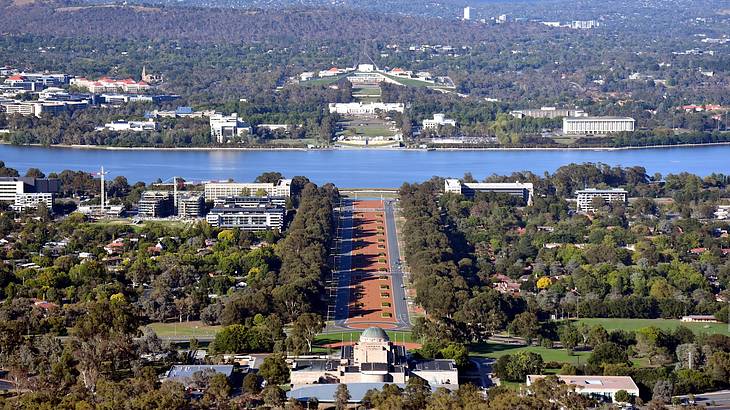 Canberra
Canberra, Australia's capital city, is only a three-hour drive from Sydney, making it one of the best weekend getaways from Sydney for those looking to explore another city.
The city has a whole range of activities. Being the nation's capital, touring the Canberra Parliament House is a popular activity. You can continue with the cultural spots by then heading to the National Gallery of Australia. Other attractions worth visiting include the National Botanic Gardens and Mount Ainslie Lookout in Canberra Nature Park.
If you have a little longer in Canberra, you can also take a day trip to Namadgi National Park. This national heritage site offers excellent hiking trails and incredible views.
In the evening, Canberra has a range of unique bars and restaurants to check out. For craft cocktails, Molly Bar is a must. This retro jazz club-style bar offers classic and innovative drinks plus sophisticated bar snacks such as charcuterie boards. Add in live music, and it's the perfect chilled-out spot after a busy day.
If you want a full meal, Courgette Restaurant is recommended, where you'll get to enjoy modern European dishes. You can dine a la carte or try the seven-course tasting menu, which includes dishes featuring yellowfin tuna, Angus beef filet, and artisan duck.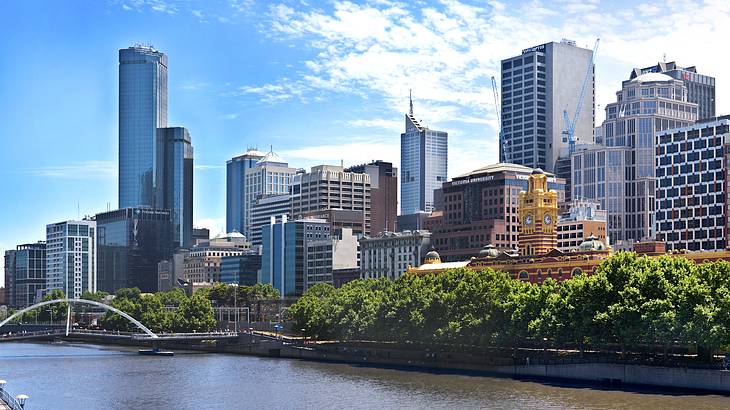 Melbourne
Although Melbourne may seem a little far for a weekend getaway from Sydney, it's easily accessible by plane with a direct flight being just an hour and a half. Or you can drive in nine hours.
The capital of Victoria state has a lot of activities and is a fun place to visit if looking for an urban escape from Sydney. There is a selection of museums and galleries in the city including the National Gallery of Victoria, the Melbourne Museum in Carlton Gardens, and the Australian Sports Museum.
Another popular activity is to visit the Old Melbourne Gaol. You can take tours of Victoria's oldest prison (now just a visitor attraction) during the day or at night. The Royal Botanic Gardens are another must-visit location as is a trip to the Queen Victoria Market.
Lastly, the small beach town of St. Kilda is definitely worth a visit. You can relax on the beach with views of the Melbourne skyline or enjoy drinks and a meal at one of many beachside restaurants.
There is also a theme park, Luna Park, here. Return in the evening to see the beach's penguins return to the shore for the night - a very cute and unique experience!
In Summary
While there are many fun places to stay in Sydney, there are also lots of great weekend escapes from Sydney to experience.
Whether you live in the city and want a relaxing escape, are planning romantic weekend getaways from Sydney, or are visiting and want to expand the amount of New South Wales you see, you won't be disappointed by the getaway options available!
---
---
Want to keep exploring?
Subscribe for discounts on tickets and hotels and our latest guides.
Thank you for subscribing
We will be in touch soon with discounts on tickets and hotels and our latest guides.
Want to keep exploring?
Subscribe for discounts on tickets and hotels and our latest guides.
Thank you for subscribing
We will be in touch soon with discounts on tickets and hotels and our latest guides.
Related Articles