40 Famous Australian Landmarks You Must Visit
Destguides may receive commissions from purchases made through affiliate links in this article.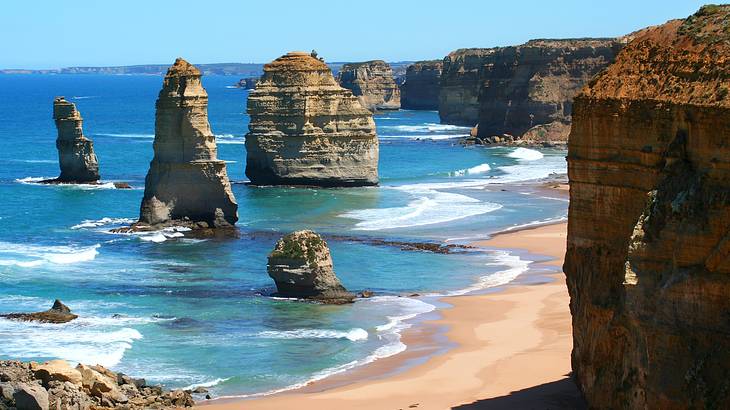 As one of the world's most-visited countries, Australia is every traveller's dream. For many, it is a land of adventures, endless summers, rugged landscapes and clear waters. Australia is where you can find top UNESCO world heritage sites, stunning ecosystems, and friendly people.
My list of must-see Australian landmarks covers monuments, places and top sights and attractions that can't be missed during a visit to Australia. It also includes natural wonders, heritage sites, outstanding modern buildings, and much more!
Home to 24 million people, Australia occupies 7.692 million square kilometres and is surrounded by the Arafura, Timor, Coral, and Tasman seas and the Pacific and Indian Oceans.
The best time to visit Australia is from September to November and March to May. The temperatures during these months are not too hot or cold - perfect for long periods outdoors!
40 Famous Landmarks in Australia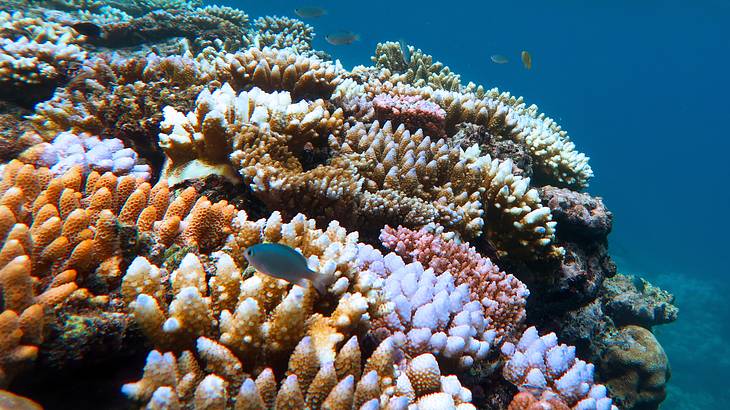 Great Barrier Reef, Australia
A UNESCO World Heritage Site since 1981, the Great Barrier Reef is Australia's most breath-taking natural wonder. It is the world's largest and longest coral reef that comprises of 3000 separate reefs and 900 continental islands.
More than 1500 species of fish (including Potato cod, manta rays, and clownfish) and other marine animals live in the Great Barrier Reef. You will also be able to spot different kinds of marine turtles, sharks, dugongs, giant clams, whales, and more.
The Great Barrier Reef has over 100 islands which offer luxury resort stays, gorgeous white sand beaches, and informative cruises. You will need several days to see the best of the Great Barrier Reef.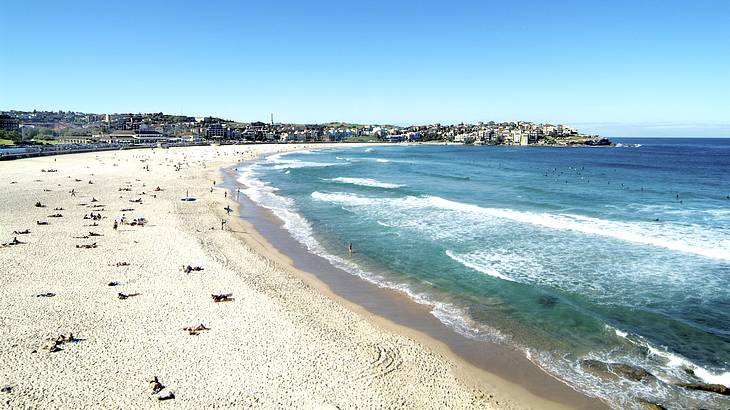 Bondi Beach, Sydney
Australia's favourite landmark, Bondi Beach, is about 1 kilometre long and the perfect spot for sunbathing, surfing, swimming, and relaxing coastal walks.
It is located approximately 7 kilometres from Sydney's city centre, making it easily reachable by walking or cycling. Doing the Bondi to Coogee Coastal Walk is one of the best things to do in Sydney in particular!
Bondi Beach is also home to the world's oldest surf lifesaving clubs and one of the country's oldest swimming clubs. It is also a well-known spot for whale and dolphin watching. If that's still not enough, there are several beach cafes, a big golf course, and boutique swimwear shops.
If you are visiting over a weekend, you will find the Bondi Farmers Market (Saturday) and the Bondi Markets (Sunday) operating not too far from the beach.
Do you want to explore more of New South Wales and head outside Sydney's CBD? Then check out these amazing weekend getaways from Sydney!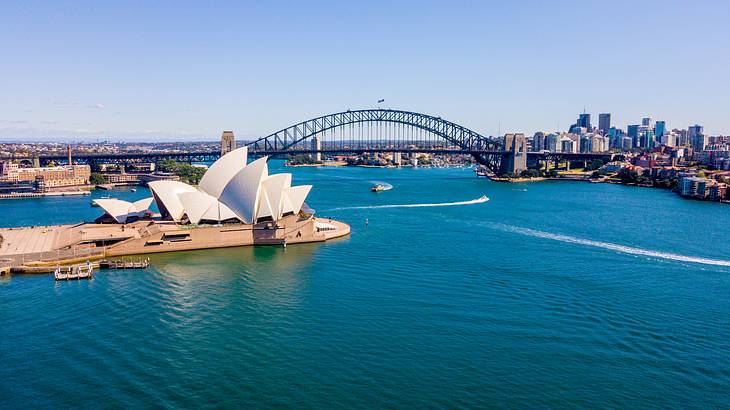 Sydney Opera House, Sydney
The Sydney Opera House is a performing arts venue in Sydney, New South Wales. It is one of the most famous Australian landmarks within a city and is a must for any Australia itinerary. In 2007, the building was listed as a UNESCO World Heritage Site.
Opened by Queen Elizabeth II in 1973 and designed by Danish architect Jorn Utzon, the opera house consists of several performing venues and hosts more than 1500 shows per year. It also receives about 10.9 million visitors per year, including performance viewers and tours.
Regular guided tours of the Sydney Opera House can be booked in advance at the tourist information centre or on the website. If you want to enjoy views of this world-renowned landmark from your hotel, the best place to stay in Sydney is the CBD, The Rocks, or Circular Quay.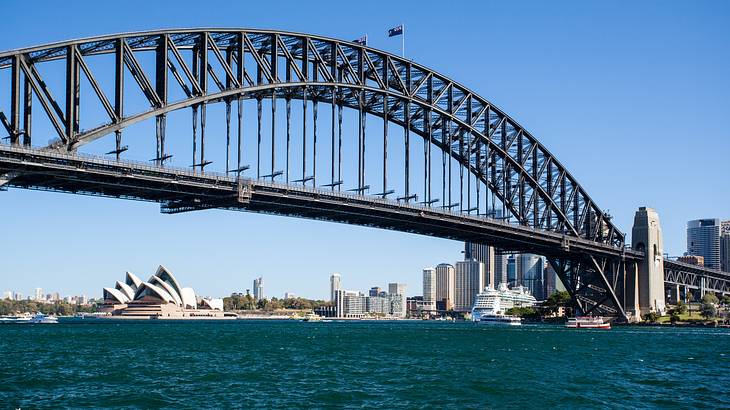 Sydney Harbour Bridge, Sydney
Sydney Harbour Bridge, also called 'coat hanger' by locals, is one of the most iconic humanmade landmarks in Australia. It connects the northern and southern sides of Port Jackson Harbour.
Constructed in 1924 but only opened in 1932, the bridge is the largest steel arch bridge in the world. The bridge's total height is 135 metres, while the roadway is 51 metres above sea level.
You can admire the bridge's detailed steelwork and take fantastic photos from the Pylon Lookout. If you are an adventure seeker, try the climb to the bridge's top for magnificent views over Sydney. For the best views, arrive at the bridge around sunset.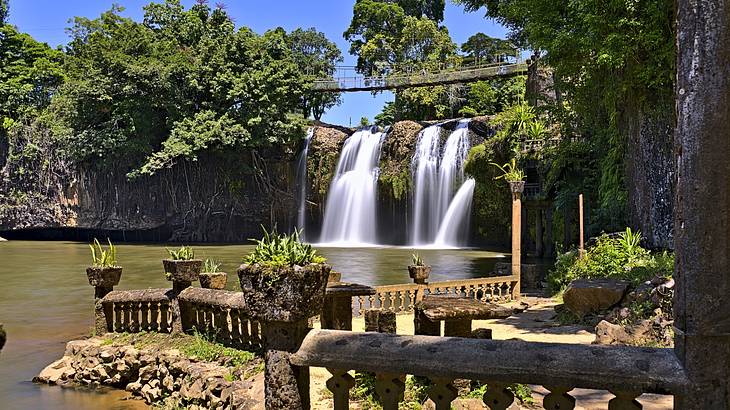 Paronella Park, Mena Creek
Situated in the tropical part of Queensland, Paronella Park is a human-made castle and park that will take you on a 'fairytale-like' experience.
Opened to the public in 1935 and built by José Paronella, the park was supposed to be a 'pleasure garden' - an adult-themed park with a castle. Today, Paronella Park welcomes hundreds of visitors a day and lets them explore its unique architecture and nature.
There are massive tennis courts, ponds, bridges, and more than 7,500 tropical plants in the park. You will also have a chance to have a picnic by the falls.
Uluru Rock, Uluru-Kata Tjuta National Park
One of the world's largest monoliths, Uluru Rock, also known as Ayers Rock, is a spectacular natural formation and spiritual site. Formed about half a billion years ago, the rock is made of red sandstone and stands at 348 metres above sea level.
This iconic natural wonder is situated in Uluru Kata Tjuta National Park in the Northern Territory. The rock is home to rare plants, animals, religious sites and caves covered in ancient rock paintings.
The best time to visit Uluru Rock is before sunrise or sunset when the sun covers the rock and paints it in a sunburn red colour.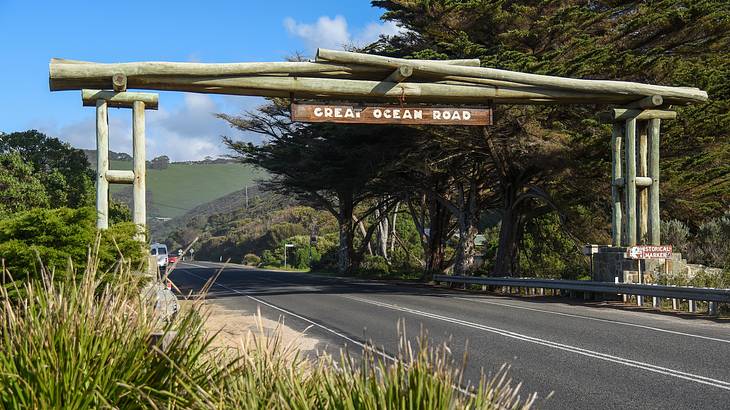 Great Ocean Road, Torquay
The Great Ocean Road, or Surf Coast Highway, is an Australian National Heritage site and is perfect for a long coastal road trip. A 243-kilometre road runs along the southwest coastline connecting Torquay to Allansford city.
While driving, you will pass by many scenic places, such as the charming fishing village of Port Fairy, the iconic limestone stacks of rocks known as the 12 Apostles, the lush and filled with waterfalls Great Otway National Park, and the magnificent Apollo Bay.
You should plan about two days on the road if you are thinking of exploring all the places mentioned above. If you don't drive, a Great Ocean Road guided tour can be booked from Melbourne.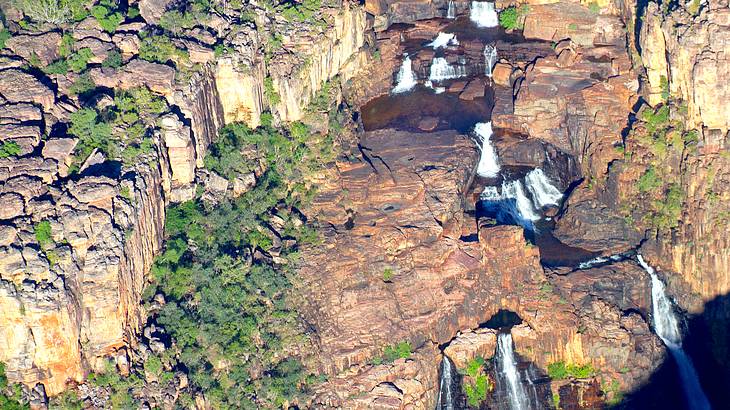 Kakadu National Park, Jabiru
One of the must-see Australian landmarks in the Northern Territory, Kakadu National Park is the country's largest national park. It is filled with refreshing waterfalls and waterholes, rainforests, wetlands, exotic animals, and the world's oldest indigenous rock art.
The park covers 20,000 square kilometres and is a World Heritage-listed area for its cultural and natural values. It has more than 5,000 aboriginal rock art sites and is home to the Bininj/Mungguy people.
On your visit to the park, you will be able to learn about Australia's ancient cultures, take a river tour to spot crocodiles, explore nature, and go for a dip in a plunge pool.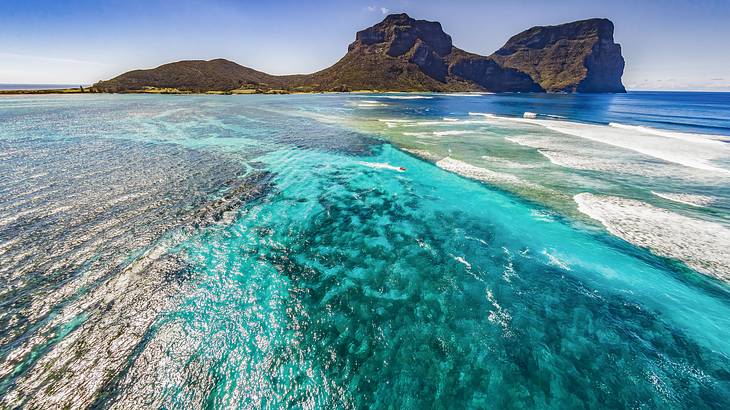 Lord Howe Island, New South Wales
Lord Howe Island is a natural paradise in the Tasman sea. It is well-known for its white-sand beaches, wildlife, and untouched landscape. With only 300 permanent residents living on the island and only 400 tourists allowed at a time, Lord Howe is a luxurious and tranquil island retreat.
The island is about two hours away by plane from Brisbane and Sydney. It is only 11 kilometres long and 2.8 kilometres wide. The best way to get around the island is by cycling or walking.
You can easily visit Lord Howe Island as a weekend getaway from Brisbane after you've spent a couple of days in the city checking out its main attractions, gorgeous waterfalls and beautiful views.
Lord Howe Island offers various kinds of activities, including swimming, hand-feeding fish at Ned's Beach, sea kayaking, and hiking. Island tours can be booked in Sydney, Brisbane, and Lord Howe Island.
Shark Bay, Denham
Situated in the Gascoyne region of Western Australia, Shark Bay is a UNESCO World Heritage Site covering 23,000 square kilometres. It was the first location in the area to receive UNESCO status in 1991. Shark Bay is one of the famous landmarks of Australia that is known for having rare plant species.
It also has the most stable dugong population in the world, the oldest living fossils on Earth, and the well-known Shell Beach. It is also home to humpback whales, pelicans, manta rays, more than 6000 turtles, and at least 28 shark species.
The best places in Shark Bay to view wildlife are Eagle Bluff and Skipjack Point Lookout in Francois Peron National Park.
Port Arthur Historic Site, Port Arthur
Established in 1830 on Tasmania island, Port Arthur used to be a timber station that was later converted into Australia's largest prison colony. Now, the sight is one of the most historic places in Australia which tells the history of the convicts' daily lives.
Situated on a secluded peninsula, the Port Arthur prison used to be known for having the toughest punishments (including hard labour) in the country. Not surprisingly, most of its prisoners didn't survive and were buried on a small nearby island called the Isle of the Dead.
The Port Arthur Historic Site consists of a prison museum, a separate prison for punishments, a convict church, a cafe, and a souvenir shop.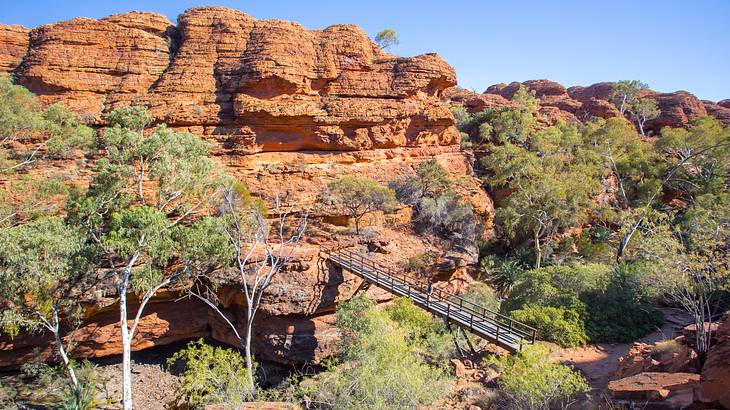 Watarrka National Park, Red Centre
Located in the Northern Territory, Watarrka National Park is a protected area of nature. The national park is a part of the same red-orange desert range as Uluru Rock and is packed with picturesque landscapes, animals, rare plants, gorges, and rock holes.
The park is the most known for Kings Canyon as it showcases Australia's spectacular natural beauty and is filled with adventurous trails for beginners and advance hikers. If you are looking for family walks, you can try the Kings Creek or Kathleen Springs Walk that also teaches about local aboriginal history.
Watarrka National Park can be visited at any time of the year, but I recommend visiting between April and September when the weather is more pleasant.
Kangaroo Island, South Australia
Kangaroo Island is one of the natural Australian landmarks that can't be missed on your trip. Located 13 kilometres off the coast of South Australia, the island is the country's third-largest island after Tasmania and Melville Island (Tiwi Islands).
Kangaroo Island is popular for its seafood restaurants, local breweries, wine tours, impressive walks, and wildlife (think kangaroos, koalas, short-beaked echidnas, and more). While here, you can also walk amongst endangered Australian sea lions and watch them in their natural habitat.
While on the island, don't forget to visit Lathami Conservation Park as well as you can find the endangered glossy black cockatoo here. Ferries operate daily from the town of Cape Jervis, and there are regular flights from the city of Adelaide.
Blue Mountains, Katoomba
Considered to be another major landmark in Australia, the Greater Blue Mountains World Heritage Area is about a 2-hour drive from Sydney. It can be reached by train, car, and coach.
The Blue Mountains cover an area of one million hectares and is filled with tall eucalyptus trees, sandstone cliffs, beautiful waterfalls, waterholes, streams, and canyons. There are numerous well-marked walking and hiking trails that take you through gorges and caves. You can easily explore the park for several days.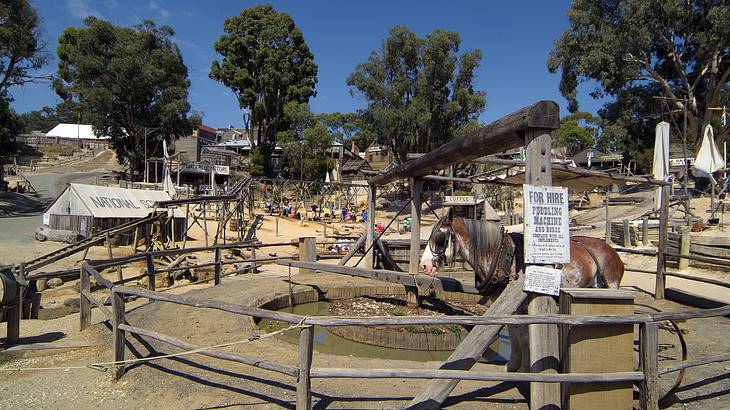 Sovereign Hill, Ballarat
Named Australia's top tourist attraction, Sovereign Hill is an open-air museum that takes you back to the 1850s and lets you experience the Australian gold rush.
At Sovereign Hill, you can enter an underground gold mine, meet costumed goldfield characters, talk to artisans, and visit the confectionery factory. These activities guarantee you a full day of great fun!
The entry to Sovereign Hill includes a ticket to the Gold Museum. The museum has a vast collection of gold and teaches about Ballarat city's history. There is also the Sovereign Hill Hotel, which has beautifully-styled Governor's rooms.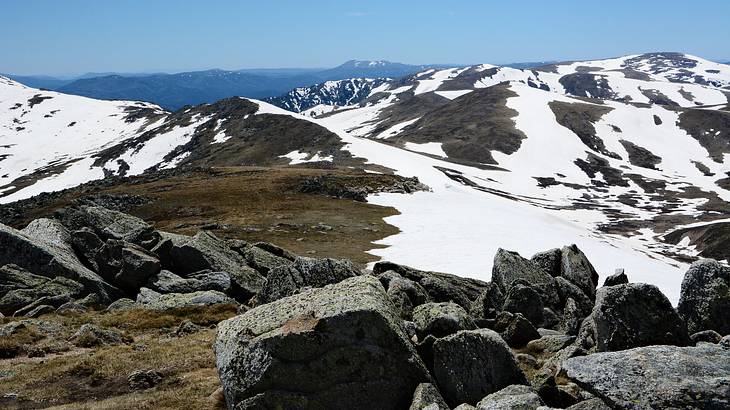 Mount Kosciuszko, Thredbo Village
Mount Kosciuszko is 2,228 metres above sea level, making it the highest mountain in mainland Australia. It is located in Kosciuszko National Park and sits on the Main Range of the Snowy Mountains.
There are two ways to reach the mountain: through Charlotte Pass or the Thredbo trail. Both hiking routes offer spectacular views and can be done within a day.
If you start at Thredbo, you can ride the Kosciuszko Express Chairlift and pass Lake Cootapatamba - the highest lake in Australia.
The best time to hike Mount Kosciuszko is from December to March when wildflowers are in full bloom.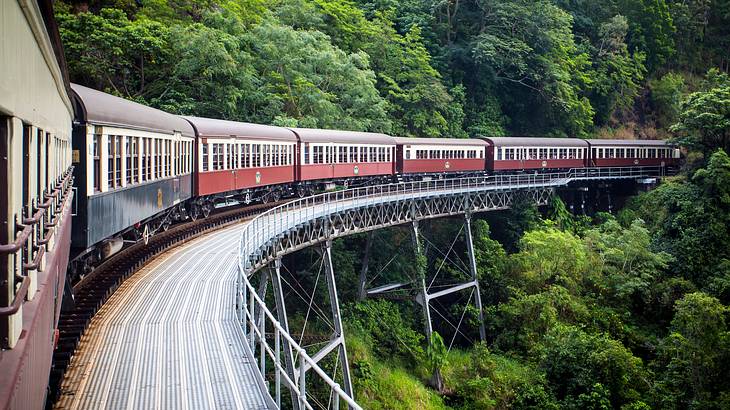 Kuranda Scenic Railway, Kuranda
If you are looking for unusual Australian landmarks, Kuranda Scenic Railway has to be on your list. The railway runs from the coastal city of Cairns to the rainforest town of Kuranda, taking you through rainforest, mountains, and waterfalls.
Opened in 1891 and rising to 328 metres above sea level, the Kuranda Scenic Railway passes through 15 handmade tunnels and 37 bridges. It is about 37 kilometres long, and the journey takes about 2 hours to complete, including the stop at the waterfalls.
When you arrive at Kuranda station, you can explore the station's tropical gardens and walk into the town where you can find aboriginal crafts shops and galleries.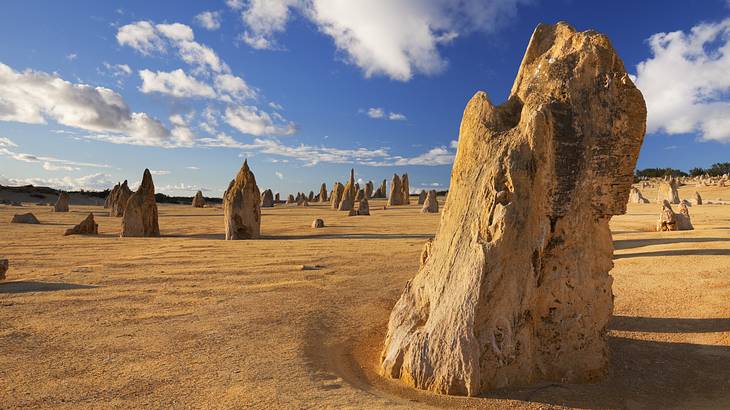 The Pinnacles Desert, Cervantes
The Pinnacles Desert is one of the big Australian landmarks that everyone has to visit. It attracts more than 250 000 visitors per year and is considered to be Western Australia's most-visited attraction.
The Pinnacles Desert covers about 190 hectares and sits about 60 metres above sea level. It is filled with thousands of limestone pillars, some of them reaching 5 metres high. The pinnacles were formed approximately 25,000 to 30,000 years ago.
The desert is located about a two-hour drive from Perth. You can reach it by car, or take a guided tour bus from Perth.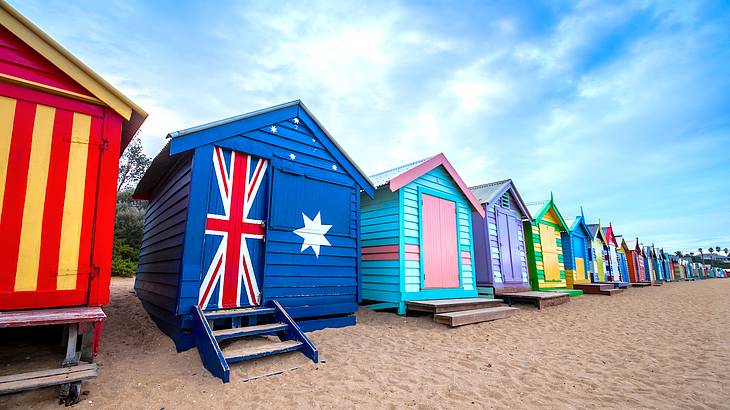 Brighton Bathing Boxes, Brighton
The Brighton Bathing Boxes are one of the most popular Australian landmarks in Brighton. The boxes consist of 82 colourful wooden Victorian beach huts that are located on Brighton Beach, just 13 kilometres from Melbourne.
Dating back to the early 1800s, the wooden beach huts were built for women to change their clothes before bathing. Today, they are privately owned by different people and are used as storage facilities or art shops. All the bathing boxes have retained their classic Victorian architecture, with very little having changed over time. To avoid the crowds, visit the Brighton Bathing Boxes in the early morning or after sunset.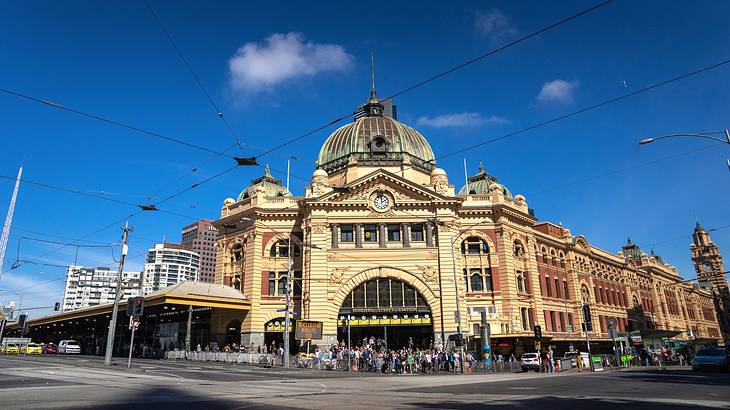 Flinders Street Railway Station, Melbourne
Flinders Street Railway Station is one of the most famous buildings in Australia. It is located in Melbourne. Opened in September 1854, the railway station was the first built in Australia.
In 1926, Flinders Street Station became the busiest train station in the world and surpassed Grand Central Station in New York and London's Liverpool Street Station.
Today, it fascinates visitors with its distinctive facade and green copper dome. It is also listed on the Victorian Heritage Register for having the fourth longest railway platform (708 metres) in the world. Flinders Street Railway Station is definitely one of the can't-miss Australian man made landmarks!
Wunderkammer, Melbourne
Wunderkammer, also known as the Chamber of Wonders and Cabinet of Curiosities, is a shop and museum packed with fossils, minerals, skeletons, medical instruments, and antiques.
Located in Melbourne on Lonsdale Street, the shop and museum is the perfect place for a rainy day. The museum is home to numerous artefacts, such as world maps, framed butterflies and insects, and more. On the other hand, the shop is brilliant for people wanting to pick up extraordinary gifts.
The owner of Wunderkammer, Ray Meyer, likes to collect rare, historic, and inspiring objects for his museum, so you will surely see something that you haven't seen anywhere else here!
Daintree National Park, Cape Tribulation
One of the most famous natural landmarks in Australia, Daintree National Park is the third oldest rainforest in the world with unique fauna and wildlife. It is also a paradise for bird watchers and nature lovers.
The national park is located in Queensland and is divided into two parts: Mossman Gorge (80 km from Cairns) and Cape Tribulation (110 km from Cairns).
There are plenty of fun activities to do here, including spotting saltwater crocodiles on a Daintree River tour, trekking through the rainforest, and flying through the trees on a zip-line. Daintree National Park can be reached by car, coach, and tour bus.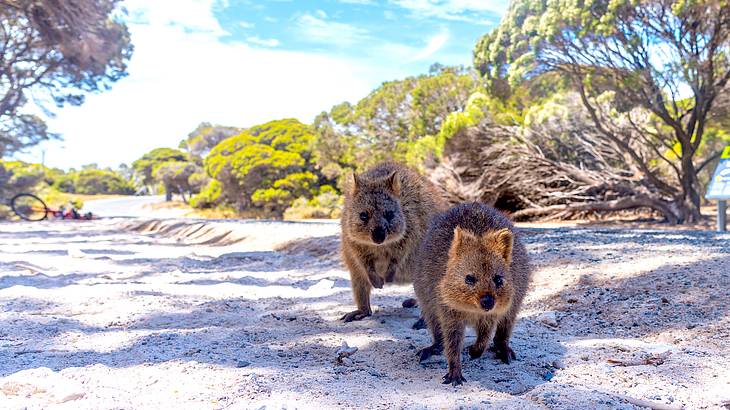 Rottnest Island, Western Australia
Located about 18 kilometres off the coast of Western Australia, Rottnest Island is one of the most famous landmarks in Australia among locals. It is a car-free island that offers a perfect getaway from the buzzing city.
Rottnest Island has about 63 white sand beaches with activities such as snorkelling, diving, and surfing. The island is home to the cutest animal in the world as well, the Quokka, which can't be found anywhere else in the world.
If you are travelling from late August to November, go on a whale-watching cruise. You will be able to spot humpback and southern right whales.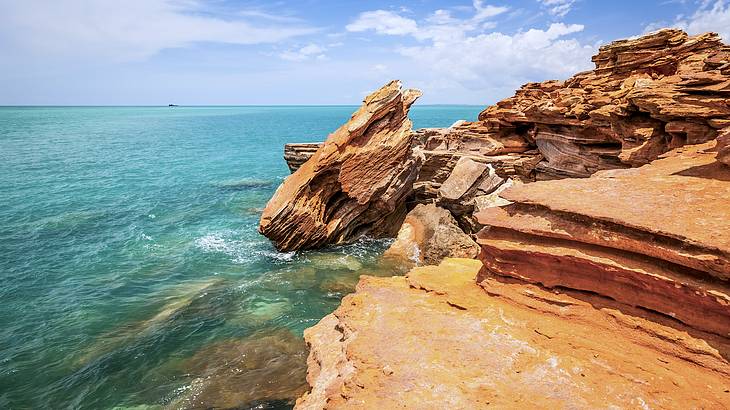 Broome Town, Western Australia
Known for the magnificent Cable Beach, aboriginal Broome Town is sometimes overlooked by tourists. This laid back and colourful town has a fascinating history to tell about its aboriginal times and pearling in the 20th century. Broome Town is surrounded by the warm Indian Ocean, pristine beach, and red coloured rocks.
It is home to various aboriginal craft shops, buzzing markets, and working pearl farms. Of course, you can find numerous pearl showrooms where you can try on and buy pearl jewellery. The best way to reach Broome is by plane departing from various Australian cities.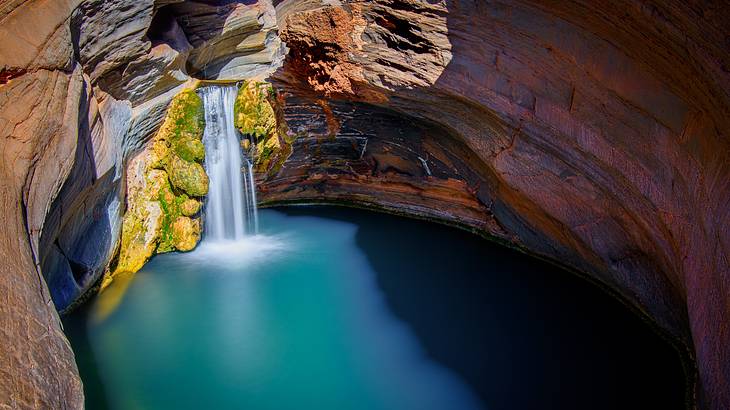 Karijini National Park, Karijini
Located about 1400 kilometres north of Perth, Karijini National Park (previously known as Hamersley Range) is the second-largest park in Western Australia. This park is the ideal place for adventure seekers.
Karijini National Park's landscape was formed about two billion years ago. You will find ancient cavernous gorges, some of the oldest rocks on Earth, cascading waterfalls, and pools here.
If you are a thrill-seeker, try the 'spider man walking' section of the park. You will have to navigate through a narrow gorge and jump into a plunge pool that is surrounded by natural walls. Try higher canyons if that's not enough for you.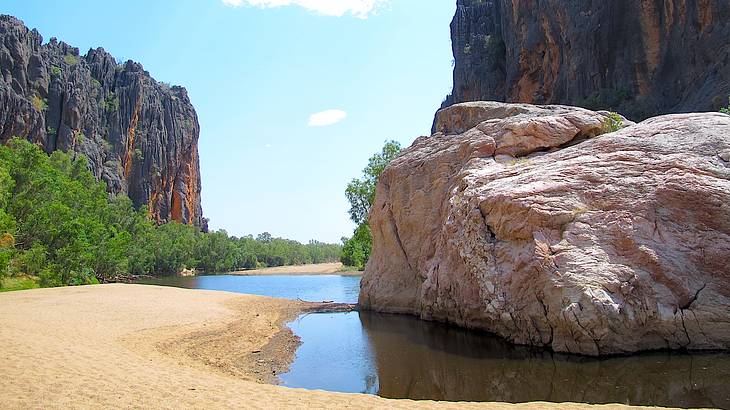 Kimberley Coastline, Kimberley
Kimberley is a large section of land covering an area in Western Australia. Broome Town, the wild Gibb River Road, and the fascinating El Questro Wilderness Park all make up part of this region.
The Kimberley Coastline, however, is the real gem of Kimberley. It is also one of the most famous landmarks in Australia. The coastline consists of about 2600 islands, many of which are unnamed.
The islands are well-known for their aboriginal rock art, swimming holes, and white sand beaches. You can also see wildlife, such as whales, dolphins, and saltwater crocodiles. To see the real beauty of the Kimberley Coastline, you will need to book a cruise tour.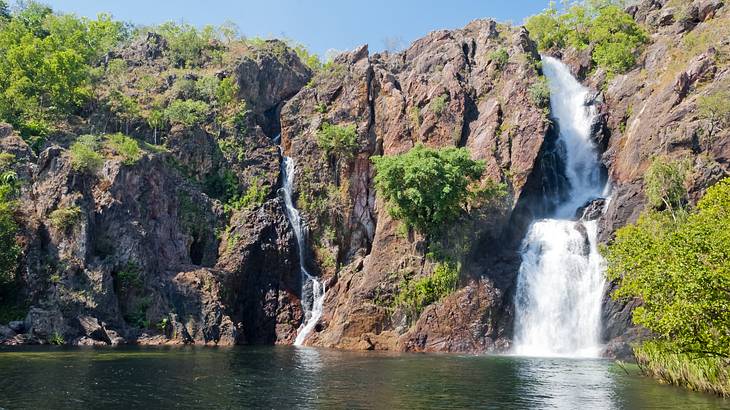 Litchfield National Park, Litchfield Park
Located in the Northern Territory, Litchfield National Park is the region's hidden gem and one of the most iconic Australian landmarks.
The national park is home to stunning waterfalls and waterholes, monsoonal vine forests, giant termite mounds, and historic ruins. The park can only be accessed in the dry season, and it stays quite cool through the hottest months.
You can explore the park on your own, stay overnight at a camping site, or you can go on a tour departing from Darwin. If you wish to see more spectacular views, six-minute helicopter tours are available to book from tour companies.
Darwin Military Museum, Darwin
The Darwin Military Museum was originally set up as an artillery museum in the mid-1960s. Today, the museum tells the story about Australia's involvement in WWII and other important battles.
You will find plenty of information about various battles and wars, original guns, and other artefacts collected from archaeological sites here. There is also a big exhibition outside, so make sure you visit that too! The museum also has a cafe where you can get a small bite to eat.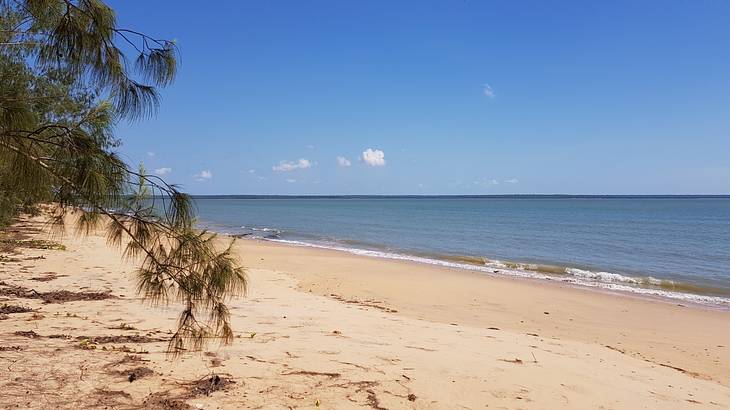 Tiwi Islands, Northern Territory
Named as the 'Island of Smiles', the Tiwi Islands are the best place to learn about Australian aboriginal culture, meet friendly locals, and go fishing.
The Tiwi Islands consist of two main islands (Bathurst and Melville) and nine smaller uninhabited islands. There are minimal tourist facilities on the islands, so the majority of people visit them for just a day tour. If you wish to go by yourself, you might need permission from the government.
The group of islands is well-known for aboriginal art and crafts, traditional lifestyle, and an extraordinary passion for football. Tiwi Islands is also the best place to shop for bright traditional clothes and artwork.
Daly Waters Pub, Daly Waters
Located in the middle of nowhere, Daly Waters Pub is an extraordinary outback pub. It is the only pub in the country that has held a continuous liqueur license since 1938.
Just five minutes off the Stuart Highway, Daly Waters Pub surprises its visitors with an interior and exterior that looks like a dumping ground. It is decorated in traveller's 'memorabilia' (lost items) that includes driving licenses, tickets, and even bras!
The pub has a wide range of food, camping facilities, and guest rooms. Also, every evening you can enjoy live music. If you are on a road trip, make sure to visit the pub along the way.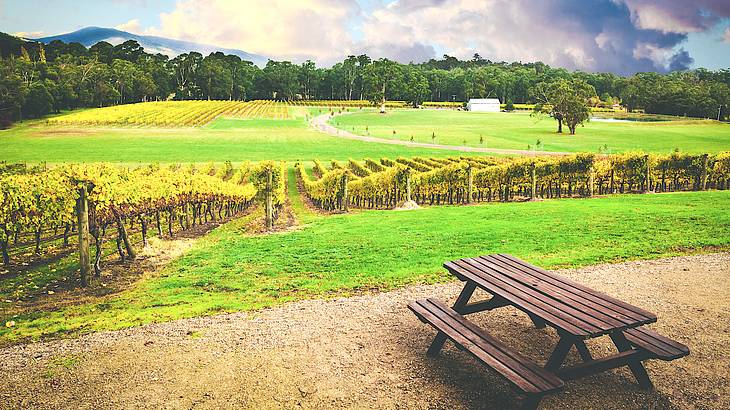 Wineries of Yarra Valley, Yarra Valley
Just an hour away from Melbourne, Yarra Valley is known for its vineyards and picturesque scenery. It is also the oldest of Victoria's vineyards region, which is famous for chardonnay and pinot noir vines.
The valley has more than 70 wineries that offer magnificent tours and fine dining packages. During the tour, you will have a chance to wander around the 19th-century wine cellars, taste the best wine, and enjoy a meal with a great view.
If you aren't a wine drinker, choose a brewery or cider-maker tour, or explore the unspoilt valley's countryside.
Glow Worm Tunnel, Lithgow
Located in an old railway (line to Newnes Kerosene Shale Works), this 400-metre-long tunnel is a famous place for viewing glow worms. Its unique walk is just 40 kilometres away from the town of Lithgow.
The line was dismantled in 1940, making the tunnel a perfect place for glow worms to live. It is the best location for people to view these magnificent creatures in their natural habitat as well.
Wear good walking shoes and comfortable clothes, and take a good torch with you. Also, try to keep your voice down as glow worms are very sensitive to any kind of disturbance.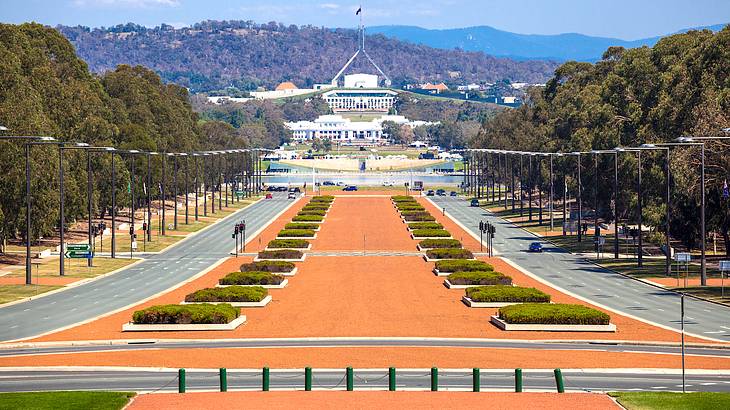 Australian War Memorial, Canberra
A shrine and a museum, the Australian War Memorial is one of the most important historic Australian landmarks.
Opened in 1941 and situated in Canberra near the Australian Parliament House, the War Memorial consists of the Commemorative Area (shrine) where the Last Post Ceremony is held, and several interesting exhibits (galleries). Some galleries include the First World War, the Second World War, Conflicts 1945 to Today, and much more.
It also has a massive sculpture garden and reading rooms (research centre). If you want to visit the research centre, you will have to book before your visit. Tickets and guided tours can be booked in advance on the memorial's website.
Parliament House, Canberra
Another of the major landmarks in Australia that you must visit is the Parliament House in the capital of Canberra. Opened in 1988 by Queen Elizabeth II and located in Canberra, the Australian Parliament House is the place where the nation's most important meetings are held. The building resembles two boomerangs and is topped by an 81-metre high flagpole.
Parliament House has 4,700 rooms, and the majority of the rooms are open to the public. You will be able to find Australia's finest historical treasures and contemporary art in the parliament's temporary and permanent galleries.
Australia's Parliament House is open daily to the public. Guided tours can be booked beforehand from tourist information centres and websites.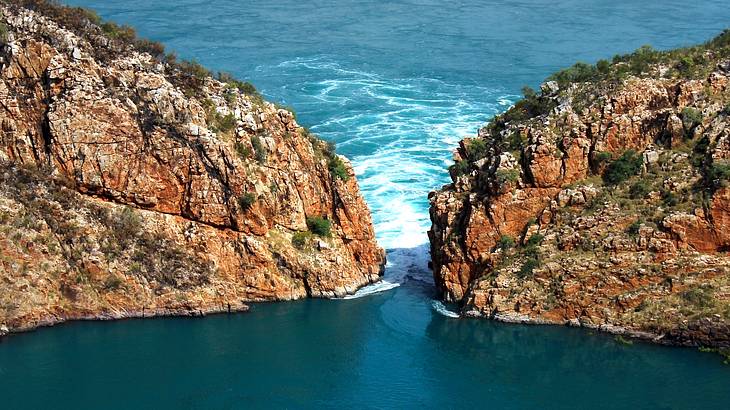 Horizontal Falls, Talbot Bay
Named as 'one of the greatest natural wonders of the world' by David Attenborough, Horizontal Falls, or Horries, is a stunning creation of nature.
Situated in the Kimberley region, Horizontal Falls are tidal waterfalls nestled deep inside Talbot Bay. The falls aren't real falls: strong tidal currents enter narrow gorges, creating a powerful flow of water that resembles falls.
Horizontal Falls is not accessible by car. You will have to take a seaplane or boat tour to get up close to the falls.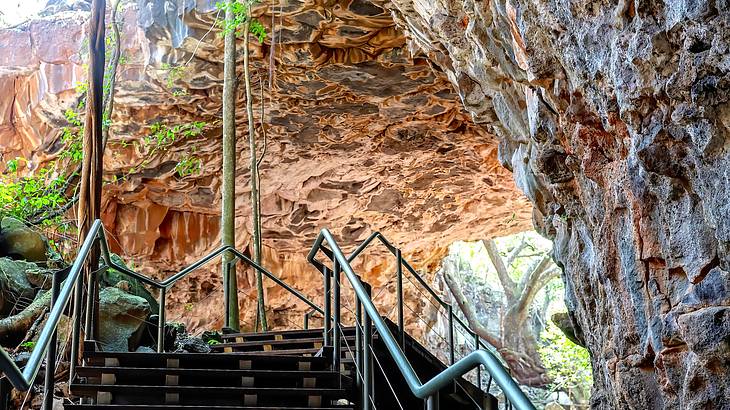 Undara Lava Tubes, Undara Volcanic National Park
Situated in the south-west of Cairns, Undara Lava Tubes are the largest lava tubes in the world. Tourists can only visit the lava tubes with a tour group, which explains the history and geology of the area.
The Undara Lava Tubes ecosystem formed about 190 000 years ago and are 160 kilometres long. The tubes themselves are about 21 metres wide and 10 metres high.
Undara Experience organises regular eco-tours that are divided by fitness level and usually last a bit more than 2 hours. All tours go across boardwalks, numerous steps, and involve a bit of climbing.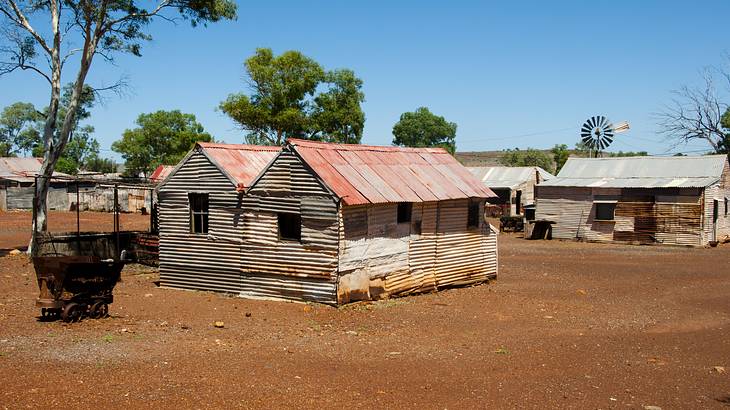 Gwalia Ghost Town, Leonora
Situated in Western Australia, Gwalia is a magnificent outback town near the city of Kalgoorlie. Once a mining town, Gwalia is now one of the most well-known ghost towns in Australia. It is also the most impressive location on the Golden Quest Discovery Trail and a historic place in Australia.
The town has a museum, old abandoned shops and houses, a swimming pool built in 1943, and numerous mines. You can wander around the streets and climb the hill for a view of the town as well. You should allow at least half a day to explore the ghost town.
Olive Pink Botanic Garden, Alice Springs
Developed by the lovely Miss Olive Pink in the 1950s, Olive Pink Botanic Garden is a reserve that protects arid fauna in the Northern Territory.
The 16-hectares area is home to various species of cacti, garden flowers, shrubs, and trees native to Australia. You will find a visitor information centre and cafe where you can take a rest in the shade as well.
When you are at the botanic garden, don't miss a chance to walk up the hill that provides spectacular views of the area from above. You can also take other walking paths passing through shrubs and flowers, and learn more about the history of plants here.
Eden Killer Whale Museum, Eden
Overlooking the Pacific Ocean, the Eden Killer Whale Museum tells the story of whaling in Australia. The museum was opened more than 85 years ago.
Exhibitions tell of the history of the shore-based whaling operations (from the 1800s to 1900s) and the legendary killer whale, Old Tom, who led a pack of killer whales for the hunt of baleen whales. You will have a chance to see his full skeleton on display inside the museum.
There is also a viewing deck that provides spectacular views of Twofold Bay, and if you are lucky, you might be able to spot whales passing by too.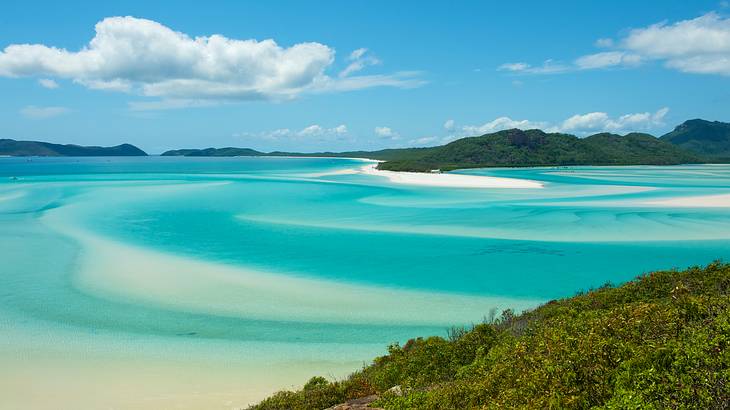 Whitehaven Beach, Whitsundays
Whitehaven Beach is undoubtedly one of the most beautiful, if not most gorgeous, white-sand beaches in Australia. Pictures of it really don't do it justice!
To reach this beach and famous landmark of Australia, you will first have to make your way to Airlie Beach. Once at Airlie, you can head over to Whitsunday Island where this 7-kilometre stretch of sandy beach is located. You can get here by boat, seaplane or helicopter from Airlie Beach.
When at Whitehaven Beach, you can take part in the usual beach activities, such as lounge under a beach umbrella, swim or snorkel in the clear blue warm water, play some beach ball games, or go for a walk on the soft sand along the shore. Whatever you do here, you're sure to leave feeling relaxed and rejuvenated!
In Summary
This list has covered 40 iconic human-made and natural Australia landmarks that can't be missed on a trip to Australia. This guide has ideas for families, group and solo travellers, and backpackers.
Australia is a big country filled with colourful towns, modern cities, fascinating landscapes, and clear waters. You will be able to find something beautiful and exciting to do no matter where you go.
Most of Australia's landmarks are scattered around the country and can't be reached by public transportation. The best and cheapest option is to rent a car. If you don't drive, there are plenty of tour companies that can customise your tour depending on your preferences. Be aware; the tours are quite expensive!
I hope you enjoyed this Australia travel guide and found lots of useful information to help you with planning. Have the best time of your life in breath-taking Australia!
Give us feedback about this article
Read more articles about Australia:
More articles about landmarks:
---
---
Want to keep exploring?
Subscribe for discounts on tickets and hotels and our latest guides.
Thank you for subscribing
We will be in touch soon with discounts on tickets and hotels and our latest guides.
Want to keep exploring?
Subscribe for discounts on tickets and hotels and our latest guides.
Thank you for subscribing
We will be in touch soon with discounts on tickets and hotels and our latest guides.
Related Articles