2 Days in Vienna Itinerary
Destguides may receive commissions from purchases made through affiliate links in this article.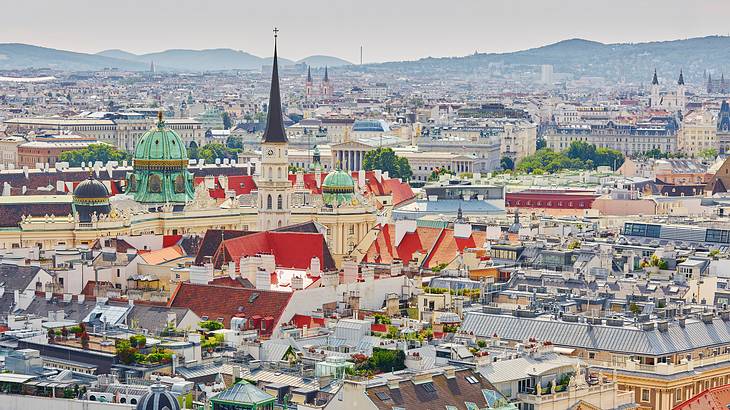 Vienna is one of the best cities to visit in Europe, in my personal opinion! It is a must-visit destination for travellers interested in music, art and the grandeur of Baroque architecture. This 2 days in Vienna itinerary will tell you all you need to know about the best ways to experience the culturally-rich capital of Austria.
Accounting for almost a third of Austria's population, Vienna is the country's most populous city. It is also home to a handful of Austria's world heritage sites, including the Schönbrunn Palace, the historical centre with its Baroque-style palaces and gardens, and the Frontiers of the Roman Empire. Vienna is the perfect gateway to exploring the rest of Austria's beautiful scenery and culture.
Like many European cities, some aspects of life and travel in Vienna can get quite expensive, especially if you enjoy dining out. But don't let that discourage you. By substituting restaurants for supermarket meals, sleeping in bed and breakfasts, and enjoying tip-based free walking tours, you will be able to enjoy all of Vienna's sights without turning your wallet inside out.
If you want to take budgeting to the next level, stay in the neighbouring capital of Slovakia - Bratislava - for cheaper eats and accommodation. Bratislava is an easy enough train ride away from Vienna (about an hour each way), and in this way, you get to explore two capital cities, in two different countries, for the price of one!
This is what we did when we visited. However, we regretted not just staying in Vienna for at least two full days or more, rather than traveling from Bratislava, as we loved Vienna!
Difficult as it may be to condense the vibrance of this incredible city into such a short trip, 2 days is enough to see the best of Vienna. To help you plan your adventure, here is my two-day Vienna travel guide.
2 day itinerary
Average of 12 stops per day
2 Day Vienna Itinerary
Historical Sights and Palaces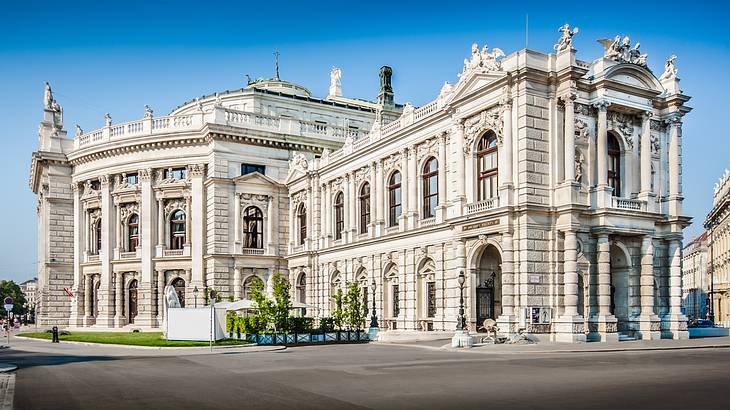 When thinking about Vienna, what typically comes to mind are its notable sights, such as the impressive State Opera House, the Burgtheater and the Schönbrunn Palace. However, the city also offers plenty of attractions and entertainment that show off its contemporary side, its street-style dining and coffee-house culture.
I suggest starting the first day of your 2 day Vienna itinerary with the most famous sights in the city. There is so much history to see in Vienna that choosing only one or two museums to visit can be a tough choice. So, I've done my best to limit it to only the best ones for the first day.
I always recommend a free walking tour (that is tip-based) in bigger European cities as they are excellent value for money, especially when you are short on time! It also allows you to get acquainted with your new destination in just a few short hours.
A typical walking tour in Vienna usually starts at Karlsplatz though, and then moves on to key attractions along the way, including the Albertina Art Museum, the Monument Against War and Fascism, and the Capuchin Church. They tend to often end at St. Stephan's Cathedral.
Want to explore Vienna on your own? Then continue reading my Vienna itinerary to figure out how to spend 48 hours in Vienna in the best possible way!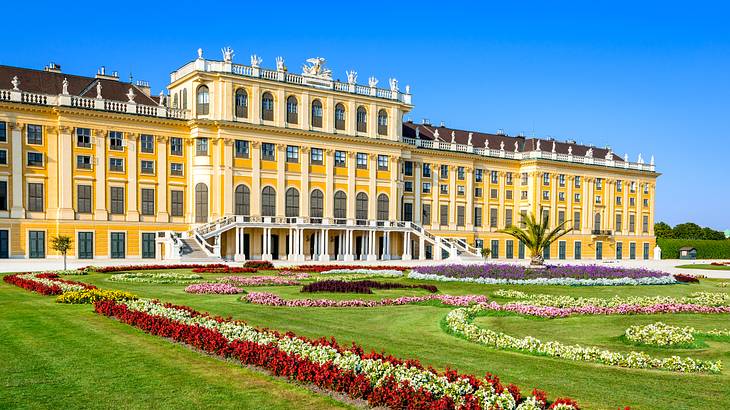 Visit the beautiful Schönbrunn Palace & Gardens
The Schönbrunn Palace and its gardens are a UNESCO World Heritage Site and one of Europe's most famous landmarks. The palace is also the most-visited attraction in Vienna, and with good reason. It is beautiful!
The first buildings on the grounds date back to the 1500s, and the neoclassical-style palace, as it stands today, was built in the mid-1700s during the reign of Maria Theresa.
Self-guided tours are available, which take you through the colossal interior with its staterooms and Baroque art. You will need at least 2 to 3 hours to wander around the palace grounds as it is simply huge!
So grab something to eat before heading here early in the morning, or hopefully, you booked accommodation in Vienna that includes breakfast. I also suggest buying a ticket online in advance as it can get pretty crowded here during the high season.
If you don't want to spend money on a tour, you can roam the grounds for free and walk up to the Gloriette from where you'll have a fantastic view of the palace below. This is precisely what we did as we didn't pay to enter, nor had much time on our hands to explore both the inside and outside of the palace.
Drop by the Belvedere Museum
The Belvedere Palace, another UNESCO World Heritage Site, is one of the most interesting places to visit in Vienna. The museum consists of two palaces, the Upper and Lower Belvedere, which are linked by a serene garden lined with art sculptures and water features.
These buildings are some of the best examples of Baroque architecture in Vienna. The museum houses a variety of artworks from famous artists like Van Gogh, Renoir, Monet and more.
The two palaces each have an entry fee, but the gardens are free of charge. The gardens are perfect if you need to take a quick break to recharge before continuing your big day of sightseeing Vienna.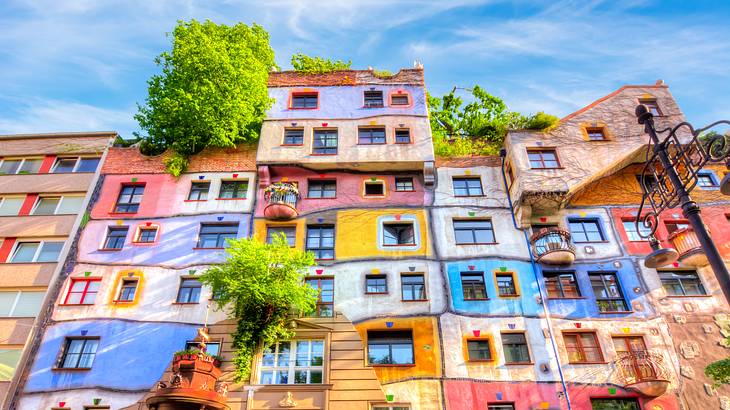 Take photos at the Hundertwasser House
Photographers, gather around. One of the coolest spots to take photos in Vienna is the Hundertwasser House. It is a vibrantly colourful house designed by and named after the well-known Austrian architect, Friedensreich Hundertwasser.
Friedensreich Hundertwasser is known as a rebellious artist in Austria's design scene, famed for his unusual but striking free reign art. The unique architecture and captivating colours make this house a highly popular spot for photos.
In addition to its photogenic qualities, the Hundertwasser Museum in the Kunst Haus Wien (designed by the same architect) is open to visitors every day between 10 AM and 6 PM.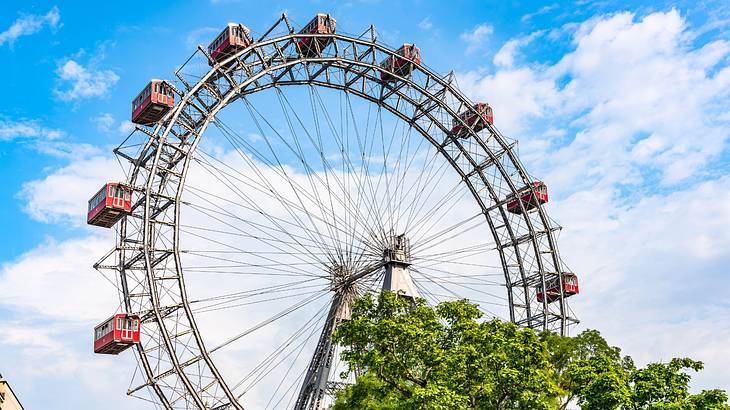 See the Giant Ferris Wheel
If you're feeling a bit overwhelmed by all the historic sites, switch things up with a visit to Prater Park - an iconic amusement park that houses Vienna's famous Giant Ferris Wheel. The wheel was built in the 1890s and wore the crown as the largest Ferris wheel in the world until about 25 years ago.
The Giant Ferris Wheel is the best (and most fun) way to get a view of the city in all its glory. If you're travelling with kids, this is also a fun activity to do in Vienna with kids. That being said, I wouldn't recommend the wheel for the faint-hearted, or those with a fear of heights.
Prater Park also has a lot of food stalls selling all kinds of treats. The park opens at around 10 AM, so by this time, you should have ample options for snacks if you're feeling peckish after your big morning exploring gigantic sites!
If you're looking for something out of the ordinary to do, you can even have a champagne breakfast on top of the Ferris wheel! If this is something you might be interested in, check before your trip to Vienna to make sure it is available during your visit as the champagne breakfast is seasonal.
Have lunch at Schweizerhaus
For lunch, check out the Schweizerhaus. It is located in the middle of Prater Park. The restaurant offers a delicious spread of classic Austrian cuisine, and it is set up in the form of a massive beer garden broken into smaller sections named after Vienna's different city districts.
If you enjoy goulash and dumplings, then you'll have a feast here. The prices are reasonable, and the atmosphere is relaxed and laid-back, which makes it a great place to unwind for a bit while enjoying a genuine Viennese culinary experience.
Some of the most popular items on the menu are the pork schnitzel and the fried potato pancakes.
Go to the Spanish Riding School
The Spanish Riding School is one of Vienna's more unusual tourist attractions. Dedicated to the preservation of Lipizzaner horse training and classic dressage, the riding school makes for an incredibly immersive event, especially during the summer months when visitors can watch the Piber Meets Vienna show.
Winter season also has its entertainment options with daily morning 'shows' where you can watch the horses in action. Accompanied by classical Viennese music, these performances reflect the local culture and history. The production is an experience you won't forget!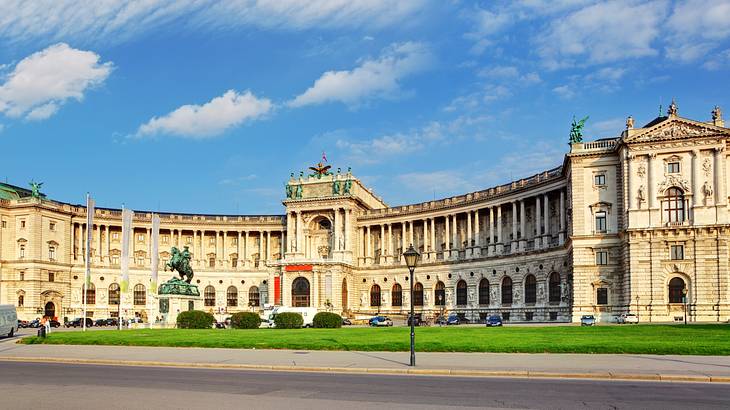 Visit the Hofburg Palace
If you're still up for exploring more palaces, then add the Hofburg Palace to your list as well. This palace is the former Imperial Palace and holds valuable information about Vienna's imperial history.
Today, the buildings are home to three museums (one ticket allows admission to all three) as well as the incredible Albertina art gallery. This art heaven has more than one million pieces in its collection, including iconic pieces from artists like Picasso and Monet.
I highly recommend visiting the Imperial Apartments and the Sisi Museum inside the palace. The Silver Collection was also lovely to see, but we wouldn't have been sad if we missed it! But grab an audio guide and tour around all three anyways!
See a vintage film
Among the film fanatics, Vienna is known for its prime selection of vintage cinemas. If you want to sit back for an hour or two while enjoying a film, this is a great way to recharge your batteries!
The Stadtkino im Künstlerhaus is a vintage cinema in Vienna that provides a unique and authentic old-school cinema experience in a film auditorium that has been left virtually unchanged since the 1950s. This place is also another excellent photo-opp as well since the cinema is coated in murals by famous Austrian artists like Rudolf Eisenmenger and Rudolf Holzinger.
You might not catch the latest Hollywood movie in one of these cinemas, but you'll have an unforgettable experience nonetheless!
Eat dinner at the Cafe Museum
If you're looking for an authentic Viennese dining experience, head to Cafe Museum for dinner. Located in the Innere Stadt of Vienna, this restaurant has a long history in the city. It opened in 1899 and soon became a popular meetup spot for creatives.
The restaurant has been redesigned a couple of times since its opening more than a century ago, but its cosy and welcoming interior has remained the same through the decades. You can try classic Viennese dishes here like Wiener schnitzel, goulash and sausages (I skipped out on these as I don't eat meat, but enjoyed the wide variety of salad options).
Cafe Museum is a great spot for dinner because it's right in the middle of all the action, and just a stone's throw away from the alluring Naschmarkt - where I suggest you head next!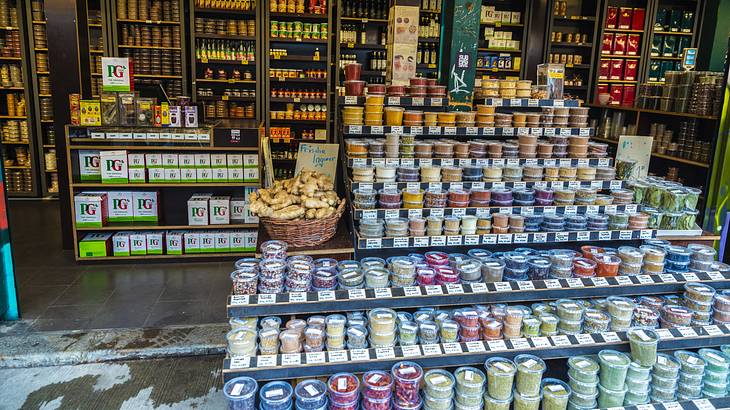 Sample dessert at Naschmarkt
The Naschmarkt is one of the best things to do in Vienna at night. The market has been around since the 16th century, so it's no surprise that it is a famous and well-established market in the city.
It's also the largest market in Vienna with over 100 food stands and small restaurants. The food at Naschmarkt is considerably cheaper than what you'll find at most restaurants in Vienna, so if you're travelling on a budget, I suggest going straight to the market rather than spending your money at a restaurant.
Have drinks at Elektro Gönner
Elektro Gönner is a sort of 'secret' bar hidden away in the open in Schulhofpassage, easy to miss if you don't know what you're looking for.
The bar is housed in what used to be an electrical supply store, and if you don't look closely, you'll walk by thinking this alternative watering hole is nothing more than a rusty store.
But inside, you'll find one of the coolest bars in Vienna. Elektro Gönner is popular among the younger, arty crowd, and it's not difficult to make friends with the locals who'll be able to tell you where the best spots in the city are.
What better way to end your first day in the fun city of Vienna?
More Historical Sights and Vienna's Music Culture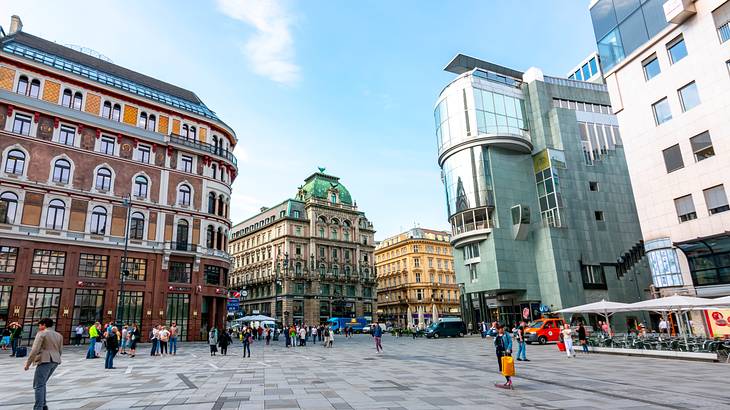 Over the decades, Vienna has had a few other names, such as the 'City of Music' and the 'City of Dreams'.
These names paid tribute to the world-famous musicians and composers, like Mozart, Schubert, Beethoven and Brahms, that once lived in the city.
Vienna was also the home of Sigmund Freud - the first psychoanalyst in the world. So, consider paying a visit to the Sigmund Freud Museum as he is one of the most famous people often linked to Vienna!
Use the second day of your Vienna trip to also explore some of Vienna's music culture and history. Visit acclaimed venues, like the Staatsoper, and learn more about Mozart at his house-turned-museum in Vienna.
Along with the music venues, you will also stop by other iconic historic sites around Vienna, such as St. Stephan's Cathedral and more!
Begin your day at
The Stephansplatz is located right in the centre of Vienna's Old Town; it is the perfect place to start the second and final day of your Vienna two day itinerary!
The square is a lovely place to stroll through, with all its cafes and eateries spreading out onto the sidewalk. The Stephanplatz is a popular location for street artists and performers to set up camp for the day, adding to the enticing old district feel.
If you visit over the Christmas season, you'll find the entire square transformed into a massive Christmas market. So if you plan to visit during this time, make sure to find out when the market starts ahead of your visit to plan accordingly!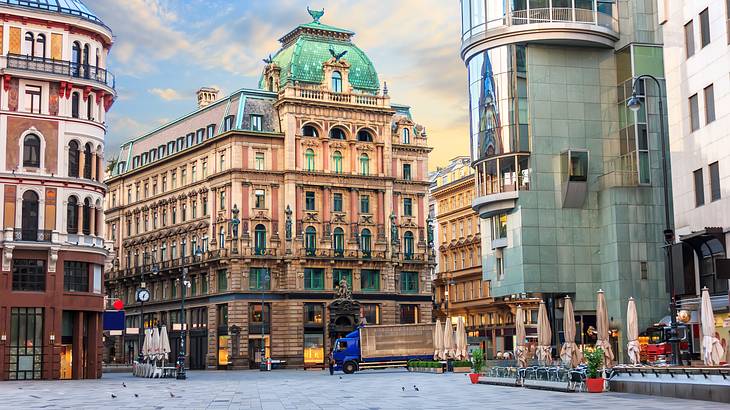 Have breakfast in Stephansplatz
The Stephansplatz is filled with delightful cafes and restaurants, which is perfect for a relaxed breakfast on your last day in the city! However, depending on the time of the morning, some of these places may still be closed.
If you can't find what you're looking for, or if you want a cheaper alternative, there is a gourmet Spar grocery store not far from here (a 5-minute walk at most) where you can grab an equally delicious breakfast on-the-go!
We opted for the latter and walked back to the square to enjoy our coffees and fresh croissants while doing some people-watching.
Stop by St. Stephan's Cathedral
After breakfast, make your way to the impressive Stephansdom - the Roman Catholic mother church and seat of Vienna's Archbishop.
The cathedral forms the central point of the square and is an internationally known building as it is one of the tallest churches in the world.
The roof of the church has a distinct tiled design and features two towers, one significantly taller than the other.
Entrance to the cathedral is free, and both the towers can be climbed for a small entrance fee. You get an excellent panoramic view of Vienna from the top, so I'd recommend heading on up if you feel like climbing stairs and can!
If you opt to visit only the free areas of the church, the walk-through shouldn't last more than half an hour.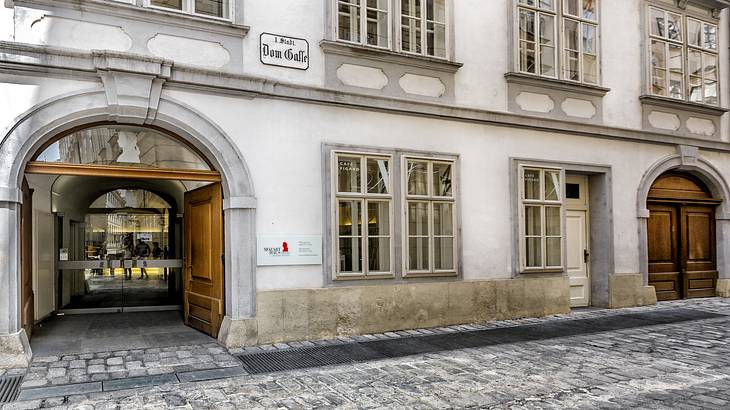 Visit the Mozarthaus
Next, head to the Mozarthaus, a beautiful building that has been restored to its original 18th-century architecture. The living quarters on the first floor used to be Mozart's apartment (quite thrilling to think of all the music he composed in that house).
Beyond that, the museum is a must-visit even for those who aren't big fans of Mozart himself. Each floor has a different theme or exhibition, taking you on a trip through the centuries that show how the city and its art and music scene have evolved over the years.
Pay a visit to the Sigmund Freud Museum
When we were in Vienna, we never got around to visiting the Sigmund Freud Museum, but it was on our list.
So if you're interested in psychoanalysis, you don't want to miss out on this museum, which has been converted from Freud's former apartment and office.
The collection in the museum includes some of his personal belongings, but it also offers a lot of information related to what he studied.
From what I've heard, the museum can get quite busy during the high season and can only accommodate a small group of visitors at a time, so I suggest getting tickets in advance if you want to add this stop to your itinerary.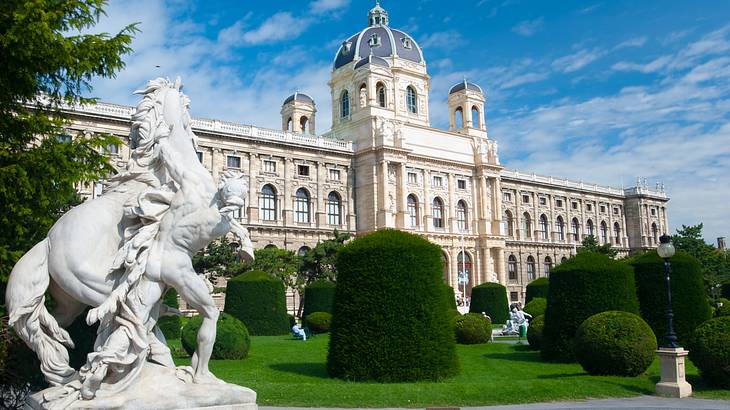 Explore the National History Museum
The Natural History Museum hosts a collection of fossils and centres around the history of the earth. Even if this is not a particular interest of yours, the museum is worth a visit since it is such a beautiful and impressive building!
The building, like many of its kind in Vienna, dates back to more than a century ago. It has been renovated to accommodate the over 30 million historic items it houses today.
Of all the exhibits in the museum, the solar system one is especially popular. It is not just an educational experience for kids, but also an exciting one if you're looking for something out of the ordinary to do.
Eat Lunch at Erich
For lunch, try Erich - one of Vienna's must-visit restaurants. Erich is located in the heart of the 7th district, which is some people's favourite part of Vienna!
The menu is a bit more universal than some of the other places I've recommended so far. The poke bowls are incredible, and vegans can feast on vegan ice cream from Veganista - the in-house ice cream parlour.
Erich is a good pick for lunch if you want to grab something light, quick and healthy. Also worth mentioning is their fantastic coffee and dessert menu!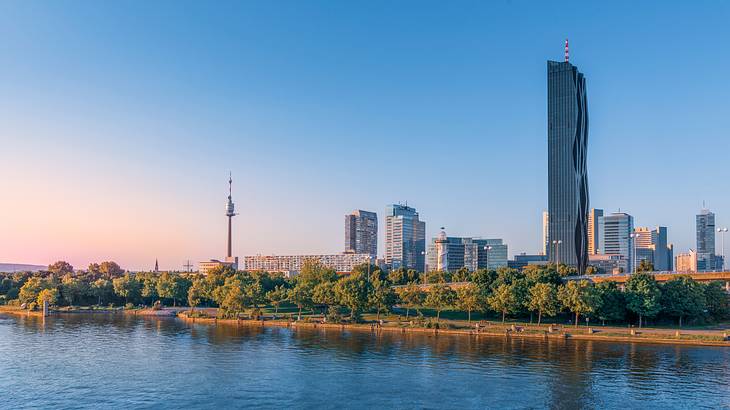 Cruise the Danube
The Danube River is probably one of the first things that come to mind when you think of Vienna. The river runs across the upper part of the city, from where it continues to cross through Bratislava, Budapest and Belgrade.
A river cruise allows you to see the city from a different point of view. Depending on the type of journey you take, you should receive a pair of headphones that give you an audio tour as well. You will hear interesting stories about Vienna and its relation to the river as you pass by iconic buildings and structures along the way.
The cruise can be as short as 30-45 minutes, or you can choose a longer ride that includes dinner and live entertainment.
If you purchased a Vienna Pass, you can take a free tour with City Cruises Vienna (Tour C - City Cruise) upon presentation of your pass at the ticket office at Schwedenplatz pier.
Time Travel Vienna
Time Travel Vienna is an interactive experience that uses multimedia exhibitions and special effects to take you on a trip through Vienna's history.
If you're feeling overwhelmed by the abundance of museums and historic institutions, I recommend this activity as it's super captivating and lasts only an hour, perfectly fitting into a day packed with sightseeing and activities.
Time Travel Vienna is open until 20:00 every day, with the last tour starting at 7 PM. This means that this attraction is also a good pick for an indoor night activity during winter in Vienna.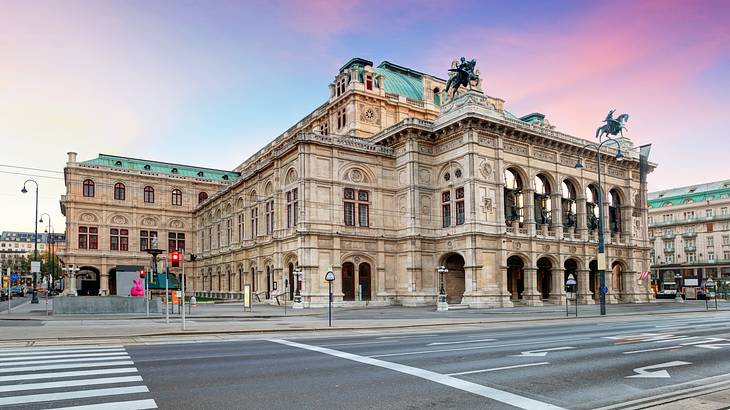 Go for a night at the opera
Watching a performance at the Vienna State Opera House is another event that you can't miss out on! The building itself has a fascinating history, which you can learn about in the guided tours offered through the opera house. The guided tours allow you to get a look behind the scenes of how the Vienna State Opera House runs.
We went all out and attended an opera performance, which was an enjoyable experience even though opera isn't really our thing! How did we see a show?
We arrived about 2 hours before the start of the show, and there was still a good 10-15 people in front of us. Thirty minutes to an hour in, and we couldn't really even see the end of the line anymore, so we were glad we gave up some of our time exploring the streets of Vienna to come here early. We were in Vienna in March, which isn't even shoulder season yet, and it was still exceptionally busy.
We spent about 3-4 euros each for standing room tickets on the ground floor of the State Opera House. Yes, you read that correct - less than 10 euros total for the both of us! These tickets start selling 80 mins before the show begins, and can only be bought in person.
Warning you now though - your legs will get very tired well before the show's intermission as you'll be standing in line for a while before you even buy tickets, then inside, and once again for the duration of the entire show.
Also note, you should bring food, such as a sandwich along with snacks and water to eat in the line while you wait. And while you should also technically 'dress up' for the event, you can get by looking casual smart. Also, make sure to have cash on hand because they do not accept cards for ticket purchases.
Lastly, do not wander around the building or use the bathroom once inside until you have physically arrived in your final standing place. Meaning, wait until you've secured your spot with either a coat or some other not-too-valuable item as you will lose it otherwise.
Have dinner at Wratschko Gastwirtschaft
Wratschko Gastwirtschaft is another highly recommended restaurant to try in Vienna. This atmospheric pub eatery is known for their fantastic take on local cuisine, also offering a range of vegetarian dishes to spice up the usual meat and potatoes.
The restaurant has a home-dining feel to it, and the low-lit, smoky vibe will make you feel right at home in Vienna's culinary scene.
Enjoy a night out at Der Dachboden
The classy Der Dachboden is a bit of a jump from the dinner location for the evening.
If you want to substitute your beer for a cocktail, this is a beautiful loft bar located in the vibrant Museum Quarter (definitely recommend strolling through these streets in the evening).
The bar's vantage point from the rooftop of a hotel offers a magnificent view of the city lights after dark.
The neighbourhood surrounding the Museum Quarter is a lively nightlife area too.
If you don't want a late night out, you can switch things around and start your evening with a cocktail at sunset before heading out to dinner.
In Summary
There you have it! This beautiful city offers something for every kind of traveller - from history enthusiasts to street photography lovers to fine diners.
I hope that by following this 2 days in Vienna itinerary, you will be able to enjoy all that the Austrian capital has to offer by indulging in its magnificent architecture, music, food, and people.
And if you're bored after a couple of days here, but still have more time to explore the surrounding area, consider day trips from Vienna to cities like Bratislava, Prague and others.
Give us feedback about this article
Read more articles about Austria:
More visual stories related to this article:
---
---
Want to keep exploring?
Subscribe for discounts on tickets and hotels and our latest guides.
Thank you for subscribing
We will be in touch soon with discounts on tickets and hotels and our latest guides.
Want to keep exploring?
Subscribe for discounts on tickets and hotels and our latest guides.
Thank you for subscribing
We will be in touch soon with discounts on tickets and hotels and our latest guides.
Related articles