Where to Stay in Grand Cayman - 6 Best Areas
Destguides may receive commissions from purchases made through affiliate links in this article.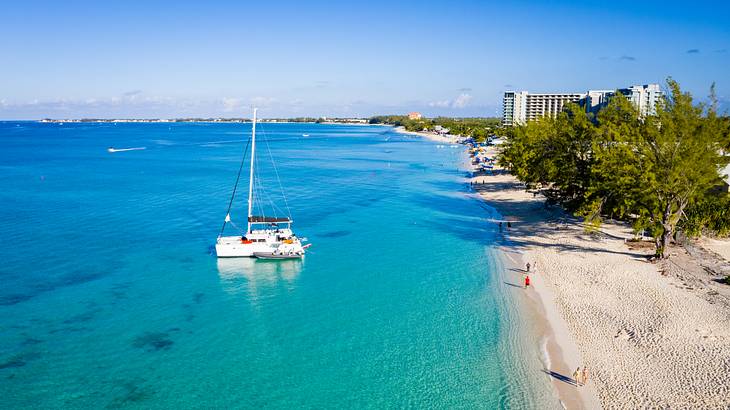 Grand Cayman is a beautiful Caribbean destination known for its crystal clear waters and white sandy beaches. Tourists flock to the island every year to enjoy the perfect weather, delicious food, and vibrant culture.
There's something for everyone in Grand Cayman, whether you want a relaxing vacation away from the crowds or prefer to experience the touristy side of things. If you're planning a trip, knowing where to stay in Grand Cayman can make your vacation more enjoyable and memorable.
Choosing the best play to stay in Grand Cayman will ensure you are close to everything you want to do and have the best experience possible. If you are wondering where to book your accommodation on Grand Cayman, keep reading to learn about all the wonderful options!
6 Best Places to Stay in Grand Cayman
Grand Cayman Places to Stay Video
Check out our highlights video of Grand Cayman places to stay.
Grand Cayman Places to Stay Map
A map of Grand Cayman. Use the map to explore all the places to stay.
Best Areas to Stay in Grand Cayman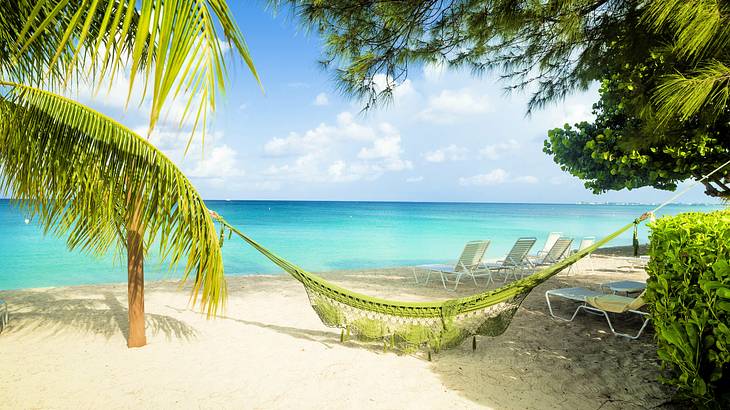 Seven Mile Beach
Seven Mile Beach is a popular tourist destination that can get pretty crowded, no matter the time of year. Not only is Owen Roberts International Airport located nearby, but the George Town Cruise Port is also located at the southern end of Seven Mile Beach.
Aside from crowded streets, the neighborhood is very charming. It's full of historical buildings and plenty of attractions. Seven Mile Beach itself is a pristine beach with crystal waters and white sands. The beach is really only 5.5 miles long, but there's still plenty of room to spread a towel and enjoy some fun in the sun.
Beach bars, cafes, and souvenir shops line the boardwalk next to the beach. Therefore, you don't have to go far if you want to grab a drink or do a little shopping.
There are accommodations to fit every budget, including luxurious resorts and affordable bed and breakfasts. Most are located right on the beach, so it's a great place to stay if you enjoy stunning views and want to be within walking distance of all the small stores and eateries.
At night, music from the nightclubs and bars fills the streets. Many eateries stay open late, and the atmosphere changes from lazy and calm to energetic and lively. Seven Mile Beach is safe day and night, but things get a little rowdy when the sun goes down.
Still, this neighborhood is perfect for families with children, couples, and anyone who enjoys a lazy beach day and doesn't want to stray too far away from the sun and sand to get the necessities throughout the day.
George Town
George Town is the capital of the Cayman Islands and home to a major port. Cruise ships come in and out of the port on a daily basis, making it a very crowded and busy area. Despite the crowds, the town itself is very quaint and is full of historical buildings.
You can walk through the streets admiring the Caribbean architecture and checking out cigar shops, the local market, and a multitude of bakeries, cafes, and bars. Vendors also line the streets offering freshly squeezed juice, street food, and crafts.
Additionally, you can stop by the Cayman Islands National Museum to learn about the history of the Cayman Islands and see over 8,000 Caymanian artifacts.
There's a wide variety of hotels ranging from large suites to moderate hotel rooms and even smaller family-owned accommodations. Therefore, this is the best area to stay on Grand Cayman for anyone on a budget as well as those willing to splurge a little for a more elegant experience.
Eateries also vary in price, and you will find everything from fine dining to small cafes and beach bars offering local dishes. George Town stays busy at night, with many bars open late and playing loud music.
The area is mostly safe, although it is best to avoid dark alleys and stay on main roads. Music and people spill out into the streets and create a fun and vibrant environment that reminds you how life in the Caribbean should be.
East End
The East End is a slightly more secluded area of Grand Cayman. However, there's still plenty to see and do. It is a popular spot for snorkeling, and many visitors love to walk along the beaches.
Watersports are also popular here, and you can rent jet skis and kayaks. You could even book a deep-sea fishing excursion at one of the many kiosks near the beach. Kids and animal enthusiasts will enjoy spending the day at the nearby Cayman Parrot Sanctuary. Soccer fans can also watch an East End United FC game if visiting during the team's season.
The area isn't very developed and has a small-town vibe that most people love. Residents are friendly and welcoming, and the neighborhood is very safe. While there aren't a lot of luxurious accommodations here, visitors can take advantage of the smaller lodging establishments and their affordable pricing.
In general, the East End is one of the more down-to-earth and budget-friendly areas on the island, and it's perfect for those who want to experience island life like a local.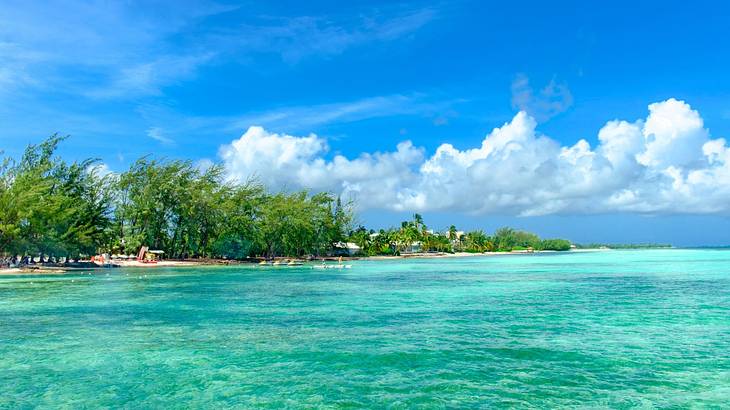 North Side
The North Side of Grand Cayman is ideal for anyone on a tight budget who still wants to experience everything Grand Cayman has to offer. Not only is it one of the more affordable neighborhoods, but it is also quieter and not too touristy.
A public bus offers transportation to George Town. It's also a short cab ride to Rum Point. Because of its seclusion, This neighborhood is a great place for anyone looking for a laid-back and relaxing experience.
There are plenty of nature trails and undeveloped beach areas to explore. Bioluminescent tours, horseback riding, and seaside caves are top attractions. Small restaurants with outdoor seating and independent shops line the street across from the beach.
You will find a mix of retirees and ex-pats make up a majority of the residents in the area, and while they are welcoming to tourists, the lack of large attractions keeps most tourists in other areas.
Hotels are small and moderately priced. Most are located near the beach and offer spectacular views. Everything you need is within walking distance, so you could easily stay in the North Side for the extent of your trip and still enjoy a full Caribbean experience. It is the best part of Grand Cayman to stay if you prefer privacy and relaxation.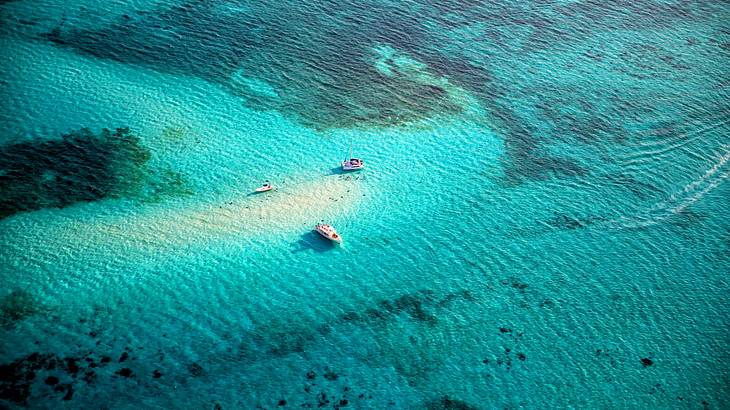 West Bay
West Bay edges miles of beautiful beaches and is a peaceful residential area. As such, it's ideal for families with young children who want to escape from the noise and nightlife of other areas. One of the most famous attractions here is Barker's National Park, which provides beautiful and secluded beaches.
Along with going to the beach, you can enjoy horseback riding or kite flying. It's also home to the Stingray City scuba dive site, where you can dive with sea creatures. If you want more wildlife encounters, you can find the Cayman Turtle Center here as well. At this attraction, you can learn about the importance of sea turtles to the area's ecosystem.
Additionally, restaurants are plentiful here, as are affordable lodging options. It's more affordable than George Town and the Seven Mile Beach area, but there are some upscale options for those who prefer a more luxurious vibe.
Eateries serve a mix of Cayman cuisine and more exotic options for those who are brave and want to try something new. Bike rentals are available for exploring the miles of trails and coastline in the area. You can also charter a boat to Little Cayman and Cayman Brac.
While there are several main attractions in the area, it's not a place where a lot of tourists stay. The beaches and roads can be crowded during the day, but at night they calm down tremendously. There's not a lot of nightlife going on in West Bay, but for many people who enjoy a quiet and relaxing vacation, that's the true appeal.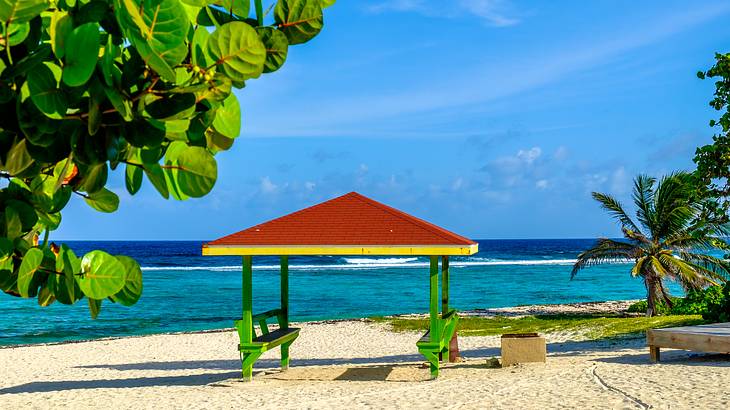 Bodden Town
Bodden Town is a unique neighborhood full of charm and character. It's a quiet little beach village situated close to other neighborhoods and offers public transportation to each of them. You will find mostly locals here and very few tourists.
There are few accommodations in this neighborhood, but what is available is luxurious and has a price to match. Luckily, you can find more budget-friendly options in other nearby neighborhoods and still visit Bodden Town during the day.
Instead of finding a wide range of tourist attractions, you will see miles of beautiful beaches and a tight-knit community that is a testament to the true Caribbean lifestyle. Shops and bistros are affordable, and there's a good variety despite the neighborhood's small size.
You'd never know that Bodden Town was once the capital of the Cayman Islands. It was also once the stomping grounds of pirates!
The seaside cliffs are rumored to hold buried treasure, but those who visit this neighborhood just see them as a beautiful background for the perfect beach day. Beachside cafes are the best dining options and serve fried fish, Caribbean dishes, jerk chicken, and fresh seafood.
Just off the natural harbor is a beautiful coral reef, which makes this best place to stay in Grand Cayman for those who love to scuba dive or snorkel. On a rainy day, you can tour the Cayman Cigar Company and even grab some cigars for a souvenir.
Where to Stay on Grand Cayman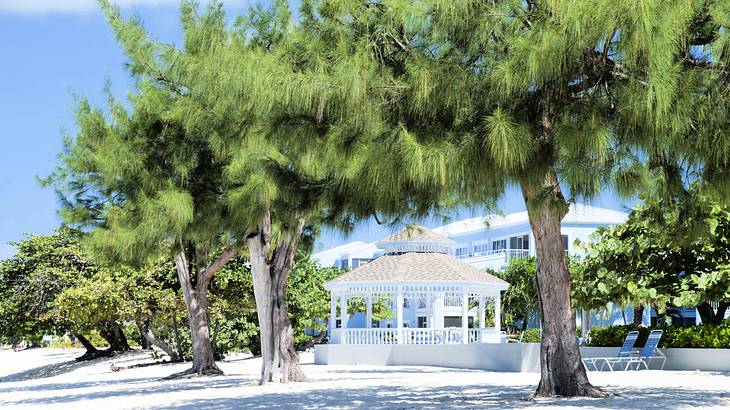 Where to stay In Grand Cayman with family?
Seven Mile Beach and West Bay are the best areas for families, especially those with children. Both have plenty of beach access and stay rather quiet during the day.
At night, West Bay remains fairly calm. During the day, families can learn about sea turtles at the Cayman Turtle Center or horseback riding at Pampered Ponies. Seven Mile Beach has multiple playgrounds for children. Families with older children can snorkel or go on tours to meet stingrays and other sea life.
The streets of both of these neighborhoods are safe to walk, and there are plenty of dining options that children will enjoy. Accommodations ranging from suites to small private rooms are suitable for families of all sizes.
These areas are also away from some of the larger crowds that tend to come with the nearby cruise ports, so children and families don't have to feel overwhelmed.
Where to stay In Grand Cayman for couples?
Every aspect of Grand Cayman is romantic and beautiful. Couples who enjoy excellent nightlife should consider staying in George Town, where there are plenty of bars and eateries to enjoy. The streets in this area are also perfect for strolling and taking in the sights of the island.
Bodden Town is another great option for couples who want to relax on the beach and enjoy some privacy. Not only are the accommodations upscale and private, but the beach is also secluded and is a nice change of pace from the busier areas of Grand Cayman.
Where to stay In Grand Cayman for snorkeling?
Grand Cayman offers some of the best snorkeling in the Caribbean! If you are comfortable enough to go out on your own, you may want to stay in or near Bodden Town. The beautiful natural harbor and nearby coral reef attract dozens of different sea creatures and fish that make for perfect snorkeling.
If you prefer something guided, Seven Mile Beach is the best area to stay in Grand Cayman for snorkeling. In this area, you will find many reef and stingray snorkeling tours to experience. The crystal clear waters attract stingrays and other colorful sea life. You can also find scuba and snorkel gear to rent.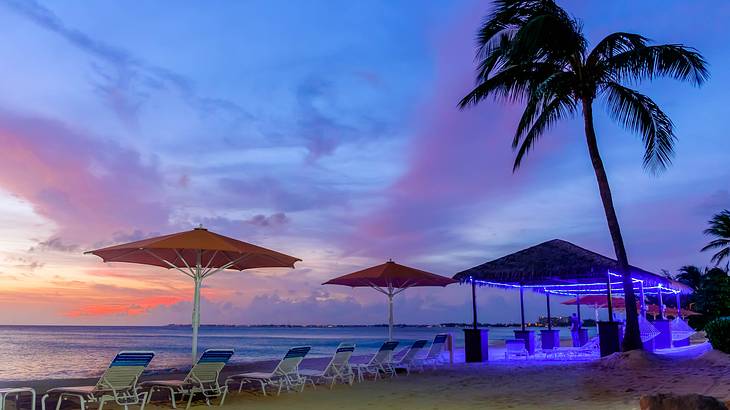 Where to stay in Grand Cayman for nightlife?
Nightlife in Grand Cayman can be vibrant and exciting. Many of the beach bars that line the streets of Seven Mile Beach become very popular at night for both locals and tourists tonight.
George Town also has a large selection of different clubs and bars. Both areas have plenty of public transportation available, so if you choose to stay somewhere quiet but want to enjoy some fun at night, you can grab a cab or bus (which runs until midnight) to make it back to the hotel safely.
Where to stay In Grand Cayman for cheap?
While many areas in Grand Cayman are luxurious and upper-class, plenty of places have budget-friendly attractions and accommodations. If you are wondering where is the best place to stay in Grand Cayman for budget travelers, the North Side and East End both offer moderately priced hotels and resorts.
Eateries, shops, and bars are also available for those on a tight budget. Street vendors offer affordable local favorites, and small beach cafes are sprinkled amongst the bars and stores.
In Conclusion
If you are planning a trip to Grand Cayman, it's important to learn about the different neighborhoods and what they have to offer. This will allow you to plan your trip more efficiently and make the most out of your time there.
This article should have helped you to learn more about Grand Cayman's top neighborhoods, allowing you to pick the best one for your needs. Now, all you need to do is plan your Caribbean vacation!
Give us feedback about this article
More articles about places to stay:
---
---
Want to keep exploring?
Subscribe for discounts on tickets and hotels and our latest guides.
Thank you for subscribing
We will be in touch soon with discounts on tickets and hotels and our latest guides.
Want to keep exploring?
Subscribe for discounts on tickets and hotels and our latest guides.
Thank you for subscribing
We will be in touch soon with discounts on tickets and hotels and our latest guides.
Related Articles