30 Best Things to Do in Santiago, Chile
Destguides may receive commissions from purchases made through affiliate links in this article.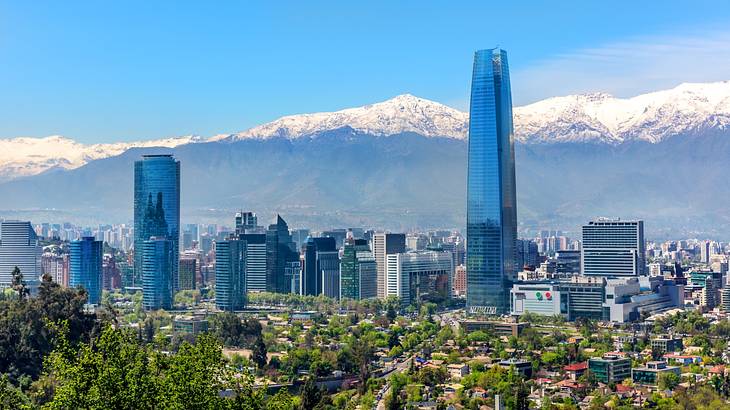 Santiago is the beautiful capital city of Chile. Surrounded by the famous Andes Mountains range, it's home to numerous other landmarks and attractions, from museums and parks to markets and much more.
If you're planning a trip to the capital soon, this list of the best things to do in Santiago, Chile, will give you an idea of all the activities you can enjoy when here. Keep reading to discover 35 of the top activities in and around Santiago!
30 Santiago, Chile, Things to Do
Top Things to Do in Santiago, Chile
Visit La Moneda Palace
La Moneda Palace has been an important landmark in Santiago since 1805 and is on Chile's UNESCO World Heritage Site Tentative List. It's currently the seat of the President of the Republic of Chile, and parts of the building are also open for tours. Best of all, entry is free!
If you want to see some more landmarks along with La Moneda, you could sign up for a Santiago half-day tour, with other stops including Catedral Metropolitana and Plaza de La Constitucion.
There are protests here from time to time (there was one when we were there), and it is best not to get involved, to keep your distance and look from afar if you're just walking in the area when a demonstration is occurring. Chile has an interesting historical and political background that is worth getting to know!
View artworks at Museo Chileno de Arte Precolombino
Art lovers can't miss visiting the Chilean Museum of Pre-Columbian Art. As the name suggests, the museum focuses on pre-Colombian artworks and also houses artifacts from across Central and South America.
Art mediums to see range from pottery to textiles and masks and mor. To make admission easy, you can purchase Museo Chileno de Arte Precolombino tickets in advance.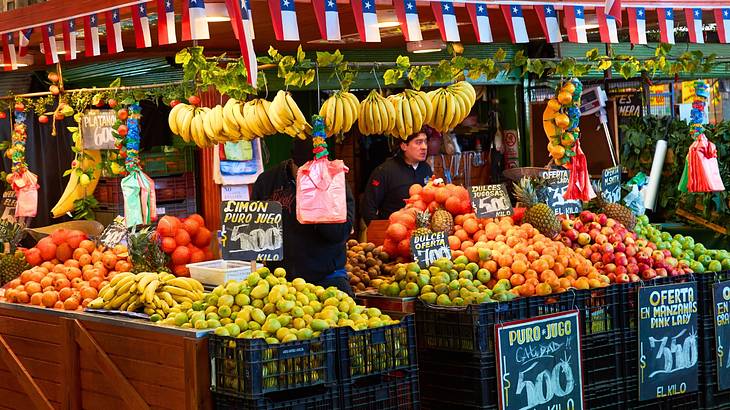 Shop at Mercado Central de Santiago
Opened in 1872, Santiago Central Market remains a popular place to shop for local produce and other goods. The market is open daily, and visitors will be able to enjoy the bustling atmosphere while checking out a variety of vendors.
Things for sale range from colourful fruit and vegetables to fresh seafood. Tourists that want to see some more local markets can join a Santiago markets biking tour, which takes you to Mercado Tirso de Molina as well as other attractions. Keep an eye on your belongings when in this area.
Dine at Boragó
If you're looking for the best restaurants in Santiago, Chile, Boragó is a must-visit. Named one of Latin America's top 50 restaurants in 2022, the eatery is known for its creative dishes that use local ingredients. Even the water to drink here is unique as it is sourced from the rain of Patagonia.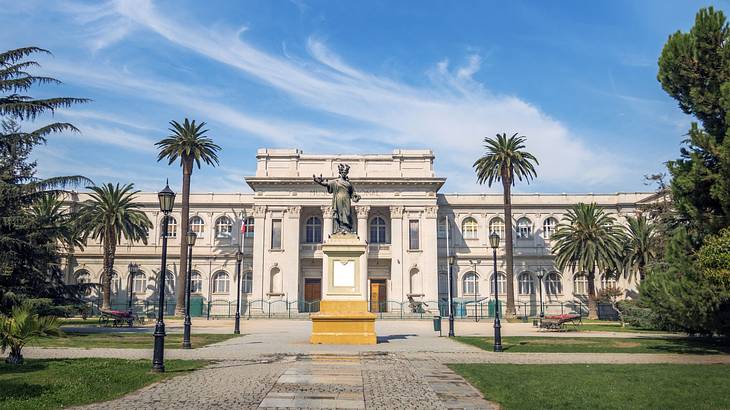 Learn new things at Museo Nacional de Historia Natural
The Chilean National Museum of Natural History is another of many top Santiago, Chile, tourist attractions to visit. Founded in 1830, the museum is one of the oldest museums of its kind in South America.
Exhibits cover various topics, from cultural anthropology to ecosystems in Chile and paleontology. You can even see a 17-metre sei whale skeleton in the Central Hall!
Go to Museo de la Memoria y Los Derechos Humanos
The Museum of Memory and Human Rights opened in 2010 and is a highly recommended attraction to visit. This museum is dedicated to the victims of human rights violations in Chile under the dictatorship of Augusto Pinochet from 1973 to 1990.
Audio guides are available in English and Spanish, with both offering more information on all of the exhibits you see. There is quite a lot to view here, so put aside at least a few hours for your visit. The museum is free to visit, with donations welcome.
Admire artworks at Museo Nacional de Bellas Artes
Art lovers won't want to miss visiting the vast Chilean National Museum of Fine Arts. Established in 1880, the gallery now holds an extensive collection featuring many works by Chilean and other Latin American artists.
You'll also want to admire the museum building itself during a visit. Constructed in 1910, the stunning structure called the Palace of the Fine Arts was designed by Emile Jéquier, a Chilean architect.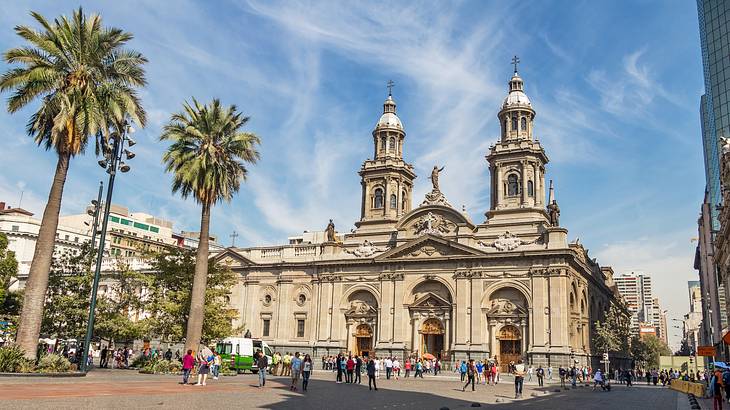 Marvel at Catedral Metropolitana de Santiago in Plaza de Armas
Santiago Metropolitan Cathedral is a breathtaking site to see. The Neoclassical-style building sits in Plaza de Armas and opened in 1775. Renovations and updates have also been done since, including making the building more earthquake-proof.
During a visit to the cathedral, you can admire the external architecture and wander through the main part of the interior. Inside, you can see fantastic design elements like beautiful ceiling frescoes.
Nearby the square, you'll also see another impressive piece of architecture, Palacio de Los Tribunales de Justicia de Santiago. If you want to book accommodation around these landmarks to have easy access, Santiago Centro is the best place to stay in Santiago.
Tour La Chascona
La Chascona was previously owned by the famous Chilean Poet Pablo Neruda and is now a popular tourist destination. When visiting the home of Pablo Neruda, you'll notice its unique and quirky architectural style and design, with elements intended to reflect the poet's love of the sea. You can also learn more about Neruda's life and work during a tour.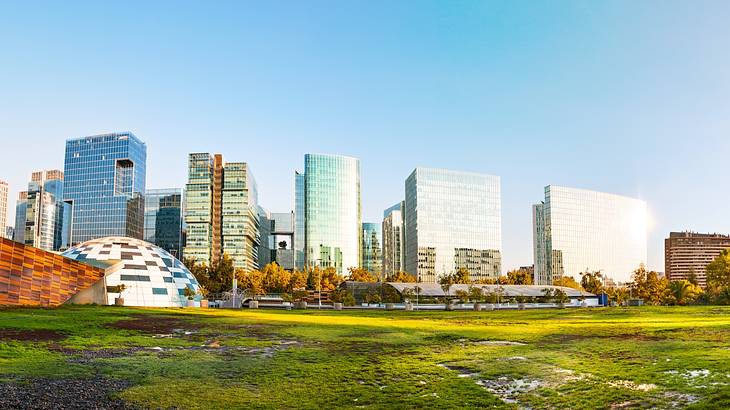 Explore Parque Araucano
If you're looking for a place to escape the bustle of the city, Araucano Park is a great spot to check out. The beautiful public park has a rose garden, scenic trails, and lots of opportunities to see wildlife, including colourful wild parrots. This park is also an excellent place to go to watch the sunset.
Look around Iglesia de San Francisco
Another unique religious building to visit is the Church of San Francisco. This Franciscan church is one of the oldest colonial structures in Chile.
Interestingly, it has withstood 15 earthquakes! While it survived the quakes, the church did receive some damage that needed fixing. Renovating the church throughout the years means it now features multiple architectural styles.
After admiring the exterior, you can go inside to discover quirky features, like an altar to people's dogs that have passed. Chileans love their dogs a lot, so this feature, complete with dog photos in quaint picture frames, isn't surprising!
Walk through Barrio Paris-Londres and take photos
While exploring the city, be sure to stop by Barrio Paris-Londres, a unique pedestrian area that resembles the Latin Quarter in Paris. This neighbourhood dates to the 1920s and was created due to the elites in Chile being somewhat obsessed with replicating anything European.
Today, you can wander cobblestone streets, admire the architecture, and check out a few small shops and restaurants. Don't forget to take some photos as well!
Wander through Parque Bicentenário
Bicentenario Park is another great outdoor space to check out. Visitors can stroll along various trails, including those that take you around the tranquil Laguna de Peces.
You can also wander to Laguna de las Aves, which is home to flamingos, and there are many picnic areas throughout the park. Before or after exploring the park, you can go to Mall Costanera Center, which is a massive modern shopping mall south of Parque Bicentenário.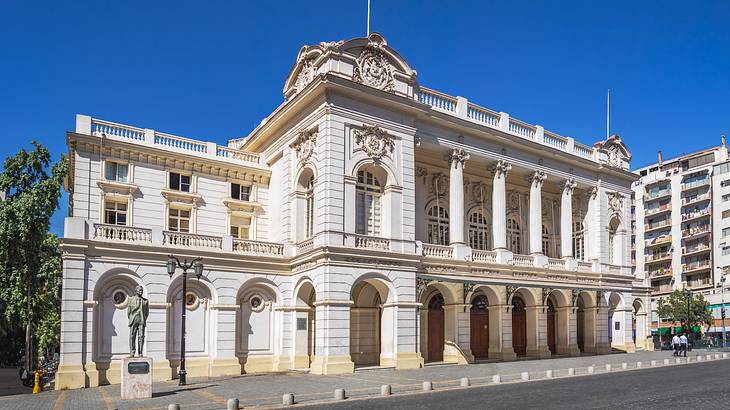 Join a free walking tour
Going on a free walking tour is one of the best activities in Santiago, Chile, to do. It is the perfect way to see several of the city's top landmarks. One of the best companies to do this with is Guru Walk.
Carlos, a local Santiago guide, will take you to various landmarks and attractions while teaching you more about the city's history and culture. A few of the places he visits include the Municipal Theater of Santiago and Plaza de Armas.
This tour takes about two and a half hours, and while there is no upfront fee, tipping is recommended as this is what he does for full-time work.
Grab coffee at Café Triciclo
Café Triciclo is one of the best places to get coffee in Santiago, Chile. The shop has specialty coffee that you can enjoy in various drinks, from a cappuccino or espresso to unique drinks like a ginger beer and cold brew mix.
Plant milk, like oat milk, is also available, and you can choose delicious baked goods, such as brownies, or toast with different spreads, like hummus or avocado, to accompany your beverages.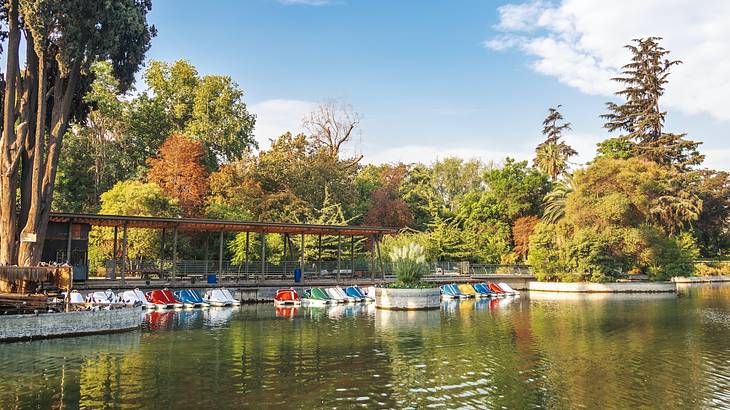 Paddle boat at Parque Quinta Normal
Quinta Normal Park is another of the pretty parks to visit in Santiago. One of the most popular features here is the scenic lake, where you can go paddle boating.
The 88-acre space is also home to the Railway Museum of Santiago and the National Museum of Natural History. Additionally, it has many areas to sit and chat and tree-lined trails to walk along.
Go to Parquemet Parque Metropolitano de Santiago
Santiago Metropolitan Park is one of the city's most well-known tourist attractions and the largest urban park in Chile at 1,780 acres. The park is not only a relaxing outdoor space but is also home to many attractions.
A few points of interest in the park include a Japanese garden, Cerro San Cristóbal, and Santuario de la Inmaculada Concepción. Along with visiting these attractions, you can follow trails and hang out on the grass with a picnic while taking in the views.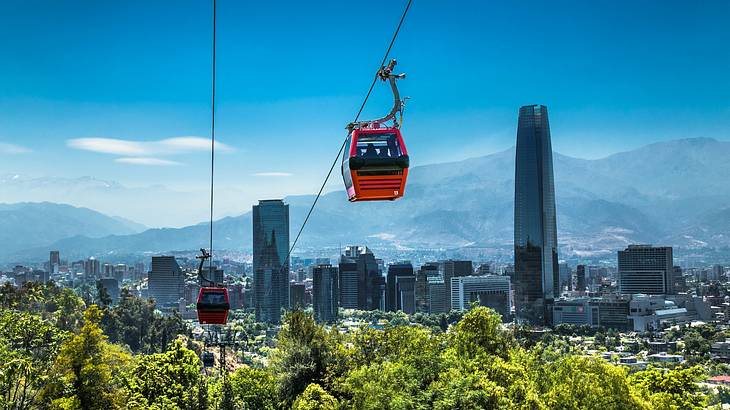 Take in the view from Cerro San Cristóbal
San Cristóbal Hill is located within Parquemet Parque Metropolitano de Santiago and offers stunning views over the city. The hill's peak is the third highest in Santiago and can be reached via a hiking trail.
Alternatively, you can take the Funicular de Santiago up the hill, which allows you to enjoy incredible panoramic vistas all the way up. Interestingly, the Andes Mountains are the parent range of San Cristóbal Hill.
Unwind at the Jardín Japonés
Located in Parquemet Parque Metropolitano de Santiago, the Jardín Japonés is one of the most beautiful things to see in Santiago, Chile. As you wander around the tranquil outdoor space, you'll see traditional Japanese structures, lily ponds, and lots of pretty plants and flowers.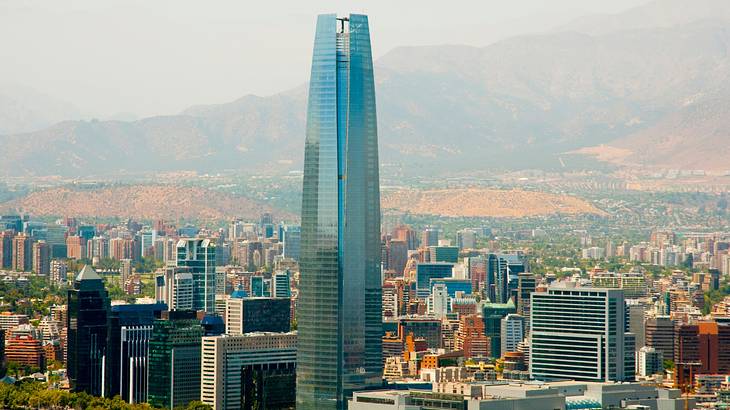 Check out the shops at the Costanera Center
If you want to unwind a little with some retail therapy, plan a trip to the Costanera Center. Covering six floors, the mall includes an array of shops for all tastes. There are also two high-end hotels within the complex, which have stylish bars to stop at for a drink, like Luna Bar at The Marriott.
Notably, the mall is the biggest shopping mall in South America. Additionally, the Gran Torre Santiago within the complex is one of the tallest buildings in Latin America.
Appreciate the views at Sky Costanera
Also located within the Costanera Center is the Sky Costanera observation deck. Situated approximately 300 metres above street level, the deck is surrounded by floor-to-ceiling windows that allow you to appreciate panoramic views of Santiago. On a clear day, you can even see the Andes Mountains.
While there is an entry fee to get to the observation deck, it's definitely worth it, with many saying Sky Costanera offers the best views of the city. It's also a good idea to go as early in the morning as possible to avoid the high levels of smog that affect the vistas later in the day.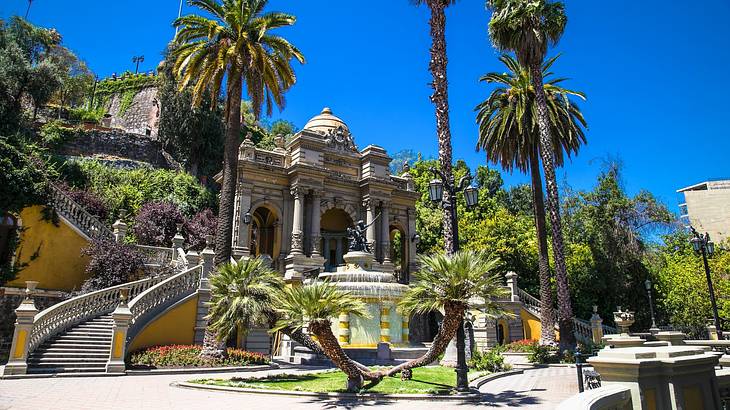 Hike to the top of Cerro Santa Lucía
Santa Lucía Hill is another excellent place to go to admire views of the city. The hike up the 230-foot hill is relatively gentle and suitable for most activity levels.
Along with admiring the views over the city, you can see some landmarks like Terraza Caupolican and Fuente Neptuno, a Neoclassical fountain with a sculpture of Neptune.
Have coffee or a meal in Barrio Italia
You will find many unique neighbourhoods to explore in Santiago, with Barrio Italia being one of the most popular. The area features colourful architecture and top restaurants and cafes.
It's the ideal place to go for a walk before stopping for a coffee or a meal. You can also see lots of impressive street art in this neighbourhood.
Grab fries with a variety of toppings from Papachecos
When you need to stop for a snack, getting fries topped with various items at Papachecos is an excellent idea! Located in Barrio Italia, it's a popular place for school kids to get something to eat, but adults can also enjoy it. Toppings include meat, veggies like mushrooms, and condiments, such as a range of flavoured mayonnaises.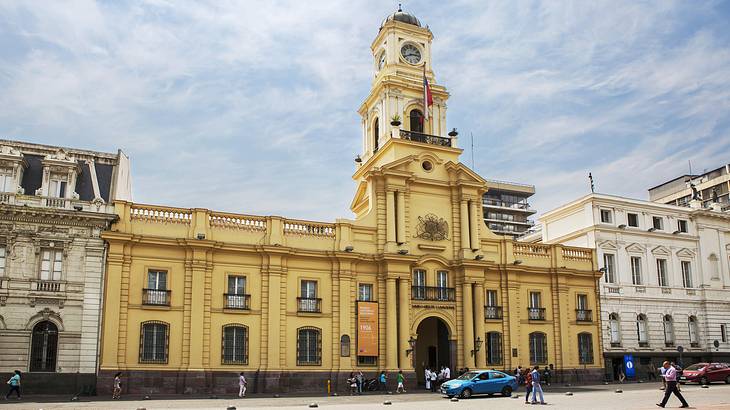 Find out about Chilean history at Museo Histórico Nacional
Located in the Royal Court Palace, the National History Museum of Chile is a top place to go to learn more about the country's history.
This landmark opened in 1911 and today features exhibits covering history from pre-Colombian eras through the 1970s. As you look around, you'll also see many artifacts, including artworks, military items, and archeological finds.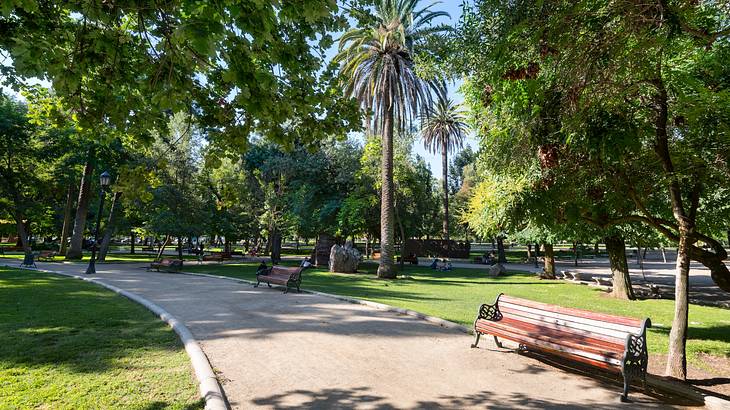 Take a brisk walk in Parque Forestal
Going to Parque Forestal is another of the places to visit in Santiago, Chile, that allows you to enjoy the fresh air. As with other urban parks in the city, you'll find a few trails to walk along, which offer pretty views of trees and other plants.
Notably, you can see several ​​Old World sycamore trees here. Some renowned attractions are also located here, like Museo Nacional de Bellas Artes.
Treat yourself to ice cream at Heladería Emporio La Rosa
Heladería Emporio La Rosa is a very popular ice cream shop in the city and well worth a visit if you have a sweet tooth. At the ice creamery, you can get ice cream by the scoop or in a cone or opt for an ice cream bar.
Flavours for all tastes are on offer as well, from fruity flavours like pineapple to more decadent options, such as dulce de leche.
Best Things to Do Near Santiago, Chile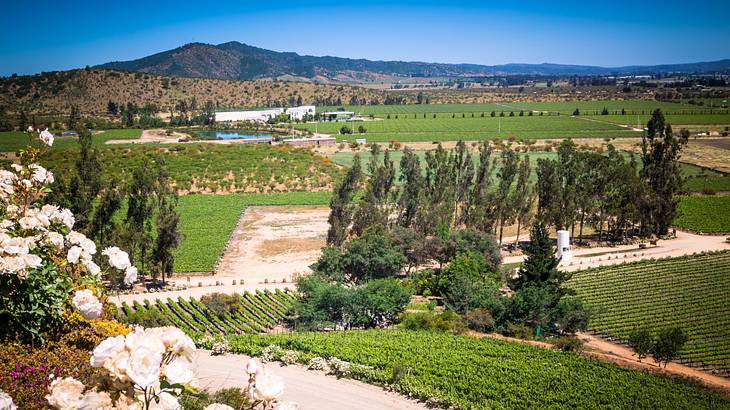 Plan a trip to Casablanca Valley
There are many fun things to do in Santiago, Chile; however, you can also find day tours to enjoy that take you to excellent nearby destinations. If you can't decide where to visit, going to Casablanca Valley is a fun day trip to do.
The area is known as one of Chile's wine-growing regions and features beautiful scenery and many attractions, including wineries that offer tours and tastings. You can travel to the area in around an hour when driving.
You can also join a Casablanca Valley tour that includes transport to and from Santiago.
Experience the beauty of the Andes and the Inca Lagoon
If you're looking for another fantastic day trip, book a tour from Santiago to the Inca Lagoon. The stunning Laguna del Inca is located in Portillo within the Andes Mountains range and, interestingly, changes colour throughout the seasons from emerald green to turquoise and deep blues.
During this full-day excursion, you can also have lunch in the ski town of Portillo and visit some other places, including San Esteban Vineyard, and see Aconcagua, the highest mountain in the Americas.
Spend a day exploring Valparaíso and Viña del Mar
Another fun activity near Santiago is booking a day tour of Valparaíso and Viña del Mar. This 10-hour tour will take you to a range of attractions around the coastal cities.
Places to visit include Palacio Baburizza, which houses an art gallery, and Cerro Concepcion. On the way back to Santiago, you can also stop in Casablanca Valley to visit a winery.
In Conclusion
If you've been wondering what to do in Santiago, Chile, this list of activities in and around the city should have given you many ideas. Whether you enjoy visiting unique museums, going to scenic parks, or exploring local markets, you'll find many things to do in Chile's capital city!
Give us feedback about this article
Learn more about Santiago:
More articles about things to do:
---
---
Want to keep exploring?
Subscribe for discounts on tickets and hotels and our latest guides.
Thank you for subscribing
We will be in touch soon with discounts on tickets and hotels and our latest guides.
Want to keep exploring?
Subscribe for discounts on tickets and hotels and our latest guides.
Thank you for subscribing
We will be in touch soon with discounts on tickets and hotels and our latest guides.
Related Articles