30 Famous Landmarks in Costa Rica for Your Bucket List
Destguides may receive commissions from purchases made through affiliate links in this article.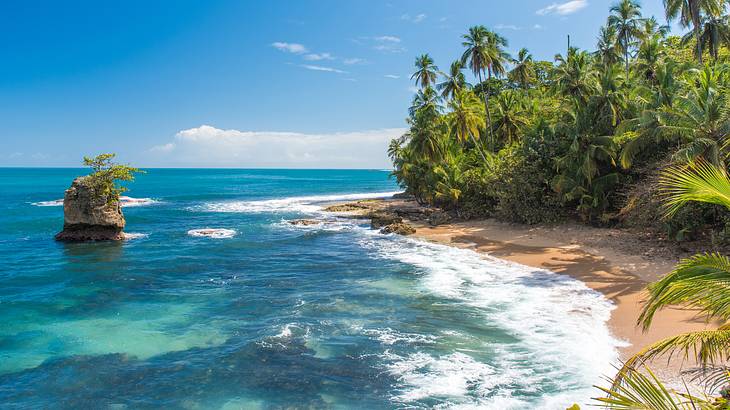 With turquoise waters, white-sand beaches, and plenty of famous landmarks in Costa Rica to see, this is a seriously beautiful country that should be at the top of your bucket list for countries to visit.
Costa Rica is full of stunning national parks across the country. Each is filled with natural wonders like volcanos, many waterfalls, and mystical cloud forests that form at the top of tree canopies. The country's rich and diverse culture can be seen throughout monuments and museums, mainly in the capital of San José.
From the various wildlife that roams the jungle terrain to sweeping coastal views, this central American country really impresses. Below are the 30 Costa Rica landmarks and monuments that you shouldn't miss on your next trip.
30 Famous Landmarks of Costa Rica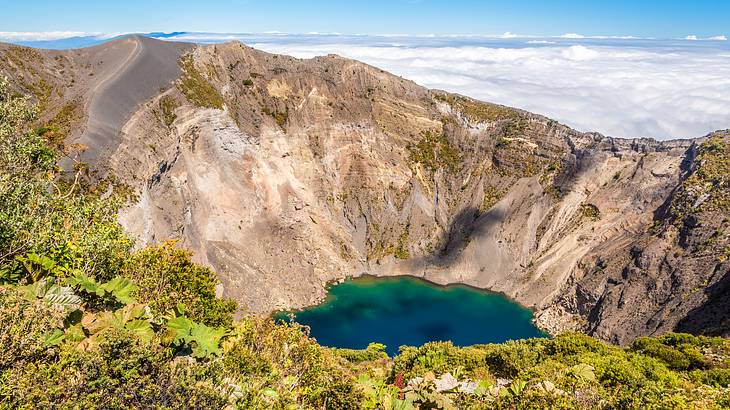 Irazú Volcano, Cartago Province
One of the most popular landmarks in Costa Rica is the Irazú Volcano, which is situated near Cartago in the country's Cordillera Central area. As the tallest active volcano in Costa Rica, it's one of the best to go and visit.
Because it has so many layers, Irazú is actually known as a stratovolcano and is thought to have taken its name from the towns that sit at its base. This volcano is one of the grandest in the world, with five craters and breathtaking views from the top. If you visit Costa Rica, you have to take a trip to this natural phenomenon!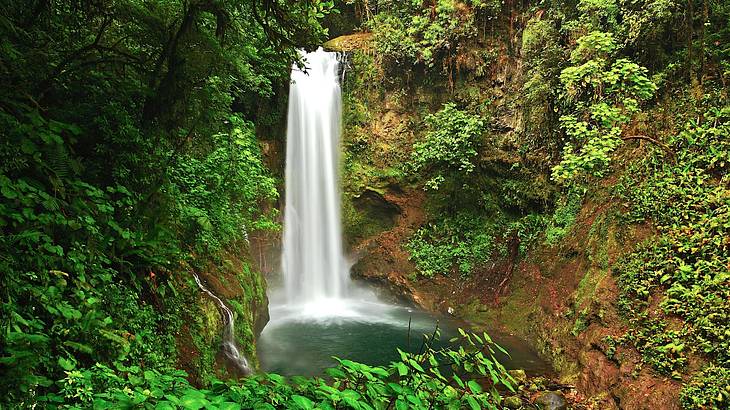 La Paz Waterfall Gardens, Vara Blanca
Take a day trip to the La Paz Waterfall Gardens and be treated to incredible views of five magnificent waterfalls. La Paz Waterfall Gardens are located near San José and is Costa Rica's number one privately-owned eco-attraction. It is a must-visit on your Costa Rica itinerary!
Also, in the gardens, you will get to see a cloud forest and rainforest alongside an aviary and butterfly observatory. Make sure to keep an eye out for hiding capuchin monkeys and spider monkeys, as there's wildlife in abundance at this park.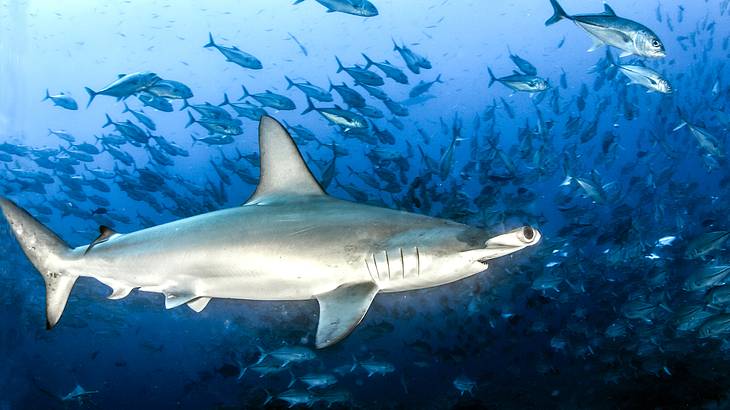 Cocos Island, Puntarenas
340 miles off the Pacific Coast of Costa Rica lies Cocos Island, a lush green paradise for locals and tourists alike. The whole island was actually dedicated as a National Park in 1978, which means that there are no permanent residents other than the park rangers who protect the area.
To get to the island, you will need to book a boat from Puntarenas well in advance, easily accessible from San José.
There are lots of things to do on Cocos Island; you can go scuba diving, hike up to one of the many impressive waterfalls, or even take a tour to learn about the wildlife that lives on this stunning island.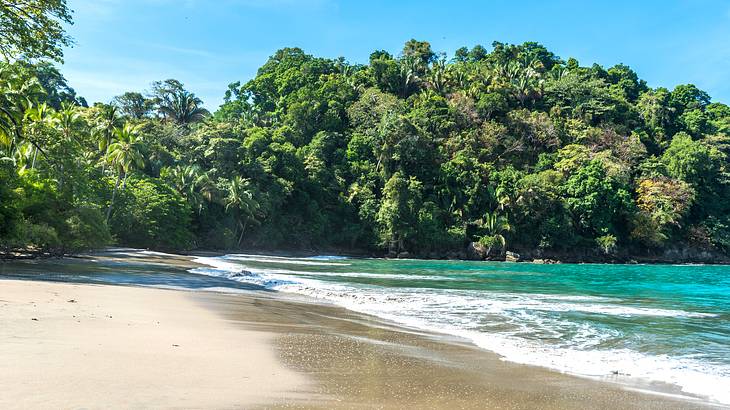 Manuel Antonio National Park, Puntarenas
One of the best places to visit in Costa Rica is Manuel Antonio National Park, a protected rainforest area near the eastern coast. The park is located less than a two-and-a-half-hour drive from San José, in the Puntarenas province of Costa Rica.
You need to spend a few days here as there is so much to do: rainforest hikes, wildlife tours, and watersports, just to name a few. A helpful Costa Rica travel tip to know is that it is easy to book most activities, as the sun sets every day at 6 pm!
Manuel Antonio National Park also has numerous stunning beaches that should be at the top of your list. White sand and crystal-clear waters make this area feel like paradise.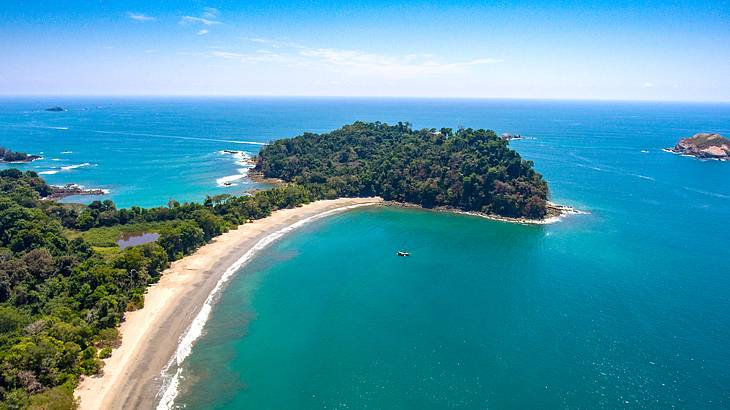 Cathedral Point, Manuel Antonio National Park
Located at the end of Manuel Antonio National Park, Cathedral Point should be next on your bucket list for Costa Rica. Looking something like an arrow point and covered in lush jungle, Cathedral Point is home to a host of hiking trails, many of which end at the very tip of the land.
Keep an eye out on your surroundings if you do a walk at Cathedral Point, as you might be able to spot a sloth sleeping in the trees above. Once you get to the very end of the hike, you also have a beautiful photo opportunity of the sparkling waters in front of you.
The Jade Museum, San Jose
The Jade Museum in San José is dedicated to preserving Costa Rican Jade and features the largest collection of pre-Columbian jade in the world.
Jade is semi-precious and found throughout the entire Central American region. In ancient Costa Rica, tribes would use the gem to craft most items, many of which can be seen on display in the museum today.
To get the best value for money, purchase the museum pass that gives you entrance into the Jade Museum, The National Museum, and the Pre-Columbian Gold Museum. This way, you get to see more of Costa Rica's exciting history and learn about the Pre-Columbian era that shaped the nation.
La Sabana Park, San Jose
La Sabana Park is a large metropolitan park situated in downtown San José. The park is so important to locals that it earned itself the nickname 'the lungs of San José.'
The park is mainly used for recreational sports activities, but it also boasts the country's major stadium and the Costa Rican National Art Museum. Also in the park is a shooting range, an athletics track, and a large artificial lake that's the perfect place for kayaking and canoeing.
If you are in the metropolis that is San José, this is a great way to escape the bustle of the city while still getting to see more of Costa Rica and the culture present in the country today.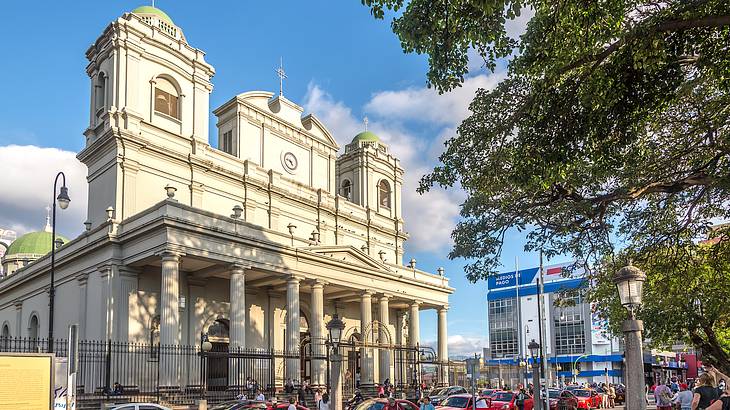 San José Metropolitan Church, San Jose
As a predominantly Catholic country, religion is a highly prominent part of life for Costa Ricans. Because of this, the San José Metropolitan Church is one of the most important landmarks in Costa Rica.
The San José Metropolitan Church was originally built in 1825, as San José had to have a church to be considered a city. It became a cathedral 23 years later when Anselmo Llorente was ordained at the establishment.
The church is a great place to visit and is visually very interesting. Many earthquakes have meant that the church has had plenty of structural rebuilding throughout the years, yet the exquisite details inside remain intact.
The National Museum of Costa Rica, San Jose
For an afternoon of educational fun, head to The National Museum of Costa Rica in San José to learn all about the history of this vibrant land in Central America.
The museum sits opposite the legislative building for the Costa Rica government, in a military fortress built in 1917. Interestingly enough, the fort was used during the 1948 Costa Rica civil war, and you can still find bullet holes in the walls today.
The museum displays hundreds of years of Costa Rican history, from pre-Colombian times up until the present day, and it is a great place to get to know more about the destination.
National Theater of Costa Rica, San Jose
Another important landmark in San José is the National Theater of Costa Rica. The building itself is a neoclassical dream, and the theater was first opened to the public in 1897 with an exciting performance of Faust by Wolfgang von Goethe.
Today, the theater is not only a tourist attraction but hosts performances multiple times throughout the week. The National Symphonic Orchestra also performs here, along with other Costa Rican and foreign composers.
If you can, it's highly recommended to get tickets and spend an evening watching a performance - you can check the showtimes and book tickets months in advance.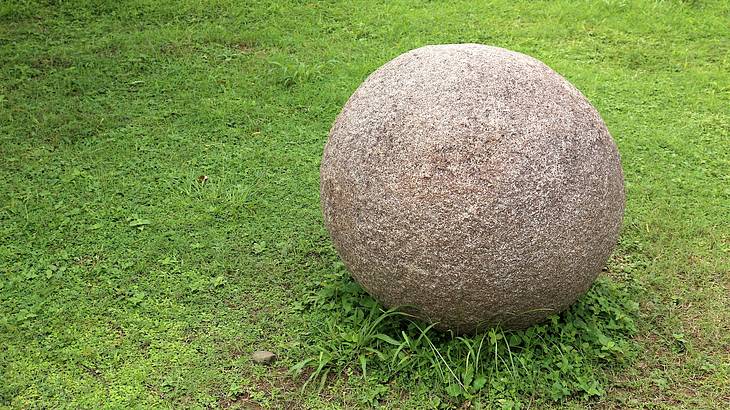 The Diquís Spheres, San Jose
Paying a visit to The Diquís Spheres is one of the more unique things to do in Costa Rica. This tourist attraction is literally a garden full of stone spheres, but they hold hundreds of years of history inside them.
Despite attracting thousands of visitors each year, nobody is quite sure why these balls are here. They are thought to have been placed there to line a pathway to Chief's houses for centuries.
In 2014, The Diquís Spheres were added to UNESCO's list of World Heritage Sites, and they have even been labeled as a national symbol of Costa Rica.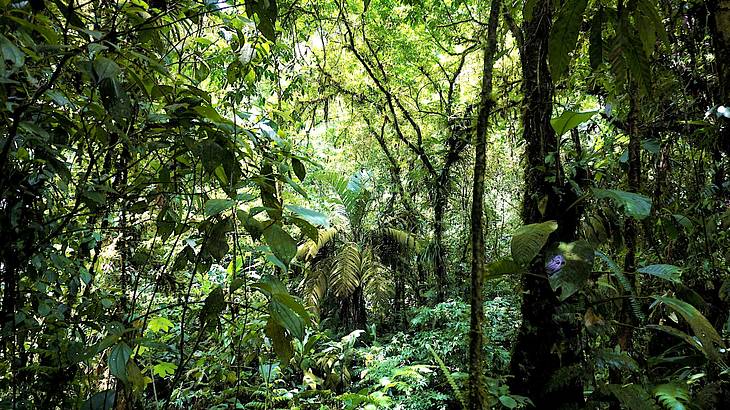 Braulio Carrillo National Park, San Jose
Next to a major highway, you will find Braulio Carrillo National Park and the vast amount of lush virgin forest that makes up the park. It's because of the busy highway that the park was actually first protected, as authorities wanted to make sure that the nature here was left unharmed.
Wander into the forest, and you'll be greeted by over 500 species of birds and 150 kinds of mammals; many of these are native to Costa Rica.
But, it's the hiking trails that gather so much attention from tourists. Surrounded by unique plants, a hike through Braulio Carrillo National Park transports you far away from the busy highway that intersects the trees.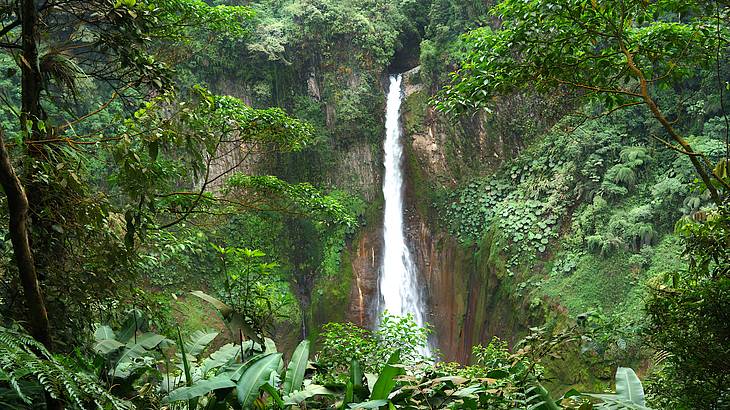 La Fortuna Waterfall, San Carlos
Meaning 'The Fortune' in Spanish, La Fortuna Waterfall is located in the Arenal Volcano National Park in San Carlos. It is one of the most commonly visited landmarks in Costa Rica.
The waterfall is 70 meters high, and you have to climb around 530 steps to get there, but it is definitely worth the walk as the views of La Fortuna are incredible.
You can even swim in La Fortuna. It's a bit cold, but you'll find many other people taking the plunge. Make sure to stay near the rocks as the current can be pretty strong nearer to the cascade area.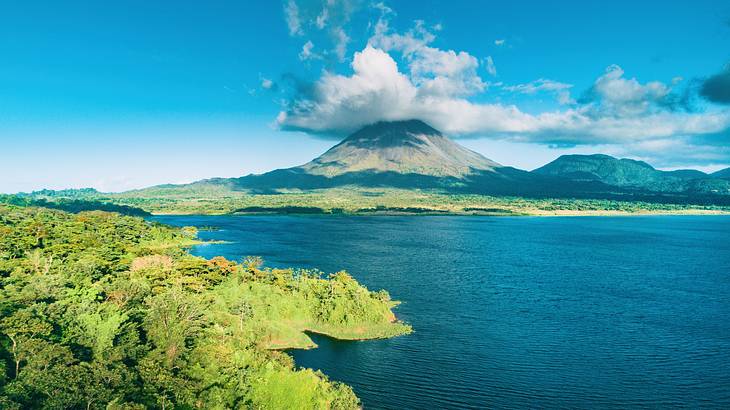 Arenal Volcano, San Carlos
Inside of Arenal Volcano National Park sits the centerpiece of the area, Arenal Volcano. The park is found 56 miles to the northwest of San José, in the Alajuela province.
Interestingly enough, the volcano lay dormant for hundreds of years before having a surprising eruption in 1968. It sadly destroyed the whole town of Tabacon and created three more craters on the volcano (though you can only see one today).
But don't worry, it's safe to visit again! Arenal Volcano has been dormant since 2010 and welcomes visitors who want to get up close and personal with the Costa Rican volcano.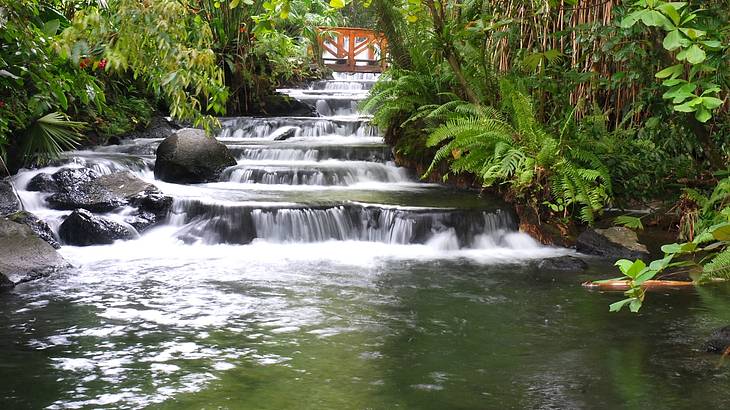 Tabacon Hot Springs, La Fortuna
Near the base of the Arenal Volcano is where the mineral waters found at the Tabacon Hot Springs originate. Now, people can experience them as part of a Thermal Spa & Resort. The minerals flow through a thermal river, over waterfalls, and into numerous natural pools containing volcanic rock from when the volcano erupted.
Visitors can relax and unwind while bathing at one of the pools and then follow this up with a memorable meal in one of the two restaurants. Or, better yet, a late nightcap in one of the three bars before retiring to one of the luxury rooms to get a good night's sleep.
The surrounding area is still beautiful and incredibly popular with tourists from all around the world - the thermal spa enhances the site rather than spoiling it.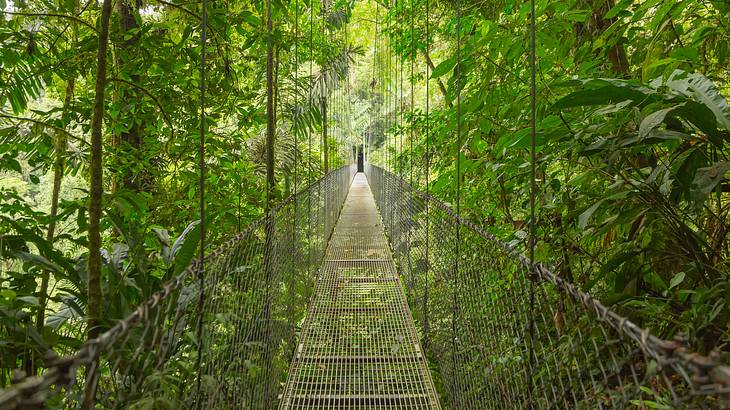 Mistico Hanging Bridges, La Fortuna
One of the most unique things to do in Costa Rica is to spend an afternoon marveling at the sights from the Mistico Hanging Bridges that hang in front of the Arenal Volcano in the national park.
This is one of the most breathtaking experiences you will ever experience – suspended above the trees in a tropical paradise, you make your way across a series of hanging bridges. It takes around 2 hours to complete the walk and is free for those 10 years old or younger.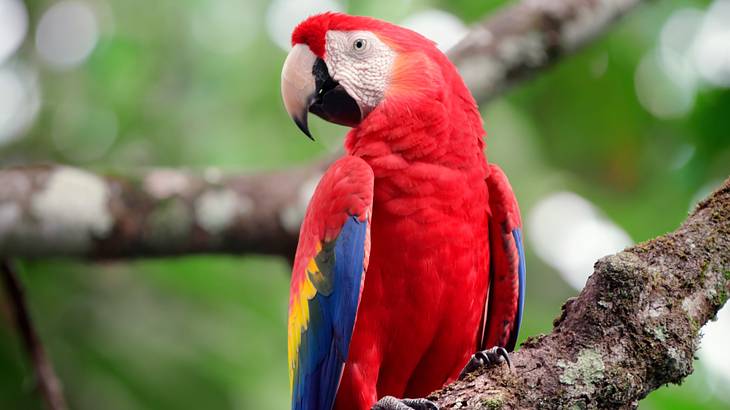 Carara National Park, Carara
Carara National Park is one of the best places to visit in Costa Rica. The park was developed to be a biological reserve, but due to its popularity amongst visitors to the area, it was upgraded to National Park status in 1998.
Situated in the Central Pacific Conservation Area near the Pacific coast of Costa Rica, the park hosts a multitude of various flora and fauna from both dry and rain forests.
Carara National Park is also known globally as a bird watcher's paradise, made famous for its diverse birdlife, specifically the Scarlet Macaw (which is, unfortunately, an endangered species).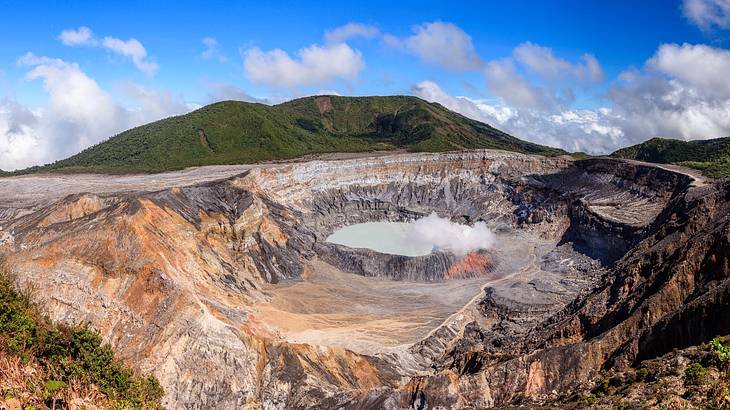 Poás Volcano Crater, Alajuela
Situated in central Costa Rica near the capital San José, the Poás Volcano crater is the second largest volcano crater in the world. It is still categorized as an active volcano. Near the top of the crater, there are two lakes where the stunning lagoons change color - the water turns from blue to green.
A large national park surrounds the volcano, with clear pathways allowing you within 300ft of the summit. The craters also have some of the largest geysers in the world, and the slopes underneath the crater boast coffee plantations and ornamental plant farms. The park is filled with plenty of biodiversity, including dwarf bonsai trees, hummingbirds, and toucans.
The Petroglyphs of Cacao, Guanacaste
One of the most famous landmarks in Costa Rica is the Petroglyphs of Cacao. These are drawings that cover the Cacao volcano and were the work of the Chirigua people who lived in Costa Rica over 1500 years ago. Many of these drawings are of animals and people, although many are not able to be identified.
The carvings on the volcano walls draw visitors in from all over the world, and it is thought that there are several hundred petroglyphs dotted across the natural wonder. Although, this number changes all the time as new drawings are discovered, even as recently as 2017.
Rivas Megalithic Monuments, San Jose Province
This picturesque national landmark is just south of the modern town of Riva, close to San José, and makes for a fantastic day excursion from the Costa Rican capital. The landmark boasts a vast collection of megalithic pottery and musical instruments that, according to archaeologists, date back to the ancient Chiriqui period.
This is a great place to visit if you want to learn more about the history of Costa Rica, including the tribes that used to inhabit the land. You'll also get to view some unique artifacts that you can't find anywhere else in the world.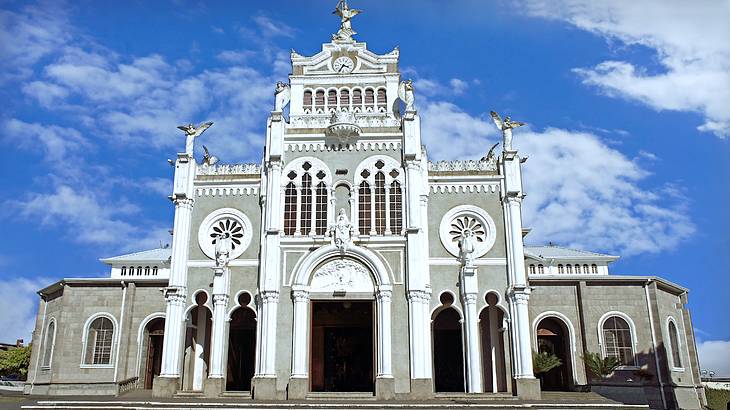 Basilica of Our Lady of the Angels, Cartago
Originally built in 1639, Our Lady of the Angels Basilica, or The Basílica de Nuestra Señora de los Ángeles/Santuario Nacional Nuestra Señora de Los Angeles as it's known locally, is an impressive basilica in Cartago, Costa Rica. The church had been partly destroyed due to several earthquakes, so it has recently been redesigned to make it more secure.
The site is vast, and a pilgrimage is held every August where locals and tourists embark on a 22-kilometer walk towards a rock surrounded by legend. The basilica is open to visitors all year round, but try to visit during the pilgrimage for an extra memorable experience.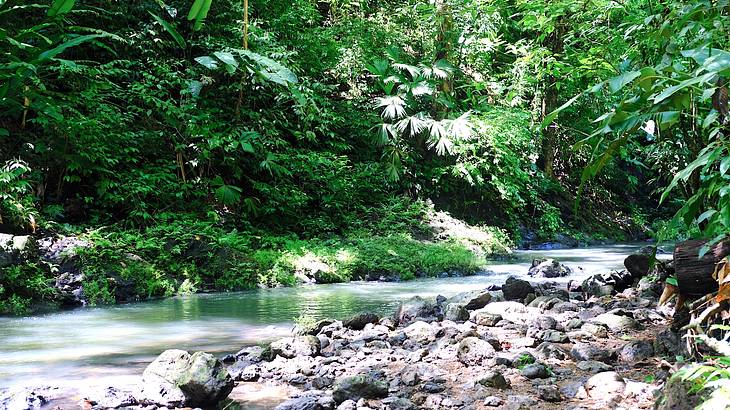 Corcovado National Park, Osa Peninsula
Corcovado National Park is a breathtaking nature reserve on the Osa Peninsula, maintained to protect tropical ecosystems native to Costa Rica.
Inside the large park, you will find an abundance of animal species, including scarlet macaws, tapirs, and jaguars, as well as hiking paths that stretch out along the perimeter of the park.
As it is a park managed by the local government, there is a fee, and you will need a permit to enter Corcovado National Park. But, it is definitely worth the hassle of gaining permission, as the views from inside the park are unlike any other.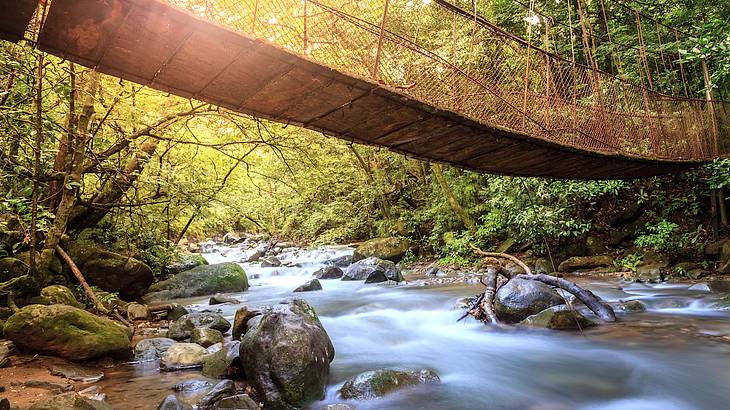 Rincón de la Vieja National Park, Liberia
Another majestic national park is the Rincón de la Vieja National Park, located in the Guanacaste province of Costa Rica. In fact, this park is so big it's packed with two volcanos, 32 rivers and streams, and a large variety of fauna – most of this native to the area.
While you're at the park, you can take part in swimming, hiking, horseback riding, or just relax and unwind in the natural hot springs found there.
Because it's so big, you actually experience different climates depending on which side of the park you are on. It is a lot drier on the west side, whereas the eastern part has a damper climate perfect for exploring tropical ecosystems.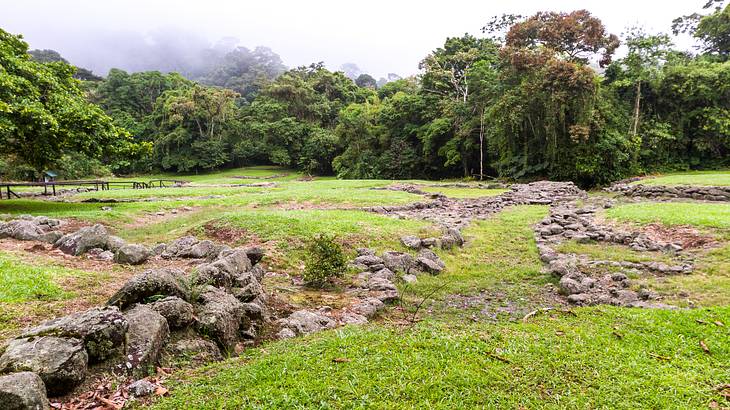 Guayabo National Monument, Turrialba
Situated in Costa Rica, near the city of Turrialba in the Cartago Province, the Guayabo National Monument is a well-known archaeological site. The monument is in part of the Central Conservation Area, close to the center of the Turrialba Volcano on the southside slopes.
This is the only protected national monument in Costa Rica and is ideal for visitors to come and explore the country's ancient cultures, with signs in both English and Spanish.
There are hiking routes to enjoy, and the area even caters for disabled visitors by having a trail for them to access and explore the beautiful vegetation and wildlife in the area.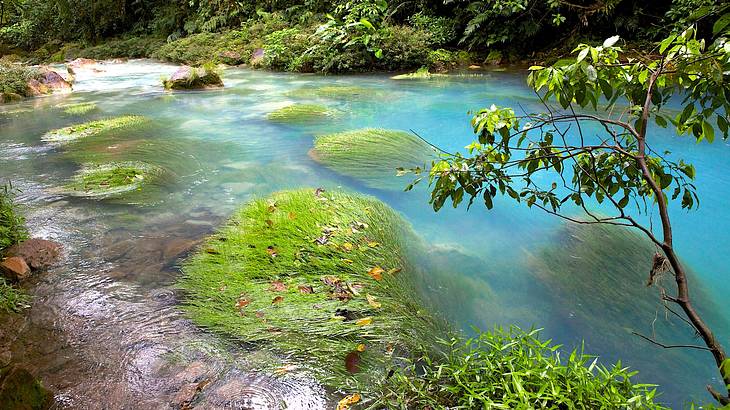 Rio Celeste, Tenorio Volcano National Park
Nestled deep inside Tenorio Volcano National Park, Rio Celeste is a river running through the center of the jungle. This river is famous for its dazzling blue color and butterflies that float around the water - it's the perfect photo opportunity and one of the most popular landmarks in Costa Rica.
You can hike the National Park trail to Rio Celeste, which is 3.7 miles long and takes around 3 hours to complete. Although you will want to make sure that you leave enough time to marvel at the spot's beauty.
The river is slightly out of the way, but it's worth combining with a few other Costa Rican landmarks on this list, including Montverde and Arenal Volcano.
Terciopelo Cave, Barra Honda National Park
Pay an exciting visit to the Barra Honda Caverns with a private guide, and you will be able to descend into Terciopelo Cave to explore the unknown cavern below. You will need to be fully equipped with a harness, hard hat, and headlamp when entering the cave for your safety.
But, with a guide, this is an enjoyable experience that is perfectly safe, allowing you to get out of your comfort zone and explore one of the intricate caves found in the Central American region.
Inside the cave, you will be met with series of passages that you and your expert guide will navigate alongside natural springs and, if you're lucky, a few species of flora that only spawns in dark, damp conditions.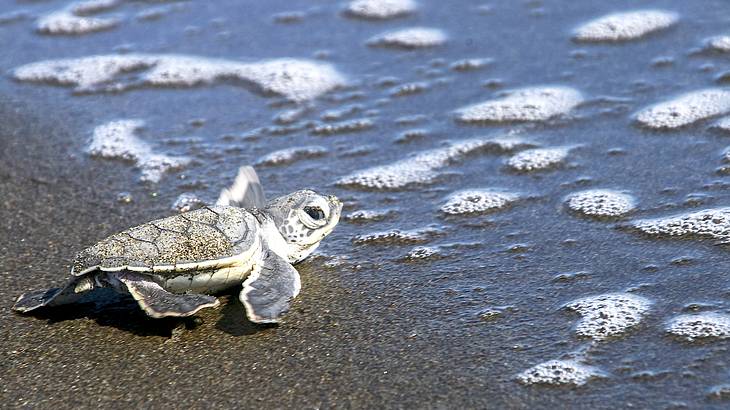 Tortuguero, Limon
A visit to Tortuguero is a must-do while you're in Costa Rica. This small village is located on the Caribbean coast and was made famous by the green turtles found on the beaches there.
The rainforest-covered sandy area is the perfect nesting site for turtles, where the village takes its name. Also, in the area, you might be able to spot rare manatees, Jaguars, and tapirs.
While it's highly recommended that you rent a kayak or boat to explore, the best way to see the turtles up close is to hike along the marked trail that runs along the beach.
El Miro, Jaco
El Miro is a unique landmark in Costa Rica, based on the country's western coast, on the site of a former mansion next to the beach named Playa Jaco.
It is widely believed that the original mansion was built for a wealthy owner who sadly died before it could be completed. But luckily for tourists today, it acts as a stunning viewpoint for those who take on the difficult jungle hike to reach the mansion grounds.
The ruins are now covered in cool graffiti, but head to the observation deck for incredible panoramic views of the surrounding coastline.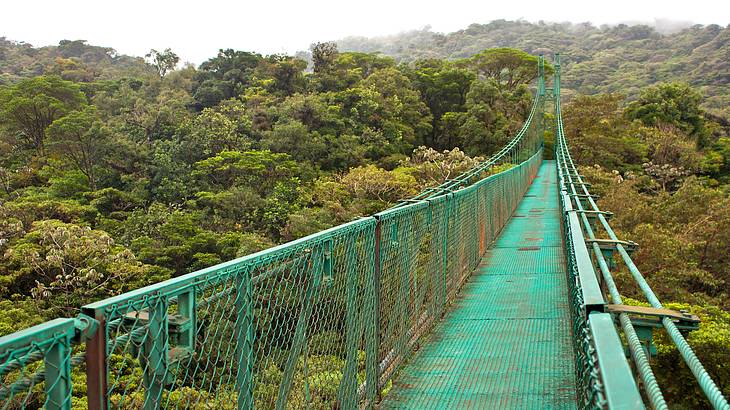 Monteverde Cloud Forest, Monteverde
You will find the Monteverde Cloud Forest, near Santa Elena, filled with nearly 2000 species of animals sprawled across 35,000 acres of land.
What exactly is a cloud forest? Cloud forests form when a mountainous subtropical climate allows for constant cloud cover over, which creates a mystical effect over the trees.
This hazy forest is a great place to explore in Costa Rica because the sun can't get through, exotic plants can grow, and there's a huge range of biodiversity under the cloud cover. There's also lots of wildlife hiding in the depths of the forest here, so make sure to keep your eye out.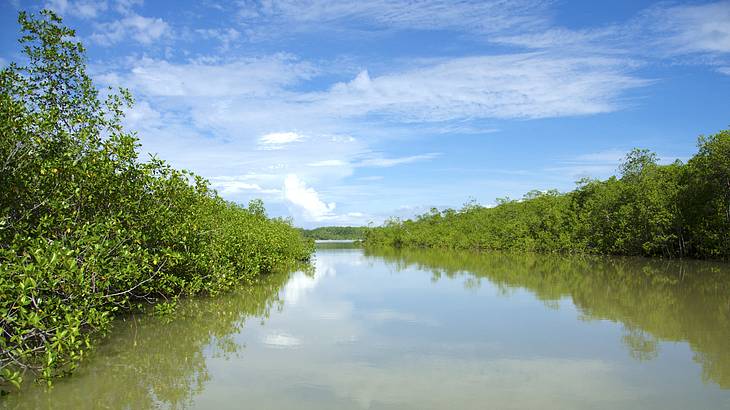 Damas Island, Quepos
Paying a visit to Damas Island is the best way to get off the beaten track and discover a less explored area of Costa Rica, all while making the most of a region less influenced by tourism.
Taking a mangrove monkey tour of the area is the coolest way to get up close and personal with some of the rarest (and cutest) Costa Rican animals. Not only are there multitudes of wildlife on this small island that lies off the coast of Jaco, but it's best explored in a kayak, so it makes for a fun experience for the whole family.
In Summary
These are just 30 of the many Costa Rican landmarks you can see on your trip to this beautiful Central American country.
From a variety of magnificent national parks to an iconic beach housing a huge turtle population, there are endless unique attractions that draw many visitors to Costa Rica each year. No matter what you enjoy doing on a trip, there's something for everyone here.
Especially perfect for an active hiking holiday, you should seriously consider adding Costa Rica to your bucket list, and try to see as many of the major landmarks in Costa Rica as you can.
Give us feedback about this article
Read more articles about Costa Rica:
More articles about landmarks:
---
---
Want to keep exploring?
Subscribe for discounts on tickets and hotels and our latest guides.
Thank you for subscribing
We will be in touch soon with discounts on tickets and hotels and our latest guides.
Want to keep exploring?
Subscribe for discounts on tickets and hotels and our latest guides.
Thank you for subscribing
We will be in touch soon with discounts on tickets and hotels and our latest guides.
Related Articles