A Unique Costa Rica Bucket List - 55 Amazing Things to Do
Destguides may receive commissions from purchases made through affiliate links in this article.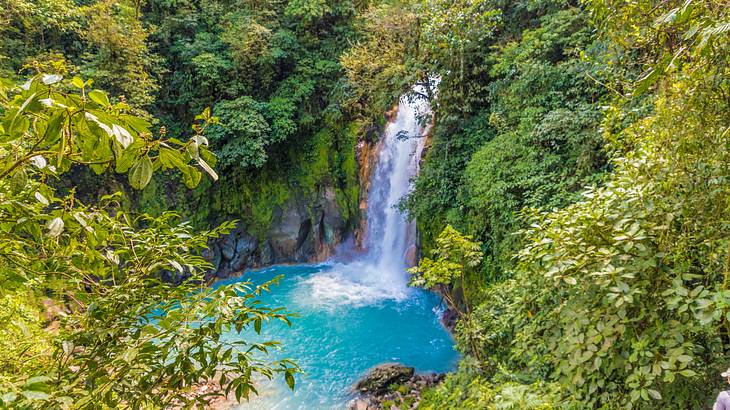 Costa Rica is one of the most popular Central American countries to visit. This lush country is teeming with wildlife, volcanoes, jungles, and thousands of years of history.
One of the most bio-diverse countries in the world, you'll find many unique things to do as you explore Costa Rica. There are numerous national parks to explore, beaches to relax on, adventures to have, and famous Costa Rican landmarks to learn about.
This perfectly curated Costa Rica bucket list gives you plenty of opportunities to get you out of your comfort zone, many options to get into a relaxation zone, plus everything in between.
Whether you're looking for adventurous things to do in Costa Rica, unusual things to do in Costa Rica, or even just the most popular, this list will help you plan your perfect trip. Continue reading to learn more!
55 Best Things to Do in Costa Rica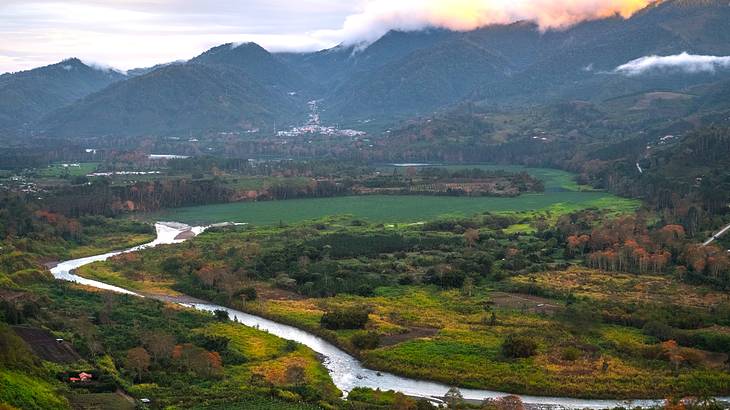 Learn Spanish at the Morpho Spanish School in Orosi Valley
If learning Spanish is on your Costa Rica to-do list, the Morpho Spanish School is a perfect option. Offering small-scale classes, usually one-on-one, ensures you meet your Spanish language goal. When you're not in class, you can explore the coffee plantations that the area is famous for.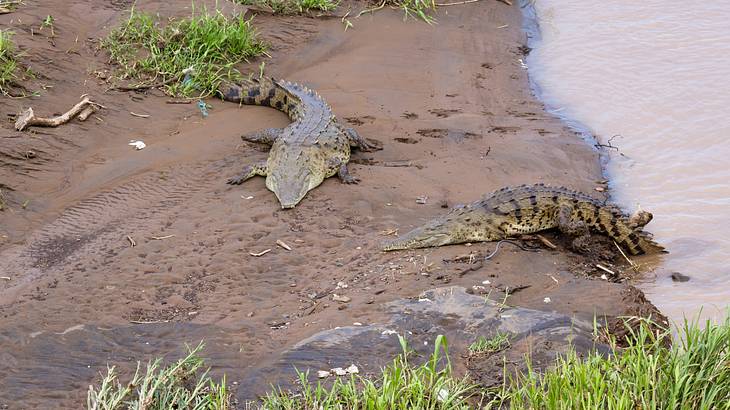 Watch the crocs on the Tarcoles River Bridge
The Tarcoles River is Costa Rica's main waterway flowing into the Pacific Ocean, and the giant American crocodile loves sunning itself on the banks. You can park on either side of the bridge (make sure to lock up and take everything with you) to view dozens of crocs at any given time. Spotting these animals is one of the most unique things to do in Costa Rica that will appeal to wildlife enthusiasts.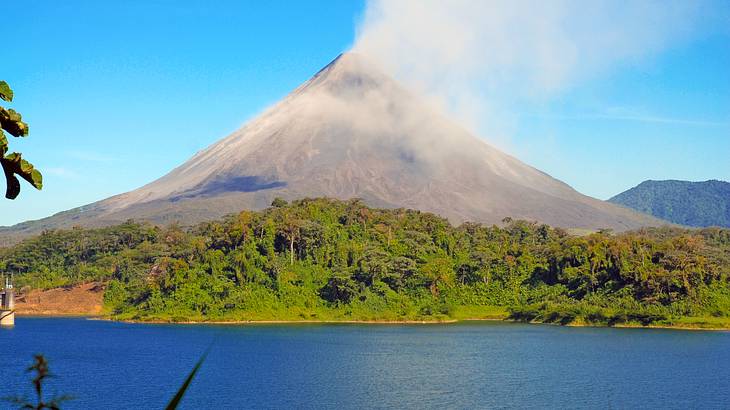 Visit volcanoes in the Arenal Volcano National Park
Sitting inside the Arenal Volcano National Park is its namesake, the Arenal Volcano, one of the most active volcanoes in the world, erupting almost nightly.
This volcano is also the perfect conal shape, the shape we all think of when we imagine a volcano. After enjoying the volcano, you can soak in the natural hot spring found nearby.
Learn about sea turtles in Tortuguero National Park
Tortuguero National Park is one of the best places in the world for turtles to thrive. Four varieties of sea turtles use the coastline here to lay their eggs. Seven species of land turtles live throughout the park. You can also see crocodiles, manatees, sloths, and more. You may even spot jaguars!
You can only get to this attraction by boat or plane, but it is well worth the travel effort. You can check out the Sea Turtle Conservancy for more detailed information.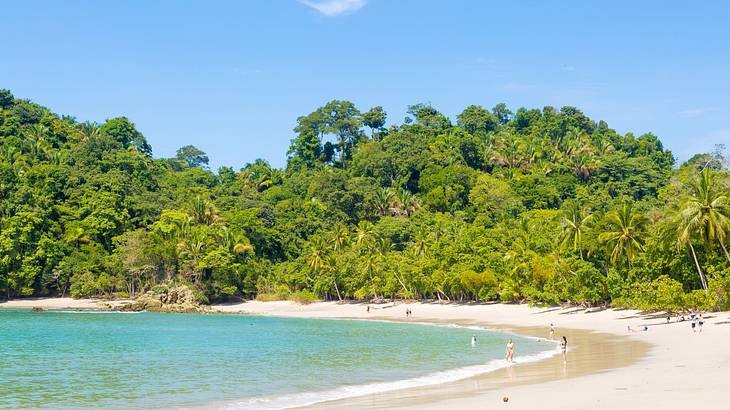 Snorkel in Manuel Antonio National Park
Manuel Antonio National Park is a perfect location for many things, and snorkeling here is a Costa Rica must-do! With its warm and gentle, clear waters, it's ideal for beginners and people of all ages to explore the underwater environment.
Snorkeling is great because you can wade right into the water from the beach. The underwater world is just as vibrant, if not more than above the surface. You can find tours to book, but it is also just as easy to buy or rent your own gear!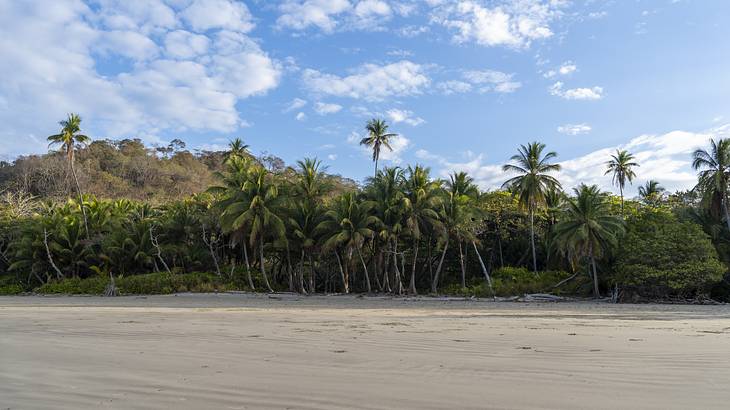 Go on a surf and yoga retreat in Santa Teresa
Believe Surf & Yoga Lodge is nestled in the quiet beach town of Santa Teresa. They offer open yoga retreats and daily classes, as well as surfing lessons for all levels. The lodge also has a swimming pool and cafe, all surrounded by the beautiful jungles and beaches of Santa Teresa.
Touch the sky in the Monteverde Cloud Forest
Costa Rica's Monteverde Cloud Forest is impressive on many levels. There are over 3,000 types of plants, 700 varieties of trees, and 500 classifications of orchids alone!
The attraction is also teeming with wildlife! It is home to the puma and jaguar, as well as wild ocelots, among many other animals. There are various tours you can book to explore the park, or you can hike some trails on your own.
Summit Costa Rica's highest peak, Mount Chirripo
Rising 3,820 m (12,532 ft.) into the sky is Mount Chirripo. Costa Rica's highest mountain offers stunning views of wildlife and scenery.
The hike is 19 km (11mi), and most people plan to take 2-3 days to complete the trek due to the altitude changes, and there are lodges where you can book accommodation.
You do need a permit to summit the mountain, so plan accordingly! The reward for this hike is seeing the Pacific Ocean and the Caribbean Ocean from the summit.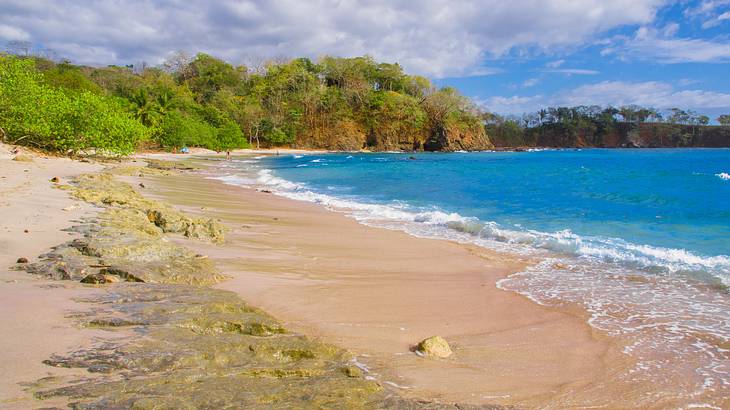 Rent an ATV to explore Montezuma
Montezuma is tucked away on the jungled cliffs of the Nicoya Peninsula. The cliff and jungle come all the way to meet the ocean of this quintessential beach town. You can take a tour or rent one on your own to explore the beaches, hike to the Costa Rica waterfall, or cruise around town.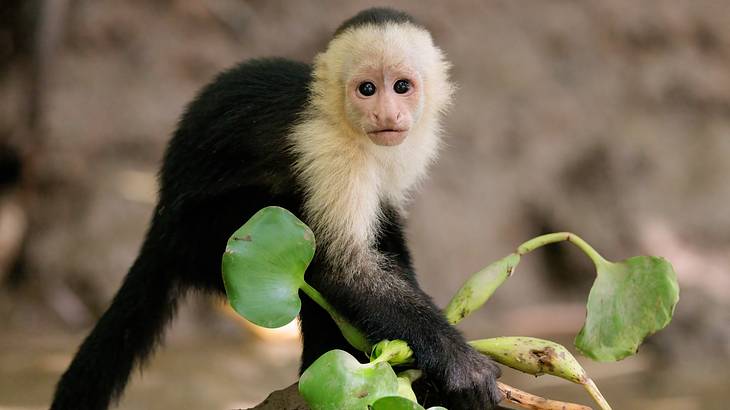 Mingle with monkeys on the Osa Peninsula
It's rumored that Costa Rica has more monkeys than humans! The country is home to four species: the Howler, White Faced (Capuchin), Squirrel, and Spider monkey.
If you want a chance to see all four kinds, then taking a trip to the Osa Peninsula is your best bet. Corcovado National Park is home to all four, and taking a hike or tour will definitely take you into monkey territory.
Pay respects to the dead on Cemetery Island
Close to Montezuma is Cemetery Island. Officially known as Cabuya, it has been used as burial grounds since the early 1700s.
The cemetery is only accessible during low tide when the pathway is visible. The path is rocky, so you'll want more than just flip-flops! There are plenty of empty beaches along the way for picnic lunches, swims, or snorkeling.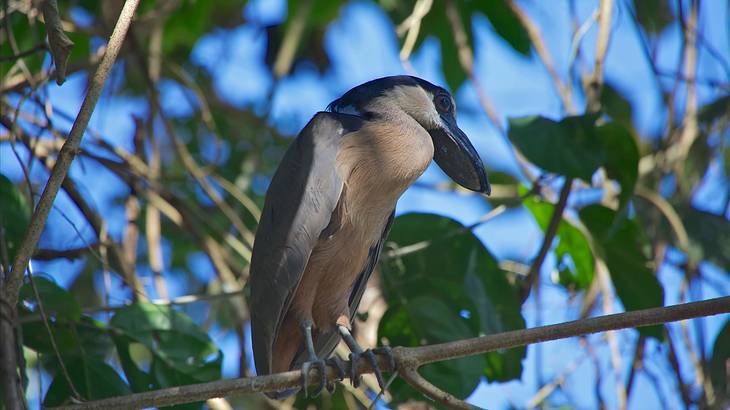 Enjoy bird watching in Carara National Park
Located on Costa Rica's Central Pacific Coast is Carara National Park. One of the top birding destinations in Costa Rica, this attraction is home to the Scarlet Macaw, orange-chinned parakeets, antbirds, and many more.
There are five main trails throughout the park for spotting birds and other wildlife, or you can book a tour with an expert guide.
Charter a deep sea fishing tour from the Osa Peninsula
Quepos, on the Osa Peninsula, is known as the Sailfish Capital of the World. Sportfishing and deepsea fishing are super popular in this region of Costa Rica, and for good reason. The waters are teeming with Snapper, Dorado, Marlin, and Rooster Fish - all common catches.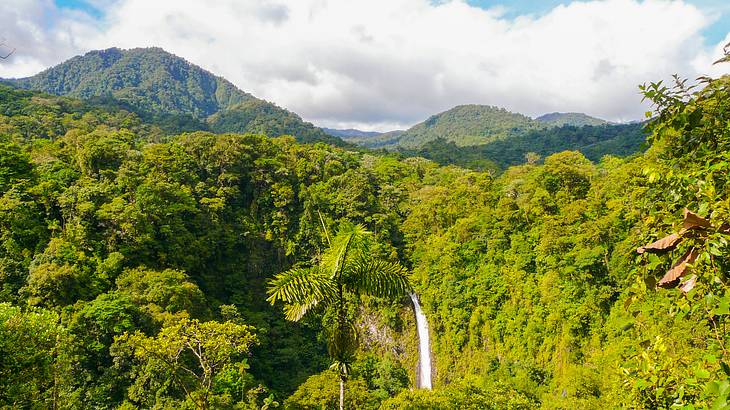 Go canyoning in La Fortuna
Canyoning in La Fortuna is one of the most thrilling ways to get close to nature. It encapsulates hiking, climbing, and repelling down waterfalls in one adventure.
You will also get the chance to see toucans, sloths, and monkeys. This La Fortuna activity comes with expert guides, all the equipment you need, and lunch at the end of your trip.
Go white water rafting down the Peñas Blancas
The Peñas Blancas is a class l river, making this the perfect rafting adventure for beginners or families. There are even parts of the river that are calm enough to swim in. This tour gives you a perfect view of the Arenal Volcano and its surrounding area. Towels and fruit are included on your trip.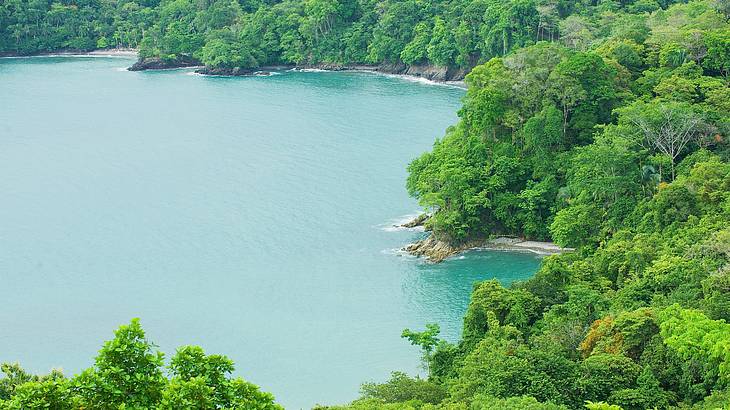 Jump out of an airplane in Quepos
Skydive Costa Rica will give you the most epic view of Costa Rica ever. Situated in Quepos, this skydive center will teach you all about your equipment and safety before taking you above the clouds.
After jumping, you will float gently down to Earth while witnessing intense views of the jungles, ocean, and surrounding areas.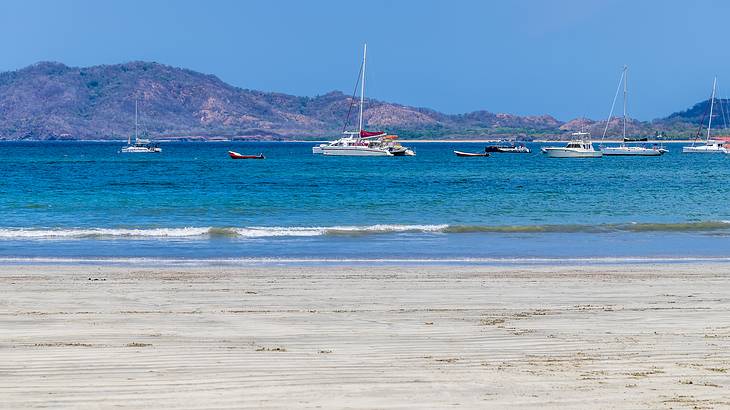 Learn to surf in Tamarindo
Tamarindo is a popular tourist destination for many reasons, but its proximity to friendly waves and plenty of surf schools makes it a great option if you want to learn to surf.
Whether you want to hire a private instructor, join a camp, take lessons or rent a board and give it a go on your own, Tamarindo is a pretty safe place to do so.
Fly high on a zip line
Canopy Safari operates Costa Rica's first and best canopy tour since 1997! They feature 20 platforms, 11 zip lines, and two rappel lines. You can also find a Tarzan swing, hanging bridges, a butterfly garden, a Cayman pond, and a serpent house in the park. You can also check out some other zip line tours.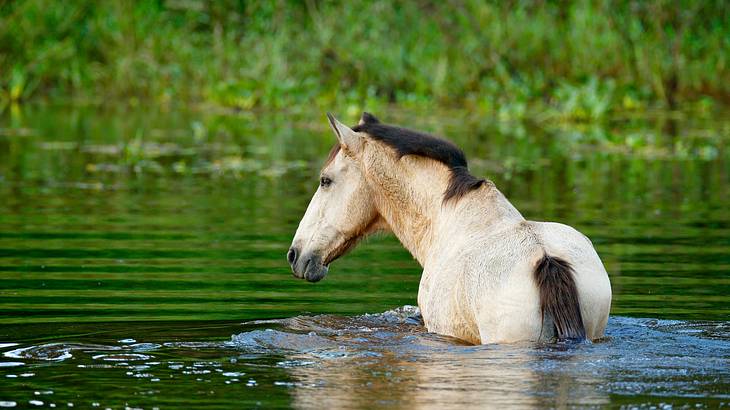 Go horseback riding in Puerto Viejo
The Caribe Horse Riding Club offers incredible horseback tours for all levels. Located in a wholly untouched location in Costa Rica, you and your horse will truly experience what the Costa Rica beaches and jungles have to offer.
There are day trips and multi-day trips available and even opportunities to swim with your horse.
Have a coffee at Finca Rosa Blanca
Finca Rosa Blanca is one of Costa Rica's premier coffee farms. Not only does it produce some of the world's best coffee, but the farm also has an inn, restaurant and does full tours. The organic coffee tour and cupping is one of the most popular things to do in Costa Rica, even if you aren't a coffee connoisseur.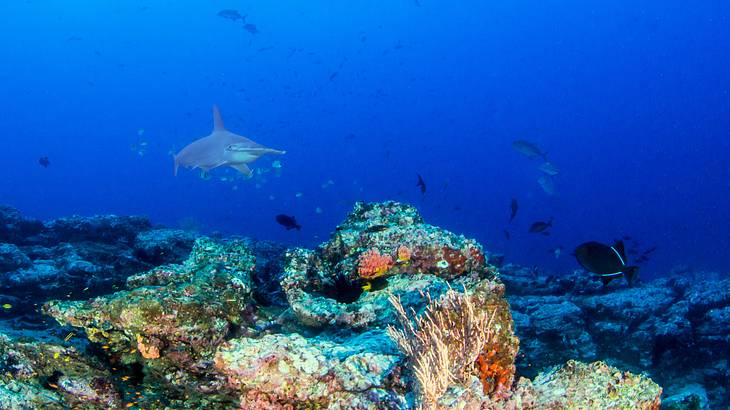 Go scuba diving in Cocos Island
If you're an advanced diver, Cocos Island is the spot for you. Only reachable via liveaboard charters, you know you'll be experiencing the very best of Costa Rica's marine life.
The island itself is surrounded by deep reef walls and over 20 separate dive sites. Divers regularly see tuna, dolphins, and turtles. You may also spot sharks, including hammerhead sharks and Galapagos sharks.
Take a step back in time and visit Palmar Sur
Costa Rica has a long and sometimes mysterious history. In the Palmar Sur region of the country, you will find one of Costa Rica's long-standing mysteries.
Here, you will find perfectly round sphere stones. The best site to see them is the "site museum farm 6". At one point in history, this was the largest settlement in the delta.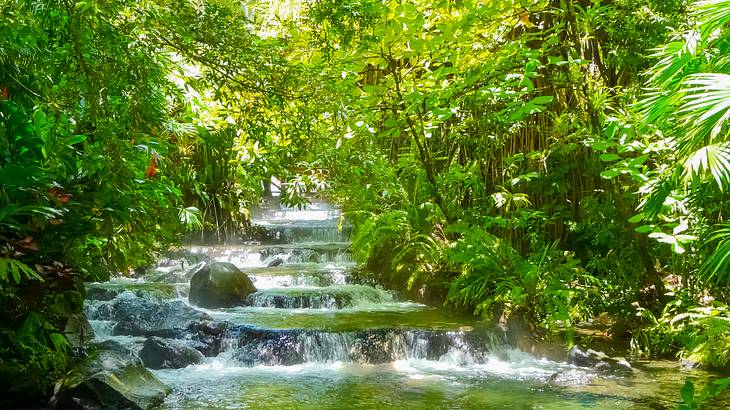 Treat yourself to private hot springs
Tabacon is a beautiful thermal resort and spa that is a remarkable experience within the jungle.
Designed and built by an award-winning, nature-loving, Costa Rican-born architect, Tabacon's pride and joy are the naturally flowing hot springs warmed by the Arenal Volcano.
The river and its various pools are private and protected and range in temperature from 75-105 degrees F.
Say your prayers at one of the oldest churches in Costa Rica
The Ujarras ruins, fully named Iglesia de Nuestra Señora de la Limpia Concepción, was originally built in the 1580s. The church has gone under some restoration work and is now recognized by Costa Rica as a National Monument.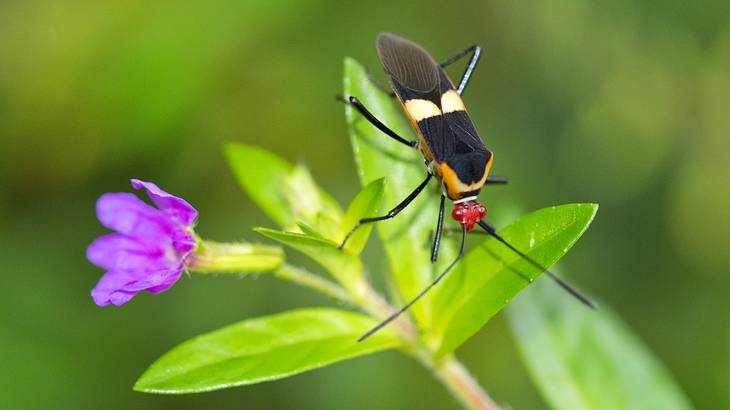 Sleep overnight in the jungle in Corcovado National Park
Described by National Geographic as "the most biologically intense place on Earth," Corcovado National Park is not for the faint of heart. It is rugged, remote, and thriving with wildlife.
There are several tour options that will lead you into the jungle for a night or two. Various hikes, food, mosquito netting, and sheets are provided for you, as well as a professional guide.
Stargaze in Guanacaste
Costa Rica is one of the best countries for stargazing. The skies in Guanacaste give you an unobstructed view of the Southern Cross, Omega Centauri, the Magellanic Clouds, and Eta Carinae Nebula. Shooting stars are also common. The warm climate just adds to the wonder and amazement of the night sky.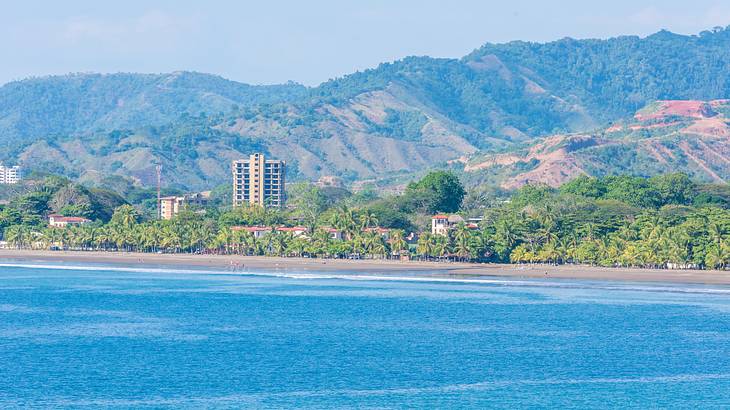 Go to a Full Moon Party in Jaco Beach
Full Moon parties are a huge part of Costa Rica, and attending one has to be a part of your Costa Rican itinerary. While attending one of these parties, you will surely find yourself drinking, dancing, and celebrating the full moon well into the night. Beach bonfires and local music will fill the air.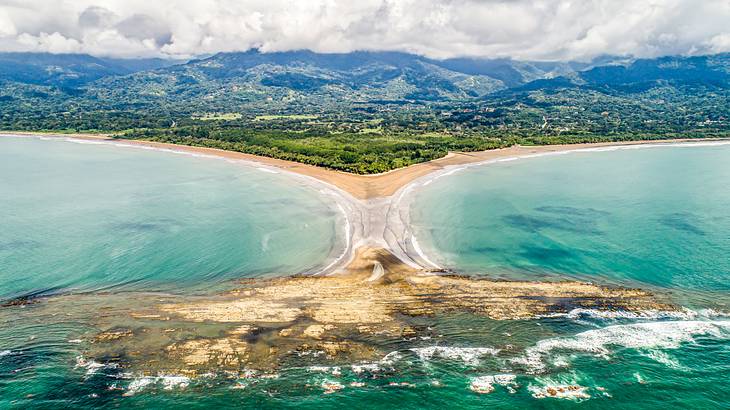 Whale watch in Uvita at Marino Ballena National Park
Whale watching is a super popular activity in Costa Rica, and Uvita is one of the most popular places to do so.
Home to the Marino Ballena National Park, the jungles and surrounding waters are flush with wildlife. Marino Ballena actually means "marine whale," and you have a really good chance of seeing a humpback whale here.
Visit the Jaguar Rescue Center
The Jaguar Rescue Center provides temporary or permanent homes to ill, injured, and orphaned animals. Their main goal is to rehabilitate and release animals to their natural homes. You can book private tours or join a public tour, and you can also stay on-site and volunteer.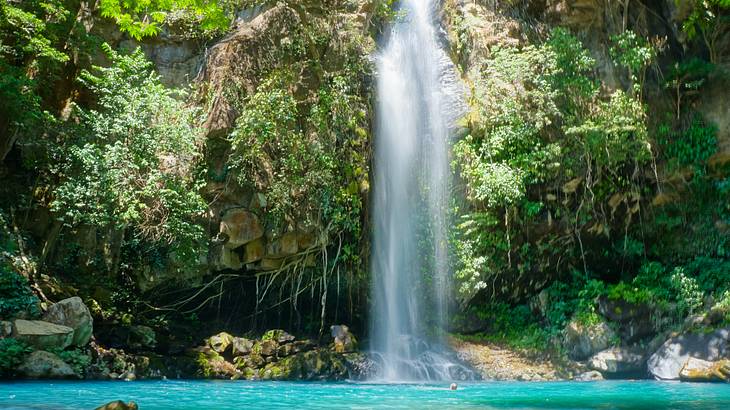 Swim under the falls of the La Cangreja Waterfall
Hidden in the vibrant jungles of Rincón de la Vieja National Park is La Cangreja Waterfall. This stunning waterfall empties into a refreshing pool that you can swim in. The waterfall can be found at the end of a three-mile La Cangreja hike that meanders through the lush flora and fauna.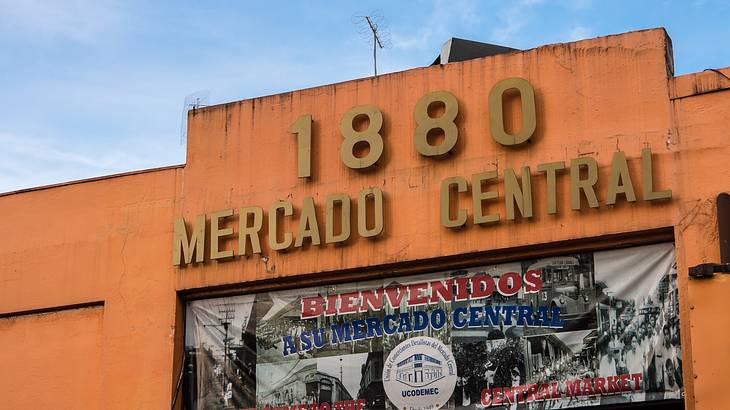 Go shopping in the Central Market in San Jose
The Central Market in San Jose is jam-packed with everything you could need and want, plus everything you don't need but want. The market is a maze of local stalls and shops selling literally everything; it's a one-stop shop. You can find local produce and fresh meat and fish. There are also craft items, souvenirs, and much more.
Count the sea shells on Playa Conchal
Playa Conchal is a special beach; it is considered one of the most exotic and secluded of Costa Rica's many beaches. This unique beach is made up of billions of seashells!
Conchal, which means shell in Spanish, is protected by two rocky points - one side is brimming with brilliant jungle, and the other has calm, cerulean waters; this beach is a must-see! However, the best part is the sound the shells make after the waves crash on them.
Go treetop climbing in Monteverde
Treetop Climbing is one of the most unique things you can do in Costa Rica. Through Fina Modela, you can climb 131 feet up a hollow Ficus Tree.
You have three options to climb toward the platform, where you will be rewarded with incredible views of Monteverde. After hanging out on the platform, you can either repel down or climb down from the inside.
Visit Isla del Cano
A popular place for snorkeling, this biological reserve is flourishing with wildlife both above and below water. Not only is this island rich in flora and fauna, but it is rich in history as well. On the island, you can find more of Costa Rica's mysterious spheres.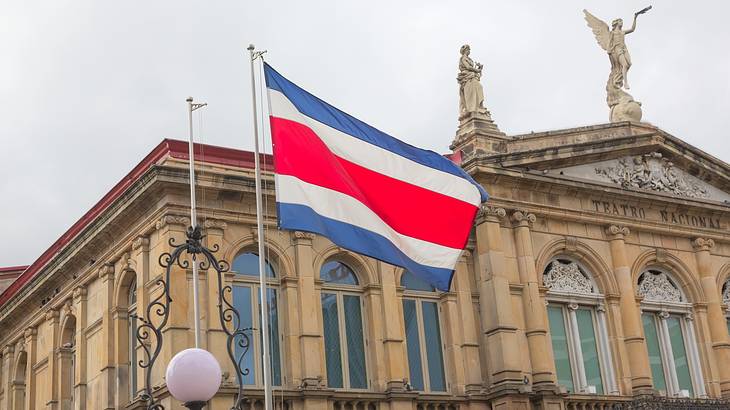 Take a tour of the National Theater in San Jose
The National Theater in San Jose is a beautiful and ornate example of architecture. Built in the 1800s, the theater puts on tours and shows and is one of the most famous and important buildings in the entire city. The first show ever played was Johann Wolfgang von Goethe's Faust.
Go chocolate tasting at La Iguana Chocolate
Chocolate is another one of Costa Rica's top exports, and you can't visit the country without taste-testing the product. At La Iguana, you can tour the farm, take a class or workshop, and, of course, eat and buy all the chocolate you want! Check out times, prices, and availability for other chocolate tours.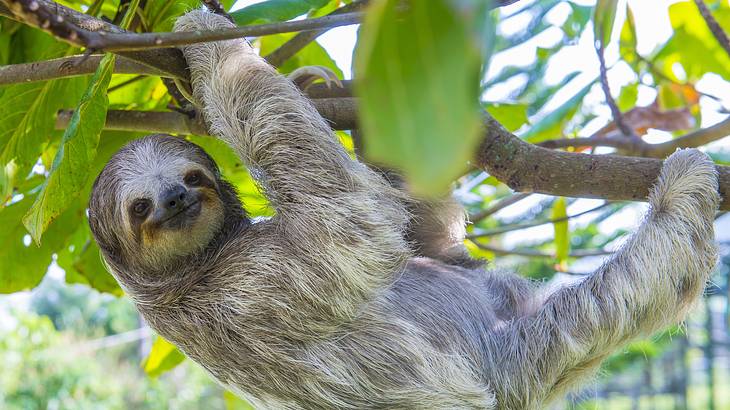 Search for sloths in Cahuita
This little town on the Caribbean side of Costa Rica is the perfect place to go hiking in search of sloths. Cahuita National Park is home to an astonishing amount of wildlife, including venomous snakes. It is easy to follow the trail system on your own but also highly recommended to hire a guide!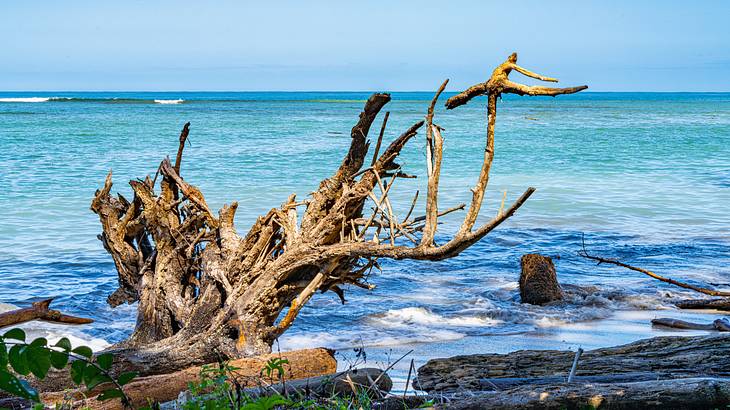 Snorkel in Cahuita National Park
One of the best places to snorkel in Costa Rica, the reefs here are protected, and you can only go with a guide. The reef is home to several types of coral, nurse sharks, and tropical fish, among many other marine species. All your equipment and even lunch are provided for you!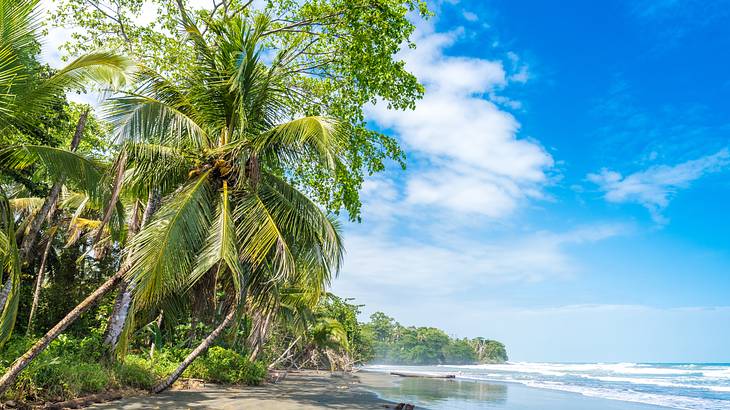 Visit the black sand beaches of Playa Negra
Playa Negra is one of Costa Rica's more well-known black sand beaches, especially amongst avid surfers. Playa Negra literally means "black beach" in Spanish, and the black sand comes from old lava deposits.
Whether you're looking for some tasty waves or just some downtime in a secluded beach town, Playa Negra is your spot.
Go on the Tree of Life Tour in the "Southern Zone"
If you're the adventurous type, the Tree of Life Tour should be on your Costa Rica bucket list. This tour takes you to Casa de Piedra, a cave in the middle of a cloud forest.
The cave is set up with a kitchen, bathrooms, and sleeping mats, and for your entertainment, there are two streaming waterfalls over the front of the cave. The hike to and from the cave isn't easy, but the reward is worth the work.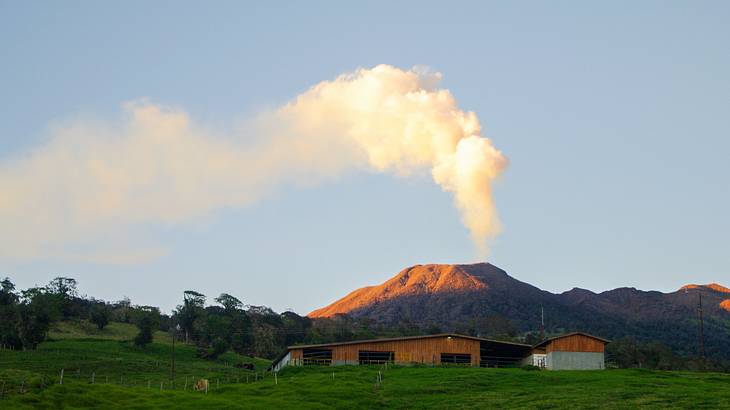 Go hiking on an active volcano
The Turrialba Volcano is a beautiful place to go hiking. The well-marked trails let you wander through the active volcano while witnessing puffs of sulfur, smoke, and ash. You can also see where various lava flows have ended during different eruptions and find a variety of lookout points.
Walk through the CATIE Botanical Gardens
CATIE is an international institute that specializes in agriculture and biological conservation. The botanical gardens onsite house tropical plants from all over the world, including Costa Rica. The first of its kind in Costa Rica, the institute and gardens is the first graduate school in Agricultural Sciences.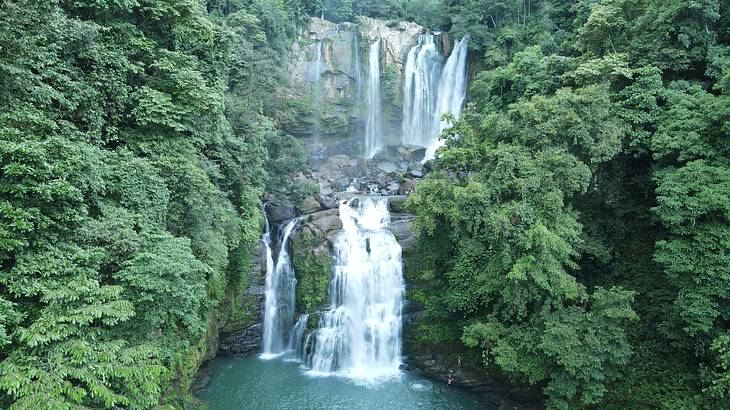 Visit the Valley of the Waterfalls in Domincal
People typically visit Dominical for its beaches, but there is plenty more to see. The jungles of Dominical also hide wonderful freshwater waterfalls where you can jump and swim in after your hike to get there.
The waterfalls here are guaranteed to be less crowded but just as beautiful as other waterfalls in Costa Rica.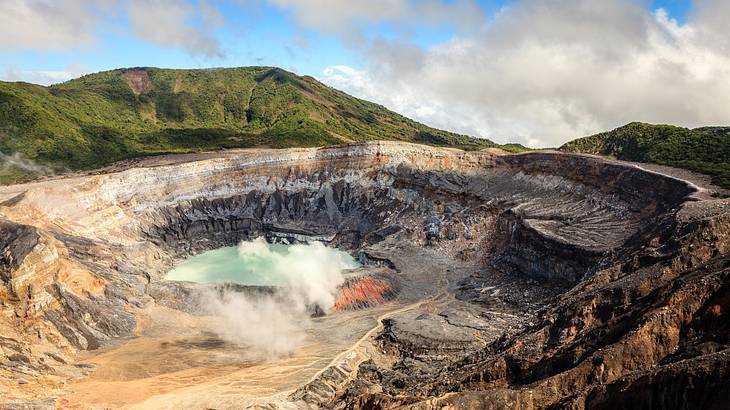 Explore Poas Volcano National Park in the Central Valley
Poas Volcano National Park is one of the most-visited volcanoes in Costa Rica. The volcano is nearly 3,000 meters (10,000 feet) above sea level and is capable of producing acid rain.
Two craters on the volcano are typically filled with rainwater and appear a gorgeous green-blue color. There are various marked trails for you to follow to spot wildlife and other remarkable flora and fauna.
Take a road trip to Cerro de la Muerte
The Inter-American Highway, often called the Pan-American Highway, runs through Central America, and Cerro de La Muerte is its highest point. Translated to Mountain of Death, the nickname was before the time of cars.
The climate here is noticeably different than the rest of Costa Rica, with cooler temperatures. An excellent bird watching location, Cerro de la Muerte is home to quetzals, emerald toucanettes and bell birds.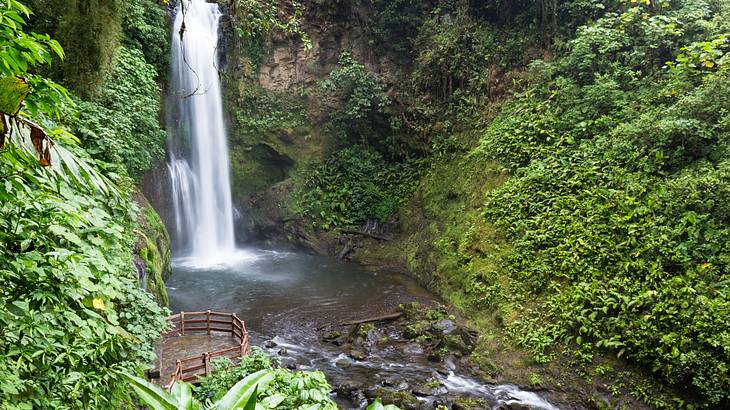 Hang out at the La Paz Waterfall Gardens
The Nature Park and Gardens are some of the most popular attractions in Costa Rica. Featuring five major waterfalls and Costa Rica's largest animal sanctuary, you're guaranteed to enjoy your time here. The sanctuary is home to monkeys and sloths. You can also see butterflies and birds, and potentially jungle cats!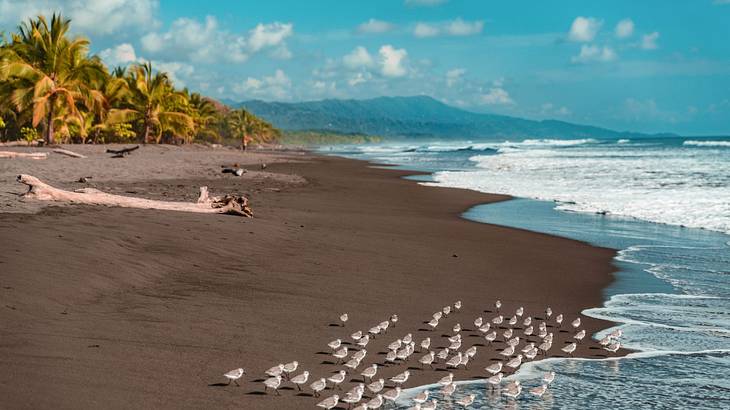 Unwind in Matapalo
Matapalo is a secluded beach town marked with the Blue Ecological Flag for its dedication to conservation. The whole area is united in being eco-friendly and is mainly run on solar energy.
The town is popular with nature enthusiasts and surfers. You can also find tide pools to swim in, waterfalls, fishing, diving, and plenty of other activities.
Explore the Venado Caves
Get underground and explore the Venado Cave system! This is an essential Costa Rica bucket list item and one of the most exciting. You can choose from several different tours and are provided all the necessary equipment and, of course, a professional and knowledgeable guide to keep you from getting lost.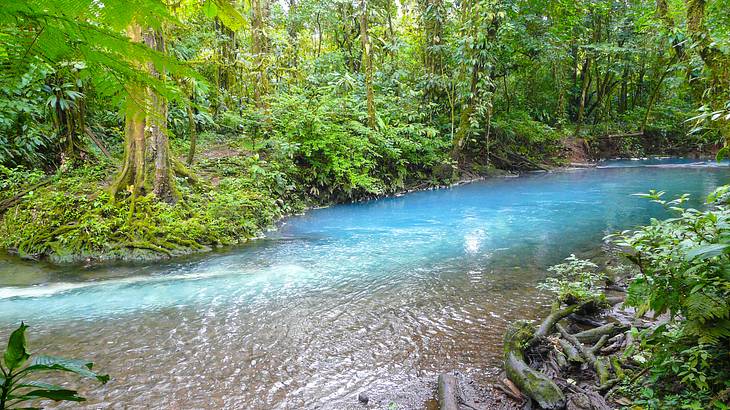 Walk along the Rio Celeste
The Rio Celeste is one of the most heavenly bodies of water in Costa Rica. Famous for its bright turquoise coloring, the local lure says the color comes from God washing his paintbrush in the river after painting the sky.
The hike along the river can be a bit muddy during the rainy season, but there are hot springs along the way and a waterfall at the end of the hour-long hike. Adding this hike to your to-do list is a must when visiting Costa Rica!
Wander along the Rainmaker Aerial Walkway
This privately-owned biological park offers guests a unique look into the jungle and its creatures, flora, and fauna. As you explore the park, you cross six suspension bridges 25 stories above the ground. At this height, you'll encounter monkeys, reptiles, and birds on their level.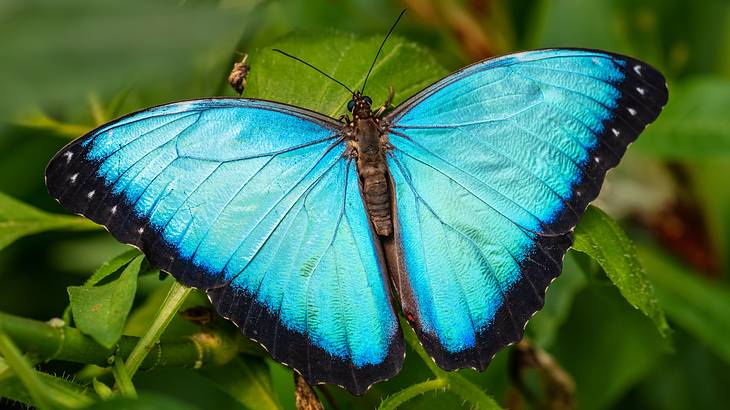 View Costa Rica's largest butterfly collection
The Butterfly Conservatory is home to 6 separate atriums dedicated to protecting and studying Costa Rica's butterflies, including the Giant Blue Morpho Butterfly.
There is a learning center on-site, and tour guides are available to show you around the atriums and tell you about the different species of butterflies.
Adventure through the La Selva Biological Station and Reserve
If you really want to learn about Costa Rica's jungles, flora, fauna, and creatures, the biological station and reserve are perfect.
Essentially a privately-owned research compound, you can take tours with experts on all things Costa Rica. In addition to tours, you can sign up for classes and workshops, and theater presentations.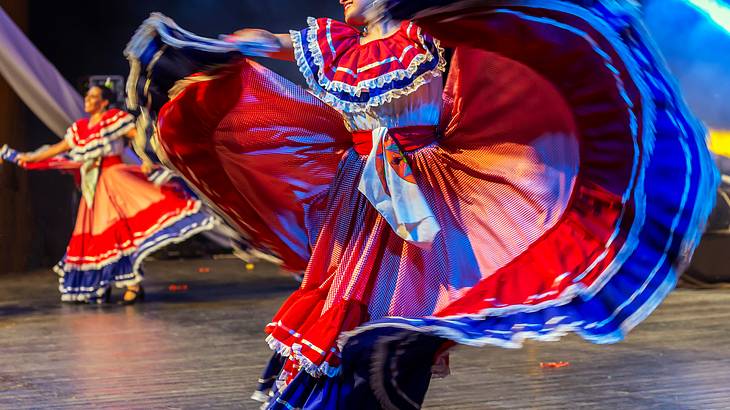 Learn to salsa dance in La Fortuna
Dancing is a huge part of Costa Rican culture, and most Costa Ricans learn at a very young age. Taking a lesson or two from a true local might just be the highlight of your trip. The classes are small, so you can focus on learning the right steps.
Explore San Lucas Island
San Lucas Island has had many lives. This beautiful island was once home to one of Costa Rica's most notorious prisons. Several old buildings, including a church and a medical building, are now considered historical sites. The island is now considered a national park and preserve where you can walk around and look for wildlife like monkeys, deer, and bats.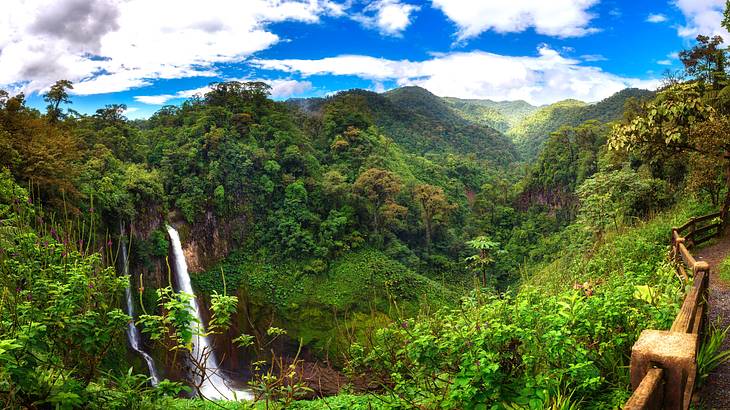 Wander around at the Catarata del Toro Waterfall
The Catarata del Toro Waterfall is one of Costa Rica's tallest waterfalls, plunging 300 feet into the crater of an extinct volcano. The hike to the waterfall is well marked and has several viewing platforms along the way. These platforms are strategically placed at different angles so you can see the falls in all their glory.
In Summary
Costa Rica is one of the most amazing places in the world to visit. From dramatic scenery, diverse plant and animal life to the vibrant culture, this Costa Rican bucket list should satisfy your every desire.
---
---
Want to keep exploring?
Subscribe for discounts on tickets and hotels and our latest guides.
Thank you for subscribing
We will be in touch soon with discounts on tickets and hotels and our latest guides.
Want to keep exploring?
Subscribe for discounts on tickets and hotels and our latest guides.
Thank you for subscribing
We will be in touch soon with discounts on tickets and hotels and our latest guides.
Related Articles