25 Famous Landmarks in Denmark to Visit
Destguides may receive commissions from purchases made through affiliate links in this article.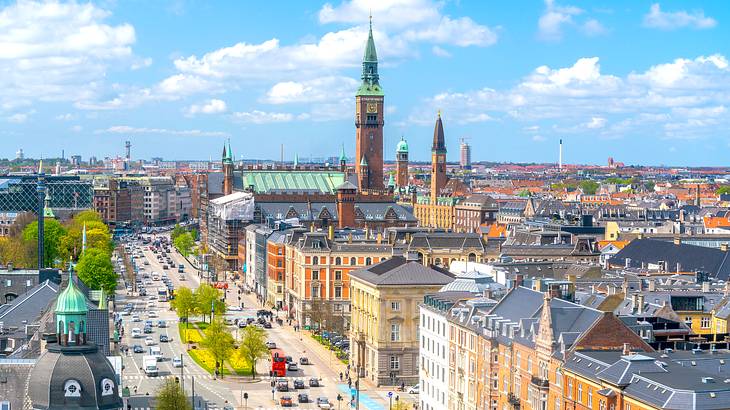 From sites relating to Hans Christian Andersen to some of the most unique natural landmarks in Northern Europe, Denmark has a lot to see. However, figuring out which places to add to your bucket list can be overwhelming.
If you're a thrill-seeker looking for family-friendly fun, Tivoli Gardens amusement park is the place to go. In contrast, you can take a relaxing stroll and see countless plants at the Copenhagen Botanical Garden.
No matter what sort of traveler you are, there's a Danish landmark to suit your trip. So, keep reading to learn more about the top 25 landmarks in Denmark you should visit.
25 Denmark Landmarks
Famous Buildings in Denmark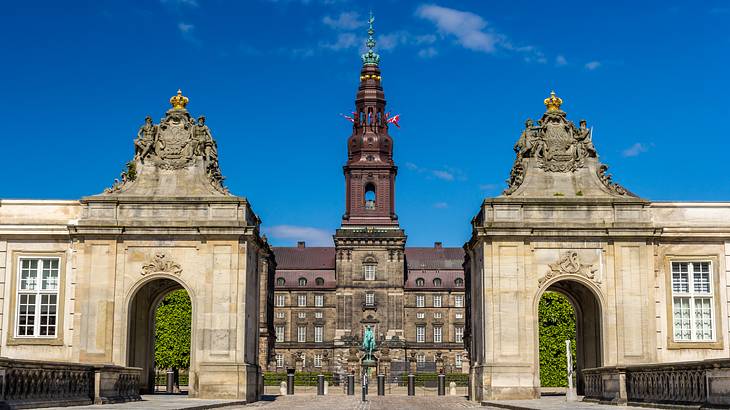 Christiansborg Palace
Christiansborg Palace is often called the beating heart of Denmark's democracy and government because it's the seat of the country's parliament and supreme court.
It's also the religious site for the Danish royal family's baptisms. So clearly, it's one of the most important attractions in Denmark!
Additionally, this landmark is the largest castle in Scandinavia and sits on the same site as four previous palaces built and destroyed between 1167 and 1184. In fact, the ruins of some of these castles are still preserved on the grounds.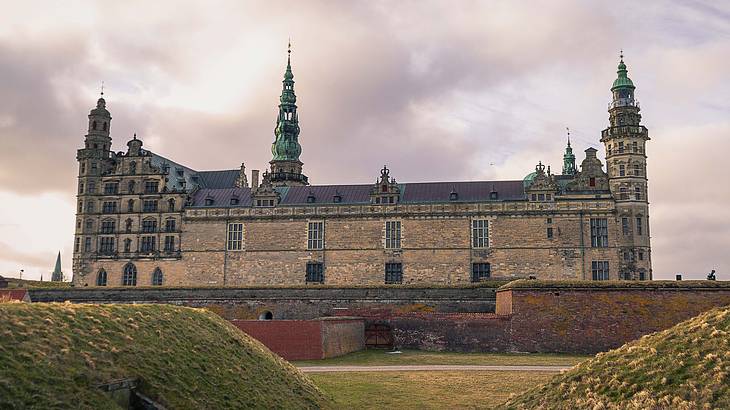 Kronborg Slot
Kronborg Slot in Helsingør, Denmark, is a must-visit location for history and literature lovers. Built in 1574, this castle and stronghold have been home to Danish and Swedish royalty and the Danish army before opening to the public in 1938.
However, fans of Shakespeare might know this castle by another name, Elsinore, from the play Hamlet. At the time when Shakespeare wrote the play, Kronborg was a strategic location that allowed Denmark's king to control sea traffic.
The Round Tower
In the center of Copenhagen, you'll find the oldest observatory in Europe towering high above surrounding buildings. The Round Tower was built initially as an astronomy tower after the death of the Danish astronomer Tycho Brahe as a tribute and to continue his research.
It sets itself apart from other observation towers due to its lack of stairs. Instead, the tower has what is known as an "equestrian staircase," which is a gently sloping spiral hallway that horses can easily navigate. Thanks to this design, it takes visitors around ten minutes to climb to the top of the tower.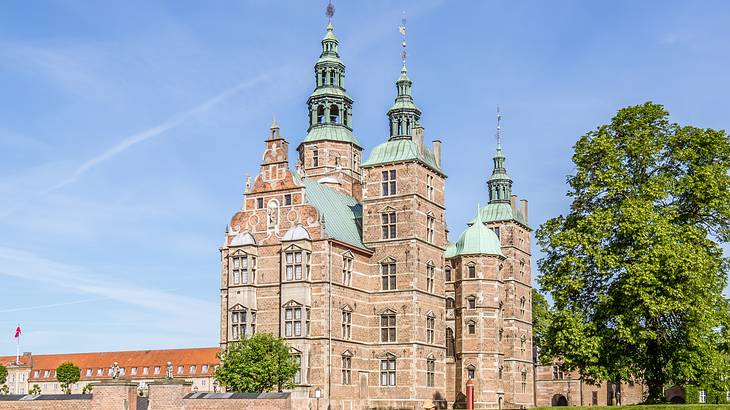 Rosenborg Castle
Rosenborg Castle is known for many things. Christian IV had the castle built in 1606 to act as a summer home for himself and the rest of the royal family. It took over two decades to complete construction, but the result is one of the most well-preserved examples of Renaissance architecture in Europe.
Rosenborg isn't just known for its ornate architectural design, though. It also houses four centuries of Danish treasures and artifacts, including the royal Coronation Carpet and the Crown Jewels.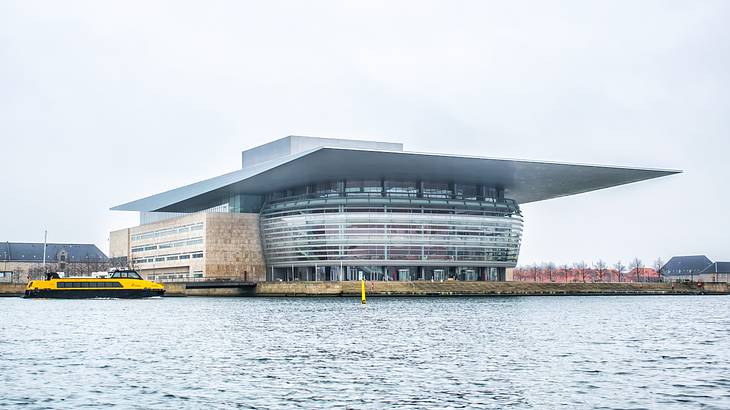 Copenhagen Opera House
The Copenhagen Opera House is a relatively new landmark in Denmark, built between 2001 and 2005. However, it's also become one of the most famous buildings in the country.
The opera house follows the neo-futurism design style and is one of the most modern opera houses in the world. With seating for up to 2,000 people in one of its two theaters, it's also the center of Denmark's arts and culture scene.
Famous Danish Landmarks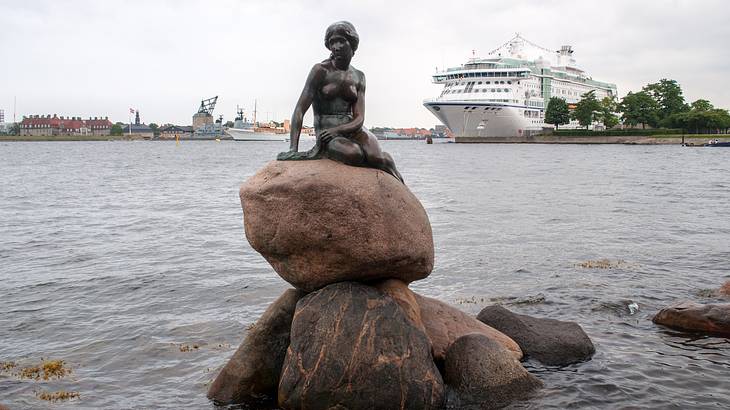 The Little Mermaid
The Little Mermaid has become a national symbol of Denmark. Written by the Danish author Hans Christian Andersen, the fairy tale was later turned into a ballet and has been adapted many times throughout history.
After falling in love with the story after attending a performance, Carl Jacobson, son of a prominent brewer in Copenhagen, commissioned a statue in its honor. The four-foot statue can be found near the Langelinie promenade overlooking the water and has become one of Europe's most famous landmarks.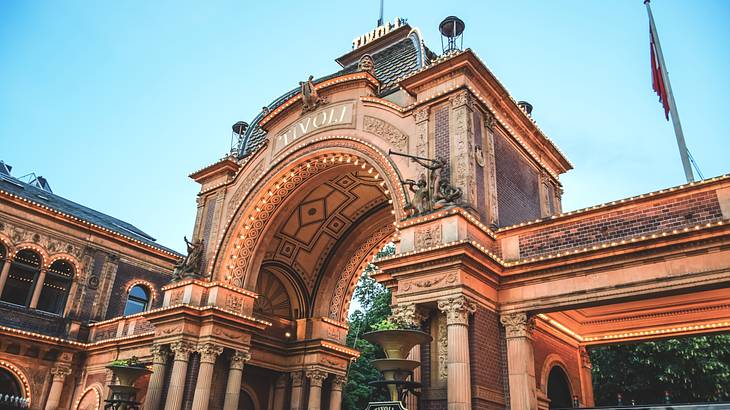 Tivoli Gardens
Since 1843, people have been flocking to Tivoli Gardens for fun and excitement, making it the third-oldest amusement park in the world. Not only is the park itself old, but it also houses one of the oldest still-operational rollercoasters in the world, Rutschebanen.
It's important to remember that the amusement park is open seasonally. Currently, it operates between the end of March and the end of September for its summer season. It also opens between mid-October and early November for Halloween and between mid-November and the end of December for Christmas.
The Open Air Museum
If you wish to get an immersive look at a country's history and culture, visiting an open air museum is one of the best ways. In that regard, Denmark's open air museum in Copenhagen is often deemed one of the best in the world.
The museum isn't just a collection of old buildings and ruins but a true living exhibit. The neighborhood is maintained to showcase Danish life between 1650 and 1940, with gardens, farms, and more.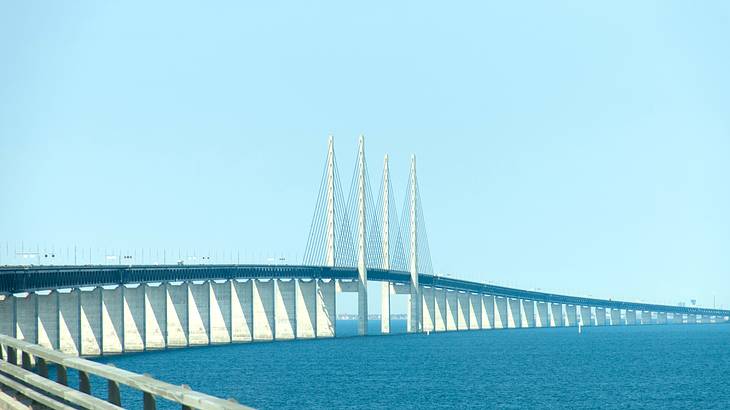 Øresund Bridge
Though not a typical tourist attraction, Øresund Bridge is still one of the most famous places in Denmark. It is noteworthy for being Europe's longest combined motor and railway bridge at five miles long.
The bridge also crosses the border between Sweden and Denmark and is owned by both countries. It's such a popular bridge that an estimated 19,000 cars and dozens of trains cross it daily.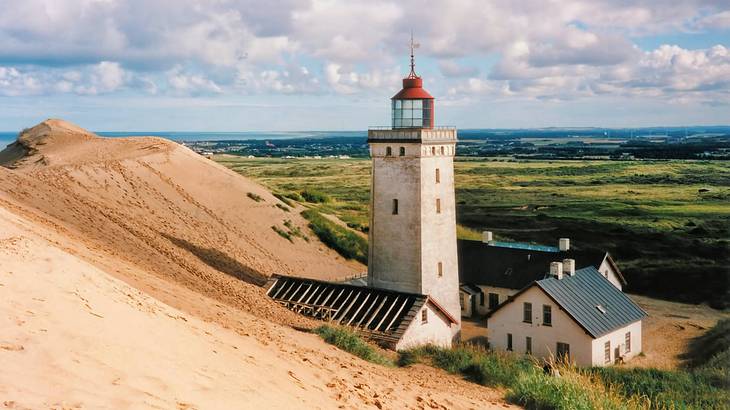 Rubjerg Knude
Though many people don't know its name, Rubjerg Knude is one of the most famous landmarks in Denmark. The tower's location within the Jutland sand dunes was meant to protect it from the constant winds and waves from the North Sea.
However, this lighthouse wasn't always quite so far from the peninsula's water. In 2019, the tower was carefully moved about 230 feet inland to protect it from erosion from the sea.
Famous Monuments in Denmark
Frederiksborg Castle
In the 17th century, the king of Denmark, Christian IV, built Frederiksborg Castle as his official royal residence. At over 330,000 square feet, at the time, it was one of the largest palaces in Europe and the largest in Scandinavia.
Currently, no one resides in the palace, and it acts instead as a cultural museum. It houses the country's most extensive collection of portraits and other paintings, sculptures, and priceless antiquities.
Equestrian Statue of Frederick V
One of the most famous historical landmarks in Denmark can be found in the middle of Amalienborg Square in Copenhagen. The statue depicts King Frederick V on horseback while wearing a crown.
The statue is a classic example of Danish art depicting the royals, showing the monarch as a peaceful and dignified ruler. Though many statues of great country leaders astride their horses have been sculpted, this one is considered one of the most technically and historically notable.
Viking Ship Museum
For history aficionados, the Roskilde Viking Ship Museum must be at the top of your travel bucket list. While the museum looks like a regular building from the outside, inside are one-of-a-kind artifacts from Viking history.
Not only does it have five authentic ships that date back 1,000 years, but it also has multiple replicas in the harbor outside the museum. It even has a working boatyard to help transport visitors back in time.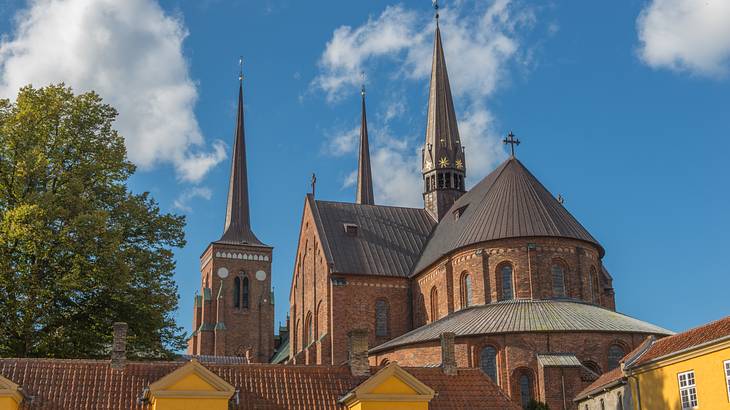 Roskilde Cathedral
Not only is Roskilde Cathedral the most prominent church in Denmark, but it's also been deemed one of the most significant churches in the world. After all, it's been a UNESCO World Heritage Site since 1995.
Its importance stems from two main factors. For one, it's the royal burial church and is the resting site of kings Christian III and Frederik II. Its architecture is also a marvel. Built over the course of 850 years, it perfectly encapsulates the change in building styles from French Gothic to Modernist.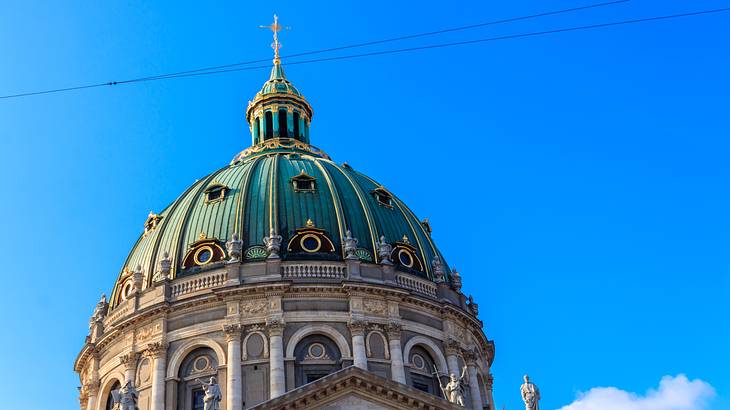 Frederik's Church
Frederik's Church, affectionally dubbed "Marble Church," is a notable example of Rococo architecture. Though the church isn't made entirely of marble as was originally intended, it's still a construction marvel. Known for its ornate and flamboyant design, it's a hard-to-miss monument in Copenhagen.
In addition to its characteristic Rococo elements, the church is also famous for having the largest dome of any church in Scandinavia. The dome is so large that it requires the support of 12 pillars to keep from collapsing.
Denmark Natural Landmarks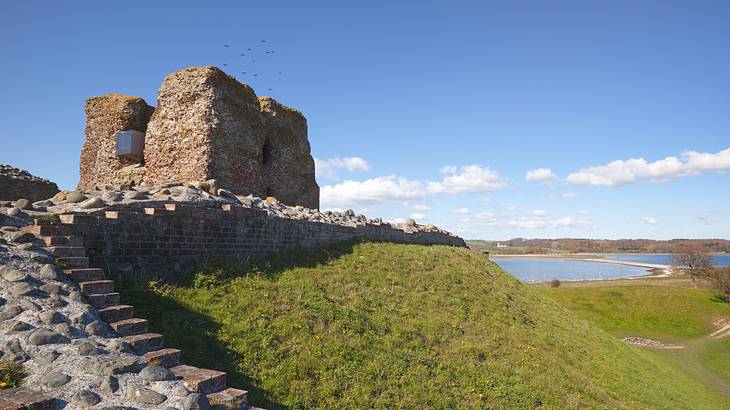 Mols Bjerge National Park
Mols Bjerge National Park is one of the most underrated must-see places in Denmark. The national park encompasses 69 square miles and is distinguished by its hills and various attractions.
The park contains numerous historic monuments, from the remnants of Kalø Castle to many ruins from the Bronze and Stone Ages. However, the park is also home to multiple rare species of plants and animals, which can be seen throughout the park.
Thy National Park
Regarding Denmark attractions, it's hard to beat Thy National Park, thanks to its nearly 5,000 acres of land. Alhough it was only opened to the public in 2007, it's the oldest park in the country.
The park was founded to maintain Denmark's rugged wilderness. In fact, the park contains a varied landscape that comprises beaches, hills, and forests. Its size and the numerous activities available make it a popular biking and hiking location.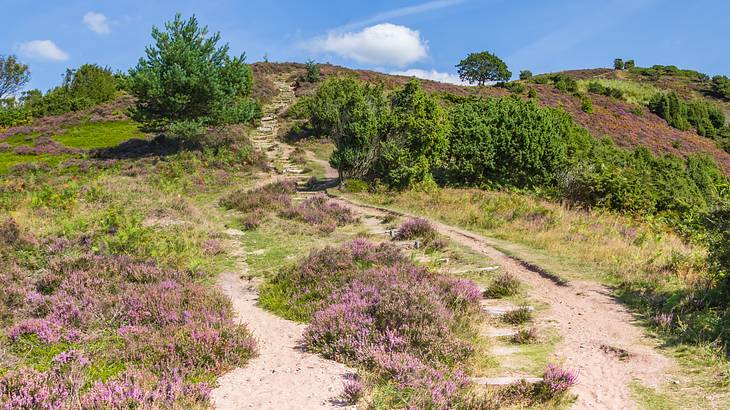 Rebild Bakker National Park
Rebild Bakker National Park is slowly becoming one of the most famous landmarks of Denmark, particularly among American tourists and ex-pats. To honor the country's close bond with the USA, every year on July 4th, the park holds the largest US Independence Day celebration outside the US.
The park is a natural beauty as well. The government protects its hilly landscape and lush heathland, making it a favorite place for locals to go for hikes.
Råbjerg Mile
This Denmark tourist attraction is the largest migrating dune in Denmark and one of the largest in Europe. That means that Råbjerg Mile moves a little bit each year without losing its shape or impressive 100-acre size.
Interestingly, the dune moves about 50 feet every year. Since its migrating nature was first noted almost 110 years ago, it's estimated to have shifted nearly a full mile.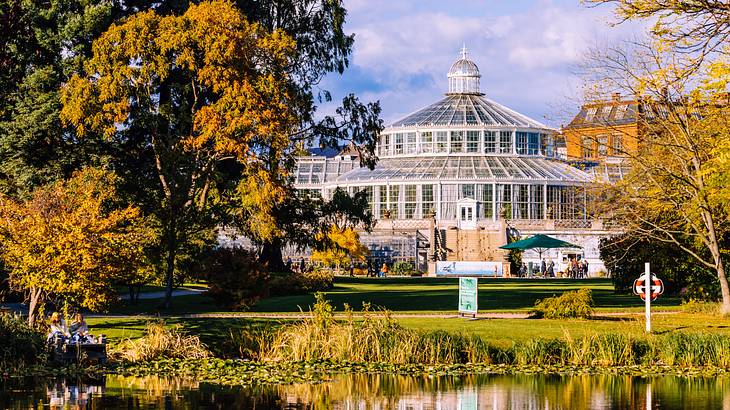 Copenhagen Botanical Garden
Denmark has many botanical gardens, but the Copenhagen Botanical Garden in København is one of the best. The garden is owned and run by the University of Copenhagen and is a living exhibit of the school's Natural History Museum.
The garden covers nearly 50 acres of land and has 27 greenhouses for its extensive plant collection. The first plans for the garden date back to 1874, and since then, over 13,000 plant species have been brought to the grounds for study and preservation.
Historic Landmarks in Denmark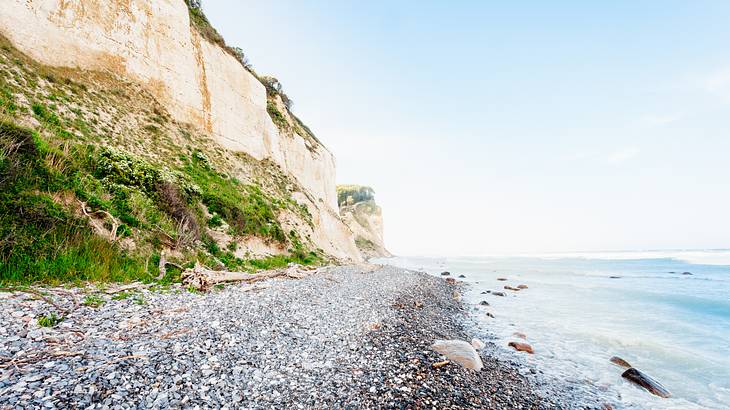 Møns Klint
Møns Klint is quickly becoming one of the most popular Denmark points of interest for nature and natural science lovers. Made up of nearly four miles of chalk cliffs that overlook the sea, Møns Klint offers scenic views from 328 feet in the air.
In addition to its beauty, Møns Klint has a science center for visitors to explore. There, you can learn about the area's ancient history and geological evolution over the past 70 million years.
Stevns Klint
You'll find this unique attraction in Denmark hidden on the island of Zealand. Stevns Klint is a 120-acre territory notable for its white chalk cliffs stretching over ten miles of the island's shoreline.
The cliffs are beautiful in their own right, but what makes them truly special is the exposed Cretaceous-Tertiary boundary that can be seen on the cliffside. This boundary is a thin line in the rocks that shows the passing of time between eras. Stevns Klint's fossil record is so well-defined the cliffs are even a UNESCO World Heritage Site.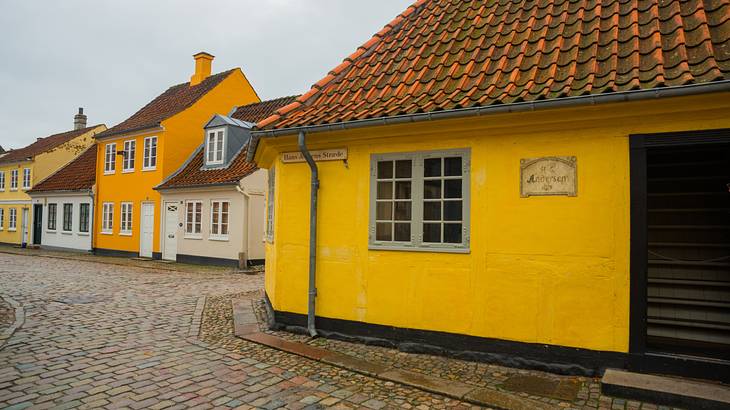 H. C. Andersen's House
Hans Christian Andersen is the mind behind some of the most beloved children's stories. Visitors can take a peek into the life of this storyteller by visiting his childhood home, which has been converted into a museum in his honor.
The museum showcases artifacts from Andersen's life and creatively explores his writing with the addition of the fairy tale house. This new exhibit uses technology to immerse you in his fairy tale world.
KØN - Gender Museum Denmark
Originally founded in the 1980s as a museum for women's history, KØN - Gender Museum Denmark has become so much more. However, this change is relatively recent, and some tourism information still lists it as a Women's Museum or a Women and Children's museum.
Through the museum's exhibits, visitors can learn about cultural, historical, and even political issues surrounding gender and sexuality that have arisen through the years. Even the museum's location in a former city hall building symbolizes how the museum's topics are woven into society.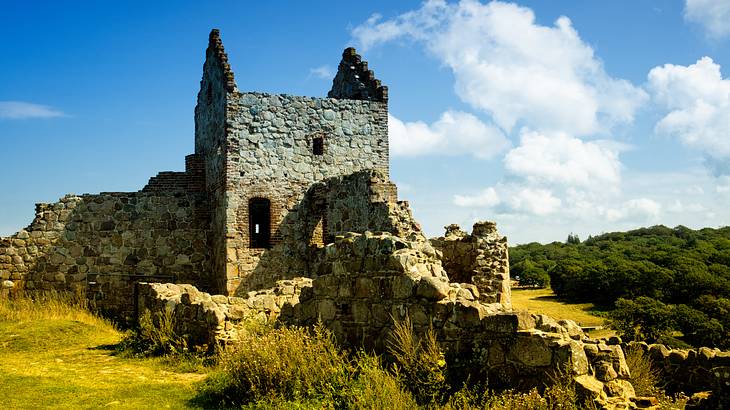 Hammershus Castle Ruins
Hammershus Castle is an enduring symbol of Danish history that has stood the test of time. However, because it's located on the island of Bornholm, it's also one of the most under-appreciated monuments of Denmark.
The castle was once a medieval fortress that covered over one million square feet of land. In addition to its impressive size, it was also strategically built over 240 feet above sea level, making it a point of safety and security.
Though most of the original castle had been destroyed by the 1750s, renewed interest in maintaining Danish history led to its partial restoration, which can be seen today.
In Summary
From architecture to artwork, Denmark has no shortage of things to see. So whether you're taking a solo trip or bringing your whole family, there are plenty of sites to visit in this Scandinavian gem of a country.
Hopefully, this list has made you fall in love with this small nation's many attractions. All that's left to do is start planning your trip!
---
---
Want to keep exploring?
Subscribe for discounts on tickets and hotels and our latest guides.
Thank you for subscribing
We will be in touch soon with discounts on tickets and hotels and our latest guides.
Want to keep exploring?
Subscribe for discounts on tickets and hotels and our latest guides.
Thank you for subscribing
We will be in touch soon with discounts on tickets and hotels and our latest guides.
Related Articles