31 Famous Landmarks in Ireland For Your Bucket List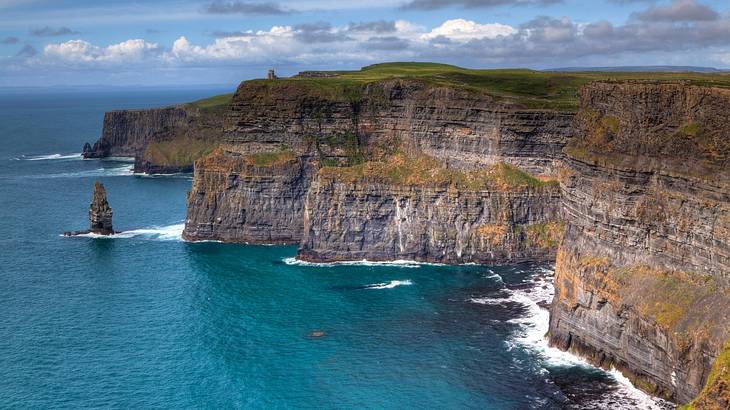 Ireland is a charming island-nation nestled in the North Atlantic region encircled by smaller islands and islets. It is also known as the Republic of Ireland and contains 26 counties in total.
Aptly nicknamed the Emerald Isle, it is a country blanketed by lush greenery and houses some fascinating creations of nature. The most famous landmarks in Ireland include various natural, human-made, and cultural and historical attractions, all perfectly complementing each other to give its visitors a one-of-a-kind experience.
You can get around the country by train, bus, bike, taxi, or renting a car and road-tripping around the place. But, to visit specific landmarks like its islands, you will have to take a boat. Ireland is a relatively safe destination for people to travel around, even for solo travellers.
If you have decided to take a trip to Ireland to explore its hidden gems, you are in for an unforgettable experience. Make the most of your trip by including some of the famous Ireland landmarks mentioned below on your itinerary!
31 Famous Ireland Landmarks
Ireland Landmarks Map
Using the map of Ireland landmarks, you can explore all of the points of interest.
Dublin Castle, Dublin
In the heart of the city of Dublin lies a 600-year-old castle that loyally served its possessors from Danish Vikings to the British Empire. The historic building holds a significant collection of artefacts, including a range of portrait paintings.
You can wander around the castle, but access to certain places are restricted. If you want to get the most out of the castle and its adjacent buildings, join a 70-minute guided tour for a fare of 4.50€ for adults and 2€ for children.
The tour will take you through the State Apartments, a Viking excavation area, a Medieval Tower, a church (the Chapel Royal), and the castle gardens.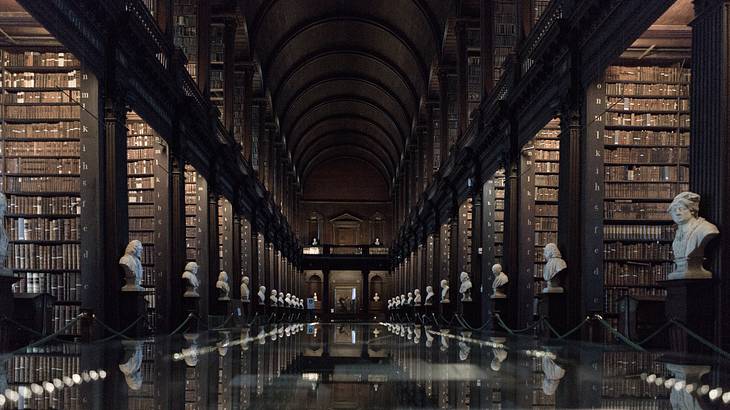 Trinity College Dublin, Dublin
Ireland's oldest and most renowned university, Trinity College Dublin, was founded in 1592 by Queen Elizabeth I. Initially born out of ruins of an Augustinian monastery, its predecessors expanded the university as an architectural masterpiece with impressive landscaping.
One thing you will realise as you wander on its cobblestone ways is the many dreams it has given wings to for more than 600 years. The best way to learn about Trinity College is by taking the 35-minute-long guided tour that covers the four important squares of the university, along with an explanation of its historical background.
During your visit, make sure to check out the Book of Kells and the Old Library that contains a stack of more than 200,000 books from top to bottom - it is an attraction you shouldn't miss!
The National Gallery of Ireland, Dublin
If you are an art lover, you should know that there's a national gallery a short walk away from the Trinity College of Dublin that is worth visiting.
Established in 1854, this gallery holds an extensive collection of paintings and other artistic works in the form of drawings, prints, sculptures, photographs, miniatures, glass, and furniture.
There's a collection available for sale here as well for art enthusiasts who like to own prized possessions. The gallery is home to a renowned collection of European and Irish art done by famous artists.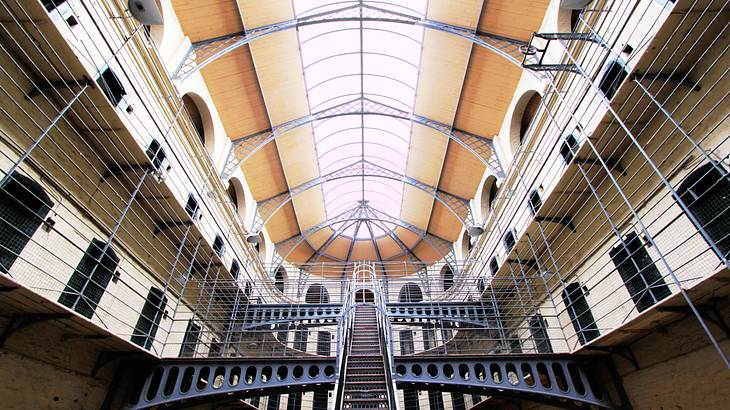 Kilmainham Gaol Museum, Dublin
While most Irish landmarks have a very colourful heritage, some others have a more tragic past. One such attraction is the Kilmainham Gaol Museum; a prison now turned museum for onlookers to gain a glimpse into the shelter in which it detained prisoners accused of severe crimes to petty offences.
The prison's primary role was probably during the Anglo-Irish war when it was run by British troops to imprison Irish revolutionaries. The permanent exhibition at the museum covers three main aspects, such as its social history, Irish nationalism and republicanism, and the restoration of Kilmainham Gaol.
Managed by the Office of Public Works, it is open to visitors who book a tour in advance through the website.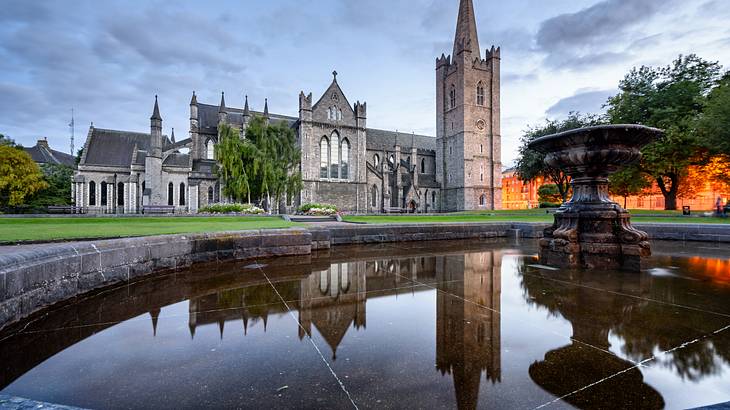 St. Patrick's Cathedral, Dublin
Also known as the National Cathedral of Ireland, this historical and religious site is one of the most popular Dublin landmarks, and as such, a must for your Dublin bucket list.
It is believed to be the location where St. Patrick baptised the first converts into the Christian faith. Since it was founded in 1191, it has undergone many restorations due to damages and invasions it succumbed to overtime.
The cathedral today is a representation of classical, medieval architecture with a 43-meter high spire. The interior is exceptionally designed, and anyone is welcome to tour around after paying a small fee.
Today, St. Patrick's Cathedral hosts many public national ceremonies, like Ireland's National Remembrance day.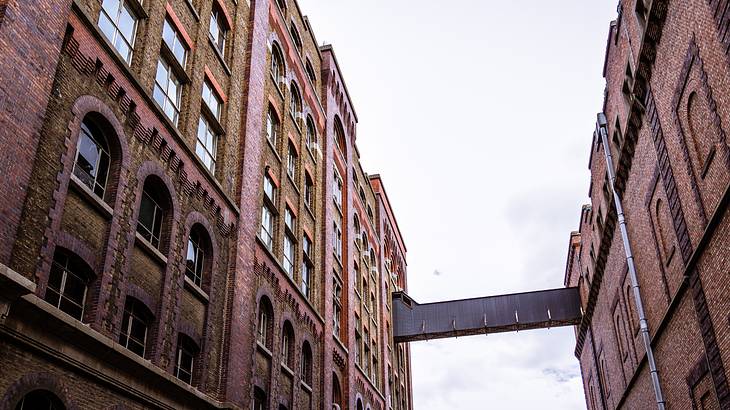 Guinness Storehouse, Dublin
Guinness Storehouse is a museum dedicated to beer lovers or anyone interested in sneaking a peek at the 250-year-old art of brewing the world-famous beverage, Guinness.
It is housed in the St. James Gate's Brewery, or popularly known as the "Home of the Black Stuff", which is the largest stout brewery in the world today. The self-guided tour takes around 1.5 hours as you explore its seven floors that centre around one giant pint.
The Gravity Bar located at the top lets you sip the iconic Irish beer while enjoying stunning views of the surroundings.
National Museum of Ireland - Archaeology, Dublin
If you are interested in archaeology or are looking for more historical Irish landmarks to see, then this is a museum you shouldn't miss when you are in Ireland.
Located on Kildare Street in Dublin, it features precious artefacts from Celtic and Medieval eras. Among them are notable artworks from famous painters and objects from the Viking Age obtained from excavations.
The museum also displays an exciting array of gold items, like jewellery and decorative objects in its Ór-Ireland's Gold exhibition. There is a collection of mummified bodies belonging to the Iron Age in the Kingship and Sacrifice exhibition here as well.
14 Henrietta Street, Dublin
The building at number 14 Henrietta Street has been witness to Dublin and Ireland's evolution over 300 years. What was once a single-family home evolved into a residence that housed over 100 people, and then developed further into the museum that it is today.
The museum that stands today at 14 Henrietta Street takes visitors on a journey of how life in Dublin was experienced by its wealthiest in the 1700s and its lower middle class in the 1900s.
If you are interested in seeing this famous landmark in Dublin, make sure to explore the museum with a guided tour. The cost is included in the price of the ticket and runs on the hour or every half hour - depending on the day of the week you visit.
Rock of Cashel, Cashel
The mythical tale of Satan spitting a chunk of rock out of a cave after St. Patrick banished him makes a trip to this gothic place ever more interesting. Set atop a limestone rock plateau, this is a classic medieval building complex that consists of a 12th-century round tower, a Romanesque chapel, a cathedral, and a castle.
If you love architecture, this structure, with the influence of both Herbeno-Romanesque and German architecture, will interest you.
To make your experience more appealing, you will be shown an audio-visual presentation that takes you through the origin of the place and some exhibitions. The site also goes by the names of St. Patrick's Rock and Cashel of the Kings. You have to book a tour in advance to visit the Rock of Cashel.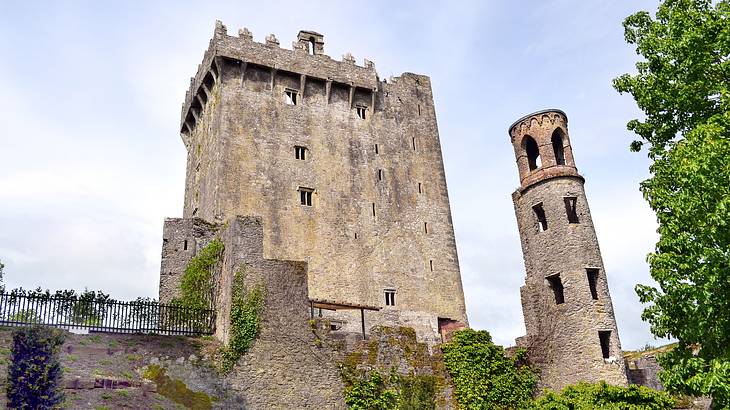 The Blarney Castle, Gardens and Stone, Blarney
The Blarney Castle and Gardens in County Cork is one of the most revered historical landmarks in Ireland. The iconic attraction here is the Blarney Stone, which, according to legend, can grant you the gift of eloquence upon kissing it.
The structure of the 600-year-old castle that looks like a war-torn hero from one angle and a mystic building from the other is fascinating to explore.
You can go for a walk in the expansive gardens of the Blarney Castle. They are well-maintained and include separate areas like the Poison Garden, the Fern Garden and Ice House, The Seven Sisters, and many more.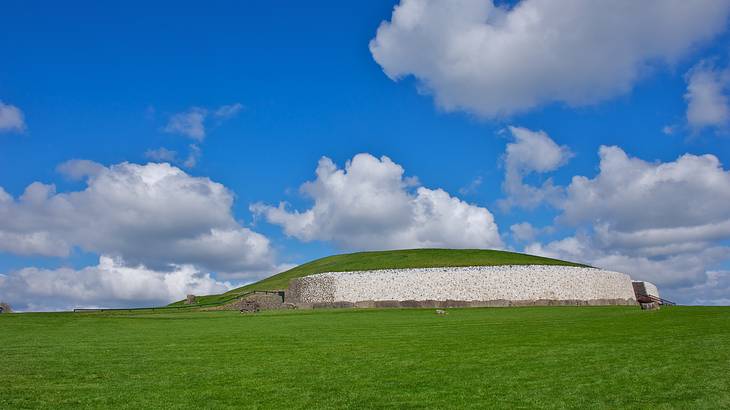 Brú na Bóinne, Donore
The UNESCO World Heritage Site, Brú na Bóinne, is one of the oldest human-made landmarks in Ireland.
Brú na Bóinne is home to a massive passage of tombs that are believed to be at least 5000 years old belonging to the Neolithic era – that's older than the Egyptian Pyramids! The main attractions here are Newgrange, Knowth, and Dowth, mounds with internal passages leading to a burial chamber.
The tombs are adorned with megalithic art that will leave you stunned about the kind of sophisticated knowledge that existed back then. Interestingly, it remains a mystery as to who and what inspired these creations.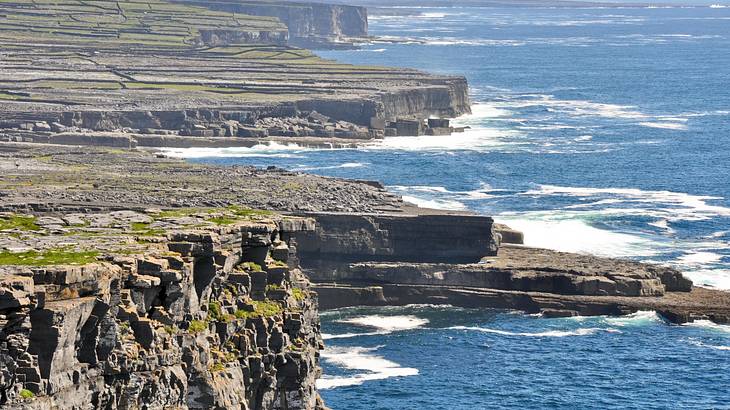 Aran Islands, Western Ireland
Aran Islands is a cluster of three islands, namely Inis Mor, Inis Oirr, and Inis Meain, located in Galway Bay towards the west of Ireland.
The beautiful yet secluded archipelago is a place that you might only come across in fictional narratives where rustic stone huts sit atop mountains and cliff-laden areas seem to reach the sky.
Inhabited by a small population of Irish-speaking natives, it's a destination that gives you a taste of traditional Irish culture. You can spend some time at the beach, visit the Inis Meáin Knitting Company, or purchase local handicrafts at the small shops here.
The ruins of O'Brien's Castle, the Plassey shipwreck, Black Fort, and Dún Aonghasa are some key attractions here.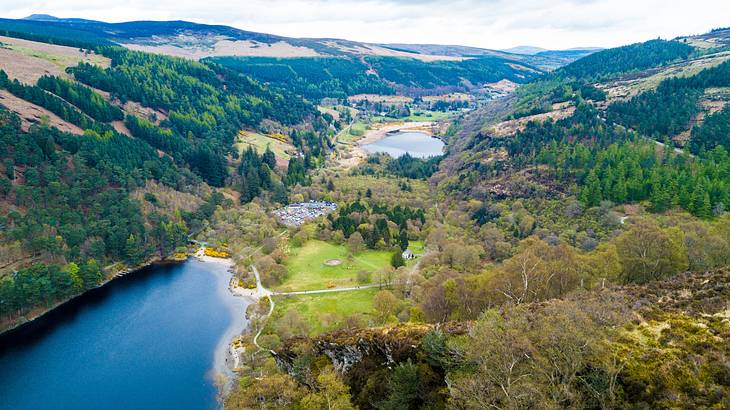 Glendalough, County Wicklow
Glendalough, a valley of two lakes in County Wicklow, is one of the best natural landmarks in Ireland. For nature lovers, it's a moment never to be forgotten.
You will love the serene views of lakes' still waters, the lulling sound of glacial streams flowing over rocks, and the lush greenery that beautifully drapes all of this. There are so many walking trails for you to pick from and will allow you to explore the nature easily as well.
Glendalough is also home to a monastic city that stood through battles and invasions, and its charming ruins are a feast for the eyes. There's a visitor centre close to the town where you can learn all about Glendalough, too.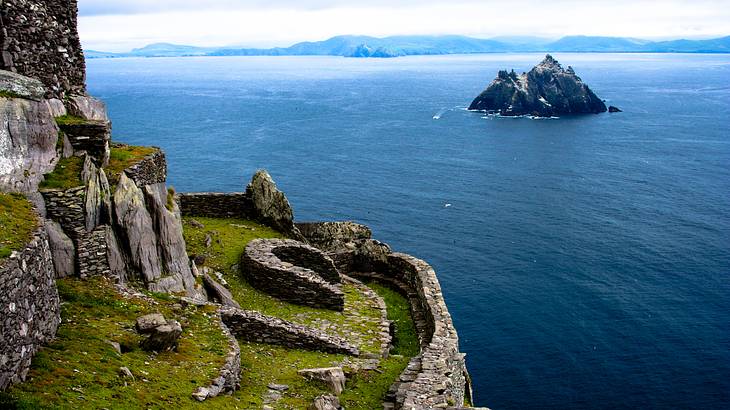 Skellig Islands, Southwest Ireland
The Skellig Islands is a unique set of rocky islands situated towards the western coast of Ireland. The largest of them, Skellig Michael, is the only one that can be explored by foot and offers you breathtaking vistas of the Ireland Coast.
The Skellig Islands remained hidden from travellers' eyes until their appearance in Star Wars, which sparked a lot of enthusiasm about them.
To get here, you have to book in advance as only 180 visitors are allowed per day. The 1-hour long boat ride and steep climb to the top are not easy, but certainly a treat for adventure junkies.
Sitting atop the island is a Christian Monastery dating back to the 6th century.
Dingle Peninsula, Southwest Ireland
Dingle Peninsula is one of the best-preserved natural landmarks in Ireland that will spellbind you. You can rent a bicycle and leisurely explore the scenic beauty of the green pastures, sharp cliffs, and sheltering mountains at your own pace. You can also drive a car if you prefer.
The town is traditionally Irish with Gaelic-speaking locals, and it has an eclectic collection of cafes, pubs, and shops selling a variety of goods. The speciality here is shops where you can purchase goods and have a good drink at the same time.
Inch Beach, an attraction here, is sporty by day brimming with surfers and romantic at night as a famous place for stargazers.
Spike Island, County Cork
As one of the most famous landmarks of Ireland, Spike Island in County Cork is where you will learn a remarkable tale of Ireland that is 1300 years old.
At first, Spike Island was a monastery that served as a secluded sanctuary for monks, and later, as a fortress that bowed down to an empire. Eventually, it was converted into a prison, the largest in the world in the mid-1800s.
It was once called "Hell on Earth," and you will understand why as you see the Punishment Block and its grim prison cells that still echo of the brutality endured by the inmates back then. You have to take a ferry ride, included in the ticket price, to get to the island.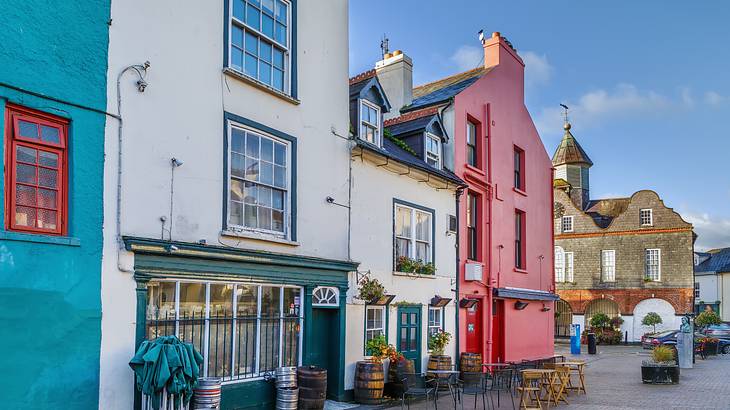 Kinsale, County Cork
A hidden gem in County Cork, on the southern coast of Ireland, sits Kinsale - a charming seaside town that has a very colourful ambience. Initially, it was a medieval fishing port, but now it's turning into a vibrant city with a lavish appeal.
Famed as the 'Gourmet Capital of Ireland,' Kinsale offers you some of the best restaurants, cafés, and bars in Ireland. It also has a range of upscale boutiques selling unique, high-quality clothes, accessories, and footwear items.
Some of the popular attractions here are Charles Fort, James Fort, and the Kinsale Museum, among others.
Killarney National Park, Killarney
Ireland's oldest national park, Killarney, offers you a plethora of nature-bound experiences that your memory may never cast aside. Situated in Country Kerry, the park spans over 26,000 acres of land and features a freshwater lake, waterfalls, towering mountains, and unique flora and fauna.
Explore its diversity by foot once you choose a hiking trail that best fits your ability and schedule. You can obtain a permit and go on a canoeing or kayaking trip for a more thrilling experience as well.
Killarney National Park is also home to the mansion-styled Killarney House that's surrounded by well-maintained gardens. So, don't forget to explore that too!
Ring of Kerry, County Kerry
The Ring of Kerry in County Kerry is one of the best hideaway spots in Ireland that presents nature in its best form; unspoiled and serene.
The 110-mile-long circular route takes you around the Inveragh Peninsula and through mountains, valleys, rivers, beaches, towns, and historic sites. Drive through the green rolling hills with your special someone, and you won't even notice the time flying by.
If you want to make your journey more enjoyable, stop by its beaches, hike its peaks or visit its noteworthy sites, like the Ross Castle, the Cahergal Stone Fort, and the Kerry Cliffs.
Leap Castle, Roscrea
Spookily, this castle in County Offaly also goes as Ireland's most haunted castle, which is why it's intriguing enough to see.
The castle's owner Sean Ryan swears by his countless experiences of sensing the active presence of spirits. Their presence has even been felt by some of the visitors to the castle.
The 16th-century manor surrounded by greenery is a sight to behold, and if you are brave enough to socialise with spirits, here's your chance. The history of Leap Castle includes many gruesome incidents in the past as well - learning about these makes for a fascinating visit!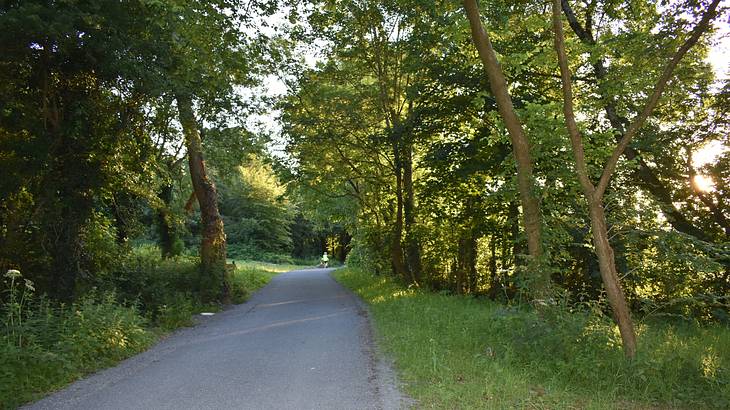 Waterford Greenway, Waterford
The Waterford Greenway, also known as the Déise Greenway, is a railway trail that runs from Waterford City to Dungarvan. The path is perfect for walking, running, or cycling. Dog walking is allowed too as long as pets are on a leash.
The Greenway is Ireland's longest off-road cycling route, covering 46 km from start to finish. The route is solely pedestrian, so no need to worry about cars when walking or cycling.
Along the route, you will encounter 11 bridges and three viaducts. You will be able to enjoy scenic countryside views along with views of the Comeragh Mountains and Dungarvan Bay as well.
Additionally, you may come across other historical and cultural points of interest on the way, including a Viking city and the Kilmeaden Castle ruins.
If up to it, you can tackle the whole 46 km. Alternatively, you can explore just a section of the Greenway. The route can be accessed (and exited) from the start of the trail located in Waterford City or Dungvaren, or at one of ten other access points spread along the route.
Bunratty Castle and Folk Park, Bunratty
Bunratty Castle is a national monument of Ireland located in County Clare. The castle was constructed in the 15th century and today is a famous tourist landmark in Ireland. Bunratty, with "Bun Raite" in Irish meaning "river basin of the Ratty river", refers to the nearby estuary.
If you are looking to make the most of a visit to Bunratty Castle, the castle and grounds are all maintained by Shannon Heritage. Included is access to the Folk Park, a 26-acre village that has been recreated with buildings and equipment from over a century ago.
There is lots to do for families. Kids (or adults) can visit the Pet Farm, explore the village and learn about Irish history or how farming and other activities were conducted in the early 19th century.
Cliffs of Moher, Liscannor
Country Clare in the Wild Atlantic Way is home to the Cliffs of Moher that are over 350 million years old. The highest point of the cliffs, with a drop of 700 feet, has an observation tower called O'Brien's Tower to give you the best, unobstructed view of the area possible.
Wherever you are along the cliffs that stretch for over nine miles, the views of the oceanic surroundings are nothing short of magnificent and will leave you in awe of nature's charms.
To make it easier for visitors, a trail was opened in 2013 to provide a better walking experience on the cliffs. The cliffs are home to unique birdlife species too, such as razorbills, kittiwakes, and falcons who fly about casually in their natural habitat.
The Lost Valley, Silver Strand
A popular landmark in the West of Ireland, The Lost Valley, is an active working farm that takes visitors on a tour to explain how the great famine impacted life in Ireland in 1845.
Various areas of The Lost Valley remain untouched and are preserved for visitors to explore on a guided tour. During the tour, you will see multiple cabins, potato plots, and piles of stones that had been cleared for farming - just as the residents left them before they left due to the famine.
The guided tour of The Lost Valley also allows you to enjoy some breathtaking views of the rolling green hills and coastal area.
Dalkey Castle and Heritage Centre, Dalkey
Located about 40 minutes from Dublin's city centre, Dalkey Castle is a famous landmark in Ireland. The castle is one of seven fortified structures in the town of Dalkey. The structures were once used to store supplies.
Dalkey was also once a port for Dublin, resulting in lots of trade items being stored and moved through the town and into Dublin.
Today, the castle is a popular tourist attraction because of the well-detailed tours they offer visitors. The tours are made realistic through Deilg Inis Living History actors that bring the tour to life, providing further entertainment to visitors.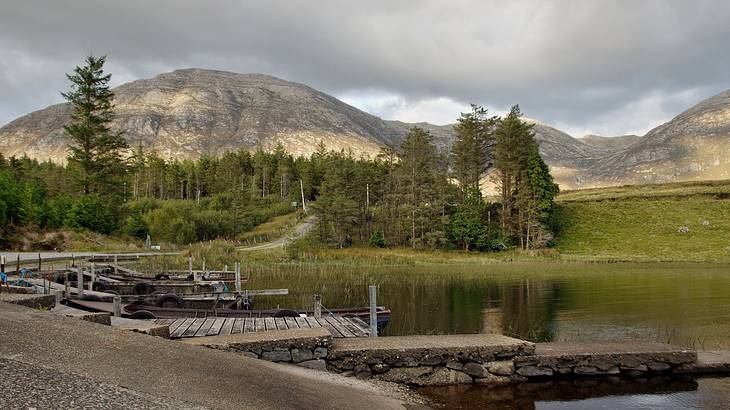 Connemara National Park, Galway
Connemara National Park, located near Letterfrack Village, is one of Ireland's six beautiful national parks. The vast park features a range of trails for all ability levels, allowing you to enjoy the scenic landscape at your own pace.
The most popular trails lead to Diamond Hill. It will take approximately two to three hours to hike to the top of the cone-shaped hill, and the views from the peak are absolutely breathtaking.
The park is additionally home to an array of wildlife. Bird watchers will be able to spot many varieties of birds from skylarks to robins and wrens. You are also likely to see rabbits and may spot foxes and wild goats, among other woodland creatures.
Be sure to keep an eye out for Connemara's famous ponies as well which have become well-loved inhabitants of the park.
If you need to refuel during your exploration, there are picnic areas across the park, or visit the park's quaint tea rooms for cake, scones, and hot drinks.
The park is open year-round, and well-behaved dogs are welcome to accompany you as long as they're kept on a leash.
King John's Castle, Limerick
King John's Castle is a 13th-century Anglo-Norman castle built on King's Island in Limerick, next to the River Shannon. It was constructed in 1200 at the request of King John, brother of Richard the Lionheart. The castle is a highly popular landmark in Ireland and is well worth a visit.
Before the Normans settled here, the island was inhabited by Vikings who began building the city of Limerick.
A visit to this impressive castle will instantly transport you back in time. You will be able to explore both the castle's interior and its surrounding buildings as well as the medieval courtyard. Inside the castle, there are a host of exhibits detailing the castle's history.
This includes exhibits with 3D models and animations which offer you a more in-depth understanding of the castle's former inhabitants and staff. Children can try on historical costumes as well, including chainmail and dresses.
Once in the courtyard, you'll get a better understanding of the sieges that took place here and you can explore the castle's chapel and blacksmith workshop.
Finish your tour by going to the top of the castle where you can enjoy panoramas of the castle's grounds. You will also get views of the River Shannon and the surrounding village and countryside.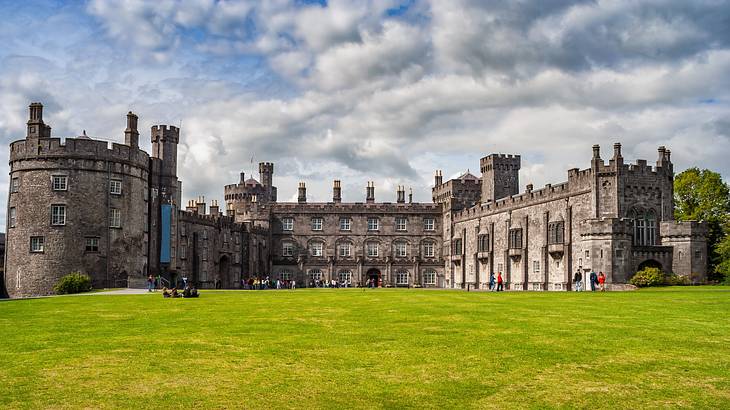 Kilkenny Castle, Kilkenny
Kilkenny Castle is located in the village of Kilkenny and was built at the end of the 12th century after the Norman conquest of Ireland. It's another famous landmark of Ireland that has been part of the country's history for hundreds of years.
A visit here will allow you to explore the stunning castle and its grounds either by yourself or with a tour guide. Despite being built in the 12th century, the castle's interior is Victorian in style due to remodelling that took place since its construction.
Inside, you can wander through over 15 rooms located across three floors. This includes the grand entrance hall and state dining room as well as a library and Victorian nursery.
Having sufficiently explored the castle, head outside to the castle park and gardens. The grounds cover 21 hectares and feature trees, colourful plants, statues, and fountains.
There is a small fee for entrance to the castle, but admission to the park and gardens alone is free.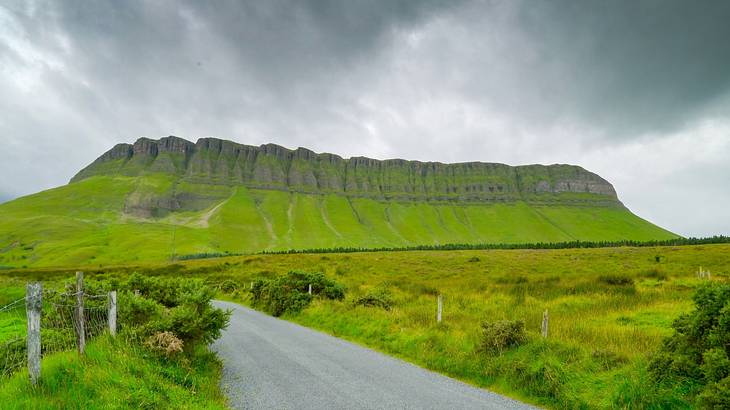 Benbulbin, Sligo
Benbulbin, sometimes spelt Ben Bulbin, is a protected site located in the Sligo County of Ireland. The rock formation is famous for its sheer grass-covered sides steeply rising to a flat top at the peak.
Benbulbin is a popular walking destination. The most well-liked walks start from the south side of the mountain as the northern side is exposed to high winds and storms, and the ascent is much steeper and dangerous.
The most frequent walk here is the Gortarowey looped walk. It is approximately 5.5 kilometres long and takes about 1.5 hours to complete.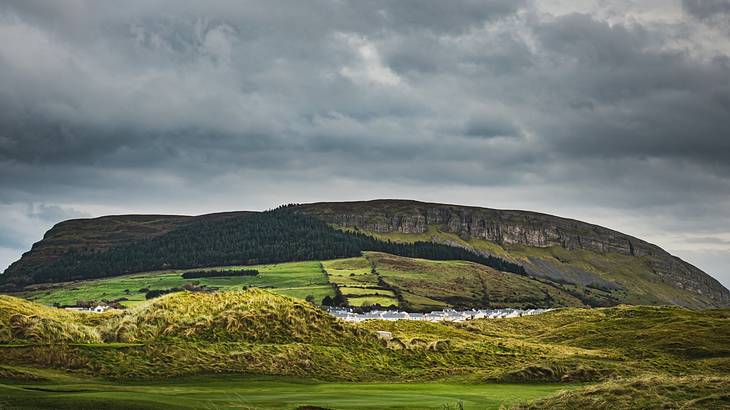 Knocknarea, Sligo
Knocknarea is a mountain located in Sligo town within County Sligo. The hill stands at 327 metres high and is predominantly made of limestone. Its name comes from a Gaelic phrase meaning "Hill of Kings", and legend has it that kings were once crowned here.
The hike to the top is relatively easy, so should be doable for most ability levels. It will take around an hour to hike to the top and close to 40-minutes to return to the bottom.
Along with taking in the beautiful panoramic views, you will want to look out for the Cairn located at the top of the mountain. Known as Queen Maeve's Grave, it's said that Maeve Queen of Connacht is buried here.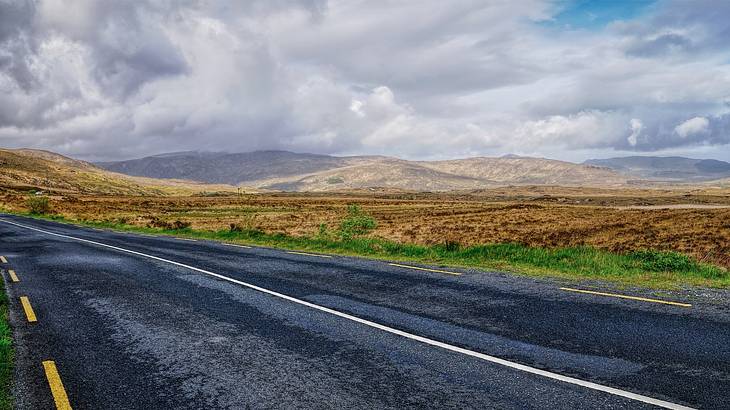 Glenveagh National Park, County Donegal
Glenveagh National Park is the second largest of Ireland's six national parks and boasts incredible vistas as well as a castle and gardens. Notable geological features within the park include the Poisoned Glen, Derryveagh Mountains, and Errigal Mountain.
Those looking to hike in the park will be spoiled for choice with a vast selection of walking trails to be found. The seven main tracks cover the entire park, and there are options for all abilities from beginners looking for a gentle walk to experienced hikers after more of a challenge.
No matter which trail you take, you will be met with striking views of sprawling forests, tranquil lakes, and tall mountains. You may also encounter a range of wildlife. Animals in the area include red deer, otters, and various species of birds.
During your visit, a stop at Glenveagh Castle is recommended. Built in the 1800s, this castellated mansion served as a highland retreat for its 19th and 20th-century owners.
While here, you can also take a look around the castle gardens complete with courtyards, walled gardens, and many types of trees and flowers. Best of all, entrance is free!
In Summary
While this list highlights the best landmarks in Ireland, the island is packed with so many more attractions that you should consider exploring it if you have more time to spare. Ireland is also popular for its festivals, so if you happen to visit during a celebration, don't miss it.
From picturesque natural landscapes to vibrant towns, everything is worth a capture in Ireland, so don't forget to bring your camera and take a lot of pictures!
If you want to get the most out of these famous Irish landmarks, I suggest you spend at least ten days roaming around the country or a few cities, but if you have less time, don't worry. Pick and choose what appeals the most to you, and create an itinerary that's most convenient and easy for you to cover.
This article was edited by Loredana Elena.
For some great articles about landmarks, check out:
---