5 Days in Sicily Itinerary
Welcome to Sicily; the home of UNESCO heritage sites, crystal clear waters, and active volcanoes. 5 days in Sicily is not nearly enough time to explore all the area has to offer, but we can try!
This 5 day Sicily itinerary takes you across the largest Mediterranean Island from East to West (if you land in Palermo, feel free to reverse it)! It is based on landing in Catania and flying out of Palermo.
Sicily will always be an enchanting daydream for me. The crystal clear waters and jagged cliffs are archetypical Mediterranean scenery. But more than that, the people, food, history, and diversity left me agape.
Where else can you drift from glass-clear seas to Greek and Roman ruins to bustling towns? Where else can you find arancini for 1 Euro and gorge yourself on raw red prawns while a local touts coconuts along the beach? I fell in love with the Island of Sicily, and I hope you do too. Especially the food. My mouth waters in memory.
This itinerary is perfect for the beach lovers who want to see the Sicilian highlights, and who want to take a break from Italian historical city attractions in cities like Rome, Venice, or Turin.
5 day guide
Average of 5 stops per day
Sicily 5 Day Article
Sicily Map
A map of Sicily. Use the map to explore all the days and stops.
Catania
Arriving in one of the prettiest cities in Italy, prepare yourself for a foray up a volcano, and a visit to the Piazza del Duomo, Parco Archeologico Greco Romano di Catania, and the Monastery of San Nicolo l'Arena.
This day will take you from soaring heights to the coastline, and still allows for some feasting.
Even though breakfast and lunch are not listed, remember to indulge in the delightful seafood and Sicilian treats that can be found around the city.
If you find yourself overwhelmed with food choices, head to the nearest dock. It's a great rule of thumb to find decent restaurants that never led me wrong in Catania.
We recommend booking your first nights accommodation in Catania.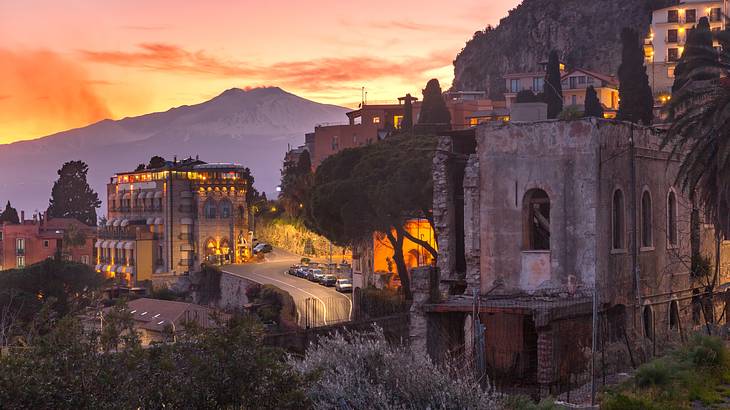 Get off to an explosive start at Mount Etna!
From Piazza Papa Giovanni (the Catania Central Station) you can take an AST company bus to the cableway/ jeeps starting point. Catching a vehicle up to the craters is a little pricy, setting you back around 60 Euros. Alternatively, you can take the cable car up, which starts at 9.am. Do be warned that during peak season the craters can get very busy.
Mount Etna is an active volcano spitting out lava streams and ash. It offers a wildly surreal landscape, some small mountainside settlements, and stunning views across the island.
Personally, I hiked up to the 2,900-metre point from Rifugio Sapienza early in the morning to see the lower craters.
There are also options like catching a helicopter flight over the highest holes to see flowing lava or taking a guided tour to reach the upper craters.
If hiking isn't your thing, you can catch a jeep to the summit area and see the spectacular views over the Sicilian island.
Piazza del Duomo
Located in the city centre, the Piazza del Duomo is packed with historical buildings and interesting sights.
For example, the Cathedral of San'Agata dominates one side of the square.
You can explore this beautiful church at your leisure, and even climb the adjacent church Basia Sant'Agata's dome for a panoramic view of the historic centre and Mt Etna. From this dome, the city sprawls out framed by the active volcano making a great picture.
The square also features a quirky elephant fountain, some excellent examples of Catanese Baroque architecture, and two palaces built in the Medieval period.
The history can get overwhelming, so grab a seat in one of the shady benches and watch the city unfurl before you.
Parco Archeologico Greco Romano di Catania
The Roman Amphitheater of Catania, built in the 4th century, is an 8-minute walk from the Piazza del Duomo.
This theatre is an epic reminder of Roman grandeur, using lava stone and radial design to remarkable effect. It was revealed in an earthquake in the mid 20th century. The Sicilian's then used parts of it as foundations for buildings.
Wear decent walking shoes as this site takes some scrambling around.
My highlight was the arches made of red brick that you can duck and clamber through.
This site shouldn't take more than an hour and costs just 3 Euros to enter. I wouldn't recommend getting a guide, as the site has informative 3D recreations and signage throughout.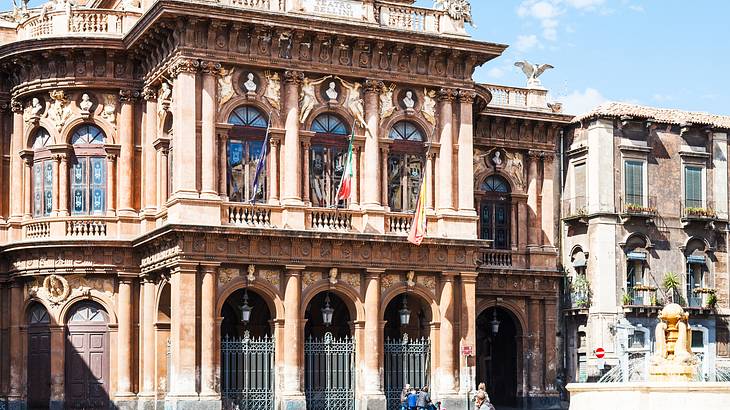 Teatro Massimo Bellini
Heading back to Catania city centre, head to the Piazza Massimo Bellini for some stunningly baroque and romantic architecture. Look for the Angel and Muse statues adorning the entrance and take a day time tour of the grand Opera hall.
This theatre is opulence concentrated. Think of red gilded boxes, sweeping golden ceilings, and a stage lit from balconies by copper embossed lamps.
The tour through the theatre is inexpensive and will guide you through the history of the Opera house, Catania, and the Italian composer; Vincenzo Bellini, for which the theatre is named.
A guided tour may also allow you to see a dress rehearsal in action. Alternatively, you can buy a ticket to see one of the frequent Opera's performed. Tickets will set you back around 60 Euros but are well worth the investment.
Dinner at Uzeta Bistro Siciliano
When in Sicily, you have to try Mediterranean seafood. Fresh prawns, bass plucked from the bay, and delicious scallops will have you writing home to rave about the Sicilian food scene. And Uzeta Bistro Siciliano is one of the best places to get an all-round taster.
They offer sampling platters filled with various sardine entrees and different types of Arancini. Besides, their mains include stripped red prawns, white wine covered bass, and a delightful range of calamari dishes.
Set in a busy local stretch of eateries, Uzeta Bistro has a variety of meals for the non-seafood lovers too! Delicious tapas and American-Italian style burgers are sure to hit the spot of any eater.
Make sure to try a glass of Malvasia as your desert, a fortified wine with a full-bodied flavour. It is bottled in Northern Sicily and is a go-to for first-time visitors to the region.
Taormina and Messina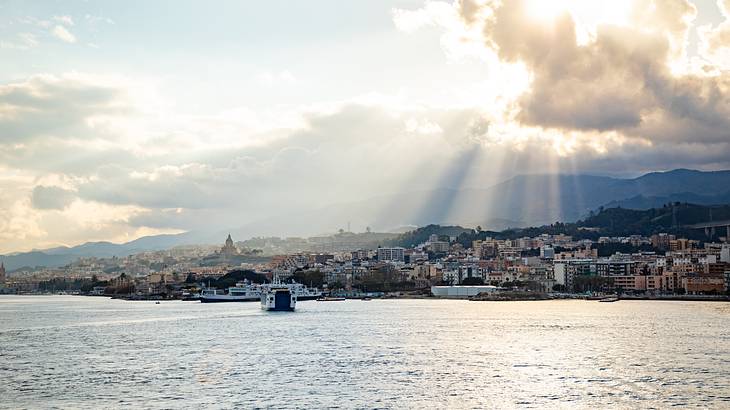 From Catania, head North to Taormina. For this, we recommend renting a car to explore and immerse yourself in Island life fully. Otherwise, it can be challenging to get around.
Alternatively, local buses do run between towns sporadically. This trip will take approximately 1 hour. We recommend booking your next night's accommodation in Messina.
Explore the Town of Taormina
First, explore the beautiful town of Taormina.
Taormina is not a large town and should not take more than 2 hours to wander through.
We recommend starting at the Palazzo Corvaja, which houses the extravagant Baroque Church of St Catherine of Alexandria in Egypt.
The church and surrounding square are built on the ruins of a Greek temple dedicated to Aphrodite. From here, follow the Corso Umberto main road, which will meander down to the coast.
Along this walk, as we head to our next stop, you will find many places to try delicious granita with fig, fresh fruit, or sweet wines. Sicily is one of the best wine regions in Italy after all!
Take your time and soak up the calm, seaside atmosphere.
Visit the Ancient Amphitheatre (Teatro Antico di Taormina)
Italy is blessed with archaeological ruins and history abound, and the Island of Sicily is no exception. It contains one of the most famous landmarks in Italy, the Teatro Antico di Taormina.
From this well-preserved amphitheatre, you will get some of the best views on the island, overlooking the Calabrian coast, the Ionian Coast, and Mount Etna. It makes for some spectacular photos with sweeping views.
The amphitheatre itself is an impressive feat of architecture, requiring more than 100 000 cubic meters of rock to be moved manually from the mountain.
Dating back to the 3rd Century BC, this Amphitheater would have likely been the scene of famous plays by Euripides, Aristophanes, and Euphorian.
To get a real sense of the import of these playwrights, speed read a condensed version of Medea or the Odyssey. The themes, characters, and motifs remain relevant today and add another dimension to this historic site.
Wear some good walking shoes so you can scramble up and down the stairs.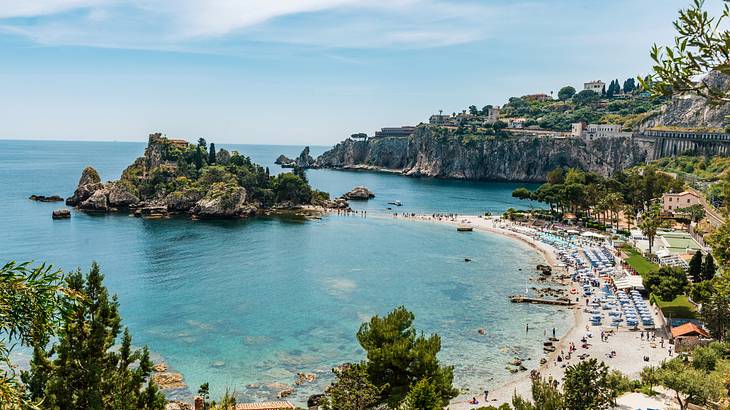 Isola Bella
Just 20 minutes from Taormina is the small peninsula Island of Isola Bella.
This spur of white sand and rock is known as the Pearl of the Ionian Sea. It has a narrow path connecting the mainland beach to the Island, which is peppered with sea caves.
Until the 1990s, this land was privately owned by Florence Trevelyan. It has since been converted to a nature reserve.
This pebble beach is arguably Taormina's most magnificent beach, and at low tide, bathers can walk across the sandy spit to explore the Island peppered with caves.
This beach is close enough that you can quickly return to Taormina for lunch.
Take a book and a towel, rent an umbrella, and soak up the Mediterranean sun and sand. If you do nothing else in Taormina, do this.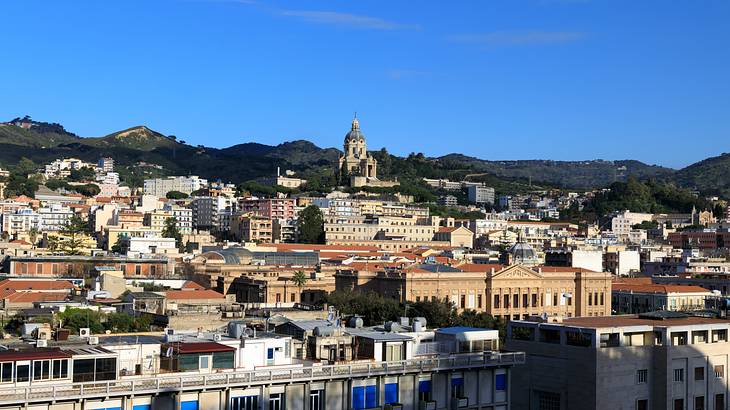 Head to Messina
Just 40 minutes onwards from Taormina is the city of Messina.
This city once served as a Greek gateway in the Mediterranean sea and has the romance and grandeur you would expect from an ancient stronghold.
Once in town, head straight to the Duomo which is an 1551 Catholic Cathedral built by a protege of Michelangelo.
Head inside to admire the architecture and cool down. The inside is covered with a series of coloured tiles and frescos. The sheer size will leave you breathless, and it's a serene escape from the Sicilian bustle.
From here you can wander down to the Messina Regional Museum which features an extensive archaeological section, sculpture collection, and a painting gallery. This tour through Renaissance art is an excellent addition to your afternoon in Messina.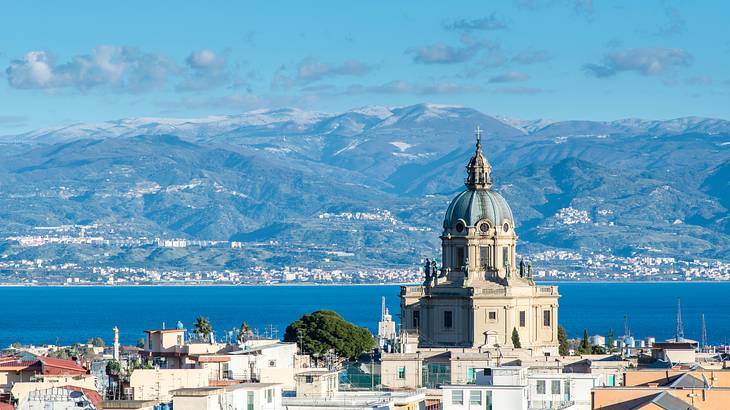 Temple Christ the King
Walk up the hill to the Temple Christ the King. This walk should take around 40 minutes, taking you through the cities cobbled streets and allowing plenty of time to grab street granita, an afternoon Aperitivo, and Arancini snacks.
It's hard to get lost in Messina as you can see the Temple of Christ the King from nearly all streets.
The Temple itself offers panoramic views across the city, to the Mediterranean sea.
Created in 1937, the monument features a delightful hexagonal design and has a sizeable ornate dome that can be climbed for distant views.
The Temple is a hotch-potch mix of Corinthian design and Baroque architecture offering beautiful views. In fact, on a clear day, you can see all the way to mainland Italy.
Isola di Salina
Located just 2 hours by ferry from Messina, the Isola di Salina is the second-largest island in the Aeolian archipelago.
You can take your car on the ferry, and it is worth having for the ease of transport.
The Island isn't particularly big and this day itinerary will take you across the Northern section of the Island.
We recommend booking accommodation in Malfa on the island and remember to book your 9.00 am return ferry.
Take the Ferry to Isola di Salina
From Milazzo on the Northern tip of Sicily, you can take the early morning ferry (8.00 am) across to Isola di Salina with your car. You will land in Santa Marina Salina. This trip will take approximately 2 hours. Siremar Caronte runs these ferries for around 60 Euro prices per person.
Additional charges apply for the vehicle; however, these change according to demand, and it's best to contact the company directly when looking at booking tickets.
On a calm day, this trip is lovely.
Take a flask of coffee and watch the waves roll by. If you end up in stormy weather, however, it can be uncomfortable. Try taking anti-nausea tablets and napping most of the way.
Faro Di Punta Lingua
A 10-minute drive on from the port down the south side of the island is the lighthouse of Lingua.
The lighthouse is a little worn, but the stony beach and spit separating the salt lake from the ocean are worth a visit.
This drive will take you across the island and show you a range of landscapes, finishing up in the town of Lingua. This beach is beautiful, and there are free umbrellas left out by the city for bathers.
This town is off the tourist route and maybe a twenty-minute drive (the longest you could take on Isola di Salina) but will take you away from the crowds to more authentic Aeolian living.
Balneabile di Pollara
This next stop can be reached by car in a 25-minute drive.
As featured in the biographic film, Il Postino, the Area Balneabile di Pollar is a cove perfect for swimming. Steps lead down from the car park to some old stone fisherman's huts. These are built on lava caves, and there are large rocks great for reading or sunbathing on.
The snorkelling in this bay is also beautiful. I visited in May, which was an 'edge' month. Because of this, there was barely anyone in the water, and I could swim out in peace. There is an ocean arch to the right of the bay that you can reach by swimming.
Also, many claim that this bay has the best sunsets on the Island. If you have more than a day to spare, take a bottle of wine and some snacks and return here to watch the sunset over the Mediterranean sea.
Dine In Style at La Pinnata del Monsu
A ten-minute backtrack to Malfa will take you to the restaurant La Pinnata del Monsu near the coast. I cannot recommend this restaurant enough.
Located on a terrace off Via Sorgente, this dining spot will spoil you with its imaginative menu, delicious seafood, and attentive staff. La Pinnata has a delightfully calm atmosphere, welcoming families, couples, and solo diners with open arms.
Try the Pistachio Clam Pasta for a spicy, reimagining of a classic Sicilian dish, or indulge in one of the owner's many homemade desserts. Overall this restaurant dining experience was one of my favourite in Sicily, and I would, without hesitation, eat here again (and again)!
Grab a sunset drink at Maracaibo Bar
What better way to finish off a sun-soaked day than with a cold chardonnay watching the sunset over a bay? Just a 7-minute walk from La Pinnata del Monsu is the cliff side bar Maracaibo.
Maracaibo serves cheap beers and house wine straight from the bottle, and this bar is a brilliant way to toast to the setting sun and enjoy the last of the sunshine.
Try a dirty beer, a mixture of lemon granita and beer, to wash down your dinner.
Be warned, this bar is a little more 'beach shack' than fine dining and doesn't have an accessible toilet.
Cefalù and Palermo
Cefalù and Palermo are beautiful towns located on the Western edge of Sicily and are a must-see when travelling Sicily in 5 days.
During the peak season, they are inundated with tourists.
But, never fear! We have a few secret spots up our sleeve to help you see the best of the North East coast and not have to fight for standing space.
We recommend booking your last two nights accommodation in Palermo in preparation for your flight out.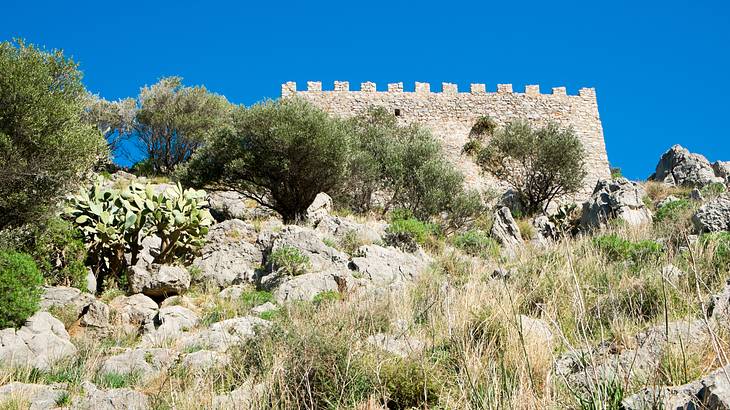 Explore Cefalu from the Norman Castle
Make sure you put on comfortable shoes for this activity!
Begin as early as you can to skip out on the hottest part of the day. Head up the mountain up the series of steps leading out of the medieval old town centre of the city. These are signposted for a 'Norman Castle'. Rocca di Cefalu is a Norman fortress 278 steps above the main Cefalu town.
From here you will see brilliant views across the bay and orientate yourself in Cefalu city. The red roofs seem to bleed into the sea and scrambling around an old Norman settlement is a lot of fun.
Just 20 minutes onwards (and upwards) from here is the Promontory of Torre Caldura, a lookout, built in the 16th Century.
On the way down, visit the Temple of Diana. Diana is the Roman Goddess of the hunt and moon. While the ruin itself is in disrepair, it's exciting to walk the ancient hallowed ground.
Lunch at Al Faro
Walk along the seafront Medieval walk (which featured in the movie Cinema Paradiso!) to find the Cefalu lighthouse. Right at its base is a great little restaurant called Al Faro, located on Via Giudecca Reef, which serves simple seafood and pasta. The terrace rests squarely on the cliff edge overlooking Giudecca Reef.
Sit a while here and watch the waves lap up over the rocks.
This side of the bay makes a nice break from the crowds on Cefalu beach.
And if you do feel like a swim, we recommend staying away from Cefalu main beach which can see flocks of thousands in peak season. Instead, scramble back along the medieval wall and clamber down onto the volcanic rocks below. Although there is no sand, you will find yourself alone here in an area perfect for snorkelling.
From here, Palermo is a one hour drive.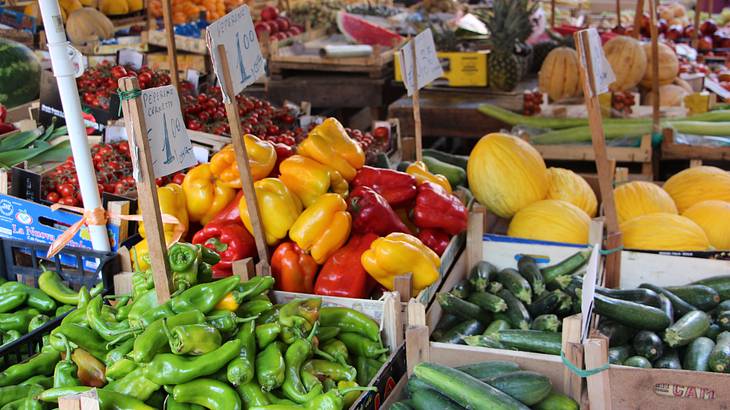 Explore the markets of Palermo
The markets of Palermo are filled with a kaleidoscope of colour and smells. Head here for an afternoon snack and try the delicious street food on offer.
Begin at Capo Market and walk the ten minutes on to Ballaro Markets.
Both are filled with local cuisine, souvenirs, and are perfect for people watching and browsing. Listen to the cries of locals touting their wares, try fresh plums when in season, and treat yourself to chocolate-covered strawberries.
Grab espressos around here and enjoy the sights and sounds of the Sicilian locality.
Personally, I make a point of visiting the markets and browsing for snacks. It's the perfect opportunity to practise your Italian and get laughed at by a fisherman or baker.
Take a walking tour through the historical sites of Palermo
From the market, walk 15 minutes toward the Norman Palace.
Palermo is the ideal co-existence of Arab and Norman art and architecture. The two empires found themselves living together from the 11th to the 13th century. Inside this palace is the Palatine Chapel (a must-visit icon in Palermo)!
Pay attention to the mosaics in the central nave, decorated in Islamic style.
From here, walk along the oldest road in the city, towards the Cassaro Cathedral. By doing this, you will travel directly under the Porta Nuova, the ancient gate to the city.
The Cathedral itself was once a large mosque and still carries a unique style because of this. The exterior is much more impressive than the interior. We suggest not spending too much time on the inside.
Finish up your walk at the Quattro Canti which is located within the walls of the Ancient city.
The Quattro Canti and neighbouring Pretoria stairs are baroque triumphs celebrating power and opulence. This will leave you only 10 minutes from the I Candelai. If you find yourself with more time and an inclination to walk, walk down to Bellini Square and onwards to the city port, dubbed the Cala.
Wine, dine and listen to live music at the I Candelai
Located off Via Dei Candelai, I Candelai is a cultural hotspot. Locals and tourists alike are drawn to the live music scene, which plays host to local and international acts.
The bar also runs theatrical performances, tango lessons, film screenings, and dance nights. Check their schedule and explore the Sicilian art scene.
When I visited I Candelai, there was an open salsa class running, and it was a lot of fun! If you're looking for something quieter, head out to the terrace and watch the city lights with a glass of wine in hand.
Trip to Corleone
Godfather fans will be pricking up their ears at the name.
Corleone is a one hour drive out of Palermo and offers a different kind of landscape and history. While ancient empires and history still rule here, Corleone's history has more recently been tied to that of the Mafia.
Keep in mind that fans of mafia movies will suffer a little here, with many of the towns historical sites more tied to the tragedies inflicted upon the Sicilian peoples than glorifying the Corleone crime families.
Even if you are not interested in mafia history, the sights, vista, and beauty of the surrounding geography are enough to enchant anyone.
Today's driving will take about 1 hour, 45 minutes one way, including detours for stop-offs (spoil yourself with cannoli and cathedrals) and we recommend getting a hotel in Palermo to return to in preparation for your flight the next day.
Monreale
Monreale, located on the Southern outskirts of Palermo, is an unassuming hillside town and is the lucky home of the world heritage listed, Cattedrale di Monreale. This massive Norman cathedral contains medieval aged mosaics preserved to near perfect condition.
From here, you can see across the Tyrrhenian sea and the Golden Valley.
The opulent gothic, gold church is genuinely astounding and makes this stop an essential highlight of Sicily. The Cathedral is unique in that William II incorporated Norman, Byzantine, Roman, Arab, and classical architecture into this one building.
Even though it was built almost a millennium past, this grand site remains breathtaking.
Stop off in Piana Degli Albanesi
Half an hour onwards is the commune La Piana, which is a small mountain village famous for its cannoli and Albanian history.
This small town has plenty to offer and an interesting glimpse into Albanian cultural heritage. The alive community keeps these traditions thriving through language and religious practice.
If you are interested, the town features an anthropology museum containing traditional Albanian clothing and historical artefacts. You can walk up through the village to St Demetrius, a Greek Rite Church that contains impressive frescoes.
But the best part of La Piana? The Cannoli! My mouth waters at the memory! Even if you skip everything else in Piana, stop and try the cannoli from the main square. These vanilla cream stuffed pastries are absolute heaven.
CIDMA (The Mafia Museum), Corleone
Three-quarters of an hour later you will arrive in Corleone.
Give yourself a minute to banish the images of Marlon Brando from your head and instead read up on the actual fierce mafia bosses who hailed from Corleone in the CIDMA.
The CIDMA acts more as an anti-mafia museum, dedicated to presenting an informative view of the Mafia. Expect no glorification here. The tour takes little over an hour and can be done with a guide or solo.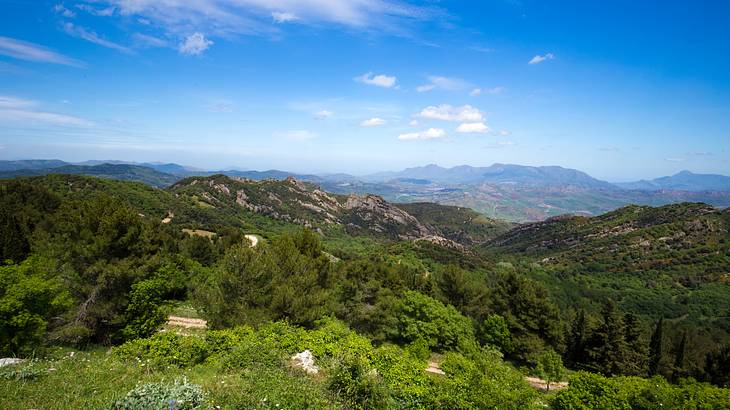 The Ficuzza Wood
Corleone lies in the Ficuzza Wood natural park which stretches over seventeen thousand acres.
Begin a walk at the Royal Palace to browse botanical gardens and wide-open lawns, or head out towards the Cascata Delle Due Rocche Waterfall for some wildlife and nature.
This natural reserve gives you the chance to see wildlife such as foxes, weasels, hedgehogs, and wolves. That's right- wolves! These rare and shy creatures don't pose much of a threat, so don't worry if you are lucky enough to see one!
Stuff yourself silly on Pizza at Frida's
After a long jam-packed five days in Sicily, you must be about ready to drop!
Take a deep breath and walk one last time to the Piazza Sant' Onofrio. Here you will find Frida's Pizzeria. It's a favourite with locals and recently featured in The Daily Mail as one of Italy's Top Fifteen Pizzerias. The place is bustling, and it pays to book ahead or arrive early.
If you find Frida's too busy to contemplate after a long day of sightseeing, do not fear! Tedicisette Pizzeria on Via Siracuse also offers some fabulous Pizza using only local ingredients. The price may be a bit higher than Frida's, but you are much more likely to find a table and all ingredients are supplied to the eatery the same day as they are served.
Closing Thoughts
Sicily offers a world of escapes. From beaches to mountains to ruins to woodlands, Sicily has it all. A roadtrip around Sicily is one of the best ways to explore it!
I know this itinerary presented a lot of choices across the island and took you the entire length of this vast area at a breakneck pace, but the island just has so much to see!
We hope whether you were swimming in the crystal waters or stuffing your face with granita, you had a blissful 5 days in Sicily.
This article was edited by Loredana Elena and was first published on Mar 15, 2020 16:02 UTC.
For more interesting articles about Italy, read:
---
---
Want to keep exploring?
Subscribe for discounts on tickets and hotels and our latest guides.
Thank you for subscribing
We will be in touch soon with discounts on tickets and hotels and our latest guides.
Want to keep exploring?
Subscribe for discounts on tickets and hotels and our latest guides.
Thank you for subscribing
We will be in touch soon with discounts on tickets and hotels and our latest guides.
Related articles