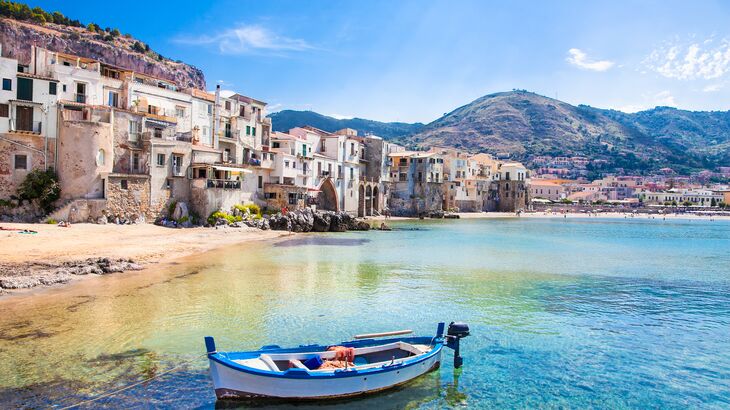 Welcome to Sicily; the home of UNESCO heritage sites, crystal clear waters, and active volcanoes. 5 days in Sicily is not nearly enough time to explore all the area has to offer, but we can try!
This 5 day Sicily itinerary takes you across the largest Mediterranean Island from East to West (if you land in Palermo, feel free to reverse it)! It is based on landing in Catania and flying out of Palermo.
Sicily will always be an enchanting daydream for me. The crystal clear waters and jagged cliffs are archetypical Mediterranean scenery. But more than that, the people, food, history, and diversity left me agape.
Where else can you drift from glass-clear seas to Greek and Roman ruins to bustling towns? Where else can you find arancini for 1 Euro and gorge yourself on raw red prawns while a local touts coconuts along the beach? I fell in love with the Island of Sicily, and I hope you do too. Especially the food. My mouth waters in memory.
This itinerary is perfect for the beach lovers who want to see the Sicilian highlights, and who want to take a break from Italian historical city attractions in cities like Rome, Venice, or Turin.
5 day itinerary
Average of 5 stops per day
Sicily 5 Day Itinerary
Sicily Map
Using the map of Sicily, you can explore all the days and stops.
Closing Thoughts
Sicily offers a world of escapes. From beaches to mountains to ruins to woodlands, Sicily has it all. A roadtrip around Sicily is one of the best ways to explore it!
I know this itinerary presented a lot of choices across the island and took you the entire length of this vast area at a breakneck pace, but the island just has so much to see!
We hope whether you were swimming in the crystal waters or stuffing your face with granita, you had a blissful 5 days in Sicily.
This article was edited by Loredana Elena and was first published on Mar 15, 2020 16:02 UTC.
For more interesting articles about Italy, read: