32 Best Places for Winter Sun in Europe to Escape the Cold
Destguides may receive commissions from purchases made through affiliate links in this article.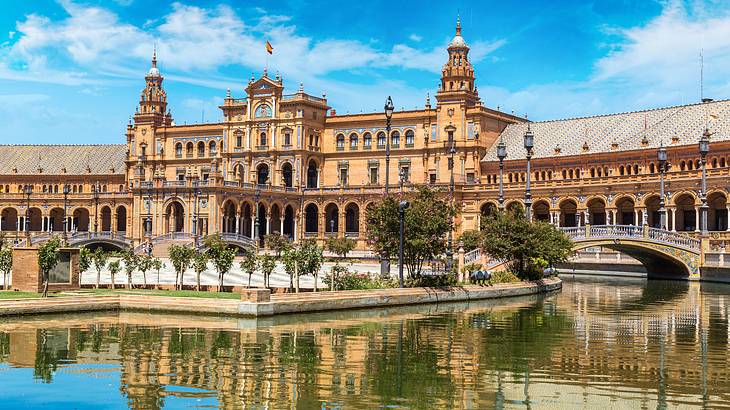 I often find myself dreaming about travelling to warmer (or at least sunnier) destinations in Europe as the rain and dark clouds start rolling into London (where I currently reside) in winter. Not only do I daydream, but my vitamin D level plummets (like most, I'm sure!).
Luckily for us, there are many fantastic winter sun destinations in Europe full of brighter days, loads of fun things to do, stunning European landmarks to visit, and more!
From Barcelona and Seville in Spain to Lisbon, Portugal, and Sicily in Italy, you will not be short of beautiful destinations to visit for winter sun in Europe.
I hope you find the list below useful and inspiring when you plan your next European winter escape.
32 Best Winter Sun Destinations in Europe
Croatian Islands, Croatia
If you are looking for where to enjoy a warm winter, the islands of Croatia are a fantastic winter sun destination in Europe.
Croatia stands out for having warm weather and hardly any rain throughout the year, which makes it perfect if you want to escape the cold.
It can be challenging to choose the best islands in Croatia to visit, and it depends a lot on what activities you want to do during your vacation.
If you are looking to relax on a beach and desire tranquility, you'll love the islands of Kornati National Park and Dugi Otok Island.
If, on the other hand, you prefer an island full of life, with many places to dine and have a drink, the island of Hvar is the perfect one for you.
If you are looking for remote coves and nature, don't miss the island of Brac and the picturesque town of Bol, which is where you will find one of the most beautiful beaches in Europe.
All the Croatian islands can be reached by ferry from the main cities of Split and Dubrovnik.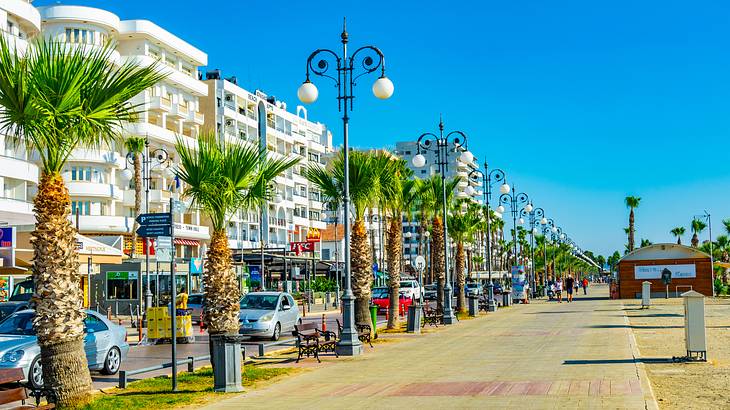 Larnaca, Cyprus
Cyprus is usually considered a summer destination where people come to spend the holiday on the beach. The truth is, it gets too hot in the summer months, but on the other hand, it is a perfect escape for the winter months.
If you consider Cyprus island part of Europe, the southernmost European point in the Mediterranean Sea is in Cyprus. The temperature is always in the two digits area. Even during the night, it rarely drops below 10°C. I don't know about you, but that's what I dream of when it snows back home.
To get to Cyprus, you will probably land at the airport in Larnaca. That's also a great place to stay, even if you want to explore more of the island. There are plenty of things to do in Larnaca, a beautiful promenade with a castle by the sea, St. Lazarus Byzantine Church, and lots of great restaurants to try.
The other thing not to miss is the Salt Lake in Larnaca. This is where you can see pink flamingos from November to February. Also by the Salt Lake is an important Islamic pilgrimage site - Hala Sultan Tekke, a beautiful mosque surrounded by a peaceful garden by the lake.
Avignon, France
The city of Avignon in Provence is a great destination to escape the winter in France (and Europe). In the summer months, the heat can be unbearable in Avignon - especially between noon and 4 pm.
In winter, instead, temperatures are never too cold in Avignon, and when the sun shines, jeans and a light jacket or warm sweater is often all you will need to explore the city's grounds.
Direct TGV trains leave to Avignon from Paris Gare de Lyon twice or three times a day, so when it's too cold in the French capital, Avignon makes the perfect weekend getaway from Paris by train.
Avignon has a fascinating medieval heritage and is a listed UNESCO World Heritage Site. It is a cultural city great for sightseeing and also enjoying the regional cuisine. The city is very compact, and you can go everywhere on foot.
Although one day in Avignon is more than enough to visit the main sights, I recommend staying at least two days or more for a full Provence experience.
The Palace of the Popes is the must-see historical building in Avignon, and the entire city seems to live and work around it. This majestic Gothic building, the biggest of its kind, hosted in the 14th century six Catholic Popes when the French King Philip Le Bel decided to move the siege of the Catholic Church from the Vatican to France.
Apart from the Palace, don't miss the famous medieval bridge (le Pont d'Avignon), built to cross the Rhône River to access the Mediterranean Sea from Lyon.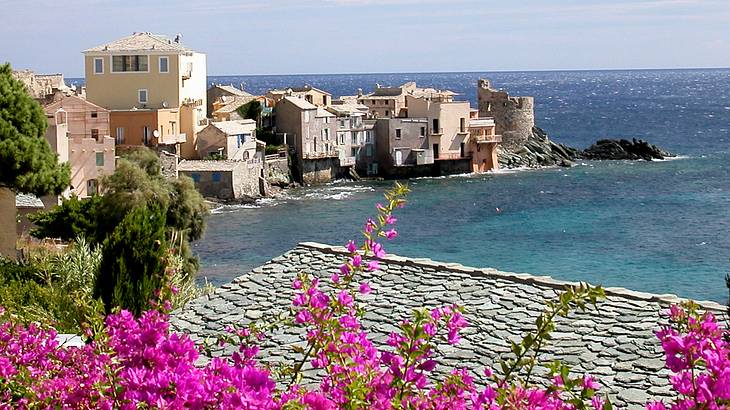 Corsica, France
Corsica Island, in Southern France, is an excellent destination for a winter getaway in Europe. Nicknamed l'Ile de la Beauté (the island of beauty), Corsica is well known for its beaches with pristine waters and natural wonders.
Located in the Mediterranean Sea, winters in Corsica are never hard, with mild temperatures that never drop below 0°C. On sunny days, the thermometer can reach up to 13°C, which is not bad!
Ajaccio is the capital of Corsica, best known for being Napoleon's birthplace. It has a pretty old town, a colorful local market, and many places related to the first emperor of France, apart from the family house.
There are many exciting and fun things to do in Corsica in wintertime, other than walking along the nearest beach. Nature lovers will enjoy boat trips to natural paradises, hiking, or cycling, but there are also small cities and pretty towns all worth a day trip.
Air France and Air Corsica have daily flights from Paris to the island, but you can also travel by ferry from Marseille or Toulon. Once here, the best way to explore Corsica is on a road trip, and many car rental companies have competitive prices.
Alternatively, stay in the cities of Ajaccio, Bastia, or Calvi, and book guided tours to explore the surroundings.
Côte d'Azur, France
While France has some excellent skiing destinations, planning a trip to France for some winter sun is a great idea as well. The French Riviera, known in French as the Côte d'Azur (Azure Coast), still experiences average highs of 13-15°C from December to March.
There is also a good chance of getting sunshine when here in winter, as the French Riviera's rainiest months are actually in the fall. The list of things to do on the Côte d'Azur in winter is endless. You can stroll through beautiful villages, such as Èze and Saint-Paul-de-Vence, which provide fantastic views of the landscape.
Or, you can visit attractions in towns as diverse as Menton, Grasse, Vence, Antibes, and Cannes. From perfume factories and art displays to museums and surprising old towns, they all have a lot to offer.
Of course, you must go sightseeing in Nice, where even in winter you will enjoy views of the Mediterranean Sea. And finally, you can even make your way to a different country altogether by heading to the glamorous city-state of Monaco. And the best part? Visiting the Côte d'Azur in winter means fewer tourists but many exciting events!
From Menton's Lemon Festival, the Nice Carnival, and the Monte Carlo Rally to the Violet Festival of Tourrettes-sur-Loup, the Mimosa Festival in Mandelieu-La Napoule, and the International Circus Festival of Monte-Carlo, there are some spectacular events to attend in this beautiful region in winter.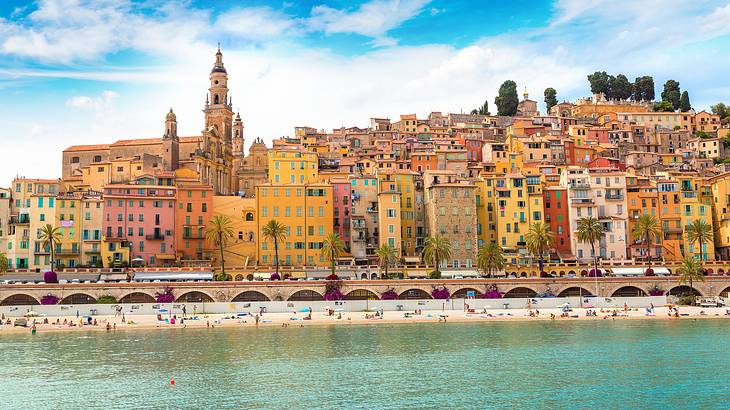 Menton, France
One place in Europe that is a great place to escape winter, and that is not that far south in Europe, is the town of Menton. Menton is located in the south of France, very close to Nice and Monaco. It is a stunning place to be, and you don't notice it is winter here at all.
On average, there are less than five days of rain per month during the winter months, and average temperatures do not drop below 12°C (or 54°F). One of the best things to see in the town is the beach along the Mediterranean sea with many colourful houses.
These houses are really picturesque and lovely to see. Also, the little streets and beautiful French architecture of the town are great. Furthermore, because of the weather, you can sit comfortably outside at many cafes, which is very fun.
Another great thing to do in Menton is to go to one of the beautiful gardens. One of the best of these is the Jardin Botanique. Also, because of the central location of Menton, you can make several day trips from the town.
For example, the city of Nice is very close-by, and you certainly should not miss out on the city-state of Monaco. There are excellent train connections that can take you there in a very short time. Thus, you should really travel to Menton in winter.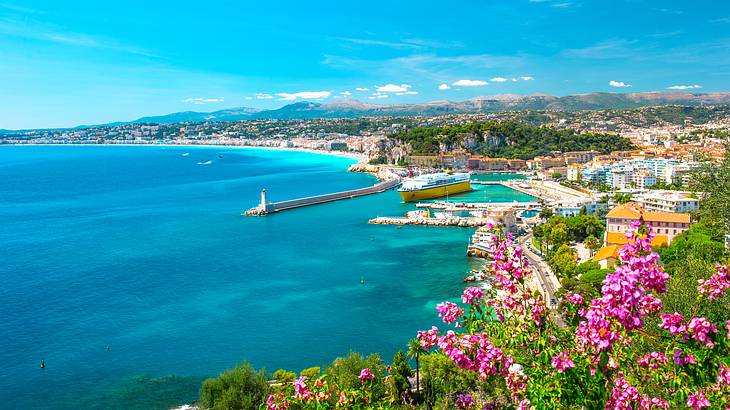 Nice, France
Nice is one of the best places to go for some sun once it's winter in Europe. With highs of up to 13-14°C in the coldest months, you can't go wrong with visiting this coastal European town situated on the Côte d'Azur in the Mediterranean.
It's also not 'too far' from Paris, that is if you don't mind hopping on a train for eight to nine hours to reach here. Thus, if you are planning on visiting this part of France, it's best to spend at least a weekend in Nice.
Aside from exploring its infamous Promenade des Anglais and other famous French landmarks, you can also hop over to the city-state of Monaco or take a half or full-day trip to Eze. Your options are really endless here, so come and stay for a while!
Batumi, Georgia
Batumi, Georgia is a wonderful place to visit all year long, but the best time to visit it is in the colder months. The city is not too packed, so you can get excellent value for your money and enjoy a warm seaside getaway.
You can go for long walks along the promenade, which is surrounded by beautiful views of the Black Sea, get lost in the winding lanes of the old town and go on the hunt for street art.
Batumi is also full of some quirky sculptures; the most famous one being Ali and Nino - two lovers that move, interpenetrating each other. Be sure to take the cable car to the nearby mountain to see some of the best views of Batumi and the Black Sea.
Another popular spot for views is the botanical garden, which is located a bit beyond the city but is worth a trip. The garden itself is fascinating too; you can find some exotic plants not typical to the area here.
Lastly, don't miss the local market that has so many delicious goodies! Georgian food is one of the best in the world and eating out in Batumi is a real treat.
You can't leave Batumi without trying the most popular local dish - Adjarian khachapuri - a pastry with egg, cheese, and butter. There are so many things to do in Batumi, so you will enjoy your time here for sure!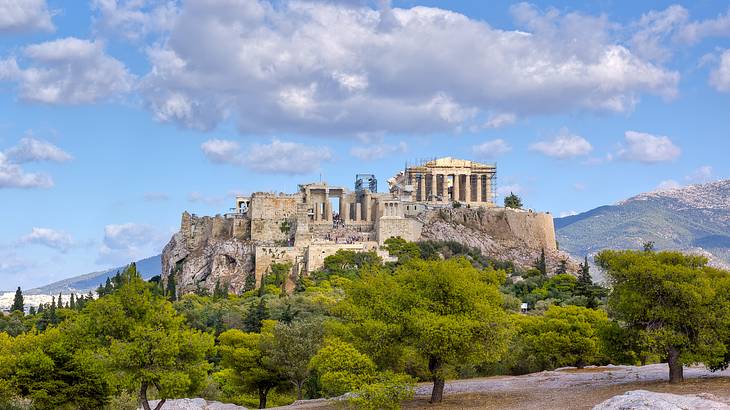 Athens, Greece
Want to feel like a Greek god or goddess? Then visit the capital of Greece, Athens, in the wintertime! Not only will you experience highs of up to 15°C in the winter months, but you will get to enjoy remarkable ancient Greek landmarks all to yourself (mostly).
Apart from the famous monuments, things to see and do here include watching the changing of the guard at either the Presidential Mansion or the Tomb of the Unknown Soldier, exploring the Acropolis Museum (either before or after visiting the Acropolis itself), joining a free walking tour and more!
I would recommend spending at least two days in Athens to make the most of your time here, and to really get to know the city.
Chania, Crete, Greece
Crete is a lovely place to visit in winter, and Chania is its cultural capital and one of the best places to stay in Crete. This city in Western Crete is a perfect European winter escape as the weather stays in the 10-17°C range.
So while you'll want a jacket, and you certainly won't be spending time in the water, you can still enjoy everything that lovely little Chania has to offer.
Start with the Venetian Harbor and the gorgeous lighthouse. Enjoy some Cretan cuisine at one of the town's tavernas located right alongside the harbour with amazing water views.
While not every restaurant in Chania is open year-round, the ones that are are the ones most frequented by locals (and thus have customers coming in when the tourists all leave), so you know you'll be in great hands!
If you do find a day is a bit on the chilly side, you can happily warm up with a Greek coffee or two, plus you can end every meal with a hearty glass of Cretan raki. Nightlife in Chania does quiet down during the winter, but there are still fun spots to enjoy!
You can take day trips to some of the area's most lovely spots, including a visit to our favourite beach, Seitan Limania. Yes, this beach is so beautiful that even in winter, it's worth a visit (just dress for a little wind)!
Rethymno, Crete, Greece
Rethymno city has a rich history and is located in the north of Crete Island in Greece. This Cretan city attracts many tourists throughout the year.
Even though the peak season is the summer, visiting Rethymno in winter is a great way to escape from colder climates and enjoy the sun while learning about Greek culture and history. Keep in mind that the temperature stays relatively warm between 9 - 16 °C.
In winter, you can easily find a good hotel in the town centre, which is also affordable since the prices drop during the off-peak months. In this way, you are only a walking distance from most attractions.
By strolling around the Old Town, you will pass the cute narrow streets where there are several Venetian and Turkish architecture, including temples and public buildings.
When you are in Rethymno, visiting the Venetian castle of Fortezza is a must. This unique and outstanding monument is located at the top of Paleokastro hill on the west side of Rethymno town.
After visiting the castle, you can continue walking towards the Venetian Harbour of Rethymno to eat at one of the waterfront restaurants and watch the sunset. This is where you can see the Egyptian lighthouse.
Santorini, Greece
Visiting the island of Santorini in the off season is one of the best ways to have a crowd-free Greek holiday. Compared to the busy summer months, winter is the most affordable time of the year to visit, especially if you want to rent one of the beautiful seaview Airbnbs in Santorini and relax in a hot tub.
You can enjoy the volcano views and walk along the cobbled stone streets of Oia without bumping into 200 other tourists, and experience more of the local way of life in Santorini.
Other popular things to do in winter in Santorini include visiting the local wineries for wine tasting and taking beautiful (crowd-free) photos of the scenery and sunset that make the island so popular year-round.
Some several churches and museums are open during the winter, including the Orthodox Metropolitan Cathedral, the Cathedral of Saint John the Baptist, and the Museum of Prehistoric Thira.
The winter months are also a great time to enjoy the restaurants in Fira, such as Pelican Kipos, Yogi and Erotokritos. However, opening times can vary at this time of year, so it's worth checking their hours in advance.
Cagliari, Sardinia, Italy
The lovely capital of Sardinia, Cagliari, is a wonderful place to escape the cold winters of Europe. With an average daily temperature between 12 and 15°C in January, the chances are that when the north of the continent is covered in a blanket of snow, Cagliari is enjoying a balmy sun, which makes it incredibly pleasant to explore.
Though you won't be able to swim in the sea, you will still have a chance to enjoy the many local beaches. Poetto Beach, for example, is a fantastic place to go for a walk any time the sun is out.
It is also the easiest place to access the Molentargius Nature Reserve, which is where you can enjoy bird-watching and even admire pink flamingos.
Cagliari is packed with good museums – the best one being the Museum of Archeology – and art galleries. Archeological sites, such as the Roman Amphitheater and Punic Necropolis, are scattered throughout the center of the town.
The four historic quarters – Castello, La Marina, Stampace and Villanova – are a maze of colorful alleys, beautiful churches, cozy coffee shops, and a variety of different restaurants and wine bars.
As Cagliari sits on hills that overlook the Mediterranean, incredible sunset vistas will be plentiful. For the best sunset, head to Via Santa Croce in Castello. As the sun sets behind the Sette Fratelli Mountains, the light over Stampace is magnificent.
Once the sun sets, you can head to Café Libarium Nostrum – right on Via Santa Croce – for one of the best cocktails in town.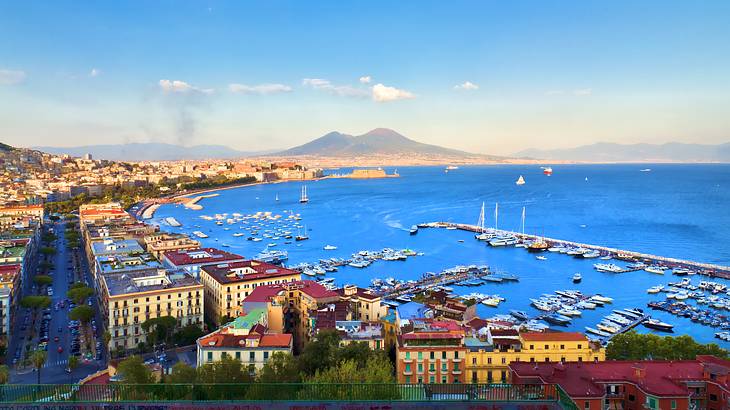 Naples, Italy
If you are looking for a sunny destination in Southern Italy, Naples will be the perfect place for you. Located only a couple of hours away (by train) from Rome, Naples is home to some of the most famous archaeological sites in Europe. It was both a Greek and Roman colony, which means that there is a lot to see and learn.
Temperatures in winter are pretty mild, and it's always a very sunny place. You will find a lot of bars and cafes with terraces, as people from Naples love being outside.
If you are a foodie, it will be your paradise. Naples is the birthplace of the Italian pizza and espresso. The most famous one is the pizza Margherita, which was created to honour the unification of Italy in 1870.
You will notice that it features the colours of the Italian flag. Tomato for red, basil for green, and the dough for white. Another typical dish is the pizza fritta. You will find it everywhere in Naples.
Pro tip: a pizza Margherita should cost between 3 and 4 euros. If it's more than that, the restaurant you are looking at is a tourist trap. The best places to visit in Naples are Naples Underground, Cappella Sansevero, Castel Nuovo, and Piazza del Plebiscito.
You can also opt for a day trip from Naples to Pompeii, Mount Vesuvius, Capri Island, or the Amalfi Coast. Winter is an excellent time of the year to visit Pompeii. It's less busy and hot, which makes it a more pleasant experience.
Puglia, Italy
Puglia in winter feels magical. While the sun may not have the strength it has in the summer; it is still very warm and bright. The tourists are much fewer in autumn and winter, making it a great time to explore this beautiful region of Italy.
The UNESCO World Heritage Sites of Matera (just outside of Puglia) and Alberobello are lovely to explore, particularly in winter when at times it will feel as if you're the only one around.
This is an excellent region to bike around too, and the colder months are the perfect time to cycle through the gnarled up olive trees which this area is so famous for.
Puglia is great for a family holiday in Italy as there are some gorgeous places to stay, including masserias, which are converted olive mills that are packed full of character.
Take a cookery class, find out how mozzarella and olive oil are made, or go for walks along deserted beaches - these are just a few of the activities on offer. Puglia is often about slow travel and enjoying this more rustic area of Italy, and this is never more true than visiting out of season. It is perfect for the soul.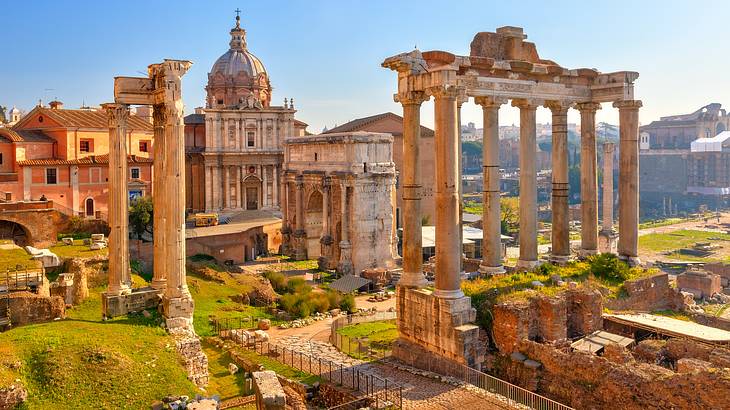 Rome, Italy
Rome, Italy is the perfect place to escape to in Europe in winter thanks to its milder weather and sunny skies. Come in between December to February to skip the rainier months and experience highs in the range of 10-15°C.
Apart from the weather, you will also not have to deal with as many tourists and queues by visiting in the offseason. I would still recommend booking tickets in advance though for some of the famous Italian landmarks in Rome, like the Colosseum, as lines are guaranteed year-round (it is the Colosseum after all).
You will also have some attractive accommodation options to choose from at a lower price during this period (yay!). Other things to do when in Rome for a few days include eating endless amounts of gelato and pizza, walking until your feet hurt (literally), and visiting the Vatican City.
If you're looking to sit on or stroll along a beach, then check out the many great beaches near Rome. If you want to get lost among a neverending list of ancient Roman ruins underneath a crisp, sunny sky (ps. bring a coat), then stick to the city.
Sicily, Italy
Sicily in Italy is a great place to visit in Europe for some winter sun, especially if you are a history lover and are looking to avoid the crowds and experience Sicily all by yourself.
The beautiful island of Sicily has always been at the crossroads of many different empires. That is why it is historically rich and culturally vibrant.
In Sicily, you can see magnificent Greek ruins at the Valley of Temples in Agrigento, sample extraordinary Roman mosaics at Piazza Armerina, and be awed by Sicilian Baroque architecture of Val di Noto. And you can get fantastic pictures for your Instagram without people hovering in the background.
Quite a few resorts are open during winters, and the otherwise touristy town of Taormina is surprisingly calm. Culture lovers will also enjoy Siracusa's Feast of Saint Lucy in December and Agrigento's Almond Blossom Festival in late February. And if you are looking for adventure, make sure to include skiing on Mt. Etna on your Sicily itinerary!
Sicilian winters are milder than anywhere else in Europe. Temperatures can be as high as 20 °C or 68 °F because of hot winds from Africa. And it is almost always sunny.
There are a few cold spells, but they do not last longer than a few days. However, it is still advisable to wear coats and sweaters because of a cool light wind that blows through the island.
Malta
While the rest of Europe is experiencing rain, clouds, and pretty much freezing temperatures, Malta provides the perfect escape.
The island experiences sunshine year round, including December to February, with stable temperatures made for being outdoors and an average temperature of around 14°C. This mild temperature allows for exploring the island, its landscape, culture and all that it has to offer in cool but sunny weather.
Don't miss a visit to Valetta, Mdina, and Balutta Bay, just to name a few. The weather may even be good enough for a visit to one of the many beaches that Malta is famously known for.
Reduced prices on hotels and a lower number of tourists as compared to the summer months are other benefits of visiting in winter.
Christmas is also a festive time all around with the city's main streets lit up and adorned with lights, trees, and garlands. Participation in churches increases around this time with a special attendance on Christmas Day and Midnight Mass being the main event.
Taking part in these festive traditions is one of the best things to do in Malta to get a better understanding of the island and its people.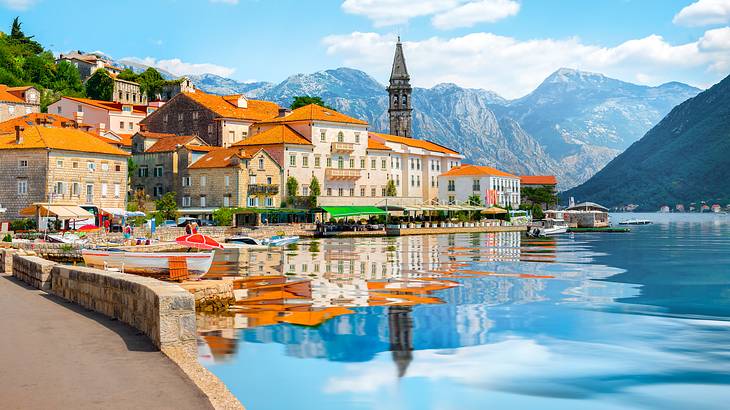 Bay of Kotor, Montenegro
Montenegro, especially the Bay of Kotor, is an ideal place for a winter escape. The northern portion of this small Balkan nation's Adriatic coastline is known only simply as 'The Boka.'
The Baka is made up of picturesque coves flanked by bald, teal-tinged hills that unfurl into an endless sea of turquoise. It's gorgeous any time of year, but winter is a great time to visit for several reasons.
Winter is quieter in Kotor, especially, as fewer cruise ships are pulling into port. That means you're more likely to find some solitude on the cobbled streets of the UNESCO Old Town – even if it does mean that you have to sacrifice on beach time and water activities.
If you're on a road trip around Montenegro, there's more good news: you'll be able to find a car park with relative ease.
Rain is not uncommon, but there are plenty of sunny days in between. Because the Bay of Kotor is such a seasonal destination, many of the tourist restaurants and cafes close for the winter – a great excuse to eat locally instead.
Along with Kotor and the bigger cities of Budva and Tivat, take the time to discover some of the smaller towns along the bay, including Risan, Sveti Stefan, and my personal favourite, Perast. Further north, near the border with Bosnia and Herzegovina, Herceg Novi is also worth a look in.
If you can, time your visit for Kotor's Winter Carnival, a massive celebration that runs for two weeks in the lead-up to Lent (typically starting in late January or early February). Masked balls, street performances, and parades pay homage to the city's Venetian heritage.
Algarve, Portugal
The Algarve region in the south of Portugal is an excellent area within continental Europe to go for winter sunshine. This sunny Portuguese region boasts beautiful sandy beaches, picturesque bays, rugged coastline, and crystal-clear water. Sunny and warm days are perfect for enjoying beaches and practicing outdoor activities.
The Algarve offers a wide range of activities, such as hiking, surfing, kayaking, diving, and more. Hiking trails vary from easy day-routes to more challenging multi-day treks. Whichever one you choose, the scenery won't disappoint you.
The great thing about hiking in the Algarve in winter is the weather; it's warm and sunny most of the days, but not too hot like it gets in the summer.
There are many unique attractions in the Algarve to include on your holiday itinerary. Cabo de São Vicente, Ponta da Piedade, Carvalho Beach, and the Benagil Caves are not to miss when here.
The best way to explore the Algarve is by renting a car in Lisbon and driving south, stopping at different towns and villages along the way. There are also public buses that connect the various regions with Lisbon.
Algarve is far less crowded and busy during the winter, which means you don't need to book and arrange your trip long in advance. Another advantage of visiting this area in winter is the lower accommodation prices. You can get a charming hotel room, or rent an apartment, for half the regular price.
Douro Valley, Portugal
The unique landscapes of the Douro Valley in Northern Portugal make this wine region one of the most beautiful in all of Europe. Rolling hills with vineyards growing up the steep slopes, a winding river flowing through the middle and some of the oldest wineries in the entire world - the Douro Valley is truly a special place.
It also makes an excellent destination for off-season travel. You won't find hot temperatures during the winter, but you can expect to see a lot of sun with comfortable temperatures from 15-20's(ºC) during the day.
When I visited during the winter of last year, I was pleased to have sunny weather for the duration of my stay. You should still always prepare for rain and bring warm clothing when travelling during the winter months.
There are a few activities that you cannot miss when you visit the Douro Valley. Take a tour of one of the many historic vineyards and taste some of the famous Port wine that has been produced here for centuries.
Wine production in this region dates back over 2000 years! The Douro Valley has been listed as a UNESCO World Heritage Site and is the oldest wine-producing region in the world.
Another great activity that you shouldn't miss out on is taking a river cruise along the Douro River. Take in the stunning landscape views as you float along the river on a relaxing boat cruise. Half-day cruises depart regularly from the village of Peso da Régua.
Lisbon, Portugal
When you are tired of the cold, dark winter blues, Lisbon is the answer to your prayers. It is the capital of Portugal and the best city to visit in Europe in winter.
Warmer and sunnier than most European countries during this time of year, Lisbon's welcoming clear blue skies, bright sunshine, and 16°C temperature make it an attractive winter destination in Europe.
Aside from providing the much-needed sun and warmth, Lisbon's winter temperature is the best temperature for exploring its many hills. As it is the low season, the charm of Lisbon will not be lost in the crowd, and one can enjoy a coffee break without having to queue for it.
Best of all, you can enjoy a sweet pairing of coffee and pastel de nata in peace (Portugal's famous custard pie).
One of the things to do in Lisbon is to admire the city and river views from the top of the Rua Augusta Arc for EU2.50, or do it for free on the centrally-located miradouros, Portas Do Sol, Graca, or Santa Luzia.
Wander around the colourful neighbourhoods around the city centre, such as Alfama, Baixa Chiado, and Bairro Alto. Then, take a day trip to Sintra to see the impressive structures of the Quinta de Regelaria Villa and the Castle of the Moors.
Tavira, Portugal
Are you looking to escape the winter to an area known for its year-round sunshine? The somewhat hidden gem of Tavira, one of the prettiest towns on the east side of the Algarve region, is less than 30 km (or 18 miles) from the Spanish border.
The best way to explore Tavira is on foot. Meandering through its streets and alleyways, you can't help but be smitten by its charm. From beautiful latticework doors with Moorish-influenced door knockers in the shape of hands to colourful azulejo tiling on whitewash buildings, there is a lot to see and explore here!
What makes this town so unique? It's virtually remained unchanged with its traditional Portuguese characteristics and Moorish influences that are still very much evident.
You will also not want to miss these architectural gems - the Renaissance church built in the 16th century (Church of Mercy), the 13th-century gothic style church (Church of Saint Maria), or the seven-arched Roman bridge that spans the slow-flowing river of Rai Gilão from the 1100s. 
After you have explored the town, it's time to head to the beach! Tavira offers visitors a beautiful coastline with several golden sand beaches with warm turquoise water all year-round.
Take a short ferry ride to the beaches on the Ilha de Tavira, where the Praia de Tavira, Praia da Terra Estreita and Praia do Barril can be found. The Ilha de Tavira is separated from the mainland by the lagoons and waterways of Parque Natural da Ria Formosa, and it is really an incredible sight.
Barcelona, Spain
Barcelona in winter is a great place for moderate temperatures at around 10-16°C. You wouldn't be going to the beach necessarily at this time, but you can bask in the sun during the day.
Wintertime is also an excellent time to visit because the summer crowds have disappeared, and you can explore some of the most famous sites without having to line up in long queues. Prices are also down for this reason, so you can snatch a few deals on accommodation as well.
It's also a pretty magical time of year to visit because the festive season is in full swing. The streets are lined with holiday decorations, and there are some gorgeous markets to explore.
Two of the most popular Christmas markets include the Santa Llucia Market, which has over 300 stalls, and the Old Market around Gaudi's magnum opus the Sagrada Familia, which has been going since the 1960s. Visit Catedral de Barcelona during Christmas time to see some of Catalonia's fascinating traditions, like the nativity scene.
There's also no real "off season" in Barcelona, so even if you've missed the Christmas festivities, you can still enjoy all the famous Catalonian food from the Michelin-awarded restaurants.
As the crowds are still minimal, you can visit the best sites reasonably quickly, like Casa Batllo, and explore the local culture by walking around La Rambla and El Gotic (the Gothic Quarter).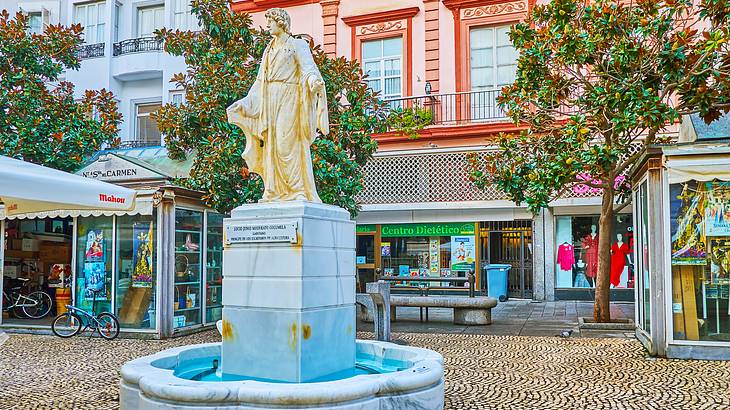 Cadiz, Spain
Cadiz, a town small enough to explore on foot over a weekend, is a place you should check out when you are planning to visit Spain. Cadiz city is one of the longest continually inhabited cities in Europe, and it is boarded by the Atlantic ocean.
Even from November to March, the temperature remains pleasant from 18 to 20°C, so you can enjoy a sunny afternoon while exploring the city's market. Cadiz is 3000 years old, so there is no denying that it has its own culture and traditions, and unforgettable gastronomic tastes.
There are 83 beaches spread across 260 kilometers of coastline, many of them easily accessible via the city's bus network. One of the best things to do in Cadiz on a winter afternoon is to take a stroll around its ancient center, which you can easily cover in less than three hours.
This walk's main attraction is the sights you will encounter as you walk along the way and the sun sets down behind the iconic cathedral.
Make sure you visit the Mercado Central de Abastos, the oldest covered market in Spain. You can get fried baby squid tapas at this market, but make sure to reach before 2:00 pm on weekdays as the market closes after that and is not open on weekends.
One more thing, even if you are coming in the winter season, try to look for air-conditioned accommodation as the old buildings made from bricks tend to trap the heat inside even during the winters.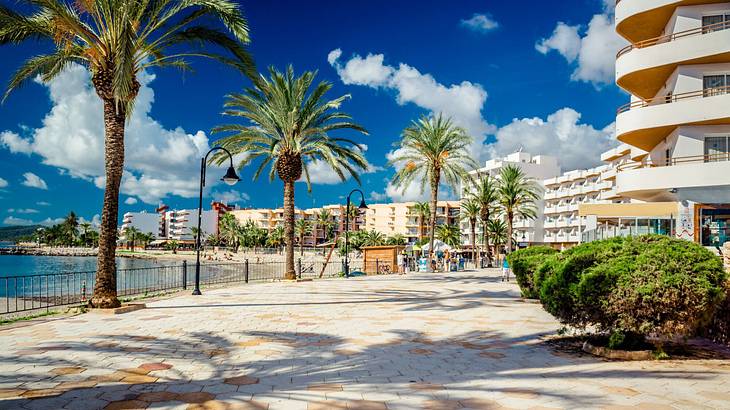 Ibiza, Spain
Winter is a fabulous time to visit Ibiza. Not only is the weather warm and mild, with an average temperature of around 11°C, but it is also enjoyable and sunny too.
As soon as the summer leaves with its regular tourists, the winter life in Ibiza comes into action. The town is not crowded, so places to stay in Ibiza, food, and other activities are relatively cheap during this period.
Also a family destination, there are a lot of things to do in Ibiza in winter. First, there are more than 80 beaches in Ibiza, and it's never a dull moment at the beaches, which you can choose based on your preferences.
From famous beaches to quiet, lesser-known strips and hippie beaches to family beaches, the island has it all. Not to mention, Ibiza is also known as 'the white island'.
There are many good churches to visit as well, such as Puig de Missa church, San Jose church, and Santa Gertrudis de Fruitera, among others. The weather is perfect in winter too to do some hiking to enjoy the nature and panoramic views of the area.
If you are a party person, head over to the old town for all-night parties. The nightlife on the island of Ibiza in the winter is as bubbly as it is in the summer, though some clubs are closed. There are also some villas available for parties.
Don't forget to visit the hippie market of Ibiza in Sant Jordi. Music, good food, handmade souvenirs, leather stuff, and more will result in you spending a good number of hours here.
While Ibiza might not get as cold as other European cities at this time of year, don't forget to pack a jumper and a jacket to avoid that nip in the air at night.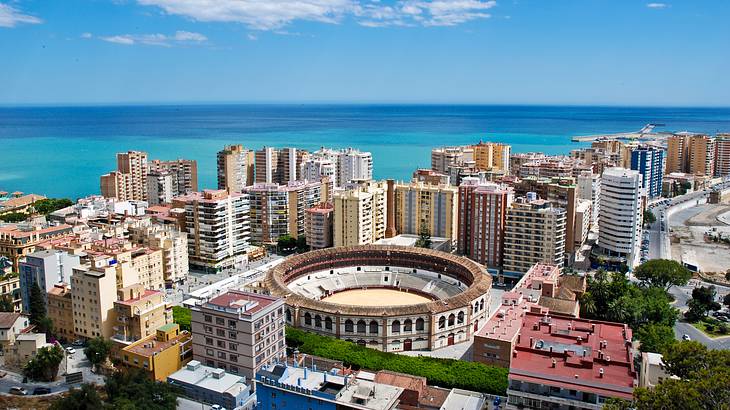 Malaga, Spain
Malaga in southern Spain is the perfect place for a decent amount of European winter sun. With more than 320 sunny days a year, the capital of the sunshine coast is boasting with historical sites, breathtaking views, beaches, nightlife, shopping, and tapas bars.
The beautiful weather all year round makes Malaga a perfect city to sit outside in the pleasant winter sun to have lunch or a drink at day time.
There are a few points of interest you should not miss on your visit to Malaga. First of all, the Moorish fortress La Alcazaba, which is located on a hilltop overlooking the city, makes for a beautiful walk and is a stunning landmark. The fortress is protected by two sets of walls and contains mesmerising gardens as well as a palace.
Just down the hill from Alcazaba, you can find the Roman Theatre that hasn't been used since the 200s. Castillo Gibralfaro is another hilltop fortress that should not be missed and can be seen on the emblem of the province of Malaga.
Further, Malaga Cathedral is a beautiful combination of Renaissance and Baroque styles and the 84 meters tall north tower is the second tallest in Andalusia.
But Malaga is also Pablo Picasso's birthplace; thus, you should visit the Picasso Museum. Insider tip: The museum has free entry on Sundays.
If you have enough time, there are many incredible day trips from Malaga to picturesque hillside villages, beautiful hiking scenes, and breathtaking beaches.
Mallorca, Spain
The Spanish island of Mallorca is an outdoor-lovers' paradise, and that goes for the winter months too! While it's a fantastic place to visit at any time of the year, come winter, you'll be able to enjoy the pristine beaches, charming villages, and hiking trails in near-solitude.
In winter, the blazing heat of summer subsides, but the clear blue skies continue. Expect daytime temperatures in the mid-teens and long sunshine hours - the typical southern Mediterranean climate. Although in the mountain ranges, snow isn't an uncommon sight!
Spend your days getting acquainted with the local life in Palma, the island's capital. You'll be able to enjoy shopping in beautiful boutiques, explore historical monuments, and eat at a wide range of restaurants without competing with the crowds.
If a slower pace is more your style, head over to Soller via the Soller train to enjoy a seaside walk in the colourful town. And if you're into cycling, you're in luck, as the island's winding roads and breathtaking scenery make it an excellent choice for a riding holiday.
Although your accommodation options will be more limited in the winter months, you'll be able to pick up some great off-season deals if you shop around.
Seville, Spain
Winter is actually the best time to visit Seville, especially if you want to avoid both oppressive crowds and unbearable heat. Summer temperatures can top 40°C here, while in winter high temperatures are a delightful 16°C.
You can dine al fresco on the terrace of one of Seville's many tapas bars and enjoy the views in the beautiful neighbourhood of Santa Cruz.
And you won't have to share Seville with so many other tourists in winter either, although it's still a good idea to buy online tickets in advance for the Alcázar.
This spectacular Mudejar-style has become exceptionally popular in recent years after it was used as a filming location for Game of Thrones. But even if you're not a GOT fan, you definitely shouldn't miss this UNESCO World Heritage Site.
If you visit around Christmas time, you'll be able to see all the elaborate nativity scenes set up in shop windows and churches around the city. Known as "Belén", which is the Spanish word for Bethlehem, nativity scenes are a vital part of the Christmas tradition in Spain.
There's even a feria del Belén (nativity market) where you can shop for pieces to create your own. And if you're planning your trip for January and think you'll miss all the Christmas festivities, think again!
Spaniards actually exchange gifts not on Christmas Day, but on the Día de Los Reyes Magos (Day of the Three Wise Men), which falls on January 6. Seville celebrates this day with a huge parade where the Wise Men pass by on floats and throw candy and toys to the children in the crowd. It's great fun!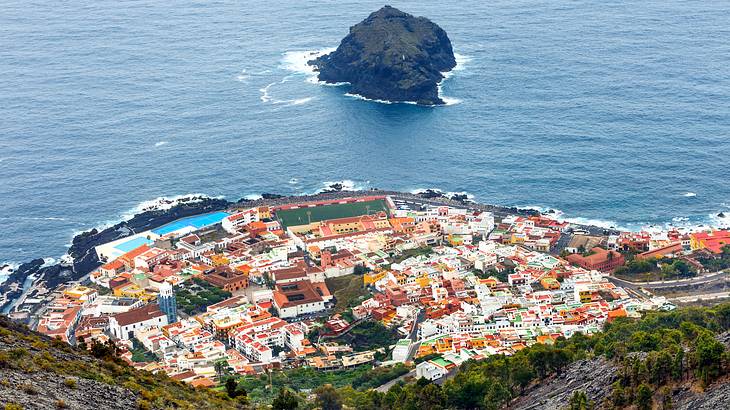 Tenerife, Canary Islands, Spain
Tenerife is the largest of the Canary Islands and can be found just off of West Africa. There are so many reasons to visit Tenerife.
Whether you are travelling as a family, as a couple or solo, there is plenty for everyone to do. One of Tenerife's main attractions is the all-year-round warm climate and distance from the UK being only a 4-hour plane ride away.
The beaches in Tenerife are beautiful, and there are so many to choose from, but the sand fascinates me. It is completely diverse, and the beaches range from a vibrant golden yellow colour to black. It is worth making some beach visits just for this.
There are two sides to the Island - the Northside and Southside. In the north, if you are a keen hiker, you can take a day trip to Mount Teide National Park to do the 5-hour climb to the top. Or, if you are with your family, jump in a cable car to be there in 8 mins!
For water enthusiasts, visit either Aqualand or Siam Park - Tenerife's largest water park. It can be accessed from the north or south side. You can also jump aboard a boat and go whale and dolphin watching. In the North, you can also go caving in Cueva del Viento.
The market at Los Cristianos, which is on the south side, makes for an enjoyable cultured day out. You can also tie it in with a trip to the Jungle Park or Monkey Park.
Valencia, Spain
Valencia is the perfect city to travel to in winter. This Spanish city is still a secret for most tourists, so you will not only escape from the freezing cold but also the crowded scene. It is not as touristy as Madrid and Barcelona.
Some of the best activities to do in Valencia include:
"Mercados." You can't do Christmas and not visit the famous European Christmas market.
Belen. "The Nativity Scene" here in Valencia allows you to see the Belen's at life scale. If you've heard of Las Fallas, you know you can expect some amazing artwork in this city.
Eat paella by the sea. Paella is the typical Valencian dish, and there is not a better place to enjoy it than by the sea.
Cabanyal Beach. Valencia has year-round sun, so why not go to the beach and play some sports, or relax and enjoy some sangria? Plus, you will be grateful for not having the harsh sun damaging your skin while you are enjoying the beach.
Oceanographic. It is the second-best aquarium, and it is right here in Valencia.
Circus. Valencians don't follow all the rules when it comes to typical Christmas traditions. The circus is also a good idea if you are tired of the Christmas scene. Be sure to check out the Alaska Circus - it is a 3D holographic circus representing animals.
Night clubs. Spain is known for its nightlife, and little old Valencia is not an exception. Mia is the place to be for a hot international ambience just beside the famous Science and Arts Museum.
Istanbul, Turkey
Winter is a great time to head to Istanbul. Temperatures here are a little warmer than the rest of Europe in winter, and there are almost no tourists around.
Visiting Istanbul in winter can get cold. Still, the great thing is that many of the tourist attractions, such as Dolmabahce Palace, Hagia Sophia and the Grand Bazaar (one of the oldest markets in the world with over 4,000 stalls), are all inside, so you won't be out in the cold too much.
Plus, as you'll be dressed up warm, you'll always be dressed appropriately to enter the mosques, such as the Blue Mosque.
During the summer months, queues for the likes of the Galata Tower and Topkapi Palace can be humongous, and people can often be queueing for a couple of hours to get inside. So, take advantage of there being significantly fewer tourists in winter as there will hardly be any queues.
The many traditional Turkish restaurants here are also really cosy and offer great food and strong Turkish coffee to keep you going. Even during the winter, visiting a rooftop cafe in Istanbul is a must - my favourite is Kubbe Istanbul (pictured above).
When you need a break from visiting tourist attractions and want to warm up, head inside for a Turkish bath (hammam). Not only will this warm you up, but it will make you feel totally relaxed afterward (and your skin will be so smooth!).
In Summary
I hope you feel inspired and invigorated after reading this epic list that includes some pretty awesome European winter sun destinations.
If you're not too bothered by colder temperatures and clouds, then you could also check out Berlin, Gdansk, and Wroclaw. Gdańsk is a quaint seaside town that is actually great to visit any time of the year!
Give us feedback about this article
More visual stories related to this article:
---
---
Want to keep exploring?
Subscribe for discounts on tickets and hotels and our latest guides.
Thank you for subscribing
We will be in touch soon with discounts on tickets and hotels and our latest guides.
Want to keep exploring?
Subscribe for discounts on tickets and hotels and our latest guides.
Thank you for subscribing
We will be in touch soon with discounts on tickets and hotels and our latest guides.
Related Articles