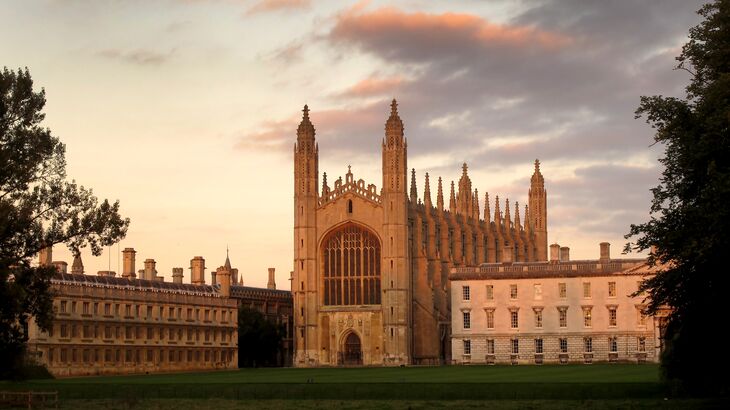 As a local to Cambridge, I have filled this Cambridge day trip itinerary with exciting activities and local cafes to make your day special.
Located on the River Cam in picturesque Cambridgeshire county, Cambridge is a university city with a rich history.
It is home to one of the best and oldest universities in the world. It is similar in ways to another university city in the United Kingdom - Oxford. That said, Cambridge is definitely worth a day trip from London because it has a lot more to offer.
Cambridge is situated 80 km (50 miles) from London. It can easily be reached by direct train within an hour from either King's Cross Station or Liverpool Street Station in central London. Trains depart every half an hour from King's Cross Station.
As Cambridge is easy to get to from London, you can comfortably explore its main attractions in a single day, including its many magnificent colleges, green spaces, museums, independent cafes and more.
Apart from these sights, the city is also known for its famous scientists, such as Sir Isaac Newton, Charles Darwin, Sir David Attenborough and Stephen Hawking.
So, don't wait any longer! Scroll down to read how to discover the beauty of Cambridge in a day like a local.
One day itinerary
Average of 13 stops per day
Disclosure: Destguides may receive commission for purchases made through links in this article at no cost to you.
1 Day Cambridge Itinerary
Cambridge Map
Using the map of Cambridge, you can explore all the days and stops.
Make the Most of Cambridge
One day in Cambridge is usually enough time to visit the majority of the main sights, especially if you are visiting during the summer.
In this Cambridge guide, you are going to be doing a lot of walking around the city centre. So if walking isn't your thing, consider renting a bicycle for the day.
The day will start with a tour around the Cambridge Botanic Garden. Afterwards, you will visit several museums. If you have kids with you, I recommend visiting only the Sedgwick Museum and Museum of Zoology, which are the best museums for families.
Later on, you will have a chance to have a real Sicilian lunch at a family-run cafe and go for a stroll around King's Parade, which is where you will find colleges and souvenir shops.
I suggest wearing comfortable clothes and shoes. Furthermore, pack a spare poncho or umbrella just in case it rains during your visit.
In Summary
If you are planning to make a day trip from London to a beautiful nearby city, then you should consider Cambridge. Or, if you want to go north of London, then you can also check out the fantastic city of York.
I have tried to make this Cambridge itinerary simple yet packed with exciting places that are sometimes overlooked. I hope that you have found it useful and interesting.
Depending on the season you visit Cambridge, some of the stops might not be possible.
For example, if punting is unavailable due to rain or wind, opt for a Cambridge colleges tour that will take you through 4 or more colleges. Such a tour will keep you occupied for at least an hour or two on a cold day. Also, don't forget to visit more museums to stay warm and dry!
If the weather is nice, skip some museums and instead enjoy a stroll along King's Parade while popping into souvenir shops along the way. Make sure to visit the University of Cambridge Museums Shop as you can find some interesting gifts to bring back home from here.
I hope that you enjoy your Cambridge day trip and make great memories in this lovely university city.
This article was edited by Loredana Elena and was first published on Feb 20, 2020 18:25 UTC.
For more interesting articles about United Kingdom, read: