3 Days in Cornwall Itinerary
Destguides may receive commissions from purchases made through affiliate links in this article.
Cornwall is undoubtedly one of the most beautiful areas to visit in England. Heading on a Cornwall road trip is the best way to explore the region's famous sights, attractions, and unique landscapes.
The area is popular with tourists, especially young families, trying to escape London during the summer months. Summer is also the best time to see the UK's coastline and to stay at one of the many quaint bed and breakfasts in Cornwall.
While exploring the Cornish coast, you will most likely consume loads of Cornish pasties, fudge, and local ice cream. So forget about counting calories on this Cornwall trip!
Are you ready to dive in and learn more about some of the very best Cornwall destinations to visit? Then, continue reading an in-depth 3 days in Cornwall itinerary to discover how to have the most fantastic time in Cornwall, England!
3 Days in Cornwall Itinerary
England 3-Day Itinerary Video
Check out our highlights video of the stops covered in this England itinerary.
England 3-Day Itinerary Map
A map of England. Use the map to explore all the days and stops.
Explore the Stunning Cornish Coastline
Located about a five-hour drive (depending on traffic) from London, you will find the county of Cornwall. Cornwall's history runs very deep, dating back to the first settlers of the Stone Age (about 20,000 years ago).
You should be prepared to start your days nice and early as you will have a lot of ground to cover and not much time to see it all. This three-day Cornwall road trip itinerary gives you the perfect mix of historical gems and natural sights to experience. Don't forget to pack your road trip essentials, such as a spare tire and a first aid kit!
You will start at Lizard Point and Kynance Cove on your first day, assuming you are coming from London and are staying somewhere in the area. The rest of your day will consist of lunch, the famous Land's End Landmark, Sennen Cove, and more walking. Think carefully about where you park (more details below).
Land's End is about an hour and a bit drive away from Lizard Point. Anywhere you go along the coast is filled with beautiful coves and beaches full of soft sand and turquoise water.
Although Cornwall is a beautiful place to visit, the weather will not always be hot and sunny, with temperatures rising as high as 19 degrees and hitting as low as 11 degrees in the summer.
So, pack cozy warm coats for windy days, cool mornings and evenings, and possibly a splash of rain. Remember to bring comfortable, practical shoes with a good grip for walking along the rugged coastline too.
Lizard Point and Kynance Cove
Lizard Point is situated on the Lizard Peninsula on the southwestern coast of England. It has its own lighthouse, cafes, and gift shops, and it is a part of the South West Coast Path (the United Kingdom's longest National Trail!). It is known for its local and unique serpentine-shaped rock, coloured dark green, red, and white.
There are a few pretty coves around the Lizard Peninsula, such as the hidden Kynance Cove on the western side. It is possible to walk to/from Lizard Point and Kynance Cove, and vice versa, but do factor in the time it takes, which can be over an hour each way (depending on how often you stop for photos) if doing the circular route.
If planning to spend the morning at Kynance Cove, you should also plan your trip in advance, as the beach here only exists at low tide (usually from the late morning to the late afternoon).
If you decide to drive to Kynance Cove instead of walking, you can do so as there is a parking lot available. There are two well-marked paths down to the beach from the parking lot. I'd recommend packing light and leaving the stroller in the car, as it's not the easiest/smoothest of paths.
While it's not a challenging trek down to the sandy area, when you leave, it might be difficult to climb back up as the tide rolls in. So keep an eye on the tide and this fact in mind as you scout a place to lay on the sand.
There are no lifeguards on duty, but you can find toilet facilities and a small cafe that serves Cornish pasties, ice cream, and more right on the beach!
The Land's End Restaurant
Once you are done laying on the sand after a refreshing walk, pack up your belongings and car and head to Land's End for some lunch and more exploration.
The Land's End Restaurant has its own Land's End burger, traditional battered fish, and other meat and veggie dishes. While chowing down on your meal, you will also be treated to spectacular panoramas of the surrounding landscape.
If you don't want lunch, you can enjoy a cream tea. Prices are on the higher end, but considering there isn't much competition around and the restaurant offers magnificent views, you can potentially justify the cost. If you go during a busy long bank weekend in the summertime, you might want to consider making a reservation beforehand.
Land's End Landmark
The Land's End Landmark is one of the most well-known landmarks in England (outside of London's top landmarks). It is also the most south-westerly point in the UK. Land's End offers many spectacular views of the surrounding landscape, including the Atlantic Ocean, Longships Lighthouse, and the Isles of Scilly.
This location is perfect for families as it has lots of space and different gift stores and small food shops to keep your little ones entertained. Make sure to pre-book parking online, as spaces to view this outdoor attraction can fill up quickly during the busy tourist season. Parking costs around £6 per vehicle.
However, you can park nearby Sennen Cove for £2.50 for up to four hours at a time. If you decide to park at Sennen Cove, I'd suggest having lunch at the Little Bo Cafe as they have some delicious veggie options. Then, after lunch and exploring the area a bit, walk 20-25 minutes to Land's End Landmark.
Sennen Cove
The friendly atmosphere of Sennen Cove is perfect for relaxing and enjoying the calming water of Sennen Beach (Whitesands Bay). It's super easy to access the beach from the car park, and there are many shops, cafes, and pubs around.
You could even test out your surfing skills. The attraction is very popular with surfers, and surfing classes also take place here. So why not learn how to surf?
If you can't get the hang of surfing, there's nothing wrong with dipping your toes in the beautiful yet only slightly warm water at this beach. Make sure to check the Sennen Cove weather webcams before you arrive to plan your trip accordingly!
A Day of Nature and Gardens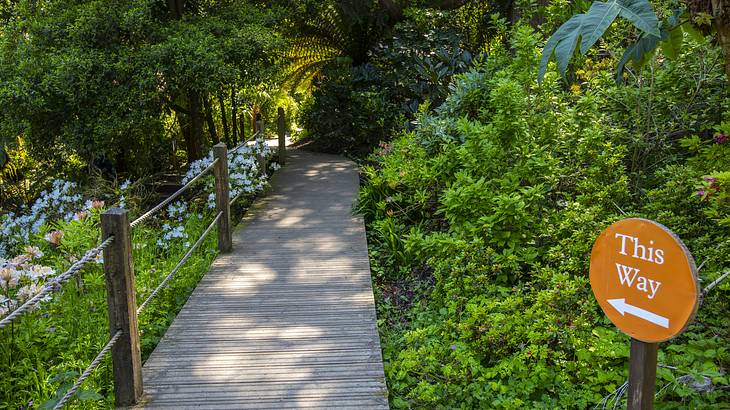 The second day of your Cornwall 3 day itinerary involves exploring the northern coastline of Cornwall. If you are a nature lover or bird-watching enthusiast, then Northern Cornwall is the best place for you as it is filled with magnificent gardens, and you can catch mesmerizing scenes of breeding birds of prey.
In the spring and autumn, you will see a lot of them flying together over their nesting sites. You can also see numerous seabirds, migrating birds, and swallows, usually seen and heard darting around the footpaths. You might also come across rare grey and common seals, which are hard to come by on most seasides in the UK.
Did you know that Cornwall has some of the best gardens in the UK as well? In Northern Cornwall, in particular, you can come across popular and hidden garden gems where you can go for a long stroll with your family or site-see by yourself. As mentioned above, many families visit Cornwall.
One such garden is The Eden Project, which has plants that have been collected from diverse environments and climates around the world. Another garden you will go to today is The Lost Gardens of Heligan. It has been open for over three decades.
On your second day in Cornwall, start your day by first grabbing some breakfast and then visiting Fistral Beach. Make sure you have enough coins for parking your car, or you might end up with an unnecessary parking ticket. You will find some restaurant and cafe suggestions below too.
Box & Barber Coffeehouse
Before heading to the beach, grab a lovely and delicious breakfast at Box & Barber Coffeehouse in Newquay, a less than five-minute walk from Fistral Beach. This is one of the best coffeehouses in the area, consistently rated five stars across the board. It is the perfect place to grab a coffee and a healthy, vegetarian-friendly brunch.
You could try their light but filling avocado, halloumi, and egg on toast or a crispy, mouth-watering bacon sandwich. The prices are a bit steep, but the taste is excellent, and the coffees are really some of the best, if not the best, in town. You will not be disappointed with their outstanding service as well!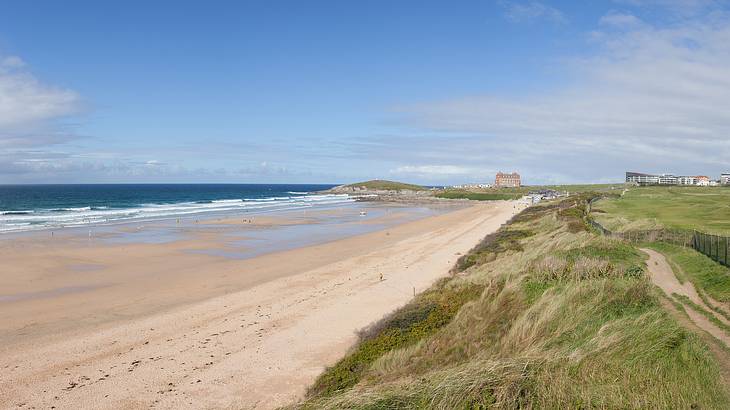 Fistral Beach
Fistral Beach is one of the world's top surfing destinations, and if you didn't try surfing at Whitesands Bay on the first day, then you could give it a shot today. Even if you fail horribly at trying to stand up on a board, it'll be a good laugh for you and your family and friends.
You might even see some cute and friendly seals here, at the very least! Fistral Beach is also home to several spa and wellness hotels, where individuals, couples, or parents can recharge while enjoying the ocean views. Kids can take up a surf lesson or other water sports while parents relax peacefully.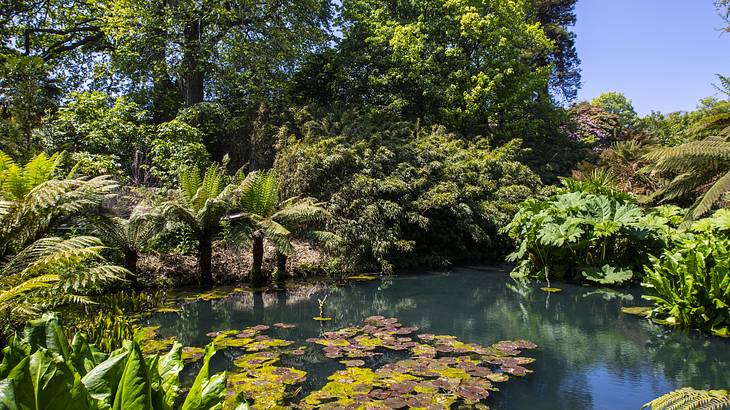 The Lost Gardens of Heligan
After a morning at the beach, drive 45 minutes southeast to the next location, The Lost Gardens of Heligan. This beautiful and mysterious set of gardens has been open to the public for 30+ years now, with not much of its history known from 1914 (the start of the First World War) to 1990.
This period is referred to as 'The Lost Years.' Since then, it has become Europe's largest-ever garden restoration project.
There are various gardens to wander around here, including vegetable and fruit gardens, Italian and Japanese gardens full of exotic species, a jungle, and much more. You can also visit the Heligan Estate to see stunning wildlife, watch rare birds fly about, or see the farm's friendly animals.
The woodlands at the estate are another fascinating place to explore, where stumbling upon the Lost Valley will leave you looking at enchanting waters, wildflowers, bluebells in the spring, and ancient statues of giants from over 200 years ago.
If you enjoy a good BBQ, consider having some food at the BBQ Hut. If you love it, you can buy some Lost Valley charcoal at the Heligan shops. You can have lunch here if you'd like instead of having it at the next stop.
Heligan Kitchen & Bakery
Since you're already at The Lost Gardens of Heligan, why not stop by the nearby British Heligan Kitchen & Bakery? Although it has mixed reviews, it has a 4.0 rating and offers the benefit of being close to the previous attraction.
The prices are not necessarily the cheapest, but the venue is excellent, and the staff are friendly. Some reviews also say the food is tasty - so what do you have to lose? Another perk is that some of the menu's unique items are grown on-site (that's pretty cool, no?).
If you're visiting the cafe during the summer, they have plenty of outside covered seating areas so you can enjoy the heat while not getting burnt by the sun.
Grab a refreshing cider or soft drink while munching on a bacon and sausage sandwich or a fancy quiche. On a cold day, you should try their hot chocolate and tasty beef stroganoff.
Eden Project
The Eden Project is no more than a 25-minute drive from The Lost Gardens of Heligan. And if you aren't sick of visiting gardens yet, you should add this one to your Cornwall itinerary too.
The Eden Project strives to make the environment, the world, and the future a better place by being an educational charity. It also has the largest indoor rainforest in the world!
You read that right - an indoor rainforest; who would've thought? It contains unique climates and has over 1,000 varieties of plants, with temperatures ranging from 18 to 35 degrees Celsius.
The Eden Project is a super popular attraction in Cornwall. You can also catch glimpses of lovely roul-roul partridges and Sulawesi white-eye birds and admire all the plants around you (of course).
Make sure to take loads of pictures and stop by the gift shop at some point. The Eden Project hosts live performances with the famous Lionel Richie and The Script as well. How exciting!
Opening times are between 9:20 AM and 5:30 PM, but make sure you make it in by the last entry at 5:00 PM. You must pre-book online as it gets super busy, and they do not take cash.
The Britannia Inn's Waves Restaurant
The Britannia Inn's Waves Restaurant is located a short five-minute drive from the Eden Project. Eating here will leave you feeling satisfied and wanting more, as their food is outstanding! They have a variety of seafood and British pub cuisine on offer.
The steaks are excellent, and their fish and chips are delicious. This is the perfect place to stop for dinner before heading to bed and preparing for your last day in Cornwall.
Ancient Ruins, a Port and a Castle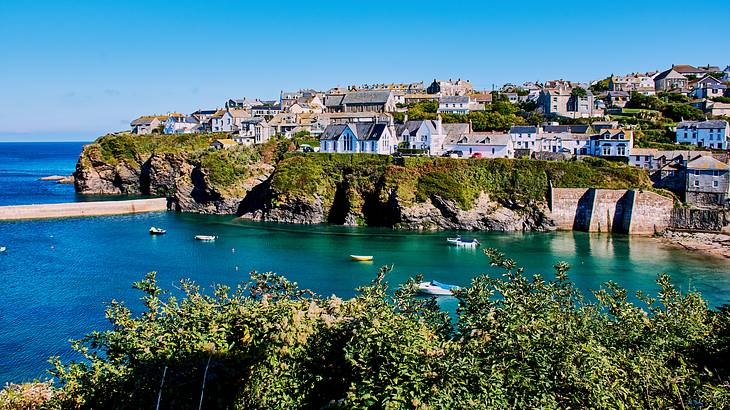 On your last day in Cornwall, take it a bit easier, but not too easy, by visiting locations that are still different enough from the ones on the previous days but still within the theme of this 3-day Cornwall itinerary, which is stunning landscapes and nature intertwined with history.
Still start your day early so that you have enough time to pack your belongings and prepare for the ride home, but also enjoy what today has to offer. Your last day focuses on exciting and potentially less-busy historical attractions, such as Bodmin Moor, Port Isaac, and Tintagel Castle.
If you'd like to save some money today, pack some sandwiches, snacks, and drinks to take with you.
Bodmin Moor
Would you like to see the Beast of Bodmin Moor? You may be able to spot this five-foot, white-yellow-eyed, panther-like cat while exploring Bodmin Moor!
North of the A30 is some eye-catching ancient and remote attractions surrounded by natural beauty. At Bodmin Moor, in Northeast Cornwall, you can find land covered in granite moorland. Being one of the best things to do in Bodmin, it is worth a visit!
Bodmin Moor was the most populated area during the Bronze Age and holds many interesting historical sights; for example, it houses a collection of three aligned stone circles, 'The Hurlers'.
This natural landmark in Britain dates back to around 1500 BC; it's incredible how long they have stayed in one place. You can also see human-made piles of stone (cairns) everywhere and ponies grazing the local fields.
Port Isaac
Have you ever watched the TV series 'Doc Martin'? If so, this location in North Cornwall, a 40-minute drive from Bodmin Moor, is where the much-loved series was filmed.
If you haven't watched the series, Port Isaac is a small fishing village that has been around since the 14th century. In the 19th century, the location was used to handle slate, coal, limestone, and shipbuilding duties. It has unique architectural qualities and very narrow streets.
As you may be driving to this location, there is a large car park at the top of the hill, and you can walk down to the village below while enjoying stunning views of the coastline.
The summer months would be the perfect time to visit, as fishing and scenic trips can be taken from the harbour, and you can take a lovely walk along the coast and inland. Port Isaac has a sheltered beach and includes rocky pools, making it one of the safest beaches in North Cornwall.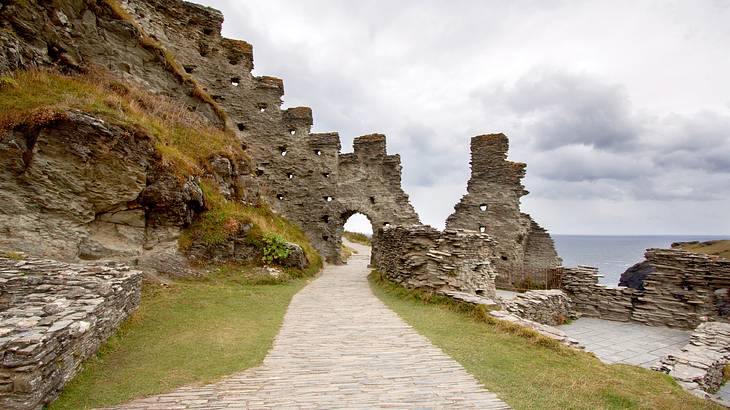 Tintagel Castle
Drive 20-25 minutes from Port Isaac, and you will reach the famous Tintagel Castle. Immerse yourself in the myths and stunning scenery surrounding the castle that is high up on the northern coast and has inspired several writers and artists over the years.
Tintagel Castle is very famous for its association with King Arthur, and many people visit Cornwall just to see this historic attraction. So if you want to learn about the legend of King Arthur, make this visit your last on your Cornwall in 3 days itinerary. It will be one to remember!
In Summary
Your 3-day road trip in Cornwall should now be a lot easier to plan than before as you are equipped with a ton of things to do and see in Cornwall. So you shouldn't have too much of an issue deciding on some of the top locations to visit in the county.
You can, of course, include more or omit some of the stops suggested above. In fact, I encourage you to. The point of this three days in Cornwall itinerary is to provide you with minor guidance, not be your definite plan.
You might have noticed that I omitted St Ives from this itinerary, and that is on purpose. We spent two long weekends in Cornwall over two different summers, and I'm sure we'll spend another this upcoming one. The first trip focused on the St Ives area, and the second on Penzance. Both these areas deserve your in-depth attention for at least a weekend each.
To tell you to visit St Ives for just a few hours would do you and the town a disservice. However, it is so beautiful, relaxing, quaint, and worthy of a full long weekend that I encourage you to take that much time to visit it.
In the meantime, this Cornwall itinerary gives you a 'taster' of what's on offer in Cornwall, England, which, if you haven't learned by now, is a lot due to its vast diversity. Starting from visiting the most popular attraction, Land's End, to viewing the many beaches and coves along the way and ending your Cornwall trip at the fascinating Tintagel Castle.
I believe this itinerary covers the best of Cornwall and will leave you feeling satisfied if you're short on time but still want to pay a visit to the area. Have the most amazing time! Truly believe you will love it as much as I did.
Give us feedback about this article
More articles about England:
Read more articles about the United Kingdom:
---
---
Want to keep exploring?
Subscribe for discounts on tickets and hotels and our latest guides.
Thank you for subscribing
We will be in touch soon with discounts on tickets and hotels and our latest guides.
Want to keep exploring?
Subscribe for discounts on tickets and hotels and our latest guides.
Thank you for subscribing
We will be in touch soon with discounts on tickets and hotels and our latest guides.
Related Articles