Cambridge Day Trip Itinerary - A Local's Guide
Destguides may receive commissions from purchases made through affiliate links in this article.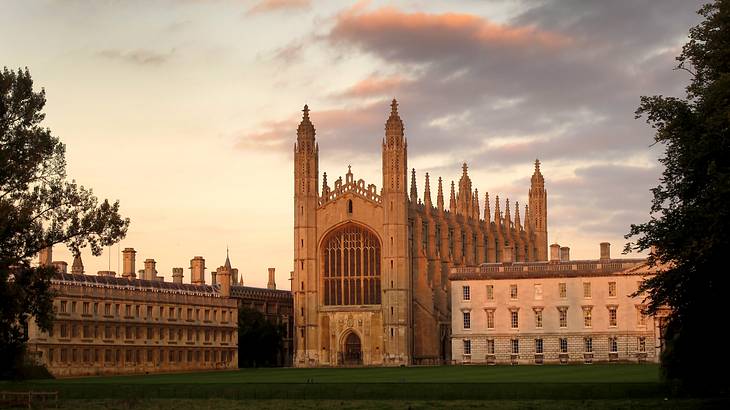 As a local to Cambridge, I have filled this Cambridge day trip itinerary with exciting activities and local cafes to make your day special.
Located on the River Cam in picturesque Cambridgeshire county, Cambridge is a university city with a rich history.
It is home to one of the best and oldest universities in the world. It is similar in ways to another university city in the United Kingdom - Oxford. That said, Cambridge is definitely worth a day trip from London because it has a lot more to offer.
Cambridge is situated 80 km (50 miles) from London. It can easily be reached by direct train within an hour from either King's Cross Station or Liverpool Street Station in central London. Trains depart every half an hour from King's Cross Station.
As Cambridge is easy to get to from London, you can comfortably explore its main attractions in a single day, including its many magnificent colleges, green spaces, museums, independent cafes and more.
Apart from these sights, the city is also known for its famous scientists, such as Sir Isaac Newton, Charles Darwin, Sir David Attenborough and Stephen Hawking.
So, don't wait any longer! Scroll down to read how to discover the beauty of Cambridge in a day like a local.
One day itinerary
Average of 13 stops per day
1 Day Cambridge Itinerary
Make the Most of Cambridge
One day in Cambridge is usually enough time to visit the majority of the main sights, especially if you are visiting during the summer.
In this Cambridge guide, you are going to be doing a lot of walking around the city centre. So if walking isn't your thing, consider renting a bicycle for the day.
The day will start with a tour around the Cambridge Botanic Garden. Afterwards, you will visit several museums. If you have kids with you, I recommend visiting only the Sedgwick Museum and Museum of Zoology, which are the best museums for families.
Later on, you will have a chance to have a real Sicilian lunch at a family-run cafe and go for a stroll around King's Parade, which is where you will find colleges and souvenir shops.
I suggest wearing comfortable clothes and shoes. Furthermore, pack a spare poncho or umbrella just in case it rains during your visit.
Relaxing Morning at Cambridge University Botanic Garden
The Cambridge University Botanic Garden is usually in the number one spot on many "Things to do in Cambridge" lists. It covers an area of 40 acres and is filled with glasshouses, plants from all over the world, and wonderful trees.
One of the main attractions here are themed glasshouses showcasing exotic plants from mountains, rainforests, wetlands, and deserts. Another popular stop in the Garden is the bamboo trail that leads you around the ponds. If you are visiting in the spring, don't forget to stop by the blooming sakura trees.
The Garden also has a souvenir shop that sells plants, postcards, and other gifts. It is located a short walk from the train station and is open daily. However, check their website for their seasonal opening times before you visit.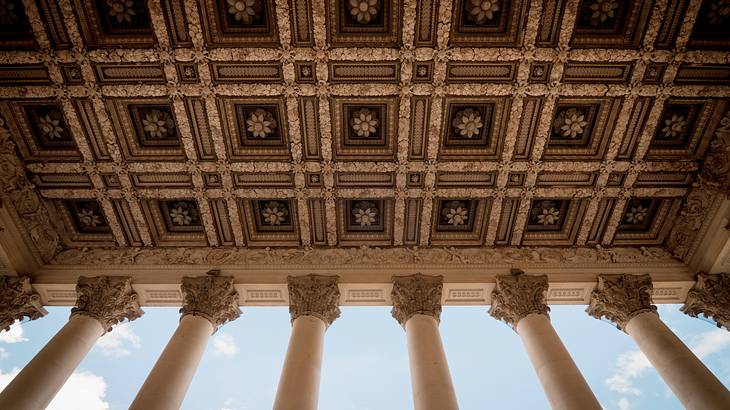 Explore the Fitzwilliam Museum
Founded in 1816, the Fitzwilliam Museum is the biggest in Cambridge and is sometimes compared to the British Museum due to its grand architecture.
It is an arts and antiquities museum which has fascinating collections of British pottery, Egyptian mummies, Greek sculptures, medieval armoury and more. During your visit, to help occupy your children, you can borrow a kids pack from the museum that is filled with various museum activities.
Take note that the museum is closed on Mondays and opens in the afternoon on Sundays. The entrance to permanent and temporary exhibitions is free of charge.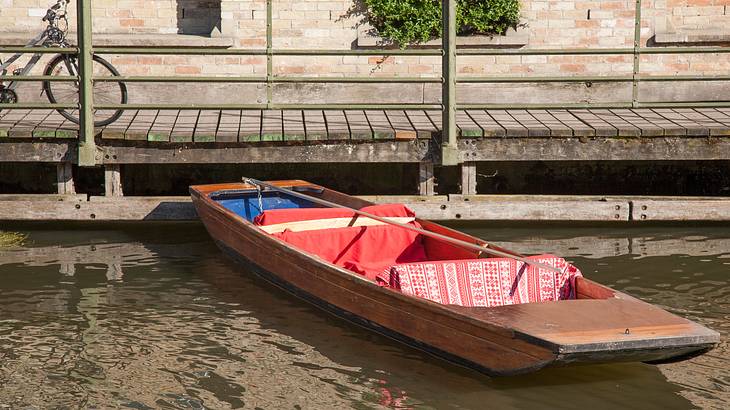 Go on a Punting Tour
A day out in Cambridge isn't complete without a punting tour. This activity is equally popular among both tourists and locals and is a must for your London (and beyond) bucketlist.
Several companies offer tours. However, I highly recommend Scudamores' punting company who provide group and private guided tours. You can find them on Mill Lane by the River Cam.
Punting tours are the best way to see all the iconic colleges' bridges, including the Mathematical Bridge and the Bridge of Sighs. Also, it allows you to see The Backs - a picturesque private area along the river surrounded by the University of Cambridge colleges. You won't be disappointed as the views are stunning!
If you are visiting in summer, consider hiring a punt for a couple of hours. With your rental, you will be able to reach the quaint village of Grantchester.
Taste the Best Chelsea Buns at Fitzbillies
Situated near King's Parade and King's College, Fitzbillies has been a British landmark for decades. It is a lovely cafe that is well known for its sticky Chelsea buns. And I won't lie, the buns are incredibly delicious!
Fitzbillies has a cake shop and cafe next door. Both are quite small and can get crowded quickly as it's always bustling and rarely has empty tables. So book a table in advance if you want to have a seat.
The prices are higher for sit-in orders and meals though, so I recommend purchasing a Chelsea bun and drink to take out instead. You can enjoy it on the way to your next stop.
If you would like to go for a sit-down breakfast, or to sip on unlimited drinks at a bottomless brunch place in Cambridge, there are several great options to do just that in the city as well!
Visit The Museum of Archaeology and Anthropology
The Museum of Archaeology and Anthropology belongs to the University of Cambridge. The museum houses artefacts from all over the world.
By visiting this museum, you can learn more about past civilizations and how they lived at different moments in time. You will find objects from Japan, China, Thailand, and more.
The Museum of Archaeology and Anthropology is suitable for all ages; however, if you have kids with you, I suggest skipping it. I believe the museum's collections are less interesting for young children.
The entrance to the museum and its temporary exhibits are free of charge. The museum is closed on Mondays except for bank holidays.
Find Fossils and Dinosaurs at Sedgwick Museum
While visiting Cambridge, it's impossible to miss the Sedgwick Museum of Earth Sciences. Situated next to the Museum of Archaeology and Anthropology, the Sedgwick Museum is probably one of the most visited museums in Cambridgeshire county.
Established in 1728, the Sedgwick Museum is the oldest in Cambridge and belongs to the Department of Earth Sciences. It houses a massive collection of fossils and dinosaur skeletons. The museum is very loved among children and students.
The entrance is free and is open daily, except Sundays. If you're planning a day trip to Cambridge with kids, the Sedgwick Museum should be at the top of your list!
Explore the Animal World at the University Museum of Zoology
The University Museum of Zoology is located across the road from the Sedgwick Museum and the Museum of Archaeology and Anthropology. It was established in the 19th century and has undergone a significant renovation. Now, it lives in a newer, more modern building.
The Zoology Museum's main attraction is a gigantic skeleton of a 25-meter long fin whale, a two-tusked narwhal, an almost-complete dodo skeleton, and a magnificent collection of Darwin's specimens from the Beagle Voyage.
The Museum of Zoology is a medium-sized museum and an hour is enough to see everything. There is a lovely shop (located just under the whale skeleton) where you can find interesting books, good quality toys, cards, and ecological homeware.
Have a Sicilian Lunch at Aromi
The independent cafe, Aromi, is my favourite place to eat in Cambridge. It has two cafes, one of them being located on Bene't Street close to the Museum of Zoology.
Aromi serves a wide range of Mediterranean dishes, including sourdough pizzas, focaccias, arancini, traditional cakes, cannoli, and the best Sicilian gelato. It is the perfect place for good homemade food suitable for all ages.
I recommend you try their signature hot chocolate and pistachio latte, which is simply irresistible! My advice is to reserve a table before your visit because Aromi is very popular among the locals, and is one of the best places to grab a pizza in Cambridge. However, if you're visiting on a warm day, ask for takeaway and eat while sitting on the fence of King's College.
Stop by the Corpus Clock
The Corpus Clock, or Grasshopper Clock, is the most distinctive modern monument in Cambridge and is included in every Cambridge walking tour. It is located on the corner of Corpus Christi college's library near King's Parade.
The clock was designed in 1959 and plated with pure 24k gold. On top of it sits a 'time-eating monster' - a Chronophage (Grasshopper). Another extraordinary feature of the Corpus Clock is that it doesn't have clock hands or digital numbers. For this reason, it's hard to tell the time from the clock.
However, if you look closely, you can see 3 LED rings with numbers. When an hour is struck, you can see shaking chains and a hammer hitting a wooden coffin. It's a great view, so be sure to watch it!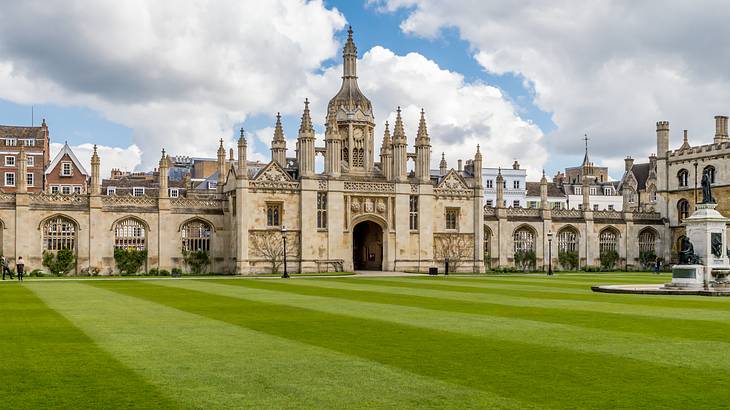 A Quick Visit to King's College
Located on King's Parade, King's College is the most stunning building in Cambridge. It is featured in every Cambridge tour package, and I can understand why.
It is the wealthiest college belonging to the University of Cambridge and is home to the brightest students. It has an impressive college chapel that is famous for its Christmas Eve mass and choir.
If you want to enter King's College, you will need to purchase tickets from King's College Visitor Centre located at the front of the college. The ticket gives you entry to the chapel and college grounds (when they are open). All other buildings aren't available to the public.
If you don't want to spend money or are short on time, you can admire the famous English building from the outside.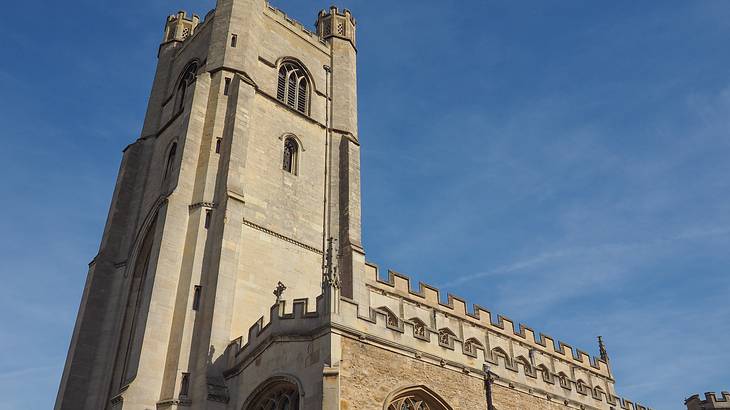 Climb the Tower of Great St. Mary's Church
Walk further down King's Parade, and you will see a lovely church facing King's College grounds. This church is the Great St. Mary's Church - the most visited church in central Cambridge.
The Great St. Mary's Church, also known as the Church of England, is beautiful inside and out. It has a big main hall for masses, a tea room, and a small gift shop. It is well known for its tower. From the top of the tower, you can enjoy the best views of Cambridge.
To climb the 123 steep medieval steps of the tower, you will need to purchase a ticket from the gift shop. The way up is tiring, but the view from the top is stunning.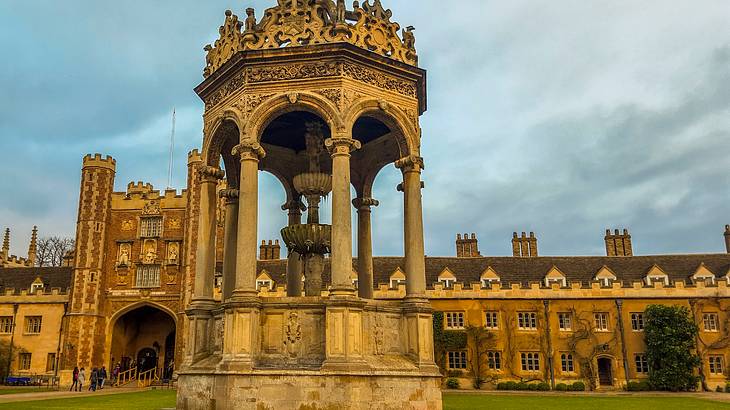 Stop by Trinity College
Founded by King Henry VII in 1546, Trinity College is one of the most famous colleges of the university. Lots of well-known people graduated from here, including Sir Isaac Newton and the poet Lord Byron.
Besides the famous alumni, some of the college's other attractions include a monument of Sir Isaac Newton and the splendid Wren Library, which was designed as a single large room. If you would like to visit the Wren library, you will have to book one of the library's walking tours, or regularly check the college's website for its opening times.
If you have gone on a punting tour, then you have already seen Trinity College from the rear. So, I wouldn't recommend visiting it again unless you want to see the Wren Library. You can attend the college after opening hours with a guided tour booked from the Tourist Information Center near Market Square.
Enter the Medieval Round Church
If you have ever looked up what to do in Cambridge for a day trip, then you probably recognize my last recommended attraction for the day - the Round Church, which was constructed in 1130.
The Round Church is also known as the Church of the Holy Sepulchre. It is one of four round medieval churches in England.
The church is open for visitors and has a small exhibition on The Impact of Christianity in England. It also hosts various concerts, recitals, plays, and lectures. It is very rarely used for masses.
After your visit to the church, you can stroll along the river and grab dinner before heading back to the train station. If you are walking, it will take you about 30-40 minutes to reach the station.
In Summary
If you are planning to make a day trip from London to a beautiful nearby city, then you should consider Cambridge. Or, if you want to go north of London, then you can also check out the fantastic city of York.
I have tried to make this Cambridge itinerary simple yet packed with exciting places that are sometimes overlooked. I hope that you have found it useful and interesting.
Depending on the season you visit Cambridge, some of the stops might not be possible.
For example, if punting is unavailable due to rain or wind, opt for a Cambridge colleges tour that will take you through 4 or more colleges. Such a tour will keep you occupied for at least an hour or two on a cold day. Also, don't forget to visit more museums to stay warm and dry!
If the weather is nice, skip some museums and instead enjoy a stroll along King's Parade while popping into souvenir shops along the way. Make sure to visit the University of Cambridge Museums Shop as you can find some interesting gifts to bring back home from here.
I hope that you enjoy your Cambridge day trip and make great memories in this lovely university city.
Give us feedback about this article
More articles about England:
Read more articles about the United Kingdom:
---
---
Want to keep exploring?
Subscribe for discounts on tickets and hotels and our latest guides.
Thank you for subscribing
We will be in touch soon with discounts on tickets and hotels and our latest guides.
Want to keep exploring?
Subscribe for discounts on tickets and hotels and our latest guides.
Thank you for subscribing
We will be in touch soon with discounts on tickets and hotels and our latest guides.
Related articles