25 Best Things to Do in Page, Arizona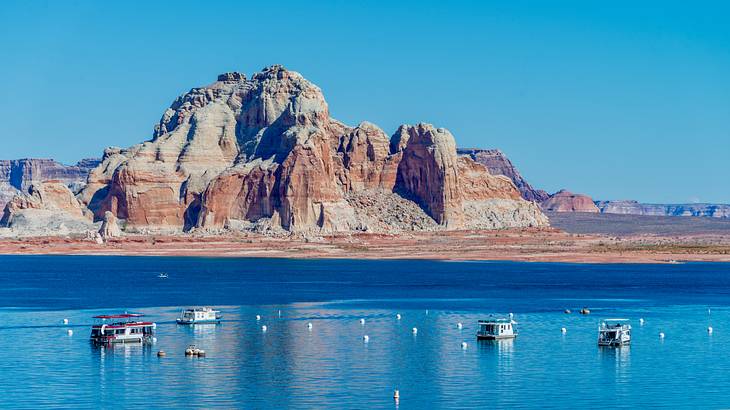 Located in Arizona, United States, Page is the ideal destination for outdoor enthusiasts. This quaint city is close to an array of natural landmarks in Arizona and neighboring Utah.
Some of the best things to do in Page, Arizona, include visiting various national parks, enjoying water sports, and seeing the renowned Grand Canyon. If looking for some tips on the best activities in and around Page, AZ, keep reading!
25 Best Things to Do in Page, AZ
Page Things to Do Map
Using the map of Page, you can explore all the things to do.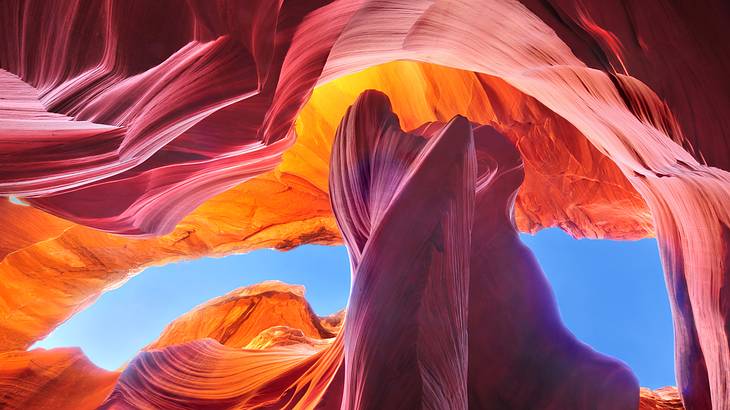 Admire the stunning Upper Antelope Canyon
Antelope Canyon is an amazing landmark in Page. The site is split into two slot canyon sections, Upper Antelope Canyon and Lower Antelope Canyon.
Upper Antelope Canyon is the more popular section of the two. This part of the canyon is larger than Lower Antelope Canyon and benefits from beautiful light streams coming in through spaces in the canyon. If intending to visit, there are many Antelope Canyon tours to choose from.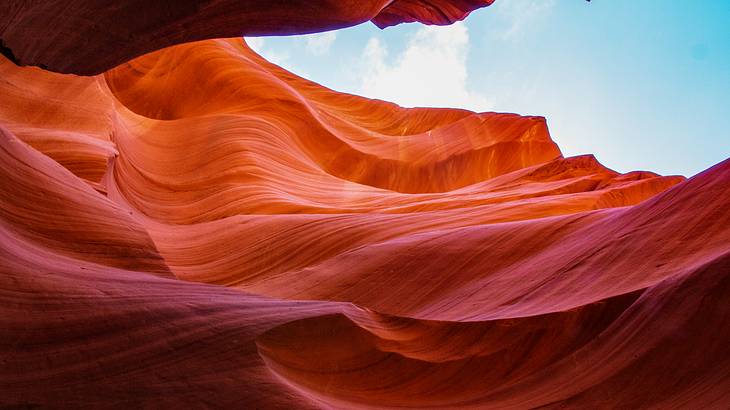 Take a tour of Lower Antelope Canyon
Lower Antelope Canyon is the smaller of the two canyons at Antelope Canyon. However, this part of the stunning canyon is still worth seeing. An ideal way to do so is by going on one of many Lower Antelope Slot Canyon tours, which allows you to easily appreciate the beauty of this iconic landmark.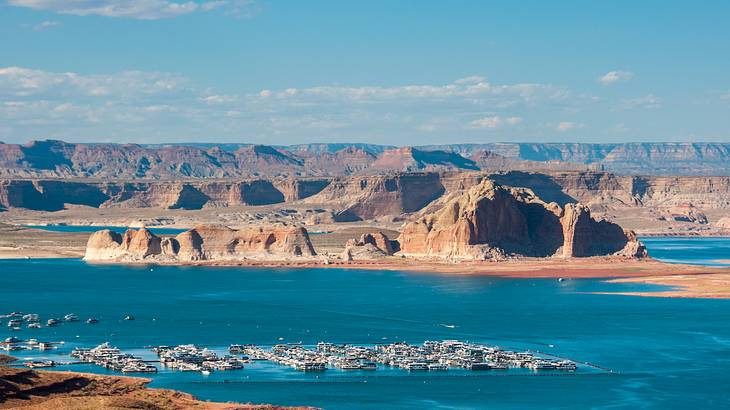 Boat on Lake Powell at Antelope Point Marina
Antelope Point Marina is coined as "the gateway to Lake Powell." For those that enjoy boating and other water sports, a trip to Antelope Point Marina and Lake Powell is a must when in Page.
Along with boating, you can kayak or canoe on the river, and there are river tours to enjoy. If you want to splurge, consider renting a luxury boat to take out on the water!
Kayaking on Lake Powell is the perfect way to get out on the water. With Hidden Canyon Kayak, you can take guided kayak tours or rent equipment and explore by yourself. You can also go through slot canyon rivers and even kayak to Antelope Canyon.
Walk through slot canyons at Waterholes Canyon
Another one of many outdoor activities in Page, Arizona, is exploring Waterholes Canyon. When visiting, you'll discover a barren reserve surrounded by dramatic slot canyons.
There are numerous scenic hiking trails to follow, and you can pay for guided tours. Combining a trip to Waterholes Canyon with a visit to nearby Vermilion Cliffs National Monument is a great idea.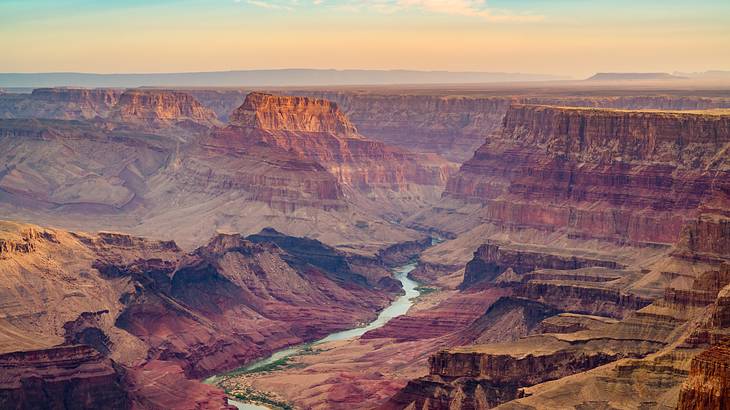 Visit the Grand Canyon
The Grand Canyon is one of the most famous world landmarks. Taking a trip to Grand Canyon National Park is one of the fun things to do in Page, AZ, with the renowned attraction located just an hour and a half from the city.
You'll find an array of activities to try at Grand Canyon National Park, and there are lots of different ways to view the canyon, from helicopter tours to rafting adventures and hikes.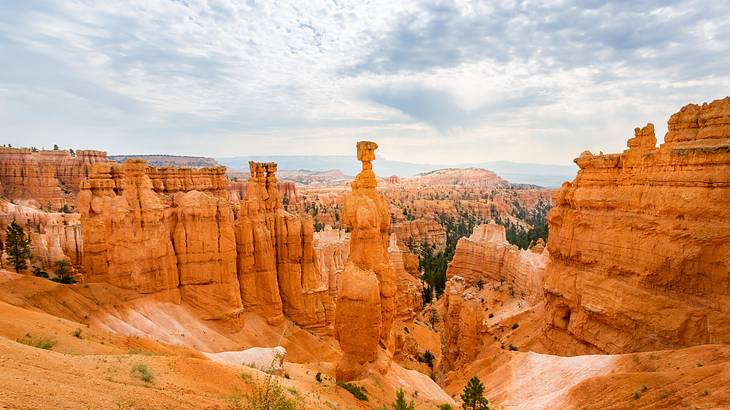 Sightsee at Bryce Canyon National Park
Although actually in Utah, taking the two-hour drive out of Arizona to Bryce Canyon National Park is highly recommended. The destination is known for its stunning red mountains, canyons, and multiple trails.
A fun way to explore is on a Bryce Canyon National Park sightseeing tour. On this scenic tour, you'll be taken to iconic sights, including Thor's Hammer, the Natural Bridge, and the Cathedral.
Discover Owl Canyon
Owl Canyon is a secret spot near Page. This slot canyon gets its name from the horned owls that live there. When visiting, you can appreciate the stunning landmark and may be able to spot some owls, especially if visiting later in the day.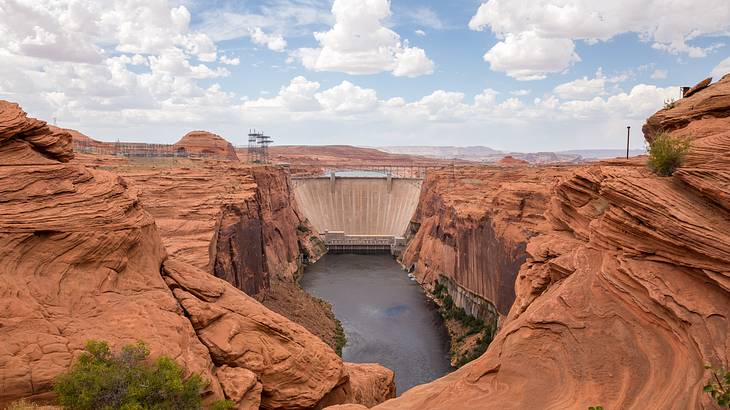 Appreciate the views from the Glen Canyon Dam Overlook
One of the best attractions in Page, Arizona, is Glen Canyon Dam. This arch-gravity dam sits on the Colorado River and is the second-highest concrete dam in the US after Hoover Dam.
When visiting, you must go to the Glen Canyon Dam Overlook to get breathtaking views of the dam and surrounding red rock mountains. You can also partake in guided tours of the dam and take exciting helicopter rides to enjoy aerial views.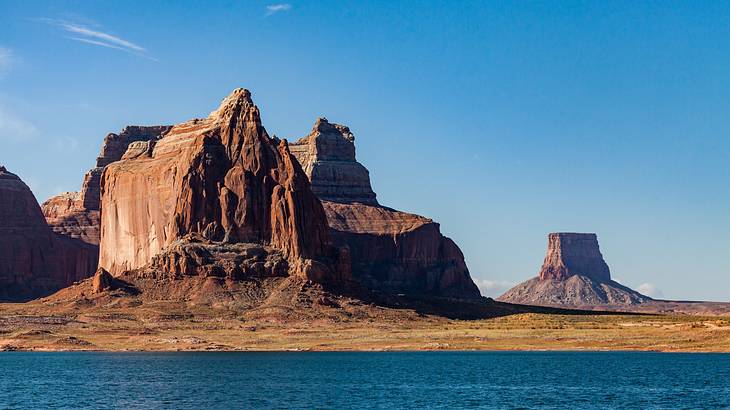 Participate in outdoor activities at Glen Canyon National Recreation Area
The Glen Canyon National Recreational Area is a stunning national park surrounding Lake Powell. This location features desert scenery and a beautiful red and orange mountainous landscape.
At the Glen Canyon National Recreational Area , you can enjoy many activities from hiking, biking, and scenic drives to boating and kayaking. If you aren't sure how to best explore the park, visit the Carl Hayden Visitor Center for some expert advice.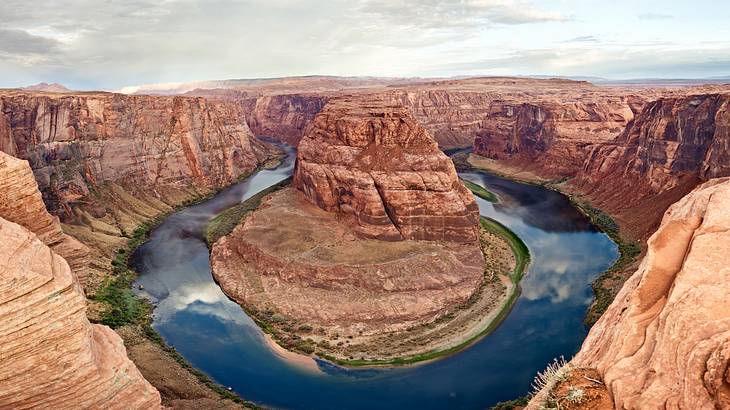 View Horseshoe Bend in the Glen Canyon National Recreational Area
One of the Page, Arizona attractions found in the Glen Canyon National Recreational Area is Horseshoe Bend. This landmark is a horseshoe-shaped meander that's sometimes called the "east rim of the Grand Canyon."
Interestingly, it's also one of the most photographed sites in Arizona. If you want to see this attraction, you can find many Horseshoe Bend tours.
Hike the Hanging Garden Trail
While in the Glen Canyon National Recreational Area you have to hike the Hanging Garden Trail. Along the easy trail, you'll get to see the pretty "Hanging Gardens.''
This naturally occurring feature includes an array of greenery and other plants that dangle from surrounding cliffs like hanging baskets. The contrast of greenery against the otherwise red rock and desert landscape is beautiful.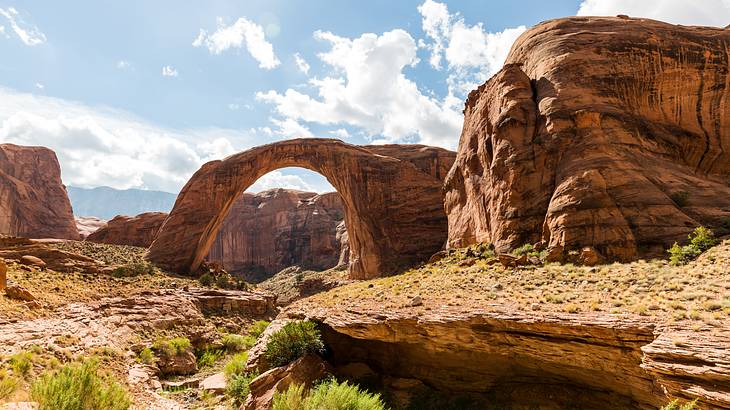 Marvel at the Rainbow Bridge National Monument
The Glen Canyon National Recreational Area is packed full of landmarks! Another must-see sight on the outskirts of the park is Rainbow Bridge National Monument.
Rainbow Bridge is notable as one of the largest natural bridges in the world. The beautiful red rock arch can be reached by following various trails. Seeing this incredible sight and taking lots of photos can't be missed!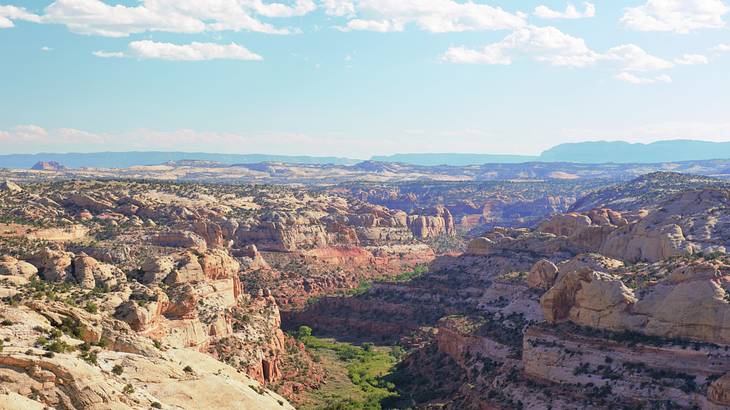 Follow trails around the Grand Staircase-Escalante National Monument
Located 30-minutes from Page, Grand Staircase-Escalante National Monument is a breathtaking naturally created landmark. The site comprises the Grand Staircase, the Canyons of Escalante, and the Kaiparowits Plateau and spans almost two million acres.
While here, you can find many hiking trails to follow that allow you to see the most incredible sights and vistas.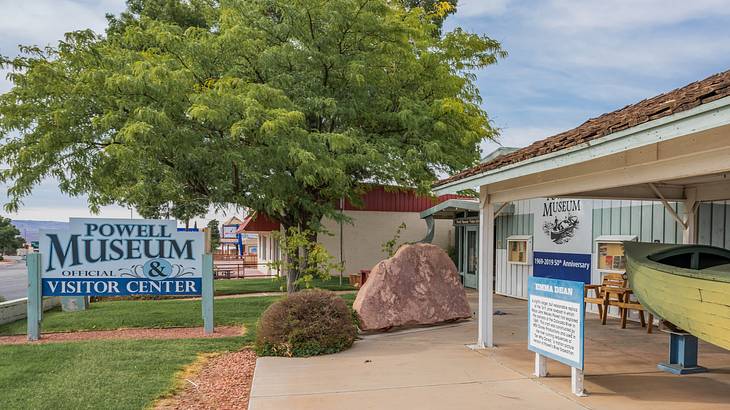 Learn about Page at the John Wesley Powell Memorial Museum
One of the must-see Page, AZ, points of interest is the John Wesley Powell Memorial Museum. This museum offers exhibits on Page, and there's also an information center. Topics covered include the history of the city, Arizona's geology, and the culture and history of Native Americans.
This fascinating museum also has interactive elements, like education films, and you can see John Wesley Powell's boat, which he used to explore the Colorado River.
Get a delicious meal at Big John's Texas BBQ
Grabbing a meal at this local BBQ joint is a great idea when in Page. Big John's Texas BBQ serves a range of delicious BBQ dishes and Southern-style sides. Things on the menu include brisket, pulled pork, and baby back ribs, plus coleslaw, cornbread, and more to accompany your main course.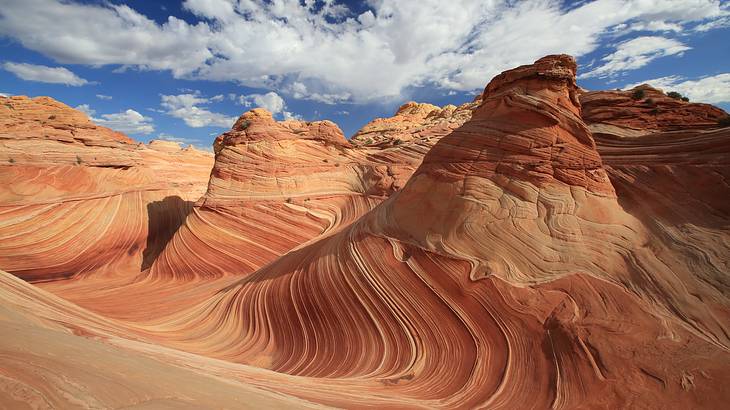 Appreciate stunning scenery at Vermilion Cliffs National Monument
Vermilion Cliffs National Monument in Coconino County covers almost 300,000 acres. The park protects Vermilion Cliffs, Coyote Buttes, Paria Plateau, and Paria Canyon.
Vermillion Cliffs National Monument has lots of hiking routes and is characterized by striped orange and red mountains and canyons. To make visiting this destination easy, consider a private Vermilion Cliffs tour.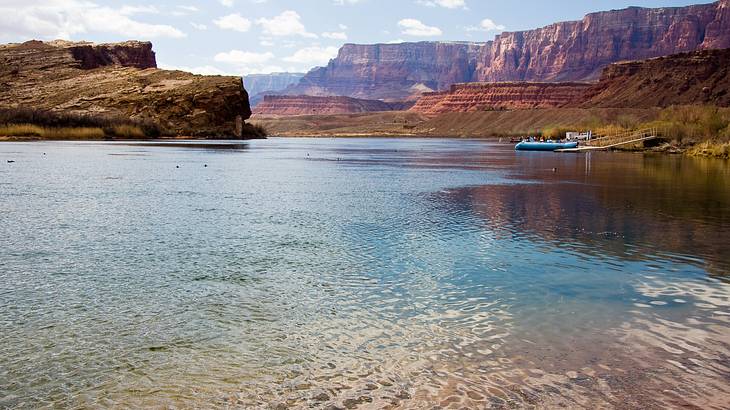 Drive past the Colorado River via Lees Ferry
Lees Ferry is found within Glen Canyon and is a great spot for a scenic drive. Notably, it's the only part of the Glen Canyon Recreational Area that allows you to drive to the Colorado River. Once at the river, you can boat or enjoy the beautiful views.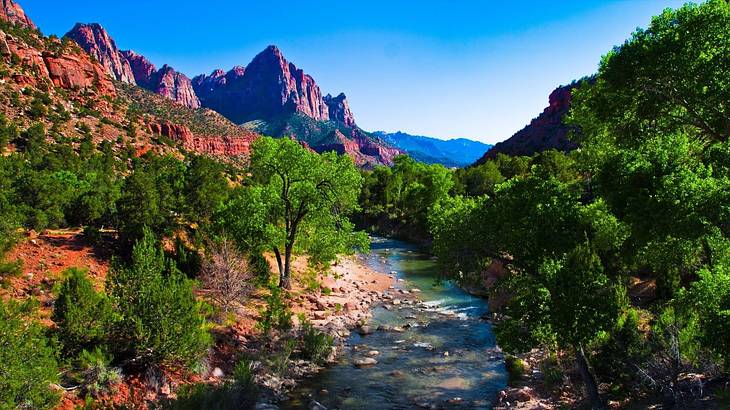 Try adventure activities in Zion National Park
Zion National Park is a North American landmark located in Utah on the borders of Arizona and Nevada. Like many national parks in Utah, Zion National Park features red rock canyons and numerous hiking trails.
For those that love the outdoors, you can find many activities to enjoy in Zion National Park. Adventure activities to try include canyoneering, sandboarding, and riding UTVs.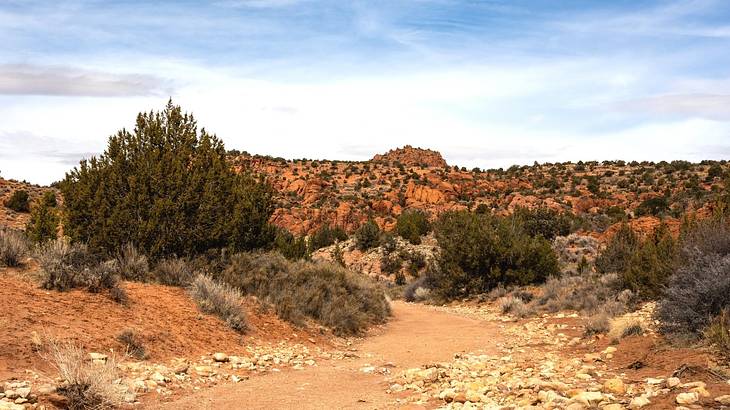 Tackle a Buckskin Gulch day hike
Located near the Utah-Arizona border, Buckskin Gulch is the perfect destination for hikers. This attraction is a gulch and slot canyon that also features one of the Paria River's main tributaries.
The hiking trails here are renowned and you can find a route that goes for 15 miles through the canyon. While you can explore by yourself, taking a guided one day Buckskin Gulch hike will ensure you see everything this attraction has to offer.
Take a tour of the Navajo Village Heritage Center
Visiting the Navajo Village Heritage Center is one of the top things to do in Page, AZ. This educational attraction is a recreation of a traditional Navajo homesite.
On your tour, you'll be taken through Navajo dwellings, taught how to weave Navajo rugs, and shown a Navajo cultural presentation. Visiting the Navajo Village Heritage Center is the ideal way to get an insight into the fascinating history and culture of the Navajo people.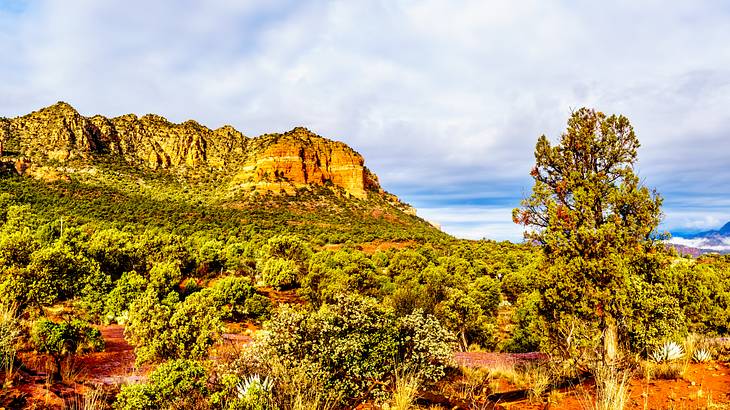 Spend some time exploring Coconino National Forest
Spend some time exploring Coconino National Forest Found in Flagstaff, close to Page, Coconino National Forest is another breathtaking outdoor attraction in Arizona. The park gets its name from the Coho Native American people and comprises two million acres of forest.
Unlike some national parks in Arizona, the Coconino National Forest houses lush green trees instead comprising a predominantly desert environment. In the park, you can complete scenic hikes and appreciate the stunning surroundings.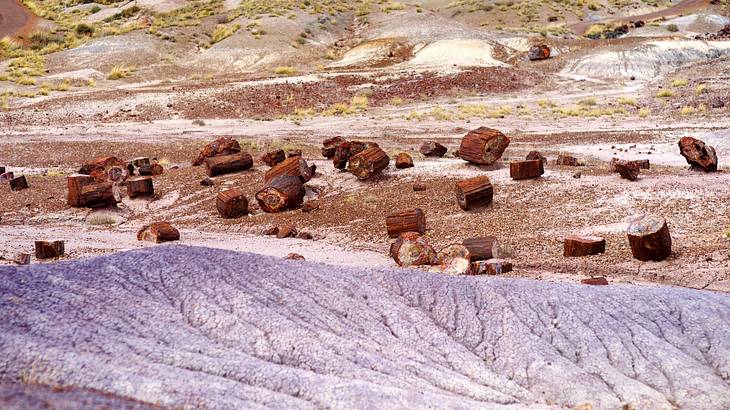 Explore the Petrified Forest National Park
Located in northeastern Arizona, Petrified Forest National Park is a three-and-a-half-hour drive from Page. Being one of the best national parks on the West Coast, making the journey to this attraction is highly recommended.
The most well-known part of this park is the Rainbow Forest. Here you'll discover a beautiful sea of colorful petrified wood. Other features to appreciate include the colorful striped mountains, the petroglyphs of Newspaper Rock, and the ancient ruins of Puerco Pueblo.
Enjoy breakfast at the Ranch House Grille
Another of the Page, Arizona, things to do is getting breakfast at Ranch House Grille. Tasty breakfast dishes include omelets, biscuits and gravy, pancakes, and burritos. If you can't make it for breakfast, Ranch House Grille also serves comfort food-style dishes for lunch until 2 PM.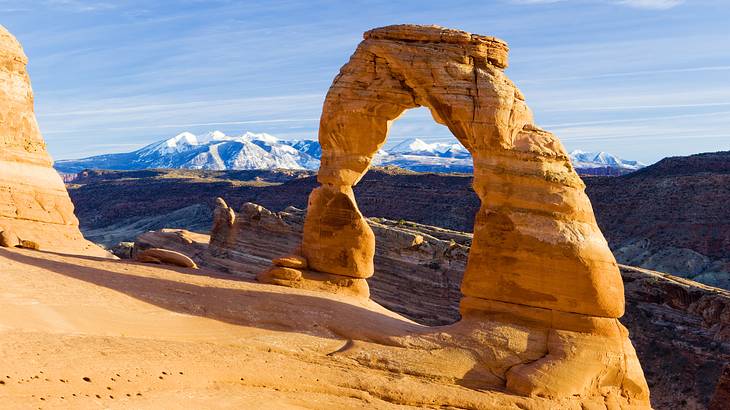 Take a day trip to Arches National Park
Another incredible national park with red rock mountains near Page is Arches National Park. This park is found in Utah and is boarded by the Colorado River, and taking a mini road trip to see it is a must.
Once you arrive, you can hike and take in the breathtaking views. If you like adventure activities, also consider a 4x4 Arches National Park tour.
In Summary
Page is the ideal vacation spot for travelers looking to try a multitude of outdoor activities. From seeing natural landmarks to hiking and kayaking, Page will please anyone that loves exploring the great outdoors.
For more interesting articles about United States, read:
For some great articles about things to do, check out:
---